Rohingya Muslims will soon face cyclones, monsoons in Bangladesh
Refugees driven out of Myanmar by what the U.S. has called "ethnic cleansing" now face a new threat: the looming monsoon and cyclone season.
Authorities have warned that more than 100,000 Rohingya Muslims who fled into neighboring Bangladesh are at risk of losing their makeshift homes to the deadly floods and landslides that accompany seasonal rains.
Workers are scrambling to reinforce shelters and dig drainage systems before the bad weather is expected next month.
"On the hill where my house is built there are 960 houses and this hill will possibly collapse in the coming monsoon season," said refugee and community leader Sabbir Ahmed, responding to questions asked by NBC News with the help of a translator supplied by the International Organization for Migration, the U.N.'s migration agency.
Ahmed is one of the nearly 700,000 refugees — roughly the same number of people who live in Denver or Seattle — who have streamed out of Myanmar since violence erupted in August.
On Wednesday, U.N. human rights chief Zeid Ra'ad al-Hussein said that he strongly suspected "acts of genocide" may have taken place against the ethnic minority in Myanmar's northern Rakhine state since then. He also suggested reports of bulldozing of mass graves in Myanmar showed a "deliberate attempt by the authorities to destroy evidence of potential international crimes, including possible crimes against humanity."
Ahmed left Myanmar in August with his wife, seven children, parents and three siblings and walked for two days through the rain to reach the border with Bangladesh. Along the way, Ahmed's wife gave birth to a girl. He now lives in Unchiprang, which is home to more than 20,000 refugees.
The situation described by Ahmed is largely the same in other makeshift camps housing the refugees near Cox's Bazar, Bangladesh.
"It's a race against time," said Caroline Gluck, a spokeswoman for the United Nations refugee agency (UNHCR) in the country. "We're very alarmed, we're very concerned, we're doing what we can but we're not sure it's going to be enough."
Steep hills that were once covered in trees and foliage have now been cleared to make way for the tarpaulin shelters. Now bare and sandy, the banks have become more vulnerable to landslides in rainy conditions, Gluck explained.
"Families have also been digging up the roots to use as firewood for cooking so there is nothing holding the soil together," she added. "The soil is eroding, it's like gravel."
Conditions are so cramped in the settlements that some of the shelters have been built on 45-degree slopes. The close quarters fall short of accepted international standards for refugees, Gluck added.
"For the people who've built at the top of these slopes then their shelters are at risk of being carried away in mudslides. For the people at the bottom, they face the threat not only of mud and other debris landing on them from above, but also of flash floods," IOM spokeswoman Fiona MacGregor said.
The rains are likely to start falling in April and could last until September, while May and June tend to be the wettest months, she added.
The floods could also leave hundreds of thousands vulnerable to disease and unable to get aid if flooding cuts off parts of the settlements, the IOM warned.
In preparation, the IOM is distributing 120,000 shelter upgrade kits containing sandbags, tarpaulins, bamboo, ropes and pegs to anchor down the ramshackle homes. However, tarpaulin shelters will still be vulnerable during cyclone season.
MacGregor said refugees and local Bangladeshis are also being trained in first aid and search-and-rescue skills.
Bridges are being heightened and engineering platforms established across the settlement to help clear roads for aid convoys in the event of flooding, according to Gluck.
"We just don't know what will happen and the worst that the monsoon rains will bring, we're just hoping for the best," she added.
Cox's Bazar is where the exodus had ended for many Rohingya in the wake of what Myanmar's military has called "clearance operations."
Soldiers and Buddhist mobs have killed Muslim men, raped women and burned down houses, according to witnesses. Humanitarian groups have alleged the military is using systematic rape to help drive away the Rohingya.
HMS Defender: Boris Johnson insists warship was sailing legally as Moscow warns 'no options can be ruled out' | UK News
Boris Johnson has insisted Royal Navy warship HMS Defender was sailing legally in Ukrainian waters and that Russia did not any fire warning shots.
Russia has accused the UK of "barefaced lies" over Wednesday's incident and said it would respond robustly to any future incursions into what it says are Russian waters.
It summoned the British ambassador in Moscow for a dressing down, while a Kremlin spokesman called it a "deliberate and premeditated provocation".
Russia claims this is HMS Defender 'chased out'

"In the event of a repeat of unacceptable provocative action – if those actions go too far, no options can be ruled out in terms of legally defending Russia's borders," added Dmitry Peskov.
The UK rejects Russia's claim that a border patrol boat fired warning shots and that warplanes dropped bombs into path of the ship off the Crimean coast.
Speaking on Thursday, Boris Johnson said it was "not my information" when asked if the Russians had fired warning shots.
"My understanding is that the Carrier Strike Group proceeded in a way you would expect through international waters and in accordance with the law," said the prime minister.
He added: "We don't recognise the Russian annexation of Crimea – it was illegal. These are Ukrainian waters and it was entirely right to use them to get from A to B."
Foreign Secretary Dominic Raab has also said shots were not fired and called the Russian account "predictably inaccurate".
The Ministry of Defence said it had been made aware in advance that the Russians were conducting "gunnery exercises" in the area.
"No shots were directed at HMS Defender and we do not recognise the claim that bombs were dropped in her path," it said.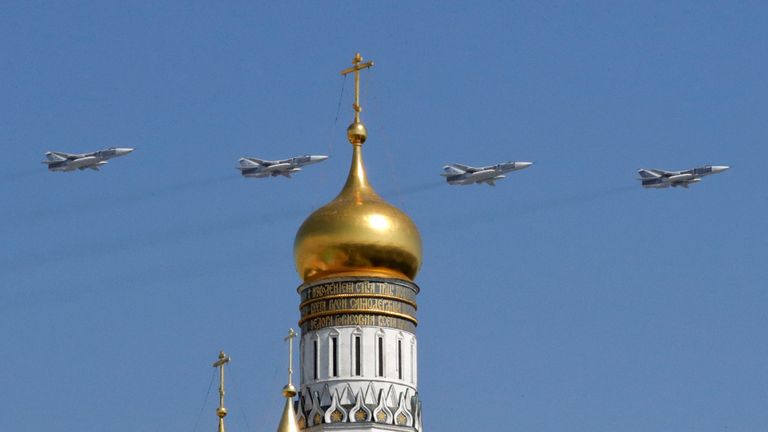 However, a BBC journalist on board the 152 metre-long ship said Russian planes had flown nearby and he also heard radio warnings that shots would be fired if HMS Defender didn't change course .
He said firing was later heard but "well out of range".
Foreign ministry spokeswoman Maria Zakharova accused Britain of "barefaced lies" over the incident.
Russia claims the British ship had gone as far as three kilometres (2 miles) into Russian waters near Cape Fiolent, near the port of Sevastopol in Crimea.
Crimea was seized from Ukraine in 2014 by the Russians, who claim ownership of waters around its coast.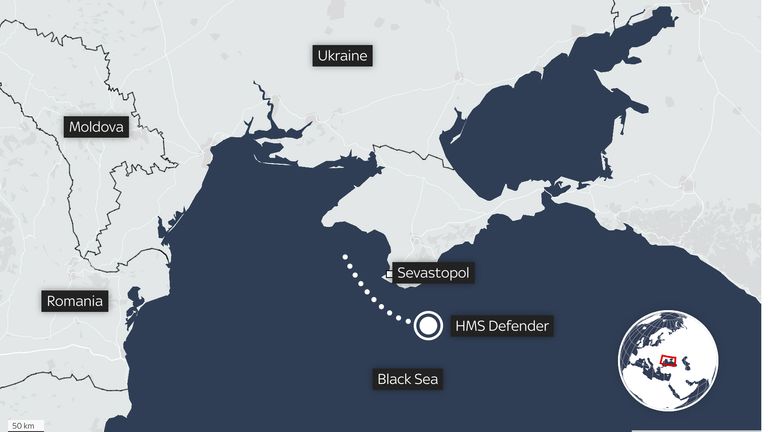 Western countries regard Crimea to have been taken illegally.
Mr Johnson also rejected the assertion that the relationship with Russia was now at a new low, following other recent incidents such as the poisoning of former spy Sergei Skripal in the UK in 2018.
"I can remember times in my own lifetime when things have been far worse," the prime minister said.
Sky's Moscow correspondent Diana Magnay said the incident was to a large extent about "testing each other's mettle" and seeing "how far Russia is prepared to go to defend what it claims are its territorial waters – and how far the UK and NATO are prepared to go to defend Ukrainian sovereignty".
'Several injured and one dead' after building partially collapses in Miami Beach | World News

A huge emergency operation is under way after a partial building collapse in Miami Beach, with reports of at least one person killed and several injured.
More than 80 fire and rescue units were at the scene of the collapse in the Florida city, with images showing a pile of rubble with debris spilling down from what was left of the balconies of the building.
MBPD and @MiamiBeachFire are assisting the Town of Surfside at a partial building collapse located at 8777 Collins Avenue in Surfside, Florida. Multiple police and fire agencies from across Miami-Dade are assisting. Please follow @MiamiDadeFire for updated information. pic.twitter.com/8tORIfZfjY

— Miami Beach Police (@MiamiBeachPD) June 24, 2021
CBS reported that at least one person had died, while ABC News said eight people were being treated for injuries in hospital.
Sergeant Marian Cruz of the Surfside Police Department said: "We're on the scene so it's still very active.
"What I can tell you is the building is 12 floors. The entire back side of the building has collapsed."
Police have cordoned off nearby roads, with scores of fire and rescue vehicles, ambulances and police cars deployed in the area.
NBC said the rescue teams included a unit that is trained in the removal of victims trapped in complex or confined spaces.
NBC Miami showed a video of a young boy being pulled alive from the rubble.
HMS Defender: Moscow releases footage it says shows Navy vessel being 'chased out' by Russian military | World News
The Russian Defence Ministry has released footage it says shows HMS Defender being "chased out of Crimea waters" by military aircraft and vessels.
It comes as Britain dismissed Moscow's claims that warning shots were fired at the Royal Navy destroyer and that bombs were dropped in the warship's path.
The Russian Defence Ministry said a border patrol boat fired the shots at HMS Defender after it entered the country's territorial waters in the Black Sea.
It also said that a Su-24M warplane dropped four bombs close to the ship.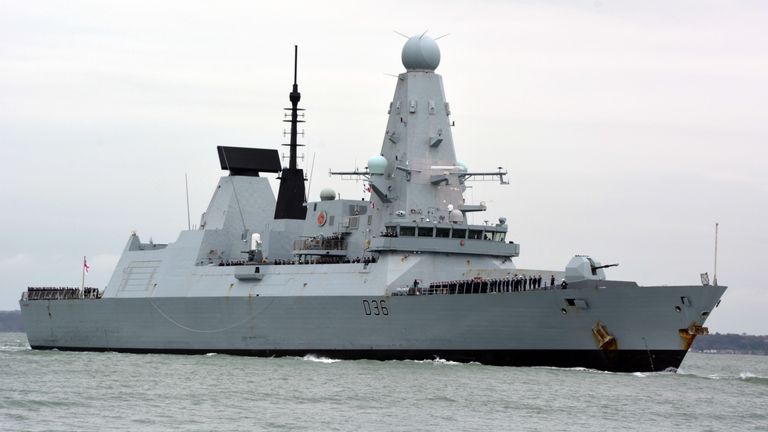 But the Ministry of Defence (MoD) said the 152 metre-long, 8,500-tonne vessel was "conducting innocent passage through Ukrainian territorial waters in accordance with international law".
In a statement posted on Twitter, it said: "We believe the Russians were undertaking a gunnery exercise in the Black Sea and provided the maritime community with prior warning of their activity.
"No shots were directed at HMS Defender and we do not recognise the claim that bombs were dropped in her path."
The confrontation is thought to have taken place near Cape Fiolent, a landmark on the coast of Crimea.
Sky's Moscow correspondent Diana Magnay said: "To a large extent this is about testing each other's mettle, seeing how far Russia is prepared to go to defend what it claims are its territorial waters – and how far the UK and NATO are prepared to go to defend Ukrainian sovereignty.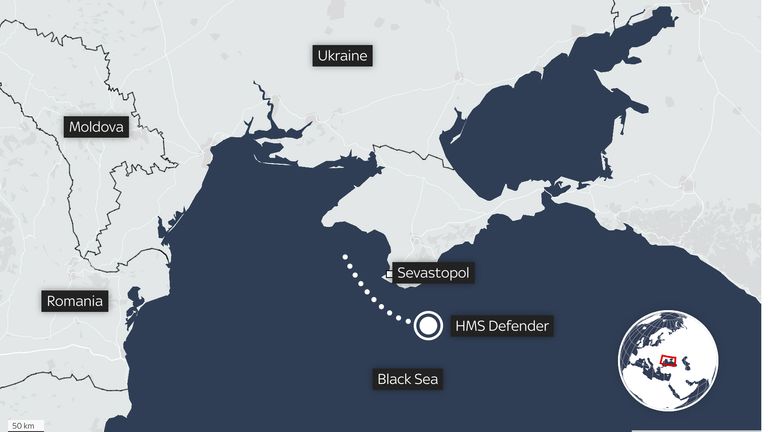 "These are not Russian territorial waters, whatever Russia says. Crimea was annexed illegally in 2014; its waters are Ukrainian. Russia in April tried to restrict for six months access to warships around its port at Sevastopol which drew strong condemnation from NATO
"The UK says it was passing through an internationally recognised traffic separation corridor; Russia clearly doesn't see it that way."
Russia annexed the Crimean peninsula from Ukraine in 2014 in a move condemned by the West, which still considers it Ukrainian territory.
Defence Secretary Ben Wallace said in a statement that the ship – whose Sea Viper missiles can destroy jets and drones from up to 70 miles away – "carried out a routine transit from Odessa towards Georgia across the Black Sea".
He said: "As is normal for this route, she entered an internationally recognised traffic separation corridor. She exited that corridor safely at 0945 BST. As is routine, Russian vessels shadowed her passage and she was made aware of training exercises in her wider vicinity."
Appearing later before the Commons Defence Committee, Mr Wallace said the crew of HMS Defender did hear "training noises" to the rear of the ship, but it was "beyond visual range".
He said the Russians had previously made false claims to have "chased out" another British warship, HMS Dragon.
No warning shots have been fired at HMS Defender.

The Royal Navy ship is conducting innocent passage through Ukrainian territorial waters in accordance with international law.

— Ministry of Defence Press Office (@DefenceHQPress) June 23, 2021
"These are the things that come and go with Russia. Disinformation, misinformation is something that we have seen regularly. We are not surprised by it," he said.
"We plan for it and we take all steps to make sure we are not escalatory or provocative.
"However we will not shy away from upholding international law and our rights on the sea."
Mr Wallace also confirmed that the British ambassador to Russia has been summoned by Moscow authorities.
British defence attache summoned in Moscow

The Russian ministry said earlier in a statement: "The destroyer was warned in advance that weapons would be fired in case of a violation of the Russian state border. It disregarded the warning.
"As a result of joint actions of the Black Sea Fleet and the Border Service of the Russian Federal Security Service, HMS Defender left the territorial sea of the Russian Federation at 12.23pm."
Sky News' foreign affairs editor Deborah Haynes said: "Even if the ship wasn't directly fired at, as the Russian defence ministry is claiming, the fact that these exercises were taking place so close to a transiting Royal Navy ship is clearly going to be seen from the UK side as a provocation."
Boris Johnson's official spokesman said: "It's incorrect to say either that it was fired upon or that the ship was in Russian waters. HMS Defender was taking the most direct and internationally recognised route between Ukraine and Georgia.
"As you know, the UK does not recognise Russia's claim to Crimea and we continue to uphold the international consensus that Russia's annexation of Crimea is illegal."
Ukraine's foreign minister Dmytro Kuleba said the incident showed Russia's aggressive and provocative policy that constituted a threat to Ukraine and its allies.
HMS Defender – one of six navy Type 45 destroyers – is part of the UK Carrier Strike Group currently heading to the Indo-Pacific region.
However, it was announced earlier this month that it would be temporarily breaking away from the group to carry out its "own set of missions" in the Black Sea.
The Royal Navy says HMS Defender – based out of Portsmouth and launched in 2009 – is "one of the most advanced warships ever constructed".
Type 45 destroyers carry Sea Viper missiles, with the navy saying they can "can knock moving targets out of the sky from up to 70 miles away".
The destroyers can fire eight missiles in less than 10 seconds and simultaneously guide up to 16 missiles at a time.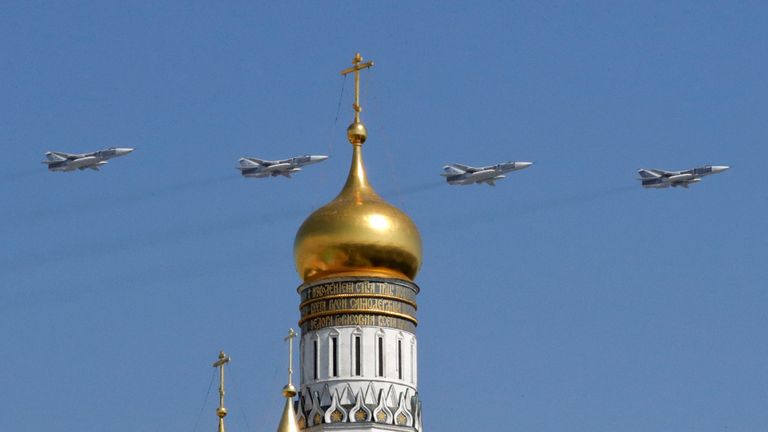 They also have conventional weaponry, such as the 4.5-inch Mark 8 gun and up to six machine guns.
The Su-24M warplane said to have dropped the bombs near HMS Defender is a 22-metre-long aircraft made by Russian firm Sukhoi, and first entered service in 1983.
It carries weaponry such as laser-guided bombs of up to 1,500kg, as well as laser-guided missiles.