World's oldest message in a bottle found on coast of western Australia
More than 131 years after being thrown overboard, the world's oldest message in a bottle has washed up on a beach in western Australia.
The bottle was found by Tonya Illman and Grace Ricciardo in the dunes near Wedge Island in January.
Weeks of research and correspondence crafted a Sherlock-style web of clues that traced the historic note back to 19th century Germany.
The survival of the document has been heralded as a miracle, as the bottle was found wedged in the sand and without a lid after heavy rain and strong winds on the island, some 112 miles north of Perth.
Mrs Illman and her husband Kym placed the note in an oven to dry it out before unravelling it to reveal a set of coordinates and a date of 12 June 1886.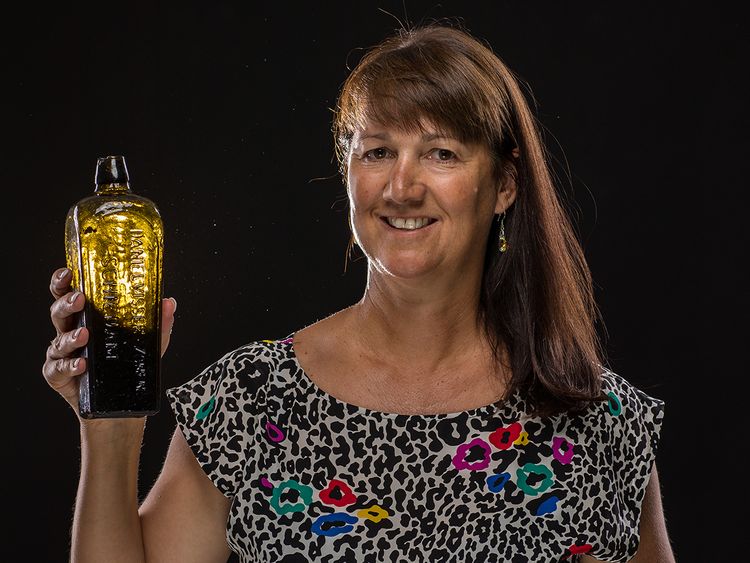 Mr Illman's German was not quite good enough to deduce much more of the text, other than the letters "aula" in a naming field, which he guessed might mean the ship was called Paula.
From there the real investigative work began, and three days later the couple received confirmation from a curator of maritime archaeology at the Western Australian Museum that a boat named Paula was listed in an 1883 Lloyds Register, with a home port of Marseille.
It was a 320-ton German barque ship, later found to be on a voyage from Cardiff to what is now known as Indonesia.
But the French port listed in the register appeared to contradict the port written on the note, which started with an "E".
It was suggested that the vessel could have been sold to new owners after 1883 and moved to a new home, and that theory was given merit by German maritime historian Christine Porr.
She advised the Illmans that one of her contacts had found mentions of Paula, along with a captain "O Diekmann", in an 1887 journal of German Marine Meteorology.
Another reference to Paula was found in an 1886 Registrar Veritas, which listed "Haverkamp" as captain, and confirmed the home port as Elsfleth in Germany.
Further evidence was provided by the German Maritime and Hydrographic Agency, who confirmed the wording and printing were identical to messages held in their archives for the year 1886.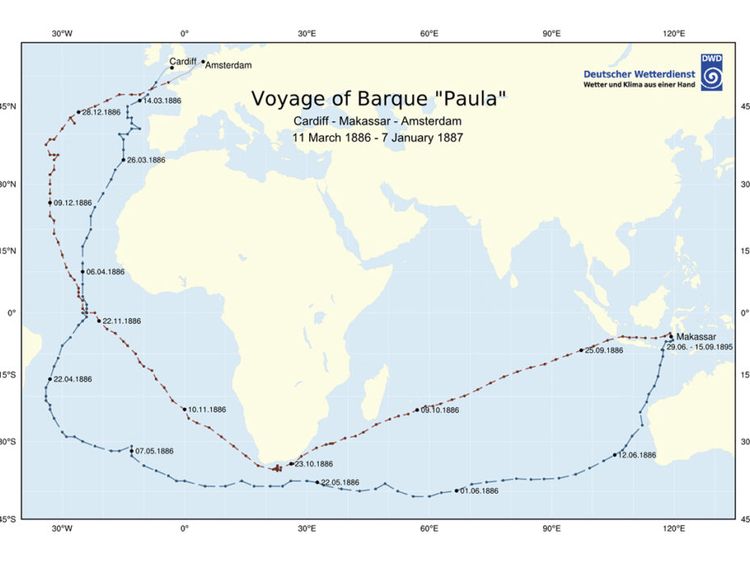 With the Australian museum having determined that the note was "consistent with cheaply made 19th century paper", the German agency concluded that it was genuine.
As luck would have it, the note turned out to have originated from the agency itself, which back in 1886 was known as Deutsche Seewarte.
The bottle – thought to have originally held gin – was thrown overboard alongside many others during a decades-long research programme to produce drift maps.
According to agency archives, the last one to have been found was picked up in Denmark in January 1934 – and it was a match for the format of the one found on the Australian coast.
"This has been the most remarkable event of my life," said Mrs Illman.
"To think that this bottle has not been touched for nearly 132 years and is in perfect condition, despite the elements, beggars belief."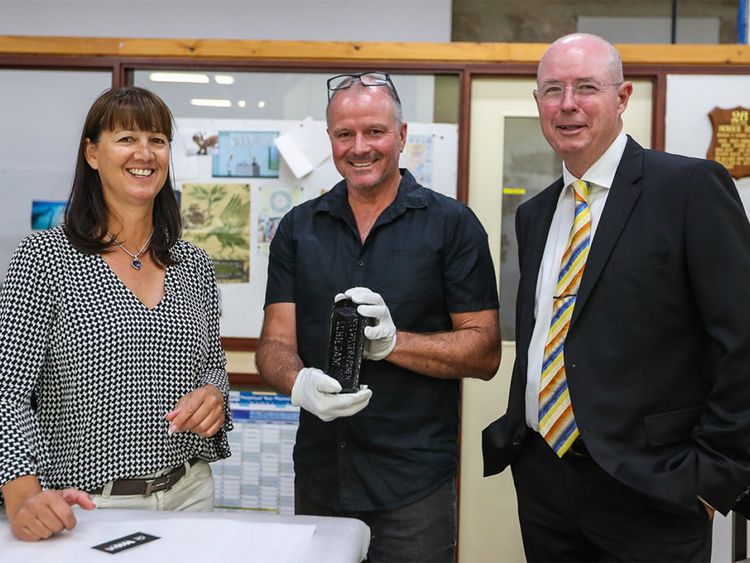 Her husband added: "It certainly consumed me for the first week.
"It was like solving a giant puzzle – and now that it's been confirmed as legitimate, I can't wait to share our excitement with others."
Once confirmed by Guinness World Records, it will beat the existing record for the world's oldest message in bottle by 23 years.
That was found at Amrum Island, Germany, in April 2015, more than 108 years after it was released into the North Sea by the Marine Biological Association in November 1906.
A one shilling reward was offered for its return.
Man who died 3,000 years ago with 790 injuries is earliest known shark attack victim | World News
Archaeologists have recreated the brutal death of the earliest known shark attack victim who was killed around 3,000 years ago.
Oxford-led researchers have been investigating evidence for violent trauma on the skeletal remains of prehistoric hunter-gatherers at Kyoto University
Alyssa White and Professor Rick Schulting reviewed the remains of a man riddled with traumatic injuries from the previously excavated site of Tsukumo by the Seto Inland Sea.
In their report, the pair said: "We were initially flummoxed by what could have caused at least 790 deep, serrated injuries to this man.
"There were so many injuries and yet he was buried in the community burial ground…
"The injuries were mainly confined to the arms, legs, and front of the chest and abdomen.
"Through a process of elimination, we ruled out human conflict and more commonly-reported animal predators or scavengers."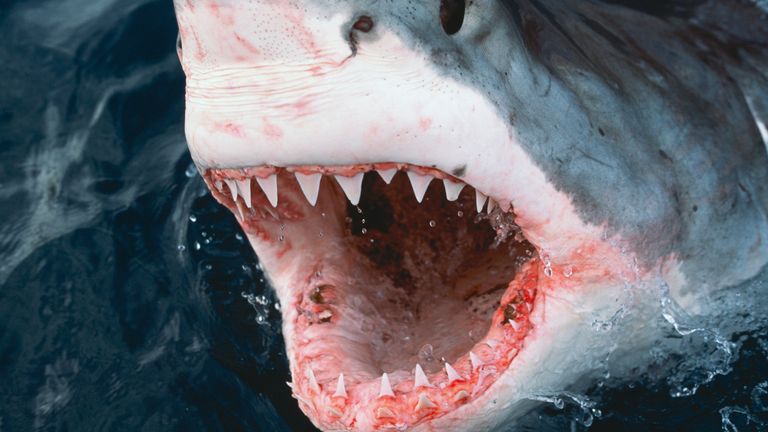 Since archaeological cases of shark reports are extremely rare, they turned to forensic shark attack cases for clues and worked with expert George Burgess of the Florida Program for Shark Research.
The team concluded the man, known as No 24, died between 1370 to 1010 BC.
The distribution of wounds strongly suggest the victim was alive at the time of attack; his left hand was sheared off, possibly a defence wound.
No 24's body had been recovered soon after the attack and buried with his people at the cemetery.
And excavation records showed he was also missing his right leg and his left leg was placed on top of his body in an inverted position.
The report added: "Given the injuries, he was clearly the victim of a shark attack.
"The man may well have been fishing with companions at the time, since he was recovered quickly.
"And, based on the character and distribution of the tooth marks, the most likely species responsible was either a tiger or white shark."
The study has been published in the Journal of Archaeological Science: Reports.
Missing Italian toddler found alive by journalist sent to cover disappearance | World News
A 21-month-old toddler has been found alive at the bottom of a ravine after spending two nights alone in the woods.
Nicola Tanturli was found near his home in Tuscany, Italy, when a TV journalist heard him crying "mamma".
The child emerged with a bump on his head and some scratches but no other injuries.
Nicola had wandered away from his isolated home in the Apennine mountains sometime during the night on Monday, and was the subject of an intense round-the-clock search and Italian media coverage.
Church bells rang out in celebration in the town of Palazzuolo sul Senio, near Florence, when the boy was found a mile from his home.
A journalist for RAI state television covering the story said he was walking up a dirt road towards the family home when he heard whimpers from a ravine heavily covered in trees and brush.
Giuseppe Di Tommaso said: "I started to yell, 'Nicola', to understand if it could be the child. I heard 'mamma'."
"I started to repeat the word 'mamma', because children of that age repeat words. When I intuited that it could be Nicola, I went down into the ravine."
He said he could see the child on the other side, about 10 metres away in a hard-to-reach area thick with thorny brush.
A car drove by at that moment, and Mr Di Tommaso said he hailed two Carabinieri paramilitary officers, who initially disbelieved that the sounds could have come from the boy, "this being an area full of animals that make sounds that can sound like a child".
Carabinieri commander Danilo Ciccarelli said he climbed some 25 metres down the embankment, expecting to find a small deer.
"Instead, Nicola popped out, with his little head among the high grass. He said, 'mamma', and I went towards him. He hugged me right away," the commander said.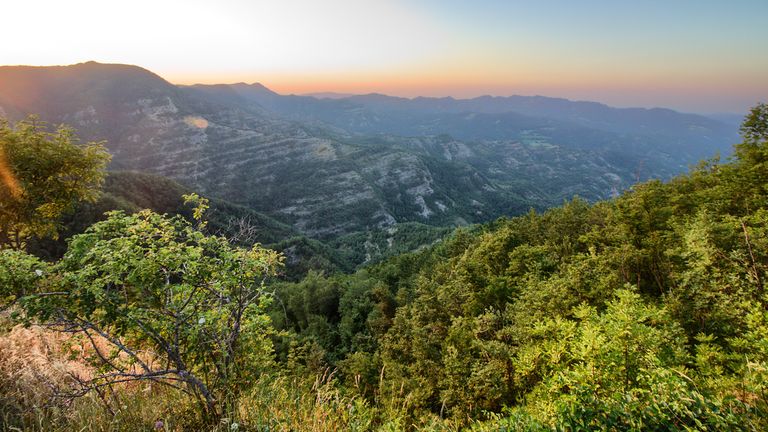 The officer said he checked the boy's condition, finding only some scratches and a small bump on his head, before carrying him up the embankment and reuniting him with his parents.
"It was a tremendous joy to bring him back to his mother's arms," Mr Ciccarelli said.
The commander said he did not believe the boy spent the night where he was found, because the brush and grass was not tamped down, and that it was likely he had arrived through the woods, not from the road.
"He is a very active child, very lively," Mayor Gian Piero Philip Moschetti told a news conference.
"He could walk for a kilometre (half-a-mile) an hour. We have no idea how much distance he could have covered. He was used to going out of the house and living outdoors."
Twin panda cubs born at Tokyo's Ueno Zoo for first time in four years | World News
A giant panda has given birth to twin cubs at Ueno Zoo in Tokyo, the first born there for four years.
They arrived an hour and a half apart at 1.03am and 2.32am local time on Wednesday, according to the zoo's website.
Their gender is still to be confirmed so they have not yet been named.
"All the staff are working together to observe and protect the giant panda mother and children," the zoo said.
Mother Shin Shin was born in 2005 and arrived at the Tokyo zoo a decade ago with male partner Ri Ri.
They also had a daughter Xiang Xiang in June 2017.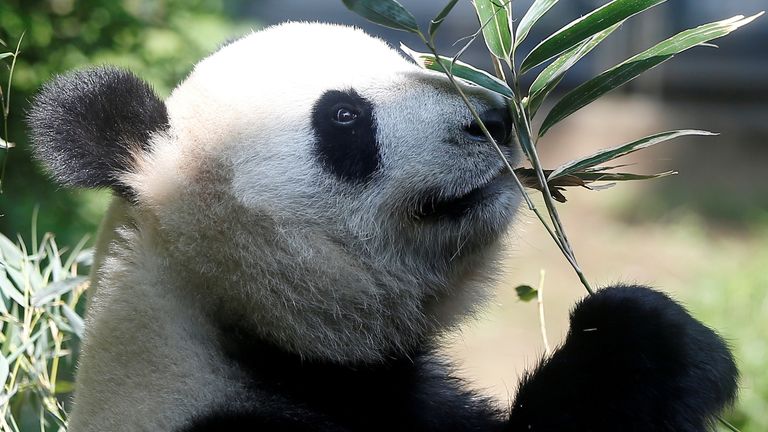 Pandas are very difficult to breed in captivity because they can be picky about partners and females go into heat just once a year.
"The pandas are now a family of five. This is such happy news," said Japan's chief cabinet secretary Katsunobu Kato.
"I believe everyone at the zoo is doing all they can day and night to keep the panda family healthy first, and I hope everyone will watch over them warmly and quietly."
The UK's only giant pandas, Yang Guang and Tian Tian, are at Edinburgh Zoo.
However, it warned in January it might have to let them go as the zoo was having financial troubles caused by the pandemic.