The race to save our 'Wild West' seas
Ed Conway, Economics Editor
Who owns the sea? It is an odd sort of question, and it has an odd sort of answer.
The short version is that we all do – you, me and everyone else on the planet.
Most of the oceans are safeguarded by United Nations treaties for what they call "the common heritage of mankind".
This phrase, a rather poetic effort at constructive ambiguity, is much the same as the formulation we use to describe mankind's relationship with the moon or with space.
The difference, of course, is that it is far easier to dip one's toes in the sea than in the Sea of Tranquillity. And we've spent the past few millennia doing precisely that.
The ocean has always been our common source of food, our common means of transport and our common dustbin. It has been a source of immense riches. An economic gift that has provided unquantifiable amounts of value for humankind.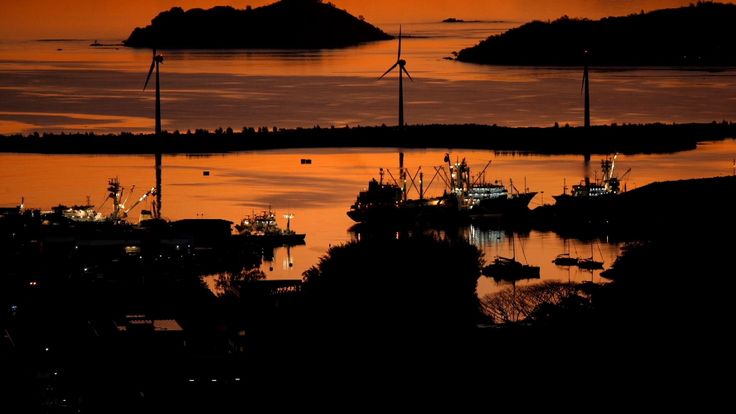 Some economists have attempted to quantify that impossible sum. They have added up the income from fishing, from trade and transport, from tourism, from coral reefs.
They have attempted to put a price on the fact that the ocean is the source of half the oxygen we breathe, the sink for much of the carbon dioxide we exhale and the great moderator of our climate.
The figures they have come up with have tended to run into the trillions, at which point they became a bit meaningless.
And this is rather the problem: we simply do not know the value of the oceans to our economies. They are, quite literally, priceless.
That raises an issue. Economic theory suggests that unless we know how much something is worth – and have a clear idea of who owns it – we tend not to treat it with the respect it deserves.
That theory – the tragedy of the commons – was originally all about how farmers would overgraze their cows on common pasture land, since individually there was nothing to stop them doing so.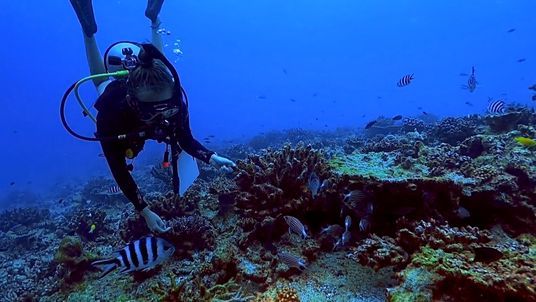 We simply do not know the value of the oceans to our economies. They are, quite literally, priceless.
Those individual acts eventually added up to a shared ecological catastrophe. The principle helps explain why things are going wrong in the oceans.
Plastic pollution – something we at Sky News have spent the past year documenting – is only the beginning of it.
There is the issue of vast pollution from industrial agriculture around the world – fertiliser run-off which has polluted the waters around many of our coastlines.
The upshot is that many of our seas are deoxygenated. We are seeing dead zones, areas deprived of marine life, across the planet.
The rise in sea temperatures in recent years, itself a consequence of climate change, is causing coral bleaching episodes on a regular frequency.
There are fears that many of the world's tropical corals will simply die off, which would spell disaster for local ecosystems, since corals are the gardens in which most of the marine life of the tropics live and breed.
Which brings us to fish themselves. For most of human history there was an overarching assumption that there was a nearly infinite number of fish in the sea.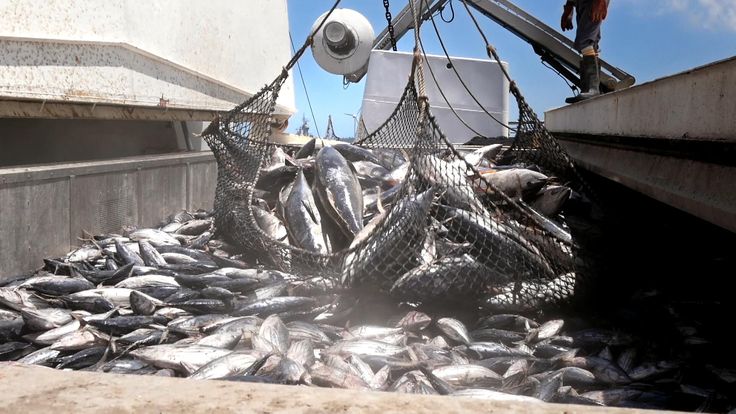 But in recent years, something changed. Partly as a result of industrialised fishing on an unprecedented scale, the oceans have, for the first time in history, seen a falling number of fish caught each year.
The explanations for this are far from straightforward. Many of the fishermen I spoke to on my travels insisted there were still more than enough fish in the oceans and that there was no shortage.
Others – particularly small-scale artisan fishermen – blamed the giant industrial trawlers for taking so many of their fish.
There are political dimensions to this. For many small developing island nations, one lucrative option is to sell off fishing rights to fishing boats from Europe and further afield, in exchange for hefty fees.
That is precisely what has happened in the Seychelles, the epicentre of the Indian Ocean's tuna industry. For many years, the fishermen assumed they could never run out of tuna, but recently worries have emerged about the sustainability of their stocks.
In particular, they fear that the yellow-fin tuna may soon become endangered.
This is only one of the concerns facing this small nation – largely reliant on tourism and fishing.
The main attractions for the tourism industry are the beautiful white sand beaches, the fresh seafood and the rich, colourful coral reefs.
But the country's reefs are under threat. They have faced several bleaching episodes in recent years, which raises an uncomfortable question: what happens if the reefs all die?
After all, the white sand on the beaches is entirely a product of those coral reefs (the sand is created when fish nibble off bits of the coral).
The fish served up in local restaurants are reliant on the reefs for their habitat. And what happens to snorkelling and diving if there is no coral left anymore?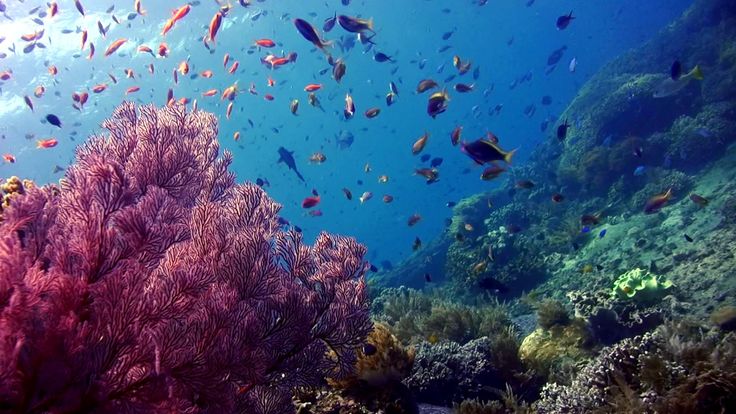 All of the above helps explain why, last month, the country took radical action.
It turned a whopping 15% of its waters into a marine protected area, limiting the amount of fishing and exploitation.
The idea is to increase the size even further in the coming years. It will reduce the vast areas in which the tuna fisherman can operate, and will, the government hopes, help safeguard the habitat for the fish.
And while coral bleaching is a global phenomenon, conservation groups are at work trying to rebuild the coral reefs, creating a bank of hardier breeds which might be able to survive further rises in sea temperature.
Just as intriguingly, the Seychelles has built up detailed plans of its entire territorial waters, trying to calculate what we have failed to understand for so long – just how much value is there in those waters, and how can it ensure it can benefit from it in a sustainable way. In short, it is trying to solve the tragedy of the commons.
Putting a value on the oceans is only one part of the solution. The other involves answering that first question: who owns the sea?
The longer version of the answer provides further detail on how our relationship with the ocean went wrong.
Under the UN law of the sea, each country can lay claim to 200 nautical miles of the sea from their coastline. This is what is technically known as the Exclusive Economic Zone (EEZ).
Within this zone, a country can do pretty much what it wants. It can restrict fishing, it can impose some of the marine protected areas we now see across the Seychelles. It can drill for oil, plant wind turbines and so on.
If the world's seas were all owned by countries that bordered them, then it's not impossible to imagine a solution to the tragedy of the commons.
The problem is once you get beyond that 200 nautical miles you are in the high seas – these are the equivalent of the Wild West: owned by no country, covered by no laws.
Technically speaking, you could go out to these seas and do whatever you want: fish all you want, dump all the rubbish you want, pick up whatever you want and call it your own.
Increasingly, while industrial fishing boats are cutting back on fishing in territorial waters and in countries' EEZs, they are fishing more and more from the high seas, with no one to stop them. And there are other, deeper issues here.
For if you were to swim to the bottom of the Pacific or Atlantic oceans, you would come across minerals and metals with an almost incalculable value.
On land, we are fast running out of the metals which we'll need in the coming century to power electric cars, build the next generation of mobile phones and provide us with a sustainable, green future.
But these metals exist in multitudes under the sea. And now that we have the autonomous submarine technology that will enable us to do that, what is to stop anyone going out and plundering it?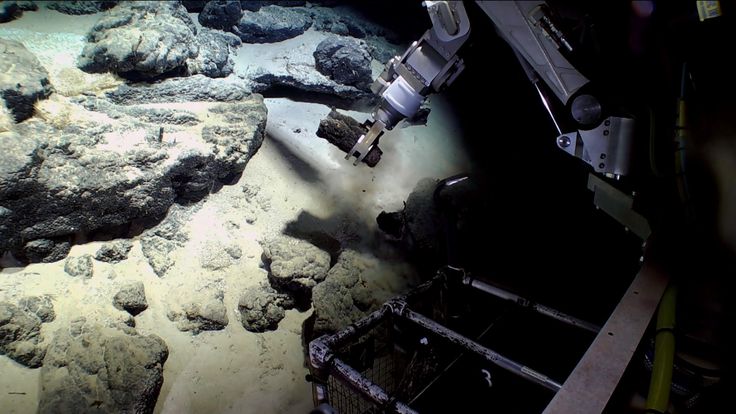 The answer is an institution you've probably never heard of, based in a quiet part of Kingston, the capital of Jamaica.
The International Seabed Authority is the organisation charged by the UN with managing any mineral extraction in the high seas.
In practice that means deciding which countries can explore and mine for those metals – from gold to copper to cobalt.
Isn't that essentially like parcelling off the seabed to the highest bidder? Not quite, says the ISA's head, Michael Lodge.
Because those countries who mine out there will have to give a share of their profits to the rest of the world. In the case of deep-sea mining, the "common heritage of mankind" means everyone gets a share.
The issue is that we remain quite ignorant of what lies in the seabed. Every time scientists make expeditions to the seafloor they discover new species and new rock formations.
There is a chance there are extremely valuable creatures and features we simply don't know about. For instance, bio-prospectors are already using compounds created from some sea squirts found in the Caribbean which are now being used to fight cancer.
Which other diseases could be cured by deep sea creatures we have yet to encounter? And what is the risk that deep-sea mining destroys those species before we entirely understand them?
Then there are the risks to human knowledge. The ISA recently allotted a segment of the mid-Atlantic ridge to Poland to explore for mining sites.
Within that plot is an area called the Lost City, where scientists have discovered a chemical reaction occurring which might mirror what happened when life began on this planet four billion years ago.
While no one expects Poland to destroy the Lost City, the fact is there is no specific rule or regulation stopping them.
Indeed, the ISA is only now starting to draw up the rules which will govern deep-sea mining.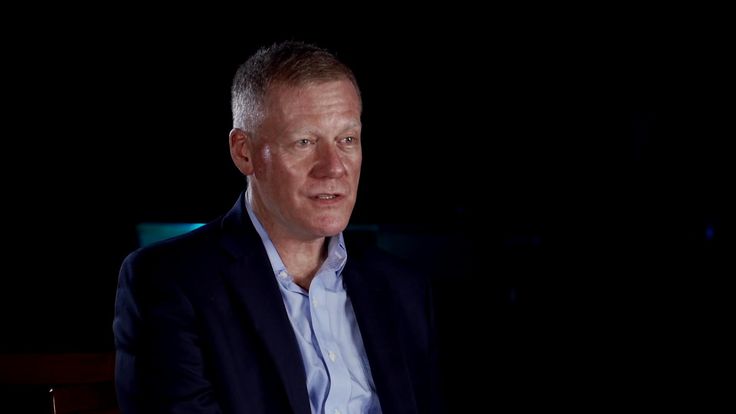 As Mr Lodge told me, the institution might well be the solution to the tragedy of the commons – its very job is to ensure that when we start mining in the high seas, we go in with our eyes open, unlike almost every other gold rush in history.
But that will take a lot of tough work from the ISA, a shoestring operation which will soon face immense pressure from the likes of China and Russia – two of the biggest enthusiasts in the nascent field.
Still, it is a reminder that if we behave sensibly, there is nothing to stop us benefiting from the sea's resources while maintaining its ecosystem.
As I learned when I travelled to Orkney to visit the world's leading wave and tidal power test centre, the sea could provide enough electricity to power the entire world.
The minerals sitting around on the bottom of the sea could help us to build the world's next generation of electric cars and solar panels. Managed properly, there could be more than enough fish to feed us forever.
But if we carry on the way we have in recent years, there is an alternative future – one where sea levels rise, causing untold costs; where fish stocks run out; where coral reefs die and the ocean's capacity to keep absorbing our carbon dioxide diminishes.
We are seeing what Bank of England Governor Mark Carney describes as a "market failure". We are running out of time to put it right.
In Too Deep airs on Sky Atlantic on Tuesday at 8pm and on Sky News on Friday at 9pm.
Joe Biden-Vladimir Putin summit: Leaders agree to return ambassadors to posts in bid to lower tensions | World News
Russia's Vladimir Putin says he and US President Joe Biden have agreed to return their ambassadors to their respective posts in an attempt to lower tensions.
It comes after around four hours of talks between the leaders at a summit in Switzerland.
The two men have had face-to-face discussions at a villa on the shores of Lake Geneva.
The first round of talks involved both leaders, US Secretary of State Anthony Blinken, Russian Foreign Minister Sergei Lavrov and a pair of translators.
A second session involved other senior officials on both sides.
Putin and Biden meet in Geneva

President Biden gave a thumbs up as he left the villa and then entered his limousine, TV footage showed.
Diplomats deemed it to be too risky for them to appear together because of the potential of an embarrassing public spat in response to media questions.
Opening the talks earlier, Mr Putin said he hoped for a "productive" meeting, while Mr Biden called it a discussion between "two great powers" and insisted "it is always better to meet face to face".
As they appeared together for the first time since 2011, both men appeared to avoid looking directly at the other during a brief and chaotic photocall before jostling reporters and photographers.
Mr Biden instigated the summit, and for months the two leaders have criticised each other.
Biden: Putin is a worthy adversary

Mr Biden has repeatedly called out Mr Putin for malicious cyberattacks by Russian-based hackers on US interests, a disregard for democracy with the jailing of Kremlin critic Alexei Navalny and alleged interference in American elections.
Mr Putin, in turn, has pointed to the US Capitol riot on 6 January to argue America has no business lecturing on democratic norms.
And he insisted the Russian government has not been involved in any election interference or cyberattacks despite US intelligence showing otherwise.
Russia's View: Exclusive interview with Putin

The jailing of Mr Navalny, whose novichok poisoning was blamed on the Kremlin, was a subject on which Mr Biden was unlikely to get much traction with Mr Putin who considers the case an internal Russian affair.
But there were areas where cooperation was expected. They include arms control, climate change, containing Iran's nuclear ambitions, humanitarian assistance to Syrians and working together on the COVID-19 pandemic.
US-Russia summit: Putin hopes for 'productive' meeting and Biden says it is 'better to meet face to face' as event gets under way | World News
US President Joe Biden and Russia's Vladimir Putin have embarked on hours of face-to-face talks at a lakeside mansion in Switzerland.
Opening the talks, Mr Putin said he hoped for a "productive" meeting, as Mr Biden insisted "it is always better to meet face to face".
Their encounter at a villa on the shores of Lake Geneva is full of the potential for high drama but low on expectations for diplomatic breakthroughs.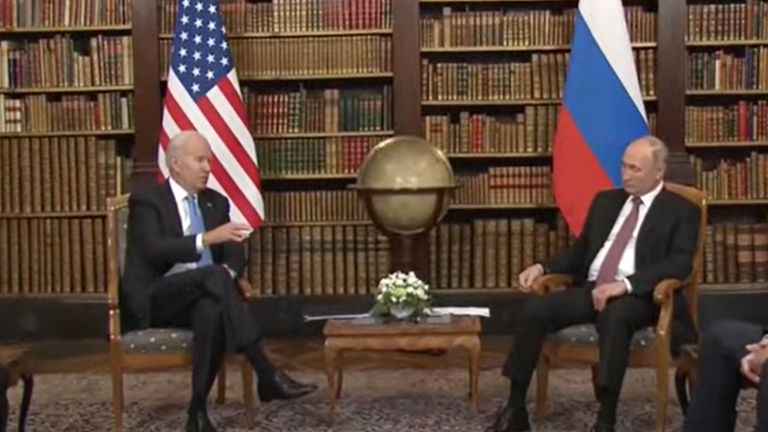 As they appeared together for the first time since 2011, both men appeared to avoid looking directly at the other during a brief and chaotic photocall before jostling reporters and photographers.
When a reporter asked if Mr Putin could be trusted, Mr Biden appeared to nod, but the White House quickly sent out a tweet insisting the president was "very clearly not responding to any one question, but nodding in acknowledgment to the press generally".
Mr Putin ignored shouted questions from reporters.
The two leaders shook hands with Mr Biden extending his hand first.
Shortly before, Mr Biden had smiled at the Russian leader when they posed with Swiss President Guy Parmelin, who welcomed them to Switzerland for the summit.
The meeting, which is expected to last four or five hours in total, comes at the end of Mr Biden's first foreign trip as US president which has taken him to Cornwall for the G7 meeting and Brussels for separate NATO and EU summits.
About two hours in, the Kremlin announced that the first round of talks had concluded, with a short break, followed by their resumption with a larger group of people in attendance – the first of two such rounds.
The first meeting involved the two leaders, US Secretary of State Anthony Blinken, Russian Foreign Minister Sergei Lavrov and a pair of translators.
At all of these meetings, messages have been moulded and red lines set by western leaders which sources say Mr Biden will spell out to Mr Putin.
Ukraine, Belarus, Iran, Syria and issues like arms proliferation are all expected to be discussed as well as behaviour by Russia which western nations consider to be contrary to the so-called international rules based system.
The fate of Russian opposition leader Alexei Navalny, poisoned then imprisoned in Russia, will be raised by the American president. It is a subject on which he is unlikely to get much traction with his Russian counterpart who considers the case an internal Russian affair.
Russia's View: Exclusive interview with Putin

But domestically for Mr Biden, who is facing criticism for agreeing to a meeting with Mr Putin so early in his presidency, it's important to be seen to be pressuring the Russians.
The US president, who famously called Mr Putin "a killer" has conceded already that there is "no guarantee" that the meeting will effect any change of behaviour by the Russian president.
As well as the Navalny case, the poisoning of former Russian spy Sergei Skripal and his daughter in Salisbury in 2018 is likely to feature in the talks.
Defence rivalry will be a key issue with an attempt at a new dialogue on arms control. Issues like the territorial control in the Arctic, space, cyber and autonomous weapons systems could all be up for discussion.
Andrey Kortunov is director general of the Russian International Affairs Council and considered to be a Kremlin insider.
He told Sky News: "They will not resolve these issues in Geneva, they might only authorise their respective bureaucrats and military and diplomats to get into a serious conversation on all of these issues. That would be already a major accomplishment."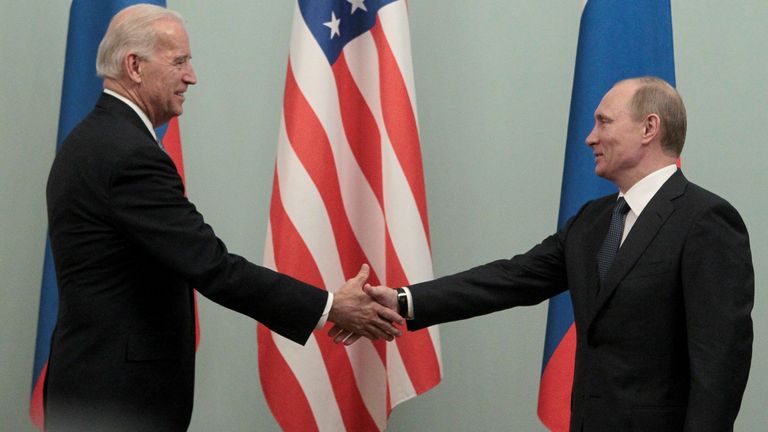 He continued: "I think that Biden and Putin will probably articulate their positions on issues like Ukraine or Belarus too. But it's hard to believe that they can achieve a breakthrough on such sensitive issues."
Expectations by diplomats on both sides are being kept intentionally low. From that base it's possible to build up even small wins as diplomatic breakthroughs.
There is a chance that the two leaders could agree to repair the basic mechanics of their bilateral relationship by reinstalling ambassadors in their respective capitals. But beyond that sort of gesture, bigger announcements are not likely.
On Monday, Mr Biden said he will make clear to Putin "what the red lines are" and "if he chooses not to cooperate and acts in a way that he has in the past relative to cybersecurity and some other activities, then we will respond in kind."
Asked for his assessment of the former KGB officer, Mr Biden said: "He's bright, he's tough, and I have found that he is a – as they say when I used to play ball – a worthy adversary."
Biden: Putin is a worthy adversary

The meeting, which was initiated by President Biden, has been arranged over just a few weeks and will involve one-plus-one talks with Mr Putin and his Foreign Minister Sergei Lavrov and Mr Biden and his Secretary of State Anthony Blinken.
A second session will then include other senior officials on both sides.
The two leaders will not hold a joint news conference. Diplomats deem it to be too risky for them to appear together because of the potential of an embarrassing public spat in response to media questions.
"Definitely the summit was prepared in a haste. It's the very beginning (of the relationship). And it's going to be a modest beginning especially for Biden. He cannot look as if he yielded too much to the Russian counterpart," Mr Kortunov told Sky News.
There are areas where cooperation is expected. They include arms control, climate change, containing Iran's nuclear ambitions, humanitarian assistance to Syrians and working together on the COVID-19 pandemic.
Nora Quoirin: Malaysia court overturns coroner's verdict that teen's death was misadventure | UK News
A High Court in Malaysia has overturned a coroner's verdict that the death of French-Irish teenager, Nora Quoirin, was likely misadventure with no one else involved.
The 15-year-old, who lived in Balham, in southwest London, was staying with her family at a hotel around an hour from the capital, Kuala Lumpur, when she disappeared in August 2019.
After a ten-day search, her body was discovered around 2.5 kilometres from where she was last seen at the Dusun eco-resort in southern Negeri Sembilan.
A coroner in Malaysia ruled in January that the death of British teenager Nora Quoirin was most likely a misadventure.

Meabh Quoirin said her daughter was born with holoprosencephaly, a disorder that affects brain development leaving Nora with learning and physical disabilities.
During a short virtual hearing, Judge Azizul Azmi Adnan laid out the reasons for revising the judgement and returning an open verdict.
In particular, he highlighted Nora's struggles with balance and coordination, the steep terrain around the resort, which was challenging for people without her physical disabilities, and her shy personality which made her "unadventurous" and "uncomfortable with the unfamiliar".
"Having reviewed the material, that was before the court, I am of the view that the verdict of misadventure ought to be vacated in the interests of justice and substituted with an open verdict, as there was no credible evidence to support any other verdict," he explained to Nora's listening parents.
"I am willing to accept that on the evidence before the court the possibility for third party involvement was lower than the possibility that Nora Anne had inadvertently got herself into a situation from which she could not extricate herself.
"That does not mean, however, that I should enter a verdict of misadventure," he added.
The ruling is a legal victory for the family who believe Nora may have been abducted and challenged the coroner's decision.
Police have always suggested there was no evidence of foul play, claiming she likely climbed out of a window and wandered off into the jungle alone.
Her family has dismissed this saying that Nora would not have been physically able to disappear into thick forest unaided and evade detection during the intensive search involving drones and sniffer dogs.
Nora's parents said they were "utterly disappointed" by a coroner's verdict in January.
They have suggested her body may have been placed in the area where it was finally found.
Legal representatives for the family previously said an open verdict would be "appropriate".