Sweden plans to build more bunkers amid fears of Russian aggression
STOCKHOLM — Burrowed beneath a small park in Stockholm is a forgotten relic of the past that may help in the future.
The only clue to its existence is a green metal door, 8 feet high by 5 feet wide, hewn into the rock next to a busy, snow-dusted sidewalk.
Heaving it open reveals an airlock that leads to a fully operational nuclear bunker.
Facilities like this are a vital part of Sweden's history — and recent threats from Russia mean they could become important again in the years to come.
"They are meant to be used if the government decides to announce full alert," says Ove Brunnström, the cheerful spokesman for Sweden's Civil Contingencies Agency who recently gave NBC News a rare tour of the subterranean site. "That would be [triggered] if we are close to war or we are under attack."
Few countries do bunkers like Sweden, which never joined NATO and could be considered one of the world's most peaceful nations over the past 200 years.
It honeycombed itself with civil defense shelters during the Cold War and today around 65,000 remain on standby, dotted around its sparsely populated territory.
In the early 2000s, Sweden slashed defense spending and halted bunker construction. Many were all but forgotten, doubling as parking lots and bicycle storage spaces during a period when global conflict seemed a distant prospect.
That thinking changed in 2014 when Russian President Vladimir Putin annexed Crimea, allegedly sent troops into eastern Ukraine, and began violating airspace over the Nordic and Baltic regions.
"Ukraine was a wake-up call for the Swedes, and it really renewed the national discussion surrounding defense," says Erik Brattberg, a fellow at the Washington-based Carnegie Endowment for International Peace think tank.
This perceived threat has prompted Sweden to order a reboot of its once-proud policy of "total defense" — which calls on the military and civilians to act together to ward off attackers. Bunkers are an integral part of this hunker-down strategy.
In December, the country's Defense Commission recommended modernizing existing shelters while planning the construction of the first new ones in more than 15 years.
"It's expensive to build shelters, the Cold War was over and we had quite a calm situation in Europe," says Brunnström, explaining his country's change of heart. "But what happened in Ukraine in 2014, I think, shocked the Western world."
Simulated military strike
Today's threat is different from the one posed by the Soviet-U.S. standoff. Hybrid warfare such as cyberattacks and propaganda now have far greater prominence.
But many Western analysts say Sweden should not be complacent about the risk of a traditional military conflict.
In April 2013, six Russian aircraft carried out a nighttime mission in which they simulated a nuclear strike on Stockholm. The next year, Sweden launched a large search operation for what was believed to be a Russian submarine that had infiltrated waters near the capital.
Last week, Putin boasted that Russia has a new array of nuclear-capable weapons including an intercontinental ballistic missile that renders defense systems "useless." He said that Russia had "no plans to be an aggressor but also accused the West of "ignoring us," adding: "Listen to us now."
And even a minor incident could have serious consequences for the delicate geopolitical balance between Russia and the U.S.
One nightmare scenario for the West involves Russia invading the Swedish island of Gotland, blocking off NATO supply routes to its vulnerable Baltic allies. Last year, Sweden re-militarized the island but experts say the force is too small to provide any real resistance.
"No one thought four years ago that Russia would annex Crimea and invade eastern Ukraine," said Heather A. Conley, a former State Department official under President George W. Bush who is now director of the Europe program at the Center for Strategic and International Studies in Washington. "This means we have to imagine what we would have previously considered unimaginable."
Sweden has developed close ties with NATO in recent years. Its military personnel have served and died during U.S.-led operations in Afghanistan and Kosovo. And several polls last year showed that for the first time more Swedes supported joining the alliance than opposed it.
But full NATO membership still seems a long way off. Before any referendum is held, there would need to be cross-party consensus, and the move is still opposed by the ruling Social Democratic-Green coalition.
Swedes are also highly suspicious of President Donald Trump, with just 10 percent saying they had confidence in him to do the right thing on global affairs, according to a study by the Pew Research Center last June. Of the countries surveyed, only Mexico, Jordan and Spain had a lower opinion of the president.
Because Sweden is a non-NATO member, the U.S. and the rest of alliance would not be obliged to come to its defense if it were attacked.
As Fredrik Wesslau, a senior policy fellow at the European Council on Foreign Relations, put it: "It is a classic case of speaking loudly and wielding a small stick."
Back in the bunker, Brunnström says scary-sounding news stories have a tangible effect.
If something happens in the news, in North Korea or somewhere else, "we notice there is a lot more telephone calls coming in about shelters," Brunnström says. "People asking about shelters, 'Where to find my shelter?' And questions like that."
Someone else who sees this phenomenon is Tord Strømdal, 42, an administrator for Sweden's largest Facebook group for doomsday preppers.
Strømdal says his online survivalist community of 25,000 members ranges from doctors and teachers to police officers and soldiers.
But Strømdal, a 6-foot-4 Viking of a man with a plaited beard, doesn't think Putin will invade Sweden. He believes his country is far more vulnerable to subtler things such as cyberattacks aimed at disabling utilities and other important infrastructure.
To him, being a prepper is just part of the self-reliance that appears culturally hardwired into many Swedes.
"It's very common to make that kind of assumption that I'm some kind of crazy tinfoil-hat lunatic, and those certainly do exist within the prepper community," he says. "But most people in our group, they're just normal, ordinary people who come to the conclusion that they need to have a certain level of preparation."
But the event that saw the biggest boost in the group's membership wasn't related to Russia or North Korea.
"There was a huge bump after Trump got elected," he says. "I don't think that most Swedes see him as a stable world leader. I think most Swedes see Trump as a someone who is decreasing global security."
'Unacceptable costs on any invader'
The origins of Sweden's bunkers can be traced back two centuries.
In 1814, it became the first country to declare neutrality in all global conflicts. Until recently that was also the last time it officially fought in a war, meaning it enjoyed almost 200 years of uninterrupted peace.
This did not mean giving up its arms, however.
Finding itself between the nuclear-armed U.S. and the Soviet Union, Sweden amassed one of the Cold War's most powerful coastal defenses and a formidable, high-tech military featuring some 1,000 aircraft.
The "total defense" policy also included hundreds of thousands of reservists and civilian home guard personnel — not to mention its extensive network of bunkers where the rest of the population could weather any attack.
Civilian self-reliance became baked into the Swedish psyche.
This was crucial to Swedes' feeling safe. Although its military was strong, in the face of a global superpower it "could not realistically defeat a determined invasion by directly facing the adversary at the borders," says Dylan Lee Lehrke, a senior military analyst at IHS Markit, a data analysis firm in London.
"In order to achieve this deterrence," he says, the military and civilian force "needs to be able to impose unacceptable costs on any invader."
The bunker NBC News visited in Stockholm is far more striking than most of Sweden's shelters, which are mostly mundane basements below houses and apartment blocks.
Some 200 feet long and 20 feet wide, the half-cylindrical hideout was built in the 1940s and has remained largely untouched since it was renovated in the 1970s.
It could easily double as a walk-in museum or even the secret lair of a James Bond villain. Painted in patriotic Swedish blue and yellow, it is festooned with large ventilation pipes that can keep out gamma radiation and other potential hazards.
The space seems cavernous, but it would be teeming if crammed to capacity with 180 bodies for the maximum recommended time of three days.
Each person would have an allocated space of 2.5 square feet — just blankets on the floor, no room for beds. The bathroom facilities are a bucket behind a thin wooden door.
"As in all places where you put lots of people together in a small space, there will probably be some kind of problems in here," Brunnström says. "But I think it has very much to do with what's happening on the outside. I think if there's an air raid going on, for example, they would be very happy to stay in here."
In September, the Civil Contingencies Agency concluded there was room in its shelters to protect 7 million people — in a country of 10 million.
Unlike Switzerland — perhaps the only nation with a more extensive network — Sweden has never tried to accommodate all of its population in shelters. Still, news of the shortfall was dramatic.
The agency pressed the need to investigate potential sites for new bunkers.
In December, the Defense Commission also recommended modernizing existing shelters while building enough new ones to accommodate an extra 2,500 people every year.
Its bunker plan would not start until 2021 and would cost $40 million per year. Separately, the Civil Contingencies said 500 new bunkers housing 50,000 people would cost up to 2 billion Swedish kronor, around $125 million, and take 10 years to complete.
After its post-Cold War timeout, total defense is once again the official policy of Sweden. As well as refocusing on bunkers, this liberal, progressive nation has also reintroduced a partial military draft.
"When the Cold War ended, Sweden no longer perceived an imminent threat to the homeland," says Stephen J. Flanagan, a senior political scientist at the RAND Corporation, a think tank headquartered in Santa Monica, California.
"With the re-emergence of a threat from the East," he said, "Sweden is in the process of restoring capabilities for defense of the homeland."
Gender gap: Ageing societies give more advantages to men than women, researchers say | World News
Men have more advantages than women in ageing populations, an international study has found.
Researchers say the gender differences in societal ageing suggest men have better resources to cope with the challenges of getting older.
Different gender roles within society not only shape women's and men's life opportunities but also their experience of ageing, the research suggests.
Worldwide, the number of people aged 65 years and older is expected to more than double in the next 30 years, rising from 703 million in 2019 to 1.5 billion in 2050.
Age UK on difficulties facing elderly after lockdown

The study, by researchers from the National University of Singapore and Columbia University in America, found men are especially advantaged when it comes to income and wealth.
They are more likely to be financially secure, have paid work and spend fewer years in ill-health than women in later life.
The first of its kind, the research investigated gender differences in the experience of people growing older in 18 countries in the Organisation for Economic Cooperation and Development (OECD), which includes the likes of the UK and the US.
Women across the countries analysed were shown to have a three year longer average life expectancy than men, but spend more years in poor health.
They are also more likely to live alone at the end of their lives and earn less than men.
A disproportionately greater risk of disability and ill-health in women increased their likelihood of needing long-term care, the study found, as well.
Researchers used the latest data from the OECD and World Bank between 2015 and 2019 for 18 of the 35 OECD countries with sufficient data to develop a gender-specific ageing index.
The new index accounts for five categories that capture social and economic factors affecting the quality of ageing: wellbeing, productivity and engagement, equity, cohesion and security.
Using the system, researchers calculated the overall index and individual category scores that range from 0 to 100 for men and women.
A higher score suggests a successfully ageing society.
Key differences between men and women in ageing societies according to the study:
Men have better resources to cope with the challenges of ageing
Women have a three year longer average life expectancy than men
Men are especially advantaged when it comes to income and wealth
Women spend more years in poor health
Men are more likely to be financially secure
Women have a greater risk of disability and ill-health, which increases their likelihood of needing long-term care
Men are more likely to be engaged in paid work
Women are more likely to live alone at the end of their lives
Women earn less than men
Denmark, Sweden, Finland, Norway, the Netherlands and Japan did well for both genders with an overall index score of 66 or above for men and 55 or above for women.
Countries in much of eastern and southern Europe were at the bottom of the rankings.
The UK achieved an overall index score of 57 for men and 47 for women. It also had the largest difference in wellbeing scores between the two genders, with a score of 74 assigned for men and 61 for women.
America's overall performance score was 55 for men and 47 for women.
Both the US and the UK performed poorly in the study, indicating growing inequality in the distribution of income and wealth.
Lead author Dr Cynthia Chen, from the National University of Singapore, said: "Ageing societies reinforce the prevailing gender norms in which men continue to be allocated the majority of opportunities, resources, and social support.
"With the world's population ageing at an unprecedented rate, and the ratio of older women to older men expected to increase, there is an urgent need to challenge the structural and policy biases that favour men."
The authors have suggested four measures to help address gender bias and inequality in societal ageing including assessing minimum income requirements for healthy living in older people and minimum pensions.
The mystery of the whisky bottle, the US secretary of state and the department searching for answers | US News
The US State Department is investigating the apparent disappearance of a bottle of whisky worth nearly $6,000 (£4,320).
The Japanese government gave the bottle to Mr Pompeo in June 2019 when the then-secretary of state visited the country.
The department reported the investigation in its annual accounting of gifts given to senior US officials by foreign governments and leaders.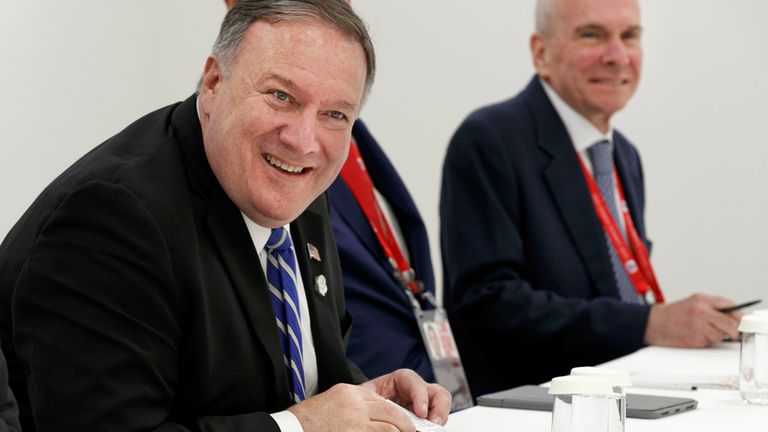 It noted that it could find no trace of the bottle's whereabouts and that there was an "ongoing inquiry" seeking an explanation.
A spokesman for Mr Pompeo said he was unaware of the gift and the inquiry into its whereabouts.
It is thought the bottle of whisky was given to Mr Pompeo while he was attending a G20 summit in Japan, along with then-president Donald Trump.
But the state department's Office of Protocol, which records gifts given to US officials, said that, while every other gift had been recorded, there was no record of the whisky.
If a gift is over a certain value, the recipient can give it to the National Archives or another government entity, or they can keep the gift and reimburse the Treasury Department.
Among the items given to Mr Pompeo during his time as secretary of state were two carpets worth a total of $19,400 (£14,000) from the president of Kazakhstan and the foreign minister of the United Arab Emirates.
Mr Trump and his wife Melania received more than $120,000 (£86,400) worth of presents from foreign leaders in 2019, including an Ottoman Empire rifle worth $8,500 (£6,120) from the Bulgarian prime minister, a bronze sculpture of an Arabian horse from the crown prince of Bahrain worth $7,200 (£5,100), and a statue of an Arabian oryx worth $6,300 (£4,500) from the emir of Qatar.
The Office of Protocol said all of these were given to the National Archives.
Greece wildfires: Families reflect on devastation as homes are destroyed – 'if my mother saw this she would cry' | World News
I spot George Kyriakopolous sitting in his car, the door open to blackened surroundings and smouldering earth.
To his left is his house. To the right, the one owned by his 95-year-old mother and 98-year-old father. His parents' property is burned beyond repair. His own house is badly damaged.
George is a man in shock. He cannot believe what he is seeing. Twenty four hours earlier he was watching a wildfire at what seemed like a distance. In 10 minutes, he says, the fire was upon them in the village of Varympompi, north of Athens.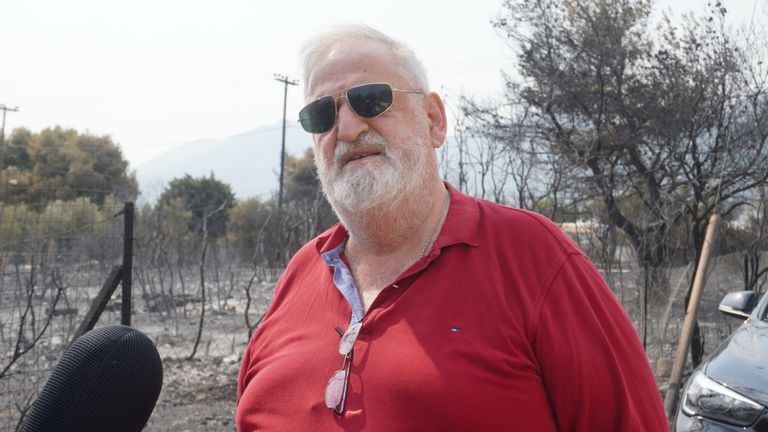 He tells me they had to drive through the flames to get out. He is one of the few residents here who have made it back to check on their properties.
George tells me: "If my mother saw this she would cry. She would cry."
And I think any of us would. Homes that have been lived in and cherished for years were destroyed in minutes. Land cultivated through hard work, now scorched.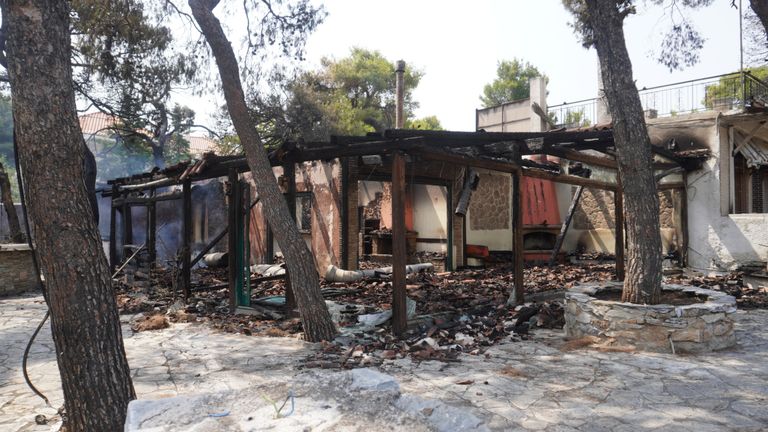 And this scene is repeated in street after street in this village where hundreds were forced to leave as one of the biggest wildfires in Greece this week penetrated Varympompi. Most who live here have not been allowed to return.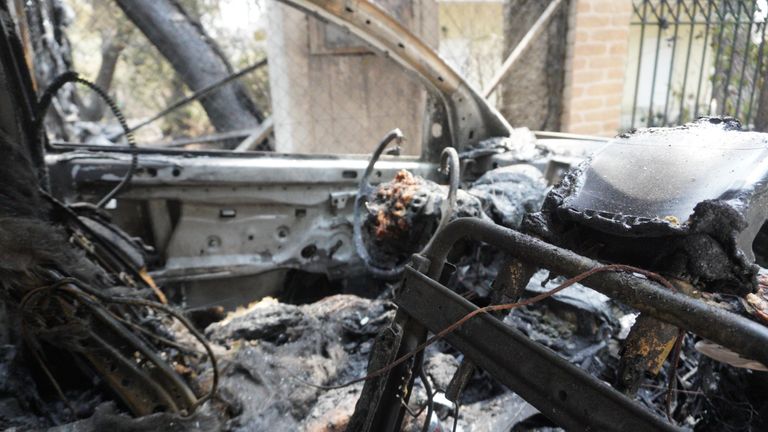 The area is still regarded as extremely dangerous and most residents can only watch the skies from where planes and helicopters dump vast containers of water on the area and hope things will be okay.
Sadly for many of them that will not be the case. Coming back here will be traumatising. It certainly has been for Rula Mantis who shows us around the charred remains of the fruit vegetable store she runs with her boyfriend. So much of it is destroyed and she wonders how they will ever recover.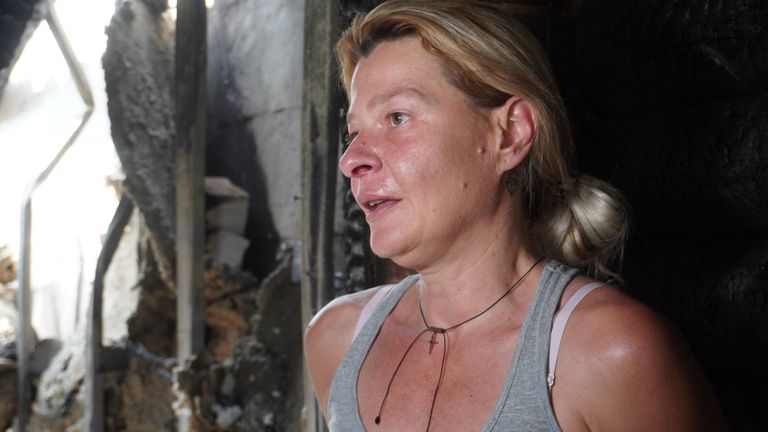 She's angry the property was allowed to burn but understands fire crews faced impossible pressure.
She tells me: "It's very hard. It's a lot of money you have to spend to make this from the beginning. You can't save anything. As you can see, there's nothing left."
The massive flames which lit up the night sky here when the fire reached its peak may have quelled now but the danger for this village isn't over. Everywhere we drive or walk in Varympompi the ground is smouldering.
High temperatures have caused the wildfires in Greece – with people being forced to evacuate their homes

Smoke threatens to ignite into fresh flames which on scorched earth could spread again. It is why residents are taking their fire extinguishers and buckets to douse where they can.
But they know they are up against challenging elements. Temperatures are predicted to remain high in Greece in the days to come when all villagers hope for is rain.
They also know they face the pain of seeing neighbours and friends return to a village where there will be so much pain to confront.