Fiorentina captain Davide Astori died of 'cardiac arrest' in hotel room

The captain of Italy's Fiorentina football team, Davide Astori, died of cardiac arrest by natural causes, a post-mortem examination has revealed.
The 31-year-old centre-back was found dead in a hotel room in Udine, where Fiorentina had been due to face Udinese later on Sunday.
Following a post-mortem, Udine prosecutor Antonio De Nicolo said: "The belief is that the player died of a cardiac arrest by natural causes.
"It is strange that such a thing should happen to a professional who is so closely monitored without there being any warning signs."
In Italy, professional footballers are required to undergo certain health checks every six months.
Astori, who has a two-year-old daughter, had been capped 14 times by Italy and enjoyed a professional career spanning 12 years.
He started out at AC Milan, where he never played a Serie A match, before moving to Cagliari, the club where he made his big breakthrough.
He made 174 appearances for the Sardinians in a six-year spell, during which he made his national team debut.
A man who loved football and who grew up as footballer with us. #ACMilan are shocked by the passing of Davide #Astori. It is with great sadness that we offer our deepest condolences to his family and closed ones and to ACF Fiorentina

— AC Milan (@acmilan) 4 March 2018
In 2014, he was sent on loan to Roma and a year later made a similar transfer to Fiorentina.
Astori had established himself as a vital member of the squad and appeared 27 times for the side, ranked 10th in the Serie A standings this term.
In a statement published on its website, Fiorentina said: "Fiorentina are profoundly shaken and forced to announce that their captain Davide Astori has died.
"For this terrible and delicate situation, and above all out of respect for his family, we appeal to the sensitivity of the media."
AC Milan tweeted: "A man who loved football and who grew up as a footballer with us. AC Milan are shocked by the passing of Davide Astori.
"It is with greater sadness that we offer our deepest condolences to his family and close loved ones and the ACF Fiorentina."
Premier League football clubs have also paid tribute.
Chelsea FC tweeted: "Everybody at Chelsea Football Club is shocked at the sudden death of Fiorentina captain Davide Astori. Our thoughts are with his family, friends and team-mates at this time."
Chelsea boss Antonio Conte, who selected Astori during his reign as Italy coach, told Sky Sports: "This is a tragedy and it really hurts me.
"It's very difficult at this moment to find the right words for the family.
"I had him with the national team.
"He was a great player but especially a fantastic guy.
"I stay close to his wife, parents and daughter.
"He was only 31 and it's very difficult to explain this situation."
Liverpool FC posted: "We're saddened by the passing of Fiorentina captain Davide Astori. Our condolences are with his friends and family. RIP Davide."
Tokyo Olympics: Opening ceremony was 'respectful, hopeful but sombre night' | World News
Olympic opening ceremonies are something of a unique art form. Playing to a global audience but with the host nation wanting to make the night their own.
Japan chose sombre. It was a respectful, hopeful but above all sombre night. They didn't want to show off when everyone has lived through such hardship – and while so many people continue to do so.
Their display using 1,824 flying drones combining like a swarm of giant worker bees to create a giant globe stood out.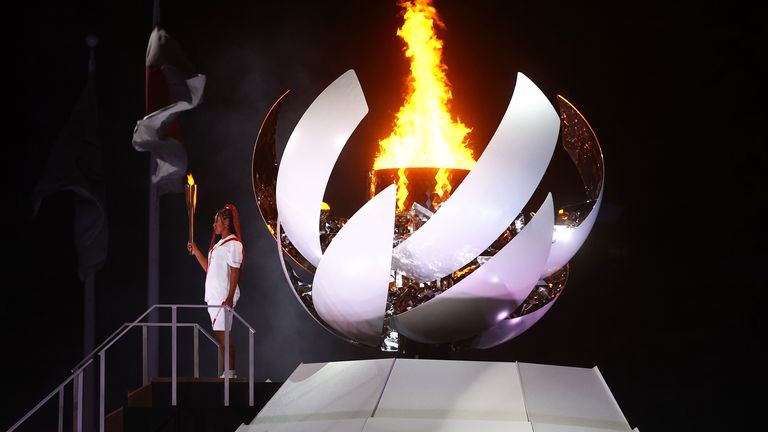 There were no Team GB fans at the 2021 summer olympic opening ceremony in Tokyo due to COVID-19 but Japan put on a stunning visual show regardless

So too Japanese tennis superstar Naomi Osaka who was given the honour of firing up the hydrogen-fuelled Olympic cauldron.
But it was their courteous bow towards the pain of the pandemic that defined the evening.
Video montages of empty cities during lockdowns, and athletes cobbling together training regimes in their back gardens – it all made for an understated opening ceremony.
Outside, the protests in the streets continued among those still vehemently against the Games taking place while Tokyo remains in a state of COVID emergency.
There were also people outside who just felt drawn to the Olympic stadium – to come and wave to the very select numbers of VIPs and media going inside. It was as close as they could get to the Games that they had waited almost a decade for.
While these Olympics will feel unusual there were reminders too of the magic they can create.
There was a towering Tongan taekwondo player who strode into the stadium with his bare oiled chest puffed out as he carried his island nation's flag like a warrior on a mission.
Protests held outside Olympic stadium

The Olympics can still produce special moments like that and there will be plenty more over the coming weeks.
There will be more COVID-19 disruption too but the Games of 2020 are finally open, just one year late.
Business leaders have 'obligation to speak up', ex-Unilever boss says amid Ben & Jerry's row | Business News
Unilever's ex-boss has said business leaders have an "obligation to speak up" after his former company became embroiled in a row with Israel over its Ben & Jerry's business.
Paul Polman mounted a defence of the need to "fight for what is right" in remarks to Sky News after the ice cream brand said it would stop selling its products in the occupied Palestinian territories.
Ben & Jerry's is owned by consumer goods giant Unilever – whose array of brands ranges from Marmite spread to Dove soap – but has an independent board to take such decisions.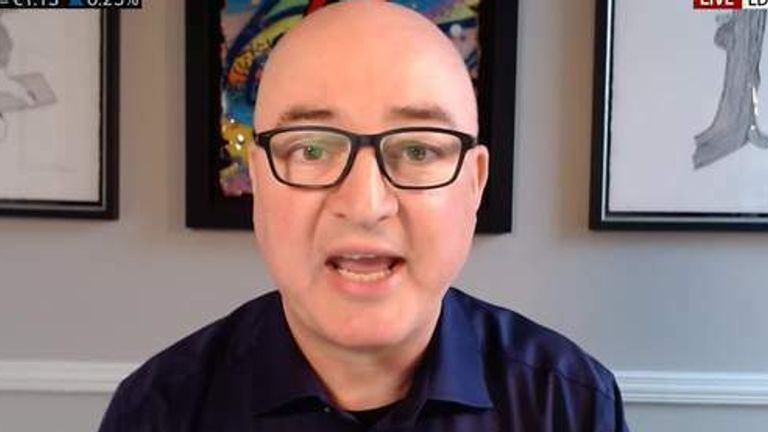 Its announcement is one of the strongest steps taken by a well-known company over Israel's settlements, which are widely seen as illegal by the international community.
The move drew condemnation from the Israeli government, whose new prime minister Naftali Bennett said this week that Israel would "use the tools at its disposal – including legal – on this issue" and that those taking such action "need to know that there will be a price to pay".
Mr Polman, speaking to Sky's Ian King Live, said it would be inappropriate to say how he would have handled the issue had he still been in charge of Unilever.
But he added: "What is very important is if we want humanity to function for the long term we need to be sure that we fight for the basic values, the basic values of dignity, respect, equity, compassion.
"If we see these values being violated anywhere in the world I think we have an obligation to speak up.
"What we've seen in the US in the last few years – too few people, also from the business side, spoke up against things that then bit by bit moved the boundaries and put us in a very difficult situation.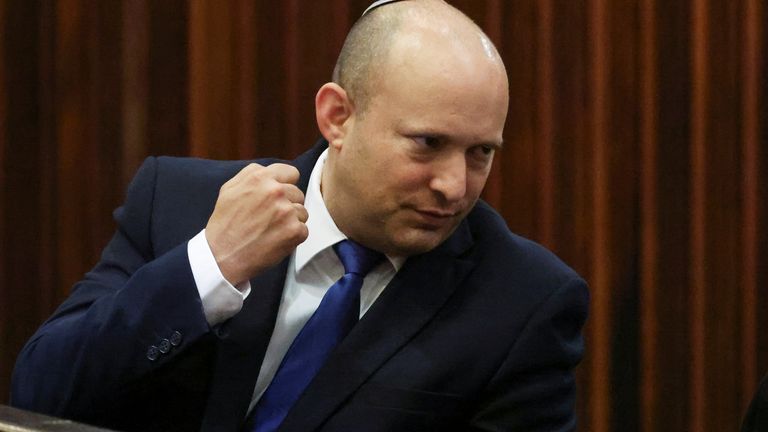 "So, fight for what is right and one of the few things we should fight for always is, these basic human rights."
Mr Polman was speaking a day after current Unilever boss Alan Jope, in a conference call to discuss latest results, said the company remains "fully committed" to doing business in Israel but gave no indication that Unilever would press Ben & Jerry's to reverse the decision.
Mr Jope, who has spoken to Mr Bennett on the phone to discuss the matter, said that it was a "complex and sensitive matter".
Tokyo Olympics 2020: Algerian judoka Fethi Nourine withdraws to avoid facing Israeli competitor Tohar Butbul | World News
An Algerian judo competitor has withdrawn from the Tokyo Olympics after learning he could have faced an Israeli opponent.
Fethi Nourine said his political support for the Palestinian cause made it impossible to compete against Tohar Butbul.
He told Algerian TV he would not "get his hands dirty" and his "decision was final".
"We worked a lot to reach the Olympics, and the news came as a shock, a thunder", he added.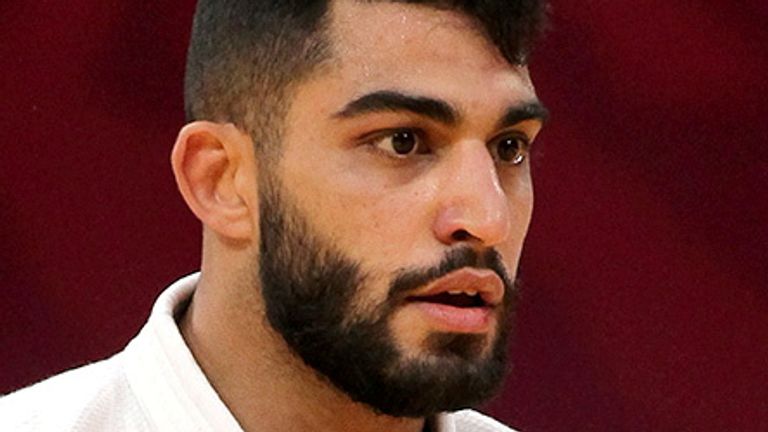 The 30-year-old was drawn against Sudan's Mohamed Asdalrasool on Monday for his first match in the men's 73kg class. If he had won that match, he would have faced Butbul, who has a first-round bye, in the next round.
Nourine also withdrew from the world championships in 2019 for the same reason.
At the time, his coach Amar Ben Yaklif was quoted in Algerian media saying: "We were unlucky with the draw. We got an Israeli opponent and that's why we had to retire. We made the right decision."
Tensions between Israel and Palestinians flared in Jerusalem earlier this year causing the worst violence in the region since 2014.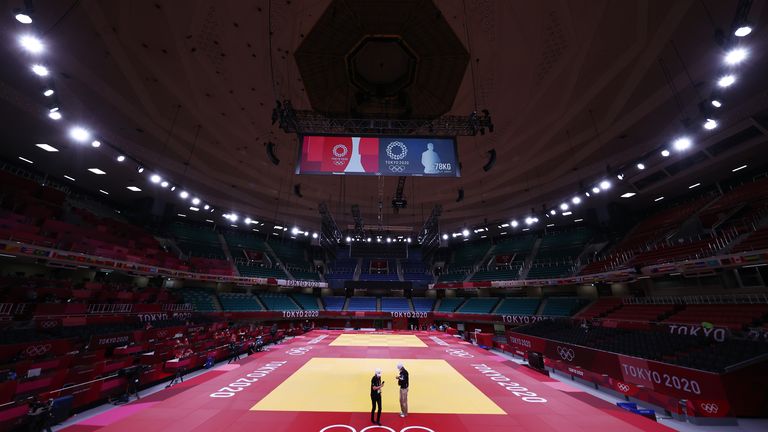 The conflict between the two sides has been going on for decades and has seen athletes from Iran and Egypt also previously refuse to compete against Israeli opponents.
Follow the Daily podcast on Apple Podcasts, Google Podcasts, Spotify, Spreaker
The opening ceremony for this year's Olympic games took place on Friday, with fans not allowed in the national stadium for the event due to COVID-19 concerns.
Instead, around 1,000 dignitaries and members of the media were allowed the witness the spectacular event.