The Oscars are the Super Bowl for fashion — and brands are ready for their touchdown
From the high-end designers hustling to get their gowns on Hollywood stars at any price, to the fast fashion retailers readying to serve up spinoffs of the most beloved looks from Sunday's big event, everybody is angling to make the Academy Awards a win.
"For the fashion and beauty world, the Academy Awards are the Super Bowl," Tom La Vecchia, founder of the digital marketing firm X Factor Media, told NBC News. "The big brands have been planning for this for months, and usually this is a big part of their spend. A brand, like say, Gucci, could spend well into the seven figures."
While an upscale fashion brand could be splurging on a commercial spot during the show — which is still an incredibly powerful way to engage, said Allen Adamson, co-founder at Metaforce and the author of "Shift Ahead: How the Best Companies Stay Relevant in a Fast Changing World" — La Vecchia is more specifically referring to the cost of getting on the red carpet by way of an A-list celebrity, the ultimate celebrity endorsement for a designer — and one it can instantly and forever refer to as a kind of badge of honor, La Vecchia notes.
"A brand looking to [outfit] an A-list celebrity is eyeing an average of $1 million for the event," he said. "Because they don't want to just sponsor one celebrity, they want to sponsor several, and usually that includes not just the [attire], stylists, and everything else required, but compensation for the celebrities. The brand may also try to get into the swag bag, which is valued at around $100,000."
Visit for a $10,000 dress, leave with a $200 blouse
Brands are counting on a pretty old-school but die-hard advertising tactic here: they're putting their most expensive, exclusive products on parade (at the most expensive and exclusive cost) to maintain elite status, but also to move product to the masses. It's a strategy that Adamson deems "less impactful at the top of the market," but one that can make a big shake further down.
"There will be a few [high-end] dresses that sell after the Oscars, but the bigger opportunity is for the market that is accessible to more people," said Adamson.
If a consumer sees a dynamite dress on Lupita Nyong'o and looks it up online to learn that it costs $20,000, she probably won't buy that dress. But she may buy something else that bears the same swanky label.
"These brands know nobody will buy that dress because it's so expensive, but they also know that someone may see that dress and then buy a different item from them for $200," adds La Vecchia.
Cashing in on social media in real time
The high-end designers may rule the red carpet, but all fashion and beauty brands should be poised to benefit by monitoring the event like a hawk and being ready to pounce on social media. It may seem spontaneous as their campaigning happens in real-time, dropping trending hashtags — but the effort is intricately planned.
"Retailers should absolutely be prepared for moments [such as] a celebrity naming your brand or the brands that you sell," said Janet Levine of Mindshare North America. "In advance of the show, if this seems likely, you should be thinking about your potential plan of action, from retweeting the celebrities in question, to figuring out if you can use that endorsement in more of your advertising, to optimizing your search marketing, to planning an interesting in-store activation."
Related: This algorithm may just predict who will win Best Picture
Levine lends the following as an example. "Let's say that you're a retailer that sells designs from Rachel Zoe, and then a celebrity mentions that she's wearing Rachel Zoe at the Academy Awards. You would have someone monitoring for those kinds of mentions in real-time, and then when it happened, you could work to put forward all the Rachel Zoe items on your website, put together curated looks, [and] amplify your search marketing around that designer."
Brands will likely be implementing social listening tools to analyze large amounts of data as it streams in. Namely they'll be looking "to unearth patterns, insights, or even the outliers of consumer conversation," said Levine, adding that the most universal tools aggregate hashtags and keywords to find trending topics, popular news stories, and social commentary.
"The more that brands and retailers can understand all different cuts of data, the more relevant they can be for their consumers," says Levine.
While retailers who've invested in the technology to dissect this data stand to make the most of it, indie brands and even beauty salons with no tools can jump on the bandwagon. They don't even need to be selling a relevant product, per se; it could be as simple as joining the discussion about a particular color that is stealing glances on the red carpet.
Related: Women in Hollywood talk to NBC News about the Oscars and #MeToo
"Studies have shown that above form and shape people notice color first," says Leatrice Eiseman, executive director of the Pantone Color Institute. "We don't have a crystal ball, but we can expect to see a conversation around color. Designers and stylists are zooming in on it. We saw it significantly at the Golden Globes. Black was important not just because of the symbolic message it carried [for the #MeToo movement], but because it is the color of empowerment; it's actually all the colors combined."
Timing matters for department stores and beauty brands
Make-up brands (and the drugstores that carry them) also have a shiny opportunity here — though according to Viant, a Meredith Corporation advertising technology company that analyzed the profiles of over 600,000 people who watch the Grammys, the Olympics, and the Oscars — the best timing of their opportunity varies from brand to brand.
"L'Oreal and Maybelline brand cosmetics could launch social campaigns on Instagram timed strategically with the red carpet as people who watched red carpet coverage in 2017 are 14 percent more likely to buy L'Oreal brand cosmetics and 8 percent more likely to buy Maybelline brand cosmetics than other Oscars viewers," said Jon Schulz, CMO at Viant.
"On the other hand, Wet n' Wild brands cosmetics may want to deliver their messages during the Oscars primetime as these Oscars viewers are 14 percent more likely to buy their products than those who watch red carpet coverage."
Department stores can also form insights on when to make a move during the roughly four-hour event (including the red carpet).
"In 2017, people who watched at least 30 minutes of red carpet coverage were 15 percent more likely to shop at Macy's than other Oscars viewers, and 13 percent more likely to shop at Nordstrom than other Oscars viewers," added Schulz. "Knowing specifically that the red carpet garners interest amongst your consumers, these retailers can develop campaigns that incorporate the celebrities, styles, and trends that are prominent on the red carpet and air these advertisements not only during the prime time, but even earlier to excite consumers about the event and their brand."
A feast for fast fashion
In the days immediately following the Academy Awards, the pressure is on retailers to bring the trends that stole the show to their shoppers. This is a game that fast fashion retailers are positioned to win.
"Fast fashion brands will respond very quickly and will be producing either 'replicas' or 'inspired by' looks from the Oscars and have them available quite quickly for purchase," said Sally Cotching, strategy director at Three Fold Agency. "I think Dior's black sheer polka-dot look will be worn by at least one red carpet starlet this year, and this will most likely result in Zara and H&M carrying something similar."
Adamson added that brands have got even better at reactive marketing in recent years.
"If they see something at the awards that added sizzle to a look, a dress, a hairdo, then they can more quickly react to not only fueling but bringing something in store to say, 'Here is what Jennifer Lawrence wore, and here is something quite similar," he noted.
No matter how you spin it, time is of the essence for all retailers. Both Adamson and La Vecchia noted that by Wednesday, much of the fuss over the Oscars will have died down, and consumers will be talking about something new. Of course, that's not always the case for yet another retail subset: high-street fashion.
"It's not uncommon for high-street designers to produce copies of the dresses the female celebrities wear on the red carpet," said Gil Eyal, founder and CEO of HYPR Brands. "Michelle Williams' saffron Vera Wang gown that she wore to the Oscars in 2006 is still available to buy today [from sites like Liz and Liz]."
Joe Biden-Vladimir Putin summit: Leaders agree to return ambassadors to posts in bid to lower tensions | World News
Russia's Vladimir Putin says he and US President Joe Biden have agreed to return their ambassadors to their respective posts in an attempt to lower tensions.
It comes after around four hours of talks between the leaders at a summit in Switzerland.
The two men have had face-to-face discussions at a villa on the shores of Lake Geneva.
The first round of talks involved both leaders, US Secretary of State Anthony Blinken, Russian Foreign Minister Sergei Lavrov and a pair of translators.
A second session involved other senior officials on both sides.
Putin and Biden meet in Geneva

President Biden gave a thumbs up as he left the villa and then entered his limousine, TV footage showed.
Diplomats deemed it to be too risky for them to appear together because of the potential of an embarrassing public spat in response to media questions.
Opening the talks earlier, Mr Putin said he hoped for a "productive" meeting, while Mr Biden called it a discussion between "two great powers" and insisted "it is always better to meet face to face".
As they appeared together for the first time since 2011, both men appeared to avoid looking directly at the other during a brief and chaotic photocall before jostling reporters and photographers.
Mr Biden instigated the summit, and for months the two leaders have criticised each other.
Biden: Putin is a worthy adversary

Mr Biden has repeatedly called out Mr Putin for malicious cyberattacks by Russian-based hackers on US interests, a disregard for democracy with the jailing of Kremlin critic Alexei Navalny and alleged interference in American elections.
Mr Putin, in turn, has pointed to the US Capitol riot on 6 January to argue America has no business lecturing on democratic norms.
And he insisted the Russian government has not been involved in any election interference or cyberattacks despite US intelligence showing otherwise.
Russia's View: Exclusive interview with Putin

The jailing of Mr Navalny, whose novichok poisoning was blamed on the Kremlin, was a subject on which Mr Biden was unlikely to get much traction with Mr Putin who considers the case an internal Russian affair.
But there were areas where cooperation was expected. They include arms control, climate change, containing Iran's nuclear ambitions, humanitarian assistance to Syrians and working together on the COVID-19 pandemic.
US-Russia summit: Putin hopes for 'productive' meeting and Biden says it is 'better to meet face to face' as event gets under way | World News
US President Joe Biden and Russia's Vladimir Putin have embarked on hours of face-to-face talks at a lakeside mansion in Switzerland.
Opening the talks, Mr Putin said he hoped for a "productive" meeting, as Mr Biden insisted "it is always better to meet face to face".
Their encounter at a villa on the shores of Lake Geneva is full of the potential for high drama but low on expectations for diplomatic breakthroughs.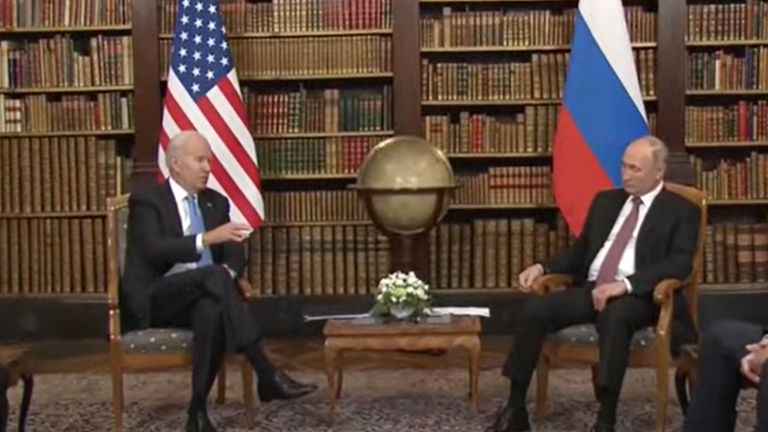 As they appeared together for the first time since 2011, both men appeared to avoid looking directly at the other during a brief and chaotic photocall before jostling reporters and photographers.
When a reporter asked if Mr Putin could be trusted, Mr Biden appeared to nod, but the White House quickly sent out a tweet insisting the president was "very clearly not responding to any one question, but nodding in acknowledgment to the press generally".
Mr Putin ignored shouted questions from reporters.
The two leaders shook hands with Mr Biden extending his hand first.
Shortly before, Mr Biden had smiled at the Russian leader when they posed with Swiss President Guy Parmelin, who welcomed them to Switzerland for the summit.
The meeting, which is expected to last four or five hours in total, comes at the end of Mr Biden's first foreign trip as US president which has taken him to Cornwall for the G7 meeting and Brussels for separate NATO and EU summits.
About two hours in, the Kremlin announced that the first round of talks had concluded, with a short break, followed by their resumption with a larger group of people in attendance – the first of two such rounds.
The first meeting involved the two leaders, US Secretary of State Anthony Blinken, Russian Foreign Minister Sergei Lavrov and a pair of translators.
At all of these meetings, messages have been moulded and red lines set by western leaders which sources say Mr Biden will spell out to Mr Putin.
Ukraine, Belarus, Iran, Syria and issues like arms proliferation are all expected to be discussed as well as behaviour by Russia which western nations consider to be contrary to the so-called international rules based system.
The fate of Russian opposition leader Alexei Navalny, poisoned then imprisoned in Russia, will be raised by the American president. It is a subject on which he is unlikely to get much traction with his Russian counterpart who considers the case an internal Russian affair.
Russia's View: Exclusive interview with Putin

But domestically for Mr Biden, who is facing criticism for agreeing to a meeting with Mr Putin so early in his presidency, it's important to be seen to be pressuring the Russians.
The US president, who famously called Mr Putin "a killer" has conceded already that there is "no guarantee" that the meeting will effect any change of behaviour by the Russian president.
As well as the Navalny case, the poisoning of former Russian spy Sergei Skripal and his daughter in Salisbury in 2018 is likely to feature in the talks.
Defence rivalry will be a key issue with an attempt at a new dialogue on arms control. Issues like the territorial control in the Arctic, space, cyber and autonomous weapons systems could all be up for discussion.
Andrey Kortunov is director general of the Russian International Affairs Council and considered to be a Kremlin insider.
He told Sky News: "They will not resolve these issues in Geneva, they might only authorise their respective bureaucrats and military and diplomats to get into a serious conversation on all of these issues. That would be already a major accomplishment."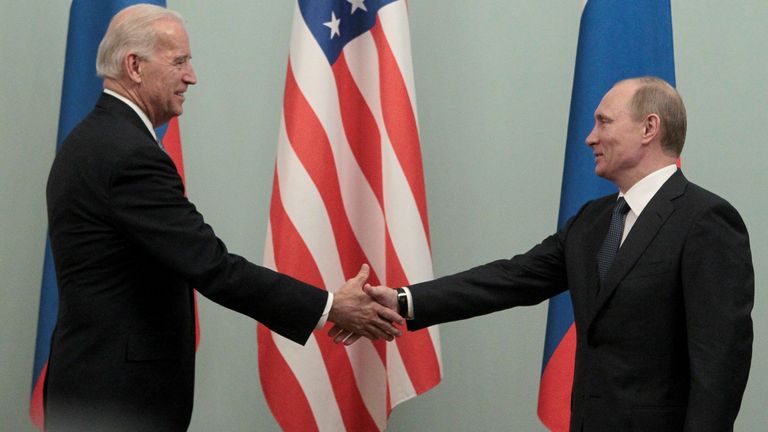 He continued: "I think that Biden and Putin will probably articulate their positions on issues like Ukraine or Belarus too. But it's hard to believe that they can achieve a breakthrough on such sensitive issues."
Expectations by diplomats on both sides are being kept intentionally low. From that base it's possible to build up even small wins as diplomatic breakthroughs.
There is a chance that the two leaders could agree to repair the basic mechanics of their bilateral relationship by reinstalling ambassadors in their respective capitals. But beyond that sort of gesture, bigger announcements are not likely.
On Monday, Mr Biden said he will make clear to Putin "what the red lines are" and "if he chooses not to cooperate and acts in a way that he has in the past relative to cybersecurity and some other activities, then we will respond in kind."
Asked for his assessment of the former KGB officer, Mr Biden said: "He's bright, he's tough, and I have found that he is a – as they say when I used to play ball – a worthy adversary."
Biden: Putin is a worthy adversary

The meeting, which was initiated by President Biden, has been arranged over just a few weeks and will involve one-plus-one talks with Mr Putin and his Foreign Minister Sergei Lavrov and Mr Biden and his Secretary of State Anthony Blinken.
A second session will then include other senior officials on both sides.
The two leaders will not hold a joint news conference. Diplomats deem it to be too risky for them to appear together because of the potential of an embarrassing public spat in response to media questions.
"Definitely the summit was prepared in a haste. It's the very beginning (of the relationship). And it's going to be a modest beginning especially for Biden. He cannot look as if he yielded too much to the Russian counterpart," Mr Kortunov told Sky News.
There are areas where cooperation is expected. They include arms control, climate change, containing Iran's nuclear ambitions, humanitarian assistance to Syrians and working together on the COVID-19 pandemic.
Nora Quoirin: Malaysia court overturns coroner's verdict that teen's death was misadventure | UK News
A High Court in Malaysia has overturned a coroner's verdict that the death of French-Irish teenager, Nora Quoirin, was likely misadventure with no one else involved.
The 15-year-old, who lived in Balham, in southwest London, was staying with her family at a hotel around an hour from the capital, Kuala Lumpur, when she disappeared in August 2019.
After a ten-day search, her body was discovered around 2.5 kilometres from where she was last seen at the Dusun eco-resort in southern Negeri Sembilan.
A coroner in Malaysia ruled in January that the death of British teenager Nora Quoirin was most likely a misadventure.

Meabh Quoirin said her daughter was born with holoprosencephaly, a disorder that affects brain development leaving Nora with learning and physical disabilities.
During a short virtual hearing, Judge Azizul Azmi Adnan laid out the reasons for revising the judgement and returning an open verdict.
In particular, he highlighted Nora's struggles with balance and coordination, the steep terrain around the resort, which was challenging for people without her physical disabilities, and her shy personality which made her "unadventurous" and "uncomfortable with the unfamiliar".
"Having reviewed the material, that was before the court, I am of the view that the verdict of misadventure ought to be vacated in the interests of justice and substituted with an open verdict, as there was no credible evidence to support any other verdict," he explained to Nora's listening parents.
"I am willing to accept that on the evidence before the court the possibility for third party involvement was lower than the possibility that Nora Anne had inadvertently got herself into a situation from which she could not extricate herself.
"That does not mean, however, that I should enter a verdict of misadventure," he added.
The ruling is a legal victory for the family who believe Nora may have been abducted and challenged the coroner's decision.
Police have always suggested there was no evidence of foul play, claiming she likely climbed out of a window and wandered off into the jungle alone.
Her family has dismissed this saying that Nora would not have been physically able to disappear into thick forest unaided and evade detection during the intensive search involving drones and sniffer dogs.
Nora's parents said they were "utterly disappointed" by a coroner's verdict in January.
They have suggested her body may have been placed in the area where it was finally found.
Legal representatives for the family previously said an open verdict would be "appropriate".