Exit polls point to hung parliament
Exit polls in the Italian election point to a hung parliament, with the Five-Star Movement set to be the largest single party.
As polls closed at 11pm local time (10pm GMT), the populist party looked set to win between 29.5% and 32.5% of the vote.
A Five-Star official was quoted as saying that, if the polls were confirmed, they would be "a pillar of the next government".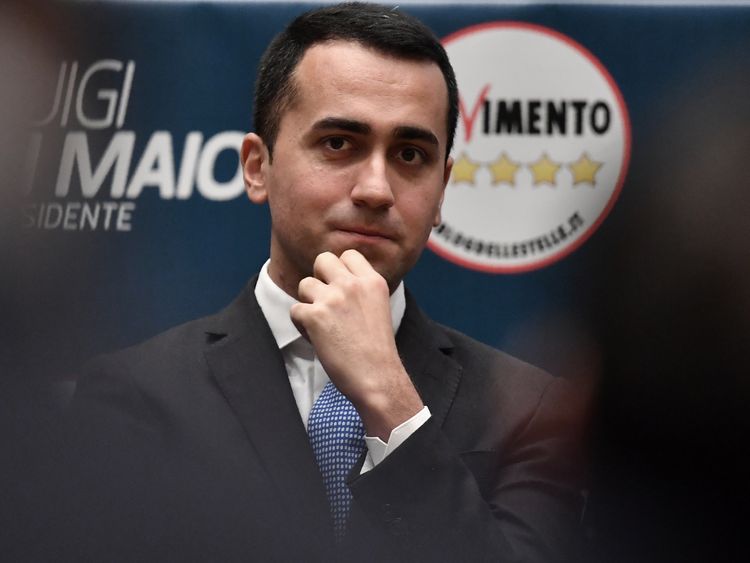 The Democratic Party, currently heading the government, was the next largest party.
They had between 20% and 23% of the vote, according to the figures compiled by Piepoli polling agency.
An official from the party said that, if the polls were proved correct, they would be defeated and will go into opposition.
Former Premier Silvio Berlusconi's Forza Italia and the anti-immigrant League each were polling at between 12.5% and 15.5%. They are running as part of a three party centre-right coalition.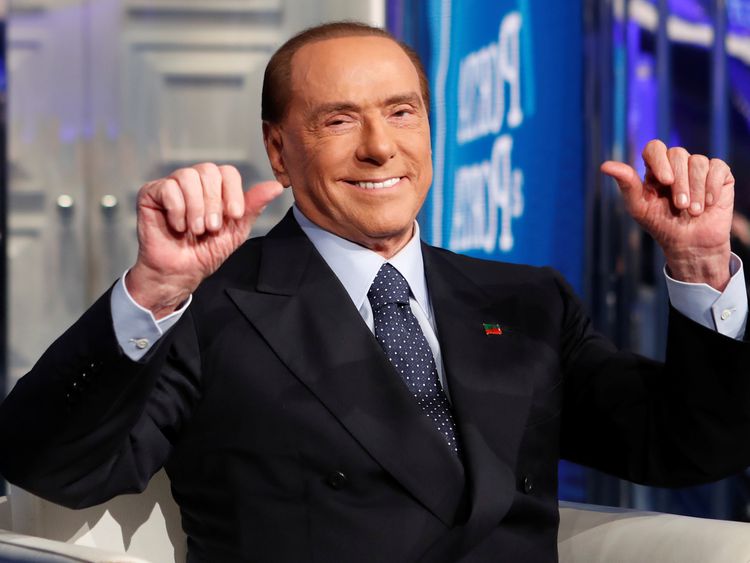 The exit poll has a margin of error of 3%.
The election was held amid a weak economy, widespread distrust of the political class and growing anxiety over migration.
Euroscepticism has also been rising in Italy, a country where pro-EU sentiment used to be rock-solid.
:: What you need to know about Italy's election
More follows…
Jasmine Hartin: Daughter-in-law of Lord Ashcroft granted bail after policeman shot dead in Belize | UK News
The daughter-in-law of Conservative grandee Lord Ashcroft has been granted bail of $30,000 Belize dollars (£10,500).
Jasmine Hartin, the partner of Michael Ashcroft's son Andrew, has been charged with manslaughter by negligence after a police superintendent was shot dead.
The 32-year-old must surrender her travel and other personal documents and will not be allowed to leave the country without the permission of the Supreme Court.
Bail conditions also mean she must report to the police station in San Ignacio Town, Cayo District every day.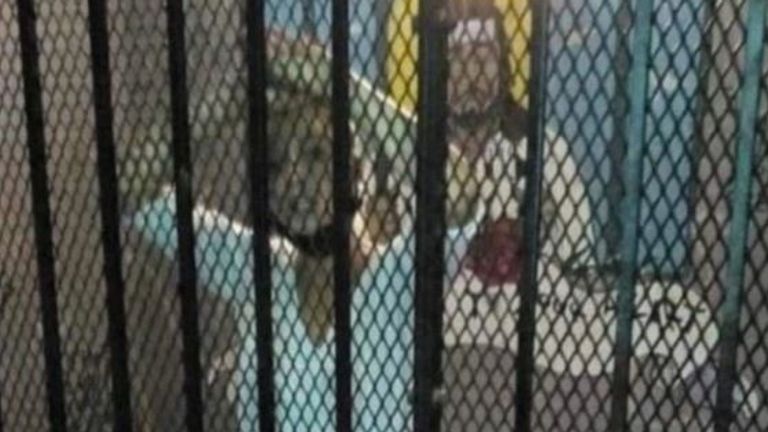 Hartin was found on a dock near to where 42-year-old superintendent Henry Jemmott's body was discovered in the town of San Pedro early on Friday.
Police Commissioner Chester C Williams told local media that a single gunshot was heard "and upon investigating, police found the female on a pier, and she had what appeared to be blood on her arms and on her clothing".
"A firearm was also seen on the pier that has been retrieved and we have learned that the firearm belonged to the police and was assigned to Mr Jemmott," he told a news conference.
Hartin's father-in-law Lord Ashcroft is a former deputy chairman and a major financial backer of the Conservative Party.
He also has Belizean citizenship and was once its representative before the United Nations.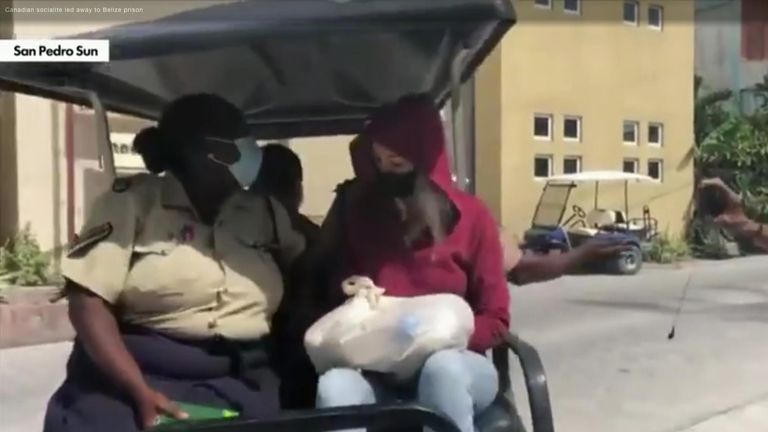 Mr Williams added that the incident "seems rather personal and not an attack".
"From what we know is that they are friends. From what we have been made to understand they were drinking. From investigation, they were alone on the pier and yes they were both fully clothed."
He said Hartin "was somewhat in an emotional state walking herself on the pier. We believe that she is to some extent affected by it".
Eclipse: How and when to see partial solar eclipse in UK – and where 'ring of fire' will be visible | UK News
Skygazers will be treated to a partial solar eclipse over the UK in the morning – as the moon passes between the earth and the sun.
Just after 10am, it will be possible too see nearly a third of the sun being blocked out by the moon in what is known as an annular eclipse.
These only occur every one or two years, when the sun and moon are exactly in line with the earth but the apparent size of the moon is smaller than that of the sun.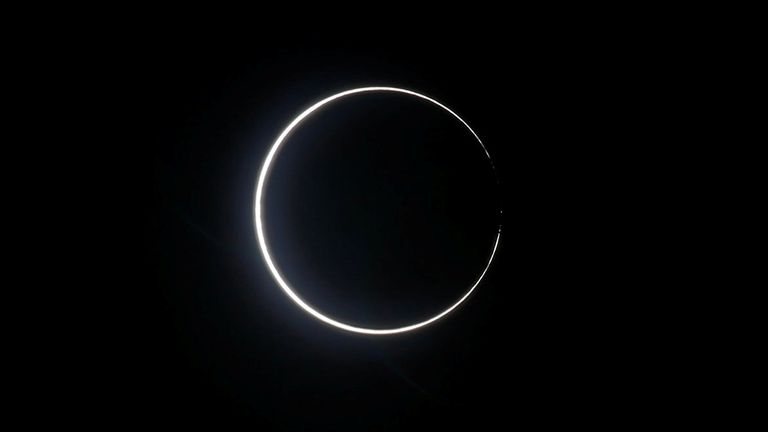 This causes the sun to appear as a very bright ring, or annulus, in a phenomenon known as the "ring of fire".
However, observers in the UK and Ireland will see a crescent sun instead of a ring, as this will be a partial eclipse.
The ring of fire will be visible from Russia, Greenland and northern Canada.
Even though for the UK, a large part of the solar disc will be covered, experts have warned that looking at the partially eclipsed sun without appropriate protection can cause serious and permanent damage to the eyes.
Dr Emily Drabek-Maunder, an astronomer at the Royal Observatory Greenwich, said: "Never look at the sun directly or use standard sunglasses, it can cause serious harm to your eyes."
Dr Drabek-Maunder suggests using a simple pinhole projector, solar eclipse viewing glasses – which can be purchased online, or special solar filters – which can fit on telescopes, to observe the eclipse.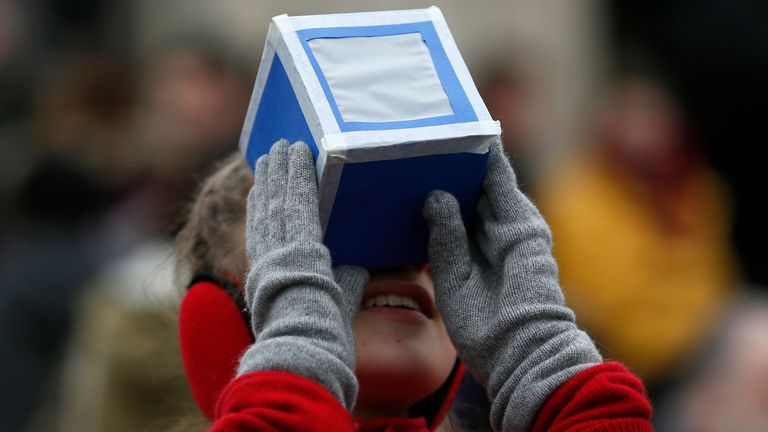 She said: "You can make a projector by poking a small hole into a piece of card.
"Hold the card up to the sun so that light shines through the hole and on to a piece of paper behind the card.
"You will be able to see the shape of the sun projected on to the piece of paper and watch its shape change as the Moon passes in front of the sun."
She said the phenomenon would begin at 10.08am on 10 June in the UK, with the maximum eclipse occurring at 11.13am, when the moon will cover close to one-third of the sun.
The partial eclipse will end at 12.22pm.
The Royal Observatory Greenwich will be live-streaming the eclipse on its website and YouTube channel.
COVID-19: The flying doctors vaccinating dozens at a time in Africa's remotest spots – where millions of doses are needed | World News
There is an old, corrugated hanger in the centre of Maseru, the diminutive capital of the kingdom of Lesotho and through the doors we could hear the words of prayer.
Inside, amongst the wings and tails of several brightly coloured aeroplanes, there were medics and mechanics getting themselves ready for the day ahead.
Lesotho's Flying Doctor Services serve 11 isolated clinics in this rugged and impoverished nation.
The government-run unit is assisted by a Christian charity called the 'Mission Aviation Fellowship' and together they provide medical services and emergency treatment to communities that are completely inaccessible by road.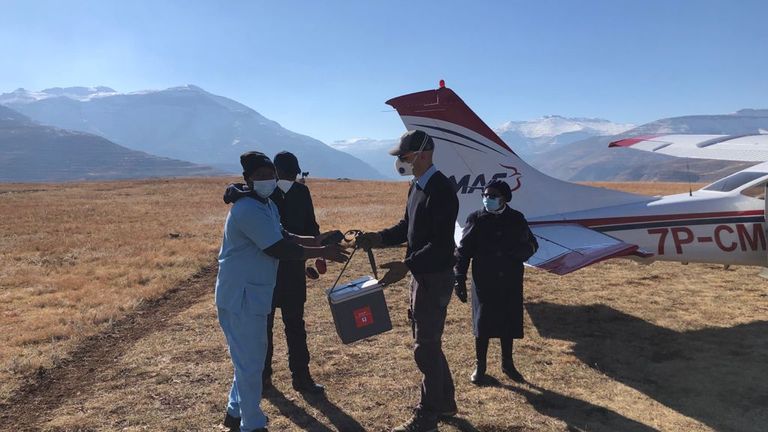 Yet the team that runs this service has been presented with a new and weighty task.
As COVID-19 spreads and mutates in southern Africa, its members have been asked to deliver and administer vaccines to much of the nation.
Lesotho acquired a batch of 36,000 AstraZeneca vaccines through the UN-backed Covax facility in March and health workers were prioritised for their first dose.
The French government donated an additional consignment to ensure they are fully protected but the vast majority of 2.2 million 'Basothos' have yet to receive a vaccine.
The 'flying doctors' are doing what they can and we followed them for the day as they delivered a small batch of vaccines to a community called Kuebunyani.
It was a complicated trip as the pilot and had to pick up a box of AstraZeneca vaccines in another community, called Thaba Tskeko. Its hospital still had a few vials left.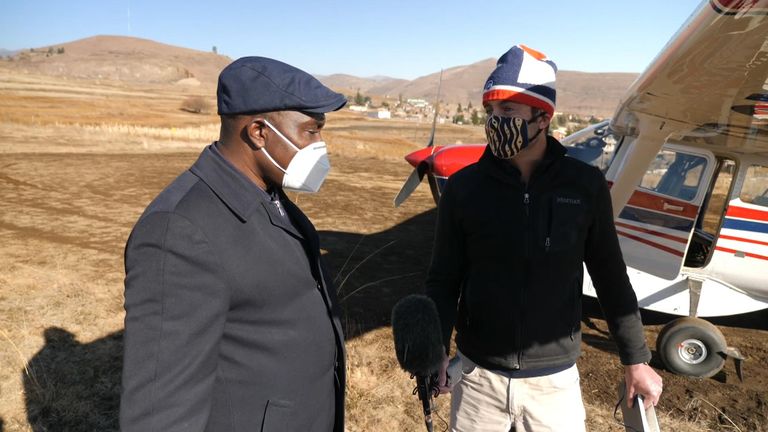 "How many vaccines have you got now," I asked the 'Flying Doctor Services' medic, Dr Justin Cishiya.
"For now we are having 30 doses."
"How many are you going to need in total?"
"In total, we will need, let me estimate, two million doses."
We strapped our precious box in the back of the plane and headed east in the direction of Kuebunyani.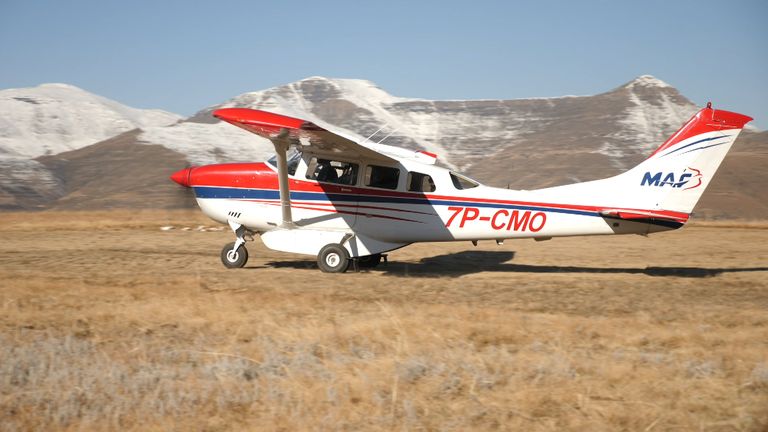 This district of some 10,000 people clings to the slopes of the Maloti range and the pilot had to negotiate its rudimentary airstrip.
Our cargo was then handed over to a nurse called Paul Enock.
"How many people have been vaccinated here so far?" I asked.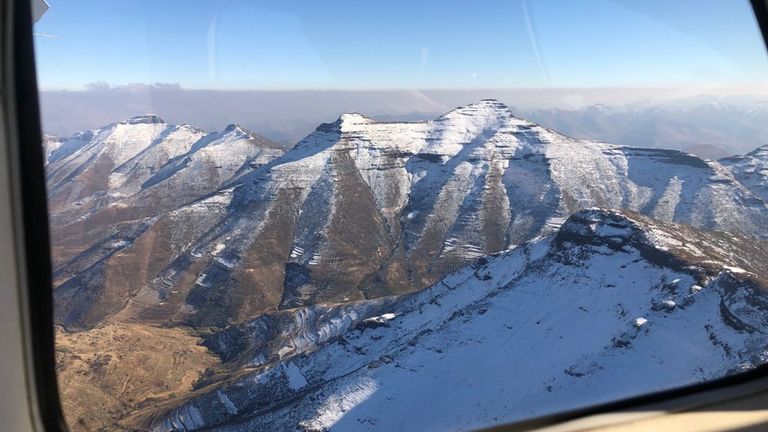 "So far 73, yes, mostly the village health workers and the health centre committee and some of our staff members."
"You are going to need a lot more," I said.
"Yes, especially for the people (who live) here, yes."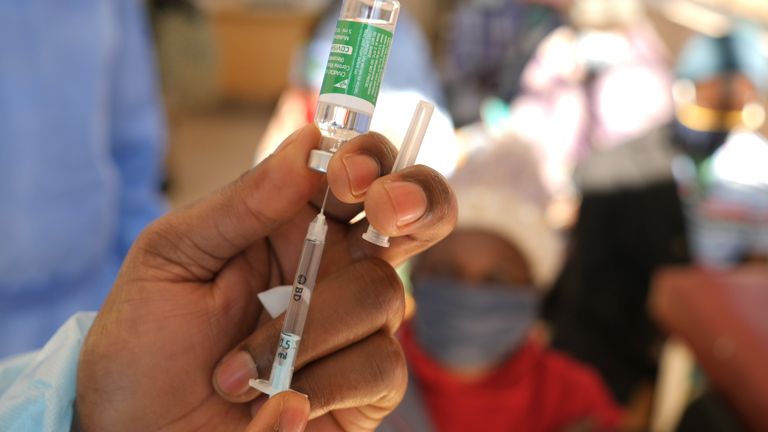 It may be an isolated spot but the message has gone out about COVID-19 as the third wave of infection begins to take hold in Africa.
Cases are on an upward trend in 14 countries and in the past week, new cases rose by more than 30% in eight countries.
In Kuebunyani, we watched as local residents begin to congregate. Some had left their homes the day before to reach the clinic.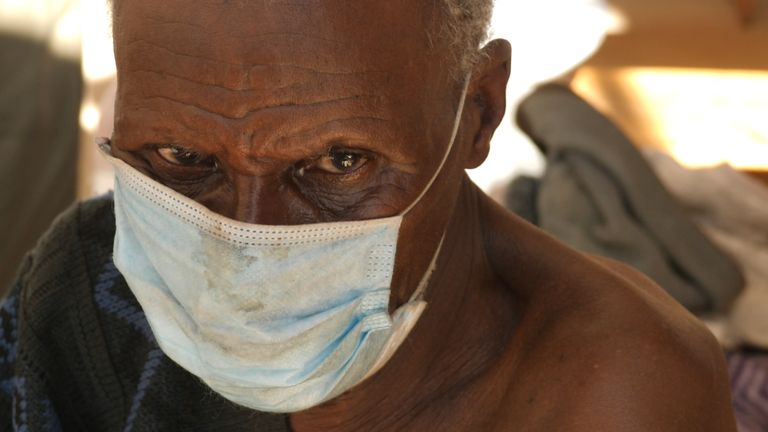 I stopped a 77-year old called Frank Molefi.
"Why do you want to get a COVID vaccine?" I asked.
"It is you (the health workers) who told me to come here," he said, bursting into laughter.
"Do you think the virus could come here to the mountains?"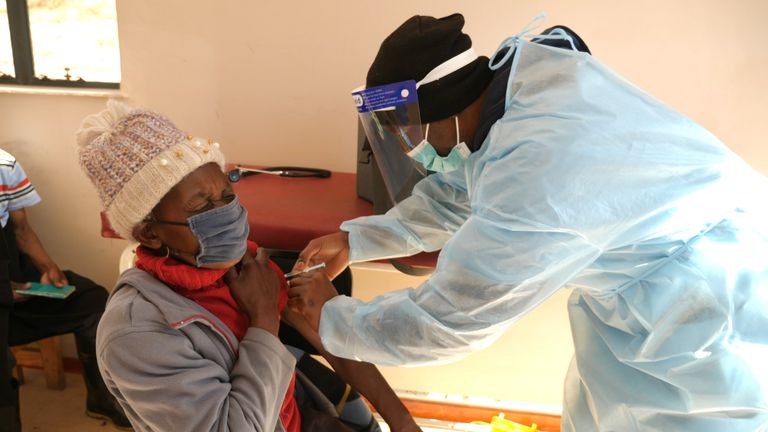 "Here? Of course, it will come here because human beings live here."
Several village health workers, a local official and a handful of senior citizens with chronic conditions were offered these precious vaccines and one man told us he felt fortunate to receive one.
The supply of vaccines to Africa has ground to a halt with the India-based makers of the AstraZeneca vaccine now concentrating production at home.
The distribution of Johnson & Johnson vaccines has been blocked after a batch was contaminated in the United States.
Sky News understands there are one million J&J vaccines "ready to be shipped within an hour" from a factory in neighbouring South Africa but the manufacturer cannot get clearance to move them.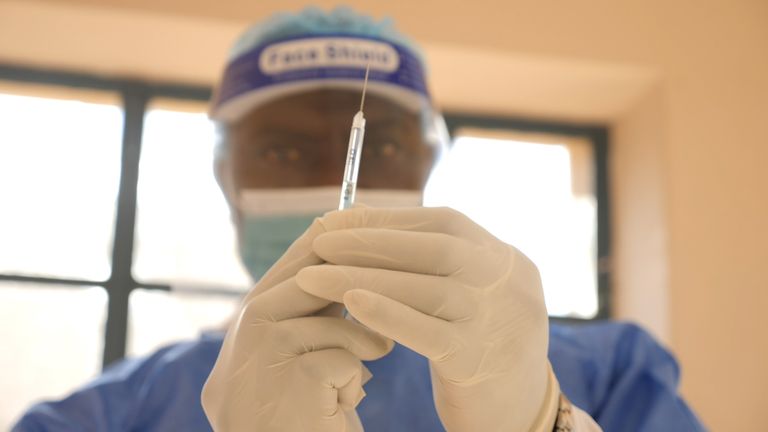 In response the World Health Organisation and others are pleading with wealthy nations to move immediately and donate their stocks.
Seven countries have said they will make contributions via COVAX but only France has actually delivered the goods.
As we left Kuebunyani we asked an administrative nurse, Mampho Leleka, what she thought of the discrepancy in vaccines between rich and poor countries.
"We are not comfortable, it is not fair at all. It has to be rolled out as (quickly) as possible because this pandemic is killing people."
This mountain kingdom – like much of Africa – has been left behind in the race to vaccinate the public.
Only 1% of the public has been inoculated in sub-Saharan Africa. But this shapeshifting virus is encircling the world and the protection of 'Basothos' should become everyone's responsibility.