Three Australians die after eating contaminated melon

Three Australians have died after eating melon contaminated with listeria.
The outbreak has been linked to a fruit farm in New South Wales – and officials are urging pregnant women, the elderly and anyone with serious conditions such as diabetes and cancer to throw away pre-cut rockmelon.
Listeria is a commonly found bacteria, and although most people do not fall ill after eating contaminated foods, it poses a serious threat to the vulnerable.
At least 15 cases of listeriosis have emerged since the outbreak began last month – and further cases are expected to emerge because symptoms can take six weeks to develop.
Dr Vicky Sheppeard, from New South Wales Health, said: "All 15 cases are elderly people, and most of them have significant underlying health conditions.
"We can confirm that 13 of the 15 cases consumed rockmelon before the onset of their illness. People vulnerable to listeriosis should discard any rockmelon purchased before 1 March."
Listeriosis begins with flu-like symptoms including chills, fever and muscle aches.
The public has been assured that all contaminated melons have now been taken off supermarket shelves.
Listeriosis begins with flu-like symptoms including chills, fever and muscle aches and can take up to six weeks to show symptoms.
Other foods that can pose a risk of listeriosis include cold salads, raw seafood and unpasteurised milk products.
A deadly outbreak in South Africa has killed more than 170 people since January last year.
Boko Haram leader Abubakar Shekau died after setting off explosive while being chased by rivals, IS offshoot claims | World News
The leader of Nigerian militant Islamist group Boko Haram is dead, according to reports.
News agency Reuters said it had heard an audio recording made by Boko Haram's rivals The Islamic State West African Province (ISWAP), which said Abubakar Shekau died around 18 May.
He died after detonating an explosive device, according to a person on the recording who identified himself as ISWAP leader Abu Musab al Barnawi.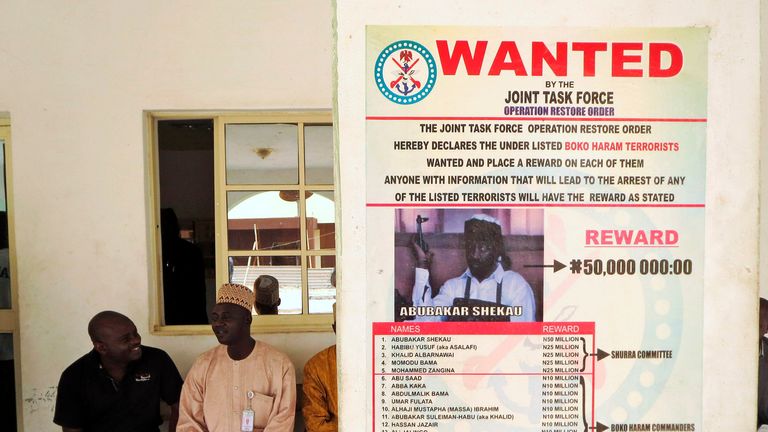 Al Barnawi said his fighters had sought the warlord on orders of Islamic State leadership, chasing him and offering him the chance to repent and join them.
"Shekau preferred to be humiliated in the afterlife than getting humiliated on Earth, and he killed himself instantly by detonating an explosive.
"Abubakar Shekau, God has judged him by sending him to heaven," he added.
Shekau has been reported as dead on numerous occasions, only to later appear in videos.
The latest claims, however, appeared to have been confirmed by a Nigerian intelligence report shared by a government official and by people who have studied Boko Haram.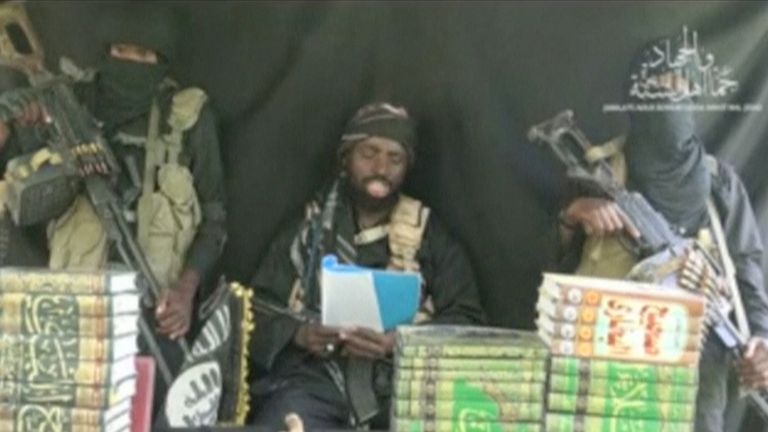 The death has also been reported in Nigerian news outlets.
Since Shekau took the lead, Boko Haram has transformed from an underground sect to a fully fledged insurgency, killing, kidnapping and looting across Nigeria's northeast in the past decade.
The group has killed more than 30,000 people and forced about two million to flee their homes.
It was behind the 2014 kidnapping of more than 270 girls from the northern town of Chibok, which sparked the #BringBackOurGirls campaign backed by then US First Lady Michelle Obama.
About 100 of the girls are still missing.
ISWAP was part of Boko Haram before it pledged allegiance to Islamic State five years ago.
However, it is thought that Shekau's death could lead to Boko Haram fighters moving over to the ISWAP group, meaning the two can concentrate on fighting Nigeria's military and government.
COVID curbed the crowds but didn't dampen the spirit of those honouring sacrifice of D-Day heroes | UK News
It was not the grand ceremony that had been planned for the opening of the British Normandy Memorial. But where there was no fanfare or crowds, instead was an intimacy and an extraordinary poignancy.
In the shadow of northern France's Gold Beach, where many of the British troops landed 77 years ago, the names of those who lost their lives under British command have been brought together for the first time.
Michael Smallman-Tew was just nine-years-old when his father died while fighting in Normandy. He said he was "thrilled" to see his father's name among the 22,224 British service men and women enshrined in the new memorial in the Normandy town of Ver-sur-Mer.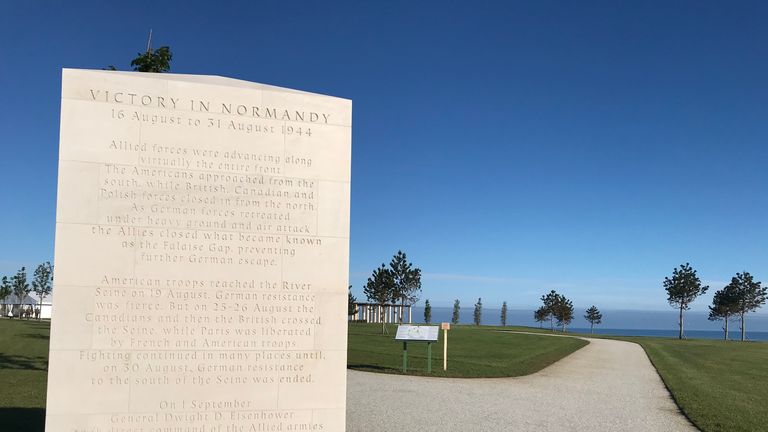 He said: "I am so proud that his name will be here forever, on his grave it is marked 'they like the stars who shine forever', and I think that phrase can be so well applied to this place."
Normandy will forever be associated with the Allied forces and be a place where wartime enthusiasts come to re-imagine an extraordinary battle.
Away from the formal events, we met Emmanuel Lejemtel, a local "sharing his passion" for D-Day by letting families ride in his a wartime-style jeep.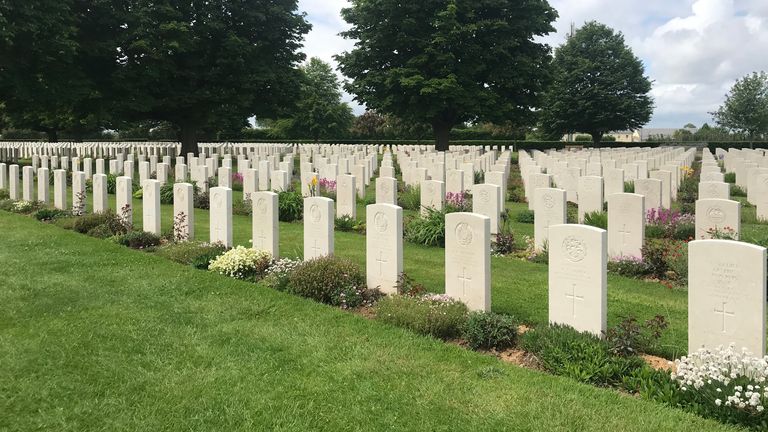 Mr Lejemtel said he was here to "share his passion".
"It is so important for me to be here today, my parents lived through the war and I've always heard their stories, I think it's so important for the next generation to hear them, to understand what happened," he added.
Bernard Faucon was here to "relive history" at a Battle of Normandy re-enactment. He said he can "see the excitement on children's' faces" when they hear the stories from D-Day.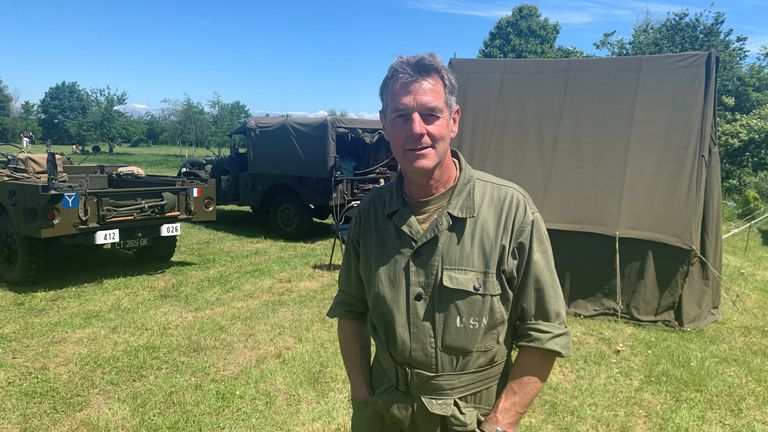 Mr Faucon said marking the anniversary has been difficult this year because of coronavirus, but "things are better than last year. We are here and will be next year and for many more to come".
The French authorities asked crowds not to gather here, but up and down the seashore young and old came to remember and there were nods everywhere to the wartime spirit.
COVID may have curbed the crowds, but it didn't dampen the spirit here, 77 years since a battle that changed the course of the Second World War.
Sky News wins BAFTA for best news coverage for Inside Idlib report from Syria | Ents & Arts News

Sky News has won a BAFTA for its reporting from Idlib in Syria.
It was up against BBC News At Ten's coverage of the prime minister being admitted to intensive care, Newsnight's work on care homes, and Channel 4's Deterring Democracy.
Inside Idlib was the culmination of work led by Sky's special correspondent Alex Crawford in Syria, with support from editors and producers both on the ground and back in the newsroom.
Accepting the award virtually, Crawford said: "You couldn't produce a programme like Inside Idlib without a huge group of talented, dedicated, passionate journalists.
"We had those in bucket-loads in London and out in the field – you know who you are guys, thank you."
Head of Sky News, John Ryley, said: "Sky's success at the BAFTAs reinforces yet again the importance of eyewitness, independent journalism and our flare for international news."
Inside Idlib looked at life inside the war-ravaged Syrian city – with Crawford and her team gaining rare access to the area.
While there, she met people giving birth in barely-standing hospitals and spoke to families living in constant fear of being bombarded from the air.
You can watch the full BAFTA-winning report at the top of this story.