Worshippers armed with AR-15s celebrate their marriages and weapons at a church in Pennsylvania
Around 250 couples armed with assault rifles have exchanged or renewed their wedding vows in a commitment ceremony at a US church – angering locals and forcing a school to close.
Scores of brides clad in white and grooms in dark suits, who had been asked to bring their AR-15 semi-automatic rifles, attended the World Peace and Unification Sanctuary in Newfoundland, Pennsylvania.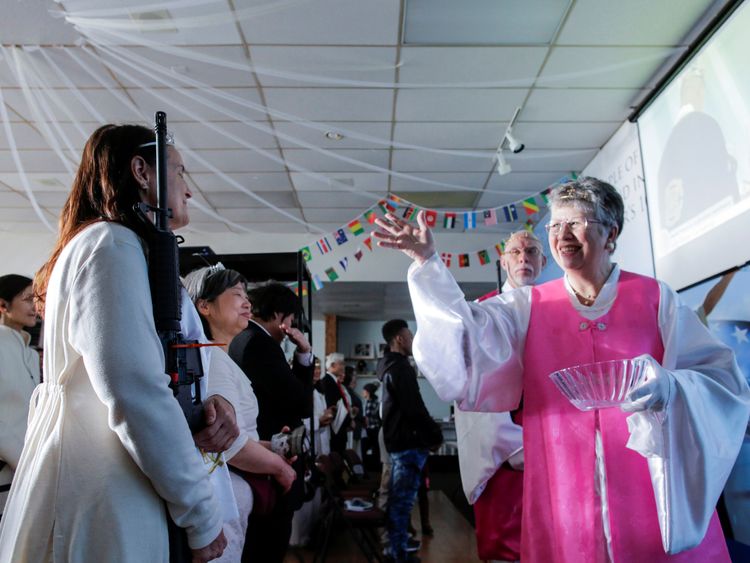 Some worshippers wore crowns made out of bullets.
The congregation drank holy wine and lined up with their weapons to be splashed with holy water by church officials dressed in flowing bright pink and white garments.
The Unification Sanctuary's leader, the Reverend Hyung Jin "Sean" Moon, is the son of the Reverend Sun Myung Moon, a self-proclaimed messiah who founded the Unification Church, which has been accused of being a cult.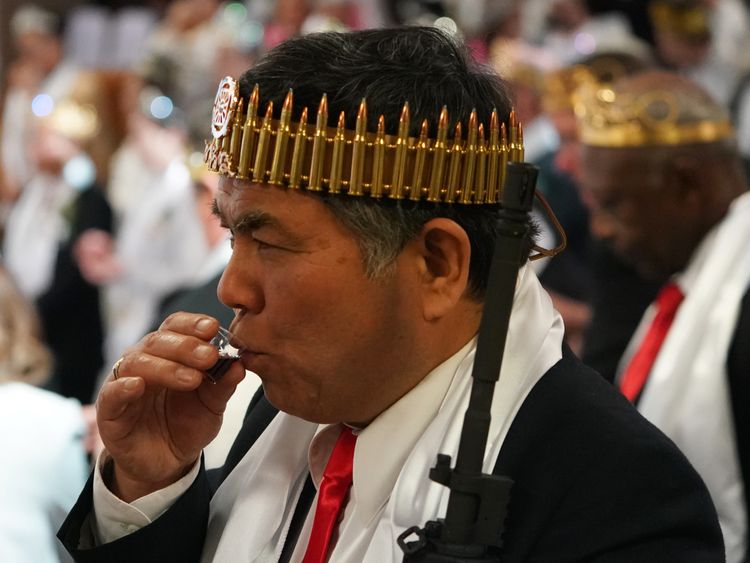 Rev Sean Moon believes the AR-15 symbolises the "rod of iron" mentioned in the Bible's apocalyptic Book of Revelation and that not only every American, but all mankind, has the right to self-defence and to use it to protect "God's children" in the "satanic kingdoms of this world".
The church leader insisted the ceremony was not for "blessing weapons".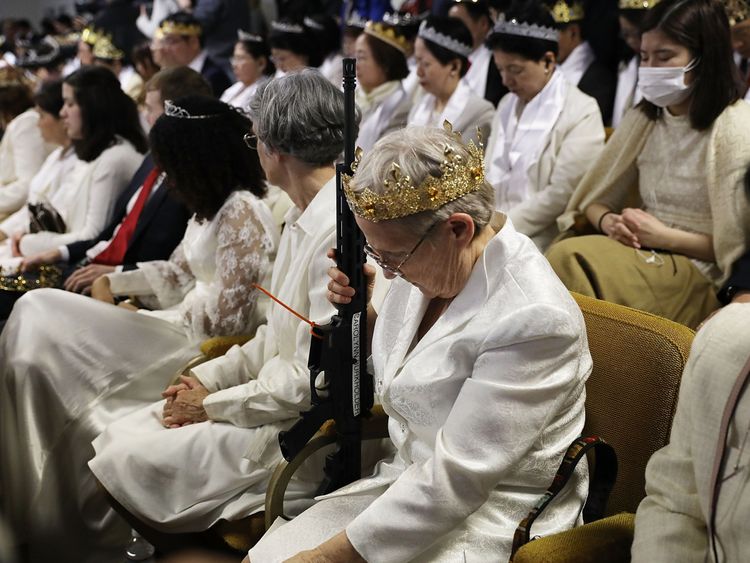 However, it outraged some members of the local community who gathered to protest outside the event, holding up posters that read "Worship God, Not Guns" and "God Does Not Bless Guns".
Lisa Desiena, from Scranton, said she owns a gun but added: "I don't need a freaking assault weapon to defend myself.
"Only thing they're good for is killing. Period. That's all that weapon is good for: mass killing. And you want to bless it? Shame on you."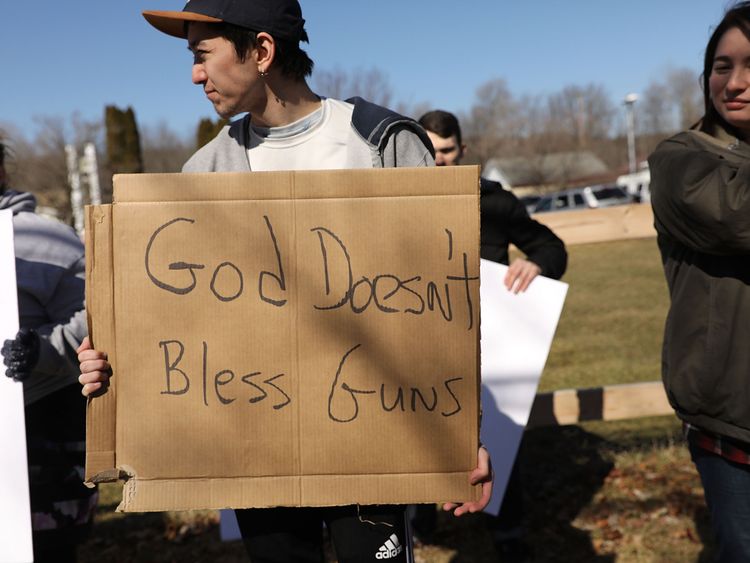 "It's scaring people in the community," another demonstrator told a church member. "Are you aware of that?"
Students from a nearby school were relocated for the day to distance them from the gun-toting couples at the ceremony, according to the Wallenpaupack School District website.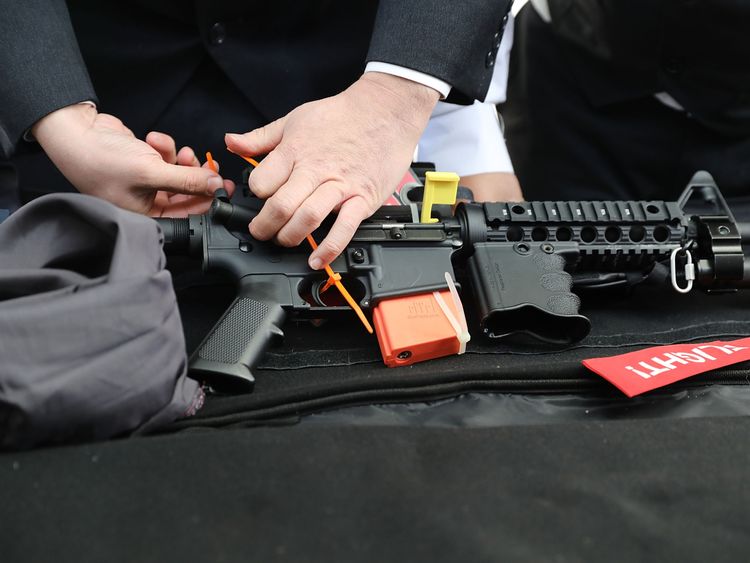 The event also fell on the same day students returned to Marjory Stoneman Douglas High in Parkland, Florida, for the first time since a 19-year-old used an AR-15 to kill 17 students and staff on Valentine's Day.
But those in the congregation believe US school shootings do not justify stricter gun laws.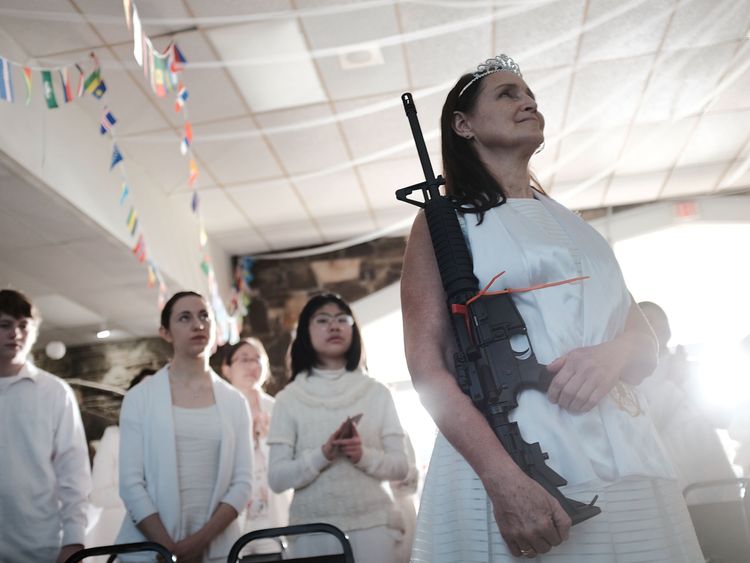 "I don't think restricting gun ownership has proven that where there are less guns, there will be less violence," said, Andrew Kessler, a lawyer from the affluent suburb of Westchester, New York.
Sreymom Ouk, 41, who attended the ceremony with her husband, Sort Ouk, said they owned an AR-15 to defend the family against "sickos and evil psychopaths".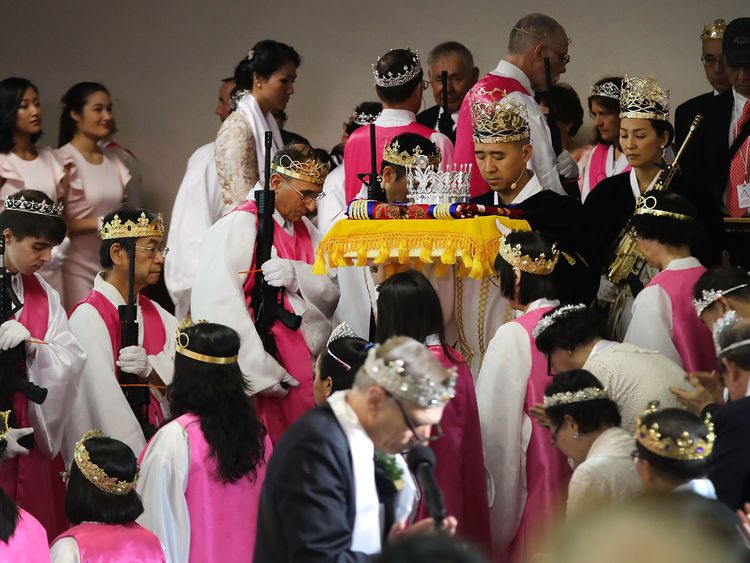 Rev Moon said in a statement on Facebook that the staff of the Florida school should have been armed.
"If the football coach who rushed into the building to defend students from the shooter with his own body had been allowed to carry a firearm, many lives, including his own, could have been saved," he wrote.
The Pennsylvania church is a staunch supporter of the constitutional amendment that protects the right to bear arms.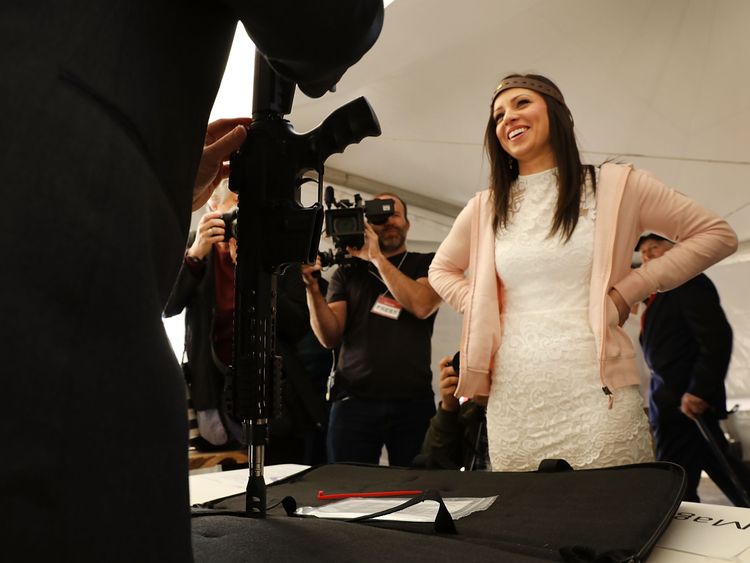 It runs a group called Rod of Iron Ministries, which hosted a "President Trump Thank You Dinner" at the weekend to raise money for Gun Owners of America, a grassroots gun rights lobby group.
Wednesday's blessing was planned months before the mass school shooting in Florida.
All weapons brought along were unloaded, secured with zip ties and checked at the door.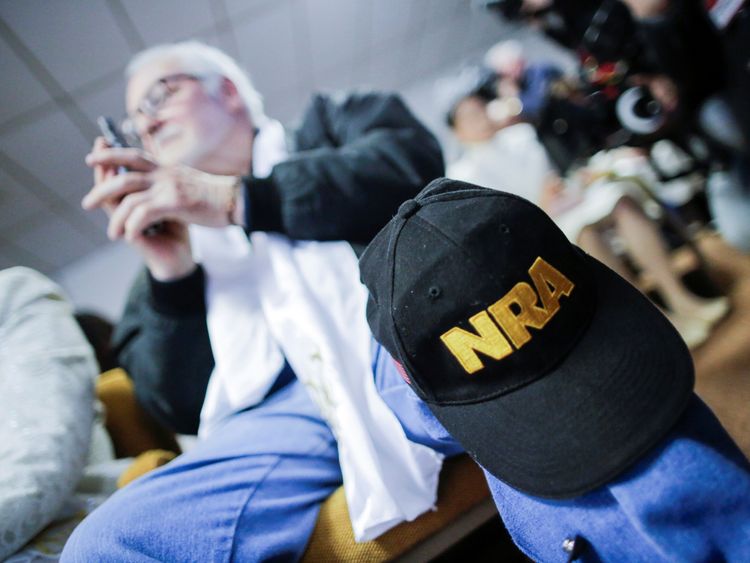 Those who did not own an AR-15 were advised to "purchase a $700 gift certificate from a gun store", as evidence of their intent to purchase one in the future.
To not take part in the ceremony "would be a sign of great disrespect", the church's website said.
Sky News wins BAFTA for best news coverage for Inside Idlib report from Syria | Ents & Arts News

Sky News has won a BAFTA for its reporting from Idlib in Syria.
It was up against BBC News At Ten's coverage of the prime minister being admitted to intensive care, Newsnight's work on care homes, and Channel 4's Deterring Democracy.
Inside Idlib was the culmination of work led by Sky's special correspondent Alex Crawford in Syria, with support from editors and producers both on the ground and back in the newsroom.
Accepting the award virtually, Crawford said: "You couldn't produce a programme like Inside Idlib without a huge group of talented, dedicated, passionate journalists.
"We had those in bucket-loads in London and out in the field – you know who you are guys, thank you."
Head of Sky News, John Ryley, said: "Sky's success at the BAFTAs reinforces yet again the importance of eyewitness, independent journalism and our flare for international news."
Inside Idlib looked at life inside the war-ravaged Syrian city – with Crawford and her team gaining rare access to the area.
While there, she met people giving birth in barely-standing hospitals and spoke to families living in constant fear of being bombarded from the air.
You can watch the full BAFTA-winning report at the top of this story.
El Salvador could become first country to use Bitcoin as legal tender under president's plans | World News

El Salvador could become the first country in the world to make Bitcoin legal tender under proposals by its president.
The move will "generate jobs and help provide financial inclusion to thousands outside the formal economy", President Nayib Bukele said in a recorded message to the Bitcoin 2021 conference in Miami, Florida.
The cryptocurrency could also be "the fastest growing way" to transfer remittances – or money sent home from abroad – if El Salvador's congress approves legislation he plans to send its way next week, the 39-year-old leader added on Twitter.
#Bitcoin has a market cap of $680 billion dollars.

If 1% of it is invested in El Salvador, that would increase our GDP by 25%.

On the other side, #Bitcoin will have 10 million potential new users and the fastest growing way to transfer 6 billion dollars a year in remittances.

— Nayib Bukele 🇸🇻 (@nayibbukele) June 6, 2021
The US dollar is the current official currency of the Central American nation. About one quarter of El Salvador's citizens live in the US.
Mr Bukele, who has maintained approval ratings above 90% since taking office in 2019, tweeted a large chunk of the $6bn El Salvador nationals living abroad currently send home each year is "lost to intermediaries".
The president, whose New Ideas party has a super-majority in congress, touted adopting Bitcoin as an idea that could help El Salvador progress – despite its recent volatility.
"By using #Bitcoin, the amount received by more than a million low income families will increase in the equivalent of billions of dollars every year," he said.
The president highlighted the fact that 70% of the country's population worked in the informal economy and did not have a bank account. He called financial inclusion a "moral imperative" and a way to grow the economy, providing access to credit, savings, investment and secure transactions.
The legislation due to be sent to congress is expected to pass into law, although Mr Bukele has yet to provide more details about how his policy would work.
Turkey commits to defeating record 'sea snot' outbreak – but it could take three years | World News
Turkey's environment minister has promised to defeat a plague of "sea snot" threatening the Sea of Marmara – but warns the disaster management plan could take up to three years.
Marine biologists and environmentalists have been alarmed by a huge mass of marine mucilage – a thick, slimy substance which has bloomed in Turkey's Marmara, as well as in the adjoining Black and Aegean Seas.
Harbours, shorelines and swathes of seawater have been blanketed by the viscous, greyish substance, some of which has also sunk below the waves, suffocating life on the seabed.
It was first found in Turkey in 2007 but has also been discovered in the Aegean Sea near Greece.
The recent outbreak along Turkey's Sea of Marmara coast is believed to be the biggest in history and is causing chaos for local communities.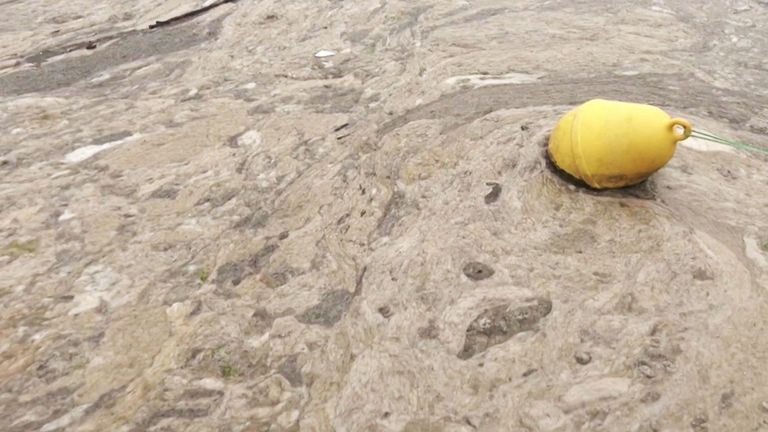 And now environment minister Murat Kurum has outlined a plan to rid the area of the blight.
"Hopefully, together we will protect our Marmara within the framework of a disaster management plan," he said.
Speaking from a marine research vessel which has been taking samples of the slimy substance, he added: "We will take all the necessary steps – and within three years realise the projects that will save not only the present but also the future together."
On Saturday, Turkish President Recep Tayyip Erdogan instructed the Ministry of Environment and Urbanisation to coordinate with relevant institutions, experts and universities to work together on the plan.
He said untreated waste dumped into the Marmara Sea and climate change had caused the sea snot bloom.
Marine experts agree. They say human waste and industrial pollution is choking Turkey's seas.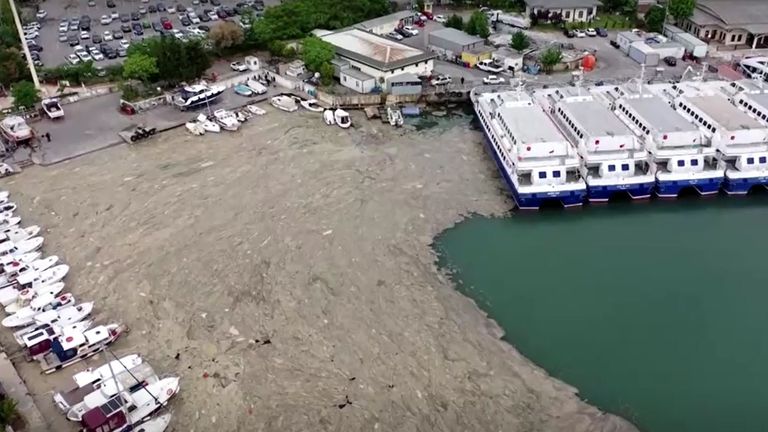 Istanbul, Turkey's largest city with some 16 million residents, factories and industrial hubs, borders the sea.
Mr Erdogan said teams are now inspecting waste water and solid waste facilities, along with other potential sources of pollution.
"We will save our seas from this mucilage calamity, leading with the Marmara Sea," he said.
"We must take this step without delay."