Kratom more firmly linked with salmonella outbreak
Get breaking news alerts and special reports. The news and stories that matter, delivered weekday mornings.
Federal health investigators say they have more firmly linked an outbreak of salmonella food poisoning to kratom supplements.
At least 40 people in 27 states have been reported sick in the outbreak, the Centers for Disease Control and Prevention said Friday.
No one has died, but 45 percent of those made ill have been hospitalized, the CDC said.
And the CDC said it found the missing link — the culprit bacteria in samples of kratom.
"The outbreak strain of Salmonella was found in leftover kratom powder collected from sick people in North Dakota and Utah," the CDC said.
"Investigation findings link the outbreak to kratom products, but the evidence collected to date has not identified a common brand or supplier of kratom."
The sale and use of kratom is controversial in the U.S. The Food and Drug Administration has issued warnings about the herb, saying it acts like an opioid drug and advising people to stay away from it.
The Drug Enforcement Administration is looking at stronger restrictions on the sales of kratom, which is currently traded freely on the internet and in some stores. Advocates say it works as a stimulant in small doses, but can help people overcome opiate dependency in larger doses. It's sold under a variety of names, including Thang, Kakuam, Thom, Ketom, and Biak.
Salmonella is a very common bacteria that causes food poisoning. The CDC says it is not clear how it could have gotten into supplies of kratom. It's been linked to supplements before, and caused an outbreak in food powder in 2016.
HMS Defender: Moscow releases footage it says shows Navy vessel being 'chased out' by Russian military | World News
The Russian Defence Ministry has released footage it says shows HMS Defender being "chased out of Crimea waters" by military aircraft and vessels.
It comes as Britain dismissed Moscow's claims that warning shots were fired at the Royal Navy destroyer and that bombs were dropped in the warship's path.
The Russian Defence Ministry said a border patrol boat fired the shots at HMS Defender after it entered the country's territorial waters in the Black Sea.
It also said that a Su-24M warplane dropped four bombs close to the ship.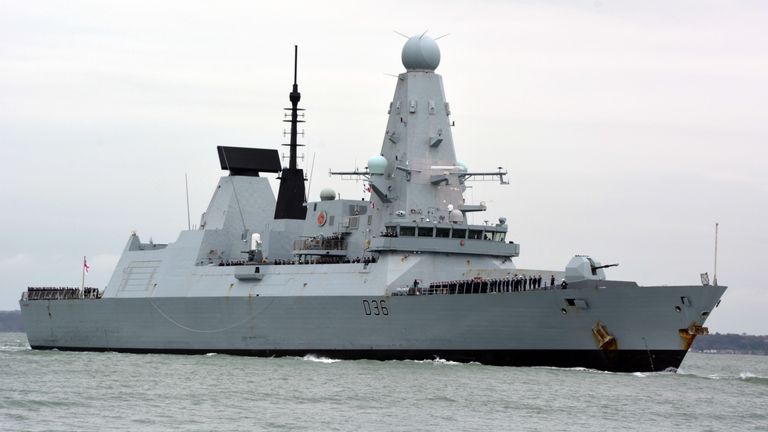 But the Ministry of Defence (MoD) said the 152 metre-long, 8,500-tonne vessel was "conducting innocent passage through Ukrainian territorial waters in accordance with international law".
In a statement posted on Twitter, it said: "We believe the Russians were undertaking a gunnery exercise in the Black Sea and provided the maritime community with prior warning of their activity.
"No shots were directed at HMS Defender and we do not recognise the claim that bombs were dropped in her path."
The confrontation is thought to have taken place near Cape Fiolent, a landmark on the coast of Crimea.
Sky's Moscow correspondent Diana Magnay said: "To a large extent this is about testing each other's mettle, seeing how far Russia is prepared to go to defend what it claims are its territorial waters – and how far the UK and NATO are prepared to go to defend Ukrainian sovereignty.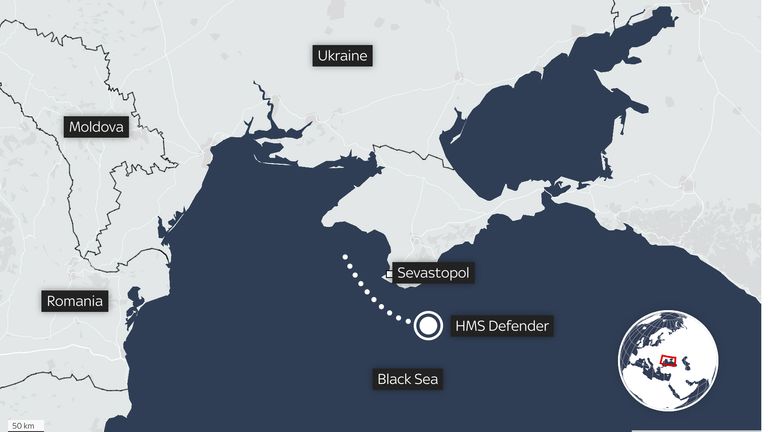 "These are not Russian territorial waters, whatever Russia says. Crimea was annexed illegally in 2014; its waters are Ukrainian. Russia in April tried to restrict for six months access to warships around its port at Sevastopol which drew strong condemnation from NATO
"The UK says it was passing through an internationally recognised traffic separation corridor; Russia clearly doesn't see it that way."
Russia annexed the Crimean peninsula from Ukraine in 2014 in a move condemned by the West, which still considers it Ukrainian territory.
Defence Secretary Ben Wallace said in a statement that the ship – whose Sea Viper missiles can destroy jets and drones from up to 70 miles away – "carried out a routine transit from Odessa towards Georgia across the Black Sea".
He said: "As is normal for this route, she entered an internationally recognised traffic separation corridor. She exited that corridor safely at 0945 BST. As is routine, Russian vessels shadowed her passage and she was made aware of training exercises in her wider vicinity."
Appearing later before the Commons Defence Committee, Mr Wallace said the crew of HMS Defender did hear "training noises" to the rear of the ship, but it was "beyond visual range".
He said the Russians had previously made false claims to have "chased out" another British warship, HMS Dragon.
No warning shots have been fired at HMS Defender.

The Royal Navy ship is conducting innocent passage through Ukrainian territorial waters in accordance with international law.

— Ministry of Defence Press Office (@DefenceHQPress) June 23, 2021
"These are the things that come and go with Russia. Disinformation, misinformation is something that we have seen regularly. We are not surprised by it," he said.
"We plan for it and we take all steps to make sure we are not escalatory or provocative.
"However we will not shy away from upholding international law and our rights on the sea."
Mr Wallace also confirmed that the British ambassador to Russia has been summoned by Moscow authorities.
British defence attache summoned in Moscow

The Russian ministry said earlier in a statement: "The destroyer was warned in advance that weapons would be fired in case of a violation of the Russian state border. It disregarded the warning.
"As a result of joint actions of the Black Sea Fleet and the Border Service of the Russian Federal Security Service, HMS Defender left the territorial sea of the Russian Federation at 12.23pm."
Sky News' foreign affairs editor Deborah Haynes said: "Even if the ship wasn't directly fired at, as the Russian defence ministry is claiming, the fact that these exercises were taking place so close to a transiting Royal Navy ship is clearly going to be seen from the UK side as a provocation."
Boris Johnson's official spokesman said: "It's incorrect to say either that it was fired upon or that the ship was in Russian waters. HMS Defender was taking the most direct and internationally recognised route between Ukraine and Georgia.
"As you know, the UK does not recognise Russia's claim to Crimea and we continue to uphold the international consensus that Russia's annexation of Crimea is illegal."
Ukraine's foreign minister Dmytro Kuleba said the incident showed Russia's aggressive and provocative policy that constituted a threat to Ukraine and its allies.
HMS Defender – one of six navy Type 45 destroyers – is part of the UK Carrier Strike Group currently heading to the Indo-Pacific region.
However, it was announced earlier this month that it would be temporarily breaking away from the group to carry out its "own set of missions" in the Black Sea.
The Royal Navy says HMS Defender – based out of Portsmouth and launched in 2009 – is "one of the most advanced warships ever constructed".
Type 45 destroyers carry Sea Viper missiles, with the navy saying they can "can knock moving targets out of the sky from up to 70 miles away".
The destroyers can fire eight missiles in less than 10 seconds and simultaneously guide up to 16 missiles at a time.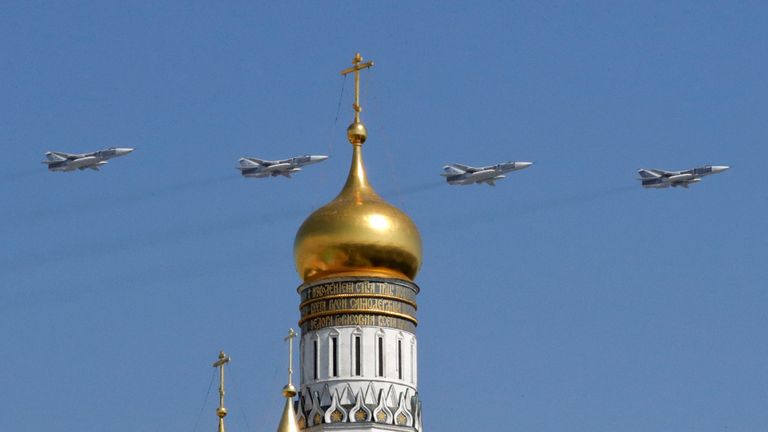 They also have conventional weaponry, such as the 4.5-inch Mark 8 gun and up to six machine guns.
The Su-24M warplane said to have dropped the bombs near HMS Defender is a 22-metre-long aircraft made by Russian firm Sukhoi, and first entered service in 1983.
It carries weaponry such as laser-guided bombs of up to 1,500kg, as well as laser-guided missiles.
John McAfee: Antivirus software entrepreneur found dead in Spanish prison cell | US News

Antivirus software entrepreneur John McAfee has been found dead in his prison cell after Spain's National Court approved his extradition to the US, the Catalan justice department has said.
Prosecutors in the US state of Tennessee had charged the 75-year-old with evading taxes after allegedly failing to report income made from promoting cryptocurrencies while he did consultancy work.
He was also charged with evading tax in relation to income from speaking engagements and selling the rights to his life story for a documentary.
In a statement obtained by Reuters news agency, the Catalan justice department said "everything points" to suicide.
Security personnel at the Brians 2 prison near Barcelona tried to revive McAfee before his death was confirmed by the jail's medical team, a statement from the regional Catalan government said.
The entrepreneur, who was the creator of the McAfee antivirus software, was arrested in October 2020 at Barcelona's international airport.
He was about to board a flight to Istanbul, Turkey, with a British passport.
In a hearing earlier this month via videolink, McAfee claimed the charges were politically motivated and said he feared he would spend the rest of his life in prison if he was taken back to the US.
McAfee linked the charges filed by the Internal Revenue Service to his failed bid to run as a Libertarian Party candidate in the 2020 US presidential election.
It was his second such attempt.
Shortly after his arrest McAfee posted a tweet from prison where he made reference to the billionaire paedophile Jeffrey Epstein, who took his own life in jail in August 2019.
I am content in here. I have friends.

The food is good. All is well.

Know that if I hang myself, a la Epstein, it will be no fault of mine.

— John McAfee (@officialmcafee) October 15, 2020
His death sparked conspiracy theories that he had been murdered because of his connections to powerful figures including Bill Clinton, Donald Trump and Prince Andrew.
McAfee tweeted in August last year: "I am content in here. I have friends.
"The food is good. All is well. Know that if I hang myself, a la Epstein, it will be no fault of mine."
:: Anyone feeling emotionally distressed or suicidal can call Samaritans for help on 116 123 or email jo@samaritans.org in the UK. In the US, call the Samaritans branch in your area or 1 (800) 273-TALK.
Man who died 3,000 years ago with 790 injuries is earliest known shark attack victim | World News
Archaeologists have recreated the brutal death of the earliest known shark attack victim who was killed around 3,000 years ago.
Oxford-led researchers have been investigating evidence for violent trauma on the skeletal remains of prehistoric hunter-gatherers at Kyoto University
Alyssa White and Professor Rick Schulting reviewed the remains of a man riddled with traumatic injuries from the previously excavated site of Tsukumo by the Seto Inland Sea.
In their report, the pair said: "We were initially flummoxed by what could have caused at least 790 deep, serrated injuries to this man.
"There were so many injuries and yet he was buried in the community burial ground…
"The injuries were mainly confined to the arms, legs, and front of the chest and abdomen.
"Through a process of elimination, we ruled out human conflict and more commonly-reported animal predators or scavengers."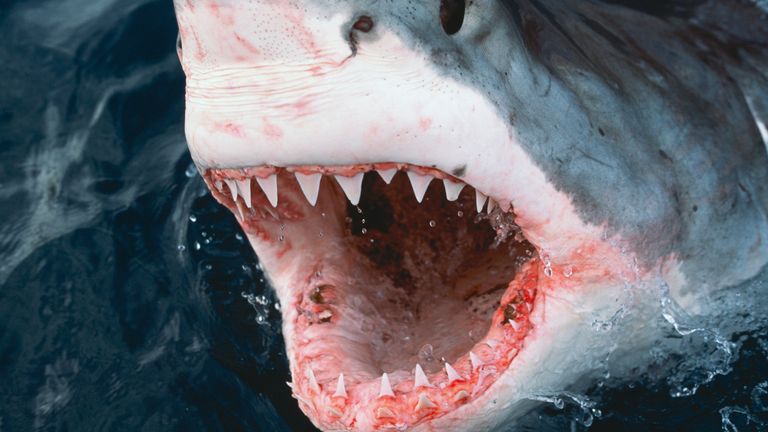 Since archaeological cases of shark reports are extremely rare, they turned to forensic shark attack cases for clues and worked with expert George Burgess of the Florida Program for Shark Research.
The team concluded the man, known as No 24, died between 1370 to 1010 BC.
The distribution of wounds strongly suggest the victim was alive at the time of attack; his left hand was sheared off, possibly a defence wound.
No 24's body had been recovered soon after the attack and buried with his people at the cemetery.
And excavation records showed he was also missing his right leg and his left leg was placed on top of his body in an inverted position.
The report added: "Given the injuries, he was clearly the victim of a shark attack.
"The man may well have been fishing with companions at the time, since he was recovered quickly.
"And, based on the character and distribution of the tooth marks, the most likely species responsible was either a tiger or white shark."
The study has been published in the Journal of Archaeological Science: Reports.