'Walking Dead' suffers worst midseason premiere ratings in show's history
"The Walking Dead" suffered its lowest midseason premiere ratings in the show's history.
Nielsen Live + Same Day reported the AMC drama, which is in its eighth season, had a 3.6 ratings in adults 18-49 with 8.3 million total viewers on Sunday. The numbers represent the lowest midseason premiere in the show's history, Variety reported.
However, viewership was slightly up from the show's December midseason finale, which earned a 3.4 ratings in adults and 7.9 million total viewers.
'THE WALKING DEAD' SEASON 8, EPISOE 9 RECEAP: RICK SAYS HIS HARDEST GOODBYE
Even with dismal midseason premiere numbers, the popular zombie-killing drama remained the top show on television Sunday. The episode beat out the Pyeongchang Olympics Closing Ceremony on NBC, according to Deadline.
'THE WALKING DEAD' SEASON 8 WILL FEATURE FIRST 'FULLY NUDE' ZOMBIE
This is the second time the show beat the Olympics. In 2014, the fourth season premiere of "The Walking Dead" had higher ratings than the closing ceremony of the Sochi Games.
"The Walking Dead" has suffered a ratings decline that some critics attributed to the gory turn the show took in its seventh season. 
Negan, played by Jeffery Dean Morgan, opened the seventh season with a barbed wire-wrapped baseball bat left two fan-favorite characters bloodied to a pulp. The very gory scene drew the attention of the Parents Television Council, which slammed AMC for violence.
Viewership waned throughout the seventh season with the premiere high of 17 million viewers dropping to 10.6 million viewers by the midseason finale.
It remains to be seen if the eighth season can bounce back from the low midseason opener. 
Samsung boss Lee Jae-yong back behind bars over corruption scandal | Business News
Samsung boss Lee Jae-yong has been sent back to jail after receiving a two-and- a-half year sentence over his involvement in a major corruption scandal.
The 52-year-old, South Korea's most powerful businessman, was convicted at a retrial on charges of bribery, embezzlement and concealment of criminal proceeds worth about 8.6 billion won (£5.7m).
It leaves Lee sidelined for the time being from major decision making at the company, one of the world's largest makers of computer chips and smartphones.
Shares dipped 3%.
Lee had previously served a year behind bars for bribing an associate of former president Park Geun-hye before an appeals court suspended the jail term in 2018.
A year later, the supreme court ordered a retrial. Time served will count towards the latest sentence.
Lee's lawyer Lee In-jae said: "This case involves the former president's abuse of power violating corporate freedom and property rights… The court's decision is regrettable."
The Samsung vice chairman's sentence complicates the process of inheritance from his father, who died in October.
Analysts said the court's decision was unlikely to affect day-to-day operations at the company though large-scale decisions with longer term impacts – such as takeovers and major personnel changes – could be impacted.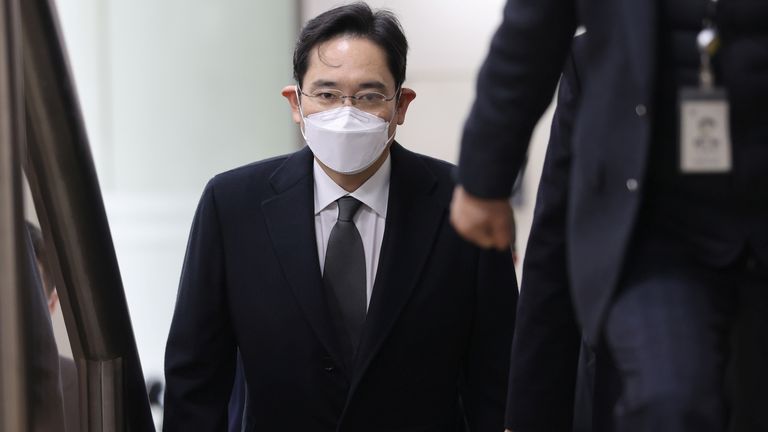 Samsung has performed robustly in the latest financial year, with its semiconductor business rebounding thanks to strong demand for PCs and servers during lockdowns.
Meanwhile sanctions against Huawei have hindered a company that is one of Samsung's biggest rivals in smartphones, smartphone chips and telecoms equipment.
Samsung said earlier this month that it was on course to report a 26% rise in operating profit to 9trn won (£6bn) for the last quarter.
China gold mine blast: 12 trapped workers still alive following explosion last week | World News

Twelve miners are still alive a week after an explosion trapped 22 workers underground at a Chinese gold mine, state media says.
Rescue teams are desperately trying to bring them back to the surface following the blast in Shandong province in eastern China on 10 January.
According to China's Xinhua News Agency, a note passed through a rescue shaft on Sunday night said that while 12 of the workers were still alive, the fate of the other 10 remained unknown.
The rescue shaft had been used to pass food and supplies to the group while they wait.
The handwritten message said that four of the miners had been injured and the health of the others was declining, due to the lack of fresh air and an influx of water.
It added that the group needed medical supplies and drugs, and ended with: "Keep on with the rescue efforts. We have hope, thank you."
Managers of the operation at the Qixia gold mine, which had been under construction at the time, were arrested and detained, after failing to report the incident for more than a day.
They have since been removed from their posts, along with the mayor of the nearby city of Yantai.
More than 300 people are part of the rescue effort above ground, with teams drilling a new shaft to try and reach the chamber and expel deadly fumes.
Alexei Navalny: Dominic Raab joins international leaders in calling for immediate release of Putin critic | World News
Dominic Raab has called for the immediate release of Putin critic Alexei Navalny.
The foreign secretary has joined a host of leading politicians who have condemned Mr Navalny's arrest on his return to Russia, after he was poisoned with a nerve agent last year.
Mr Raab said: "It is appalling that Alexei Navalny, the victim of a despicable crime, has been detained by Russian authorities. He must be immediately released.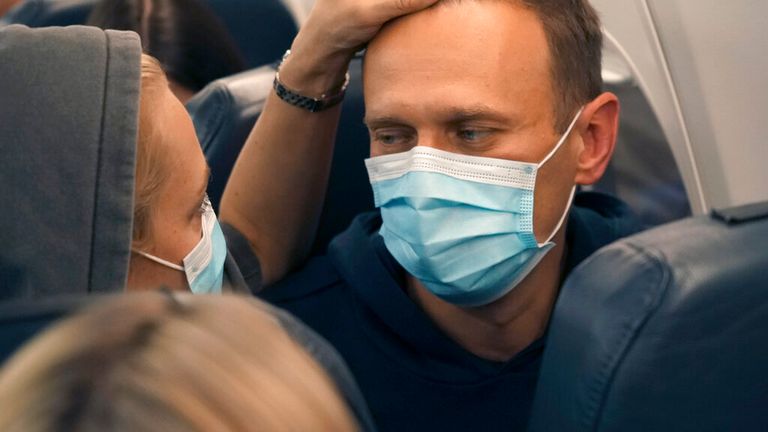 "Rather than persecuting Mr Navalny, Russia should explain how a chemical weapon came to be used on Russian soil."
Mr Navalny was detained at Moscow's Sheremetyevo airport on Sunday, after spending five months in Germany recovering from poisoning with a Novichok nerve agent.
The 44-year-old, who is one of Vladimir Putin's most outspoken critics, blames Moscow for the attack that nearly killed him, although the Kremlin denies any involvement.
His detention minutes after landing was widely expected because Russia's prisons service said he had violated parole terms from a suspended sentence on a 2014 embezzlement conviction.
He is due to be held until a date is set for his case. Lawyers for Mr Navalny said they have not been granted access to him.
Moment Navalny is detained after landing in Russia

The arrest has prompted international calls for his release, with the US, the UK, Germany, and France condemning Moscow.
On Monday, vaccine deployment minister Nadhim Zahawi told Sky News the UK government was "very worried" about Mr Navalny's safety.
He said: "The foreign secretary will say more about this, but we are very worried about the wellbeing and safety of Alexei Navalny.
"And of course, we have to make sure that the Russian government answers why a poison was used."
Mike Pompeo, US secretary of state, said Washington "strongly condemns" the decision to arrest Mr Navalny and called his detention "the latest in a series of attempts to silence Navalny and other opposition figures and independent voices who are critical of Russian authorities."
He added on Twitter that he was "deeply troubled" by the move.
"Confident political leaders do not fear competing voices, nor see the need to commit violence against or wrongfully detain, political opponents," he said.
President-elect Joe Biden's pick for national security adviser called on the Russian authorities to free him.
"Mr Navalny should be immediately released, and the perpetrators of the outrageous attack on his life must be held accountable," Jake Sullivan said in a tweet.
'They tried to kill me,' says Kremlin critic

Charles Michel, president of the European Council, called Mr Navalny's arrest "unacceptable" and demanded his immediate release.
He was echoed by the French foreign ministry and German foreign minister Heiko Maas.
Mr Maas said: "Russia is bound by its own constitution and by international obligations to the principle of the rule of law and to the protection of civil rights.
"These principles must, of course, be applied to Alexei Navalny as well. He should be released immediately."
On leaving Berlin on Sunday, Mr Navalny said he didn't think he would be arrested as he had "every right" to return to his home country.
The arrest raises tensions in Russia as it approaches national parliament elections this year, in which Mr Navalny's organisation is expected to be active in trying to defeat pro-Kremlin candidates.
"This is a real act of bravery for Alexei Navalny to return to Russia, given that government agents already tried to kill him once," Human Rights Watch executive director Kenneth Roth tweeted.
"But he understandably wants to be part of the pro-democracy movement in Russia, not a dissident in exile."
Mr Navalny fell into a coma while aboard a domestic flight from Siberia to Moscow on 20 August.
He was transferred to a hospital in Berlin two days later.
Labs in Germany, France and Sweden tested the substance he was exposed to.
It was established he was poisoned with a Soviet-era novichok nerve agent – the same kind of substance used against Sergei and Yulia Skripal, a former Russian double agent and his daughter, in a 2018 poisoning in Salisbury.