North Korean leaders 'used fake Brazilian passports to apply for visas'
Kim Jong Un and his father Kim Jong Il – who died in 2011 – used fraudulently obtained Brazilian passports to apply for visas to visit countries in the West in the 1990s, according to five senior European security sources.
The current North Korean leader was issued a passport under the name "Josef Pwag" and his father under the name "Ijong Tchoi". The passports were used to apply for visas in at least two countries.
Although the ruling family is known to have used travel documents obtained under false pretences, the photocopies of the Brazilian passports have not been published before.
One senior Western security source, speaking anonymously, said: "They used these Brazilian passports, which clearly show the photographs of Kim Jong Un and Kim Jong Il, to attempt to obtain visas from foreign embassies.
"This shows the desire for travel and points to the ruling family's attempts to build a possible escape route."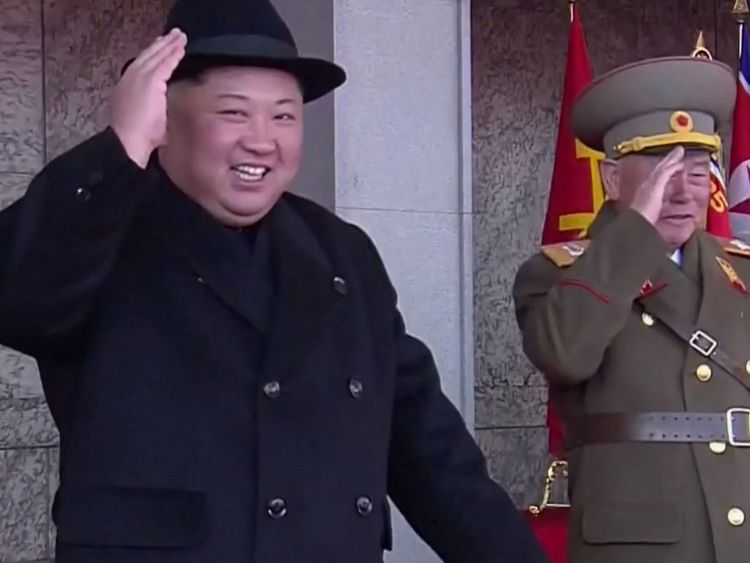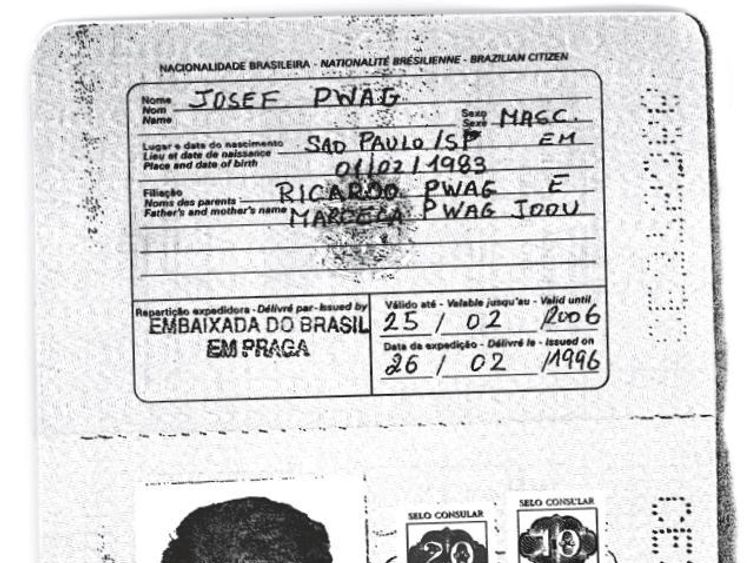 The North Korean embassy in Brazil declined news agency requests for comment and the Brazilian foreign ministry said it was investigating.
An anonymous source in Brazil confirmed the authenticity of the documents.
The four other senior European security sources confirmed the two passports were used to apply for visas in at least two countries. It is unclear if any visas were in fact issued.
The officials said the passports may have been used to travel to Brazil, Japan and Hong Kong.
In 2011, Japanese newspaper Yomiuri Shimbun reported Kim Jong Un had visited Tokyo in 1991 as a child using a Brazilian passport – before the issue date on the two passports found.
The 10-year travel documents carry a stamp which reads: "Embassy of Brazil in Prague."
They have an issue date of 26 February 1996.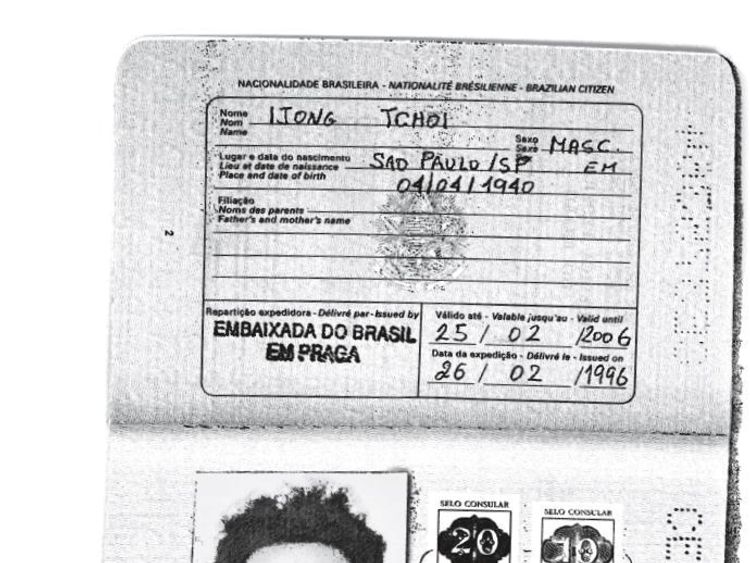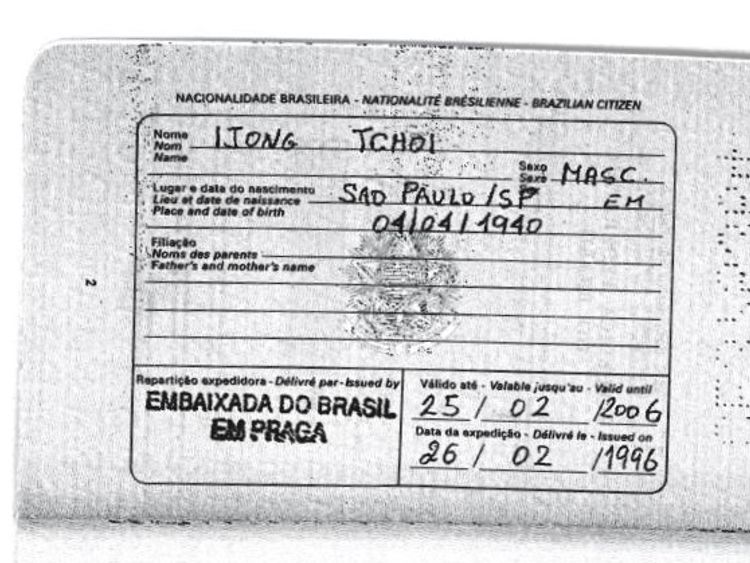 The security officials said facial recognition technology confirmed the photographs were of Kim Jong Un and his father.
The North Korean leader's date of birth is widely disputed but on the passport with his photograph, the date of birth is 1 February 1983. He would have been between 12 and 14-years-old when the documents were issued.
Kim Jong Un is known to have attended an international school in Switzerland where he pretended to be the son of an embassy chauffeur.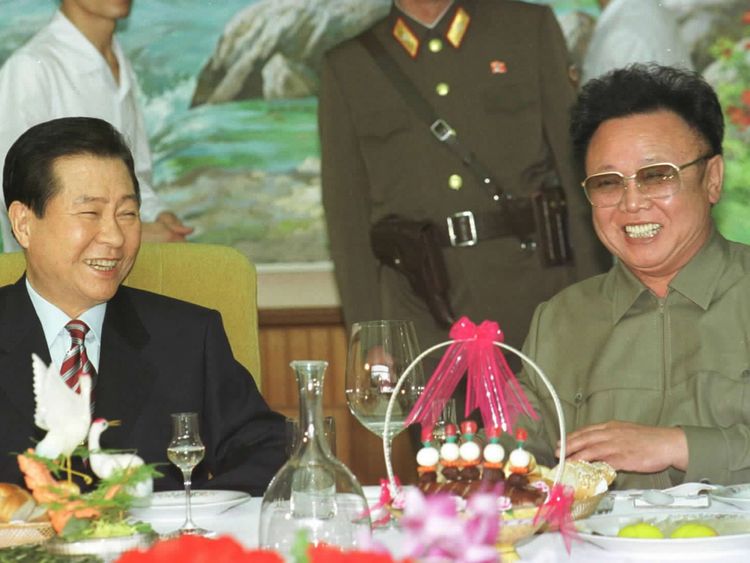 The passport with his father's photograph has the date of birth 4 April 1940. Kim Jong Il was actually born in 1941.
Their birthplace is Sao Paulo, according to the documents.
The security officials declined to reveal how they got hold of the passport copies – the original passports have not been obtained.
Caroline Crouch death: Husband placed baby next to wife he murdered in effort to fake crime scene, say Greek police | World News

A Greek man suspected of murdering his British wife after claiming she was killed during a robbery at their home tried to create a convincing crime scene by placing their baby next to its dead mother, according to police.
Babis Anagnostopoulos is also accused of choking the family dog to death with its lead in his bid to fool investigators.
The 33-year-old helicopter pilot and flight instructor, who is due in court later, is said by police to have confessed but his lawyers have so far made no public comment.
He has not been formally charged.
Caroline Crouch, 20, a British national who grew up in Greece, was found murdered in the bedroom of the couple's home outside Athens on 11 May after her husband called the police.
Following the killing, Anagnostopoulos told reporters they had been tied up and gagged by robbers who strangled her after breaking into their property.
Police had offered a £257,000 reward for information on the crime.
Anagnostopoulos was detained late on Thursday for the killing of Ms Crouch, after attending a memorial service on the Aegean Sea island of Alonissos, where she grew up.
Nikos Rigas, the deputy chairman of the police officers' association of Athens, told state TV that examination of mobile devices, a smartwatch, and cameras had established a timeline that revealed inconsistencies in the pilot's account.
"(The suspect) tried to create a crime scene environment that looked convincing: The dog was killed, and his baby was placed next to the body of the murdered mother," Mr Rigas said.
In an Instagram post on 16 May, Anagnostopoulos uploaded a photograph of the couple on a trip to Portugal, writing: "Always together. Farewell, my love."
Iran election: All you need to know as nation chooses its next president | World News
Iran is set to choose a new president in a contest that many expect to be won by a judge fiercely loyal to the religious establishment.
Here is everything you need to know about the contest.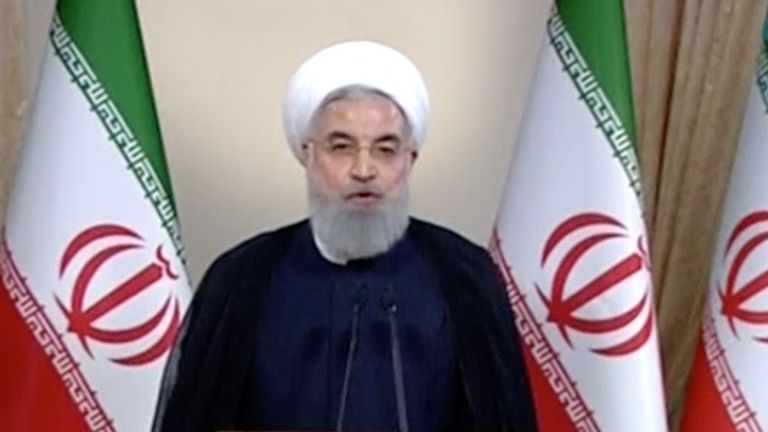 Who is the current president?
President Hassan Rouhani has been in power since 2013 and has come to the end of his two terms in office.
A centrist, he was a key figure in the 2015 negotiation of a nuclear deal with the West – he has subsequently been blamed for its failure and the absence of promised economic benefits.
After the initial euphoria of hope on his election, Rouhani has become deeply unpopular as he's failed to deliver on promises and Iranians have seen living conditions significantly worsen.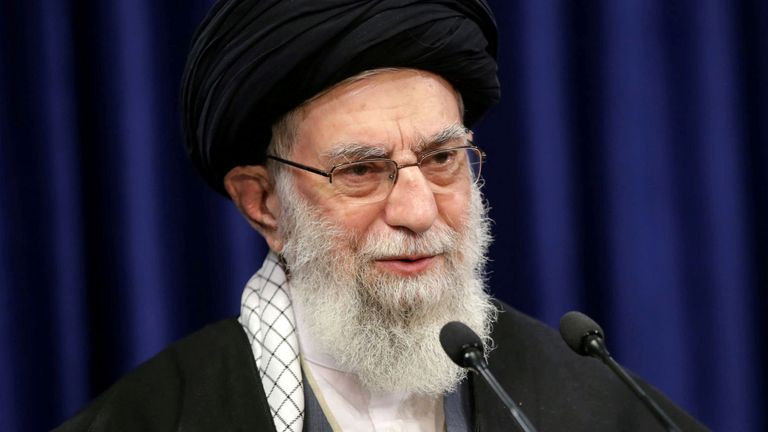 What powers do they have?
Iran combines unelected religious leadership with democratic power.
The most powerful man in Iran, and it always is a man, is the Supreme Leader, the country's spiritual leader and also its most senior political and legal figure.
The current Supreme Leader is Ayatollah Ali Khamenei, and the 82-year-old has held the position since 1989.
He has the final say on matters of foreign policy and national importance and appoints figures to key positions – he also has his own powerful military, the Revolutionary Guard.
The president is theoretically the second-most powerful man, although a number of unelected bodies curtail his freedom. He is responsible for economic policy, day-to-day running of government and chairs the National Security Council.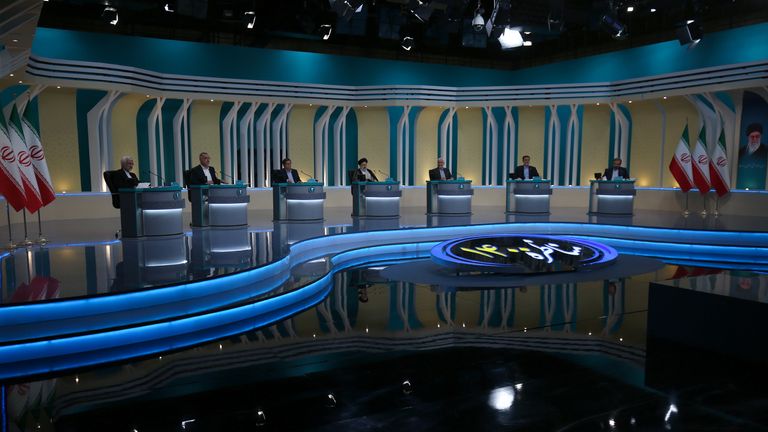 Who is standing this time?
Of 592 people who applied to run for president, just seven were approved by the powerful Guardian Council, a body of legal experts appointed by the Supreme Leader.
Five of the seven approved candidates are conservatives and the remaining two are relatively unheard of within Iran.
The Guardian Council has blocked centrist reformists from running, worried about the possible influence they might have if required to choose a successor to Ayatollah Khamenei in the next four years.
As a result of the narrow field, many younger voters might boycott the election – turnout could be as low as 30%.
How fair are the elections?
Critics would argue that the election has already been rigged up to a point, with the exclusion of popular centrist candidates. If turnout is as low as anticipated, it will raise further questions about the legitimacy of the eventual victor.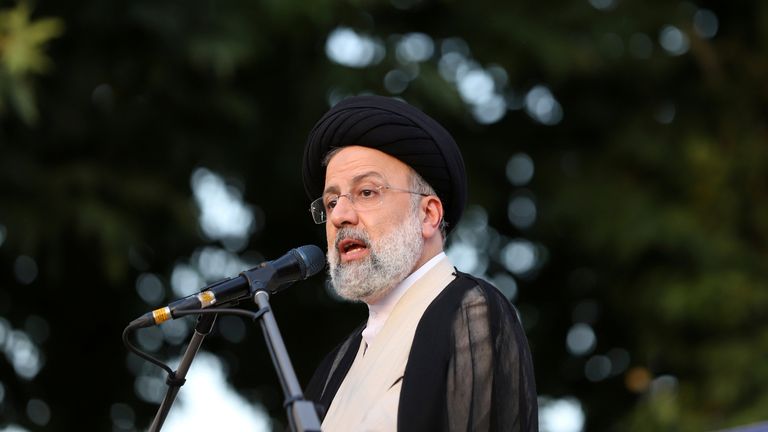 Who is likely to win?
The hardline ally of Ayatollah Khamenei, Ebrahim Raisi, is the current favourite. As head of the judiciary, he has a brutal human rights track record having overseen years of clampdowns on dissenters within Iran.
It is rumoured he rarely leaves the country for fear of arrest over the execution of as many as 5,000 political prisoners in 1988.
What will the new leader mean for the West?
One of the first tasks for the new leader will be to negotiate a new nuclear deal with the West.
Hardliners have opposed a nuclear rapprochement with the West, believing instead that Iran should be allowed to develop a nuclear capability as a deterrent to regional enemies such as Saudi Arabia and Israel.
Don't rule out a new nuclear deal. Iran desperately needs sanctions relief and the Supreme Leader ultimately approved the 2015 deal – but Raisi, if he does win, is unlikely to be as receptive as his predecessor Rouhani.
When will we know the result?
Polls officially close at 9pm on Friday evening but might be extended because of COVID restrictions around voting.
Results are expected on Saturday but it could take up to three days before the outcome is clear. If a second round is needed, that will take place on 25 June.
Euro 2020: Footballers told to stop moving sponsors' drinks at news conferences | World News
UEFA has asked players to stop moving strategically placed sponsor drinks from Euro 2020 news conference platforms.
The trend was started by Cristiano Ronaldo when he hid two Coca-Cola bottles and replaced them with a water bottle.
The Portugal star was copied by Italy's Manuel Locatelli.
And Paul Pogba, who is Muslim and does not drink alcohol, objected to the distinctive green bottle of official Euro 2020 beer sponsor Heineken, moving a product that is marketed as 0.0% alcohol.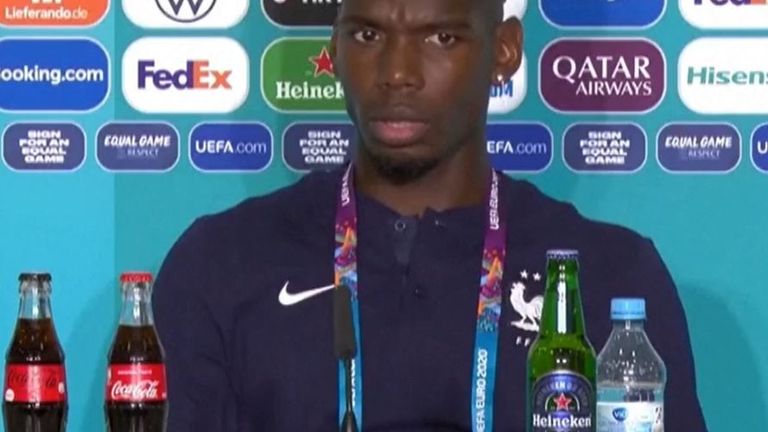 Euro 2020 tournament director Martin Kallen said UEFA has "communicated with the teams regarding this matter".
He added: "It is important because the revenues of the sponsors are important for the tournament and for European football."
Mr Kallen said tournament rules require compliance with UEFA's promises to sponsors, though players with religious objections "don't need to have a bottle there".
England manager Gareth Southgate has had his say on the controversy, pointing out the sponsorship money filters into grassroots spor.
"Well, I think there are lots of sponsors in sport and the impact of their money at all levels helps sport to function," he said.
"Particularly grassroots sport in our country requires a lot of investment and without some of those companies investing then very difficult to provide the facilities that we need.
"And I think with anything, of course we're mindful of, in our country, obesity and health, but everything can be done in moderation and I think anything that you take part in or partake in in moderation is rarely a problem."
Locatelli joins Pogba and Ronaldo in bottle move

Meanwhile, the issue is a source of comedy for other teams.
Scotland midfielder John McGinn quipped "No Coke?" because there were no bottles in the squad's training base interview room
And Belgium coach Roberto Martinez said after a 2-1 victory over Denmark that his team loves the drink.
Coca-Cola is an official sponsor of the Belgian soccer federation.