Media unload on Trump for saying he'd have run into Florida school
Just as we're having an intense conversation about mass shootings and gun control, the media are fixating on some remarks by President Trump that do nothing to advance the debate.
The president probably should have avoided the braggadocious comments, but this is the pattern we've seen so many times: Trump says something inartful, that causes a media eruption, and the underlying issue is overshadowed as the pundits race to their battle stations.
To me, the overriding question right now is whether Trump and Congress are going to actually do something in the wake of the Florida school shooting after the president put the issue at the top of the national agenda.
But the coverage took a sharp turn after Trump spoke to the semi-annual gathering of governors. As he denigrated the failure of deputy sheriffs to run into the Parkland high school as the gunman opened fire, the part of the Trump quote that many are using is this: "I really believe I'd run in, even if I didn't have a weapon."
Now that sounds like he's casting himself as some kind of superhero, and was guaranteed to draw criticism.
But here's the full context: "I really believe–you don't know until you test it, but I think–I'd really believe I'd run into–even if I didn't have a weapon, and I think most of the people in this room would have done that too, because I know most of you. But the way they performed was really a disgrace."
So what Trump was saying was that he was not more courageous than "most of the people in this room," but still believes—though you never really know until confronted with a crisis—that he would have done more than the dormant deputies.
That was the lead of the New York Times story. The Washington Post ran a piece saying "here's what he's done in the face of danger": accepting five Vietnam draft deferments (one of them for bone spurs) and appearing spooked when a man charged the stage at a campaign rally.
Others ran pieces on Trump critic Stephen Colbert mocking the president. USA Today's headline: "Late night: Trump's living in a 'fantasy world' for saying he'd have 'run in' to Fla. school."
The Chicago Tribune's headline: "Colbert to Trump: 'What are you going to do, run in there and stab them with your bone spurs?'"
Did Trump open the door with his comments? Sure. But ultimately, who cares? It's a hypothetical. We don't hire presidents to risk their lives fighting crime.
The far more important question (covered by some) is how hard he will push the Hill do act on his gun proposals.
The president repeated his determination to ban bump stocks. He said again that the country needs "very strong" background checks ("If I see a sicko, I don't want him having a gun") and to reform mental institutions.
Trump continues to talk about arming trained teachers and others in school, although the other day he indicated that would be up to the states, which would mean no federal action.
But as some journalists pointed out, Trump did not mention his plan to raise the age limit on buying assault-style weapons like the AR-15 from 18 to 21. He said last week that the NRA would go along, but the group continues to oppose the idea. So is the president backing off?
In disclosing that he had lunch with top NRA officials, Trump told the governors "they're on our side." But he also said, "If they're not with you, we have to fight them every once in a while. That's OK." (Sarah Sanders said yesterday her boss still supports raising age limits on some guns.)
If Trump, a vocal defender of the Second Amendment, does go up against the NRA, that would show a different kind of courage than running into a building under siege by a gunman.
Christian Eriksen tribute: Minute's applause as players hug during pause in Denmark v Belgium match at Euro 2020 | World News
Play was halted and a minute's applause held for Christian Eriksen as his Denmark teammates played Belgium at Euro 2020.
All 22 players stopped after Belgium kicked the ball out in the tenth minute and the entire stadium began clapping in a tribute to Eriksen – who wears the number 10 shirt.
His Danish colleagues hugged their Belgian counterparts, while fans held up banners supporting him in Denmark's first game since his collapse.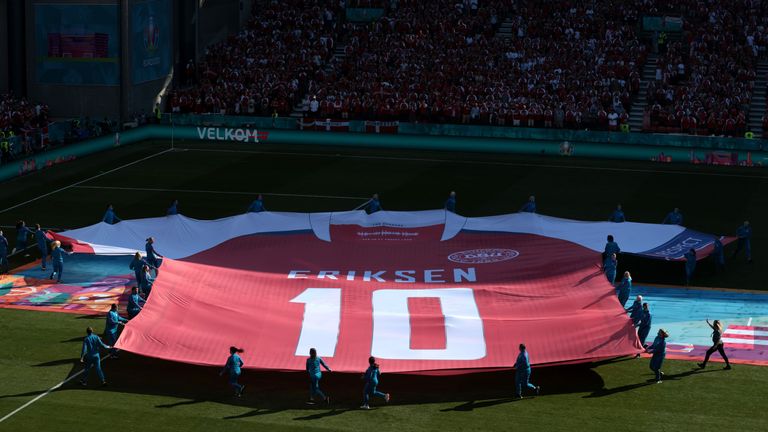 Belgium kicked the ball out of play against #DEN in the tenth minute so the whole stadium could stop to applaud Denmark's No 10, Christian Eriksen, who will be watching and listening from a nearby hospital.

Amazing and incredibly moving scenes at the Telia Parken 🇩🇰❤️️

— Sky Sports News (@SkySportsNews) June 17, 2021
Before the match, a huge number 10 Denmark shirt, estimated to be 20-25 metres long, was brought onto the pitch and You'll Never Walk Alone was played, to universal applause.
The Inter Milan and former Tottenham midfielder collapsed on the pitch after suffering a cardiac arrest in their first match against Finland on Saturday.
Eriksen, who is recovering in a nearby hospital after medics saved his life, promised to be wearing his own team shirt while watching the game from his bed.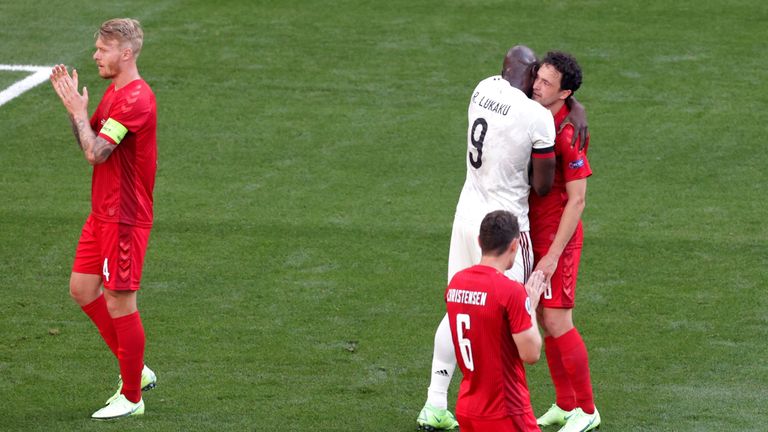 The hospital is close enough to Parken Stadium that Eriksen was expected to hear the tribute from his room.
In the game, Yussuf Poulsen scored in the second minute to give Denmark a 1-0 lead, before Thorgan Hazard equalised in the 54th minute, with Kevin De Bruyne sealing the win quarter of an hour later.
Earlier it was announced that Eriksen is to be fitted with an under-skin heart starter device.
The decision was made following several "different heart examinations" and Eriksen has "accepted the solution", the national team doctor said.
Wonderfully emotive applause by fans, players, officials alike in the 10th minute of Denmark's game v Belgium in honour of Christian Eriksen.

— Gary Lineker 💙 (@GaryLineker) June 17, 2021
The heart starter, known as an ICD, is designed to correct the rhythm of the heart if it notices a potentially dangerous pattern by issuing a number of small or larger electric shocks.
South Carolina electric chair executions halted as court says death row killers must get firing squad option | US News
The executions of two inmates have been blocked by a US court, who ruled they must get the choice to die by firing squad.
The South Carolina supreme court halted the executions of Brad Sigmon and Freddie Owens, ruling that officials needed to put together a firing squad to give them the option of how to be killed.
Sigmon, 63, was scheduled to be executed using the electric chair on Friday, the first use of capital punishment in the state in a decade.
He was convicted of killing his ex-girlfriend's parents with a baseball bat in 2002.
Owens' electric chair execution was set for 25 June, having been convicted of murdering a store worker during a robbery in 1999.
The state recently changed its capital punishment law to address a shortage of lethal injection drugs.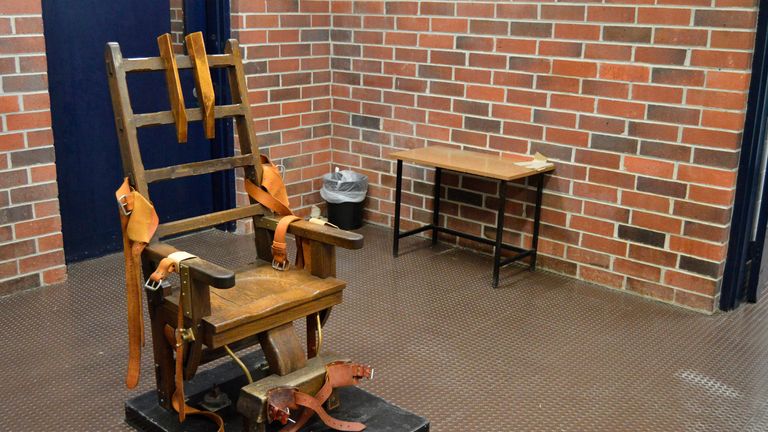 It now forces death row inmates to choose between electrocution or firing squad if the drugs are unavailable.
The law aimed to restart the state's executions after a 10-year pause caused by its inability to produce the lethal injection.
Prisons officials had previously said they could not get hold of the drugs and had yet to put together a firing squad, leaving the 109-year-old electric chair as the only option.
"The department is moving ahead with creating policies and procedures for a firing squad," said Department of Corrections spokeswoman Chrysti Shain after the court ruling.
"We are looking to other states for guidance through this process. We will notify the court when a firing squad becomes an option for executions."
Subscribe to the Daily podcast on Apple Podcasts, Google Podcasts, Spotify, Spreaker
Lawyers for the men said electrocution was cruel and unusual and that the new law moves the state toward less humane execution methods.
They said the men had the right to die by lethal injection – the method both chose – and that the state hadn't exhausted all methods to acquire the drugs.
Lawyers for the state maintained that prison officials were simply carrying out the law and that the US Supreme Court had never found electrocution to be unconstitutional.
South Carolina is one of eight states to still use the electric chair and four to allow a firing squad, according to the Washington-based non-profit Death Penalty Information Center.
South Carolina's last execution took place in 2011 and its batch of lethal injection drugs expired two years later.
There are 37 men on the state's death row.
Death penalty opponents called for South Carolina to scrap capital punishment altogether.
Abraham Bonowitz, director of the national group Death Penalty Action, said he was grateful the execution plans were blocked but felt a bigger change was needed.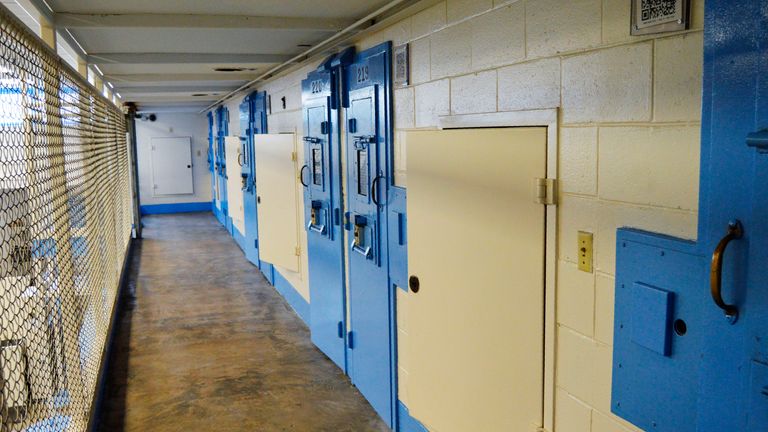 "It's always good news when executions are put on hold, but if the conversation is only about how we kill our prisoners, rather than if the state should have this power, something is very, very wrong," he said.
"All of this is unnecessary and a costly waste of taxpayer dollars that could be better supporting the needs of all victims of violent crime."
At a rally on Wednesday, people marked the anniversary of the electrocution of 14-year-old George Stinney, the youngest person executed in America in the 20th century.
Stinney was still a teenager when he was sent to South Carolina's electric chair after a one-day trial in 1944 in connection with the killings of two white girls.
A judge threw out the black teenager's conviction in 2014.
Rafael Nadal withdraws from Wimbledon and Tokyo Olympics to 'prolong career' | World News
Rafael Nadal has said he will not be taking part in Wimbledon or the Tokyo Olympics this year.
The 35-year-old announced the move on social media, saying it was not "an easy decision" but "after listening to my body" and discussing it with his team he said it was "the right decision".
The Spaniard continued: "The goal is to prolong my career and continue to do what makes me happy, that is to compete at the highest level and keep fighting for those professional and personal goals at the maximum level of competition.
Hi all, I have decided not to participate at this year's Championships at Wimbledon and the Olympic Games in Tokyo. It's never an easy decision to take but after listening to my body and discuss it with my team I understand that it is the right decision

— Rafa Nadal (@RafaelNadal) June 17, 2021
"The fact that there has only been two weeks between RG (French Open) and Wimbledon, didn't make it easier on my body to recuperate after the always demanding clay court season.
"They have been two months of great effort and the decision I take is focused looking at the mid and long term."
The double Olympic champion was seen to be struggling physically towards the end of his loss to Novak Djokovic in the semi-finals at Roland Garros.
Nadal won gold in singles in Beijing Olympics in 2008 and in doubles with Marc Lopez in Rio in 2016, when he also carried Spain's flag in the opening ceremony.
The 20-time grand slam tennis champion said "I want to send a special message to my fans around the world, to those in the United Kingdom and Japan in particular.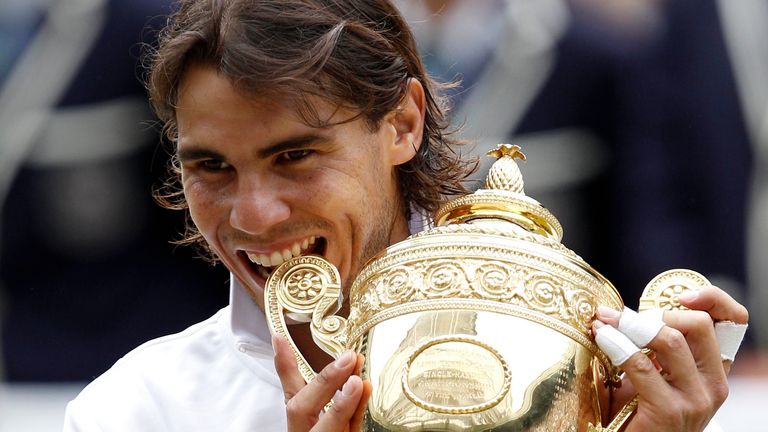 "The Olympic Games always meant a lot and they were always a priority as a sports person, I found the spirit that every sports person in the world wants to live.
"I personally had the chance to live three of them and had the honour to be the flag bearer for my country."
Rafael Nadal will be replaced as third seed at Wimbledon by Greek tennis player Stefanos Tsitsipas.