Manafort pleads not guilty after new round of Russia probe charges
Former Trump campaign chairman Paul Manafort pleaded not guilty Wednesday to five counts from a new round of charges in Special Counsel Robert Mueller's probe, in his first appearance since a former associate began cooperating with the government. 
Last week, a federal grand jury returned new charges against Manafort and ex-associate Rick Gates as part of the probe into Russian meddling and potential collusion with Trump campaign figures during the 2016 election.
The superseding indictment included conspiracy against the United States, conspiracy to launder money, failing to register as an agent of a foreign principal and providing false statements.
Manafort pleaded not guilty Wednesday during an appearance in federal court in Washington, D.C. Manafort's trial date is now set for Sept. 17, 2018.
Manafort had previously pleaded not guilty in the case, but the latest indictment, which mirrored the charges filed against him last October, required him to formally enter a second plea.
He also is expected in court Friday afternoon in Alexandria, Va., where he faces additional charges. 
On Wednesday, Judge Amy Berman Jackson scolded Manafort for making a public statement last week about Gates' guilty plea. 
She reminded him of an order she issued in October restricting all parties in the case from making public statements. 
"I understand the impulse," Jackson said. 
Manafort's attorney Kevin Downing told the court he planned to file a motion opposing the court's interpretation of a Supreme Court case referenced in her order restricting public statements in the case. 
In the statement last week, Manafort said: "I had hoped and expected my business colleague would have had the strength to continue the battle to prove our innocence. For reasons yet to surface he chose to do otherwise. This does not alter my commitment to defend myself against the untrue piled up charges contained in the indictments against me." 
MUELLER MOVES TO DISMISS CHARGES AGAINST RICK GATES IN RUSSIA PROBE 
Mueller, meanwhile, moved to dismiss a slew of charges against Gates on Tuesday in the wake of his earlier guilty plea. 
The filing indicates Gates' cooperation with the special counsel team could be yielding good information. Gates has intimate knowledge of Manafort's years of political work consulting in Ukraine, as well as other events that have sparked the interest of federal investigators.
Gates' guilty plea pertained to the charges filed against him in October in Washington, D.C., for which he still faces up to 71 months in prison.
The Associated Press contributed to this report. 
Don't need EU! Brexit finance deal DEAD as Frost blasts Brussels demands – UK to thrive
LORD FROST hinted chances of a Brexit finances deal have evaporated as he addressed a think tank on Thursday night.

Source link
The Biden administration says it will evacuate Afghans who worked with U.S. troops
WASHINGTON — The Biden administration plans to evacuate at least some of the Afghans who worked with the U.S. military and who face the threat of retribution from the Taliban before the U.S. withdrawal's official completion date of Sept. 11, senior administration officials said Thursday.
The White House had previously declined to endorse the idea but President Joe Biden gave the green light to evacuation plans on Thursday, telling reporters, "Those who helped us are not going to be left behind."
The decision follows an internal debate and urgent appeals in recent weeks from lawmakers from both parties, veterans of the war in Afghanistan, the Afghans who risked their lives to support U.S. soldiers, and from diplomats in America's longest war.
Asked about the fate of Afghans who worked as interpreters or in other jobs, Biden said: "We've already begun the process" of helping the Afghan partners.
Asked which country they would be relocated to, the president said he didn't know and mentioned he would be meeting Afghan President Ashraf Ghani at the White House on Friday.
An unspecified number of Afghans who worked as interpreters for the U.S. government and who applied for a visa will be moved to a third country, where their paperwork will be reviewed, senior administration officials said.
It remained unclear how many Afghans would be evacuated, which third country would accept them and when the operation would begin.
Pentagon Press Secretary John Kirby indicated the relocation might involve civilian aircraft and not military planes. An evacuation of 6,600 Iraqi Kurds to Guam in 1996-97 also used chartered, civilian planes.
To help Afghans facing threats from the Taliban due to their work for U.S. forces, Congress created the special immigrant visa program. But the SIV program has been hampered by bureaucratic delays and advocates say Afghan partners are in grave danger from the Taliban while they wait for their applications to be processed.
"Although we have surged resources and sped up SIV processing times significantly, we recognize that some of these interpreters and translators have been in the process, in some cases for years, and are still waiting to receive their visas," a senior administration official said.
"We have identified a group of SIV applicants who have served as interpreters and translators to be relocated to another location outside of Afghanistan before we complete our military drawdown by September, in order to complete the visa application process," the official said.
The U.S. withdrawal is likely to be effectively complete next month, according to officials.
State Department Deputy Spokesperson Jalina Porter said the evacuees would come from the 18,000 Afghans already in the Special Immigrant Visa pipeline. She declined to say which countries they would be evacuated to but said the relocation would be done in "full compliance with all applicable laws, as well as in full coordination with Congress."
The administration is identifying Afghans who worked with the U.S. government to be relocated to a third country to allow the Afghans to "safely complete" the remainder of the visa application process, she said.
The senior administration official left open the possibility that evacuations might have to be expanded. "We are planning for all contingencies, so that we are prepared for all scenarios. Should it become necessary, we will consider additional relocation or evacuation options," the official said.
Lawmakers, veterans groups and rights organizations welcomed the announcement.
Chris Purdy, project manager of the Veterans for American Ideals program at Human Rights First, said the Biden administration should fly the Afghans to the U.S. territory of Guam, where the governor already has said the Afghans would be welcome.
"This is America's responsibility, we don't need to outsource to another country," he said.
Purdy added that the administration should "release their plan to ensure that we get as many people out as possible."
Congressional aides from both parties said the White House had informed lawmakers of the decision to proceed with an evacuation and that some officials in the administration favored flying the Afghan partners to Guam.
Visa applicants in Guam would be accorded more rights than in a third country, and it would be more difficult to deport them back to Afghanistan from U.S. territory, rights advocates said.
Advocates have accused the Biden administration of moving far too slowly to protect the tens of thousands of Afghans whose lives are in mortal danger because of their association with the U.S. and Western organizations.
Veterans and refugee organizations said they have been inundated with pleas for help from former interpreters.
Pelosi announces select committee to investigate Jan. 6 Capitol riot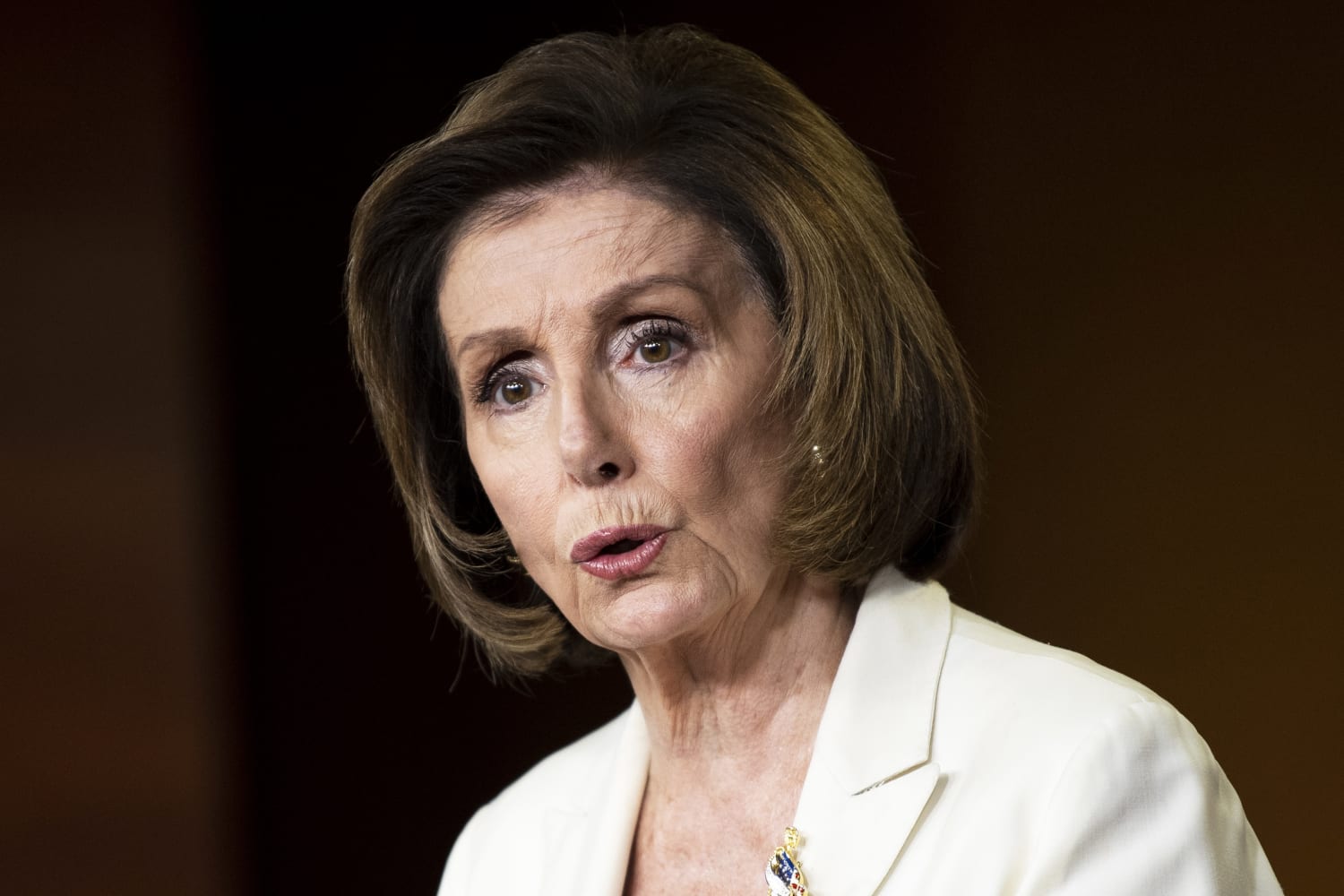 Speaker Nancy Pelosi announced Thursday that the House will establish a select committee to investigate the Jan. 6 Capitol riot.
"This morning, with great solemnity and sadness, I am announcing the House will be establishing a select committee on the January 6th insurrection," Pelosi said at a news conference.
Last month, Senate Republicans blocked House-passed legislation to establish a bipartisan commission to probe the attack. That legislation failed a key procedural hurdle after 54 senators voted in favor of it, short of the needed 60 votes.
That bill passed the House last month by a 252-175 vote, with 35 Republicans voting in favor of it. It was the product of negotiations between House Homeland Security Committee Chairman Bennie Thompson, D-Miss., and Rep. John Katko, R-N.Y., the ranking member of the committee.
While Democrats have long pushed for an investigation akin to the 9/11 commission, many Republicans have argued it would become an overly political process that could damage them in next year's elections without information that goes beyond what inquiries by federal law enforcement will uncover.
On Thursday, Pelosi, D-Calif., said there is no timeline for the committee to release findings and she is not yet announcing its composition or leadership.
"January 6th was one of the darkest days in our nation's history," Pelosi said. "It is imperative that we establish the truth of that day and ensure an attack of that kind cannot happen, and that we root out the causes of it all. The select committee will investigate and report on the facts and the causes of the attack" and report recommendations.
Senate Majority Leader Chuck Schumer, D-N.Y., signaled this month that he would seek to "force the Senate to vote" again on the commission.
Pelosi said Thursday she sees the establishment of this committee "as complementary, not instead of" the bipartisan commission passed in the House, adding she is hopeful that that still comes to pass.
"The select committee is about our democracy, and about ensuring that the Capitol dome remains a symbol of freedom, about preserving America's role as an emblem of resilience, determination and hope," Pelosi said. "That is our purpose. That is what the select committee will be about, and that is about seeking and finding the truth."
"It is clear that the Republicans are afraid of the truth," she added.
Olivia Olander contributed.