Infamous Pakistani cleric keeps martyr Bin Laden library, vows worldwide Sharia
Maulana Mohammad Abdul Aziz is considered one of the most dangerous, yet influential, men in Pakistan.
And while his movements in the country are restricted by the government, the 57-year-old former head cleric of Islamabad's oldest mosque – Lal Masjid, better known as the Red Mosque – is still allowed to inspire new generations with his radical rhetoric.
"We don't see Pakistan anymore our destination, we will come out as a force to establish Islamic rule over the entire world," Aziz told Fox News last week in a telephone interiew, from his Islamabad compound known as Jamia Hafsa, a seminary school that boasts around 1500 girls and 2000 boys. "You will see the change within 10 years – if you stay alive."
In the government's endeavor to root out terrorism, Aziz is banned from the mosque – which technically belongs to the state. But he and his wife continue to oversee teachings just a few miles away.
"We want Sharia within our country and I, along with my pupils, will go to any extent to implement Sharia – even at the cost of waging a war against the country coerced government," he declared.
Aziz has long been known for his inflammatory sermons, anti-American ideology, for sparking global jihadist movements and supporting designated terrorist groups. In 2014, he even named his school's library the "Martyr Usama Bin Laden Library" in honor of the former Al Qaeda leader and 911 financier.
"Usama had good relations with my late father, thus we don't support the American narrative, declaring him a terrorist," Aziz said. "He did jihad, to implement Sharia around the world. So, for us he is an Islamist warrior. We title our library after his name with audacity."
That chilling discourse may have hit close to the U.S. homeland more than once.
Soon after the 2015 San Bernardino massacre, in which female assailant and ISIS supporter Tashfeen Malik and her American husband, Syed Rizwan Farouk, slaughtered 14 of his co-workers, reports emerged that the Pakistani-born, Saudi Arabia-raised woman had been a Red Mosque student under Aziz.
"I never met with her," Aziz claimed, before eventually acknowledging that they may have had an encounter as he has "many female followers." But if so, she would have been fully veiled, he said. "The United States is failing attempts to establish my link with that shooting."
But his links with violent movements are well documented.
Under Aziz's guidance at the Red Mosque in July 2007, scores of his baton-brandishing male and female students took to the streets outside. Video stores considered immoral were shuttered. Chinese women were abducted from a massage parlor they deemed to be a "brothel," threats were made to throw acid in the face of female university students nearby, and a government ministry building was torched.
Tensions escalated between the militant mosque devotees and Pakistani Army into a bloody 10-day standoff that left over 100 people dead, including Aziz's brother, mother and son. Aziz attempted to evade arrest by fleeing the chaotic scene disguised in a burka.
"I taught my students to stand against the corrupt system immobilizing the country.
Pakistan has inherited the British system, solely non-believers," Aziz said of the incident. "I attempted to escape in a long veil with the consent of my martyred brother Abdul during the operation, and secondly, Islam supports this act to conceal oneself in a state of emergency."
After several months in custody following the siege, Aziz was released, but deposed as cleric and barred from the Red Mosque, which his nephew, Amir Siddique, now leads instead. But the firebrand cleric promptly set about building a new facility, Jamia Hafsa, close by.
TRAPPED IN SYRIA'S BESIEGED GHOUTA: "LIFE HAS CEASED, THE CHILDREN ARE WAITING TO DIE"
SHIFTING ALLIANCES AS PAKISTAN MANAGES RELATIONSHIP WITH US
The Pakistani government has – particularly in the wake of the 2014 Peshawar school slaughter – purported to squash terror-inspiring voices like Aziz. And many Pakistanis have expressed their staunch opposition to the extremist preacher.
Those actions against him come at a cost.
"Last time there was action against Mullah Aziz and his supporters at the Red Mosque, terrorism erupted in the northern parts of the country and eventually spread to other parts. So there remains a blowback in case of any severe action taken against him," explained Farrukh Khan Pitafi, an Islamabad-based columnist and television journalist. "The past few years there has been a cultural shift in the country and Aziz has struggled to find space on the national media. But it remains a work in progress. It is safe to assume that he is down but not out."
Jeff Smith, South Asia policy expert at the Heritage Foundation,  pointed out further actions likely have not been taken against Aziz over concerns of retaliation. 
"Aziz is highly critical of the Pakistani government but Islamabad knows he commands a sizable following and claim they have no legal grounds to arrest or convict him. Ultimately, they've decided it's best to avoid stirring the hornet's nest, even if means quietly allowing the swarm to proliferate," he said.
"Ideally, Pakistan would pass legislation or criminal justice reforms outlawing the type of hate speech espoused by Aziz and his ilk, and then deal with them through the appropriate legal mechanisms."
The Red Mosque did not respond for further comment regarding their current relationship with Aziz. But he asserted his ban comes as a result of "American and Indian influence" on Pakistan's leadership.
"As a prayer leader in the Red Mosque, people are in support of me," he insisted. "In the past, I have tried to enter but our frightened government called upon the Rangers to prevent me."
Nonetheless, Aziz's influence remains a cause for concern on an international scale. He denied being acquainted with any specific militant groups in war-ravaged Iraq and Syria, but said he "teaches a lot about jihad" to his many students who likely have gone "to join the noble in those countries."
But in his view, Afghanistan is the most noble of all.
"At present, there is no Muslim country left in the world which has a Sharia ruler – neither Saudi Arabia nor Pakistan," Aziz said. "I have found Afghanistan the only country in accordance with Sharia when the Taliban established its control over the land and I support those Taliban's to-date."
And according to Smith, Aziz still has significant influence. 
"It is helpful to separate the 'bad guys' into two categories. There are those like the Haqqani Network that are actively and operationally involved in conducting terrorist targeting Afghanistan and U.S. personnel and interests there; and then there are those espousing violent extremist ideologies, sowing the seeds of hatred and religious fundamentalism across Pakistani society," Smith added.
"Aziz very much falls into the latter camp and within the spectrum of radical Pakistani preachers remains a very prominent figure. While the first group poses the most immediate threat to the U.S. and Afghanistan, it's arguably the latter group that's doing the most long-term damage in the all-important war of ideas."
British Virgin Islands: Inquiry into claims of corruption and political interference – all with the public purse | World News
Claims of widespread corruption and fraud involving millions of pounds of public money are being investigated on the British Virgin Islands.
The governor of the islands, a British territory, has ordered an independent inquiry into the allegations and is supported by both the prime minister and the foreign secretary.
One of the claims is that $40m (£29m) set aside for struggling families during the COVID pandemic might have been channelled to political allies.
Announcing the Commission of Inquiry, Governor August Jaspert said there were "wide concerns over the possible mismanagement of some public projects".
He said successive audit reports had set out practices of "political interference, inflated pricing and conflicts of interest" and added: "These may have cost the public purse millions of dollars in recent years, with no sign of improvement.
"In the past months, the community has had many open and honest conversations about this. For the first time, many have felt confident to raise their voice. This is an important conversation for us to have, albeit difficult as those who speak up are too often silenced."
In a written statement to parliament, Foreign Secretary Dominic Raab said: "The UK is extremely concerned about the state of good governance in the British Virgin Islands.
"A consistent and deeply troubling array of concerns have been put to the governor by local institutions and the community.
"Successive attempts have been made to address these concerns through local institutions, many of which have done commendable work to bring them to light.
"However, the scope and seriousness of the concerns are now beyond local capacity to address."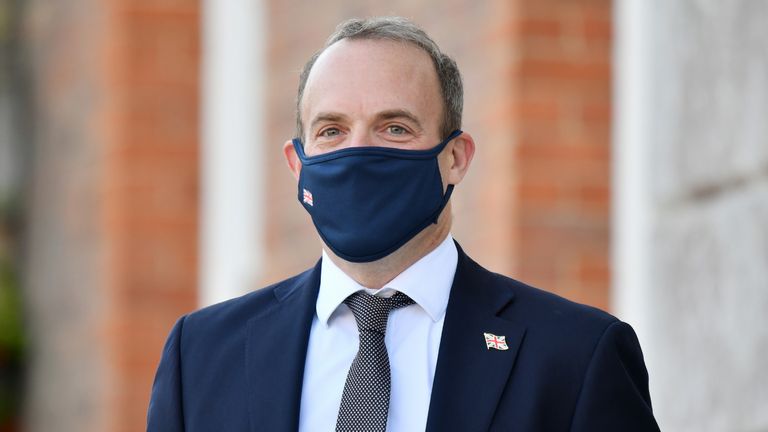 It is the first inquiry of its kind in more than 10 years – the last took place in 2008 to investigate corruption on Turks and Caicos.
It was felt that the British Virgin Islands themselves lack the ability to investigate allegations of this breadth, scope and seriousness.
Among the claims are ones of political interference in appointments and the criminal justice system – and the misuse of public money on infrastructure and transport projects including $7m (£5m) to an airline that did not exist and more than a million dollars spent on a school fence.
There have also been claims of intimidation towards people in the media and community leadership.
In November 2020, two tonnes of cocaine with a street value of almost £190m was seized, underlining the extent of criminal behaviour on BVI.
The inquiry is set to formally begin in the coming days and is expected last at least six months.
It will be led by the Right Honourable Lord Justice Gary Hickinbottom, an experienced High Court judge.
He will have the power to seize evidence and force witnesses to give evidence.
Alexei Navalny: Putin critic urges Russians to 'take to the streets' after 30-day detainment order | World News
Putin critic Alexei Navalny has urged Russians to "take to the streets" after a judge ordered that he be kept in custody for at least 30 days.
In a video clip released after the ruling, Mr Navalny said: "Don't be afraid, take to the streets. Don't go out for me, go out for yourself and your future."
The sentence came following an hour-long, ad-hoc hearing – held in a police station in Khimki, outside Moscow – on Monday afternoon. Mr Navalny described the proceedings as the "highest level of lawlessness".
The 44-year-old was originally detained on arrival at Moscow's Sheremetyevo airport on Sunday, after spending five months in Germany recovering from novichok poisoning.
Mr Navalny, who is one of President Vladimir Putin's most outspoken critics, blames Moscow for the attack that nearly killed him, although the Kremlin denies any involvement.
His detention was widely expected because Russia's prisons service said he had violated parole terms from a suspended sentence on a 2014 embezzlement conviction.
But it has drawn widespread condemnation from Western leaders, with the UN telling Russia to immediately let Mr Navalny go.
Moment Navalny is detained after landing in Russia

Boris Johnson called the arrest "appalling" and joined Foreign Secretary Dominic Raab in calling for Mr Navalny's immediate release.
He said: "It is appalling that Mr Navalny has been detained by the Russian authorities and he must be immediately released.
"Rather than persecuting Mr Navalny, Moscow should fulfil its obligation under international law to investigate and explain the use of a chemical weapon on Russian soil."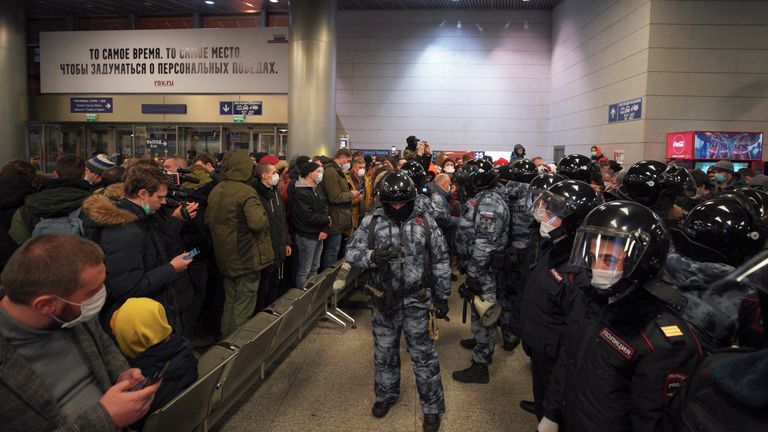 European Commission President Ursula von der Leyen further implored Russian authorities to release Mr Navalny and "ensure his safety".
In a statement shared on Twitter, she added: "Detention of political opponents is against Russia's international commitments.
"We will monitor the situation closely."
I condemn the detention of Alexei Navalny by the Russian authorities. They must immediately release him and ensure his safety.

Detention of political opponents is against Russia's international commitments. pic.twitter.com/RRATmAHVvn

— Ursula von der Leyen (@vonderleyen) January 18, 2021
Mike Pompeo, US secretary of state, said Washington "strongly condemns" the decision to arrest Mr Navalny and called his detention "the latest in a series of attempts to silence Navalny and other opposition figures and independent voices who are critical of Russian authorities."
He added on Twitter that he was "deeply troubled" by the move.
"Confident political leaders do not fear competing voices, nor see the need to commit violence against or wrongfully detain, political opponents," he said.
President-elect Joe Biden's pick for national security adviser also called on the Russian authorities to free him.
'They tried to kill me,' says Kremlin critic

"Mr Navalny should be immediately released, and the perpetrators of the outrageous attack on his life must be held accountable," Jake Sullivan said in a tweet.
Moscow has dismissed the criticism.
Russian foreign minister Sergei Lavrov said that Western countries' expressions of outrage were designed to distract their citizens from their own domestic problems.
Meanwhile, foreign ministry spokeswoman Maria Zakharova wrote on Facebook: "Respect international law, do not encroach on national legislation of sovereign states and address problems in your own country."
On leaving Berlin on Sunday, Mr Navalny said he didn't think he would be arrested as he had "every right" to return to his home country.
The arrest raises tensions in Russia as it approaches national parliament elections this year, in which Mr Navalny's organisation is expected to be active in trying to defeat pro-Kremlin candidates.
"This is a real act of bravery for Alexei Navalny to return to Russia, given that government agents already tried to kill him once," Human Rights Watch executive director Kenneth Roth tweeted.
"But he understandably wants to be part of the pro-democracy movement in Russia, not a dissident in exile."
Mr Navalny fell into a coma while aboard a domestic flight from Siberia to Moscow on 20 August.
He was transferred to a hospital in Berlin two days later.
Labs in Germany, France and Sweden tested the substance he was exposed to.
It was established he was poisoned with a Soviet-era novichok nerve agent – the same kind of substance used against Sergei and Yulia Skripal, a former Russian double agent and his daughter, in a 2018 poisoning in Salisbury.
COVID-19: Man 'lived in Chicago airport in secret for three months' – as virus made him 'too scared' to fly home | US News

A 36-year-old man lived undetected in a secure section of Chicago's O'Hare International Airport for three months because he was "too scared" to go home due to COVID-19, US prosecutors say.
Aditya Singh is charged with felony criminal trespass to a restricted area of an airport and misdemeanour theft.
According to police, he arrived in Chicago on a flight from Los Angeles on 19 October.
Mr Singh, who survived on food from other passengers, is unemployed and lives in the city of Orange, California. It was unclear why he was in Chicago.
Cook County Judge Susana Ortiz reacted with surprise when a prosecutor set out the allegations, according to the Chicago Tribune.
She reportedly told the court: "So if I understand you correctly, you're telling me that an unauthorised non-employee individual was allegedly living within a secure part of the O'Hare airport terminal from 19 October 2020 to 16 January 2021 and was not detected? I want to understand you correctly."
On Saturday, two employees from United Airlines were said to have approached Mr Singh and asked for his identification.
Assistant state attorney Kathleen Hagerty said he lowered his face mask before showing them an airport ID badge, which he had reportedly found, and was "scared to go home due to COVID".
The badge apparently belonged to an operations manager who had reported it missing on 26 October.
Assistant public defender Courtney Smallwood said Mr Singh does not have a criminal background and has a master's degree in hospitality – and said the unusual allegations were not violent, reported the Tribune.
If he is able to post the $1,000 (£738) for bail, Mr Singh will be barred from entering the airport.
Judge Ortiz added: "The court finds these facts and circumstances quite shocking for the alleged period of time that this occurred."
The Chicago Department of Aviation said that while the incident remains under investigation, it had been able to "determine that this gentleman did not pose a security risk to the airport or to the travelling public".