British woman jailed for 'bucket list' murder of teenager in Australia
A British woman who had murder on her "bucket list" has been jailed for life for garroting and stabbing a teenager to death in Australia.
Jemma Lilley, who had an "obsession" with serial killers, murdered 18-year-old Aaron Pajich at her home in Perth, Western Australia, and buried him in a shallow grave in her garden.
The 26-year-old, previously of Stamford, Lincolnshire, was convicted alongside her housemate Trudi Lenon, 43, at the Supreme Court of Western Australia.
The pair were sentenced on Wednesday to life imprisonment with a minimum term of 28 years.
The court heard Lilley had spoken of wanting to kill someone before she turned 25.
Once she had ticked off murder from her "bucket list" she was so "full of herself and euphoric" that she could not help boasting to a work colleague, prosecutor James McTaggart said.
She had also written a book about a serial killer called SOS and went on to assume the identity of the character, jurors were told.
Speaking to The Times after the conviction, Lilley's stepmother, Nina Lilley, 48, said: "The book was a big problem with me. At the beginning I was, 'fair enough you want to write a horror story', but I didn't like the contents of it.
"She had always had an obsession with serial killers but she said it was a way of venting her frustration of what happened when she was a child."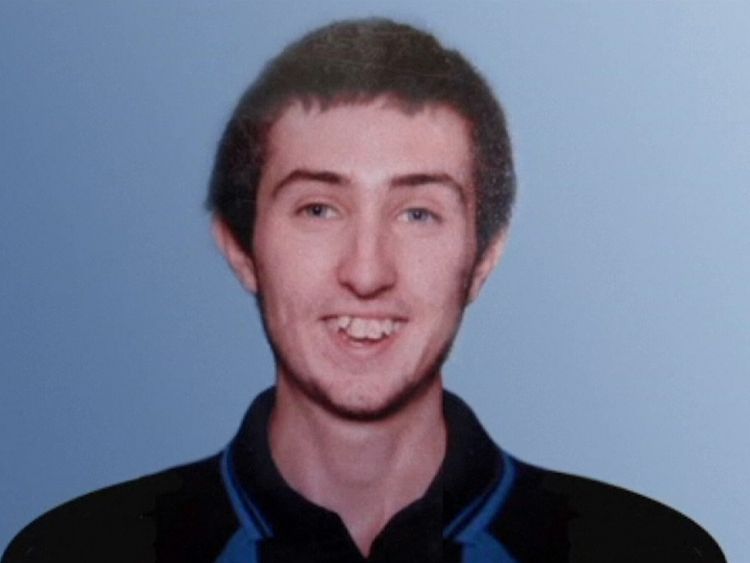 Mr Pajich, who had autism, was lured to his death in June 2016, with both defendants blaming each other for the killing.
Lenon told the court Lilley approached the teenager from behind as he installed games on her computer, garroted him until the wire broke then stabbed him three times.
Prosecutors said Lilley left incriminating messages to her "obsequious and sycophantic" follower Lenon hours after the killing, saying she was feeling things she had "not felt before".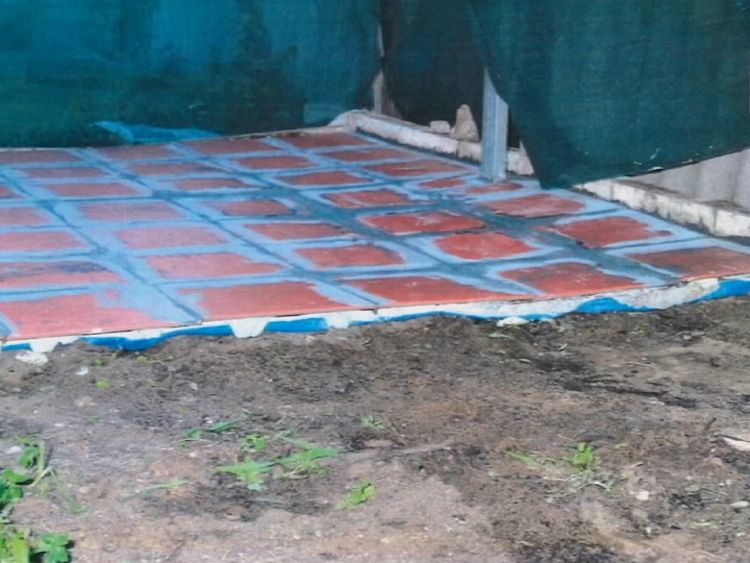 After the verdict, the victim's mother told reporters she was heartbroken and would have to deal with what happened to her son for a lifetime.
His murderers were "disgusting animals" and should never be released, Sharon Pajich said.
"He was my precious little boy, he was my first-born. He was full of life," she added.
"They (the killers) deserve everything they get for what they've done, they've taken an innocent boy from his loved ones."
COVID-19: Global coronavirus deaths pass two million – just over a year since outbreak began | World News

Global deaths linked to coronavirus have passed two million – just over a year since it was first identified in China.
The US has recorded the highest number at over 389,000 – and more than 23 million cases, according to figures from Johns Hopkins University.
Brazil – where several new variants have recently been identified – is second with over 207,000 deaths.
India and Mexico are next, with roughly 152,000 and 137,000 respectively.
The UK has recorded the fifth-highest death toll – and the highest in Europe – with more than 87,000 deaths recorded within 28 days of a confirmed positive test. Italy follows closely behind with around 80,000.
Global deaths from coronavirus hit one million on 29 September – it has taken 108 days to reach two million.
UN Secretary General Antonio Guterres said the death toll had been "made worse by the absence of a global coordinated effort" on vaccination.
"Science has succeeded, but solidarity has failed," he said.
While wealthy nations have already given millions of doses, things have barely got off the ground in poorer countries with large populations – meaning deaths from the virus are likely to remain high for a long time.
"Behind this terrible number are names and faces – the smile that will now only be a memory, the seat forever empty at the dinner table, the room that echoes with the silence of a loved one," said Mr Guterres.
It is little over a year since the World Health Organisation (WHO) put out its first bulletin on COVID-19, warning that a "pneumonia of unknown cause" had been identified in China.
At that stage, it said the country had reported 44 patients of which 11 were severely ill, and that the outbreak had been linked to a wet market in the sprawling city of Wuhan.
Thailand confirmed the first case outside China on 13 January, and France reported three cases – the first in Europe – on 24 January.
America's first case was in Washington state on 21 January – in a man who had recently been to Wuhan.
By the end of January, the WHO's emergency committee declared the outbreak a Public Health Emergency of International Concern (PHEIC).
The first UK cases were confirmed on 31 January – in two Chinese nationals at a York hotel – one of whom was a student at the city's university.
Uganda: Are armed government troops using intimidation tactics? | World News
Bobi Wine, whose real name is Robert Kyagulanyi, has a large house about an hour outside Uganda's capital, Kampala.
After sending out a couple of panicky-sounding tweets on Friday saying members of the military were encroaching on his property, that his property had been essentially surrounded by the military, we drove out there as quickly as we could.
We found him at the edge of the lawn, where there is then a gate and a fence and a hill which leads down to more of his property, which is forested.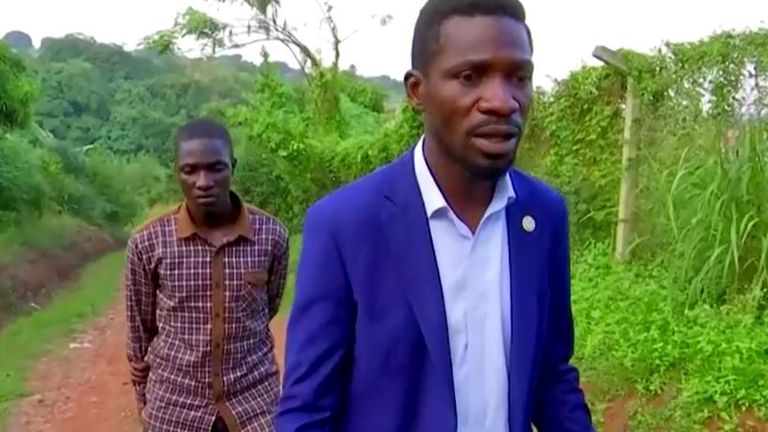 He was somewhat anxiously examining his land.
Mr Wine told us that he had seen troops – soldiers on the property – that they had come and beat one of his guards up.
We were introduced to the guard who had suffered some facial injuries. And then he took us and a small number of other journalists on a tour of his property.
We went down a hill into some of the trees, around the corner and we saw a group of about five uniformed men armed with automatic weapons.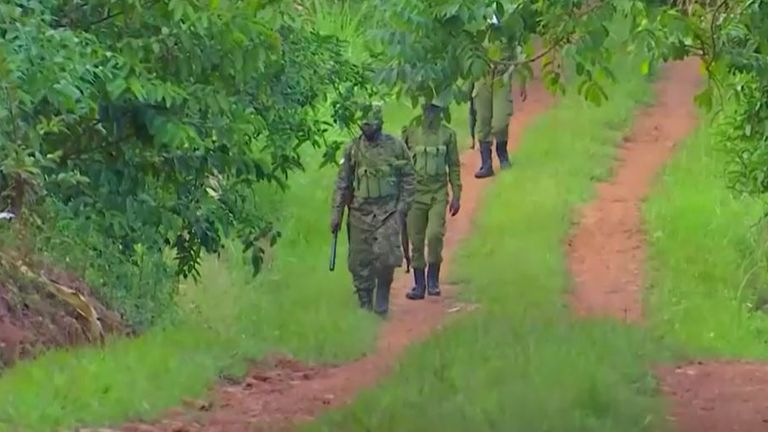 One of them picked up his weapon and pointed it at us. And we, along with Bobi Wine, ran for cover.
I must say, at no stage was one of the weapons discharged, but it was a frightening experience.
We ran back up to the main house, had a chat with Bobi Wine, who said this was an example of the intimidation that he has faced during the campaign and increasing intimidation now that the election results are expected.
Polls have closed in Uganda with president Yoweri Museveni, who is 76, seeking a sixth term in office.
But he is facing a strong challenge from Mr Wine, a former reggae singer who is half his age.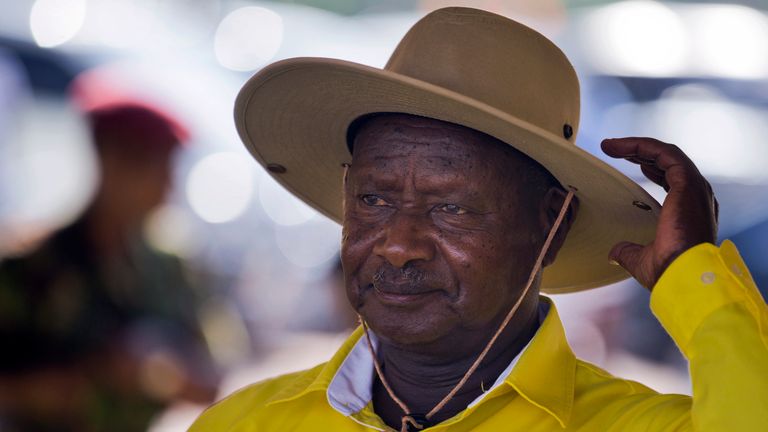 Results are expected to be delivered by the Election Commission on Saturday.
But Mr Wine says the government is trying to put him in his place.
It is certainly an unusual, a highly unusual way to treat a presidential candidate in this election or in any election.
He has run a very strong campaign. He has fired up certainly younger members of the electorate in this country.
A military spokeswoman said any soldiers in the area were there to protect him.
And a Kampala police spokesman told NTV Uganda that three unidentified people had tried to enter Mr Wine's property and one had been arrested.
But this does sound and look like government intimidation to me. On another side of the property, through a chain link fence, we could see soldiers and plainclothes men with weapons as well.
I tried to speak to them. They said nothing.
Bobi Wine is the country's best known and most effective opposition leader – but this is a very uncomfortable place for him to be at the moment.
Dutch government resigns over childcare subsidies scandal | World News
The Dutch government led by Prime Minister Mark Rutte has resigned over a childcare subsidies scandal.
Mr Rutte, who leads the conservative People's Party for Freedom and Democracy as part of a four-party ruling coalition, stepped down following a cabinet meeting.
In a statement, Mr Rutte said: "We are of one mind that if the whole system has failed, we all must take responsibility, and that has led to the conclusion that I have just offered the king, the resignation of the entire Cabinet."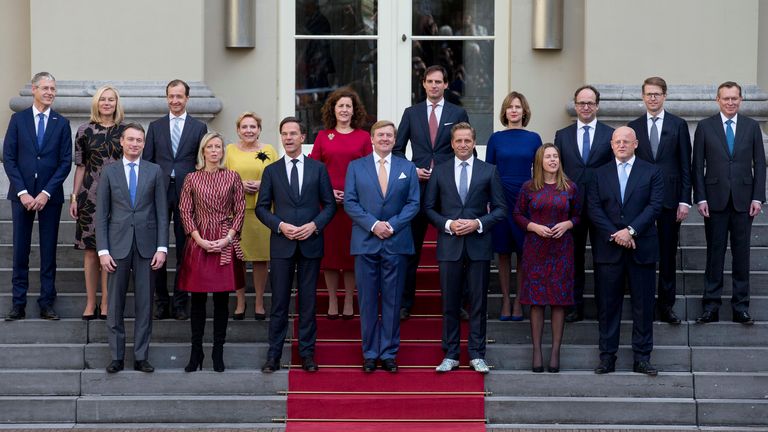 He added that he would continue to work to compensate affected parents.
The other parties in the Netherlands' leadership had called for Mr Rutte to go after an inquiry labelled the mismanagement a decade of "unprecedented injustice".
The report found last month that around 10,000 families had been made to repay tens of thousands of euros of subsidies after being wrongly accused of fraud.
This lead to cases of unemployment, bankruptcy and divorce.
Previously, €500m (£445m) had been earmarked to compensate around 20,000 families.
Janet Ramesar, a parent who was waiting for the news of Mr Rutte's resignation, said: "It's important for me because it is the government acknowledging, 'we have made a mistake and we are taking responsibility,' because it's quite something what happened to us."
Parliamentary elections are due to be held on 17 March, with the current government expected to stay on until then in a caretaker role.
Mr Rutte is expected to lead his party to the polls, with polling suggesting it will win the most seats and in the driving position to form the next coalition.
Lodewijk Asscher, has already stepped down as the leader of the Dutch Labour Party.
While he is not in the current coalition, he had been involved in a previous government.
Mr Rutte's resignation to King Willem-Alexander is the first government collapse in the country since 2012.
Then, it was again Mr Rutte at the helm, although that dissolution was due to disagreements over austerity measures.
The Netherlands is currently amid its tightest lockdown of the pandemic, and Mr Rutte has been considering tighter action.