US man arrested in Japan after woman's severed head found in suitcase
A US tourist has been arrested in Japan after police discovered the dismembered body parts of a missing woman in locations in two cities.
The head of the woman, who has not been identified, was discovered inside a suitcase in a room in Osaka which was rented by the American.
The man, identified in local media reports as Yevginy Vasilievich Bayraktar, 26, from New York, reportedly admitted he had abandoned the woman's body.
Officers on Monday found a torso and two arms in mountains near the city of Osaka and two legs in Kyoto, some 30 miles away.
The woman, identified in media reports as a 27-year-old office worker from Sanda City, is believed to have met the suspect on a dating app.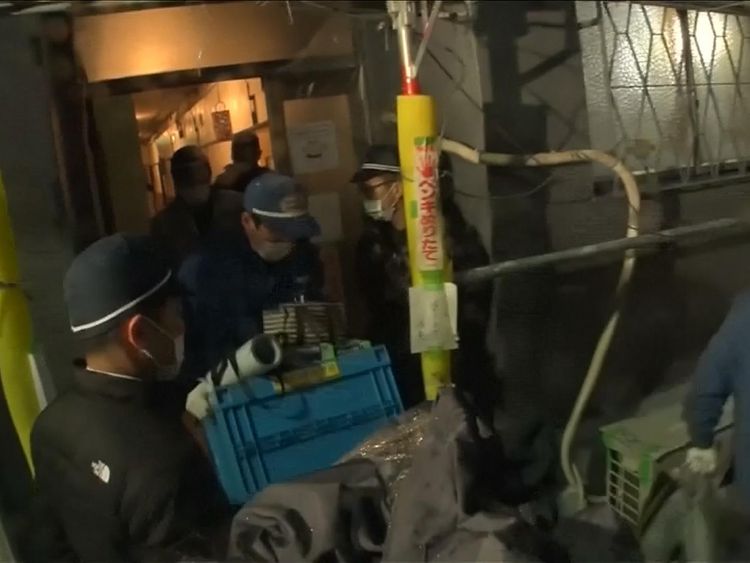 She reportedly told friends she was meeting an American tourist she had met online and was last seen when she left work on 15 February.
Her phone had gone dead and her family reported her missing on 17 February.
CCTV footage showed the woman and a man, believed to be Bayraktar, meeting in Osaka at around midnight on that day and entering a flat together.
TV station Kansai Telecasting reported that separate footage showed the man leaving the building alone multiple times between 16 and 18 February allegedly carrying a large bag.
Police said they searched the locations after being given information by the suspect.
An examination of the body parts is being carried out to identify the victim.
Carlos Ghosn: Special forces veteran and son extradited over ex-Nissan chief's 'music box' escape from Japan | World News
A US special forces veteran and his son accused of helping ex-Nissan boss Carlos Ghosn escape from Japan have been extradited to the country.
They are accused of aiding a plot to smuggle Ghosn out of the country, where he was awaiting trial on financial misconduct charges in December 2019.
Michael Taylor and son Peter Taylor allegedly helped him escape in a music box and on a private jet to his home country of Lebanon, which has no extradition treaty with Japan.
Prosecutors say they received at least $1.3m (£936,000) for their services.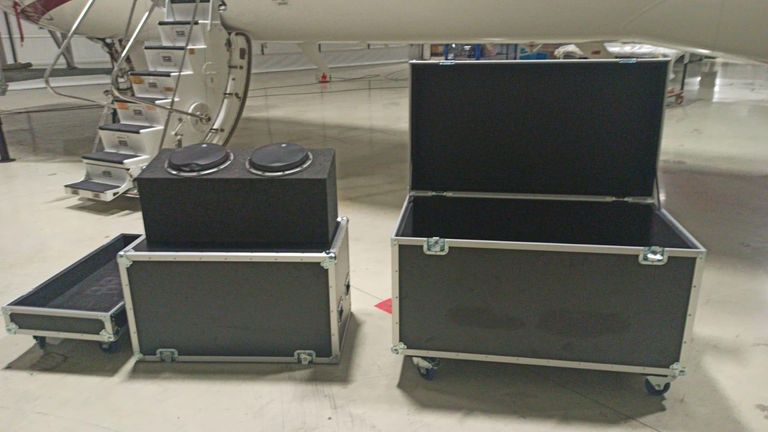 The pair landed in Tokyo on Monday after a high-profile battle to avoid being handed over, with lawyers claiming they faced the prospect of relentless interrogation and "mental and physical torture".
They had been in a Boston jail since May, but last month the US Supreme Court cleared the way for their extradition.
"This is a sad day for the family, and for all who believe that veterans deserve better treatment from their own country," said their lawyer Paul Kelly.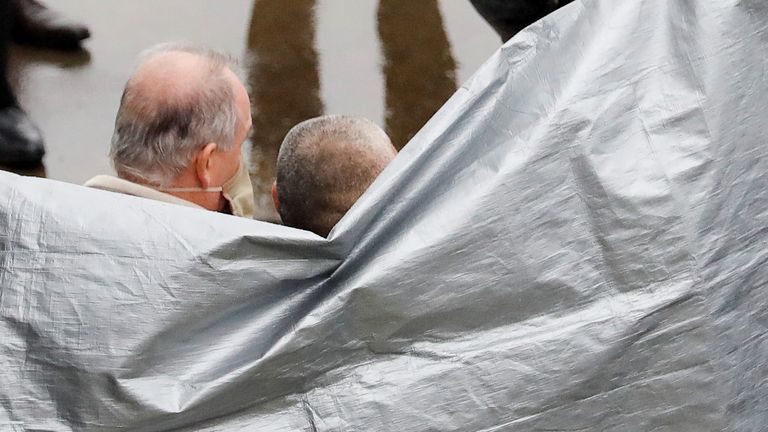 Under Japanese law, suspects cannot have a lawyer present during questioning by prosecutors and can be held for 20 days before being charged or released.
Michael Taylor, 60, is a special forces army veteran and private security specialist who in the past had been hired to rescue abducted children. He has never denied the allegations.
He described the escape plan in detail in an interview with Vanity Fair last year and said he did it "to liberate the oppressed".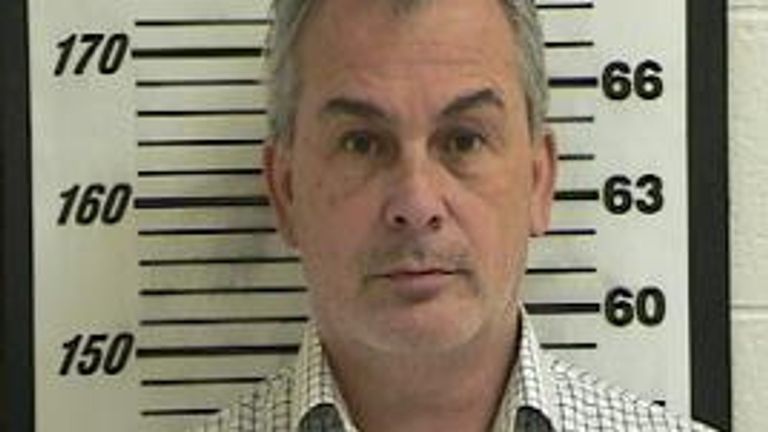 Prosecutors have called it one of the most "brazen and well-orchestrated escape acts in recent history".
Michael Taylor and another man, George-Antoine Zayek, allegedly chartered a jet to Japan with two large boxes in a ruse that they were musicians with audio equipment.
Ghosn, who was out on bail, is said to have met up with Peter Taylor at a Tokyo hotel before the others joined them.
As the younger Mr Taylor flew to China, the other three are said to have taken a bullet train to another hotel near Osaka airport.
They all went into a room but only two came out.
Prosecutors say Ghosn was inside one of the boxes – which passed through security without being checked.
January 2020: 'I was facing conviction rate of 99%' – Ghosn

The private jet landed in Istanbul in Turkey, before Ghosn was transferred to another flight to Lebanon.
He had initially been arrested in November 2018 on claims he diverted money from Nissan for his own gain and underreported his future income.
He denies the charges against him and says he escaped to avoid "political persecution" and an unfair trial.
Michael Gudinski: Kylie Minogue, Bruce Springsteen and Russell Crowe lead tributes to Australian music industry 'legend' | Ents & Arts News

Kylie Minogue, Bruce Springsteen and Russell Crowe are among the stars paying tribute following the death of an Australian music industry "legend".
Promoter Michael Gudinski founded the Mushroom label when he was just 20 in 1972, and it went on to become the country's largest independent entertainment group.
He helped launch the careers of both Kylie and Dannii Minogue and also played a key role in bringing some of the world's biggest stars, including Springsteen, to perform Down Under.
MICHAEL GUDINSKI – Legend. Legacy. LOVE. A Titan of the music industry. One of a kind and forever family to me. My heart is broken and I can't believe he's gone. Irreplaceable and unforgettable, I'll always love you 'The Big G'. #MichaelGudinski pic.twitter.com/f3AH1KlBOL

— Kylie Minogue (@kylieminogue) March 2, 2021
He died peacefully in his sleep at his home in Melbourne, Australia, aged 68, Mushroom said.
Paying tribute on social media, Kylie Minogue described Mr Gudinski as a "legend" and a "titan" of the music industry.
"One of a kind and forever family to me," she wrote. "My heart is broken and I can't believe he's gone."
Springsteen described Mr Gudinski as a friend who was "first, last and always a music man", and a promoter who would be "remembered by artists, including this one, from all over the world every time they step foot on Australian soil".
Crowe said he was a "towering figure on the Australian cultural landscape".
The pair had been friends for 30 years, he said.
RIP Michael Gudinski. Seems almost impossible. A towering figure on the Australian cultural landscape.
I'm not sure we ever agreed on anything, except maybe @edsheeran . Still didn't stop us from being mates for 30 years. I'm going to miss him deeply. My love to his family.

— Russell Crowe (@russellcrowe) March 2, 2021
Ed Sheeran, the Foo Fighters and Dannii Minogue have also shared tributes.
Sheeran, who Mr Gudinski helped while touring in Australia, shared a picture on Instagram of the pair together on a beach, saying: "I'll miss you mate."
Dannii Minogue said: "I will forever be grateful for the opportunity he gave me to release my first single and album, and the journey that it took me on for so many years."
He was always there cheering me on, and I will never forget that. There are so many beautiful moments to cherish spent with Michael and his family, surrounded by music and the joy it brings. The loss will be felt forever, but his legacy will also live on forever.

— Dannii Minogue (@DanniiMinogue) March 2, 2021
Posting a picture on social media, the Foo Fighters said in a statement. "Thank You Michael Gudinski for giving us and countless others the best night of our lives.
"Over and over again. A true f****** legend. We will miss you dearly. Rock & Roll will miss you deeply."
Mushroom Group said Mr Gudinski had spent time in 2020 trying to help artists affected by the shutdown of live music caused by the COVID-19 crisis.
:: Subscribe to the Backstage podcast on Apple Podcasts, Google Podcasts, Spotify, Spreaker
"A larger-than-life figure, Michael was widely respected for his unwavering passion for all music – in particular Australian music," the label said in a statement.
"Most recently, with the music industry severely impacted by the COVID-19 pandemic, Michael conceptualised and developed Music From The Home Front, The Sound and The State Of Music, platforms designed to showcase and support contemporary Australian music in an incredibly difficult time.
"It speaks to the man he was that of his countless illustrious career achievements these projects, that supported the industry he loved, were ones he was particularly proud of."
Mr Gudinski is survived by his wife Sue, son Matt and daughter Kate, the group said.
COVID-19: Japan joins US in row with China over its use of anal swab testing they claim causes 'psychological pain' | World News
An international row has reignited over the use of anal COVID swab tests for foreigners in China.
Just a week after US diplomats complained about being subjected to the process, Tokyo has now also called on Beijing to stop doing the same to its Japanese citizens.
Chief cabinet secretary Katsunobu Kato said his government had received reports from the Japanese embassy in China of citizens who had been required to take the COVID swab tests which they said had caused them "great psychological pain".
Live COVID updates from UK and around world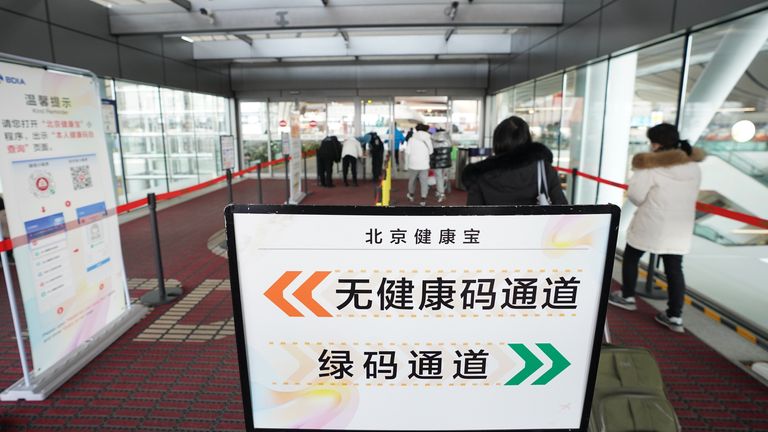 China's foreign ministry was forced to deny it had required US diplomats to undergo anal swab tests after US media reported they had raised the matter with officials at the American State Department.
Its spokesman Zhao Lijian told a daily news briefing in Beijing that one such test may have been given in error but he added: "To my knowledge…China has never required US diplomatic staff stationed in China to conduct anal swab tests."
A US State Department representative responded by saying it was "committed to guaranteeing the safety and security
of American diplomats and their families, while preserving their dignity".
It is not known how many Japanese delegates had been asked to have an anal swab test.
Some Chinese cities used anal samples to detect potential COVID-19 infections amid stepped-up screening during a spate of regional outbreaks ahead of the Lunar New Year holidays.
Li Tongzeng, a respiratory diseases doctor in Beijing, told state television the reason they were using anal swabs was that the procedure was better at avoiding missing an infection, as virus traces in faecal samples or anal swabs remain detectable for a longer time than in those from the respiratory tract.
Beijing has so far not responded to Mr Kato's request.