Camilla's short Oz trip not snub, say officials
The Duchess of Cornwall will travel all the way to Australia for two full days of a Royal tour before leaving Prince Charles to carry out the rest of the week-long visit alone.
Clarence House confirmed Camilla will be in Brisbane and the Gold Coast from the afternoon of 4 April to attend the opening of the Commonwealth Games and a Women of the World event.
But she has decided not to join her husband as he goes to the Great Barrier Reef, Cairns, Gove and Darwin, along with the Pacific island of Vanuatu.
Instead she will fly back to the UK on 6 April, leaving Prince Charles to return on the 10th.
A spokeswoman for the Duchess said: "The Duchess has always wanted to go to the Commonwealth Games but she was taking a little longer to decide what the rest of the programme was going to be and what the rest of her programme this year was going to be.
"We have got CHOGM (the Commonwealth Heads of Government Meeting in London), the Prince of Wales' birthday, their Spring tour…so she is going to return after the Commonwealth Games as that would be the natural point to return home."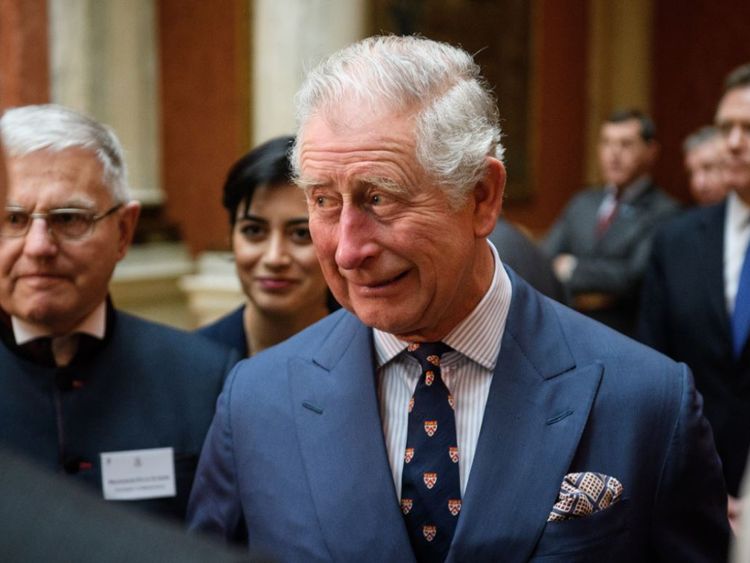 Asked whether this could be seen as a snub to Australia, the spokeswoman said: "No. It's quite a gruelling tour, with some fantastic places for the Prince to visit.
"Her last tour there was in 2013. She is going to the Games, which she regards as a very important part of it."
When asked further if only going for two days looked odd, she added: "Better than not. She decided a few weeks ago to firm up her plans. We were always looking at the Duchess coming."
It was also confirmed there were no health reasons, with the official saying she was "as fit as a flea. The Duchess does not like flying but I think she sometimes has to embrace that fear and get on with it".
Palace officials emphasised the importance of this tour for celebrating ties with the Commonwealth especially in Australia where the Queen is head of state.
They also confirmed that when the couple arrive at Old Government House in Brisbane, Prince Charles will receive a full ceremonial arrival, usually only laid on for visiting heads of state, because he will be representing his mother the Queen.
The visit comes just weeks before heads of government from the 53 Commonwealth members will attend CHOGM from 16 April.
The Queen is head of the Commonwealth but Prince Charles will not automatically inherit the title when he becomes king.
As part of the tour, the Prince will meet the family of Australian wildlife expert Steve Irwin to highlight the plight of the world's coral reefs.
Irwin, who was nicknamed the Crocodile Hunter, died in 2006 after being attacked by a stingray while filming footage for a documentary.
The Prince of Wales will also visit the Pacific island of Vanuatu – where some islanders worship his father the Duke of Edinburgh as a god.
Queen unveils statue of herself in South Australia – with the help of technology | UK News
The Queen has unveiled a statue of herself in Australia, despite being thousands of miles away in Windsor Castle.
The 94-year-old has continued her work virtually during the coronavirus pandemic, like many of those in her family.
But after almost 70 years on the throne she was able to joke about the technology that has allowed her to unveil a statue virtually for the first time.
In a video call with the governor of South Australia Hieu Van Le and the state's premier Steven Marshall, she said: "I would think possibly it might be quite alarming to suddenly see it out of the window – you'd think, gracious, has she arrived unexpectedly?"
The sculpture depicts the monarch in a coat and hat carrying her trademark Launer handbag and it sits in the grounds of Government House in Adelaide, South Australia.
When told it had become the most popular place for people to take photographs, the Queen chuckled and said: "Oh really?"
Mr Le said: "They feel very close to you through standing in front of the statue."
Sculptor Robert Hannaford also presented the Queen with a "maquette", a scale model of the statue, which will be sent as a memento.
The Queen remarked: "That's very kind. I'm glad it's not quite as big as the original statue."
At the start of the call, the Queen had joked about what time of day it was in Australia.
"Good morning," she said. "Well that's good morning to me. It looks… I don't know what time of day it is to you."
She was also briefed on other developments in South Australia, including the early stages of the vaccine programme, the response to COVID-19 and the lifting of restrictions.
She also heard about the region's recovery from drought and bushfires.
The video call took place on Wednesday last week but it was released by Buckingham Palace on Monday, the same day the Duke of Edinburgh was moved from King Edward VII's hospital to St Bartholomew's.
Philip, 99, has been in hospital for almost two weeks and will undergo testing and observation for a pre-existing heart condition.
Nicolas Sarkozy: Former French president to appeal guilty verdict in corruption trial | World News
Former French president Nicolas Sarkozy is set to appeal after he was handed a one-year prison term and two-year suspended sentence for corruption and influence peddling.
The 66-year-old was convicted by a court in Paris on Monday for having tried to illegally obtain information from a senior magistrate in 2014 about a legal action in which he was involved.
The court said Sarkozy will be entitled to request to be detained at home with an electronic bracelet, meaning he is unlikely to go to jail.
He left the court without speaking, but his lawyer said he would appeal, and prove his innocence, describing the ruling as "extremely severe and wholly unjustified."
And a post on his wife Carla Bruni's Instagram account read: "What a senseless witch-hunt, my love @nicolassarkozy …. The fight will continue, the truth will see the light #injustice."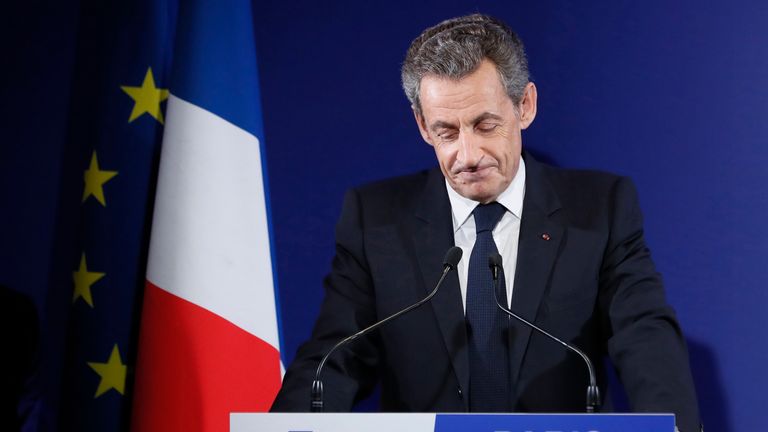 The trial at the end of last year heard how the former politician, who was president from 2007 to 2012, forged a "corruption pact" with his lawyer Thierry Herzog, 65, and senior magistrate Gilbert Azibert, 74.
The trial focused on phone conversations that took place in February 2014. At the time, investigative judges had launched an inquiry into the financing of the 2007 presidential campaign.
During the investigation, they incidentally discovered that Sarkozy and Herzog were communicating via secret mobile phones registered to the alias "Paul Bismuth".
According to wiretapped conversations, Sarkozy instructed Herzog to promise Azibert a job in Monaco in exchange for leaking information about another legal case in which he was involved.
The court said the facts were "particularly serious" given that they were committed by a former president who used his status to help a magistrate who had served his personal interest.
In addition, as a former lawyer, he was "perfectly informed" about committing an illegal action, the court said.
Sarkozy's two co-defendants – Herzog and Azibert – were also found guilty and given the same sentence.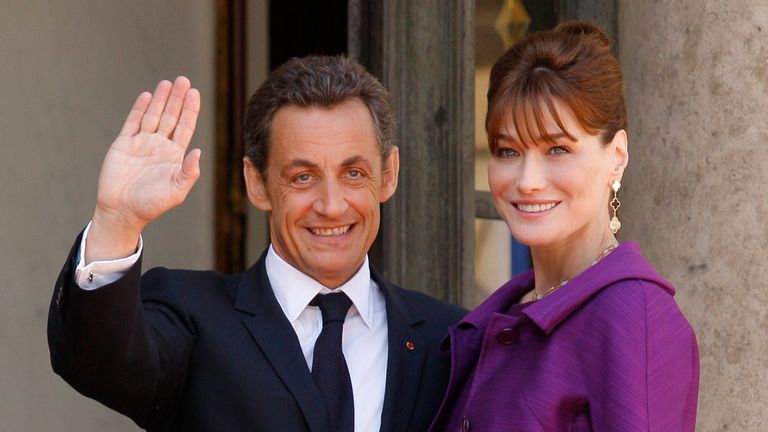 This is the first time in France's modern history that a former president has gone on trial for corruption.
Sarkozy's predecessor, Jacques Chirac, was found guilty in 2011 of misuse of public money and given a two-year suspended prison sentence for actions during his time as Paris mayor, but he did not end up having to appear in court because of ill health.
Sarkozy will face another trial later this month along with 13 other people on charges of illegal financing of his 2012 presidential campaign.
His party is suspected of having spent 42.8m euros, almost twice the maximum authorised, to finance the campaign, which ended in victory for Francois Hollande.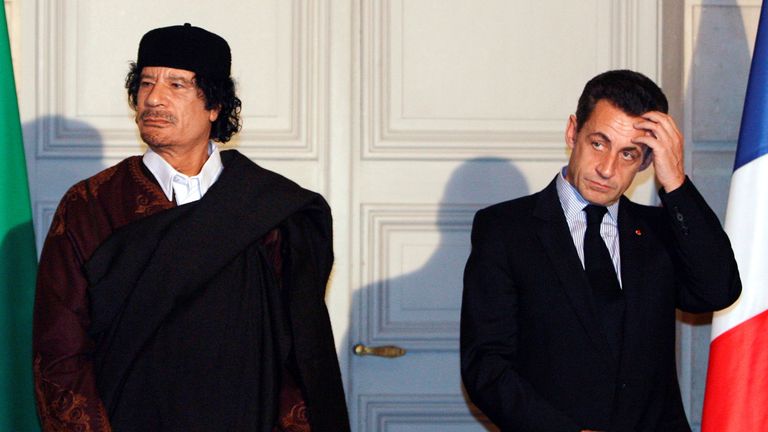 In another investigation opened in 2013, Sarkozy is accused of having taken millions from then-Libyan dictator Muammar Gadhafi to illegally finance his 2007 campaign.
He was handed preliminary charges of passive corruption, illegal campaign financing, concealment of stolen assets from Libya and criminal association. He has denied wrongdoing.
Yemen: Criticism as UK announces it will cut aid to war-torn country by more than half | Politics News
The UK government has announced it will cut the aid it provides to Yemen by more than half.
Foreign Office minister James Cleverly revealed at a virtual United Nations pledging conference that the UK's contribution in the next financial year will be "at least £87m", taking its contribution since the conflict began to more than £1bn.
This is a fall of 59% from 2020/21, when the figure stood at £214m.
Yemen: The analysis of a war crime

It follows the government's decision to cut foreign aid across the board by billions of pounds – from 0.7% of gross national income to 0.5%.
"The UK remains steadfast in our support to Yemeni people as one of the biggest donors of lifesaving aid and through our diplomatic efforts to bring peace," a Foreign Office spokesperson said.
"Since the conflict began, we have supported millions of vulnerable Yemenis with food, clean water and healthcare, and will continue to do so. We are using our UN Security Council seat and working with our allies to push for a lasting resolution to the conflict. Yemen's leaders must meaningfully engage with the UN to agree a ceasefire."
Mr Cleverly told the conference that the UK's contribution would "prioritise those most vulnerable and at highest risk" and provide at least 1.6 million people with access to clean drinking water and support 400 clinics to provide healthcare and feed 240,000 of the most vulnerable Yemenis every month.
The UN has launched an urgent appeal for more funding for aid in Yemen to avert a looming famine – which would drastically worsen the already devastating impact of the civil war.
The UK government's decision drew swift criticism.
Labour's shadow foreign secretary Lisa Nandy said it was a "deeply depressing statement of intent from the government".
She added: "Despite all the talk of Global Britain this is us abandoning our moral obligations, pulling further away from our allies and stepping back just as the USA steps up."
This is a deeply depressing statement of intent from the Government. Despite all the talk of Global Britain this is us abandoning our moral obligations, pulling further away from our allies and stepping back just as the USA steps up. https://t.co/FHZFBrFaYZ

— Lisa Nandy (@lisanandy) March 1, 2021
Conservative MP Jeremy Hunt, a former foreign secretary, said he was "deeply disappointed" with the decision.
"Abandoning a forgotten country and people is inconsistent with our values, weakens our moral authority and reduces our influence," he said.
"We should be increasing the scale of our support in the face of such suffering; to cut it at this moment of extreme peril is incomprehensible."
Deeply disappointed to hear UK govt is halving aid to Yemen. Timing is inexplicable with the UN warning only last week that Yemen faces the worst famine the world has seen for decades. In their words it is 'falling off a cliff'. Thread… https://t.co/JN3DoXbSh7

— Jeremy Hunt (@Jeremy_Hunt) March 1, 2021
Labour's Sarah Champion, chair of the Commons International Development Committee, slammed the move as "utterly appalling".
"It sends a message that the UK is turning its back on the world's worst humanitarian crisis," she said.
"This is completely at odds with the government's assertions that the UK should be a global leader, especially in the year with the G7 and COP presidencies.
"It is an astonishing move, particularly as the UK has the power – as penholder within the UN Security Council for Yemen – to lead the way to create a political solution to the conflict."
Speaking to Sky News before the decision was announced, former international development secretary Andrew Mitchell said: "Any cut, let alone one of nearly 50%, will mean that four million Yemenis – mainly children – will continue the slow, agonising and obscene process of starving to death."
He also predicted the government would have the greatest difficulty pushing its wider foreign aid cut through parliament.
"We are a generous country and every single elected member of the House of Commons promised in their manifesto just over a year ago not to cut the 0.7% spending on development," said Mr Mitchell.