Bollywood superstar Sridevi drowned in hotel bathtub in Dubai
Bollywood actress Sridevi died over the weekend after she drowned in a hotel bathtub in Dubai, despite initial reports stating that she went into cardiac arrest at a family wedding. She was 54.
Sridevi, said to be Bollywood's first female superstar who is known only by her first name, was in Dubai for her nephew's wedding when she was found dead Saturday evening, the BBC reported. Dubai police confirmed on Tuesday the actress' cause of death was "due to drowning in her hotel apartment's bathtub following loss of consciousness."
"As per the forensic report, the death of the Indian actress occurred due to accidental drowning following loss of consciousness. The case has now been closed," Dubai police tweeted.
Two police officials also told The Associated Press that Sridevi was under the influence of alcohol at the time of her death.
Her brother-in-law Sanjay Kapoor had told an Indian newspaper that she died of a cardiac arrest. It's unclear how cardiac arrest was linked to the accidental drowning.
Sridevi's body is expected to be embalmed before it will be flown in India for her funeral. Anil Ambani, a wealthy Mumbai-based industrialist, dispatched a private plane to Dubai to carry Sridevi's body back home, according to Indian media.
Mourners also gathered outside the actress' Mumbai home in India following the news of her death.
The 54-year-old's death made international headlines and was front-page news in India. She was the most famous Bollywood actress of the 1980s and '90s, and the first female superstar to get top billing in an industry then completely dominated by men.
She began her acting career at 4 years old in south Indian regional movies, she became known as an adult for her impeccable comic timing as well as her dancing skills — a serious asset in a country where song-and-dance melodramas are a movie staple.
She appeared in nearly 300 films in the span of five decades. 
The Associated Press contributed to this report. 
North Korea restores communications hotline with South after a year | World News
North and South Korea have restored a communications hotline that Pyongyang severed a year ago when relations between the two countries deteriorated.
North Korean dictator Kim Jong Un reached the agreement with South Korean President Moon Jae-in following an exchange of letters between the leaders since April, the South's presidential office said.
The pair agreed to "restore mutual confidence and develop their relationships again as soon as possible," Blue House spokesman Park Soo-hyun said.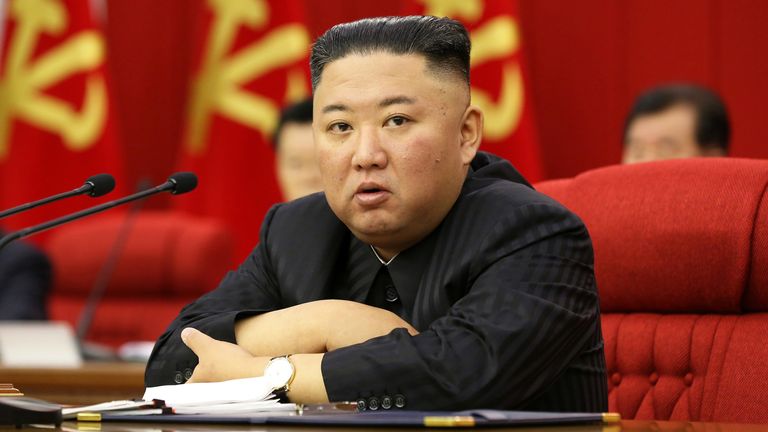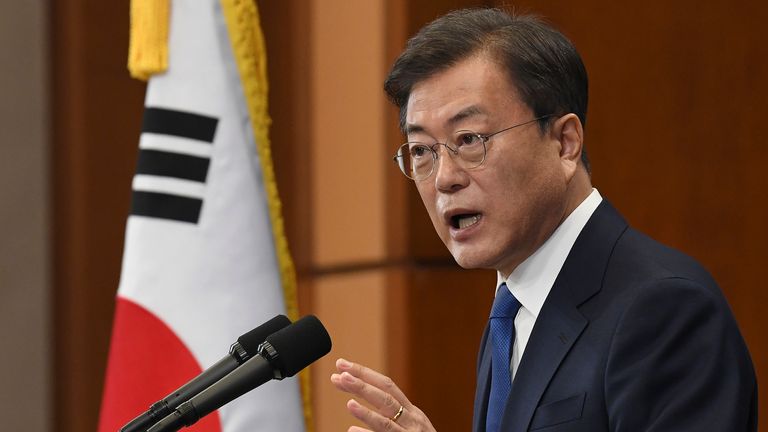 The two Koreas subsequently reopened communication channels on Tuesday morning, he added.
North Korea's state media quickly confirmed the South Korean announcement, with the official Korean Central News Agency saying: "Now, the whole Korean nation desires to see the North-South relations recovered from setback and stagnation as early as possible.
"In this regard, the top leaders of the North and the South agreed to make a big stride in recovering the mutual trust and promoting reconciliation by restoring the cutoff inter-Korean communication liaison lines through the recent several exchanges of personal letters."
North Korea cut off all communication channels with the South last year in protest at what it denounced as South Korea's failure to stop activists from floating anti-Pyongyang leaflets across their border.
It came as cross-border ties deteriorated following a failed second summit in February 2019 between Mr Kim and the former US president Donald Trump, which Mr Moon had offered to mediate.
The North later blew up an empty South Korean-built liaison office just north of the countries' border.
June 2020: N Korea blows up building in row with South

Some experts suggested North Korea's actions signalled it had grown frustrated that Seoul has failed to revive lucrative inter-Korean economic projects and persuade the US to ease sanctions.
According to Mr Moon's office, the letters between the two leaders did not discuss holding a summit or phone talks between them.
Nuclear talks between Pyongyang and Washington have made little progress since 2019, when the second of three summits between Mr Kim and Mr Trump collapsed.
The North Korean leader has since threatened to bolster his nuclear arsenal and build more sophisticated weapons unless the Americans lift policies the North considers hostile.
Some experts said North Korea may be compelled to reach out to the US or South Korea if its economic difficulties worsen.
Seoul's defence ministry confirmed twice-daily communication had been resumed via a military hotline on Tuesday and the Unification Ministry, which handles inter-Korean affairs, also said telephone lines installed at the border truce village of Panmunjom were restored.
Tokyo Olympics: Simone Biles withdraws from gymnastics team final due to apparent injury | World News

Olympic champion Simone Biles has pulled out of the gymnastics team finals due to an apparent injury.
The record-breaking American athlete had a rocky start in the final, where the US is looking to secure a third straight Olympic title.
The 24-year-old bailed on her planned Amanar vault, opting for an easier one in mid-air, and then struggled with the landing.
The rare misstep allowed the gymnasts from Russia to open up a one-point lead after the first rotation.
Vault has long been a strong suit for the US and Biles is the defending Olympic and world champion in the event.
Biles had opened up about the pressure she feels this Olympic Games.
On Sunday she said she had "the weight of the world on her shoulders".
Hong Kong: Tong Ying-Kit found guilty of terrorism and secessionism under China's controversial national security law | World News
The first person charged under Hong Kong's national security law has been found guilty of secessionism and terrorism, in a landmark case that has been condemned by human rights groups.
Tong Ying-Kit was accused of driving his motorbike into a group of police officers while carrying a flag with the protest slogan "Liberate Hong Kong, revolution of our times" written on it, on 1 July last year.
It was the day after China imposed the sweeping national security legislation on Hong Kong following months of protests against the government in 2019.
The 24-year-old pleaded not guilty to the charges and an alternative charge of dangerous driving and now faces a maximum sentence of life imprisonment.
His trial was held in the High Court without a jury, under rules which allow a trial to proceed without one if state secrets need to be protected, foreign forces are involved or if the personal safety of jurors needs to be protected.
Instead, judges handpicked by Hong Kong leader Carrie Lam presided over the court case.
Tong-Ying Kit's defence lawyer said it was impossible to prove he was inciting secession by using the slogan – which has been banned by authorities – and there is no evidence he committed the crime deliberately.
The defence also argued that he avoided crashing into police and his actions could not be considered terrorism since there was no serious violence or harm to society.
More than 100 people have been arrested under the national security legislation and the trial has been closely watched, with the verdict monitored for indications of how similar cases will be dealt with in the future.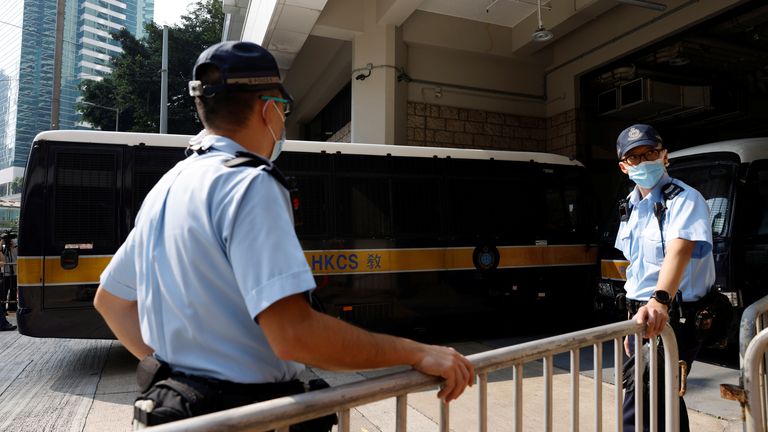 The verdict was immediately condemned by Amnesty International, which called it "the beginning of the end for freedom of expression in Hong Kong".
Asia-Pacific regional director Yamini Mishra said: "People should be free to use political slogans during protests, and Tong Ying-kit should not be punished for exercising his right to free speech.
"It is particularly clear that he should never have been charged with a 'national security' offence carrying a possible life sentence."
One family's journey to escape Hong Kong

:: Subscribe to Into The Grey Zone podcast on Apple Podcasts, Spotify, Spreaker
China had committed to allowing the semiautonomous city to maintain its own system for 50 years after the 1997 handover from British rule, but has mandated changes to the make-up of its Legislative Council to ensure an overwhelming pro-Beijing majority.
Last month, Hong Kong's last remaining pro-democracy newspaper, Apple Daily, was forced to close after police froze £1.65m of its assets and a court denied bail for four of its editors and journalists held on charges of endangering national security.
Beijing has dismissed any criticism by saying it is restoring order to the city and enforcing the same type of national security protections found in other countries.