Heather Locklear arrested for domestic violence, attacking a police officer, reports say
Heather Locklear was reportedly arrested for felony domestic violence and attacking a police officer.
TMZ reports that police responded to a call about domestic violence at Locklear's Thousand Oaks, Calif., residence on Sunday night.
When cops attempted to arrest the 56-year-old, she reportedly became violent and attacked a police officer.
According to Variety, Locklear's full charges are one count domestic violence, a felony and three counts of battery on emergency personnel.
The Venture County Sheriff's Office did not return Fox News' request for comment.
The former "Melrose Place" star has struggled with substance abuse in the past and most recently entered rehab last year. She was also arrested in 2010 for a hit and run
A rep for Locklear did not immediately return Fox News' request for comment.
COVID-19: Auckland faces seven-day lockdown after COVID case of unknown origin detected | World News
New Zealand's prime minister has announced the country's biggest city, Auckland, will go into a seven-day lockdown after a COVID-19 case was detected.
From Sunday, two million people will only be allowed to leave their home for essential shopping and essential work, Jacinda Ardern said, and all public venues will remain closed.
Restrictions in the rest of the country will be tightened to level two restrictions, including limits on public gatherings, following the discovery of the case of unknown origin.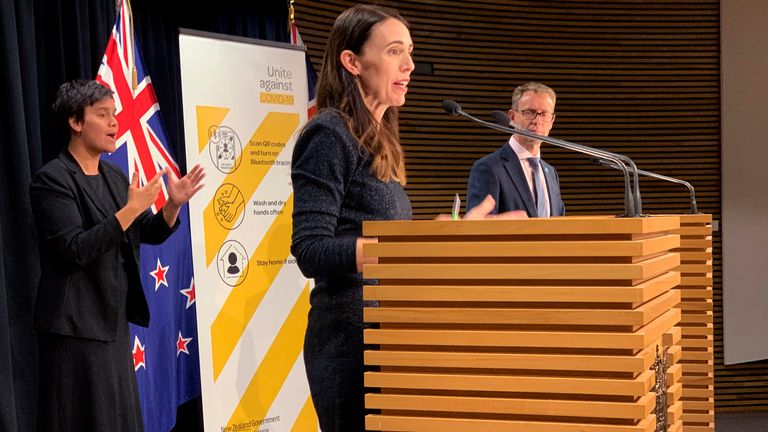 It comes two weeks after Auckland was plunged into a snap three-day lockdown when a family of three were diagnosed with the more transmissible UK variant of coronavirus.
Health officials, who could not immediately confirm how the latest person got infected, said genome sequencing of the new infection was under way.
The patient developed symptoms on Tuesday and is regarded as having been potentially infectious since Sunday, officials said. The person had visited several public venues during that period.
"Based on this, we are in the unfortunate but necessary position to protect Aucklanders again," Ms Ardern said, announcing the lockdown.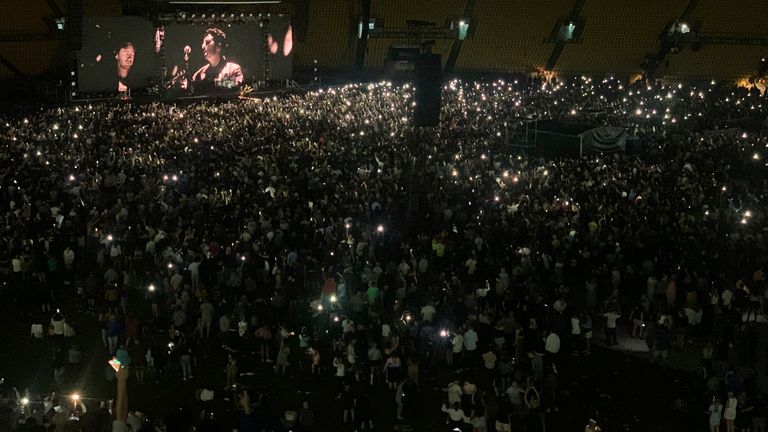 Health authorities were trying to find out whether the new case was linked to the earlier February cluster, now at 12 infections.
New Zealand, one of the most successful developed nations in controlling the spread of the virus, has seen just over 2,000 cases of coronavirus since the start of the pandemic.
A Twenty20 cricket clash in Auckland between New Zealand and Australia, scheduled for Friday, will be played in Wellington without crowds, said New Zealand Cricket.
The new restrictions also complicated the America's Cup Event yacht race scheduled to start on 6 March in Auckland harbour. America's Cup Event said on Twitter it was working "through the implications".
Myanmar coup: Ambassador to UN fired after making three-fingered salute in support of protests | World News
Myanmar's ambassador to the UN has been fired a day after making a three-fingered salute in support of anti-coup protests – as he called on nations to use "any means necessary" to reverse the military takeover.
Kyaw Moe Tun was removed as police arrested hundreds of demonstrators who showed opposition to the coup on 1 February.
Myanmar's crisis took a dramatic turn on Friday when the ambassador made a three-fingered salute adopted by the protesters before the UN General Assembly.
Mr Tun had called on the world to pressure the military to cede power and said he was speaking on behalf of the ousted civilian government of elected leader Aung San Suu Kyi.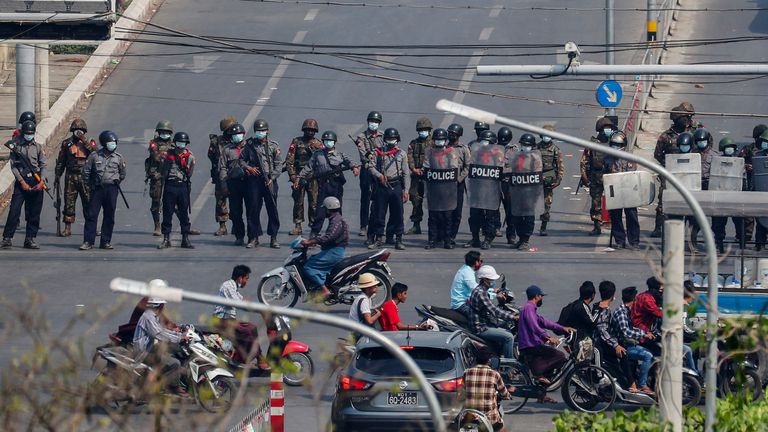 He used an emotional speech to urge all countries to issue public statements strongly condemning the coup.
Mr Tun also urged the international community to "use any means necessary to take action against the Myanmar military and to provide safety and security for the people of Myanmar".
The ambassador also called for stronger international measures to stop violence by security forces against peaceful demonstrators.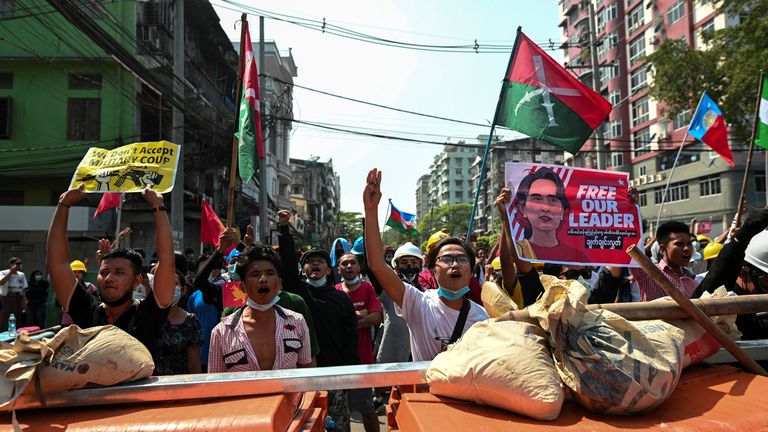 He drew loud applause from many diplomats in the 193-nation global body, as well as effusive praise on social media, where people from Myanmar and further afield described him as a hero.
Myanmar state broadcaster MRTV said he had "betrayed the country and spoken for an unofficial organisation which doesn't represent the country and had abused the power and responsibilities of an ambassador".
Mr Tun has been fired as police arrested hundreds of protesters who had showed their opposition to the coup on Saturday.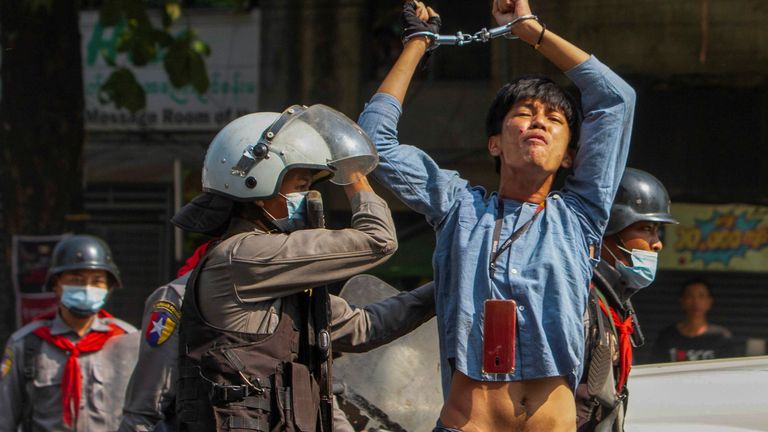 Aung Myo Kyaw, a representative from the Assistance Association for Political Prisoners (AAPP) rights group in Myanmar, said: "We can definitely say hundreds.
"More than 10 prison buses went into Insein prison with about 40 to 50 people in a prison bus. They arrested many people in Monywa too. We are now trying to get the names of the people."
Police in Myanmar escalated their crackdown as protesters sought to assemble in the country's two biggest cities.
Officers made arrests at the Hledan Center intersection in Yangon which has become a gathering point for protesters.
From earlier this month: Police 'gunfire' during Myanmar protests

Security forces also tried to thwart protests in Mandalay, where roadblocks were set up at several key intersections and the regular venues for rallies were flooded with police.
Mandalay has been the scene of several violent confrontations and at least four of eight confirmed deaths linked to the protests, according to the independent Assistance Association of Political Prisoners.
There were also arrests in the city on Friday as demonstrators demanded the restoration of the government of Ms Suu Kyi, whose National League for Democracy party won a landslide election victory in November.
Subscribe to the Daily podcast on Apple Podcasts, Google Podcasts, Spotify, Spreaker
The military takeover has reversed years of slow progress toward democracy after five decades of military rule.
Ms Suu Kyi's party would have been installed for a second five-year term in office, but the army blocked parliament from convening and detained her and President Win Myint and other top members of her government.
The junta said it took power because last year's polls were marred by massive irregularities. Before the military seized power, the election commission had refuted allegations of widespread fraud.
The junta dismissed the old commission's members and appointed new ones, who annulled the election results on Friday.
Arrests made after hundreds gather for anti-lockdown protests in Dublin | World News
Police have arrested a number people after hundreds of anti-lockdown protesters gathered in Dublin.
About 20 people were arrested by Gardai in the centre of the Irish capital on Saturday after an anti-lockdown demonstration began around 2pm.
Officers were forced to draw their batons after one protester threw a firework at police.
The protesters, who were not wearing masks and carried anti-lockdown placards, tried to gather in St Stephen's Green park, but the gates were closed by officials.
Sky News Ireland correspondent Stephen Murphy said there were no reports of any serious injuries and a "handful" of public order arrests were made.
Garda Commissioner Drew Harris said up to 20 people were arrested during the protest.
"Very regrettably, people arrived intent on violence. They engaged in attacks on members of An Garda Siochana including the throwing of a firework type device.
"They had no reasonable grounds for being there in the first place so we will pursue particularly those who formed a very hard core to deal with.
"We will follow through with an investigation to bring the perpetrators to justice."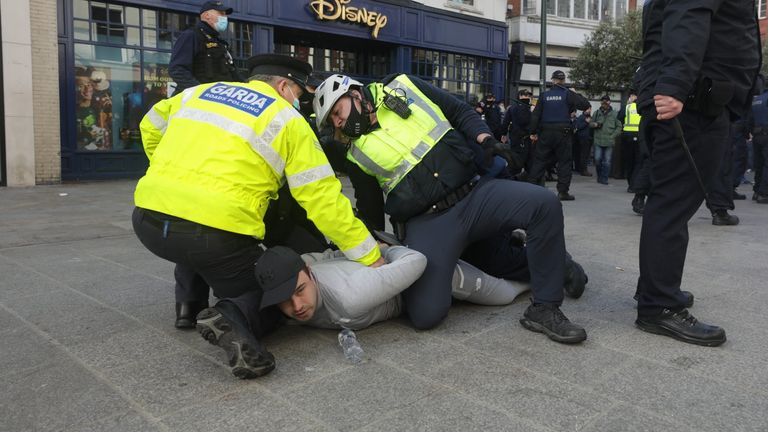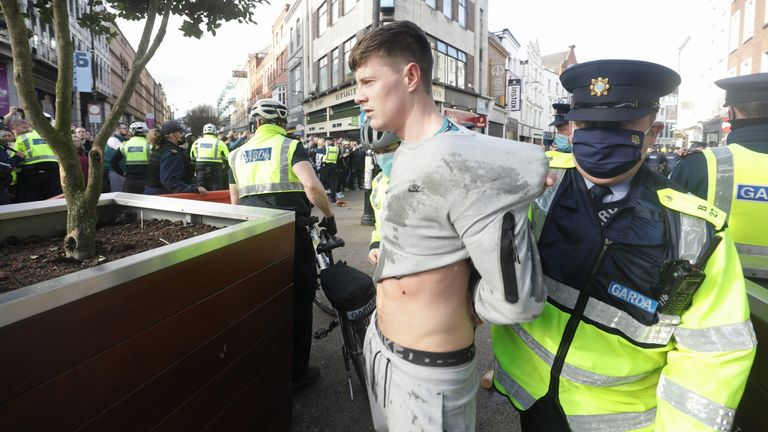 Simon Harris, Ireland's minister for further and higher education condemned the protest.
He tweeted: "Pure thuggery on the streets of Dublin today. It's not a 'protest'. It's an attack on our national effort.
"The abuse directed at the Gardai is sickening and shameful. Disgraceful. Thoughts with the Gardai and their families."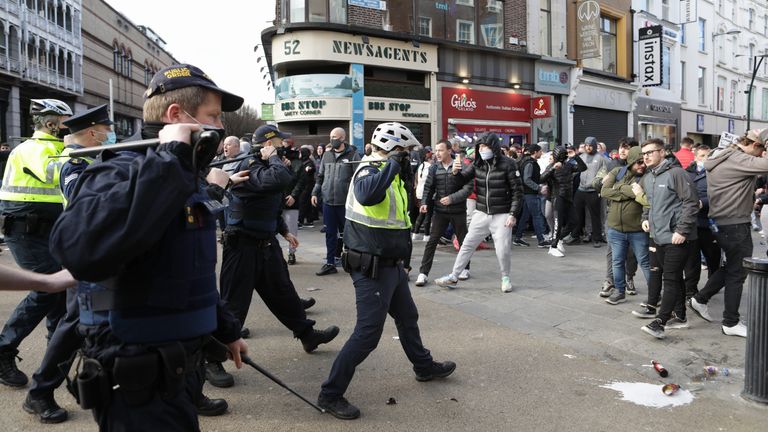 Ireland is in its ninth week of Level 5 national coronavirus restrictions.
Nationwide, 373,280 COVID-19 jabs have been given out – compared to 19.6 million in the UK.
On Friday, 29 new COVID-related deaths were reported alongside 776 new cases.
In the UK on Friday there were 345 further deaths recorded and 8,523 new infections.