Florida school shooting timeline | Fox News
A gunman set off fire alarms at a Florida high school on Feb. 14, luring hundreds of students out of their classrooms so he could open fire with a semi-automatic AR-15 assault rifle.
After firing several rounds, the shooting suspect, identified as 19-year-old Nikolas Cruz, dropped his weapon and hid among the crowd as authorities evacuated students and faculty members from Marjory Stoneman Douglas High School in Parkland, Florida.
Police captured Cruz over an hour later in Coral Springs, located about a mile away. He was taken to a local hospital and then released into police custody.
Cruz has been charged with 17 counts of premeditated murder. Fourteen others were wounded in the shooting, including several with life-threatening injuries.
Below is a timeline of events that detail how the shooting unfolded.
Wednesday, Feb. 14
2:06 p.m. 
Cruz was picked up by an Uber, before he was dropped off at the high school at 2:19 p.m., a Wednesday timeline from the Broward County Sheriff's Office showed. 
2:21 p.m.
Cruz went into Building 12's east stairwell with a rifle in a case, according to the timeline. He goes "through all three floors, shooting several students and faculty inside the classrooms and hallways of the building."
2:28 p.m.
Cruz got out and ran in the direction of tennis courts before going south, according to the sheriff's office. At 2:29 p.m., it said he crossed a field and ran west with other people. 
2:35 p.m.
Students reportedly were texting about a shooter at the school.  
2:50 p.m.
Cruz went into a Walmart and purchased a drink at a Subway inside and left the store, per the sheriff's office timeline.
2:53 p.m.
Deputies responded to reports of a shooting at Stoneman Douglas High School, the Broward County Sheriff's Office confirmed in a tweet.
2:55 p.m.
WSVN, a local news station, reported that there were at least five people injured at the school.
2:56 p.m.
The sheriff's office warned the public to "avoid the area of Stoneman Douglas HS" as authorities investigated reports of an active shooter.
3:01 p.m. 
The Broward County Sheriff's Office timeline said Cruz went to a McDonald's, sat down briefly and left. 
3:10 p.m.
A student shared a photo to Twitter to show where he and other students were hiding.
3:11 p.m.
The sheriff's office tweeted the shooter was still at large.
3:36 p.m.
Broward Schools said the school was on lockdown after students and faculty heard what sounded like gunfire.
3:40 p.m.
Broward Schools began dismissing students from the school.
"We are receiving reports of possible multiple injuries," the school district tweeted. "Law enforcement and the District's Special Investigative Unit are currently on site."
3:41 p.m. 
A Coconut Creek police officer detained Cruz in Coral Springs, the timeline indicated, adding that detectives with the sheriff's office performed a show-up procedure. 
3:50 p.m.
President Trump tweeted about the shooting, offering his "prayers and condolences."
4:11 p.m.
The shooter was taken into custody, the sheriff's office confirmed in a tweet, warning that the scene was still active.
4:22 p.m.
The sheriff's office tweeted there were at least 14 "victims," who "have been and continue to be transported to Broward Health Medical Center and Broward Health North hospital."
4:27 p.m.
The suspected shooter was taken to a local hospital.
4:50 p.m. 
Florida Sen. Bill Nelson said there were "a number of fatalities."
4:59 p.m.
Israel confirmed the shooter was not a current student at Stoneman Douglas High School.
In a separate tweet, the sheriff's office said SWAT teams were still clearing the school.
5:39 p.m.
Students started to reunite with their parents.
6:27 p.m.
Sheriff Israel said 17 people were killed in the shooting.
6:29 p.m.
The sheriff's office identified the shooting suspect as 19-year-old Nikolas Cruz.
8:24 p.m.
A local news reporter for WSVN tweeted a photo of the suspect being detained by police.
Thursday, Feb. 15
7:12 a.m. 
Trump urged the public to always report suspicious behavior to authorities.
"So many signs that the Florida shooter was mentally disturbed, even expelled from school for bad and erratic behavior. Neighbors and classmates knew he was a big problem," Trump tweeted. "Must always report such instances to authorities, again and again!"
10:49 a.m.
Cruz was charged with 17 counts of premeditated murder, Israel announced in a news conference.
11:22 a.m. 
Trump addressed the nation, describing the massacre as a "scene of terrible violence, hatred, and evil." 
He vowed to work with state and local leaders to help "secure our schools and tackle the difficult issue of mental health." 
2:00 p.m. 
Cruz made a court appearance on 17 counts of murder. The judge ordered him to be held without bond.
4:43 p.m.
Cruz confessed to arriving at the high school with an AR-15 rifle and a backpack of "additional loaded magazines" and told investigators he shot "students that he saw in the hallways and on school grounds," according to an arrest affidavit filed Thursday evening.
Friday, Feb. 16 
Cruz may plead guilty to avoid the death penalty, his lawyer reportedly said Friday.  
11:53 p.m. 
On Friday, President Trump and first lady Melania Trump visited Broward Health North Hospital in Florida — the same hospital where many of the shooting victims were treated. The two met with survivors and medical professionals while they were there. 
Later that evening, Trump tweeted photos of the visit. 
Monday, Feb. 19
12:49 p.m.  
Cruz arrived at a Fort Lauderdale courtroom for a hearing that started at 1 p.m. During the hearing, a judge ruled that already-sealed documents remain that way, WPTV reported. 
10:30 p.m.
Broward County Public Schools announced that classes are slated to resume at Marjory Stoneman Douglas High School "on a modified schedule" on Feb. 27. 
Wednesday, Feb. 21
6:30 p.m. 
Broward County Sheriff Scott Israel said at a press conference Wednesday evening that county deputies who are qualified will now carry rifles on school campuses.
When the rifles are not in use, they will be locked in patrol cars, he said, adding that the school district's superintendent supports his decision.
"Only deputies who are trained and qualified will carry those rifles. But we need to defeat any threat that comes onto campus," he said.
The deputies will carry AR-15s, Israel said — the same type of gun that the suspected shooter Nikolas Cruz used. But the deputies' rifles will not be fully automatic, he said, according to CBS News. 
8:40 p.m. 
Earlier on Wednesday, Trump met with students and parents who have been affected by various school shootings. Many attendees pleaded with Trump to end gun violence at schools and suggested possible solutions. 
Trump later tweeted about the discussion. 
"I will always remember the time I spent today with courageous students, teachers and families," he wrote. "So much love in the midst of so much pain. We must not let them down. We must keep our children safe!!"
Thursday, Feb. 22 
5:13 p.m.
Israel kicked off a Thursday afternoon press conference, during which he said that school resource Deputy Scot Peterson was "absolutely on campus for this entire event." 
"He was armed, he was in uniform," Israel said of the BSO deputy. "After seeing video, witness statements and Scot Peterson's very own statement, I decided this morning to suspend Scot Peterson without pay pending an internal investigation." He added, Peterson instead resigned and retired. 
"The investigation will continue," the sheriff announced. 
Israel said that "what I saw was a deputy arrive at the west side of Building 12, take up a position — and he never went in." 
He said that Peterson should have "went in, addressed the killer, killed the killer." 
Israel said he thought that Peterson stayed outside of the building "for upwards of four minutes." He confirmed that the shooting lasted six minutes.
At one point during the briefing, a voice said, "He clearly knew there was a shooting."
"Clearly," the sheriff responded. 
Friday, Feb. 23
11:17 a.m.
Florida Gov. Rick Scott announced on Friday a "major action plan" in response to the deadly shooting on Feb. 14. 
The plan is divided into three parts. The first, Scott said, is to keep guns away from dangerous and violent people. The second is a $450 million proposal to keep schools safe. And the third, according to Scott, is a $50 million proposal to expand mental health care initiatives in the state. 
More specifically, the plan proposes to raise the minimum age to purchase a gun to 21, ban mentally ill people from buying a gun and place at least one law enforcement officer at every school.
You can read more about the $500 million plan here.
Saturday, Feb. 24
1:00 p.m.
Several Broward sheriff's deputies reportedly waited outside Marjory Stoneman Douglas High School during the Valentine's Day massacre. 
The Florida Sun-Sentinel reported that according to police sources at least three Broward deputies, including deputy Scot Peterson, waited outside.
The news comes just a day after Peterson resigned under fire because he allegedly stayed outside the high school during the shooting. Trump later labeled Peterson as a "coward" for his alleged inaction.
9:55 p.m. 
"BSO detectives are investigating the claim from the Coral Springs Police Department that some deputies did not go into the school when they should have," the Broward Sheriff's Office tweeted. "Stop reporting it as a fact." 
Sunday, Feb. 25 
9:03 a.m. 
Israel appeared on CNN's "State of the Union" in an interview with Jake Tapper. 
Tapper said he was "told by sources in Coral Springs that Coral Springs police who arrived at the scene saw that three other Broward deputies were standing behind cars not having gone into the building."
Israel said the "investigation to this point shows that, during this horrific attack, while this killer was inside the school, there was only one law enforcement person, period, and that was former Deputy Scot Peterson."
He added, "Coral Springs arrived, a group of Coral Springs officers went in within, I think, about four minutes, we're projecting, after the killer left the campus."
The sheriff said he understood "that they're going to give statements to us regarding the other three, four, five deputies. At this point, we have no reason to believe that anyone acted incorrectly or correctly."
The sheriff was later asked about a Saturday letter sent by state Rep. Bill Hager, R-Boca Raton, to the governor which called for Israel's ouster. 
"It was a shameful – of course I won't resign," Israel said. "It was a shameful letter. It was politically motivated." 
2:10 p.m. 
Florida House Speaker Richard Corcoran, R-Pasco County, tweeted that he sent a letter to Scott calling for him to fire Israel. 
"I was honored to be joined by 73 Republican colleagues," Corcoran wrote. 
2:38 p.m. 
A tweet from a Politico reporter indicated Scott wouldn't fire or suspend Israel — at least not right away.
It included a shot of a statement from the governor, in which he said that he has called on the Florida Department of Law Enforcement "to immediately investigate the law enforcement response and will continue to review this matter as more facts come out."
"I have spoken to Speaker Corcoran about his request and I understand his concerns," Scott said. 
2:59 p.m. 
Parkland shooting survivor Jaclyn Collins tweeted, "Going back to school for the first time…this movement is for the 17." 
A voluntary orientation was scheduled to take place at the school from 3 p.m. to 6 p.m., according to Broward County Public Schools.
3:06 p.m. 
The sheriff's office tweeted that it "welcomes Governor Scott's call for the Florida Department of Law Enforcement to investigate the law enforcement response to the Parkland school shooting."
Fox News' Shira Bush, Kaitlyn Schallhorn, Kathleen Joyce, Zoe Szathmary, Robert Gearty and The Associated Press contributed to this report.
Tunisia's democracy in crisis as violence continues after president ousts government | World News
Troops have surrounded Tunisia's parliament building as supporters and opponents of the president clashed with each other following his dismissal of the prime minister.
The violence in the capital Tunis comes after President Kais Saied ousted the government and froze parliament, with help from the army.
Officers used tear gas to disperse some demonstrators throwing projectiles at officers and made several arrests.
Late on Sunday, protesters celebrated in the streets following the announcement that Prime Minister Hichem Mechichi had been removed as leader.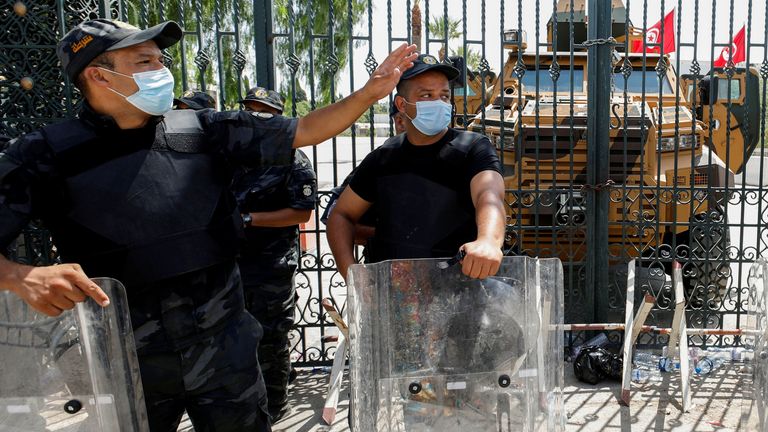 President Saied invoked the constitution to dismiss Mr Mechichi and decree a freeze of parliament for 30 days, saying he would govern alongside a new premier.
Mr Mechichi is at his home and not under arrest, one source close to him and two Tunisian security sources said.
But the president's critics have accused him of a power grab that threatens Tunisia's young democracy.
Chief among them was the parliament speaker and the head of Islamist movement Ennahdha, Rached Ghannouchi, who called the move "a coup against the constitution and the [Arab Spring] revolution".
On Monday morning Mr Ghannouchi arrived at the parliament building and said he would call a session in defiance of Mr Saied, but the army stationed outside stopped the 80-year-old former political exile from entering.
"I am against gathering all powers in the hands of one person," he said, standing in front of the locked gates.
Mr Ghannouchi's daughter and the Ennahdha Party's international spokesperson Dr Yusra Ghannouchi told Sky News the action by the president was a "great violation of the constitution and an attempt to suspend Tunisia's democracy".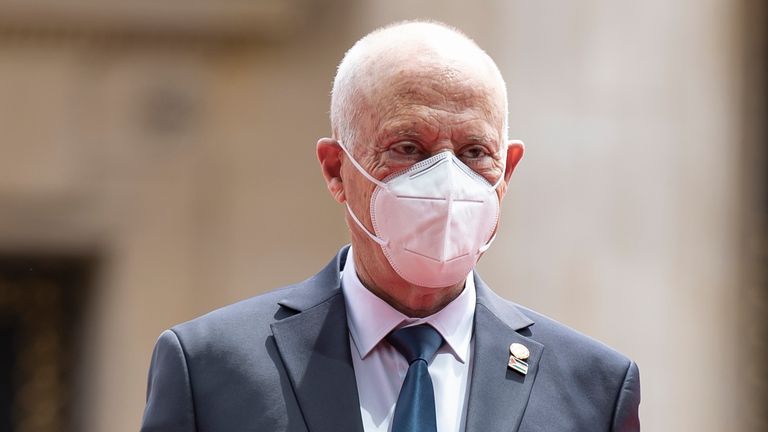 She called for the sides to come together through dialogue and not through coups.
"It is an attempt to return to the era of dictatorship, to the era of one-man rule and to the era of disregard to the Tunisian people, as well," she said.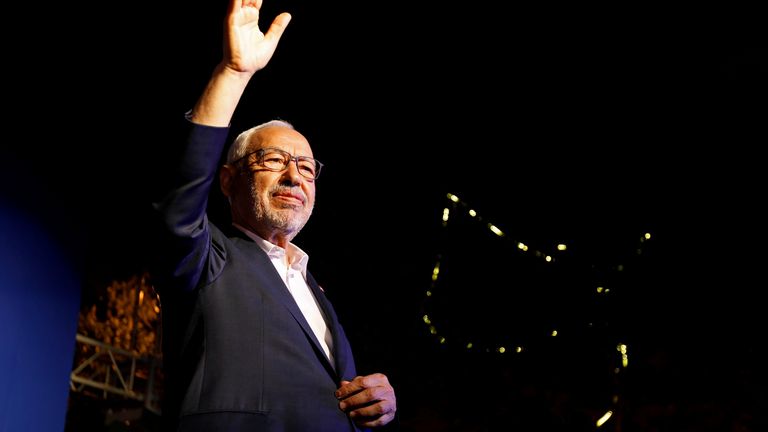 Mr Saied, who swept to office in 2019 after campaigning as the scourge of a corrupt, incompetent elite, rejected accusations that he had conducted a coup.
But the action by the president poses the greatest risk to Tunisia's stability since the 2011 revolution that triggered the "Arab Spring" and ousted an autocracy in favour of democratic rule, but has failed to deliver sound governance or prosperity.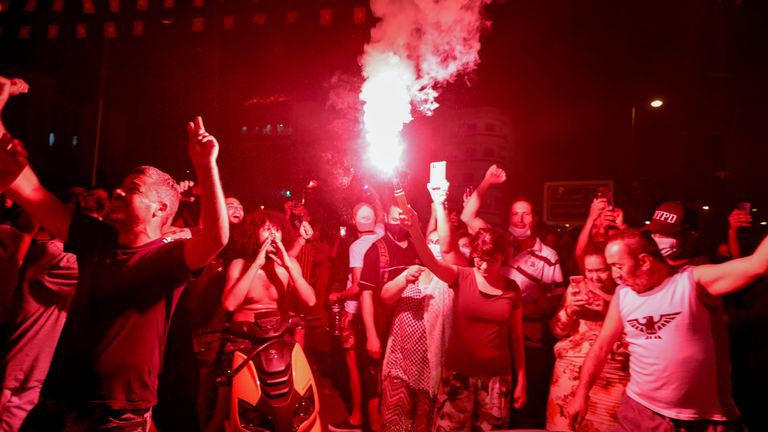 Tunisia has descended deep into an economic crisis exacerbated by the COVID-19 pandemic.
Dieter Brummer: Home And Away pays tribute to 'much-loved cast member' found dead aged 45 | Ents & Arts News

Home And Away has paid tribute to "much-loved cast member" Dieter Brummer, who has died aged 45.
The actor was found dead by New South Wales police at about 1.30pm local time on Saturday at a property in Glenhaven, following a request for a welfare check.
His death is not being treated as suspicious.
In a statement, Brummer's family said: "We lost our handsome, talented, funny, complicated and beloved Dieter on Saturday morning.
"He has left a massive hole in our lives and our world will never be the same. Our thoughts go out to all of you who knew him, loved him, or worked with him over the years.
"We appreciate you respecting our privacy at this terrible time."
Brummer played Shane Parrish in the popular Australian soap Home And Away from 1992 until 1996.
A statement on the official Instagram page of the show said: "Home and Away and @channel7 are deeply saddened to hear of Dieter Brummer's passing.
"Dieter was a much-loved Home and Away cast member and celebrated by Australian and international audiences for his award-winning portrayal of Shane Parrish.
"We send our sincere condolences to Dieter's family and friends during this very difficult time."
Home And Away star Georgie Parker, known as Roo Stewart in the soap, commented on the post, adding: "Such sad news, such a lovely man and a good actor too. Much love to his family and loved ones at this terribly difficult time."
Brummer also played Troy Miller in rival soap Neighbours and had roles in shows Underbelly and Winners And Losers.
Neighbours posted on Instagram: "Vale Dieter Brummer, joined the Neighbours alumni in 2012 as Capt Troy Miller.
"Our thoughts are with his family and friends."
Vladimir Putin says Russian navy 'can detect any enemy' and fire 'unpreventable strike' if needed | World News
President Vladimir Putin has said the Russian navy can detect any enemy and launch an "unpreventable strike" if needed.
The leader was speaking as he attended a parade to mark the 325th anniversary of the navy in St Petersburg, which also included ships from the navies of Iran, Pakistan and India.
"We are capable of detecting any underwater, above-water, airborne enemy and, if required, carry out an unpreventable strike against it," Mr Putin said.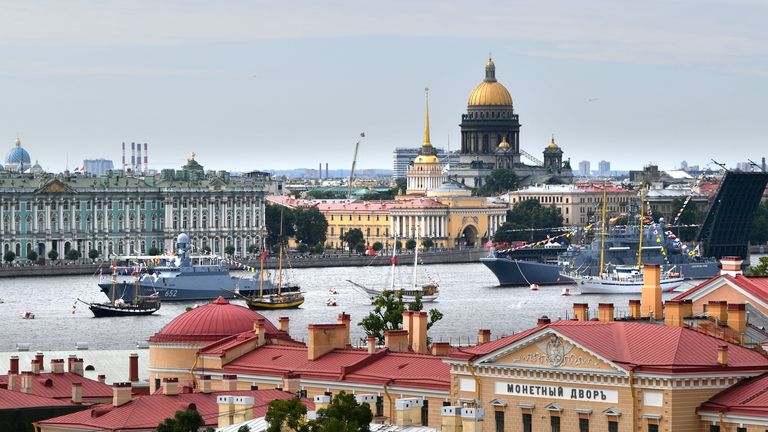 His words follow an incident in the Black Sea in June, when Russia said it had fired warning shots and dropped bombs in the path of a British warship to chase it out of Crimea waters.
Britain rejected Russia's account of the incident, saying it believed any shots fired were a pre-announced Russian "gunnery exercise", and that no bombs had been dropped.
Russia annexed Crimea from Ukraine in 2014 but Britain and most of the world recognise the Black Sea peninsula as part of Ukraine, not Russia.
Mr Putin said last month Russia could have sunk the British warship HMS Defender, which it accused of illegally entering its territorial waters, without starting World War Three and said the US played a role in the "provocation".
Russia claims this is HMS Defender 'chased out'

Sunday also saw parades take place in the Russian naval bases of Severomorsk, Caspiisk, Baltiisk, Sevastopol, Vladivostok and at the Russian naval base in Tartus, Syria.
The Iranian frigate Sahand, which sailed down the Neva River in the St Petersburg parade, and the sea-based vessel Makran attracted attention from naval observers due to their unusually long voyages to Russia.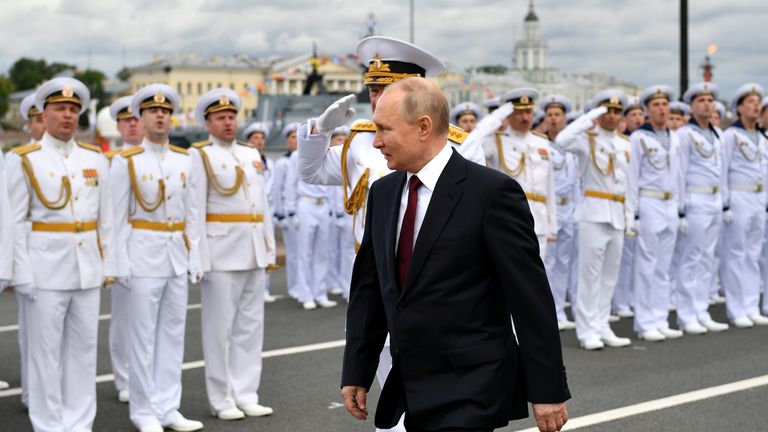 Mr Putin's comments come as US Deputy Secretary of State Wendy Sherman prepares to travel to Geneva for nuclear arms control talks with Russia.
She will be joined by Under Secretary of State for Arms Control and International Security Bonnie Jenkins, whose nomination for that role was confirmed by the US Senate this week.
"This meeting follows up on a commitment made between President Biden and Russian President Putin to have a deliberate and robust dialogue between our two nations that will seek to lay the groundwork for future arms control and risk reduction measures," the State Department said in a statement.