Daily pauses on Syria strikes 'not good enough'
An order by Vladimir Putin for daily five-hour ceasefires in airstrikes on the rebel-held Syrian enclave of eastern Ghouta does not go far enough, according to Save the Children.
The international aid organisation said the "humanitarian pause" ordered by the Russian leader was not a good enough measure to avoid further civilian casualties in the region.
More than 520 people are thought to have died as a result of relentless attacks by the Syrian government last week.
New footage obtained by Save the Children and given exclusively to Sky News shows the shocking aftermath of a strike on the office of a Syrian aid group on Saturday, hours before the UN Security Council voted on a 30-day ceasefire.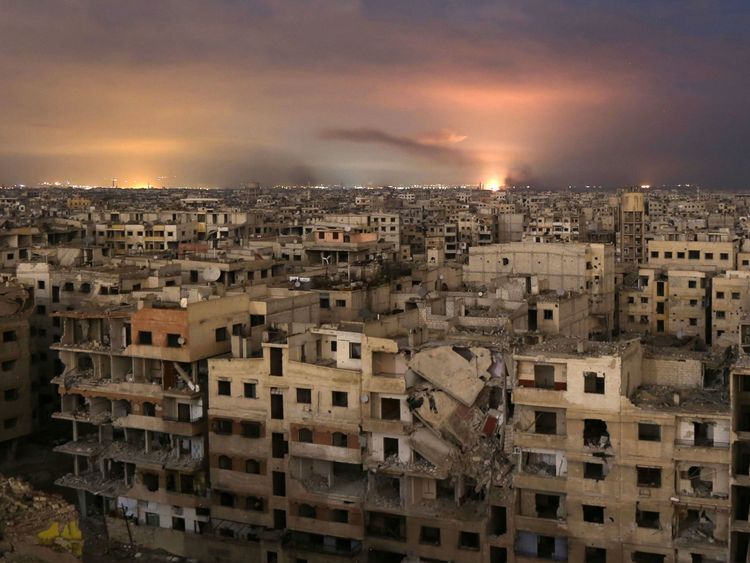 Children are seen screaming as they scramble clear of the rubble while the dust clears. It is believed 46 families had been sheltering in the building before it was hit.
Three of those staying there were injured, including two young girls.
Save the Children – which works with partner organisations in Syria to help those affected by the ongoing conflict – has urged the UN to immediately implement the month-long ceasefire voted on over the weekend.
:: The complex who's who of Syrian civil war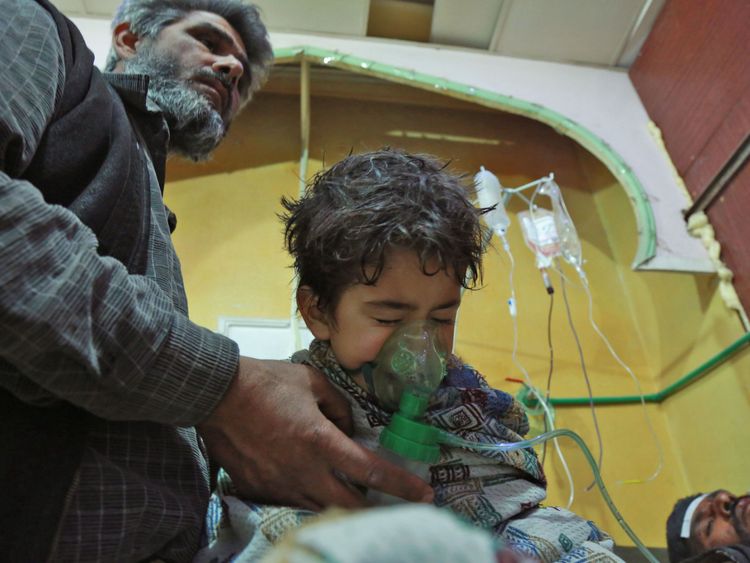 The charity said that the "humanitarian corridor" proposed by the Kremlin, designed to allow civilians to leave the enclave during the "pause" period, would do little to protect families from the "horrifying and never-ending violence".
Local response director Sonia Khush urged the UN to implement the agreed month-long ceasefire immediately.
"As this conflict enters its eighth year, it's clear that it is far from being resolved, and all parties involved continue to show utter contempt for children's lives and wellbeing," she added.
"The fighting must cease and aid agencies must be allowed to deliver lifesaving humanitarian assistance, or more children will die."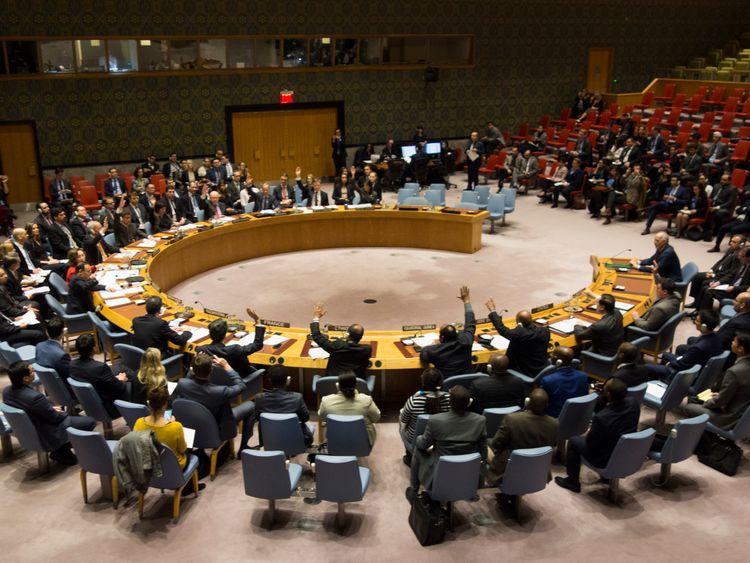 The five-hour daily pauses are due to start on Tuesday, with Monday having seen further strikes.
Many projects Save the Children is involved with in the Middle Eastern country, including repairing damaged classrooms and providing counselling, have had to be suspended as a result of the continued violence.
Aid workers in eastern Ghouta estimate that 4,100 families are now living in underground basements and shelters in a bid to protect themselves from airstrikes, with more than half of them without water, sanitation or ventilation.
One young boy, Ahmed, was among those who spent much of last week trapped in a makeshift shelter.
"We've not been able to go to school, they shelled the school, the teacher was killed," he said.
"There is no food and we can't go outside, the shops are closed, the planes are bombing."
In total, 350,000 people are trapped in eastern Ghouta, with many of those still alive unable to bury their loved ones due to the ongoing shelling.
Senior North Korean diplomat defects to South Korea, reports claim | World News
A North Korean diplomat who served as the country's acting ambassador to Kuwait has defected to South Korea, according to legislators who were briefed by Seoul's spy agency.
Ryu Hyun-woo – who has changed name – arrived in South Korea in September 2019 with his wife and at least one child, a conservative opposition legislator said.
Ha Tae-Keung, who is also an executive secretary of the National Assembly's intelligence committee, said he had been told by National Intelligence Service officials that Mr Ryu had escaped through a South Korean diplomatic mission – but didn't specify where or why he decided to defect.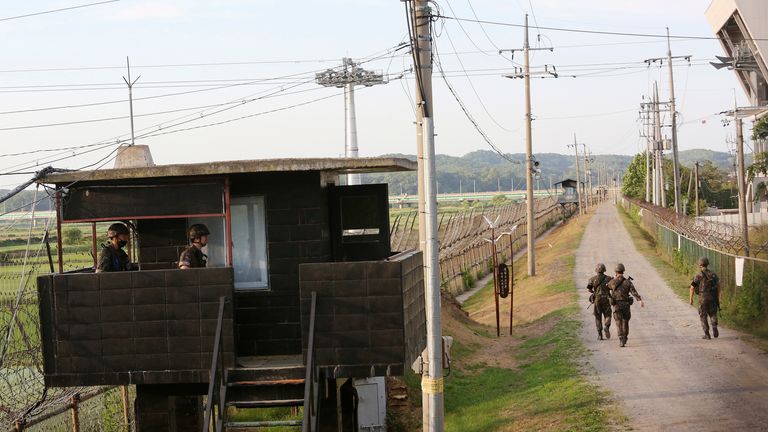 This would make Mr Ryu the most senior North Korean to defect in since Jo Song Gil, the ambassador to North Korea's embassy in Italy, entered South Korea after disappearing in late 2018.
About 30,000 North Koreans have fled repression and poverty for the south, mostly by crossing the border with China, but defections by senior officials are rare.
North Korea has expressed anger over high-profile defections in the past, but it has also been known to maintain silence when defectors keep a low profile, such as Jo Song Gil, to avoid highlighting the vulnerabilities of its government.
Pyongyang is known for using its diplomats to develop money-making sources abroad and experts have said it is possible that diplomats who defected may have struggled to meet financial demands from authorities at home.
North Korea's economy has been devastated by US-led sanctions over its nuclear programme, which was strengthened significantly in 2016 and 2017 amid a provocative series of nuclear and weapons tests.
Subscribe to the Daily podcast on Apple Podcasts, Google Podcasts, Spotify, Spreaker
The defections by senior North Korean diplomats could reflect a growing sense of uncertainty among the country's elite, said Shin Beomchul, an analyst with the Seoul-based Korea Research Institute for National Strategy and a former South Korean diplomat.
He added: "The North's economic situation has worsened significantly from the sanctions of 2016 and 2017, and instead of pursuing reforms and openings to the outside world, the leadership is doubling down on increasing political control. This inspires questions about the future among the elite, and when they have the chance, they try to escape."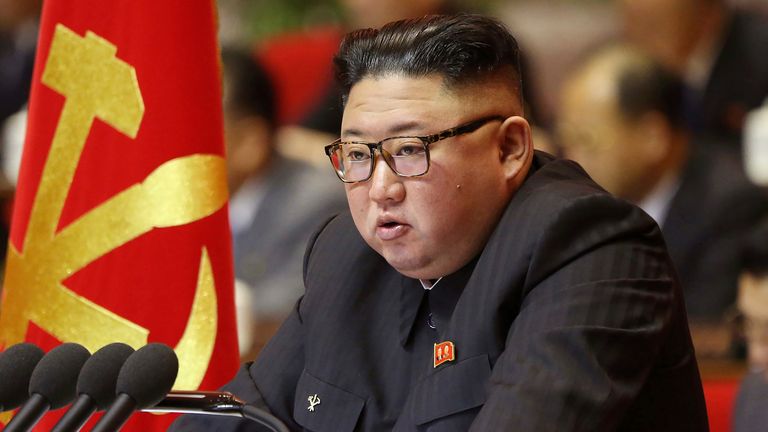 However, the analyst said it would be premature to take the defections as a sign that North Korean leader Kim Jong Un's grip on his regime is weakening.
In recent speeches, Mr Kim has vowed to strengthen his nuclear arsenal and reassert greater state control over the economy and society.
The North Korean Embassy in Kuwait City is the country's only diplomatic outpost in the Gulf region.
North Korea once had thousands of labourers working in Kuwait, Oman, Qatar and the United Arab Emirates before the United Nations stepped up sanctions against North Korean labour exports, which had been an important source of foreign income.
Scientists set out 10 golden rules for reforestation amid tree planting warnings | UK News
Ten "golden rules" for reforestation have been set out by scientists as they warned poorly executed tree planting schemes can harm the environment.
Planting trees to reduce carbon emissions can be presented as an "easy answer" to tackling the climate crisis, but it can cause more problems than benefits, experts have said.
The researchers from the Royal Botanic Gardens, Kew (RBG Kew) and Botanic Gardens Conservation International (BGCI) are urging a "right tree in the right place" approach to make sure restoring forests benefits people and the planet.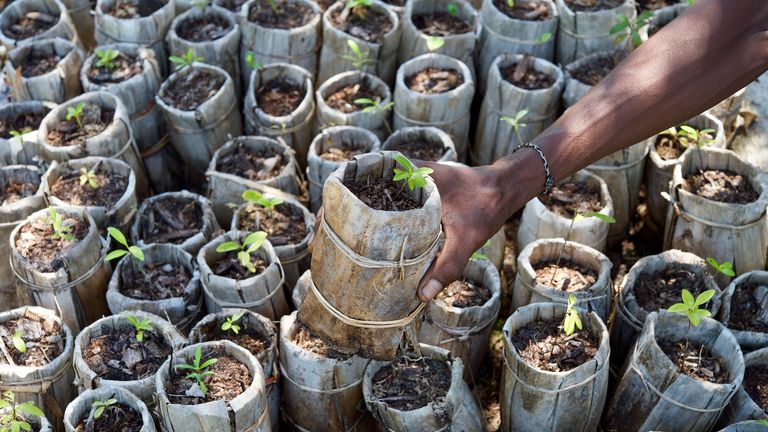 Conservation partnership coordinator at RBG Kew Dr Kate Hardwick said: "When people plant the wrong trees in the wrong place, it can cause considerably more damage than benefits, failing to help people or nature."
A study by the scientists found in some cases, tree planting schemes did not increase the amount of carbon being stored in the landscape and could hit wildlife and people's livelihoods.
Planting large areas with only a few, non-native, species can push out the wildlife, reduce the amount of carbon being stored in soils and the forests, and reduce the land available for crops – potentially causing more deforestation elsewhere.
Allowing areas of forest to naturally regenerate is cheaper and can create up to 40 times more potential for carbon storage than plantations while picking the right trees and places for planting can help restore nature and boost people's livelihoods.
The 10 golden rules, set out in a paper published in the Global Change Biology journal, focus on protecting existing forests first, putting local people at the heart of projects, and using natural regrowth of trees where possible.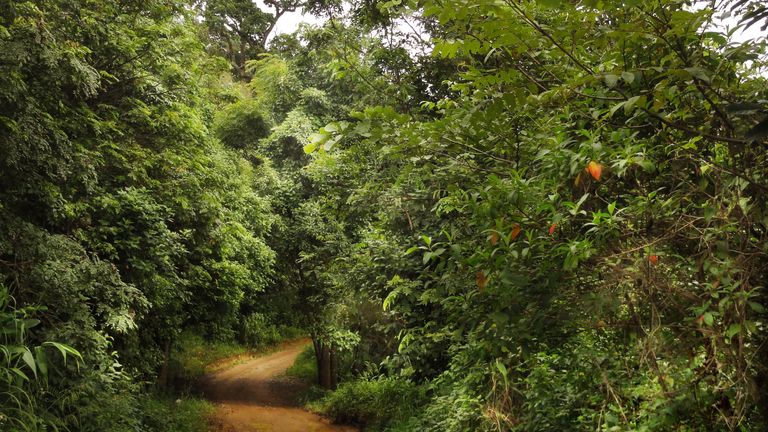 Dr Paul Smith, secretary-general at BGCI, said the rules highlighted that planting trees was highly complex.
"There is no universal, easy solution to a successful reforestation initiative given the extraordinary diversity of trees, forest types and the unique cultural and economic environments each forest is in.
"However, there are successful examples that we can learn from and develop further to build on current public and private interest in the topic," he said
A virtual conference next month has been organised by RBG Kew and BGCI, with Sky Zero as its headline sponsor.
It will bring together a series of interesting global perspectives to debate and challenge the myth that "all tree planting is good" and to discuss best practice for protecting and restoring the world's forests.
Subscribe to the Daily podcast on Apple Podcasts, Google Podcasts, Spotify, Spreaker
The conference will be opened by The Prince of Wales and it is hoped the discussions will raise the standard of reforestation globally ahead of the UN conferences (COP15 and COP26) later this year on new global biodiversity and climate change agreements.
COVID-19: Luxembourg live music experiment could help 'prepare for return to live events' | Ents & Arts News

A live music experiment is set to take place in Luxembourg, with organisers saying it is hoped the shows could help pave the way for the return of gigs.
Five test concerts with strict health measures and restrictions are due to take place at the Rockhal arena in February.
Live events have been cancelled around the world since the COVID-19 pandemic took hold at the beginning of 2020. While some artists have come up with innovative ways to perform to fans – with many streamed gigs held and The Flaming Lips even holding "space bubble" shows at the weekend – venues in many countries remain closed and the industry is struggling.
It is hoped the Because Music Matters shows in Luxembourg, organised by the Arena Resilience Alliance (ARA), a lobby group established by the European Arenas Association, could help to create a model to bring live events back.
Capacity will be limited to 100 people per night, with masks compulsory and strict social distancing enforced. The gigs will be seated, with fans placed around a central 360° stage.
Those who attend will be tested for COVID-19 prior to the event and again seven days later.
Each night will feature different music, including piano techno, electro-house and metal.
Olivier Toth, chief executive of Rockhal and co-founder of the ARA, said the shows are an "important step forward in testing the safety measures we can employ to support our back-to-business strategies".
Fellow ARA co-founder Robert Fitzpatrick, who is also chief executive of the Odyssey Trust, owners of the SSE Arena in Belfast, said he believes international collaboration can help venues get back to business.
"As the advocacy platform for European arenas, the ARA is proud to provide an opportunity for the industry to come together with key EU decision-makers to prepare for a return to live events, whilst working to protect the health and wellbeing of our communities and the sustainability of our industry, which will be central to the economic and societal recovery of countries across Europe," he said.
Subscribe to the Backstage podcast on Apple Podcasts, Google Podcasts, Spotify, Spreaker
"Together, we can build regional and national frameworks, with international collaboration that will help us get back to business."
The shows will take place from 10-14 February and will be hosted in conjunction with the national health inspection authority.
The ARA will also host a virtual conference on 18 February looking into how arenas and large venues across Europe are preparing for a safe and sustainable reopening.
As well as the impact of the pandemic, UK musicians are now facing the added problem of touring visas for Europe following Brexit.
Earlier in January, stars including Liam Gallagher and Sir Elton John were among dozens of music artists who signed a letter calling on the government to resolve the "gaping hole where the promised free movement for musicians should be".