Celebrity trout pouts | Fox News
Celebrity trout pouts
Do these pouts make you want to pucker up, or bait a hook?
http://www.foxnews.com/">Fox News
http://www.foxnews.com/
Kylie Minogue
Australian pop star Kylie Minogue was seen arriving at the BBC Studios in London with a noticeable plumper pout.
(Reuters/Splash)
kylie-minogue
Olivia Munn
Olivia Munn turned heads when she stepped out with noticeably-plumper lips (right). However, the star shared on Instagram that her new trout pout was purely due to makeup and not fillers.
(Reuters)
olivia-munn
Christina Aguilera
Christina Aguilera
stepped out (left) to vote
with noticeably plumper lips. Perhaps it was just a combination of pushing out her lips and heavy lipstick, but the singer definitely looks different these days.
(AKM-GSI/Reuters)
christina-aguilera
Kim Zolciak
Kim Zolciak was spotted heading home to Atlanta from LA with a pout (left) that appeared to be more plump than it has looked in the past (right). The reality star has consistently denied any plastic surgery aside from having breast implants and a tummy tuck when she had surgery to fix a hernia after giving birth to her twins in 2013. Maybe Zolciak doesn't count lip fillers as plastic surgery? Click here for more pics of the star on
X17online.com
.
(X17online)
kim-zolciak
McKayla Maroney
McKayla Maroney's pout first became famous in 2012 when she made a face of disapproval that was seen around the world after she settled for silver at the Olympics. Now the athlete's face is getting attention for another reason. Recent pictures of the star show her looking very different — and very enhanced — on social media. Click here for more pics on 
Hollywoodlife.com
.
(Reuters/Instagram)
mckayla-maroney
Kesha
Kesha stepped out at LAX with lips that looked a lot fuller than they did a year ago on the red carpet. Has the singer had a little help with her appearance? Click here for more pictures of the star on
X17online.com
.
(X17/Reuters)
kesha
Snooki
(Instagram/Reuters)
snooki
Courtney Stodden
(AKM-GSI/Instagram)
courtney-stodden
Lisa Rinna
Rinna's lips have always looked somewhat enhanced, but when the star stepped out recently with especially plump-looking lips we can't help but wonder if she had a little more work done. For more pictures of Rinna, go to
X17online.com
.
(Reuters/X7online)
lisa-rinna
Lindsay Lohan
Move over, Meg Ryan and Lisa Rinna, there's a new crop of trout pouts in Hollywood! Lindsay Lohan's lips aren't the only things that look off in this picture, as the troubled star looks nothing like the fresh-faced girl she used to be. 
Click for more Lindsay pics here
.
(AP/x17online)
lindsay-lohan
Kim Kardashian
The reality star has drastically changed her look since becoming famous for her homemade video with Ray J. She blamed her exaggerated lips (right) on "the flu." We've heard of swollen glands, but swollen lips? Unlikely. 
Click for more Kim pics.
(Reuters/X17online)
kim-kardashian
Megan Fox
The "Transformers" star has always had a pretty face, even though it miraculously keeps on changing. Tabloid reports say she has spent upwards of $60,000 in plastic surgery over the years.
(Reuters)
megan-fox
Nicole Kidman
The actress went through a few years where she was barely recognizable but these days, it looks like just the lips are different.
(Reuters)
nicole-kidman
Ashlee Simpson
Her hair color changes nearly as often as her lip size! The former "Melrose Place" star has gotten a total overhaul since her days on "7th Heaven." Did she get a nose job? "As long as people have two eyes, you probably know the answer," Jessica's little sis says coyly. As for the rest of her face, Ashlee's lips are sealed.
(AP/Reuters)
ashlee-simpson
Jessica Biel
The more famous Jessica Biel gets, the more her lips seem to grow! Click here for more pics of the star on 
X17online.com
.
(AP/X17online)
jessica-biel
Hilary Duff
It seems the Disney darling has been messing with her mouth. Hil got veneers in 2005, but are her lips larger, too?
(AP/Reuters)
hilary-duff
Heidi Montag
(X17online)
heidi-montag
Anna Faris
When she first broke out in Hollywood with "Scary Movie," this funny gal was a thin-lipped brunette. These days, Anna's bustin' out all over!
(Reuters/AP)
anna-faris
Nikki Cox
Nikki's always had lush lips, but the actress appears to have gone crazy with the injectables. These suckers are more than "plump" — they're taking over her face! If Nikki's goal was to one-up Lisa Rinna, then consider that mission accomplished.
(Reuters)
nikki-cox
Ashley Tisdale
The "High School Musical" star has admitted to a nose job, but something else looks a bit different too.
(AP/Reuters)
ashley-tisdale
Jessica Simpson
The mom is known for her pout, and has admitted to surgically enhancing her pucker: "I had that Restylane stuff. It looked fake to me. I didn't like that." Good thing Jess came to her senses! 
Click for more Jess pics.
(AP/X17online)
jessica-simpson
Tom Cruise: Creator of Hollywood star's viral deepfake warns people to 'think twice' over manipulated videos | Science & Tech News
The creator of a series of deepfake Tom Cruise videos says he wants to make people more aware of what they are watching – and that it might not be real.
Viewed more than 11 million times, Chris Ume's videos appear to show Cruise playing golf, doing a magic trick, and falling over while telling a story about former Soviet leader Mikhail Gorbachev.
A deepfake usually involves an image or video in which a person or object is visually or audibly manipulated to say and do something that is fabricated.
Most people realised Ume's videos were fake – but the 31-year-old says the speed the technology is advancing could pose problems in future.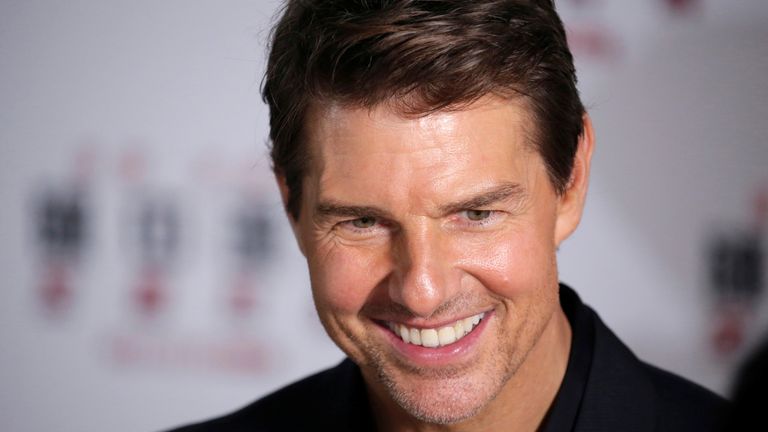 "I always try to make funny content, but at the same time, when people see these videos they realise and will learn what's possible within the next few years," he told Sky News.
"The tech is evolving rapidly and will get better and will become more accessible as time goes on.
"Twenty years ago you have Photoshop, you didn't know about fake photos so they started editing photos, and now people realise – like photos – that videos can be misleading.
"So it's important on my side to create awareness so people start thinking twice when they see similar videos.
"In a year from now people need to question what they're looking at and it's important for journalists to confirm their sources and where they got it.
"You will always have people misusing techniques, so you have to think twice when you look at something."
The Cruise double, actor Miles Fisher, and Ume have worked together on a number of projects – but none as popular as this one.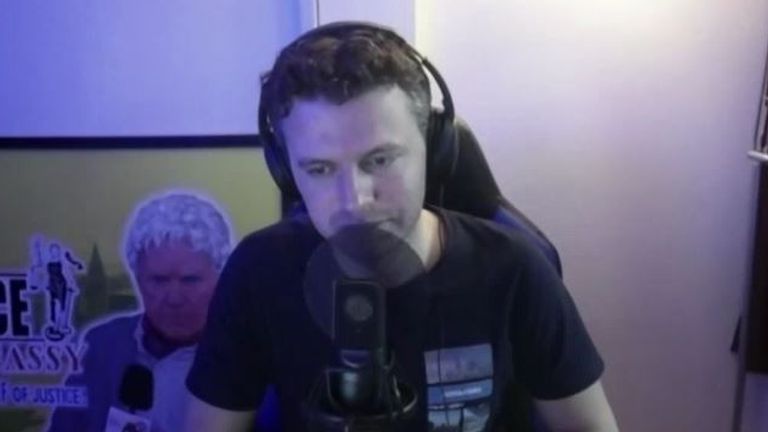 Ume told Sky News: "I've never had videos going viral as much as these have, so we were amazed. We really like the mystery around them and how they made people smile.
"To create a deepfake as realistic as this one you need two things.
"On one side a great actor who's great at impersonating someone – Miles Fisher has been doing Tom Cruise for a while.
"And on the other side you need someone like me who specialises in deepfake and special effects and also the hardware."
Other manipulated videos that have gained traction in recent years include a video produced by BuzzFeed featuring actor Jordan Peele's realistic-looking impersonation of former President Barack Obama in 2018.
And last year, a deepfake Queen delivered a warning about misinformation and fake news in Channel 4's alternative Christmas message.
Eurovision 2021: Cyprus protesters demand withdrawal of 'Satanic' song El Diablo | World News
Protesters in Cyprus are demanding the withdrawal of a Eurovision song they say promotes Satanism.
They gathered outside the state broadcaster with signs reading: "We're protesting peacefully, no to El Diablo", "Repent and return to Christ" and "Christ saves, Diablo kills".
But according to the artist behind the track, entitled El Diablo, the song is not intended to turn people to the dark side, but is about an abusive relationship.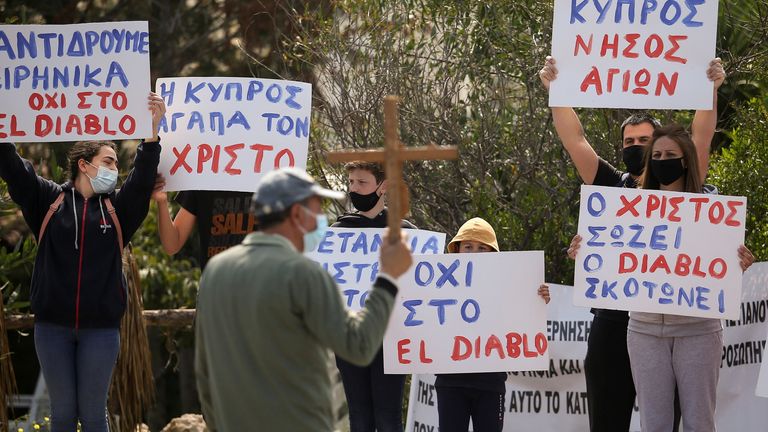 Leaders from the island's influential Orthodox church disagree and say it "praises the fatalistic submission of humans to the devil's authority".
They want El Diablo swapped with an entry that promotes Cyprus's history, culture and traditions.
The song, by Greek performer Elena Tsagrinou, includes the lyric: "I gave my heart to El Diablo… because he tells me I'm his angel."
She says it tells the story of a woman pleading for help after falling for a "bad boy" known as El Diablo and that any other meaning is "unfounded".
"In these Me Too movement times that message is extremely relevant and can be felt not only in Cyprus but also across Europe and beyond," said Tsagrinou.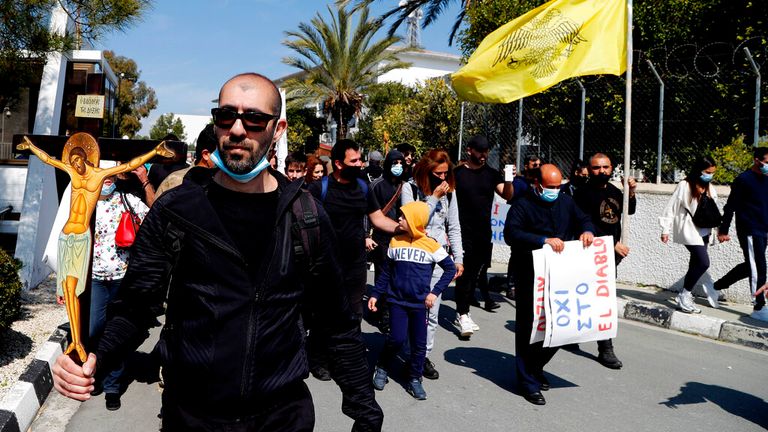 The state broadcaster said the song would not be scrapped but that organisers could have done more to explain its meaning.
Last week, a man was charged by police over threats and a disturbance when he barged on to the broadcaster's grounds to protest over the "blasphemous" track.
Cyprus's government has even been dragged into the row, but refuses to intervene.
A government spokesperson said it "respects creative intellectual and artistic freedom that cannot be misinterpreted or limited because of a song's title".
Eurovision takes place on 22 May in Rotterdam in the Netherlands. Last year's contest was cancelled because of the coronavirus crisis.
COVID-19: Greece invites Britons to start booking holidays as it targets 40 islands for vaccinations | UK News
Greece's tourism minister has said Britons hoping for a summer holiday in the country can start booking as it prioritises giving the COVID vaccine to the inhabitants of around 40 small islands.
The islands, which each have a population of less than 1,000 people, include Halki near Rhodes, Kastellorizo off the Turkish coast, Meganisi in the Ionian Sea and Kythira in the Peloponnese peninsula, according to the Daily Telegraph.
Larger destinations such as Mykonos, Santorini and Corfu will be targeted once Greece's tiniest islands have been vaccinated, the newspaper said.
However, UK government has said the earliest date people from England can travel abroad for a holiday is 17 May – that is provided the four tests for easing lockdown are met.
Follow live COVID-19 updates from the UK and around the world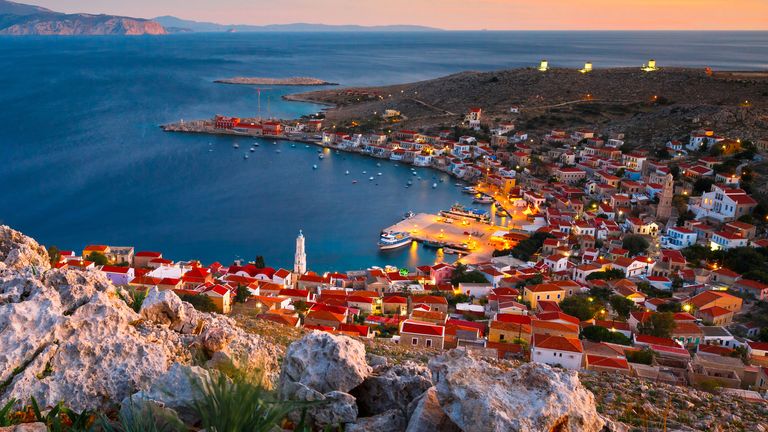 Greek tourism minister Harry Theoharis told the Telegraph: "If you're going to send a medical team to an island with a small population, it makes sense to vaccinate not just the elderly and vulnerable, but everyone.
"We're vaccinating everyone on islands that have a population of less than 1,000 inhabitants."
Elderly people and the most vulnerable have been the first to be offered the COVID-19 vaccine in Greece, with Mr Theoharis telling the Telegraph it is now "a priority to vaccinate the tourist islands".
"We want to vaccinate people working in the tourism sector, from hotel staff and waiters to tourist guides and drivers," he added.
Mr Theoharis did not state when the vaccine rollout on the islands would be completed, saying the pace of progress "depends on how many vaccines we receive in a couple of months' time".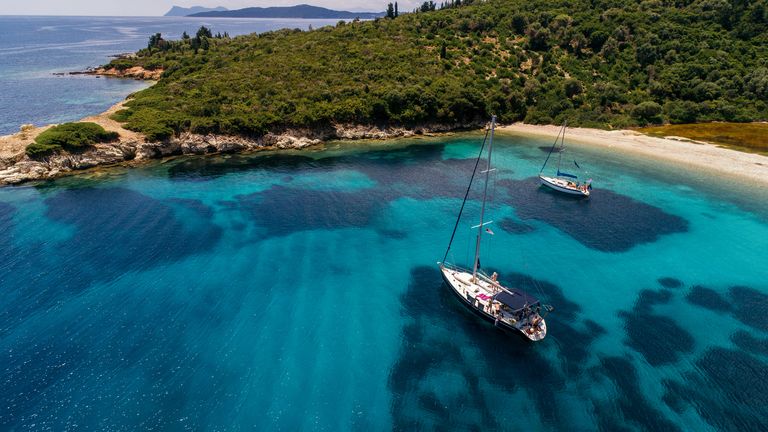 He added that Britons wanting to enter Greece this summer will need one of the following: a certificate showing they have been vaccinated; proof that they have antibodies against the virus; or a test to show they are negative.
Mr Theoharis told the Telegraph that Greece would "try to make it as smooth and hassle-free as possible", adding: "They can book flights and start choosing the places where they want to go."
More than one million people in Greece have received the first jab of a coronavirus vaccine, with 356,000 people having had both doses, out of a population of 11 million people.
The number of coronavirus cases is still high in Greece, with 2,702 new infections recorded on Wednesday – a record daily figure so far this year.
Greece has eased restrictions for vaccinated Israelis and is discussing a similar arrangement with the UK.
The UK government is set to discuss with the EU the bloc's proposals to create a vaccine passport that could allow people to travel more freely in time for the summer holidays.
The EU-wide "digital green pass" would provide proof a person has been vaccinated, as well as test results for those not yet inoculated and information on recovery for people who have had COVID-19.
European Commission President Ursula von der Leyen said the proposals for the pass, which will "respect data protection, security and privacy", will be set out this month.
Compared to the UK, the EU's rollout of coronavirus vaccines has been slow.
Subscribe to the Daily podcast on Apple Podcasts, Google Podcasts, Spotify, Spreaker
EU leaders agreed last month to work on vaccine certificates, with southern European countries including Spain and Greece pushing to unlock tourism this summer.
However, a number of nations say before that, it needs to be established that vaccinated people cannot transmit COVID-19 to others.
Some countries, such as France and Belgium, have also expressed concern that easing travel only for inoculated people would be unfair.