Bollywood superstar drowned in bathtub, police say
Bollywood superstar Sridevi Kapoor drowned in her hotel bathtub after fainting this weekend, police have said.
The 54-year-old actress, described as India's first female superstar, died on Saturday night in Dubai.
Her brother-in-law, actor Sanjay Kapoor, told the Indian Express on Sunday she had suffered a heart attack and had no known heart condition.
On Monday Dubai police, citing a post-mortem, tweeted: "The death of Indian actress Sridevi occurred due to drowning in her hotel apartment's bathtub following loss of consciousness."
Police have now referred the case to the public prosecutor.
#DubaiPolice has transferred the case to #Dubai Public Prosecution, which will carry out regular legal procedures followed in such cases.

2/2

— Dubai Policeشرطة دبي (@DubaiPoliceHQ) 26 February 2018
Sridevi, who was known only by her first name, was in the Gulf to attend a wedding with her husband, Boney Kapoor, and younger daughter Khushi.
Videos appearing to show her dancing at the event were widely circulated online.
Born Shree Amma Yanger Ayyapan, the much-loved star started acting at the age of four and worked throughout her childhood, playing her first adult Bollywood role at the age of 13.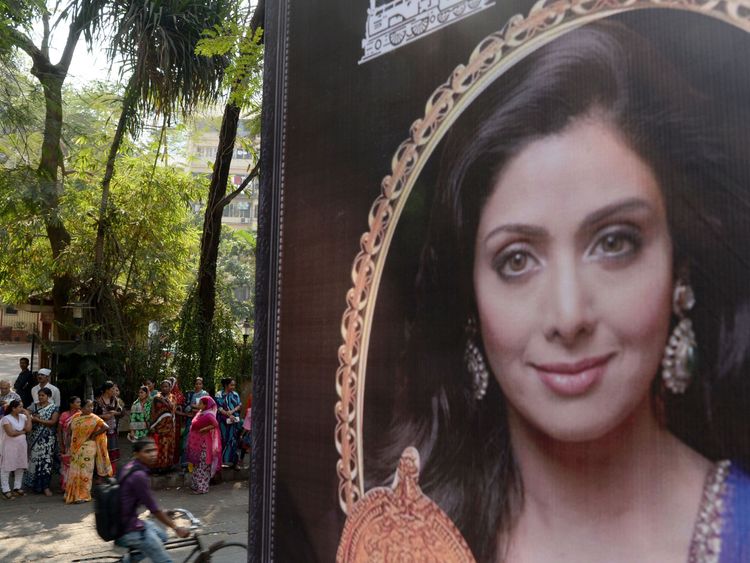 Her most famous roles included playing a reporter in Mr India and in Chandni, when she played a woman choosing between two suitors.
In Lamhe, in 1991, she played dual roles of a woman and her daughter.
Much of her appeal was that she appeared in films in a wide variety of Indian languages, having been born into a Tamil/Telugu family in the southern state of Tamil Nadu.
She won five Filmfare Awards, and was nominated 10 times in the Indian equivalent to the Oscars.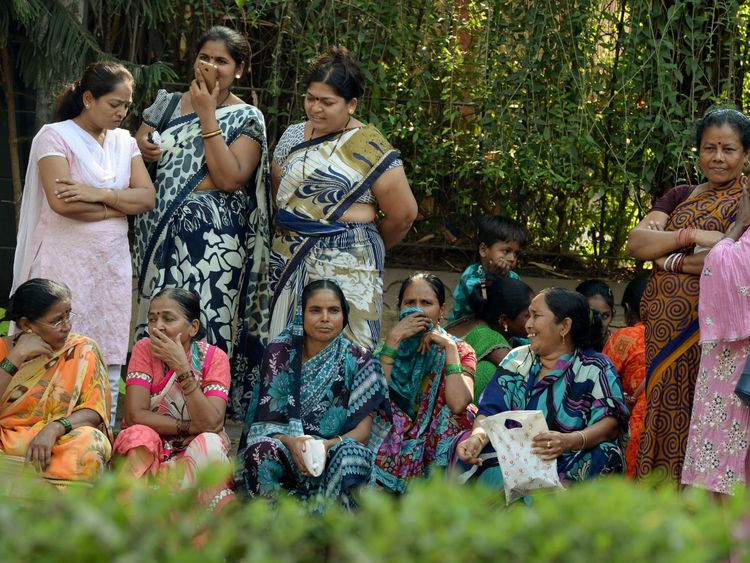 In 2013, she was voted India's Greatest Actress in 100 Years, in a national poll to celebrate a centenary of Indian cinema.
She was married twice; to fellow actor Mithun Chakraborty for three years in the 1980s and latterly, to film producer Boney Kapoor.
She stopped acting after her second marriage but made a well-received comeback in 2012 with English Vinglish, about a woman learning English.
Sridevi last appeared in film, MOM, last year.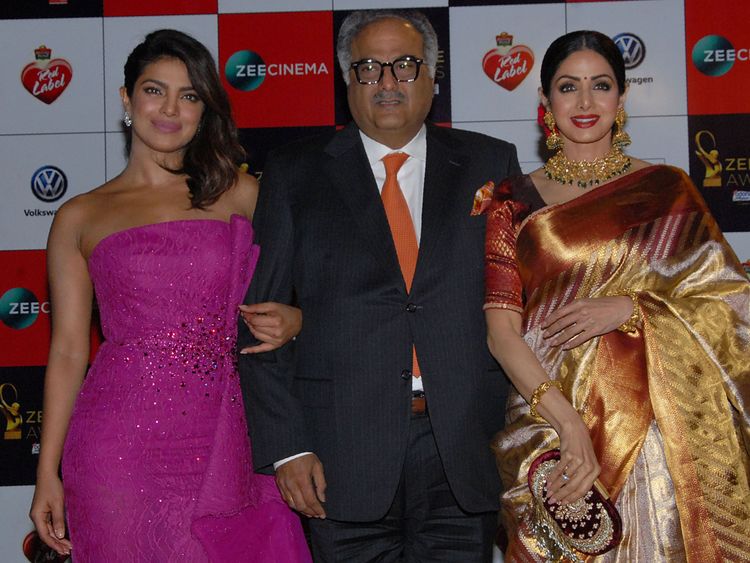 Leading politician, fans and fellow Bollywood stars have paid tribute to the actress on social media, with Prime Minister Narendra Modi saying he was "saddened" by the news.
Julie Payette: Queen's representative in Canada quits amid claims she bullied staff to tears | World News
Canada's governor general – the Queen's representative – has resigned amid allegations she presided over a toxic work environment in which staff were bullied to tears.
Julie Payette quit just hours after senior officials received the findings of an independent inquiry into reports of verbal abuse and bullying by the 57-year-old.
It followed a report by the Canadian Broadcasting Corporation (CBC) in which dozens of anonymous staff claimed Ms Payette threw "tantrums in the office and on foreign trips, berated staff to the point of tears and called one employee's work 's***'".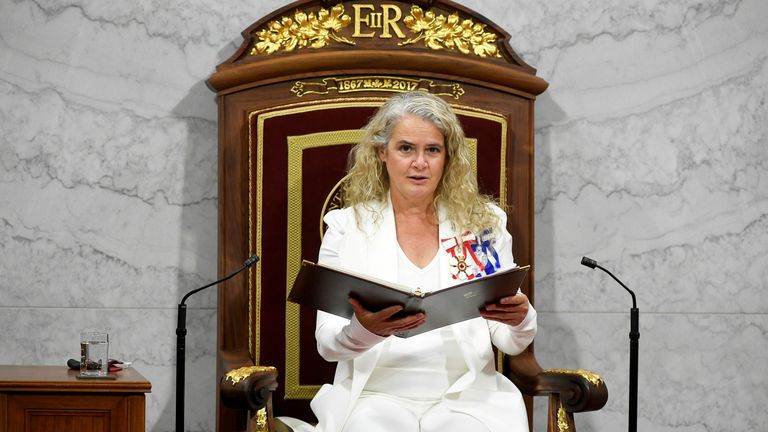 One told CBC that Rideau Hall – the residence and workplace of the governor general – had become a "house of horrors" under Ms Payette's leadership, causing long-time staff to leave in droves.
"I have come to the conclusion that a new governor general should be appointed. Canadians deserve stability in these uncertain times," Ms Payette said in a statement announcing her departure, adding she was sorry for tensions that had arisen with staff.
Prime Minister Justin Trudeau – who picked her for the role in October 2017 for a five-year term – said the workplace concerns raised by staff during the review would be addressed.
He notably did not thank her – having described her last year when the probe was launched as "an excellent governor general".
Ms Payette was formerly the country's chief astronaut and the first Canadian to serve on the International Space Station.
Potential candidates for governor general are supposed to be vetted by a special committee, a step Mr Trudeau chose to ignore when he recommended Ms Payette for the job.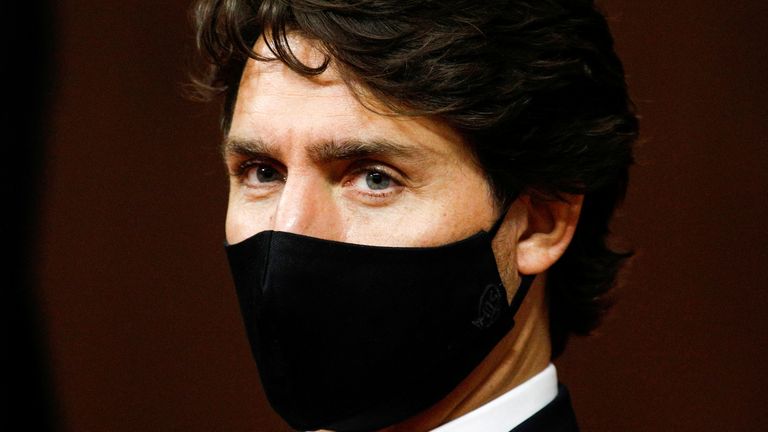 "The colossal failure of Ms Payette's term falls squarely on his shoulders," said Don Davies, a member of parliament for the opposition New Democratic Party.
Richard Wagner, chief justice of the Supreme Court, will temporarily take over Ms Payette's duties until she is replaced.
The governor general – the representative of the country's head of state, Queen Elizabeth II – has a largely ceremonial job such as swearing in governments and formally signing legislation, but can on rare occasions be asked to settle constitutional questions.
The Investigation: Why the story of Kim Wall's submarine murder ignores her killer | Ents & Arts News
On 16 January 2018, more than five months after the man who murdered and dismembered journalist Kim Wall's body was arrested, authorities were finally able to charge him.
In a case that had become known around the world as the "submarine murder", that charge was the result of a painstaking, dogged investigation by police in Denmark.
Officers knew from the start they had the right suspect but faced a near impossible task to find what they hoped would provide the grim proof – Ms Wall's body parts sunken somewhere at the bottom of the waters of the Koge Bay.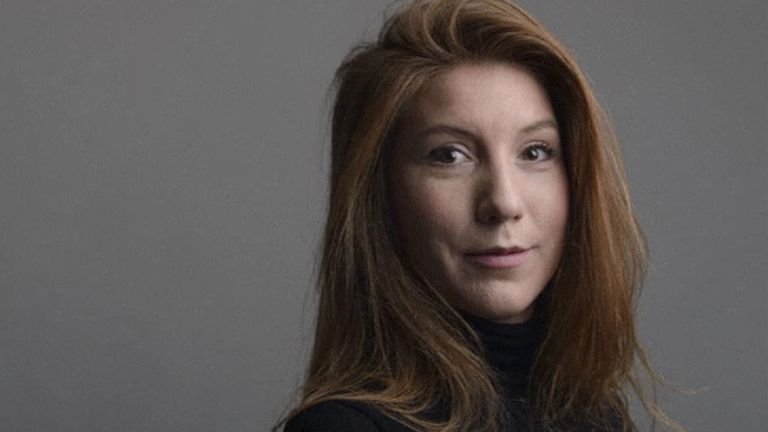 After boarding the homemade submarine UC3 Nautilus on the evening of 10 August the previous year, the 30-year-old Swedish journalist, who had gone to the vessel to interview its owner, was never seen alive again. At 11am on 11 August, the sub foundered and its creator was rescued at sea, alone.
The details of what happened next have been well documented, with the case making international headlines almost immediately. But those headlines told one side of the story, with many focusing on the "eccentric" killer and his background: what had driven him to such a gruesome crime?
Now, in a gripping account of the police's Herculean efforts to get a conviction, the other side is being told in new drama, The Investigation. The series is written and directed by Tobias Lindholm, one of the co-creators of the critically acclaimed Danish drama Borgen and who more recently worked on FBI criminal psychology drama Mindhunter.
"The case was covered widely in both local and international press and the coverage focused a lot on the fascination or the scare or the thrill of the crime that slowly showed itself," Lindholm tells Sky News.
"What had happened out there? And it became like a – at least locally, but in some international media as well – kind of an obsession with this crime and with the perpetrator, since he had some sort of interesting background story and since it happened in a homebuilt submarine. I mean, there was a lot of elements that were easy to be fascinated by. So we were, all of us, fascinated."
Lindholm says his thoughts about the case were consumed by how Ms Wall's loved ones – her parents, the boyfriend she had been due to move to China with just days after her murder – must be feeling seeing the non-stop coverage. "Why are we so obsessed with this terrible, gruesome act?"
In an unrelated meeting with Jens Moller, then head of homicide for Copenhagen police, he learned what had gone on behind the scenes; the meticulous investigation by detectives and prosecutors, the physically draining work of the divers who spent months searching the dark seabed in freezing temperatures; the cadaver dogs from Sweden and scientists analysing currents and wind speeds and directions, who eventually were able to successfully pinpoint the best locations to search.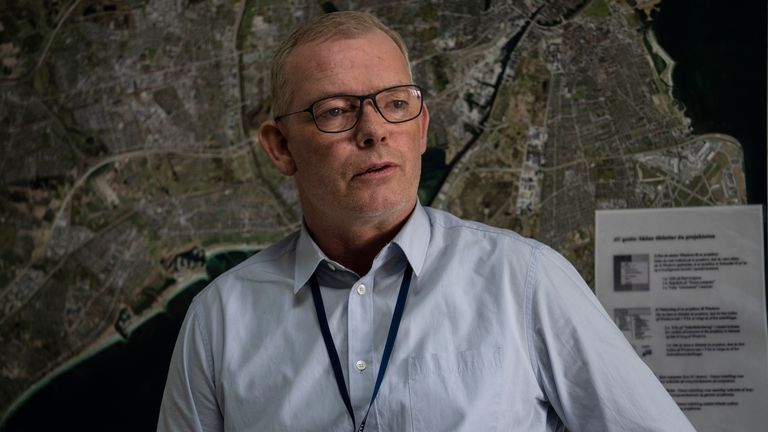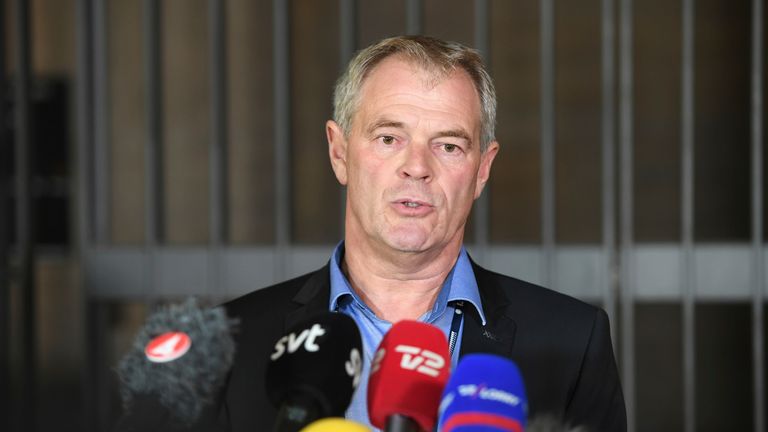 Meeting Mr Moller gave Lindholm "a very different story", he says. "A story about human sacrifice, a story about people who put their own life on pause to solve this case, a story about friendship and grief and victory and all these elements that were never even touched in the press.
"And then Jens told me one thing that became very key: he told me that he had never interrogated the perpetrator himself. He had other investigators to do that and then he will analyse the answers, come up with new questions, but never go in there, into the room. And with him saying that I realised that I could make not a true crime show, but a show we could call true investigation."
So The Investigation, a six-part BBC2 series with a generic title – "we probably could have come up with more fascinating titles, that would point more directly to the crime, but I liked the idea that we would just… be very dry about it" – does not feature Ms Wall's murderer at all.
He never appears on screen, his name is never uttered, there is no time devoted to his account of what happened, which changed constantly in the months following his arrest. First, he had dropped the journalist off on land unharmed, then she had died accidentally, later he admitted dismembering her but not to killing her. However, we only hear this in the series from the police.
In an era where true crime shows dominate TV schedules, with much debate about the airtime focused on killers and their depravity, and failure to give victims a voice, it is a novel but no less watchable or compelling approach. Despite taking place in the waterway separating Denmark and Sweden, reminiscent of thriller series The Bridge, Scandi noir it is not.
The series starts pretty much "when the case lands on Jens Moller's table", Lindholm says. "And by making that decision and by not using flashbacks, I would liberate myself from all of that… with the decision of never meeting, never hearing and never mentioning the perpetrator, but only letting him be a source of confusion in the investigation.
"That's three decisions that already by just making [them], I would liberate myself from the burden of genre convention."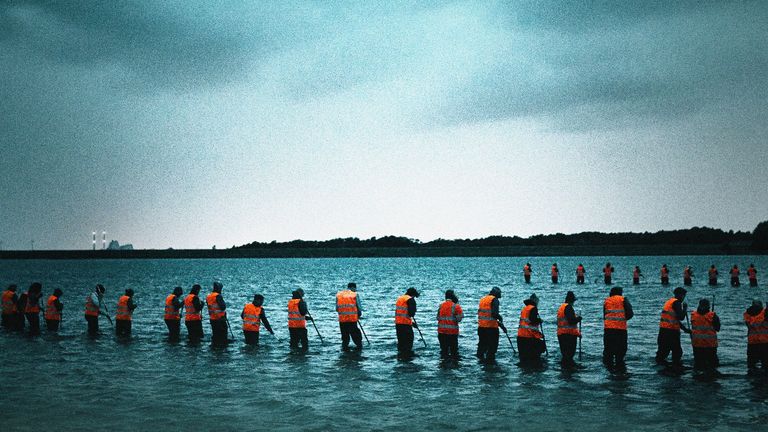 Mr Moller is played by Soren Malling, who also starred in another Scandi noir favourite, The Killing. He is the hero of the piece, albeit with no fuss or sensation, just a portrayal of a determined, efficient officer who gets the job done, even when the search seemed futile.
"We won't be able to say what would have happened, if…" says Lindholm. "But I do believe that Jens Moller's stubbornness and his honesty and his pledge towards [Ms Wall's parents] Ingrid and Joachim made him just continue, even though a lot of people would have stopped or at least would have started to use very fewer resources on this.
"The divers' efforts… it's just amazing. And if you look at the area that they cover, and if you understand that it's dark, you can only see one metre in front of you and there you are on the bottom of the ocean, going 100 metres in that direction, then 100 metres back, then a new square to dive, then a new route. It's just incredible. So, yeah, their work was second to none."
The Investigation has, perhaps unusually, been made with the full backing of Ingrid and Joachim Wall. Lindholm had "not written a word" before meeting them and they were "part of the whole development", not having complete control but reading scripts and suggesting changes when scenes weren't quite right. Their real dog, Iso, even plays himself in the show, and they were behind the scenes for his days on set.
Their support is testament to how sensitively and truthfully they feel the story has been told, especially as it comes so soon after Ms Wall's death. Lindholm says there was no question of making the series without their blessing.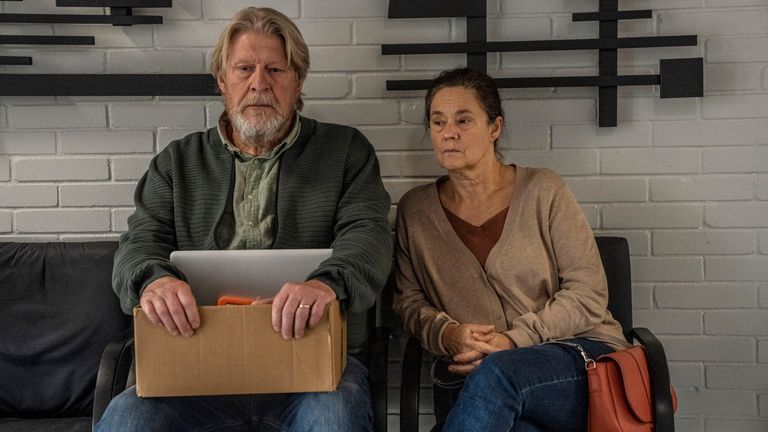 "I felt that the story Jens told me needed to be told right now, because we needed to be reminded of the quality of collective strength," he says. "I feel that our time is full of break-ups and chaos and a culture that is more and more focused on the one person's achievement.
"This case, with the details that Jens gave me… proved a world that is actually working. It proved a society that works, it proved the system does work, it proves that if we stand together, if people do their best, if we believe in society, if we believe in playing our part in society, we can succeed. And that would not have been as interesting to tell 10 years from now, because then it would have been a reflection on the world of yesterday. I needed it to be a reflection on the world today…
"Had I done a show about the perpetrator and had we done a story about the crime and being fascinated with it, I would say it's way too soon. But had we done this show 10 years from now, I would say it was way too late. So in this case, by making it about the investigation in our time, proving and showing people a story that they didn't know, a story that proved that our police officers, that our divers, that our system works, made it relevant and necessary to tell.
"That was the conversation I had with Ingrid and Joachim the first time I met them. They totally agree. Their reason to be in this is because they're so grateful that all these people, you know, put their own life on pause and went out and actually [made] a difference. And hopefully the show shows how difficult it was. A difficulty and a battle that we don't really know exists, but it did."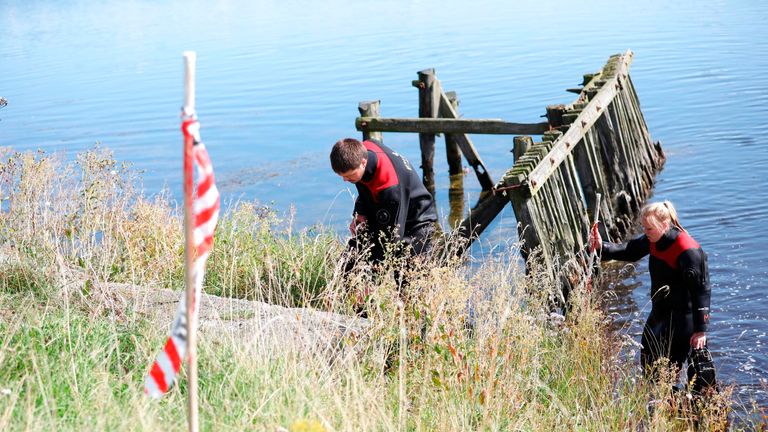 In one scene, Ingrid Wall, played by Pernilla August (Star Wars) is comforted by neighbours who bring flowers to her door.
"I had done another scene where [Ingrid] would go to the supermarket and everybody would look away, because I had an idea about Scandinavian society being cold and people not knowing how to reach out and be brave enough to touch each other," says Lindholm. "I imagine the scene where she felt isolated, going out to a community and suddenly everybody looked away because they were scared that they would say the wrong thing…
"I sent that screenplay to them and Ingrid called me and said, 'We like it, but you got something wrong. We never felt isolated. We only felt to be embraced and felt the love, the support, the help from our local community'."
The script was changed. "As soon as I had written it, I could definitely see that it made more sense. I just didn't have that idea, that was all Ingrid being honest. So they had helped me a lot."
Following their daughter's death, the Walls, also journalists themselves, set up the Kim Wall Memorial Fund awarding grants to young female journalists; the legacy of her work which often told the stories of those who weren't able to do so themselves.
A heart-shaped memorial, created from stones and pebbles on the beach, also features in the series. "I wanted to recreate one on another beach and Ingrid insisted that we would film that one, because she wanted the people who had done it back then to understand how much it meant to them."
Lindholm is still in contact with the couple daily, he says. "I think Ingrid and Joachim enjoyed coming to set and then feeling, seeing it and understanding how serious we were about their story. They felt comfortable about that."
It seems crass to talk about spoilers in a story such as this but, without giving too much away, there is a speech given by Ingrid Wall at the end of the series. The couple were on set to see August deliver it.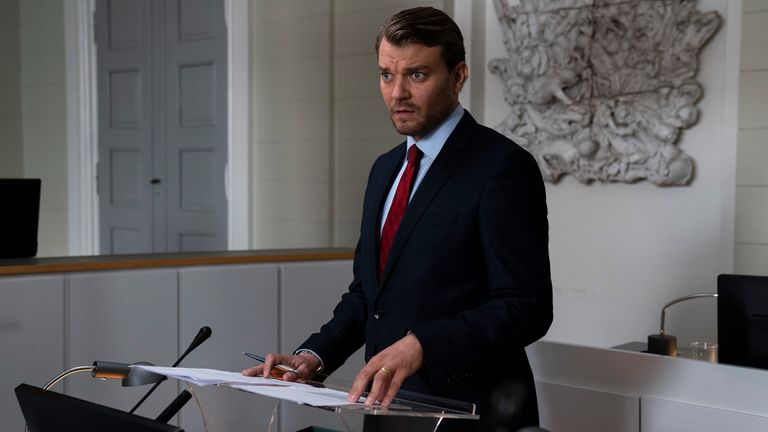 "I wrote that together with Ingrid," says Lindholm. "I asked her, what do you want… If you could get the last word in this whole story, in this whole media circus, what do you want to say?"
"When we shot that scene, I had Ingrid and Joachim by my monitor… that was kind of an interesting and, for me, emotionally challenging experience. But I think that Ingrid and Joachim were probably the coolest of us all. They are very realistic, and very aware of the choices they make, and they are very responsible to watch each other. I never felt them struggling on set.
"I definitely felt that once in a while, while we were writing and while I was, not interviewing, but talking to them about different ways and the whole preparation, I could feel that we needed to go through a conversation that wasn't nice to have, but it was never an emotional, brutal experience at all. They are very strong and they're very realistic about their own situation."
It must be strange and difficult to see your real life portrayed as a drama on screen, especially under such unthinkable circumstances. But the Walls feel proud, says Lindholm. Proud of their daughter, whose award-winning investigative journalism is highlighted in the show, and proud that those involved in bringing her killer to justice are now being celebrated.
"They feel that it is what it should be, a celebration of the unsung heroes, the ones that helped them through the darkness, the ones that brought their daughter back home, the ones that, you know, without getting rich or getting famous off it, just did a tremendous job to help them," says Lindholm.
"I believe Joachim said to me that he felt it was very close to a documentary in the sense of how realistic and how precise it is in the descriptions.
"Remember, it's not a story about Kim, it's not a story about Ingrid and Joachim, it's a story about Ingrid and Joachim's life when it crosses the investigation. But they, together with Jens and [prosecutor] Jakob Buch-Jepsen, who's played by Pilou [Asbaek, Game Of Thrones], all feel that it's very honest and very accurate and all feel proud that we did it this way."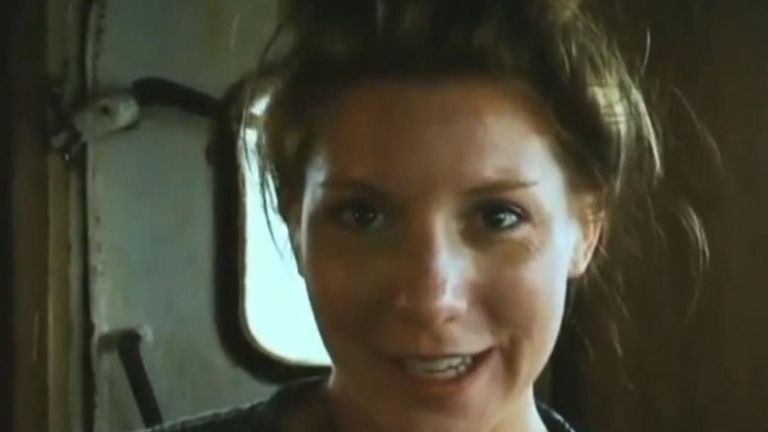 On 25 April 2018, following a trial, Ms Wall's murderer was found guilty and sentenced to life in prison. Sky News covered the case extensively. For those who didn't follow it, through Sky News or elsewhere, his name is easy enough to Google. Writing this article about the series raised the question of whether or not his identity, just as in the show, could be ignored when it is clearly so public.
Taking Lindholm's final thoughts, it was easy to decide.
"I hope that fiction more than anything offers the opportunity to be somebody else for a while," he says. "In this case, we are given the opportunity to be Jens Moller, to be Ingrid and Joachim. I do believe that… being in their perspective for these six episodes can change our perspective of the world.
"Maybe we realise the responsibility we have as media consumers: what do we click on, how do we treat cases like this, and what are we fascinated by? Hopefully, it can challenge the convention that the killer, almost by nature, is fascinating or interesting. And hopefully it will inspire us to see that together, we can achieve great things."
The Investigation starts on BBC Two on 22 January and will also be available on iPlayer
COVID-19: Japan denies claims that Olympics are going to be cancelled, as report says Tokyo may host in 2032 | World News
Japanese officials have denied claims the Tokyo Olympic Games are being cancelled because of the coronavirus pandemic.
The 2020 Games have already been delayed once, with the opening ceremony currently scheduled for 23 July this year.
But according to The Times, local officials have conceded the event cannot happen because of COVID-19.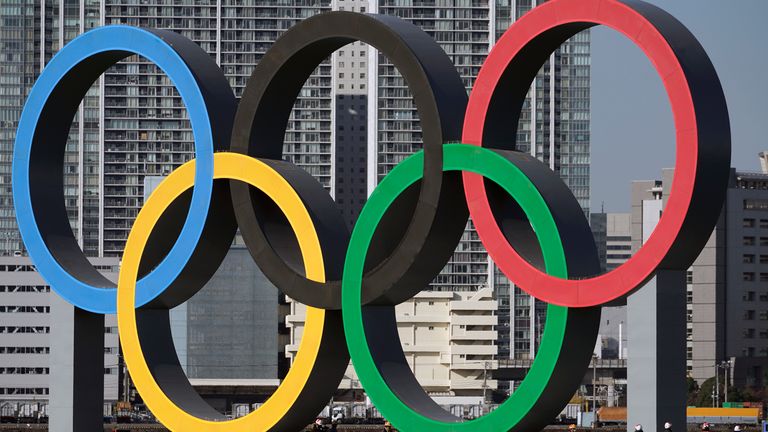 "No one wants to be the first to say so but the consensus is that it's too difficult. I don't think it's going to happen," a senior member of the ruling coalition told the newspaper.
The report claims that Japan is vying to host the Olympics in 2032 instead, with 2024 already awarded to Paris and 2028 to Los Angeles.
But in public, both the International Olympic Committee (IOC) and the board in Tokyo insist the Games will go ahead this year.
"All our delivery partners including the national government, the Tokyo Metropolitan Government, Tokyo 2020 Organising Committee, the IOC and the IPC (International Paralympic Committee) are fully focused on hosting the Games this summer," a statement said on Friday.
"We hope that daily life can return to normal as soon as possible, and we will continue to make every effort to prepare for a safe and secure Games."
IOC president Thomas Bach also told the Japanese Kyodo news agency on Thursday: "We have at this moment, no reason whatsoever to believe that the Olympic Games will not open on 23 July in the Olympic stadium in Tokyo."
There is "no plan B", he added.
Subscribe to the Daily podcast on Apple Podcasts, Google Podcasts, Spotify, Spreaker
Tokyo has already spent £18.2bn organising the Games, with most of the funds derived from the public purse.
But with a state of emergency declared in response to rising coronavirus cases in the city and surrounding areas this month, there is a chance it may all go to waste.
Public opinion has also turned against the Games, with 80% of those polled recently saying they should be postponed or cancelled.
The Games would involve 11,000 athletes, tens of thousands of coaches, as well as officials, judges and broadcasters. A decision on whether fans should attend is yet to be made.
A further 4,400 athletes are due to take part in the Paralympic Games on 24 August.
But with COVID-19 vaccines being slow to roll out in Japan, organisers would have to rely on testing, social distancing and isolation to keep the Games afloat.