Olympians give dating app a boost at Winter Games
As the Winter Games are set to draw to a close, it seems that sport isn't the only thing on athletes' minds with some looking to hook up with fellow Olympians.
And who better to capitalise on this than dating app Tinder, which says its usage figures have increased 348% in Pyeongchang, South Korea, since the event began two weeks ago.
The app saw a 565% increase in right swipes in the Olympic Village, according to a statement reported by ABC News.
Swiping right on Tinder means the user is interested in the person whose profile they are looking at.
The number of matches has rocketed too – by 644%, according to the company, which is owned by Match Group.
A Tinder spokeswoman said: "Every Olympics we hear that Tinder is 'on fire' in the villages and we notice our usage increase significantly when people from around the world gather for an event."
Olympians staying in the athletes' village have also been given free access to Tinder's "gold" tier during the Games, allowing them to see who has already liked them before swiping right.
They can also revoke swipes, and have access to Tinder Passport, which allows them to connect with users located anywhere in the world.
Tinder first caught on among Olympic athletes during the 2014 Games in Sochi and, since then, it has become an important tool for those seeking to enjoy a different type of "performance" between winning medals.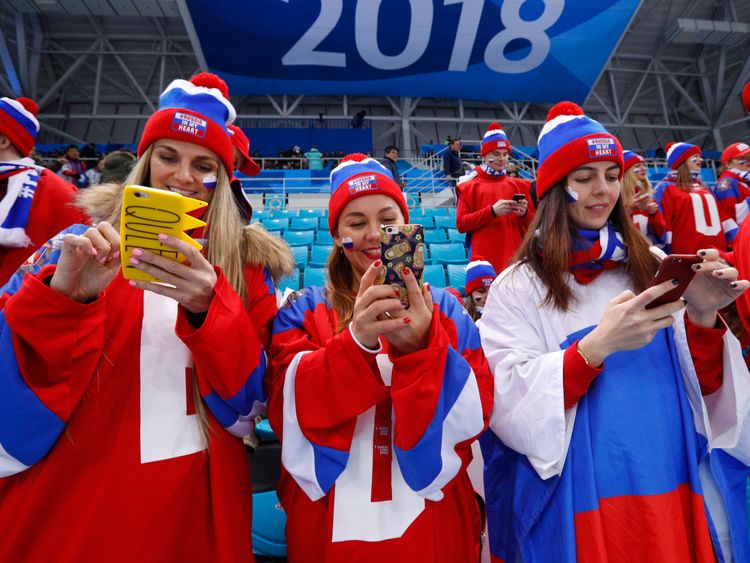 US swimmer Ryan Lochte has previously estimated that "70 to 75% of Olympians" are hooking up between events.
Team USA water polo captain Tony Azevedo told ESPN in 2012, that move-in day at the Olympic Village is "like the first day of college…Everyone's meeting people and trying to hook up with someone".
According to Slate, there were 8,500 condoms given to athletes at the 1988 Seoul Olympics, 90,000 in Barcelona (1992) and 15,000 for Atlanta in 1996.
Organisers at the 2000 Sydney Games ordered 70,000 but had to get a further 20,000 when they ran out.
Durex donated 130,000 condoms for the 2004 Games in Athens, Beijing in 2008 had 100,000 and the London Olympics in 2012 had around 150,000.
In 2016 in Rio, a Brazilian newspaper reported that a record-breaking 450,000 condoms were given to athletes, about 40 per person. In Pyeongchang, it is reportedly about 38 per person.
As the athletes come to the end of the 15-day competition, the pressure is off and the closing parties are beginning, along with the associated hook-ups.
Tinder says that, for those looking for a man, top of the list are bobsledders, ice hockey players, snowboarders, alpine skiers and skeleton racers.
Those looking for a woman prefer snowboarders, alpine skiers, bobsledders, lugers and freestyle skiers.
Yemen's Houthi rebels defiant after US secretary of state Mike Pompeo labels them 'terrorist' group | World News
Yemen's Iran-backed rebels have dismissed the US move to designate them a terrorist organisation in the final days of the Trump administration, while aid agencies warn such a designation would deal another blow to the war-torn nation.
On Sunday, US secretary of state Mike Pompeo announced that he will designate the Houthis as a "foreign terrorist organisation" with the designation taking effect one day before president-elect Joe Biden takes office.
It was not clear whether Mr Biden will overturn the decision.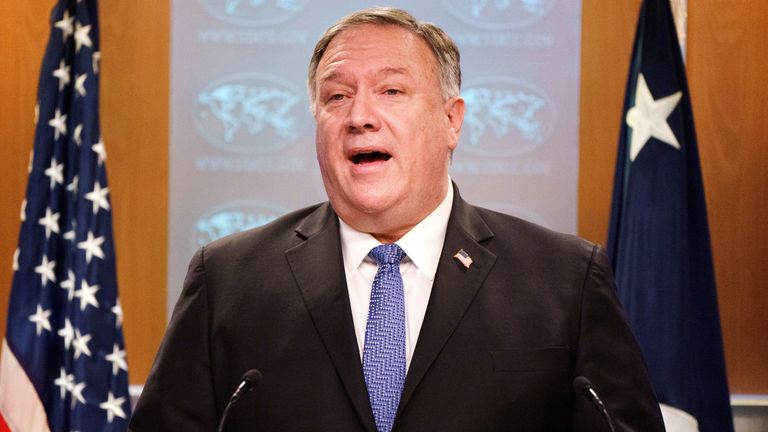 The announcement comes as Mr Pompeo and his top aides rush to complete actions they believe will cement their legacy and the president's.
On Saturday, Mr Pompeo angered China when he declared restrictions on US diplomatic contacts with Taiwanese officials to be null and void.
In addition, the secretary of state plans before leaving office on 20 January to draw explicit links between Iran and al Qaeda and hit more Iranian entities with sanctions, officials said.
The administration had been weighing the formal designation of the Houthi rebels as a "foreign terrorist organisation" for months.
However, that effort had been bogged down in internal disagreements over whether sanctions could be effectively enforced without worsening the dire humanitarian crisis in Yemen.
Objections from the US Treasury department were apparently overcome last week after certain exemptions to the sanctions allowing for aid work to continue were arranged.
On Sunday, Mr Pompeo announced that he was proceeding with the designation of the Houthis, also known as Ansarsallah, along with separate terrorist designations of three senior rebel leaders.
"These designations will provide additional tools to confront terrorist activity and terrorism by Ansarallah, a deadly Iran-backed militia group in the Gulf region," he said.
Terrorist designations of Ansarallah in Yemen confront its terrorist activity and seeks to deter further malign activity by the Iranian regime in the region.

— Secretary Pompeo (@SecPompeo) January 11, 2021
"The designations are intended to hold Ansarallah accountable for its terrorist acts, including cross-border attacks threatening civilian populations, infrastructure, and commercial shipping."
Hours later, several senior rebel figures slammed Mr Pompeo's announcement.
"We are not fearful," tweeted Mohammed Ali al Houthi. "America is the source of terrorism. It's directly involved in killing and starving the Yemeni people."
Others said the designation was an attempt to deflect attention from the US political crisis in the wake of the deadly Capitol rioting and efforts to impeach President Donald Trump.
"We are honoured to be terrorists and the world's gangsters," tweeted the Houthis media official Abdel-Rahman al Ahnoumi.
Consideration of the designation had already prompted complaints from relief organisations concerned the sanctions could prove catastrophic for efforts to help starving Yemeni civilians who have been caught in the conflict between the Houthis and the Yemeni government, which is backed by Saudi Arabia.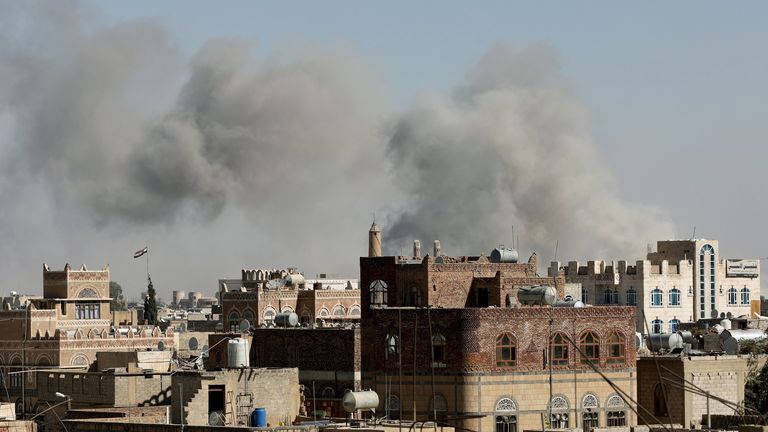 "The United States recognises concerns that these designations will have an impact on the humanitarian situation in Yemen," Mr Pompeo said in his statement.
"We are planning to put in place measures to reduce their impact on certain humanitarian activity and imports into Yemen."
Those measures will include the issuance of special licenses by the Treasury to allow US assistance to continue to flow to Yemen and for humanitarian organisations to continue to work there, he said.
Honduras president Juan Orlando Hernandez 'helped export cocaine to US', federal prosecutors claim | World News

New York federal prosecutors have alleged that Honduran President Juan Orlando Hernández took bribes from drug traffickers to help export huge shipments of cocaine to the US.
Documents submitted on Friday by prosecutors in the southern district of New York allege Mr Hernandez had the country's armed forces protect a cocaine laboratory and deliveries to the US.
He is quoted in court papers as saying he wanted to "shove the drugs right up the noses of the gringos", referring to Americans.
The president, who has not been charged, has repeatedly denied the claims.
The files seek approval to admit evidence in the case against Geovanny Fuentes Ramírez, who was arrested in March.
Mr Ramirez is accused of conspiring to smuggle cocaine into the US, producing "hundreds of kilograms a month" and having several people killed to protect his illegal operation.
Prosecutors claim Mr Ramirez "partnered directly" with Mr Hernandez and "high-ranking officials in the Honduran military" during his presidential campaign in 2013.
The papers add that a witness would testify that the president-to-be was receiving "massive bribes" in exchange for "protection from law enforcement".
Mr Hernandez allegedly "accepted approximately $1m in drug trafficking proceeds that was provided to his brother by the former leader of the Sinaloa Cartel, Joaquín Guzmán Loera".
The Honduran president is not named in the court papers, but he is clearly identifiable as "CC-4" – or "co-conspirator No. 4" – by references to his political position and as the brother of Juan Antonio Hernández, who was convicted of drug smuggling in 2019.
President Hernández has rejected the claims, saying traffickers are falsely accusing him to seek vengeance for clamping down on them.
"The claim that Pres Hernández supposedly accepted drug money from a Geovanny Daniel Fuentes Ramirez, or gave protection or co-ordination to drug traffickers is 100% false, and appears to be based on lies of confessed criminals who seek revenge and to reduce their sentences," read a tweet from the president's office.
"This and other opportunistic allegations are contested by the essential fact that during the Hernández Administration, coca trafficking through Honduras fell from 87% to 4% from 2013 to 2019, as recognised by the publications of the Department of State (INCRS) of those years," it continued.
The US has given Honduras hundreds of millions of dollars in security assistance in recent years to help the Central American country fight drug smuggling.
COVID-19: Israel urges world to follow its rapid vaccine rollout, but Palestinians are left waiting | World News
Israel's health minister has urged countries simply to "get out there" if they want to replicate his country's vaccination success.
Speaking to Sky News, Yuli Edelstein said that expert logistics, early procurement, close co-operation with the manufacturer and Israeli innovation had all been combined to make the country a clear leader in the global vaccination race.
"The faster we get the vaccine into their arms, the less cases we'll see in our hospitals and, God forbid, deaths," Mr Edelstein said.
Live COVID updates from UK and around the world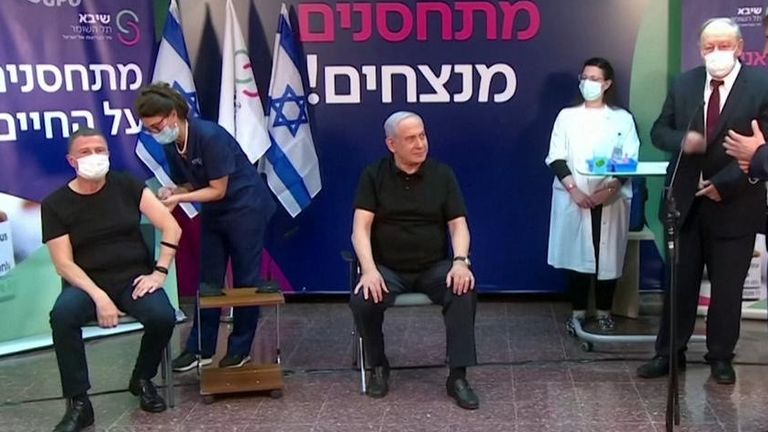 "Get out there. Don't put a huge station in the middle of your capital and wait for people to come… Try to get it out to – if not to their homes – then at least to their areas; to the suburbs, to their towns," Mr Edelstein said, confirming that he had spoken to Britain's health secretary, Matt Hancock.
It's just over three weeks since Mr Edelstein sat alongside his boss, Israeli Prime Minister Benjamin Netanyahu, to receive the first two jabs live on prime-time television.
Since that point, the country has been widely praised for its swift vaccine rollout but also criticised because Palestinians in the West Bank and Gaza have not been given access to the Israeli-procured vaccine.
The health minister sought to explain both in an interview with Sky News.
For Prime Minister Netanyahu, who faces yet another election the coming months, the vaccine programme is a mission beyond any other.
He is calling it "Operation Back to Life" and he has put himself front and centre of a race to vaccinate the whole Israeli population over 16 by the end of March.
The country procured the Pfizer vaccine early on and in huge quantities at a high price.
Supplies are regular because the country has become a model for Pfizer to test the vaccine's efficacy at scale.
Despite having been approved by regulators around the world, none of the vaccines has yet had its efficacy tested on a mass scale.
In a deal which Mr Netanyahu claims he personally stuck with Pfizer's CEO, Israel agreed to provide Pfizer with detailed data from vaccinated patients in exchange for priority delivery of the dose – which they had proved to Pfizer could be distributed fast.
"In recent weeks I have held 17 conversations with my friend, Pfizer chairman and CEO, Albert Bourla," Mr Netanyahu said last week.
"We will be the first country in the world to emerge from the coronavirus… As part of the agreement with Pfizer, we decided that Israel will be a global model state for the rapid vaccination of an entire country.
"To this end, we have brought forward the arrival of the vaccines and also increased their number.
"Israel will share with Pfizer and with the entire world the statistical data that will help develop strategies for defeating the coronavirus," he said.
Mr Edelstein said: "Right now, I have this picture of two racing cars in a race. One is definitely the vaccine.
"We are moving forward very fast. We already have more than a million and a half Israelis vaccinated throughout the country.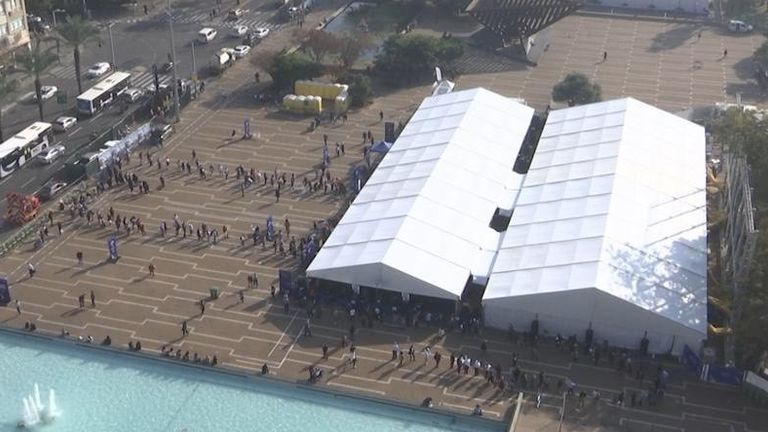 "The vast majority of them are people over 60. That was our criteria. Amongst those who are under 60, there are medical teams, police officers, the first responders and so on, so forth.
"On the other hand, unfortunately, I have to say that we are part of this whole outburst of the disease again. And we have numbers that are really terrible in the last couple of days," he said.
"We are a country of nine million people, so the numbers are really huge."
Israel currently has 63,440 active cases which represents double the number a week ago. A total of 3,645 people have died and a further 1,400 are in hospital, 837 of them critically ill.
In central Tel Aviv's Rabin Square, a huge complex of tents serves as one of many vaccination centres.
Around the block, and around the clock, enthusiastic citizens have been queuing for their jab every day for the past three weeks.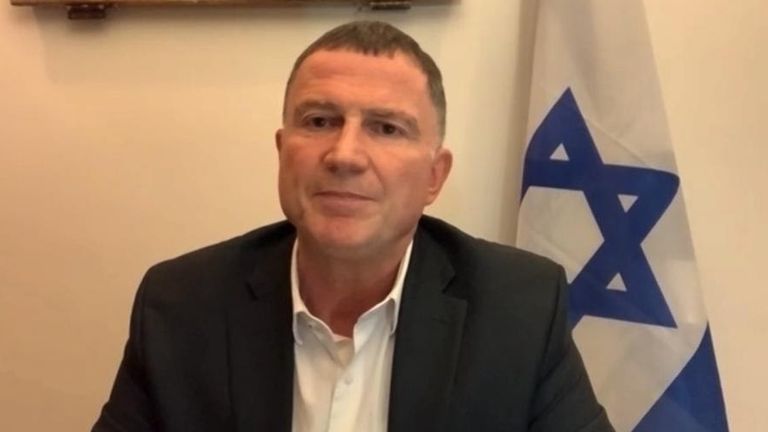 But logistics and technical innovation have proved to be vital components too.
Mr Edelstein said: "You know, it's not a system, as we see in some countries, of a huge stadium with hundreds of booths there.
"People sometimes have difficulty, especially when we're talking about the elderly, to get there. In this case, it's really a door delivery for many of them. I'm slightly exaggerating, but it's close to it."
He continued: "Part of the problem used to be that the sets of the vaccine are 1,000 vaccines. We managed to use Israeli technology to split it into smaller sets, with Pfizer's approval.
"So now sometimes our paramedics or nurses are able to travel with a set of 50 to a very distant point without wasting one single shot."
The country has 335 "drive-through" vaccination centres which operate extended hours.
At one, in the northern city of Haifa, doctor and recipient Natalie Roynik was in, jabbed and out in minutes without leaving the driving seat.
"As you can see it's working perfectly. I just came here and here I am. I am just getting inside," she said as she drove into the purpose-built tent.
Yet alongside this undeniable success, in the Israeli-occupied West Bank and Gaza, Palestinians do not have access to any vaccine yet.
In the West Bank city of Ramallah, where the Palestinian Authority has its headquarters, Dr Ali Abed Rabbo, director of preventative health at the Palestinian Ministry of Health, believes Israel is obliged to provide the vaccine.
He told Sky News: "As an occupying force, I think and I believe that Israel had the commitment to procure the vaccine for the Palestinian population because they are the occupying force."
However he and other sources have confirmed to Sky News that the Palestinian Authority has not formally asked Israel to provide the vaccine to them. A Palestinian request for help from Israel is politically very sensitive.
Under the 4th Geneva Convention, occupying forces are responsible for providing healthcare to the population of the occupied area.
Most states as well as the United Nations Security Council, the United Nations General Assembly, the International Court of Justice, and the International Committee of the Red Cross, consider Israel to be an occupying power.
However, the Oslo Peace Accords of the 1990s between Israel and the Palestinians (which were supposed to be temporary; a roadmap leading to a Palestinian state) gave the Palestinians responsibility for healthcare.
Amnesty International has condemned Israel over the issue.
Saleh Higazi, Amnesty's deputy regional director, said: "Israel's COVID-19 vaccine programme highlights the institutionalised discrimination that defines the Israeli government's policy towards Palestinians.
"While Israel celebrates a record-setting vaccination drive, millions of Palestinians living under Israeli control in the West Bank and the Gaza Strip will receive no vaccine or have to wait much longer.
"There could hardly be a better illustration of how Israeli lives are valued above Palestinian ones."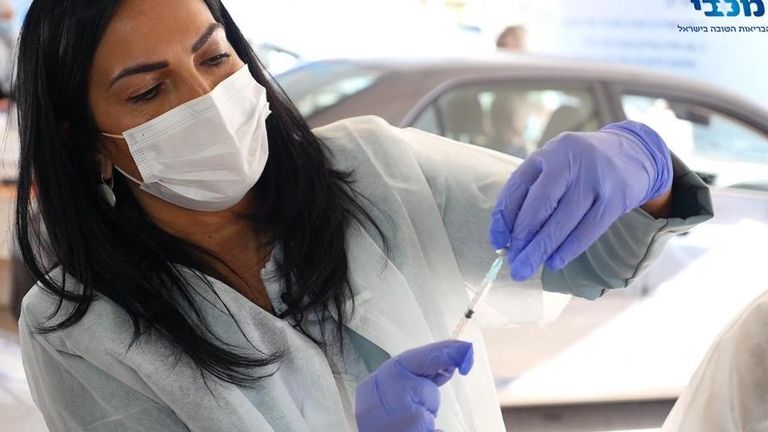 But Israel's health minister told Sky News: "They have to learn how to take care of themselves.
"I think that we've been helping our Palestinian neighbours from the very early stages of this crisis, including medical equipment, including medicine, including advice, including supplies.
"I don't think that there's anyone in this country, whatever his or her views might be, that can imagine that I would be taking a vaccine from the Israeli citizen, and, with all the goodwill, give it to our neighbours."
But he added: "We do understand that it's in Israeli interests that there will be less cases on the Palestinian side.
"Many of the Palestinians are working here in Israel. You can't divide the two neatly and say, you know, 'they can deal with it themselves; it's not our issue'. It is our issue."
Asked if Israel would provide the vaccine to Palestinians in the West Bank and Gaza once its population is vaccinated, he said: "We definitely will consider that but as I've said, I sincerely hope that by that time part of their population will be vaccinated by different vaccines that they are trying to purchase. If any other help will be needed, we will offer."
The minister of health for the Palestinian Authority, Dr Mai Al-Kaileh, announced at the weekend that the vaccine, on order from four different companies, would likely arrive during the first quarter of the year.
By that stage, if Prime Minister Netanyahu meets his pledge, every Israeli over 16 will have been vaccinated.