Mysterious abandoned Boeing 737 is turning into a tourist destination
An abandoned plane is sitting in the middle of a field in Bali, and the mystery on everyone's minds is how it got there.
The Boeing 737, which sits off the Raya Nusa Dua Selatan highway, five minutes from the beach, is something of a tourist attraction these days, News.com.au reported.
More From Travel + Leisure
The plane itself has no branding, so it is unclear whether or not it belonged to an airline. Some people speculate that the surrounding shipping containers concealed it from view for a while, according to The Sun. Others have theorized that the plane was meant to be converted into a restaurant, but the owner ran out of money and abandoned it.
Now, it sits behind private gates and is protected by a security guard. Tourists who want to see it must buy tickets and very few actually get to see what's on board. Some visitors and travel bloggers have tried to get up close to the plane, to no avail.
With no leads on its origin or the fates of the crew members and passengers, the plane remains just another mysterious attraction by the side of the road.
Belarus: The journalists jailed for doing their job as crackdown continues following disputed election | World News
Whenever he leaves the house, Igor Ilyash takes an emergency backpack with him, just in case he gets arrested.
Inside there is a toothbrush and toothpaste, deodorant, spare underwear, a magazine and four photographs of his wife, Katya, carefully printed out so he can look at them in detention.
The backpack belonged to Katya but she won't be needing it for a while.
Last Thursday, she and her colleague, Darya Chultsova, were sentenced to two years in jail for live-streaming a protest. Two young women, 27 and 23, imprisoned for doing their job.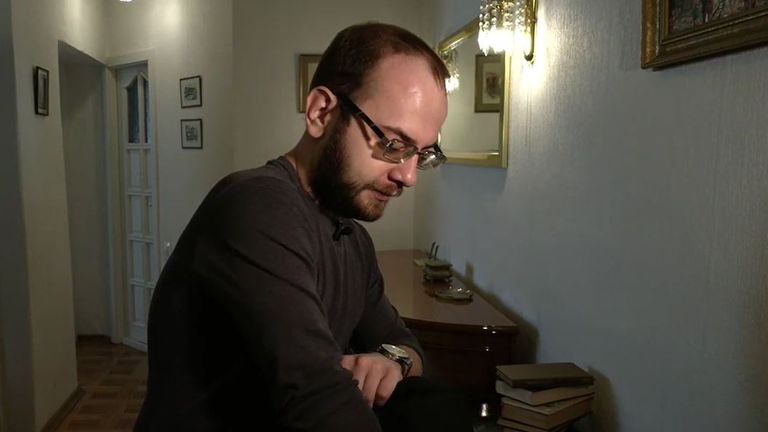 Behind the white bars of the cage in the court room, they hugged and kissed one another, Katya dressed all in white, looking a little like angels beyond the throng of journalists and iPhones, and the darkness of what passes for justice in present-day Belarus.
Mr Ilyash was allowed in to see her shortly after the sentencing. "I doubted her poise at the time," he said.
"I felt she was acting for the public, but it turned out she wasn't. She told me: 'I feel perfectly at peace inside, based on my certainty that I am doing everything right.'"
It is brave to be a journalist at the moment in Belarus.
Since protests broke out after allegedly rigged presidential elections in August last year, 400 have been detained.
At least 62 cases of physical violence against journalists were recorded, according to the Belarusian Association of Journalists. Criminal proceedings have been launched against nine of them.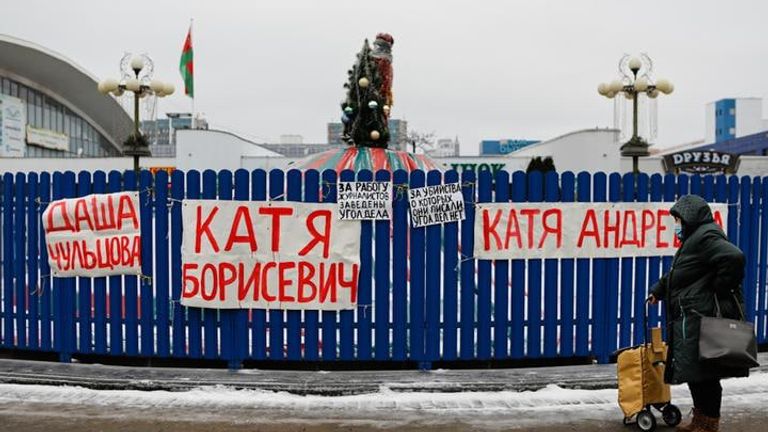 Last week, the authorities raided the homes and offices of 90 journalists and human rights organisations and will now be trawling through what they confiscated.
That will no doubt provide the "evidence" for a host more criminal prosecutions.
And yet they stay.
"Our relatives advised us to leave, before Katya was arrested," Mr Ilyash says. "It was unthinkable to us. We stood up for our choice, our identity. We didn't want to betray the way of living that we had."
Currently on trial in Minsk is Katerina Borisevich, a reporter for the Belarusian web portal Tut.by.
She had written an article in which she contradicted the official version of events around the death of a protestor in November last year who was attacked and beaten by suspected government thugs.
The Belarusian investigative committee claimed Roman Bondarenko had been drunk. Ms Borisevich quoted the hospital doctor as saying he was not. Both she and the doctor now face three years in jail.
The hearing is closed to the public but journalist colleagues pack the hallways outside the courtroom, cheering for their friend as she enters and leaves, cuffed and surrounded by police.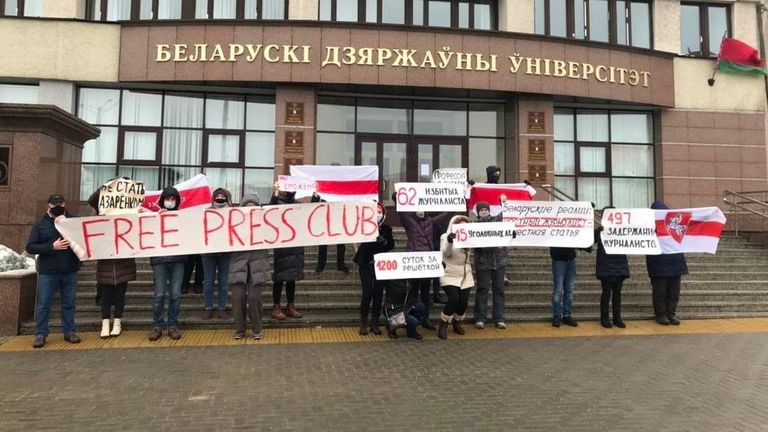 Journalists know they are under attack but they are not prepared to back down, certainly not without a strong and vocal fight. There are new rules to the game. You don't film on the streets. Interviews take place in homes or offices, or at a rented location just in case a flat is under surveillance. But the work still goes on.
"It is a matter of choice," says Marina Zolotova, editor-in-chief of Tut.by. "We have chosen to do this profession in Belarus and we have chosen the principles we follow. But of course we were all unprepared for such lawless actions. Now it is quite obvious that there is no way back."
Tut.by was stripped of its media status in December last year. That means its journalists are not permitted to cover any official events. They have no press cards. The large office in Minsk stands vacant, row after row of empty desks – partly because of the pandemic, partly the repression. The press jackets are unused.
They don't do any good anymore in any case, they mark you out as a target.
November 2020: Belarus forces detain protesters

Ms Zolotova is unsure what more the West can do to support Belarusian civil society.
"No one can save us but ourselves," she says. "Everything is in our hands, regardless of the fact that the repressive steam roller is getting all the more terrible. Our freedom, our future is something we need, not Putin or the West or anybody else."
The momentum has gone from the street protests for now. That is a direct result of the severity of the crackdown.
Some 1,000 people are subject to criminal prosecutions and there are 255 political prisoners, although President Alexander Lukashenko claims there are none.
October 2020: Stun grenades used on streets of Belarus

Belarusians have had to resign themselves to the fact that their despotic leader has no intention of quitting in a hurry and that his suggestion of early elections will be a long time coming.
"I think Lukashenko will only initiate any kind of elections – be they presidential or any other – when he is absolutely sure that the space here has been completely cleared," says Andrei Bastunets, chairman of the Belarusian Association of Journalists.
His office was sealed in last week's raid and all the equipment seized. But he is still the first port of call when journalists are detained. He is still busy.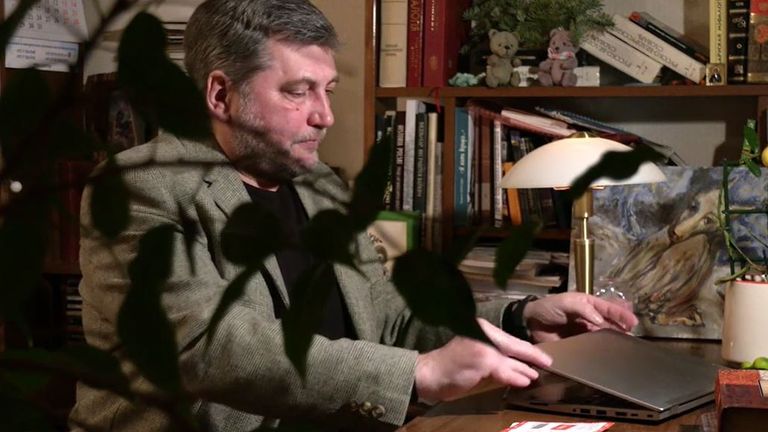 Mr Bastunets says: "Sometimes we wondered: 'Does the society support us? Does the society value freedom of speech as much as we do?'
"Now we have seen that it does. People come into the streets to support journalists and we feel their support.
"Freedom of speech is not only a fundamental human right, but it is also a criterion to judge the observance of other human rights."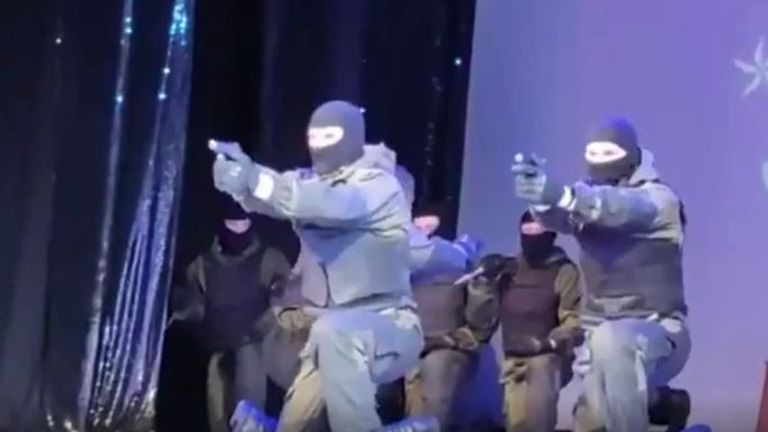 The Belarusian democratic opposition are readying themselves for spring. That is when protests are expected to kick-start again, on 25 March which is the non-official Day of Independence or Freedom Day.
The brutality meted out on peaceful protestors since last August's election will resume. The persecution of journalists is not letting up. But it has made many even more determined.
"Katya and Darya were prosecuted for telling the truth and the authorities are afraid of the truth, so we have to provide them with more truth and more facts," says Mr Ilyash.
"For the authorities, this could be a lethal weapon so we must bombard them with the truth until this horrible, tyrannical regime falls."
COVID-19: How European nations are trying to plot route out of lockdown | World News
The details of England's route out of lockdown were revealed this week but how are European countries doing?
Germany
Chancellor Angela Merkel has told politicians in her conservative party that the country is in a third wave of the coronavirus pandemic, two sources at the meeting told Reuters.
And she warned that any easing of lockdown measures introduced late last year and extended until 7 March would have to be done carefully and gradually.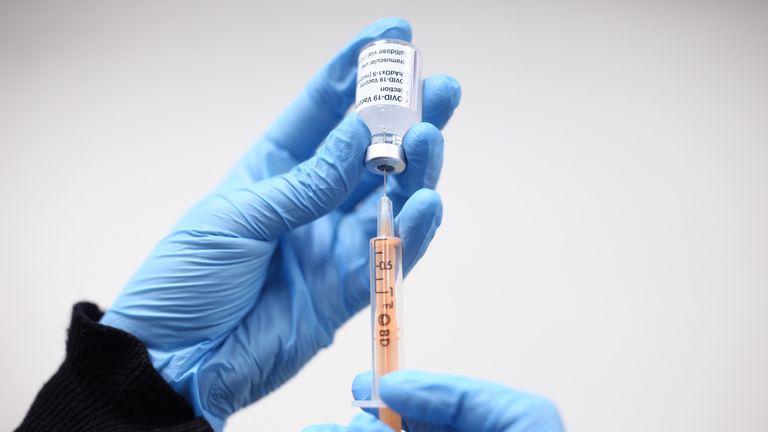 The German government is reworking its strategy to vaccinate the nation against COVID-19 as its campaign has faltered due to a lack of supply and public resistance to the Oxford/AstraZeneca shot.
That vaccine has met resistance in Germany and other European countries after some trials showed it to be less effective than alternatives from Pfizer and Moderna.
But research from Scotland said that four weeks after receiving the initial dose, the Oxford/AZ jab appeared to reduce a person's risk of hospital admission by 94%.
German leaders have launched a public relations push to reassure the public that the Oxford/AZ shot works, and teachers will now get priority access to the vaccine.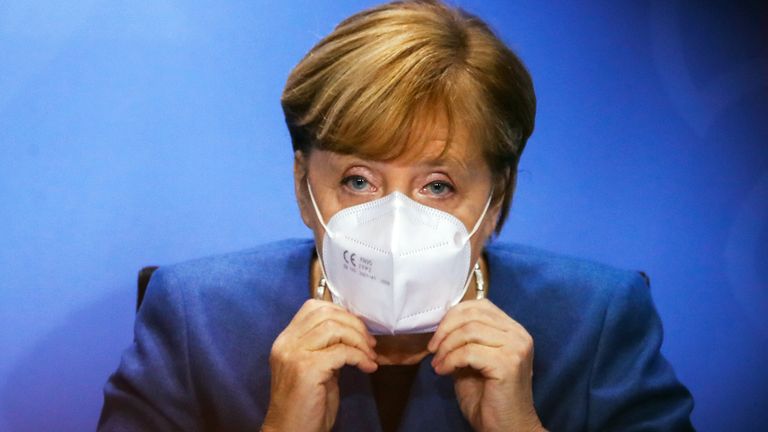 Schools have reopened for younger pupils in more than half of the 16 states after two months of closure.
However, the decline in new cases is flattening in some states and in some others the growth in new cases is increasing.
Germany's disease control agency said there were 4,369 newly-confirmed cases and 62 deaths in the past day, though Monday's numbers are often low due to reporting delays over the weekend.
Germany has also extended checks at its borders with the Czech Republic and Austria's Tyrol province until 3 March.
The restrictions were introduced on 14 February to limit the spread of coronavirus variants in those areas. The only people allowed over the borders are Germans and German residents, truck drivers, health workers and a few others but all have to show a negative COVID-19 test.
But the European Commission has given Germany – along with Belgium, Denmark, Finland, Hungary and Sweden – 10 days to justify their border closures which justice commissioner Didier Reynders said had "gone too far".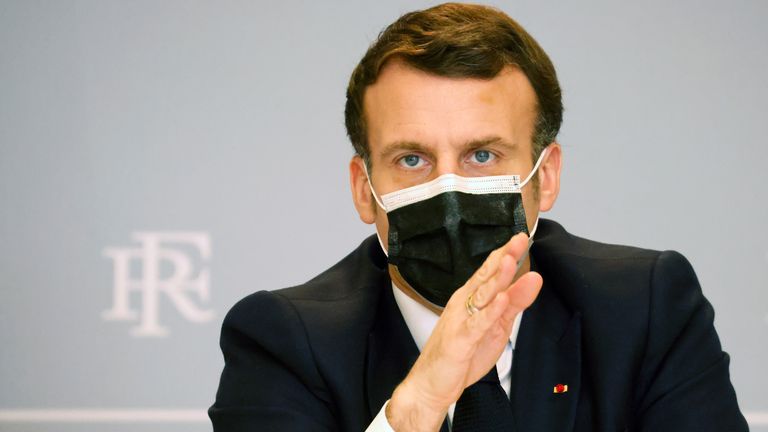 France
The Alpes-Maritimes region, which includes the towns of Nice and Cannes, is adding daytime weekend lockdowns to its 12-hour nightly curfew which has been in force nationwide since January.
For at least the next two weekends, most people will only be allowed to leave home for food, medical appointments, to walk pets or for one hour of physical exercise.
Meanwhile, Dunkirk's mayor has urged a ban on public gatherings there until at least mid-March as the area grapples with one of the highest coronavirus infection rates in France.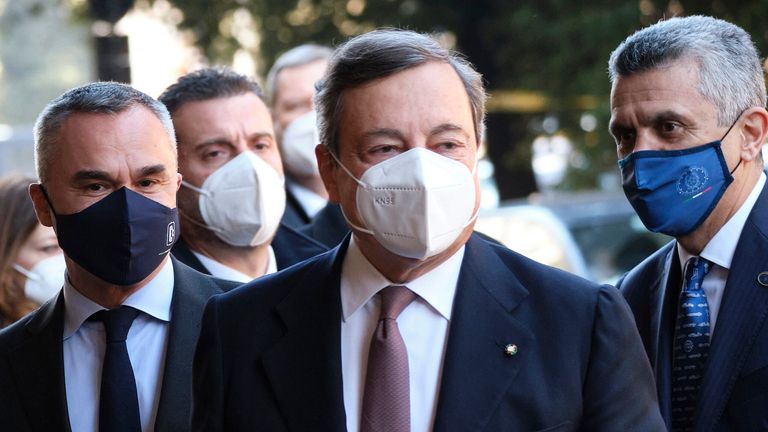 Italy
The Italian government has extended a ban on non-essential travel between the country's 20 regions until 27 March as it looks to slow the spread of highly contagious coronavirus variants.
Officials also said the health ministry was likely to accelerate vaccination efforts by telling regions to use all available doses rather than set aside some stock for second shots.
The ban on travel between regions was introduced just before Christmas and had been due to expire on 25 February but officials fear a relaxation of restrictions could lead to a new surge in cases, driven by the variant first detected in the UK.
In its first decisions on COVID-19, Prime Minister Mario Draghi's new cabinet also extended restrictions on visiting family and friends, with no more than two adults allowed into another person's home at the same time.
Spain
The head of Spain's health emergency coordination centre Fernando Simon has warned restrictions should not be loosened.
Infections, deaths and hospitalisations have fallen and more than one million people are fully vaccinated, so some regional governments have reopened bars and restaurants, reduced curfews or allowed small gatherings of people.
Portugal
While the number of COVID-19 infections in Portugal is falling, hospitalisations and intensive care cases are declining far more slowly.
The national lockdown, which was put in place on 15 January, shutting non-essential services and schools, is expected to stay until at least the end of March.
Portugal, a nation of just over 10 million people, faced its toughest battle against the coronavirus pandemic last month and for weeks it had the world's worst surge.
The nightmare has eased due to the lockdown, with daily case and death tolls falling rapidly to just 63 deaths and 1,032 new cases on Tuesday – levels last seen in October when businesses were still open.
But the number of people in hospital remains around double the level authorities say must be reached to alleviate measures.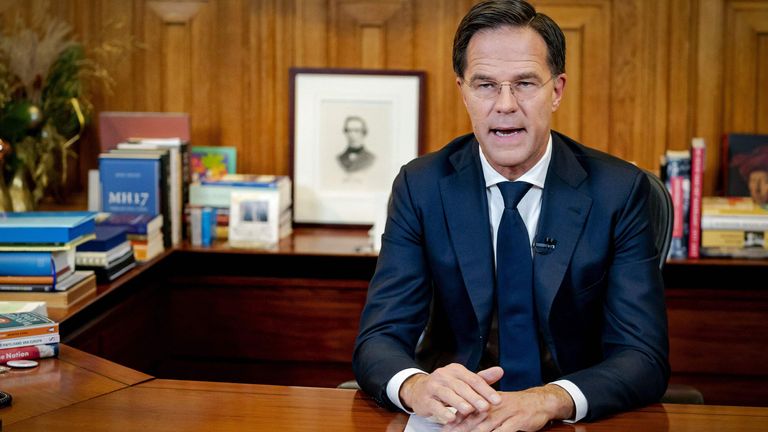 The Netherlands
Prime Minister Mark Rutte is expected to extend the country's coronavirus curfew and gradually relax other lockdown measures.
Like most other countries in the region, he is trying to balance fears of a resurgence with growing lockdown fatigue.
New infections have been dropping for weeks after lockdown was tightened in mid-December.
Mr Rutte is expected to allow high schools to reopen for a limited number of hours and to allow hairdressers to reopen next week. But non-essential shops, restaurants and bars are expected to remain closed except for takeaways.
Poland
Quarantine requirements for incoming travellers were lifted for those who have certificates saying they have been vaccinated with an EU-approved vaccine.
There is also an exemption from the 10-day quarantine for kindergarten children, primary school pupils and those taking care of them, as well as researchers.
New regulations published on Monday also allow people to visit health spas with a negative test no more than six days previously.
Disha Ravi: Indian climate activist granted bail 10 days after being detained over farmer protests | World News
An Indian climate activist has been granted bail, 10 days after she was detained on sedition charges for allegedly creating and sharing a document on social media supporting farmer demonstrations.
Disha Ravi, 22, is part of the Indian wing of Fridays for Future, a global climate change movement founded by Swedish teenage climate activist Greta Thunberg.
Ms Ravi was arrested on 13 February at her home in the southern city of Bengaluru by New Delhi police – which sparked further protests as supporters called it "an unprecedented attack on democracy".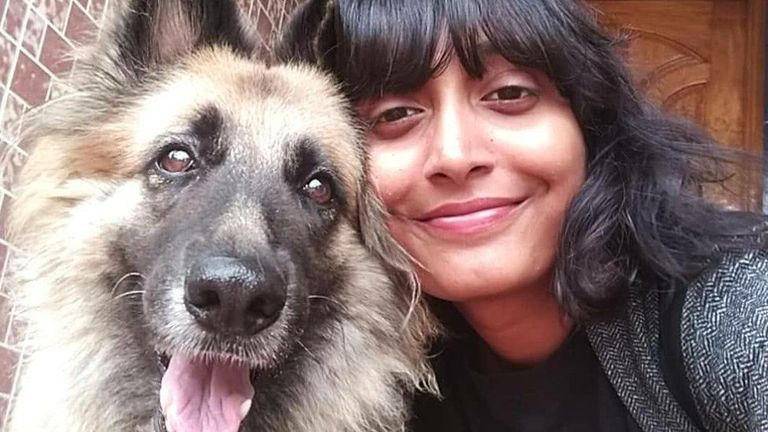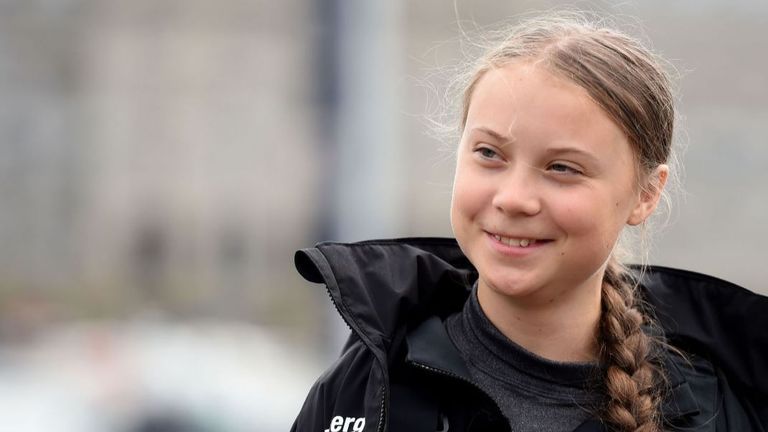 Officers who detained Ms Ravi for questioning said she was a "key conspirator" in the "formulation and dissemination" of a protest document, which the authorities are calling a "tool kit".
They said the document, which was shared by Ms Thunburg on Twitter, spread misinformation about the months-long protests by farmers and "tarnished the image of India".
The document is part of a police investigation into how a group of farmers stormed New Delhi's historic Red Fort complex on 26 January, in one of the few violent incidents in otherwise peaceful protests.
Tens of thousands of farmers have camped outside New Delhi for four months – in one of the biggest demonstrations in the world – to protest against new agricultural laws they say will devastate their livelihood.
The protests have posed a major challenge to prime minister Narendra Modi's Hindu nationalist government, which says the laws are needed to modernise Indian farming.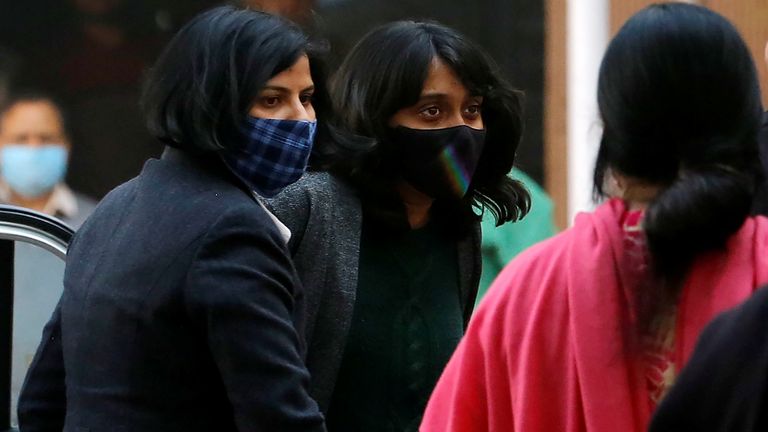 Police said the document Ms Ravi shared on social media indicated there was a "conspiracy" behind the violence in which one protester was killed and hundreds of police and demonstrators were injured.
But last week a judge, hearing Ms Ravi's bail plea, called the police accusations "conjecture" after her lawyer argued that the "tool kit" was just a "resource document" that social activists often use for campaigning, and made no mention of violence or incited any.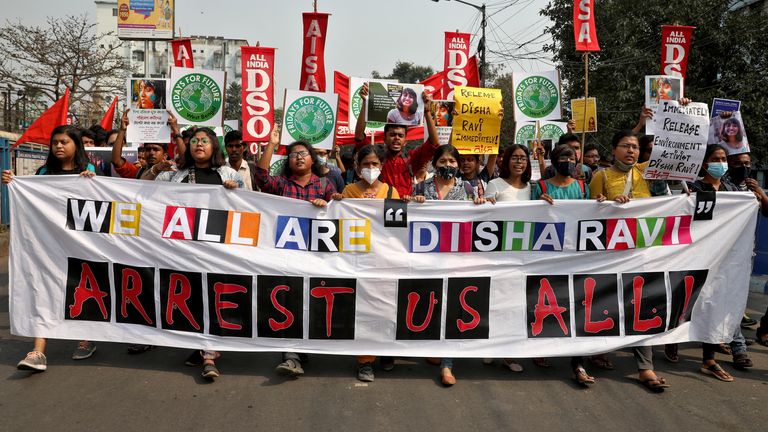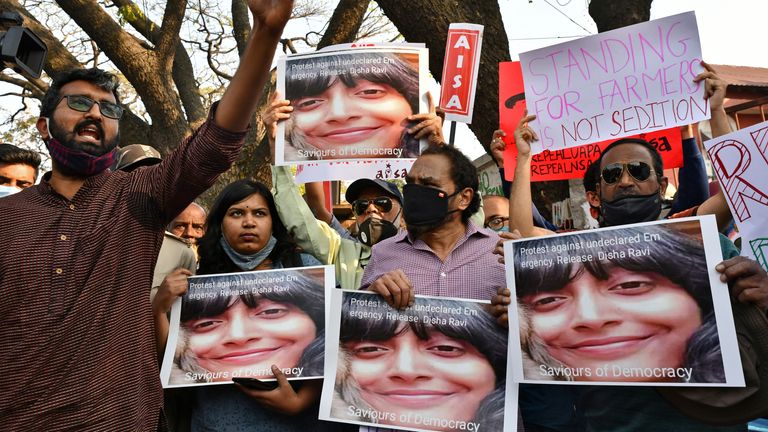 The case drew widespread condemnation in India and overseas – with critics and opposition parties saying her case highlights a growing crackdown on dissent under Mr Modi's government.
Ms Ravi's arrest came days after the government ordered Twitter to block certain accounts and charged journalists with sedition – a charge punishable by life in prison.