IOC decides not to lift Russian ban at Pyeongchang Winter Games
The International Olympic Committee has voted unanimously against lifting the ban of Russia from the Pyeongchang Winter Games.
It means the 168 athletes competing as "Olympic Athletes from Russia" (OAR) will not be able to march under their country's flag at Sunday's closing ceremony.
IOC President Thomas Bach said a condition of Russia's ban being lifted is that no further positive drug tests come out of Pyeongchang.
:: Did the 'Peace Olympics' bring harmony?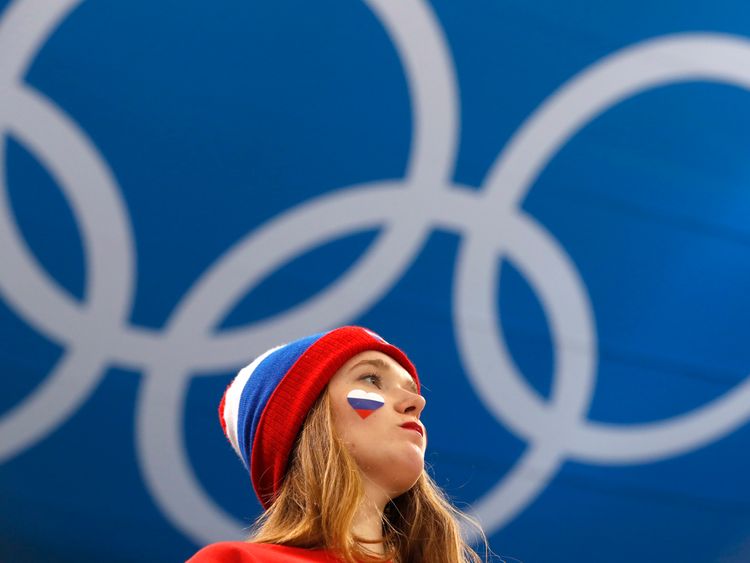 Two of the four athletes who tested positive in Pyeongchang were Russian, including a curler who had to return his bronze medal.
"The IOC executive board decided first not to lift the suspension of the Russian Olympic Committee for the closing ceremony," Mr Bach said.
"Therefore, no delegation of the Russian Olympic Committee will have taken part in these Olympic Winter Games."
Russia was banned in December from taking part in Pyeongchang following revelations of widespread doping at the 2014 Sochi Games.
But 168 athletes deemed doping-free were allowed to compete as neutrals at this year's Games.
Sky News Asia Correspondent Katie Stallard-Blanchette said that while Russian athletes will appear in neutral uniforms today, they will likely soon compete under the national banner if no further doping charges are found.
"Despite the fact that two Russian Athletes appear to have been caught doping at these winter Olympics, it looks very much that shortly Russia will be back in Olympic competition," she said.
:: After the Olympics: What now for UK sport funding?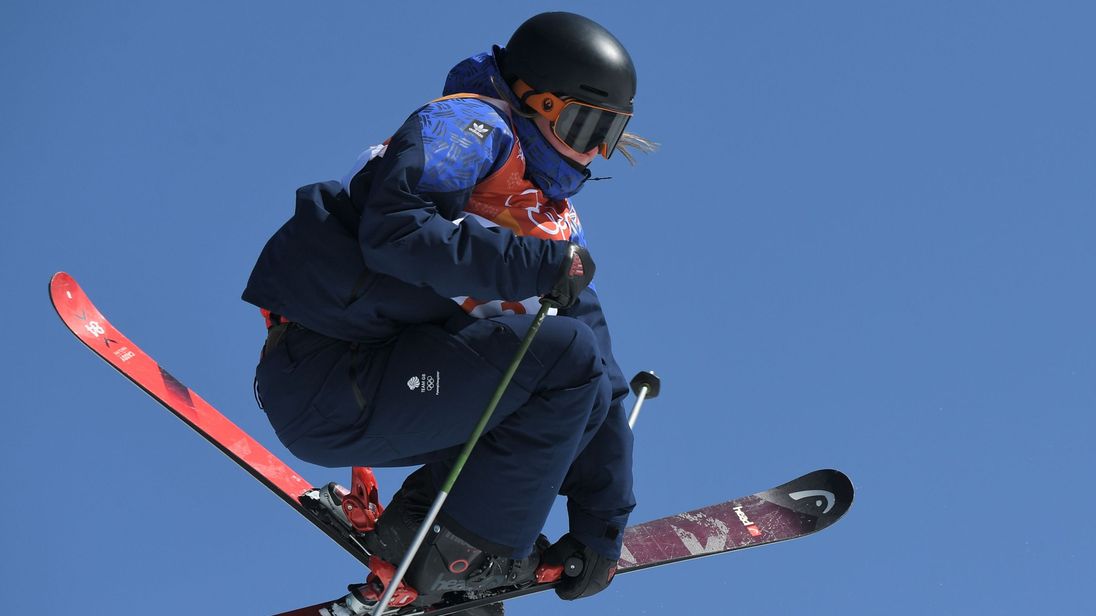 IOC member Nicole Hoevertsz from Aruba and head of the Russia implementation group said the Russian delegation met many of the criteria required for reinstatement during the Olympics.
However, he said the two failed drug tests were too much.
"Despite a good collaboration from the OAR delegation to respond to these (doping) cases in a prompt and transparent way, the implementation group was convinced that these cases caused significant concern," Mr Hoevertsz said.
The final drug testing results might not be known for several days or even weeks.
"I'm very disappointed," said Elena Valbe, president of the Russian cross-country skiing federation.
"Some athletes stayed behind later with the hope that they would be walking under the Russian flag. I've heard athletes say that they were staying just because they wanted to walk with the flag and in our uniform."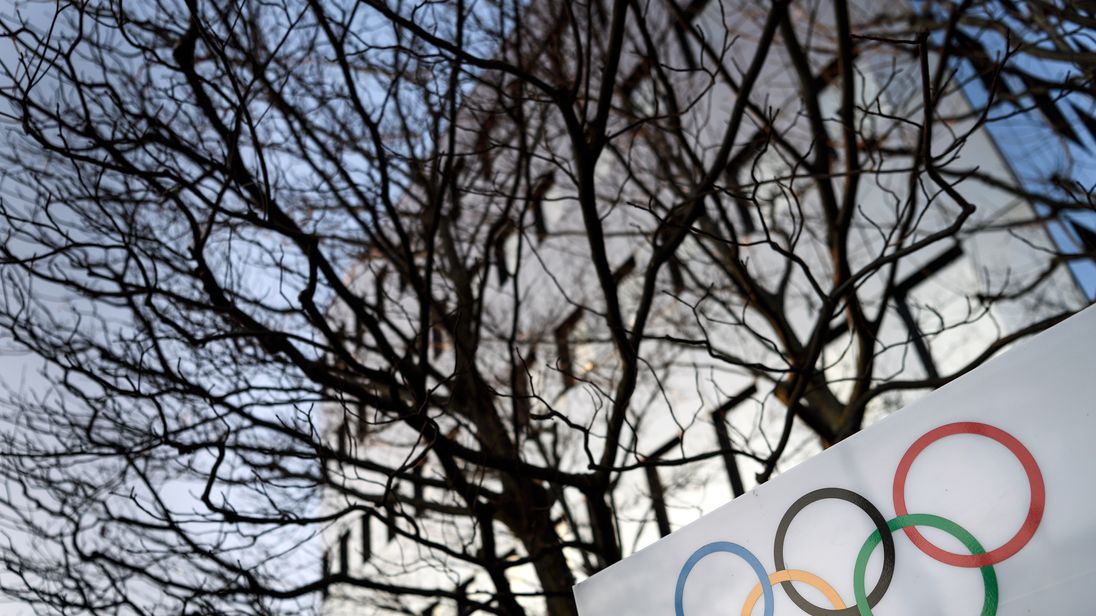 Meanwhile, a high-level delegation of North Korean officials has arrived in Pyeongchang to attend the closing ceremony later.
North Korean officials were not expected to travel to the Games until Kim Jong Un announced on New Year's Day that he wanted to send a team.
Ivanka Trump, the US President's daughter, will also attend the closing ceremony after two days of visiting venues and meeting American athletes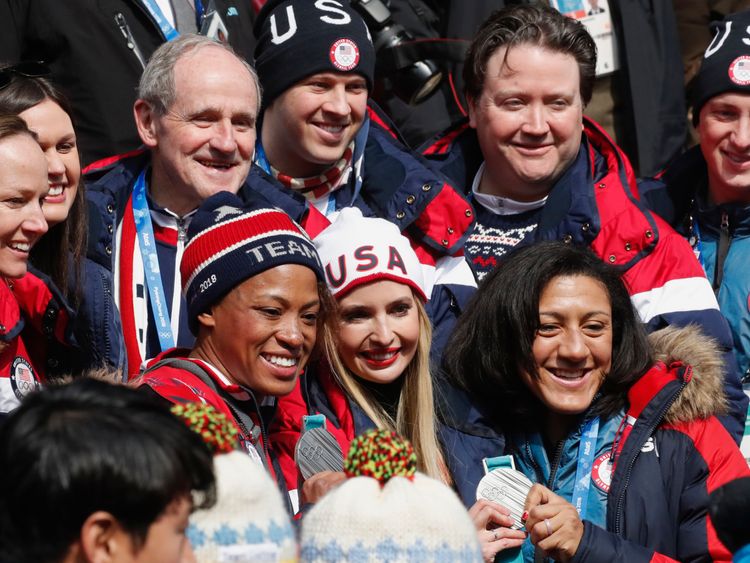 "I'm so excited to be here. It's just so incredibly inspiring," she said.
"It's been an amazing couple of days, and such an honour and privilege to be here with our allies in South Korea and celebrate all that we've accomplished as a culture, a society economically and, of course, in sport."
Claude Monet painting from famed Water Lilies series to go under hammer for around £29m | Ents & Arts News

A "monumental" painting by Claude Monet from his celebrated and famed Water Lilies series is to go on sale at auction in New York for around $40m (£29m).
Le Bassin aux Nympheas is "among the most iconic and celebrated Impressionist images", according to Sotheby's.
The 40in x 79in work was painted from 1917-19 and will be part of the Impressionist & Modern Art Evening Sale on 12 May.
Before that it will go on view in Taipei, Taiwan, on 26 April and will return to Sotheby's in the US city for exhibition by appointment from 1 May.
The piece is part of the Grandes Decorations series of paintings depicting Monet's water lily pond at Giverny, France, which he began in 1914.
The series was ground-breaking in its nearly abstract treatment of the pond water's surface and its reflections.
It took Monet's paintings of the tranquil lily pond in a radical new direction, and the works were twice the size of his earlier Water Lilies.
The late works are considered an important bridge between Impressionism and Abstract Expressionism, as practised several generations later by artists such as Jackson Pollock and Mark Rothko.
Julian Dawes, from Sotheby's New York, said: "Claude Monet is among the most well-known and beloved artists of all time, and Le Bassin aux Nympheas represents a quintessential example from his celebrated and famed Water Lilies series.
"Sotheby's has an exceptional history as the house for Monet, including holding the artist's record at auction from our sale of Meules in 2019 for $110m.
"And we are extremely excited to bring such an illustrious picture to market for the first time in nearly two decades.
He added: "As a remarkable example of Monet's late period works from his cherished home at Giverny, this monumental painting beautifully encapsulates how Monet's oeuvre evolved over time from his Impressionist breakthroughs to a more abstract focus with his preoccupation of his pond and water lilies.
"From this perspective, this work opens a whole new window on to how Monet would influence later generations of artists who expanded on his radical concepts into full abstraction, and set the stage for a new artistic movement that would take the world by storm.
"After remaining largely absent from the very top end of the market in 2020, we are thrilled to see Monet take centre stage once again through this exceptional painting in our May Evening Sale."
COVID-19: Half of all adults in the US have received at least one coronavirus jab | US News

Half of all adults in the US have received at least one COVID-19 jab, according to new figures.
Almost 130 million people aged 18 or older have received at least one dose of a coronavirus vaccine, or 50.4% of the total adult population.
The Centers for Disease Control and Prevention (CDC) also said almost 84 million adults, or about 32.5% of the population, have had two vaccine doses.
The US cleared the 50% mark just a day after the reported global death toll from the coronavirus topped three million, according to the Johns Hopkins University, though the actual number is believed to be significantly higher.
The country's vaccination rate, at 61.6 doses administered per 100 people, currently falls behind Israel, which leads among countries with at least five million people with a rate of 119.2.
It also trails the United Arab Emirates, Chile and the UK, which is vaccinating at a rate of 62 doses per 100 people, according to Our World in Data.
The US states with the highest vaccination rates have a history of voting Democratic and supporting President Joe Biden in the 2020 election: New Hampshire at the top, with 71.1%, followed by New Mexico, Connecticut, Massachusetts and Maine, CDC data shows.
The demand has not been the same in many areas of Tennessee – particularly rural ones.
A poll conducted in March found that 36% of Republicans said they will probably or definitely not get vaccinated, compared with 12% of Democrats.
Similarly, a third of rural Americans said they were leaning against getting jabs, while fewer than a fourth of people living in cities and suburbs shared that hesitancy.
Meanwhile, Dr Anthony Fauci, the nation's top infectious disease expert, has indicated the government will likely resume use of Johnson & Johnson's COVID-19 vaccine this week.
Dr Fauci said he expects a decision when advisers to the CDC meet on Friday to discuss the pause in J&J's single-dose vaccine.
The vaccine was thrown into limbo after the CDC and the Food and Drug Administration said last week that they needed more evidence to decide if a handful of unusual blood clots were linked to the shot.
Alexei Navalny's doctors denied access to him in jail amid fears he 'could die at any moment' | World News
Alexei Navalny's doctors say they have been denied access to him in jail, as his health is thought to be deteriorating severely while he remains on hunger strike.
The Russian opposition leader's physician, Yaroslav Ashikhmin, and head of the Alliance of Doctors union, Anastasiya Vasilyeva, said they spent two hours outside the prison in Pokrov but were not allowed to see him.
Mr Ashikhmin said Navalny could be on the verge of death, as latest test results show extremely high potassium levels, which put him at risk of cardiac arrest.
The physician also says he has high creatinine levels, which suggest his kidneys are damaged.
"Our patient could die at any moment," he wrote on Facebook.
Ms Vasilyeva called his treatment in jail "cruel and monstrous" and she demanded "action must be taken immediately" to address his condition.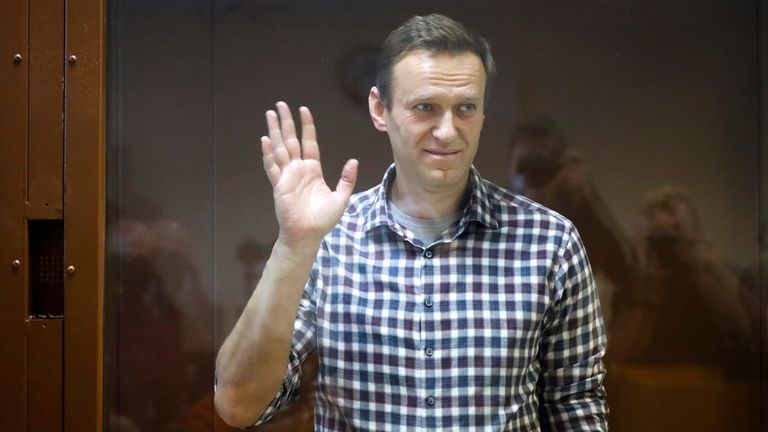 Navalny's allies are planning what they hope will be the largest street protests in modern Russian history to highlight the Kremlin critic's declining health and a crackdown on his supporters.
"Things are developing too quickly and too badly," they wrote in a statement on Mr Navalny's website.
"We can no longer wait and postpone. An extreme situation demands extreme decisions."
The protests, which the authorities regard as illegal and have broken up with force in the past, are planned for Wednesday – the same day as president Vladimir Putin gives an annual state-of-the-nation speech.
Mr Navalny, a fierce opponent of Putin, started refusing food on 31 March in protest at what he said was the refusal of prison authorities to provide him with adequate medical care for acute back and leg pain.
Russia's state penitentiary service claims the 44-year-old is getting all the care he needs.
But his allies say he has lost 15kg (33lbs) since being held at penal colony number two in Pokrov, 60 miles from Moscow.
Prison staff have been threatening to force feed him, they claim.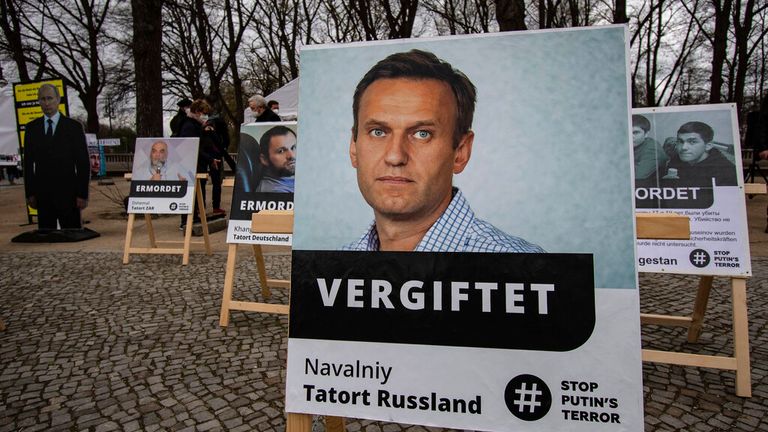 A spokesman for the UK's Foreign Office said: "Mr Navalny must be given immediate access to independent medical care.
"We reiterate our call for his immediate release from his politically motivated imprisonment."
US president Joe Biden said of Mr Navalny's deteriorating condition: "It's totally, totally unfair and totally inappropriate. On the basis of having the poison and then on a hunger strike."
A Foreign Office spokesperson said the UK was "deeply concerned" by the reports.
"Mr Navalny must be given immediate access to independent medical care. We reiterate our call for his immediate release from his politically motivated imprisonment," the spokesperson said.
A statement from the EU said it was "deeply concerned" about the situation.
"We call on the Russian authorities to grant him immediate access to medical professionals he trusts.
"The Russian authorities are responsible for Mr Navalny's safety and health in the penal colony, to which we hold them to account."
Mr Navalny was detained in January as he returned to Russia from Germany, where he spent five months recovering from a nerve agent poisoning.
He has blamed the Kremlin for targeting him with novichok – the same poison used on the Skripals in Salisbury – an allegation that Russian authorities reject.
Mr Navalny was jailed in February for two years and eight months for parole violations he says were exaggerated for political purposes.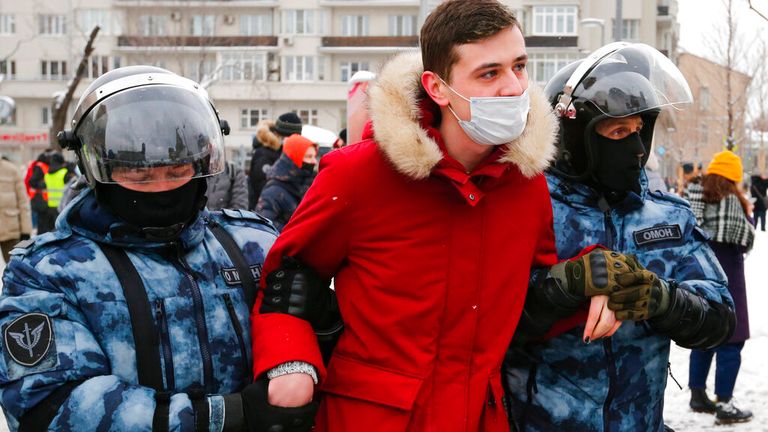 Desperate measures for desperate times
Analysis by Moscow correspondent Diana Magnay
Alexei Navalny's team have done their best to keep his name in the focus even if he is behind bars.
It is difficult to gauge his medical condition given the lack of access and thus the claim he is at death's door.
If he starves himself to death in prison in defence of his rights – the right to have his own doctor in to see him – it will be on the Kremlin's conscience but at his hand.
Having survived so much it would seem a futile way to go. But his team are also savvy at making headlines, announcing another nationwide demonstration this coming Wednesday given what they say is his critical state.
Desperate measures for desperate times.
The scale of the turnout will be a mark of whether they can keep the protest momentum strong with its figurehead behind bars and physically at least extremely weak.