Democratic rebuttal to GOP FISA memo sparks reactions from politicians
The House Intelligence Committee on Saturday released a long-anticipated Democratic rebuttal that attempts to dismantle claims made in a GOP memo alleging the government used improper surveillance tactics during the 2016 presidential campaign.
The rebuttal claims that officials at the FBI and Justice Department "did not abuse the Foreign Intelligence Surveillance Act (FISA) process, omit material information, or subvert this vital tool to spy on the Trump campaign."
The Democratic rebuttal backed the FBI and DOJ in its pursuit of the FISA warrant, saying that the agencies "would have been remiss in their duty to protect the country had they not sought a FISA warrant and repeated renewals to conduct temporary surveillance of Carter Page, someone the FBI assessed to be an agent of the Russian government."
They added that the DOJ met the "rigor, transparency, and evidentiary basis" needed to meet FISA's probable cause requirement.
The GOP memo, released in early February, asserted that the FBI and DOJ relied on a Democrat-funded anti-Trump dossier to ask the FISA court for a warrant to monitor Page, a one-time adviser to President Donald Trump. They also claimed that the agencies left out the DNC's funding of the dossier and the anti-Trump motivations of author Christopher Steele, a onetime British spy, in its request for a warrant.
The Democratic memo was voted out of committee earlier this month but a redrafting was ordered after the White House demanded that sensitive information be stripped out before the document be made public. The Justice Department and FBI claimed the initial draft would reveal information about sources and methods, ongoing investigations and other sensitive information.
President Trump tweeted following the rebuttal memo's release, calling it "a total political and legal BUST."
He added: "Dem Memo: FBI did no disclose who the client were – the Clinton Campaign and the DNC. Wow!"
Here are some other reactions to the memo:
White House
White House Press Secretary Sarah Sanders calls the rebuttal a "politically driven document" which "fails to answer serious concerns raised by the Majority's memorandum about the use of partisan opposition research from one candidate, loaded with uncorroborated allegations, as a basis to ask a court to approve surveillance of a former associate of another candidate, at the height of a presidential campaign."
Rep. Adam Schiff, D-Calif.
Ranking Democrat Adam Schiff, who spearheaded the rebuttal's release, said it should "put to rest" any concerns about conduct by the intelligence agencies. Along with a copy of the memo, he tweeted Saturday: "Some time ago, Republicans on our committee released a declassified memo that omitted and distorted key facts in order to mislead the public and impugn the integrity of the FBI. We can now tell you what they left out."
In a follow-up tweet, Schiff responded to Trump's comment about the memo confirming "all of the terrible things that were done."
"Wrong again, Mr. President," Schiff said. "It confirms the FBI acted appropriately and that Russian agents approached two of your advisors, and informed your campaign that Russia was prepared to help you by disseminating stolen Clinton emails."
Rep. Devin Nunes, R-Calif.
House Intelligence Committee chairman Rep. Devin Nunes, D-Calif., who spearheaded the release of the GOP memo, said in a statement that Americans "now clearly understand that the FBI used political dirt pair for the by Democratic Party to spy on an American citizen from the Republican Party."
"Furthermore, the FISA court was misled about Mr. Page's past interactions with the FBI in which he helped build a case against Russian operatives in America who were brought to justice," Nunes said. "It defies belief that the Department of Justice and the FBI failed to provide information to a secret court that they had provided to an open federal court regarding their past interactions with Mr. Page."
Sen. Dianne Feinstein, D-Calif.
Sen. Dianne Feinstein, D-Calif., tweeted that "the Schiff memo is a well-considered rebuttal to the misinformation in the Nunes memo," which she added, "shouldn't have seen the light of day."
Sen. Chuck Schumer, D-N.Y.
Senate Minority Leader Chuck Schumer said the Democratic memo indicated "that Chairman Nunes cherry-picked and distorted information from sensitive inteligence to sow discord and undermine" the FBI. 
"By initially delaying the release of hte memo, the president purposefully silenced any Democratic rebuttal to the fabricated conspiracy theories pushed by Chairman Nunes," he added. "Obviously, there is something the president is afraid of."
Rep. Nancy Pelosi, D-Calif.
House Minority Leader Rep. Nancy Pelosi, D-Calif., in a statement said the Democratic response "helps set the record straight on Republicans' attempts to obstruct the investigation into the Trump-Russia scandal."
She added that it was "imperative" for lawmakers on the other side of the aisle to "end their political charades" and said Congress needed to "take real action to investigate the Russian attacks on our democracy."
Sen. Mark Warner, D-VA
Sen. Mark Warner, D-VA, called the FBI's actions "fully appropriate and entirely lawful" and said it was "deeply unfortunate that House Republicans decided to the release classified information in order to mislead the American people for partisan political purposes."
"Now that the Nunes memo has been thoroughly debunked, the White House and its allies in Congress must put a stop to the dangerous partisan sideshows that jeopardize classified sources and methods and focus on Russia's unprecedented interference in our election."
Fox News' Adam Shaw, Madeline Farber and Kaitlyn Scallhorn contributed to this report.
Gender gap: Ageing societies give more advantages to men than women, researchers say | World News
Men have more advantages than women in ageing populations, an international study has found.
Researchers say the gender differences in societal ageing suggest men have better resources to cope with the challenges of getting older.
Different gender roles within society not only shape women's and men's life opportunities but also their experience of ageing, the research suggests.
Worldwide, the number of people aged 65 years and older is expected to more than double in the next 30 years, rising from 703 million in 2019 to 1.5 billion in 2050.
Age UK on difficulties facing elderly after lockdown

The study, by researchers from the National University of Singapore and Columbia University in America, found men are especially advantaged when it comes to income and wealth.
They are more likely to be financially secure, have paid work and spend fewer years in ill-health than women in later life.
The first of its kind, the research investigated gender differences in the experience of people growing older in 18 countries in the Organisation for Economic Cooperation and Development (OECD), which includes the likes of the UK and the US.
Women across the countries analysed were shown to have a three year longer average life expectancy than men, but spend more years in poor health.
They are also more likely to live alone at the end of their lives and earn less than men.
A disproportionately greater risk of disability and ill-health in women increased their likelihood of needing long-term care, the study found, as well.
Researchers used the latest data from the OECD and World Bank between 2015 and 2019 for 18 of the 35 OECD countries with sufficient data to develop a gender-specific ageing index.
The new index accounts for five categories that capture social and economic factors affecting the quality of ageing: wellbeing, productivity and engagement, equity, cohesion and security.
Using the system, researchers calculated the overall index and individual category scores that range from 0 to 100 for men and women.
A higher score suggests a successfully ageing society.
Key differences between men and women in ageing societies according to the study:
Men have better resources to cope with the challenges of ageing
Women have a three year longer average life expectancy than men
Men are especially advantaged when it comes to income and wealth
Women spend more years in poor health
Men are more likely to be financially secure
Women have a greater risk of disability and ill-health, which increases their likelihood of needing long-term care
Men are more likely to be engaged in paid work
Women are more likely to live alone at the end of their lives
Women earn less than men
Denmark, Sweden, Finland, Norway, the Netherlands and Japan did well for both genders with an overall index score of 66 or above for men and 55 or above for women.
Countries in much of eastern and southern Europe were at the bottom of the rankings.
The UK achieved an overall index score of 57 for men and 47 for women. It also had the largest difference in wellbeing scores between the two genders, with a score of 74 assigned for men and 61 for women.
America's overall performance score was 55 for men and 47 for women.
Both the US and the UK performed poorly in the study, indicating growing inequality in the distribution of income and wealth.
Lead author Dr Cynthia Chen, from the National University of Singapore, said: "Ageing societies reinforce the prevailing gender norms in which men continue to be allocated the majority of opportunities, resources, and social support.
"With the world's population ageing at an unprecedented rate, and the ratio of older women to older men expected to increase, there is an urgent need to challenge the structural and policy biases that favour men."
The authors have suggested four measures to help address gender bias and inequality in societal ageing including assessing minimum income requirements for healthy living in older people and minimum pensions.
The mystery of the whisky bottle, the US secretary of state and the department searching for answers | US News
The US State Department is investigating the apparent disappearance of a bottle of whisky worth nearly $6,000 (£4,320).
The Japanese government gave the bottle to Mr Pompeo in June 2019 when the then-secretary of state visited the country.
The department reported the investigation in its annual accounting of gifts given to senior US officials by foreign governments and leaders.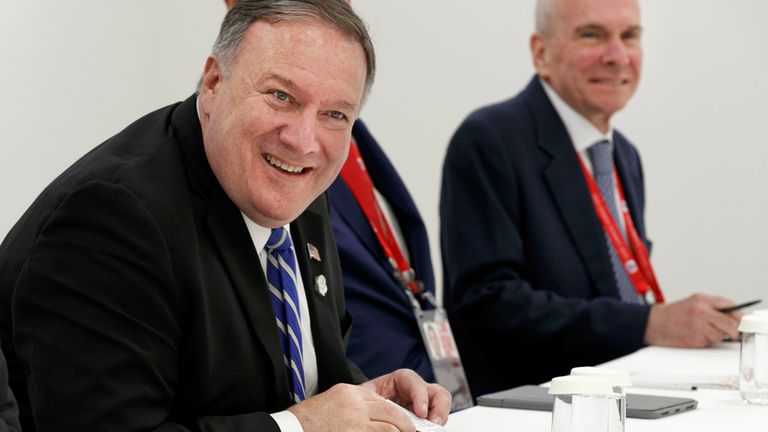 It noted that it could find no trace of the bottle's whereabouts and that there was an "ongoing inquiry" seeking an explanation.
A spokesman for Mr Pompeo said he was unaware of the gift and the inquiry into its whereabouts.
It is thought the bottle of whisky was given to Mr Pompeo while he was attending a G20 summit in Japan, along with then-president Donald Trump.
But the state department's Office of Protocol, which records gifts given to US officials, said that, while every other gift had been recorded, there was no record of the whisky.
If a gift is over a certain value, the recipient can give it to the National Archives or another government entity, or they can keep the gift and reimburse the Treasury Department.
Among the items given to Mr Pompeo during his time as secretary of state were two carpets worth a total of $19,400 (£14,000) from the president of Kazakhstan and the foreign minister of the United Arab Emirates.
Mr Trump and his wife Melania received more than $120,000 (£86,400) worth of presents from foreign leaders in 2019, including an Ottoman Empire rifle worth $8,500 (£6,120) from the Bulgarian prime minister, a bronze sculpture of an Arabian horse from the crown prince of Bahrain worth $7,200 (£5,100), and a statue of an Arabian oryx worth $6,300 (£4,500) from the emir of Qatar.
The Office of Protocol said all of these were given to the National Archives.
Greece wildfires: Families reflect on devastation as homes are destroyed – 'if my mother saw this she would cry' | World News
I spot George Kyriakopolous sitting in his car, the door open to blackened surroundings and smouldering earth.
To his left is his house. To the right, the one owned by his 95-year-old mother and 98-year-old father. His parents' property is burned beyond repair. His own house is badly damaged.
George is a man in shock. He cannot believe what he is seeing. Twenty four hours earlier he was watching a wildfire at what seemed like a distance. In 10 minutes, he says, the fire was upon them in the village of Varympompi, north of Athens.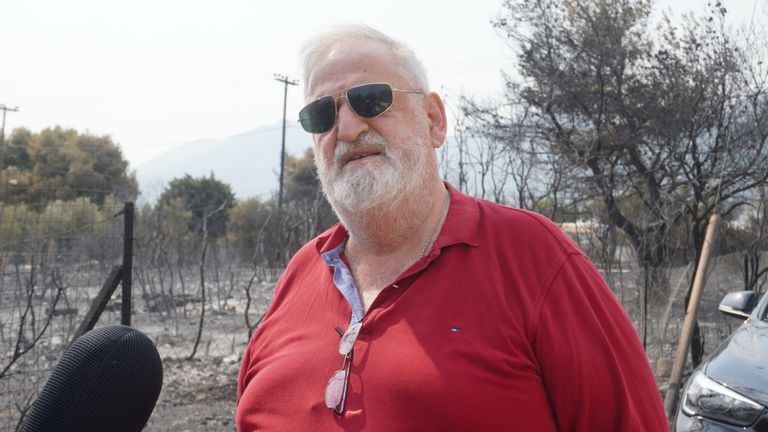 He tells me they had to drive through the flames to get out. He is one of the few residents here who have made it back to check on their properties.
George tells me: "If my mother saw this she would cry. She would cry."
And I think any of us would. Homes that have been lived in and cherished for years were destroyed in minutes. Land cultivated through hard work, now scorched.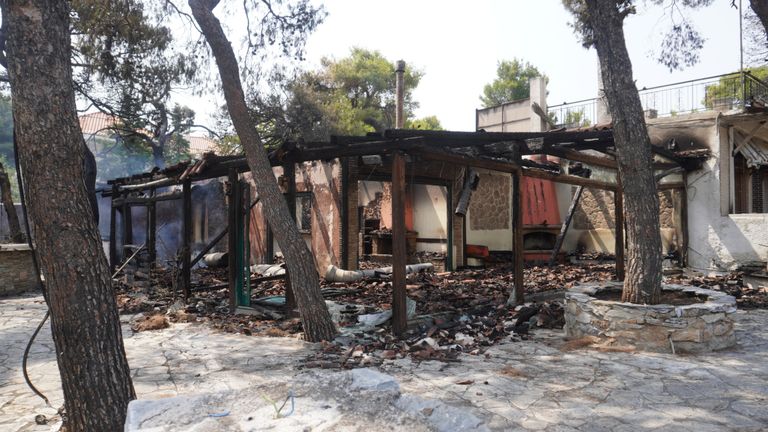 And this scene is repeated in street after street in this village where hundreds were forced to leave as one of the biggest wildfires in Greece this week penetrated Varympompi. Most who live here have not been allowed to return.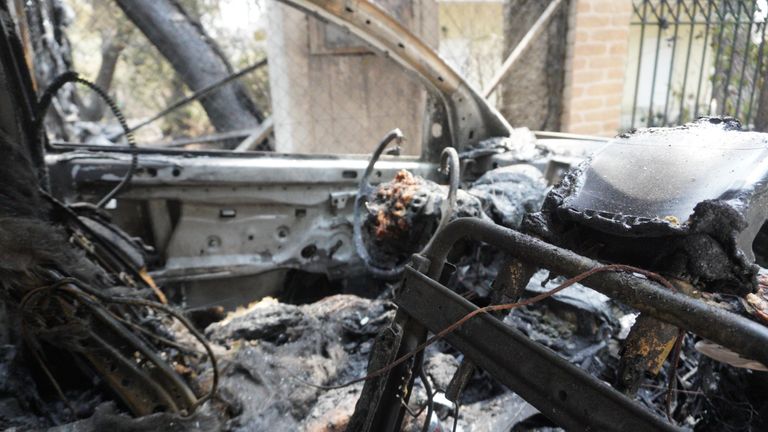 The area is still regarded as extremely dangerous and most residents can only watch the skies from where planes and helicopters dump vast containers of water on the area and hope things will be okay.
Sadly for many of them that will not be the case. Coming back here will be traumatising. It certainly has been for Rula Mantis who shows us around the charred remains of the fruit vegetable store she runs with her boyfriend. So much of it is destroyed and she wonders how they will ever recover.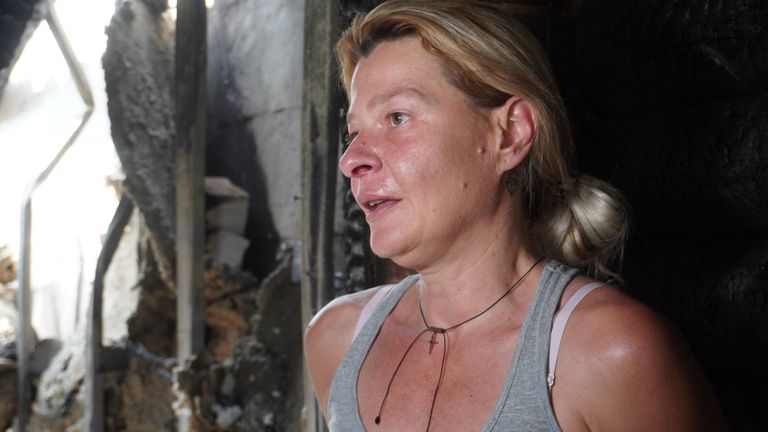 She's angry the property was allowed to burn but understands fire crews faced impossible pressure.
She tells me: "It's very hard. It's a lot of money you have to spend to make this from the beginning. You can't save anything. As you can see, there's nothing left."
The massive flames which lit up the night sky here when the fire reached its peak may have quelled now but the danger for this village isn't over. Everywhere we drive or walk in Varympompi the ground is smouldering.
High temperatures have caused the wildfires in Greece – with people being forced to evacuate their homes

Smoke threatens to ignite into fresh flames which on scorched earth could spread again. It is why residents are taking their fire extinguishers and buckets to douse where they can.
But they know they are up against challenging elements. Temperatures are predicted to remain high in Greece in the days to come when all villagers hope for is rain.
They also know they face the pain of seeing neighbours and friends return to a village where there will be so much pain to confront.