Red Cross and Plan International admit cases of sexual misconduct
More charities have revealed cases of sexual misconduct among staff and associates in the wake of the Oxfam scandal.
The International Committee of the Red Cross confirmed 21 workers had been sacked or resigned from their roles since 2015, after paying for sexual services.
The charity admitted it should have been more vigilant and said it was "deeply saddened".
It comes as children's aid charity Plan International admitted six cases of sexual abuse and exploitation of children between July 2016 and June 2017.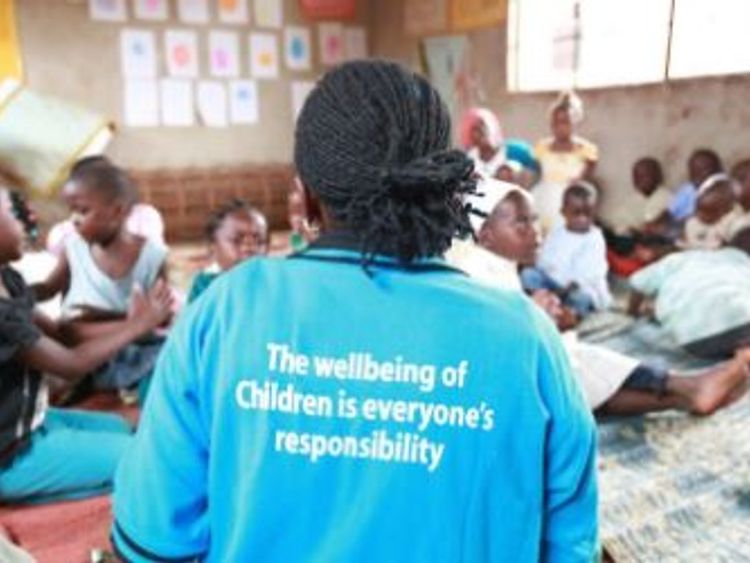 One involved a staff member who was dismissed, the charity said in a statement on its website, while the other five involved volunteers or partner organisations, whose contracts were terminated.
Five of the cases "were of a criminal nature" and were reported to local authorities.
During the same period there were nine incidents of sexual harassment or sexual misconduct by staff on other adults, which led to seven dismissals and two warnings about inappropriate language, the statement said.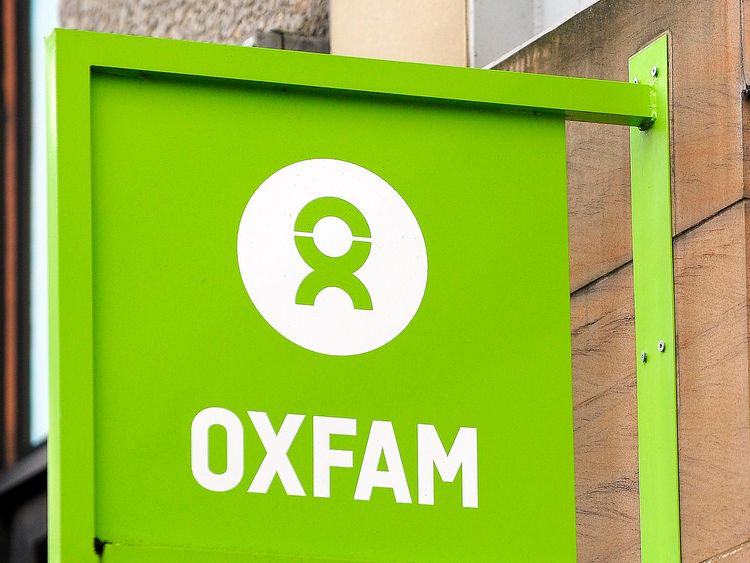 Plan International campaigns for children's rights and provides aid for more than 50 countries to improve access to food, water, shelter and education.
In its statement, first published as a blog post by Plan International UK chief executive Tanya Barron, the charity said: "Sadly, as an aid community, we are not immune from the utterly unacceptable actions of a small number of those who work for and with us."
It added: "The painful but important truth to acknowledge is that sometimes things can go wrong. When they do, we are deeply sorry.
"We are fully committed to efforts among NGOs, government and the United Nations to make sure we do everything within our power to stop abuse, including strengthening our approaches to safeguarding and HR, and creating a culture that encourages staff to speak out."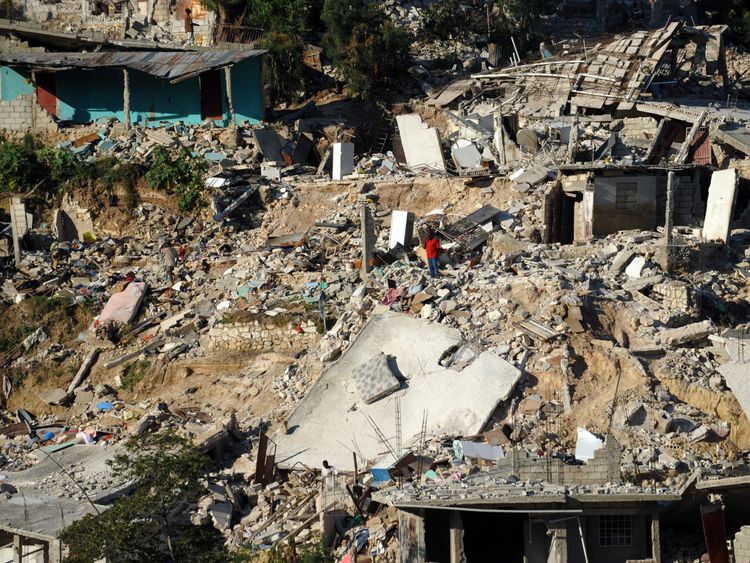 The charity said none of the incidents involved British staff or citizens.
The British Red Cross, in a statement released on Friday, also said there had been no dismissals of British staff working overseas for reasons relating to sexual misconduct in the past five years.
International Red Cross director-general Yves Daccord said he was "deeply saddened to report" the incidents of misconduct.
He said: "This behaviour is a betrayal of the people and the communities we are there to serve. It is against human dignity and we should have been more vigilant in preventing this.
"The ICRC has more than 17,000 staff members worldwide. We are concerned that incidents that should be reported have not yet been reported, or were reported but not properly handled. We are taking action to address this."
The admissions follow a wave of allegations of sex abuse and exploitation involving workers in the charity sector which began when it was claimed Oxfam GB had covered up claims of sexual misconduct by its staff in Haiti.
The charity was hit by allegations senior staff used prostitutes while part of an international response to the devastating earthquake in 2010. Since then, Haiti has suspended Oxfam GB from operating in the country.
Alexei Navalny: Poisoned Putin critic detained after arriving in Moscow | World News
Poisoned Putin critic Alexei Navalny has been detained by police following his return to Russia.
The dissident flew back from Germany where he had been recovering after being exposed to the Soviet-era novichok nerve agent in August.
Sky producer Alina Droyshevskaia was on the Sunday flight and said as passengers left the plane: "All of us expect he is going to be arrested… He's ready to sacrifice himself and basically be arrested. His wife is around him right now."
Just minutes after the plane's arrival, Russia's prison service confirmed Mr Navalny has been detained.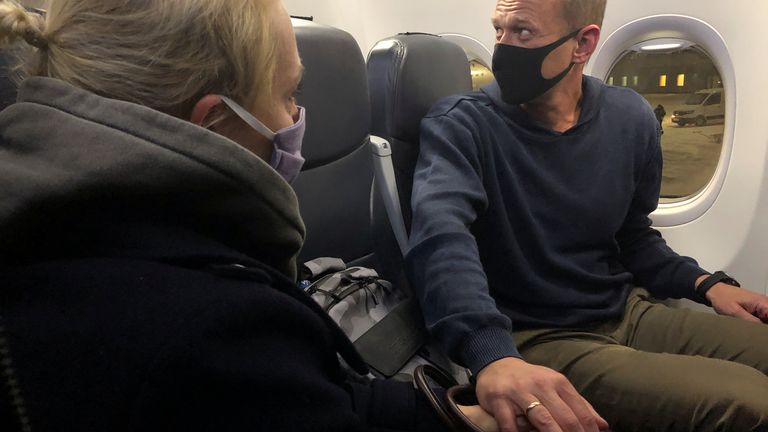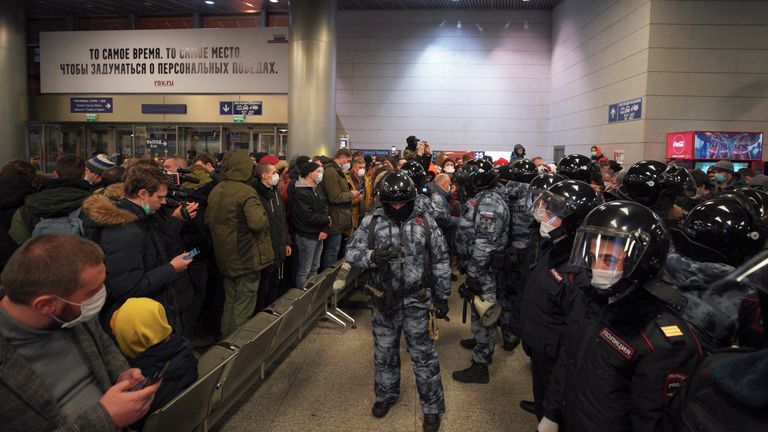 Mr Navalny's flight had been scheduled to land at Moscow's Vnukovo airport but it was later diverted to the city's Sheremetyevo airport, possibly an effort to keep him from the hundreds of supporters at Vnukovo who had come to see him.
Police detained several people at Vnukovo and cleared a crowd out of the terminal. Supporters chanted "Russia will be free!" and "Navalny! Navalny!".
Earlier, after boarding the aircraft in Berlin on Sunday, the Russian dissident had told reporters: "This is the best moment in the last five months. I feel great. Finally, I'm returning to my home town."
He said he did not think he would be arrested, calling himself an innocent person.
"What do I need to be afraid of? What bad thing can happen to me in Russia?" he added. "I feel like a citizen of Russia who has every right to return."
Navalny boards flight from Berlin to Moscow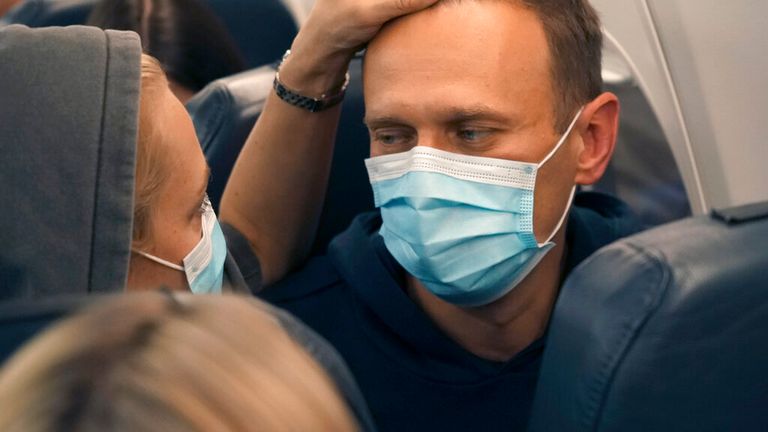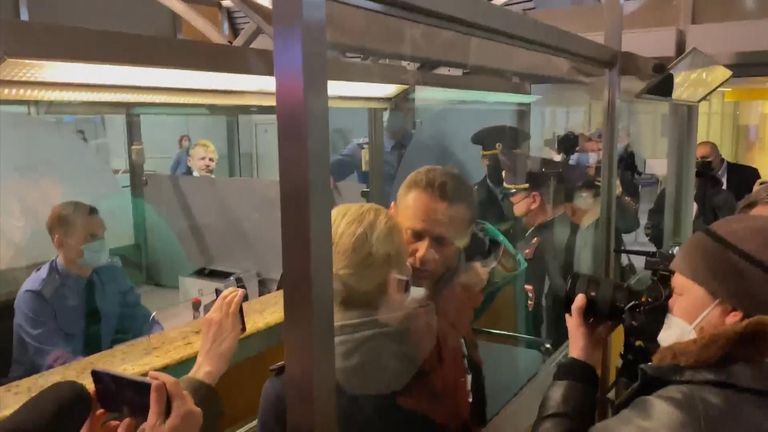 The 44-year-old had said on Instagram: "It was never a question of whether to return or not. Simply because I never left.
"I ended up in Germany after arriving in an intensive care box for one reason: They tried to kill me."
Mr Navalny fell ill on a flight to Moscow from the Siberian city of Tomsk last summer but Russia has denied involvement in the poisoning and has said it has seen no evidence that he was poisoned.
He is on the Federal Wanted List and is implicated in a number of criminal and administrative cases which give law enforcement broad scope to keep him under prolonged investigation.
This would most likely mean he is not around for September's parliamentary elections.
Russia's Federal Penitentiary Service has submitted a request to revoke a three-and-a-half-year suspended sentence which wrapped up in December and jail him instead.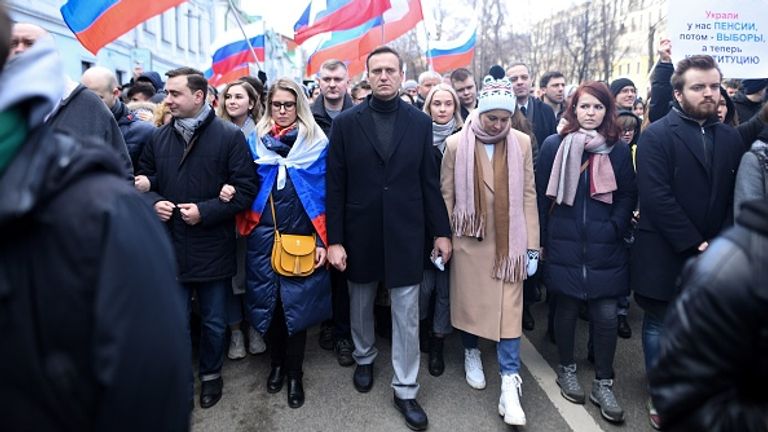 Alexei @navalny has been arrested. His real crime is surviving the assassination attempt Putin's corrupt regime tried on him.

— Tom Tugendhat (@TomTugendhat) January 17, 2021
They say he "systematically and repeatedly violated" the terms of his probation both whilst he was in Germany and on a number of occasions before.
If the court agrees, he could serve three-and-a-half-years in jail, minus a few months already spent under house arrest.
Mr Navalny has said: "[President Vladimir Putin's] servants are acting as usual by fabricating new criminal cases against me.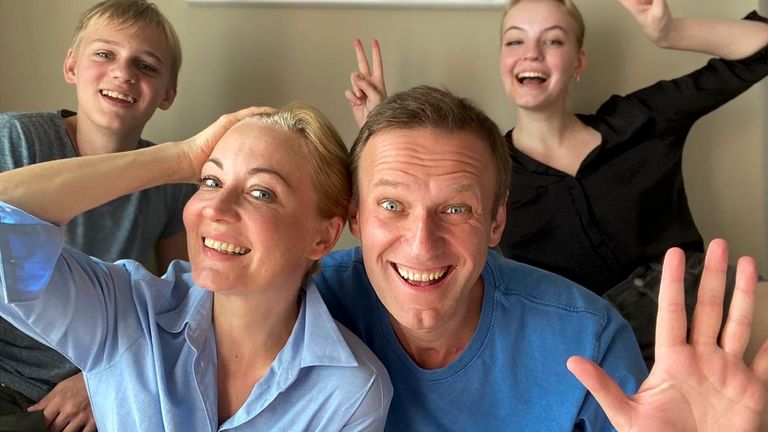 "But I'm not interested in what they're going to do to me. Russia is my country, Moscow is my city and I miss it."
On top of that, Russia's investigative committee has opened a new criminal case accusing him of the supposed misallocation of crowd-sourced funds at his RBK anti-corruption foundation.
"If they really want to go after him, this would be the worst case scenario," said his lawyer Vadim Kobzev.
"Three-and-a-half-years and then 10 years on top of that which is the maximum he can get for this new criminal case."
He thinks a jail term of that length is unlikely. Recent cases against Mr Navalny have all resulted in suspended sentences, "but we're all trying to read the tea leaves here," Mr Kobzev said.
The authorities' most likely course of action – at least in the medium term – will be extended periods under house arrest with restrictions placed on, for example, his use of the internet.
Mr Navalny off-line is far less of a threat to Mr Putin's cronies than the anti-corruption investigations he posts to his YouTube channel.
His team will endeavour to keep those going but it is not the same.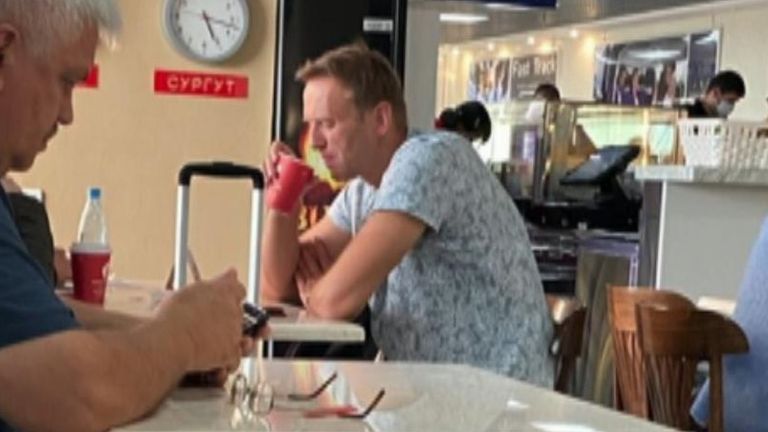 And suffice to say, despite the investigations into Mr Navalny's own alleged wrong-doing, authorities have still refused to open any kind of inquiry into how exactly the symbol of Russia's democratic opposition ended up fighting for his life on a work trip to Siberia, with a deadly novichok nerve agent coursing through his veins.
President Vladimir Putin's glib comment that the FSB would have finished the job if they had really wanted him dead is no substitute.
Nor, as Mr Navalny so convincingly proved in a telephone call with one of the FSB officers tasked with cleaning up the evidence of his poisoning, is it true.
Egypt: Dozens of 3,000-year-old coffins and mummies discovered in ancient temple | World News
Dozens of wooden coffins and mummies dating back over 3,000 years have been discovered in an ancient temple near Cairo.
Egypt's former antiquities minister, archaeologist Zahi Hawass, revealed details of the treasures found in the vast Saqqara necropolis south of Cairo.
Experts found a four-metre long papyrus that included texts of the Book of the Dead, which is a collection of spells aimed at directing the dead through the underworld in ancient Egypt.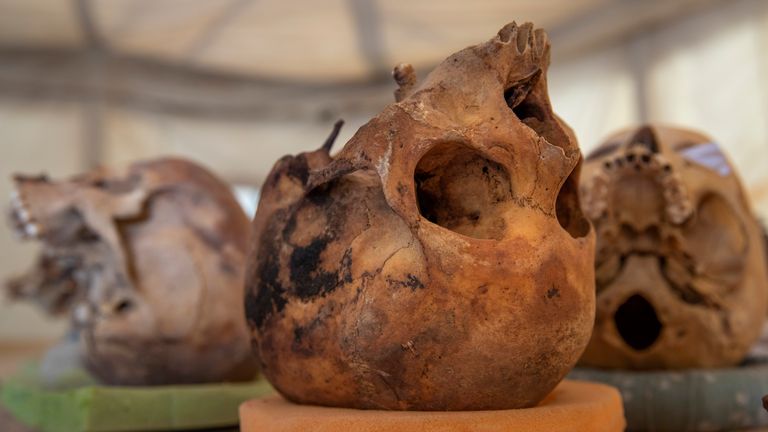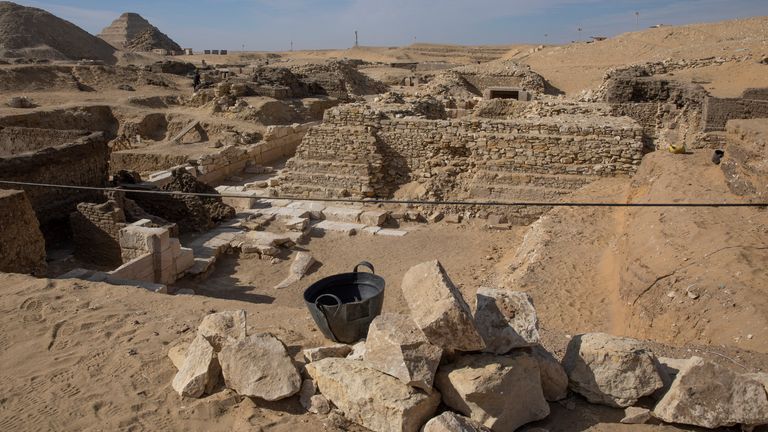 At least 22 burial wells were also discovered, containing 54 wooden coffins dating back to the New Kingdom that ruled Egypt between about 1570 BC and 1069 BC.
Ancient games, statues, and masks were also found.
On a nearby site, archaeologists unearthed the temple of Queen Neit, wife of King Teti, the first king of the Sixth Dynasty that ruled Egypt from 2323 BC until 2150 BC.
Mr Hawass, known for his Indiana Jones hat and TV specials on Egypt's ancient sites, said: "All these discoveries will rewrite the history of Saqqara and the New Kingdom."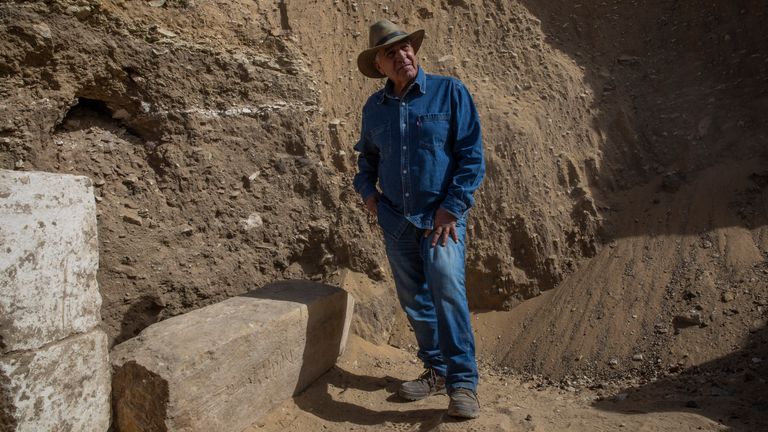 The discovery was the result of cooperation between the Antiquities Ministry and the Zahi Hawass Centre at the Bibliotheca Alexandrina.
The Saqqara site is part of the necropolis at Egypt's ancient capital of Memphis that includes the famed Giza pyramids.
It comes just two months after about 100 ancient coffins and around 40 golden statues dating back more than 2,500 years were found in the Pharaonic necropolis.
Joe Biden to blitz controversial Donald Trump policies hours after entering Oval Office | US News
In his first hours as president, Joe Biden is set to roll back some of the most controversial decisions of his predecessor and to address the coronavirus pandemic.
A 10-day blitz of executive actions is then expected as Mr Biden moves to redirect the country in the wake of Donald Trump's presidency, without waiting for Congress.
Ron Klain, his incoming chief of staff, listed some of the main changes that will come in:
• End restrictions on immigration to the US from some Muslim-majority countries
• Move to rejoin the Paris climate accord
• Make mask-wearing compulsory on federal property and during interstate travel
• Extend the pause on student loan payments
• Extend actions meant to prevent evictions and foreclosures for those struggling during the pandemic
• Introduce a directive to speed up the reuniting of families separated at the US-Mexico border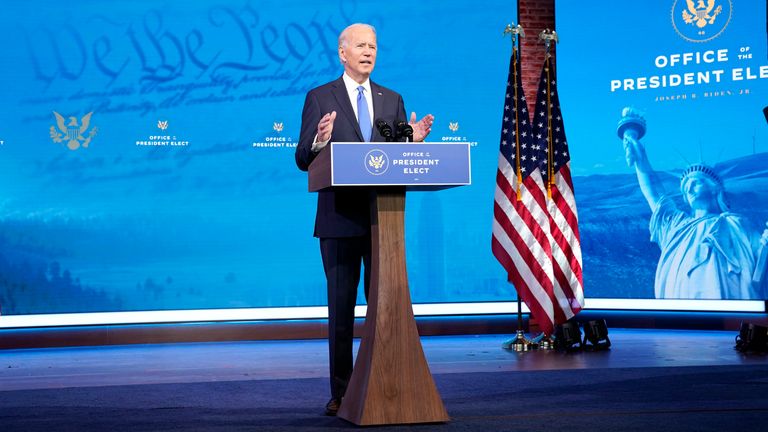 "These executive actions will deliver relief to the millions of Americans that are struggling in the face of these crises," Mr Klain said in the memo.
"President-elect Biden will take action – not just to reverse the gravest damages of the Trump administration – but also to start moving our country forward."
"Full achievement" of Mr Biden's goals will require Congress to act, Mr Klain wrote, including the $1.9trn (£1.46trn) virus relief bill he outlined on Thursday.
Mr Klain said Mr Biden would also propose a comprehensive immigration reform bill to lawmakers on his first day in office.
On Thursday, the new president's second day in office, Mr Biden is also expected to sign orders related to the COVID-19 outbreak aimed at reopening schools and businesses and expanding virus testing.
More actions will be added, Mr Klain said, once they clear legal review.
Incoming presidents traditionally move swiftly to sign an array of executive actions when they take office.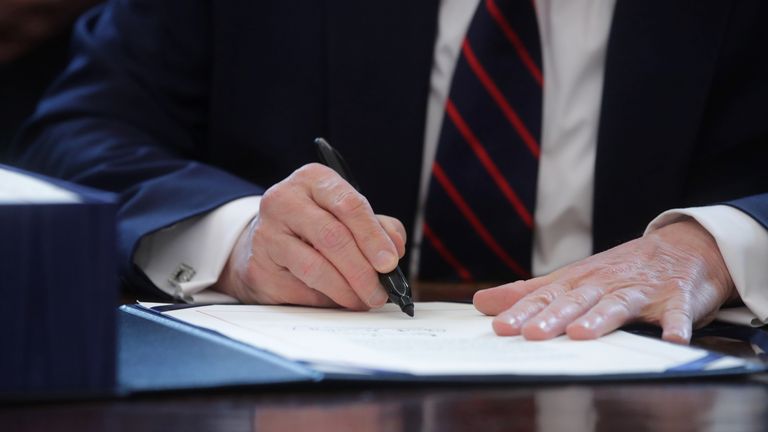 Mr Trump did the same, but he found many of his orders challenged and even rejected by courts.
Mr Klain maintained that Mr Biden should not suffer similar issues, saying "the legal theory behind them is well-founded and represents a restoration of an appropriate, constitutional role for the president".