Dozens more killed in air raids as UN vote on Syria ceasefire delayed
Syrian government air raids killed a further 32 people in rebel-held suburbs east of Damascus on Friday, activists said, as a vote on a UN-backed ceasefire was delayed.
UN Security Council members had been discussing a cessation of hostilities for 30 days, to allow aid to be brought in and the injured to be taken out.
But negotiations were held up over a number of issues, including when the ceasefire should begin.
The US blamed Russia, which proposed an amendment to delay it.
US Ambassador to the UN Nikki Haley expressed dismay, saying on Twitter: "Unbelievable that Russia is stalling a vote on a ceasefire allowing humanitarian access in Syria.
"How many more people will die before the Security Council agrees to take up this vote? Let's do this tonight. The Syrian people can't wait."
The towns and farms of eastern Ghouta, a suburb to the east of the capital Damascus, have been under government siege since 2013.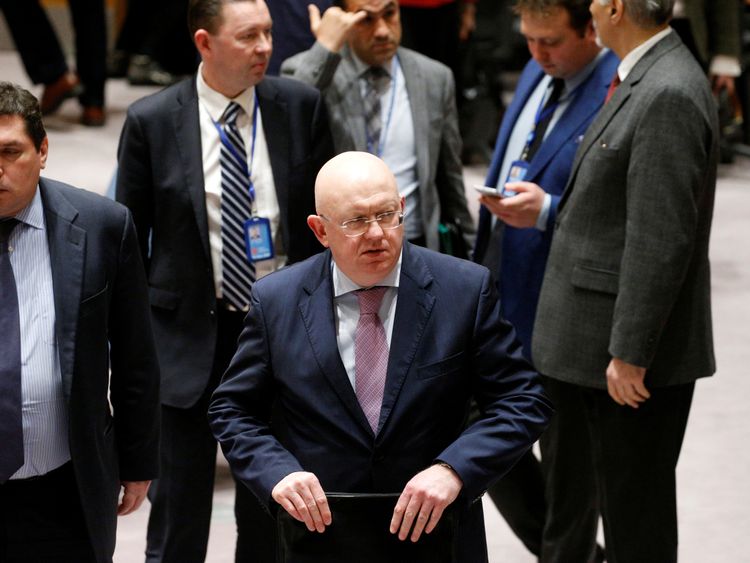 On Friday, the densely populated enclave was bombed for a sixth straight day, witnesses said.
At least 462 people have been killed since the bombing intensified last week, including at least 99 children, the Syrian Observatory for Human Rights monitoring group said.
Russia's UN Ambassador Vassily Nebenzia called an immediate ceasefire unrealistic.
The Russian amendment was rejected by Sweden and Kuwait, sponsors of the proposed resolution.
The ambassador of Kuwait, which holds the council presidency, said agreement was close, but there was still no consensus on the draft resolution.
One of the stumbling blocks was a Russian demand that rebel groups fighting President Bashar al Assad's forces comply with the truce.
In a concession to Russia, the latest draft of the resolution states that operations against Islamic State, al Qaeda, and "individuals, groups…" associated with the extremist groups will not be included.
It also proposes the immediate lifting of all sieges, including in eastern Ghouta, Yarmouk, Foua and Kefraya and ordering all sides to "cease depriving civilians of food and medicine indispensable to their survival".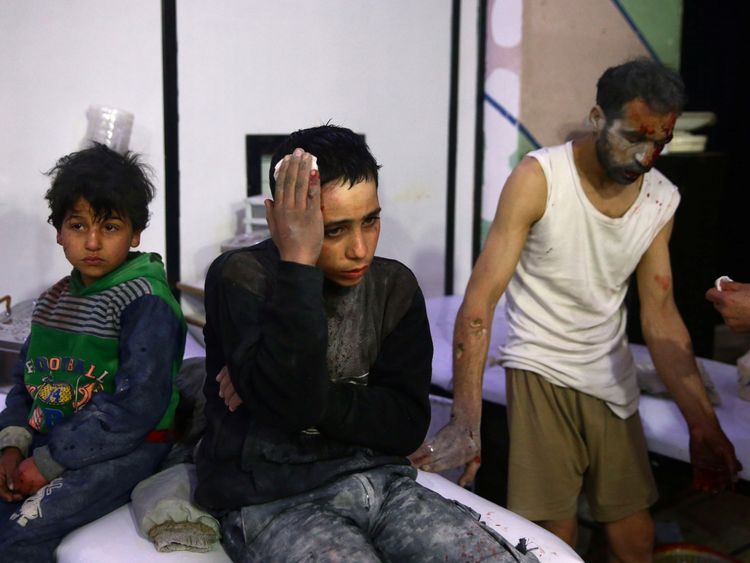 The initial resolution called for the ceasefire to begin 72 hours after its adoption, but diplomats continued discussions into the night about the final wording.
Swedish Ambassador Olof Skoog told reporters on Friday night: "We have not been able to close the gap completely.
"We will work tonight and hopefully, we will definitely come back tomorrow and we will vote."
The proposal was for a vote at midday EST (5pm UK time).
Mr Skoog said earlier: "It is about saving lives.
"UN convoys and evacuation teams are ready to go. It's time for the council to come together and shoulder its responsibility to urgently avert a situation that is beyond words in its desperation."
On Thursday, Syrian army helicopters dropped leaflets over eastern Ghouta, urging residents to leave for their own safety and calling on opposition fighters to surrender.
The 32 killed on Friday died in raids on areas including Hammouriyeh, Zamalka, Douma and al Marj, according to the British-based Syrian Observatory for Human Rights.
The Ghouta Media Centre, run by activists, also reported 32 killed.
Syrian state TV reported that militants fired 70 shells at Damascus, with one person killed and 60 others wounded.
Russia has so far vetoed 11 draft resolutions on Syria that targeted its ally in Damascus.
Trump CPAC speech: Former president says he may run again in 2024 | US News
Donald Trump has suggested he may run for president again in 2024 – amid an angry attack on Joe Biden in his first major address since leaving the White House.
The Republican used his speech at the Conservative Political Action Conference (CPAC) in an apparent effort to cement his status as the party's undisputed leader despite his defeat in November.
"Do you miss me yet?" Mr Trump began, amid rapturous applause
In his first speech since leaving office, former US president Donald Trump says he may consider running for office again.

"I stand before you today to declare that the incredible journey we began together… there's never been a journey so successful – we began it together four years ago and it is far from over," he said.
He dismissed suggestions he may start a new party, saying "we're not interested in them".
"We all knew the Biden administration was going to be bad, but none of us even imagined just how bad they would be," he said.
"He talked about energy. I thought 'this guy, actually he's ok with energy'. He wasn't ok with energy… he wants windmills."
Continuing his attack, he suggested the Democrat would lose in 2024, adding: "Who knows, I may even decide to beat them for a third time" – a reference to repeated and baseless claim that he did not lose the last election.
The former reality TV star returned to many of his favourite themes, apparently deviating from his prepared speech while railing over immigration, the Paris Climate Agreement and attacking China.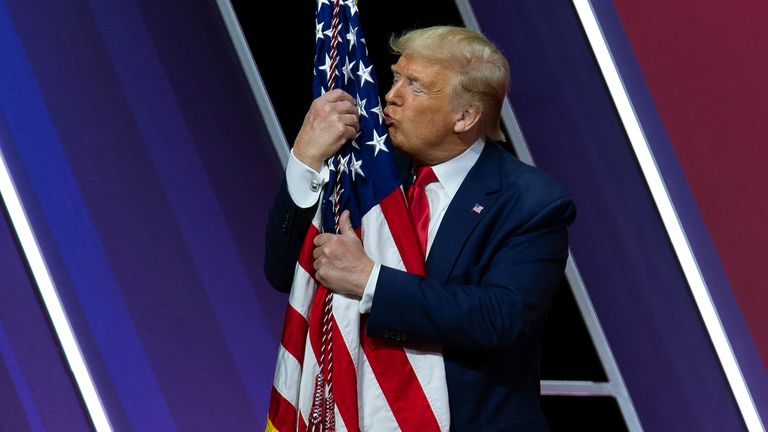 Despite his entirely unfounded allegations that last year's election was not fair having helped trigger deadly riots involving his supporters at the US Capitol on 6 January, Mr Trump repeatedly returned to the claims.
The event so far at a Hyatt hotel in Orlando, Florida, has been a tribute to Trump and Trumpism – even featuring a golden statue in his likeness.
Speakers, including many potential GOP 2024 hopefuls, have argued the party must embrace the former president and his followers, even after the insurrection at the Capitol.
They face opposition from others who argue the party must move in a new, less divisive direction after Republicans lost not only the White House to Mr Biden but both chambers of Congress in the last elections.
COVID-19: New West Bank lockdown as Palestinians face surge of coronavirus cases | World News
A new lockdown has been imposed across the West Bank as Palestinians face a fresh surge of coronavirus cases and a continued wait for a proper vaccine rollout.
The Palestinian Prime Minister Mohammed Shtayyeh announced the 12-day shutdown late on Saturday and blamed it on the struggle to get vaccines delivered to the territory.
In the last 24 hours there have been 910 new cases and five deaths in the West Bank.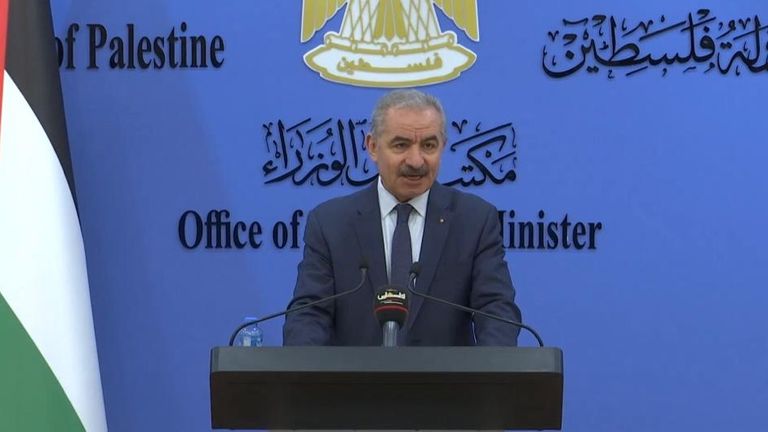 To date Palestinians in the West Bank have received 10,000 doses of Russia's Sputnik vaccine.
A separate delivery of 20,000 Russian vaccines has been delivered to the other Palestinian territory, Gaza.
The Covax scheme, the global initiative to get vaccines to poorer nations, has yet to provide any for Palestinians but a delivery is expected this week.
Israel has now vaccinated half of its population but has only provided 2,000 jabs to the West Bank.
Under a plan approved this weekend, Israeli government has now authorised a plan to vaccinate over 120,000 Palestinians who are legally employed in Israeli settlements, according to Israel's military liaison to the Palestinians.
But a huge imbalance remain which has added a new dynamic to the decades long Israel-Palestine conflict as well as put focus on Israel's obligations as an occupying power.
Last month, Israel's Health Minister Yuli Edelstein told Sky News that it was in the country's interest to ensure the Palestinian population is vaccinated.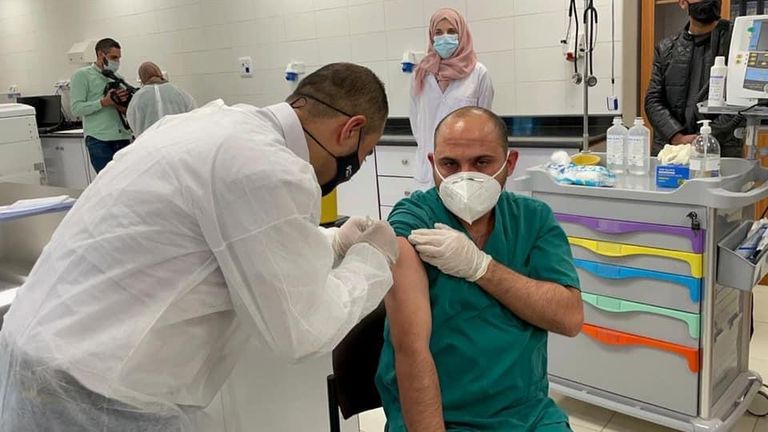 But asked if Israel would provide the vaccine to Palestinians in the West Bank and Gaza, Mr Edelstein said it would only happen once Israel's population is vaccinated.
"We definitely will consider that but as I've said, I sincerely hope that by that time, part of their population will be vaccinated by different vaccines that they are trying to purchase. If any other help will be needed, we will offer."
Will COVID jab get to occupied territories?

Israeli officials have constantly said that Palestinians, who have limited self-rule in parts of the West Bank and all of Gaza, are responsible for their own health system under agreements made in the Oslo peace accords of the 1990s.
However, an annex of the Oslo Accords, which were only meant to be a temporary route to full Palestinian statehood, also calls for co-operation to combat epidemics.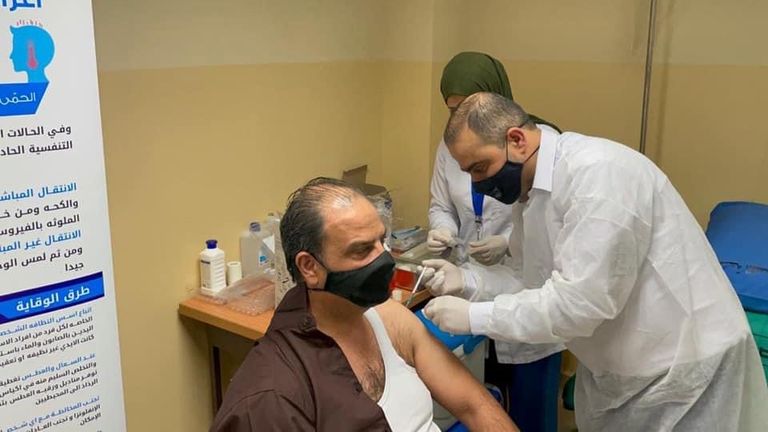 Human rights groups also cite the Fourth Geneva Convention which says occupying powers are obliged, as far as possible, to take responsibility for the public health of people living under occupation.
Under the West Bank lockdown, schools, universities and non-essential shops will all be shut.
All movement will also be restricted during night-time hours.
Man charged after protest over 'satanic' Cyprus Eurovision song | World News

A man arrested over a protest against Cyprus's choice of Eurovision song has been charged, police have said.
The man, who has not been named, is accused of barging into the grounds of the country's public service broadcaster and abusing staff.
He claimed the nation's 2021 entry to the competition – El Diablo – or The Devil – is an "affront to Christianity", has "satanic" connotations, and the Cyprus Broadcasting Corporation should not be showing it.
Video posted online shows the man shouting at a number of employees at the CyBC news department in Nicosia.
He has been charged with four offences, including threatening behaviour, verbal abuse and causing a disturbance, local police said on Sunday.
The defendant in the case is not the only person against the song, however.
According to the Cyprus News Agency, CyBC bosses have received phone calls threatening to "burn down" the organisation for promoting the song, which is performed by Greek singer Elena Tsagrinou.
A group that represents religious high school teachers have also expressed their "disgust" over it.
They say it should be withdrawn from the competition because it "pledges lifelong devotion and professes love for satan".
Cyprus, which is made up of almost 90% Orthodox Christians, had its best ever Eurovision performance in 2018 with the son El Fuego by Eleni Foureria, which came second overall.