Trump: Without ICE, California would be 'crime nest'
Maybe Californians would better appreciate the work of U.S. Immigration and Customs Enforcement officers if they no longer operated in the Golden State.
That seemed to be President Donald Trump's message Thursday during a White House meeting.
The president threatened to pull ICE agents out of California, citing state administrators' unwillingness to help federal authorities in preventing crime.  
Trump said if he followed through with the threat, the state "would have a crime nest like you've never seen in California.
"All I'd have to do is say, 'ICE and Border Patrol, let California learn,'" the president said.
Trump added that California state officials were doing a "lousy management job," and criticized them for supposedly harboring "criminals," the San Diego Union-Tribune reported.
"Frankly, it's a disgrace, the sanctuary city situation, the protection of these horrible criminals in California and other places," Trump said.  
"If we ever pulled our ICE out and we ever said, 'Hey, let California learn and let them figure it out for themselves,' in two months, they'd be begging for us to come back. They would be begging," he added.
Since Trump took office in January 2017, his administration has ratcheted up enforcement of immigration laws — clashing with the liberal policies of California.
Last month, U.S. Sens. Dianne Feinstein and Kamala Harris, both California Democrats, sent a joint letter to ICE Acting Director Thomas Homan, requesting detailed information on rumored upcoming raids in California, the Sacramento Bee reported.  
"Diverting resources in an effort to punish California and score political points is an abhorrent abuse of power, not to mention a terrible misuse of scarce resources," the letter read in part.
"We don't conduct raids," Homan said during an interview with Fox News. "We conduct targeted enforcement operations. We don't go into neighborhoods, knocking on a bunch of doors, looking for people that are different than us."
Trump did not elaborate on his remarks, but his comments made the rounds on social media. Opinion was divided.  
Feinstein tweeted: "The president's obsession with California is growing more outrageous by the day. His attacks are not only mean-spirited, they're patently false."
Fox News' Todd Starnes tweeted: "Trump says he's thinking about pulling ICE agents from California. That's actually a great idea. Let the Democrats take care of all the illegals."
Italian prosecutor in Mafia 'maxi-trial' says he won't be intimidated | World News
An Italian prosecutor, who has been called "dead man walking" by members of the Mafia, has told Sky News he will not be intimidated at the start of the biggest trial against the criminal syndicate in decades.
More than 350 people will face charges including murder, drug trafficking, extortion and money laundering – and Nicola Gratteri is the man who has overseen the case.
"You need to have broad shoulders and nerves of steel," he said.
"You need to stay calm and not get caught up in emotion or tension. You need to rationalise every emotion because the goal is important and fundamental."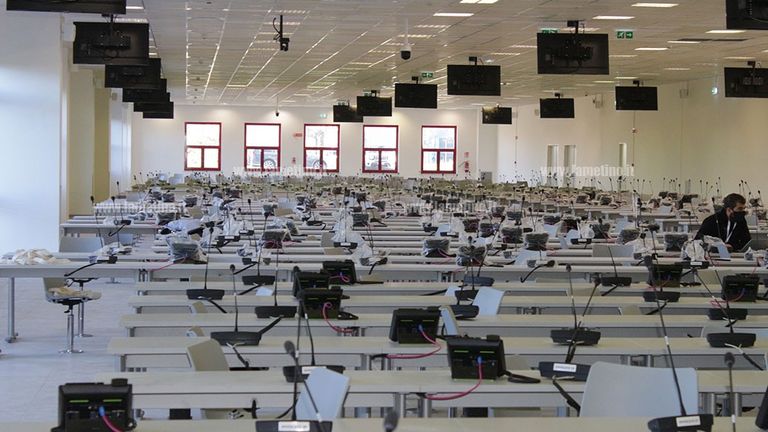 Mr Gratteri is Italy's most famous anti-Mafia prosecutor and, as a consequence, he and his family have had to live under police protection for decades.
It has meant sacrifices, but ones he says he is prepared to make.
"This means giving up everyday life, giving up the most trivial things, common things, any kind of freedom.
"But we feel very free inside us because what drives us to do this job are the motivations, to think and believe in something, to have a more free, more liveable and therefore more democratic territory.
"Any sacrifice, any risk, is overcome in the conviction of being right and useful to the freedom of the people."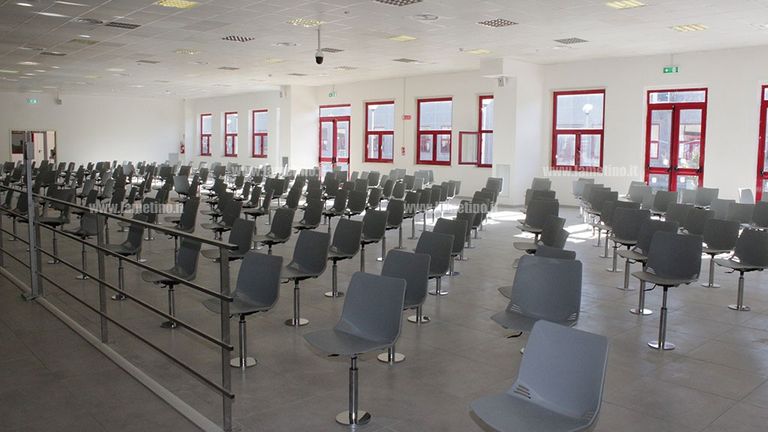 And yet he knows the very real risks he is taking.
Following Italy's first so-called maxi-trial, which targeted Sicily's Cosa Nostra Mafia, two prosecutors were assassinated.
This trial will target the Ndrangheta crime syndicate in Calabria and its alleged accomplices which include politicians, civil servants, police officers and business people.
Mr Gratteri saw the Mafia at work from when he was a child, he says.
"I spent my childhood in Calabria, at a time when dozens and dozens of people were killed.
"When I used to go to school from my village, several times I used to see dead people on the ground and I thought that as an adult I wanted to do something to prevent this from happening.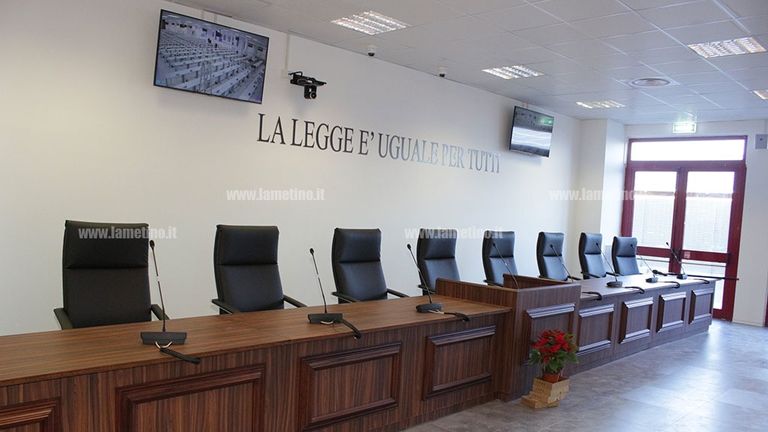 "Then outside school I also saw the children of the Mafia bosses who behaved like 'little Mafiosetti' and I didn't accept this either.
"But I was lucky because I was born into a family of humble but honest people and this helped me a lot to make my personal choices right away.
"Having gone to school with people that subsequently I had to arrest and convict as an adult is something that marks, it is unpleasant, but it is our job."
Such is the scale and security risk of this trial that a specially converted bunker court room has been created along with facilities to accommodate over 350 defendants, more than 700 lawyers and close to 1,000 witnesses giving evidence.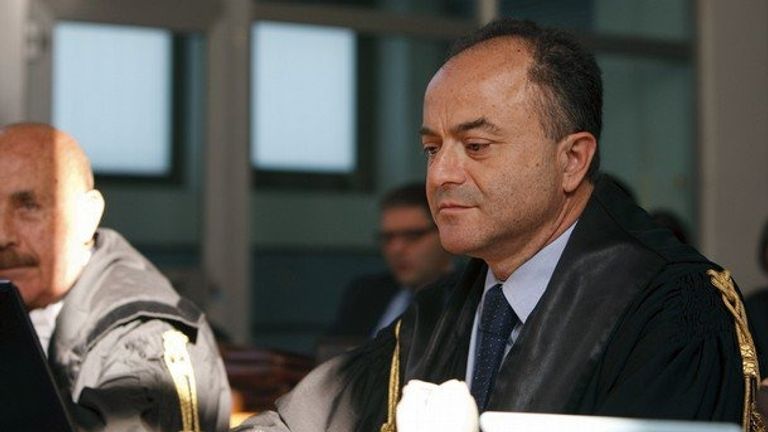 All at a time when coronavirus restrictions means social distancing has to be obeyed.
And the pandemic is a situation Mr Gratteri is concerned that the Mafia will exploit.
"I am worried that the Ndrangheta and the other mafias will be able to take advantage of the needs of merchants, hoteliers, restaurateurs in crisis, and that with the money from cocaine they can buy everything that is on sale and then through the purchase of these hotels, restaurants and pizzerias can launder money," he said.
"This worries me. In addition, I am also worried about poor, needy people.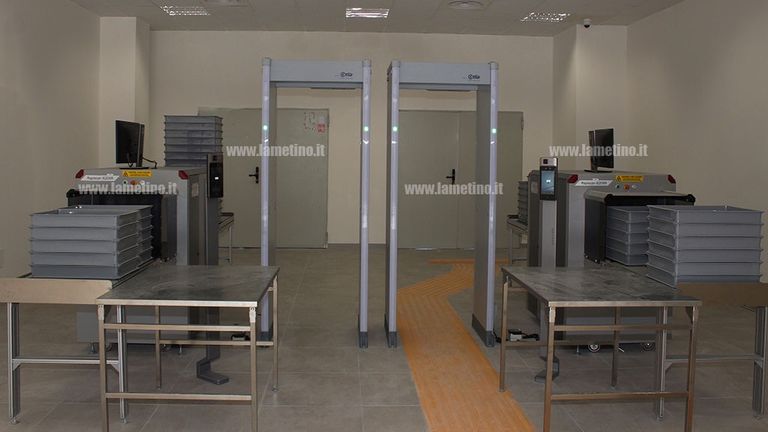 "If the state arrives late to give them subsidies, then the Mafia will take care of them and when there will be the elections these people will remember the help and vote for the candidate chosen by the Mafia boss."
The trial is expected to last two years, but Nicola Gratteri has hope for the end of it.
He said: "It is always worth doing what you believe in. Sacrifices are made if you believe that you are on the right side and that you are doing something useful to the community.
"Therefore it is never wasted time and we are always convinced that it was worth it."
US Capitol riots: Investigators warn that hundreds of people are expected to be charged | US News

More than 170 individuals are being investigated over their involvement in last week's riot at the US Capitol – and 70 have been charged.
Washington DC's top federal prosecutor says investigators are working towards charging people with assault and seditious conspiracy.
The number of people who are charged over the deadly unrest is expected to rise into the hundreds.
Acting US attorney Michael Sherwin said: "The Capitol grounds outside and inside are… a crime scene."
A counter-terrorism investigation has also been launched in connection with the two pipe bombs found outside the headquarters of the Democratic and Republic parties.
While many of the criminal cases filed so far involve people whose photos went viral on social media, Mr Sherwin warned more serious charges are coming – and a grand jury has been reviewing the cases.
The news conference took place as Donald Trump gave a speech in Texas.
Steven D'Antuono, a senior FBI official, also revealed that the bureau has received 100,000 video and picture tips since last Wednesday.
He also confirmed reporting from The Washington Post that there was intelligence about potential violence ahead of the riots.
COVID-19: China attacks PM after he suggests coronavirus could have spread from people grinding pangolin scales | Politics News
China has accused Boris Johnson of engaging in "groundless conjecture" after he suggested that coronavirus could have spread from people grinding up the scales of pangolins.
The prime minister speculated about the origin of COVID-19 during a speech to an environmental summit on Tuesday.
He said it was "the product of an imbalance in man's relationship with the natural world".
December: One year on since coronavirus was spotted

The PM continued: "Like the original plague which struck the Greeks I seem to remember in book one of the Iliad, it is a zoonotic disease.
"It originates from bats or pangolins, from the demented belief that if you grind up the scales of a pangolin you will somehow become more potent or whatever it is people believe, it originates from this collision between mankind and the natural world and we've got to stop it."
But Beijing's foreign ministry spokesman Zhao Lijian said "careful and meticulous" studies were needed to discover the origin of the coronavirus outbreak.
"Groundless conjecture or hype-up of the issue will only disrupt normal international co-operation on origin-tracing," he said.
Sky News has contacted Downing Street for a response to Beijing's criticism of the PM.
Despite coronavirus first being detected in the Chinese city of Wuhan in late 2019, a World Health Organisation team will only be allowed to visit the city for the first time on Thursday.
The organisation has voiced frustration about late delays preventing its team from travelling to China last week.
Tedros Adhanom Ghebreyesus, WHO director-general, said the scientists will focus on how the virus first jumped to people.
"Studies will begin in Wuhan to identify the potential source of infection of the early cases," Dr Tedros said.
UK targets 'human rights abuses' in China

COVID-19 has killed almost two million people around the world, according to Johns Hopkins University, with more than 90 million cases recorded.
The row between London and Beijing comes as the UK government publicly criticised China's treatment of Uighur Muslims as "barbarism" and announced new measures to stop UK companies trading with Chinese firms connected to forced labour.
Foreign Secretary Dominic Raab told the Commons that there was clear evidence of "internment camps, forced labour, arbitrary detention, political re-education and forced sterilisation, all on an industrial scale. It is truly horrific".