Trapped in Syria's besieged Ghouta: life has ceased, the children are waiting to die
The conflict in Syria has dragged on a year longer than World War II now, and is only getting worse in places like rebel-held Eastern Ghouta – where bombs, rockets and shells continue to rain down on a terrified population. 
"The situation can only be described as catastrophic," Abd, a 28-year-old voluntary rescue worker with the Syrian Civil Defense, otherwise known as "The White Helmets," told Fox News on Thursday. "Continuous, continuous shelling at every moment. Life has ceased. Civilians – the women and the children – are waiting for death."
An estimated 400,000 people are currently trapped inside Eastern Ghouta, on the outskirts of Damascus. More than half are said to be children, and almost all are in dire need of humanitarian aid. More than 400 have been reported killed, and almost 2,000 wounded in the last week alone. 
"Hundreds of bombs are dropping on us, there have been 300 airstrikes in the past three days," Firas Abdullah, a 24-year-old opposition activist and aid worker, told Fox News on Thursday afternoon from his basement in the Eastern Ghouta town of Douma. "People are suffering from their wounds. We can hear the crying and the screaming of the women and children in their homes."
Syrian and Russian warplanes have taken part in the bombing, according to Abdullah, who said there have also been drone strikes. 
"For 24 hours a day they are capturing everything about where all the civilians are, filming where the crowded places are, he continued. "Because it is civilians they want to kill."
There are few medical professionals left to tend to the injured, activists say. 
The bombing campaign escalated on Feb. 4, according to reports, and among its targets hit many medical clinics. More than a dozen such facilities have been struck in just the last week. As a result, there aren't enough medical professionals left to tend to the injured. 
"Most of the victims are women, children and the elderly. They have been in their basements for more than three days, the barrel bombs are penetrating small buildings, and killing people even in these basements," said Khaled Almilaji, CEO and Chairman of the Sustainable International Medical Relief Organization (SIMRO), a non-partisan foundation focused on suppling public health services to war-torn parts of Syria. 
Photographs and videos obtained by Fox News show hauntingly empty streets in Ghouta, as families bunker down in ad-hoc underground caves and shelters. Already dwindling supplies of rice and water are fast disappearing. And broken bodies lay dead beneath the rubble, as tiny bloodied children are carted from their decimated homes on makeshift stretchers.
"Most people eat once a day and some eat every other day, mostly just vegetables and rice if they can find it," said Abd. "Schools have been suspended for more than two months due to the shelling. We need international action to save the remaining civilians."
For those trapped inside, there seems nowhere to flee.
"Anyone who tries to leave will get shot by snipers," Abdullah said. "We are stuck on an island here. I want to demand the world helps us in a humanitarian way. What is happening in Eastern Ghouta is a genocide."
Aid agencies have complained for months that they have not been able to reach the hardest-hit areas, and are calling for an urgent ceasefire.
"We have warehouses and trucks of supplies ready to go, but we need a humanitarian pause in the fighting and the government needs to give us facilitation," Jan Egeland, Secretary-General of the Norwegian Refugee Council (NRC) told Fox News. "We are hoping to get an agreement for something to start this weekend. We have not been able to get any convoys into Eastern Ghouta since November."
During most of 2017, Egeland said aid workers were often held at gunpoint by pro-regime forces, and forced to remove medical supplies from their vehicles – everything from scissors and surgical items to trauma care equipment – under the premise they did not want wounded rebel soldiers to be treated.
VICTIM OR THREAT? IRAQ HAS PLAN FOR ISIS FIGHTERS' WIVES, CHILDREN
SYRIA'S ANTIOCH CHURCH PATRIARCH: US SANCTIONS ARE HURTING CHRISTIANS TOO
Youssef Sadaki, a Syrian political and social investigator with the Orient Research Center, concurred the wounded of Ghouta simply have no place to go. Few emergency rooms are operable, and the only supplies permitted to enter in months came 10 days ago in the form of a small UN convoy. The convoy was able to provide basic supplies to some 8,000 people – a mere two percent of the population.
The U.S. State Department expressed "deep concern" over the increasing violence this week, condemning the Syrian and Russian governments for their actions. The White House said Washington endorsed the UN's plea for a ceasefire to allow aid and medical supplies to enter.
The attacks have not been one-sided. Egeland said rebels in Eastern Ghouta have fired some 800 rockets into government-held territory in Damascus – some of that prior to the uptick in the air assault. Eastern Ghouta had previously been designated as a "de-escalation zone," and was thus designed to be a safe zone. But that's not how it has held up. 
The Assad government deems all opposition forces to be "terrorists," and insists they are targeting dangerous jihadist groups, and not civilians. Russia – Assad's ally and protector – asserts "illegal armed formations" had rejected demands to lay down their arms.
Kremlin spokesman Dmitry Peskov called accusations they were complicit in civilian deaths "unsubstantiated." The governments in Damascus and Moscow have also denied claims of using barrel bombs against civilians.
Civilians in Eastern Ghouta also told Fox News they are surrounded by Iran-backed, pro-Assad militia groups. Iran's deputy foreign minister, Abbas Araghchi, this week conceded to the BBC that Iranian troops were in Syria to battle "terrorist elements."
But Abd, of the White Helmets, staunchly rebuffed assertions that Al-Qaeda-affiliated groups like Al-Nusra were operating inside the besieged region as "propaganda."
"They are killing us under the name of killing Al-Nusra," he lamented. "But there are not here."
Tokyo Olympics: Opening ceremony was 'respectful, hopeful but sombre night' | World News
Olympic opening ceremonies are something of a unique art form. Playing to a global audience but with the host nation wanting to make the night their own.
Japan chose sombre. It was a respectful, hopeful but above all sombre night. They didn't want to show off when everyone has lived through such hardship – and while so many people continue to do so.
Their display using 1,824 flying drones combining like a swarm of giant worker bees to create a giant globe stood out.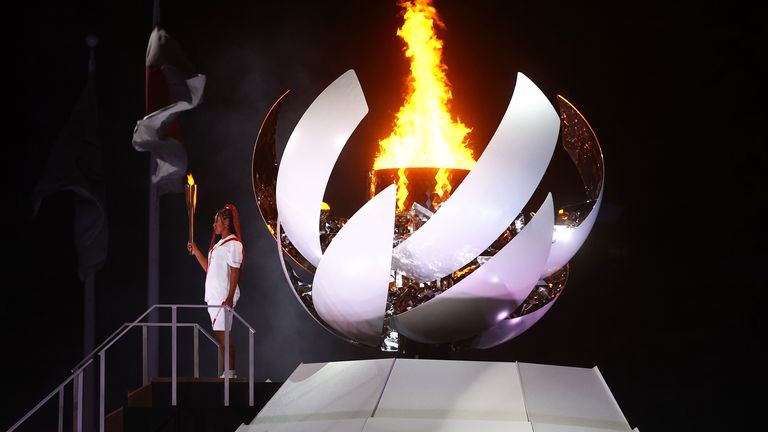 There were no Team GB fans at the 2021 summer olympic opening ceremony in Tokyo due to COVID-19 but Japan put on a stunning visual show regardless

So too Japanese tennis superstar Naomi Osaka who was given the honour of firing up the hydrogen-fuelled Olympic cauldron.
But it was their courteous bow towards the pain of the pandemic that defined the evening.
Video montages of empty cities during lockdowns, and athletes cobbling together training regimes in their back gardens – it all made for an understated opening ceremony.
Outside, the protests in the streets continued among those still vehemently against the Games taking place while Tokyo remains in a state of COVID emergency.
There were also people outside who just felt drawn to the Olympic stadium – to come and wave to the very select numbers of VIPs and media going inside. It was as close as they could get to the Games that they had waited almost a decade for.
While these Olympics will feel unusual there were reminders too of the magic they can create.
There was a towering Tongan taekwondo player who strode into the stadium with his bare oiled chest puffed out as he carried his island nation's flag like a warrior on a mission.
Protests held outside Olympic stadium

The Olympics can still produce special moments like that and there will be plenty more over the coming weeks.
There will be more COVID-19 disruption too but the Games of 2020 are finally open, just one year late.
Business leaders have 'obligation to speak up', ex-Unilever boss says amid Ben & Jerry's row | Business News
Unilever's ex-boss has said business leaders have an "obligation to speak up" after his former company became embroiled in a row with Israel over its Ben & Jerry's business.
Paul Polman mounted a defence of the need to "fight for what is right" in remarks to Sky News after the ice cream brand said it would stop selling its products in the occupied Palestinian territories.
Ben & Jerry's is owned by consumer goods giant Unilever – whose array of brands ranges from Marmite spread to Dove soap – but has an independent board to take such decisions.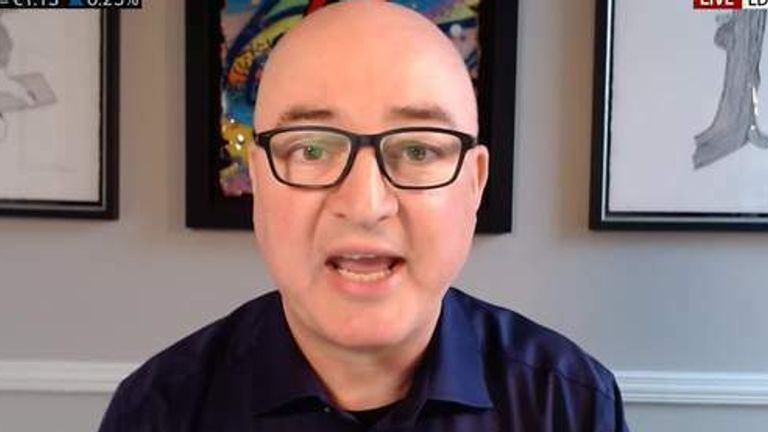 Its announcement is one of the strongest steps taken by a well-known company over Israel's settlements, which are widely seen as illegal by the international community.
The move drew condemnation from the Israeli government, whose new prime minister Naftali Bennett said this week that Israel would "use the tools at its disposal – including legal – on this issue" and that those taking such action "need to know that there will be a price to pay".
Mr Polman, speaking to Sky's Ian King Live, said it would be inappropriate to say how he would have handled the issue had he still been in charge of Unilever.
But he added: "What is very important is if we want humanity to function for the long term we need to be sure that we fight for the basic values, the basic values of dignity, respect, equity, compassion.
"If we see these values being violated anywhere in the world I think we have an obligation to speak up.
"What we've seen in the US in the last few years – too few people, also from the business side, spoke up against things that then bit by bit moved the boundaries and put us in a very difficult situation.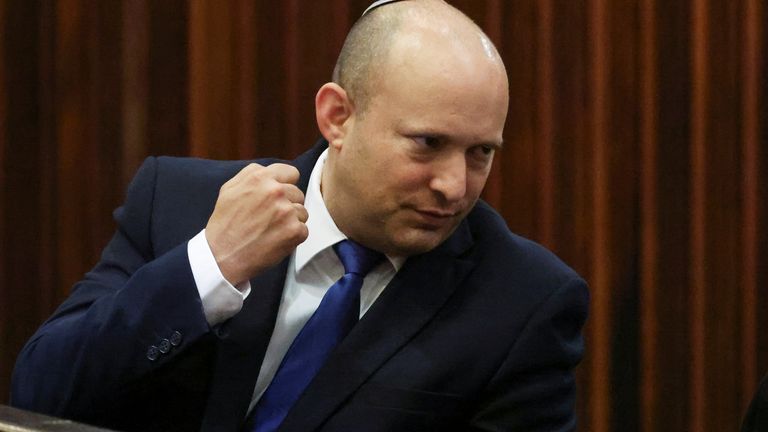 "So, fight for what is right and one of the few things we should fight for always is, these basic human rights."
Mr Polman was speaking a day after current Unilever boss Alan Jope, in a conference call to discuss latest results, said the company remains "fully committed" to doing business in Israel but gave no indication that Unilever would press Ben & Jerry's to reverse the decision.
Mr Jope, who has spoken to Mr Bennett on the phone to discuss the matter, said that it was a "complex and sensitive matter".
Tokyo Olympics 2020: Algerian judoka Fethi Nourine withdraws to avoid facing Israeli competitor Tohar Butbul | World News
An Algerian judo competitor has withdrawn from the Tokyo Olympics after learning he could have faced an Israeli opponent.
Fethi Nourine said his political support for the Palestinian cause made it impossible to compete against Tohar Butbul.
He told Algerian TV he would not "get his hands dirty" and his "decision was final".
"We worked a lot to reach the Olympics, and the news came as a shock, a thunder", he added.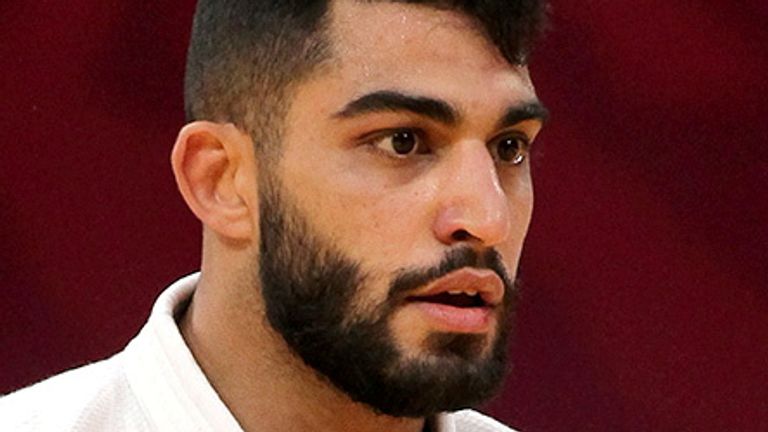 The 30-year-old was drawn against Sudan's Mohamed Asdalrasool on Monday for his first match in the men's 73kg class. If he had won that match, he would have faced Butbul, who has a first-round bye, in the next round.
Nourine also withdrew from the world championships in 2019 for the same reason.
At the time, his coach Amar Ben Yaklif was quoted in Algerian media saying: "We were unlucky with the draw. We got an Israeli opponent and that's why we had to retire. We made the right decision."
Tensions between Israel and Palestinians flared in Jerusalem earlier this year causing the worst violence in the region since 2014.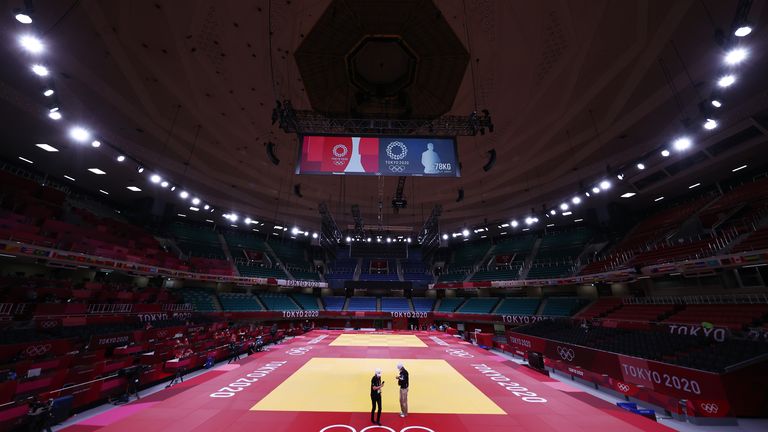 The conflict between the two sides has been going on for decades and has seen athletes from Iran and Egypt also previously refuse to compete against Israeli opponents.
Follow the Daily podcast on Apple Podcasts, Google Podcasts, Spotify, Spreaker
The opening ceremony for this year's Olympic games took place on Friday, with fans not allowed in the national stadium for the event due to COVID-19 concerns.
Instead, around 1,000 dignitaries and members of the media were allowed the witness the spectacular event.