Trapped in Syria's besieged Ghouta: life has ceased, the children are waiting to die
The conflict in Syria has dragged on a year longer than World War II now, and is only getting worse in places like rebel-held Eastern Ghouta – where bombs, rockets and shells continue to rain down on a terrified population. 
"The situation can only be described as catastrophic," Abd, a 28-year-old voluntary rescue worker with the Syrian Civil Defense, otherwise known as "The White Helmets," told Fox News on Thursday. "Continuous, continuous shelling at every moment. Life has ceased. Civilians – the women and the children – are waiting for death."
An estimated 400,000 people are currently trapped inside Eastern Ghouta, on the outskirts of Damascus. More than half are said to be children, and almost all are in dire need of humanitarian aid. More than 400 have been reported killed, and almost 2,000 wounded in the last week alone. 
"Hundreds of bombs are dropping on us, there have been 300 airstrikes in the past three days," Firas Abdullah, a 24-year-old opposition activist and aid worker, told Fox News on Thursday afternoon from his basement in the Eastern Ghouta town of Douma. "People are suffering from their wounds. We can hear the crying and the screaming of the women and children in their homes."
Syrian and Russian warplanes have taken part in the bombing, according to Abdullah, who said there have also been drone strikes. 
"For 24 hours a day they are capturing everything about where all the civilians are, filming where the crowded places are, he continued. "Because it is civilians they want to kill."
There are few medical professionals left to tend to the injured, activists say. 
The bombing campaign escalated on Feb. 4, according to reports, and among its targets hit many medical clinics. More than a dozen such facilities have been struck in just the last week. As a result, there aren't enough medical professionals left to tend to the injured. 
"Most of the victims are women, children and the elderly. They have been in their basements for more than three days, the barrel bombs are penetrating small buildings, and killing people even in these basements," said Khaled Almilaji, CEO and Chairman of the Sustainable International Medical Relief Organization (SIMRO), a non-partisan foundation focused on suppling public health services to war-torn parts of Syria. 
Photographs and videos obtained by Fox News show hauntingly empty streets in Ghouta, as families bunker down in ad-hoc underground caves and shelters. Already dwindling supplies of rice and water are fast disappearing. And broken bodies lay dead beneath the rubble, as tiny bloodied children are carted from their decimated homes on makeshift stretchers.
"Most people eat once a day and some eat every other day, mostly just vegetables and rice if they can find it," said Abd. "Schools have been suspended for more than two months due to the shelling. We need international action to save the remaining civilians."
For those trapped inside, there seems nowhere to flee.
"Anyone who tries to leave will get shot by snipers," Abdullah said. "We are stuck on an island here. I want to demand the world helps us in a humanitarian way. What is happening in Eastern Ghouta is a genocide."
Aid agencies have complained for months that they have not been able to reach the hardest-hit areas, and are calling for an urgent ceasefire.
"We have warehouses and trucks of supplies ready to go, but we need a humanitarian pause in the fighting and the government needs to give us facilitation," Jan Egeland, Secretary-General of the Norwegian Refugee Council (NRC) told Fox News. "We are hoping to get an agreement for something to start this weekend. We have not been able to get any convoys into Eastern Ghouta since November."
During most of 2017, Egeland said aid workers were often held at gunpoint by pro-regime forces, and forced to remove medical supplies from their vehicles – everything from scissors and surgical items to trauma care equipment – under the premise they did not want wounded rebel soldiers to be treated.
VICTIM OR THREAT? IRAQ HAS PLAN FOR ISIS FIGHTERS' WIVES, CHILDREN
SYRIA'S ANTIOCH CHURCH PATRIARCH: US SANCTIONS ARE HURTING CHRISTIANS TOO
Youssef Sadaki, a Syrian political and social investigator with the Orient Research Center, concurred the wounded of Ghouta simply have no place to go. Few emergency rooms are operable, and the only supplies permitted to enter in months came 10 days ago in the form of a small UN convoy. The convoy was able to provide basic supplies to some 8,000 people – a mere two percent of the population.
The U.S. State Department expressed "deep concern" over the increasing violence this week, condemning the Syrian and Russian governments for their actions. The White House said Washington endorsed the UN's plea for a ceasefire to allow aid and medical supplies to enter.
The attacks have not been one-sided. Egeland said rebels in Eastern Ghouta have fired some 800 rockets into government-held territory in Damascus – some of that prior to the uptick in the air assault. Eastern Ghouta had previously been designated as a "de-escalation zone," and was thus designed to be a safe zone. But that's not how it has held up. 
The Assad government deems all opposition forces to be "terrorists," and insists they are targeting dangerous jihadist groups, and not civilians. Russia – Assad's ally and protector – asserts "illegal armed formations" had rejected demands to lay down their arms.
Kremlin spokesman Dmitry Peskov called accusations they were complicit in civilian deaths "unsubstantiated." The governments in Damascus and Moscow have also denied claims of using barrel bombs against civilians.
Civilians in Eastern Ghouta also told Fox News they are surrounded by Iran-backed, pro-Assad militia groups. Iran's deputy foreign minister, Abbas Araghchi, this week conceded to the BBC that Iranian troops were in Syria to battle "terrorist elements."
But Abd, of the White Helmets, staunchly rebuffed assertions that Al-Qaeda-affiliated groups like Al-Nusra were operating inside the besieged region as "propaganda."
"They are killing us under the name of killing Al-Nusra," he lamented. "But there are not here."
Climate change: 2020 was the warmest year on record in Europe, study finds | Climate News
2020 was the warmest year on record in Europe, a major climate study has found.
Greenhouse gases are at their highest levels in 18 years, the European State of the Climate report said.
Concentrations of CO2 and CH4 rose by 0.6% and nearly 0.8% respectively, putting them at their highest annual levels since at least 2003 when satellite observations started.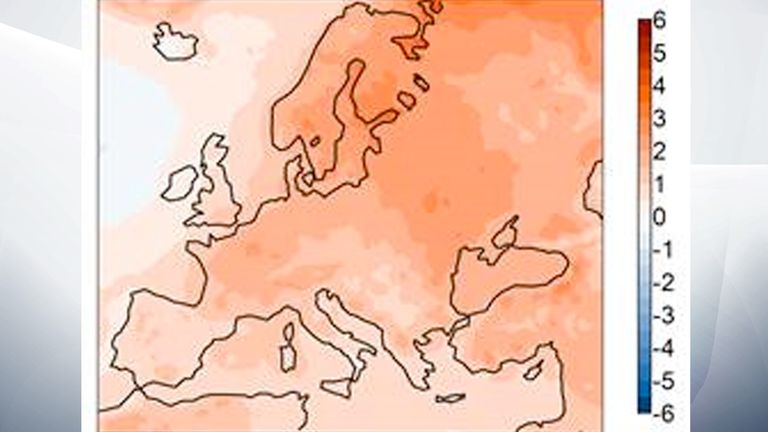 Not only was 2020 one of the three warmest years on record across the world, but the last six years were the warmest six on record.
Europe's annual temperature in 2020 was the highest on record – at least 0.4C (0.72F) warmer than the next five warmest years, which were all in the last decade.
Last year saw the largest number of sunshine hours in Europe since satellite records began in 1983.
Winter, which was 3.4C (5.76F) above average, was the warmest on record and the same was true of autumn.
Snow cover and sea ice levels were affected in northeastern Europe, where it was especially warm, researchers from the Copernicus Climate Change Service (C3S) said.
Several heatwaves occurred affecting different regions each month, but they were not as intense, widespread, or long-lived as others of recent years.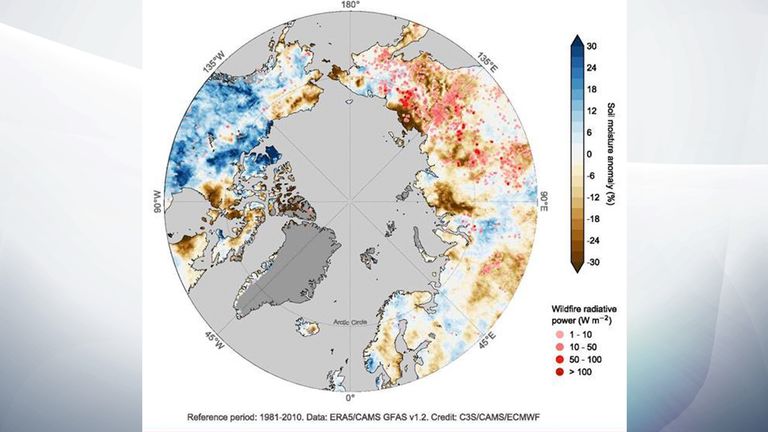 Parts of northwestern and northeastern Europe saw a "remarkable transition… from a wet winter to a dry spring, affecting river discharge, soil moisture conditions and vegetation growth", the report added.
Several heavy rainfall events brought record rainfall and led to above-average river discharge across much of western Europe, in turn causing flooding in some regions.
Storm Alex, in early October, broke one-day rainfall records in the UK, northwestern France and in the southern Alps.
Devastating flooding was seen in some regions of western Europe.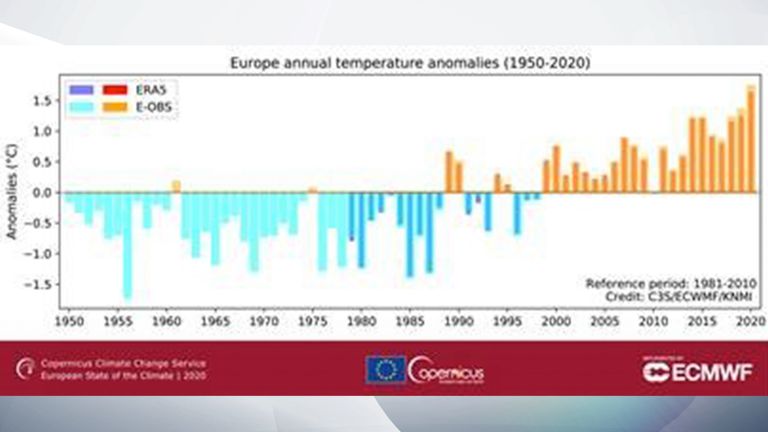 It was the second warmest year on record for the Arctic as a whole and the warmest in Arctic Siberia, where record-breaking wildfires occurred.
But in March, a polar vortex caused depletion in the Arctic's ozone.
Northern Siberia and adjacent parts of the Arctic experienced the largest above average annual temperatures, which reached 6C (10.8F) above average.
Carlo Buontempo, director of C3S, said: "It is more important than ever that we use the available information to act, to mitigate and adapt to climate change and accelerate our efforts to reduce future risks."
Matthias Petschke, from the European Commission, said: "Achieving a climate neutral economy requires the full mobilisation of society, governments and industry."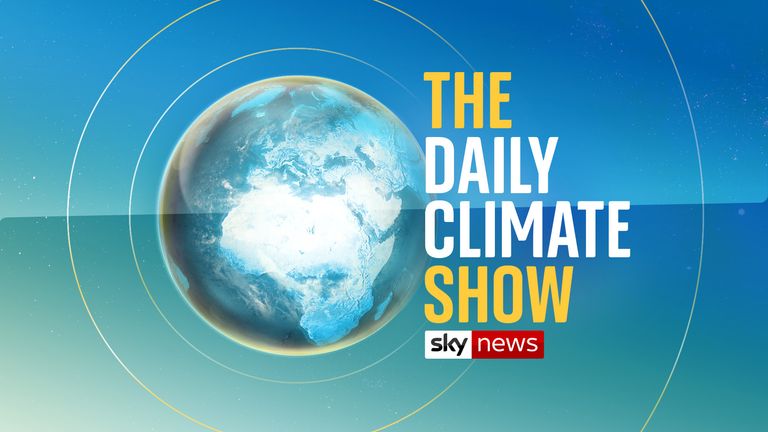 Sky News broadcasts the first daily prime time news show dedicated to climate change.
Hosted by Anna Jones, The Daily Climate Show is following Sky News correspondents as they investigate how global warming is changing our landscape and how we all live our lives.
The show will also highlight solutions to the crisis and show how small changes can make a big difference.
'Pervasive racism' blamed for unequal treatment of black and Asian war casualties | UK News

Up to 350,000 predominantly black and Asian service personnel have not been formally remembered in the same way as their white comrades.
An investigation has blamed "pervasive racism" for the failure to properly commemorate at least 116,000 but up to 350,000 people who died fighting for the British Empire.
The Commonwealth War Graves Commission has apologised and vowed to act immediately to correct the situation.
The report, obtained by the PA news agency and due to be published in full later today, found that the casualties – mainly from the First World War – were "not commemorated by name or possibly not commemorated at all".
Most of them were commemorated by memorials that did not carry their names.
An estimated 45,000 to 54,000 Asian and African casualties were also "commemorated unequally".
This meant some were commemorated collectively on memorials – unlike those in Europe – and others who were missing were only recorded in registers, rather than on stone.
The job of commemorating the war dead belongs to the Commonwealth War Graves Commission, originally named the Imperial War Graves Commission.
The report was compiled by a special committee, established by the CWGC in 2019 after a critical documentary about the issue.
According to the report, the failure to properly commemorate the individuals was "influenced by a scarcity of information, errors inherited from other organisations and the opinions of colonial administrators".
"Underpinning all these decisions, however, were the entrenched prejudices, preconceptions and pervasive racism of contemporary imperial attitudes," it added.
The report gave the example of a 1923 communication between FG Guggisberg, the governor of what is now Ghana, and the commission's Arthur Browne.
The governor had said "the average native of the Gold Coast would not understand or appreciate a headstone," as he argued for collective memorials.
Mr Browne's response showed "what he may have considered foresight, but one that was explicitly framed by contemporary racial prejudice", according to the report.
He had said: "In perhaps two or three hundred years' time, when the native population had reached a higher stage of civilisation, they might then be glad to see that headstones had been erected on the native graves and that the native soldiers had received precisely the same treatment as their white comrades."
In its response to the report, the CWGC said it "acknowledges that the commission failed to fully carry out its responsibilities at the time and accepts the findings and failings identified in this report and we apologise unreservedly for them".
CWGC director general Claire Horton said: "The events of a century ago were wrong then and are wrong now.
"We recognise the wrongs of the past and are deeply sorry and will be acting immediately to correct them."
David Lammy, the shadow justice secretary, said: "No apology can ever make up for the indignity suffered by the unremembered.
"However, this apology does offer the opportunity for us as a nation to work through this ugly part of our history – and properly pay our respects to every soldier who has sacrificed their life for us."
COVID-19: India sets record for new coronavirus cases in a single day | World News
India has reported more than 300,000 new coronavirus cases in a 24-hour period – the biggest one-day total seen anywhere in the world since the pandemic began.
The country's health ministry said there had been 314,835 new cases on Thursday, a number that passes the previous record – 297,430 in the US in January.
The previous day, India had reported 295,041 new COVID-19 cases.
India's number of deaths rose by 2,104 to reach a total of 184,657.
Prime Minister Narendra Modi said earlier this week that India was facing a coronavirus "storm" which was overwhelming its health system.
Hospitals are facing a severe shortage of beds and oxygen, with some private hospitals in Delhi warning they have less than two hours' supply of the gas.
People have crowded into refilling facilities, trying to refill empty oxygen cylinders for relatives in hospital.
At least 22 patients in western India died on Wednesday when the oxygen supply to their ventilators ran out due to a leak.
There have even been instances of looting oxygen tankers.
Subscribe to the Daily podcast on Apple Podcasts, Google Podcasts, Spotify, Spreaker
Mr Modi has been criticised for allowing big gatherings such as weddings and festivals where crowds can mix in confined spaces.
He has also addressed packed political rallies for local elections, speaking to millions of people.
Despite the fact that hospitals are struggling, Mr Modi said earlier this week that state governments should not impose a harsh lockdown.
Instead, he suggested micro-containment zones in an effort to avoid damaging the economy.
But the state of Maharashtra has strengthened its restrictions until at least the beginning of May.
Patients dies after oxygen tank leaks

All offices – except those providing essential services – must operate with no more than 15% of their staff.
Travel by private vehicle is only allowed for medical emergencies.
And only medical workers and government employees can ride on the trains.
So far, India has administered nearly 130 million doses of the vaccine but this is still a small effort when compared with its population of 1.35 billion.
Currently, only frontline workers and those aged above 45 are eligible but all adults are expected to be allowed a dose from May.
There could be delays ahead, with the country's Serum Institute warning that it will not be able to reach 100 million doses per month until July, compared with its previous forecast of late May.