Stanford's 'diamond anvil' technology could be a game-changer for chemistry
Diamonds are pretty darn tough. How tough? Tough enough that squeezing a couple of them together in a molecular diamond anvil — a technique that's capable of achieving 100 times the pressure experienced at the bottom of the Mariana Trench — can be used to create custom molecules through the triggering of unique chemical reactions.
"Chemical reactions are at the core of modern-day society, from making new therapeutic drugs to fertilizer for food," Nicholas Melosh, an associate professor of Materials Science and Engineering at Stanford University, told Digital Trends. "Most of these reactions are carried out using chemicals or heat to drive the reaction. However, it's long been a goal to realize alternative ways to perform chemical reactions, such as with mechanical force."
In their demonstration, the Stanford researchers demonstrated a first step toward this goal by showing that rigid molecules can be used as "molecular anvils" to crush a softer molecular component, thereby causing a reaction.
"This is a new idea," Melosh continued. "It came about after we had synthesized one of the precursor molecules for a different project. That molecule was actually one that didn't react with mechanical force, but it got us thinking about whether such a thing could be possible by altering the molecule shape we used. After compressing a few different candidates in collaboration with a fantastic group that does high pressure at Stanford, Wendy Mao, we found what we were looking for: An irreversible electrochemical reaction purely driven by mechanical force."
As noted, at this stage it's still more of a fancy tech demo than anything. But the work could have real-world applications. Melosh said that he hoped the model can be applied to other chemical systems as well — improving the selectivity and efficiency of the reactions. "We would love to develop mechanical approaches for difficult reactions, like CO2 reduction, that, while quite hard, could have considerable impact," he said. One day, it may be used to create custom molecules on-demand for use in pharmaceuticals.
A paper describing the work, "Sterically controlled mechanochemistry under hydrostatic pressure," was recently published in the journal Nature.
Jamal Khashoggi: US report expected to blame Saudi Crown Prince Mohammed bin Salman for journalist's murder | World News
The US government is expected to release a declassified intelligence report that finds the Saudi crown prince responsible for approving the murder of journalist Jamal Khashoggi.
Three officials familiar with the matter told NBC News that in the report – contributed to mostly by the CIA – an assessment is thought to find Crown Prince Mohammed bin Salman likely ordered the killing of the Washington Post columnist.
Mr Khashoggi disappeared in 2018 after entering the Saudi consulate in Istanbul, where he is later believed to have been dismembered.
His remains have never been found.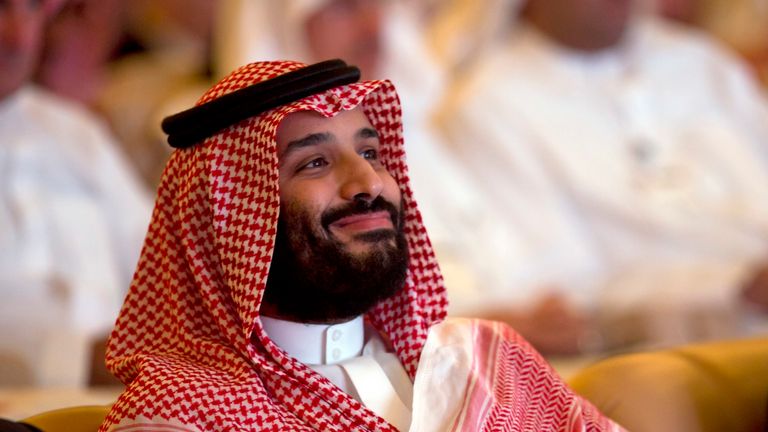 The release of the report, expected later on Thursday, is expected to mark a significant shift in US-Saudi relations, which under Donald Trump's administration saw the major oil producer given a relaxed ride on human rights issues, its role in the Yemen war, and more.
Mr Trump also rejected calls from politicians and human rights groups to release the then-classified report in 2018 when it was first briefed to Congress.
He is said to have been keen to keep his Arab ally close amid increasing tensions with Iran – the Saudi's rival in the region – as well as wanting to promote US arms sales.
Under Joe Biden, however, the new US administration is looking to shift ties to a more traditional approach, starting with the president's first phone conversation with Saudi King Salman.
On Wednesday, White House spokeswoman Jen Psaki said Mr Biden would only have communications with the 85-year-old king – another shift away from Mr Trump's cosy relationship with the crown prince, who is the kingdom's de facto ruler.
Ms Psaki also confirmed the declassified report on Mr Khashoggi's killing was being readied for release.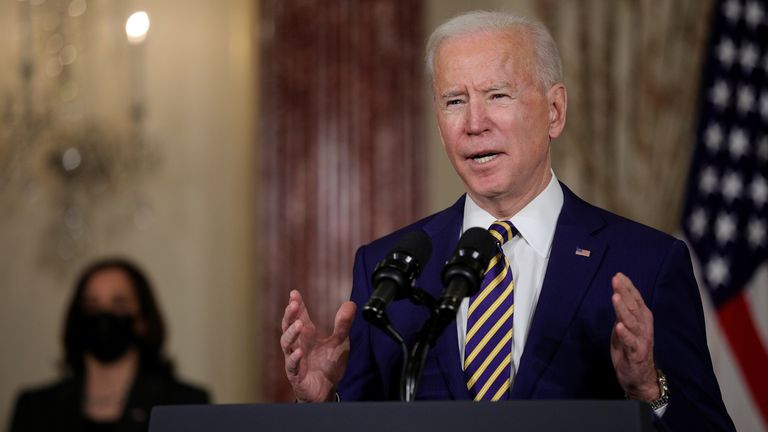 Riyadh has already admitted Mr Khashoggi was killed in a "rogue" extradition operation that went wrong, but has denied involvement from the crown prince, whose policies were often criticised in the writer's columns.
Five men were eventually sentenced to death for the murder, but their sentences were commuted to 20 years in prison after being forgiven by Mr Khashoggi's family.
During his 2020 presidential campaign, Mr Biden promised to realign Saudi ties with the US and has already ended offensive arms sales that could be utilised in Yemen.
He has also appointed a special envoy to help diplomatic efforts to bring an end to the Yemeni civil war.
Dubai princesses: Cambridgeshire Police receive letter calling for new probe into Shamsa's disappearance | World News

Cambridgeshire Police have confirmed they have received a letter relating to the disappearance of Princess Shamsa, a daughter of Dubai's ruler.
It comes after the BBC said it has seen the letter from Shamsa's younger sister Princess Latifa, calling for the police to re-investigate the case from 20 years ago.
The force said: "We can confirm officers have recently received a letter, dated February 2018, in relation to this case which will be looked at as part of the ongoing review.
"In addition to this we are also looking at the contents of the recent Panorama documentary to identify whether it includes anything of significance to our case."
Cambs Police said the review into the princess's disappearance on a Cambridge street in August 2000 is ongoing.
Shamsa was 18 at the time and has not been seen in public since.
The force said: "This is a very complex and serious matter and as such there are details of the case that it would be inappropriate to discuss publicly."
FGM: Survivors tell their stories as female circumcision referrals drop during pandemic | UK News
Survivors of female genital mutilation (FGM) have spoken out about their horrifying and painful experiences in the hope their stories will prevent it from happening to others.
Performing FGM, also known as female circumcision or cutting, as well as taking girls abroad for it is illegal in the UK but more than 6,400 women and girls were affected from April 2018 – March 2019 in England, NHS Digital figures show.
Since the pandemic, the numbers of women and girls being referred to the NHS with FGM has dropped.
As the practice is so secretive it is not known whether that is because it is still happening but as schools are closed teachers cannot pick up on it, or whether the lack of overseas travel means it is happening less as girls are often taken abroad for it.
FGM is not required by any religion but many communities from Africa, the Middle East and Indonesia believe it will benefit a girl in some way, for marriage or childbirth. It is often carried out by women and without any anaesthetic.
Two survivors spoke to Sky News about their experience and why it is important to keep talking about it, even if it is psychologically and physically painful.
Hadas: 'I had no idea I'd been trafficked or had FGM performed on me'
Hadas, not her real name, was only a few months old when her mother used her father being away on business to get her cut in Eritrea, where she is from.
The 26-year-old, who lives in London now, constantly had infections and was in a lot of pain every time she had her period while growing up – but she did not know why.
She was trafficked to Europe when she was 16 years old by a man she thought was a family friend who wanted to help get her a better life.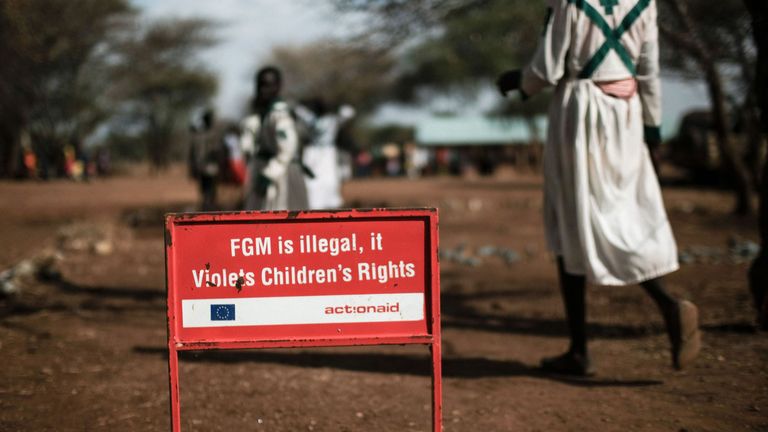 The man was taking money for people to have sex with her but after managing to cross the Channel from Calais, a woman helped her escape "in just my flip flops and pyjamas".
It was not until a social worker referred her to the NSPCC that she found out she had been trafficked and had FGM explained to her, for which she had to have surgery.
"Up until then, I had no idea," she said.
"Naomi from the NSPCC changed my life the day I opened up to her and she took me to a doctor.
"I still have a bit of pain but I can live with it – it's always going to be painful, also emotionally.
"You can't have a normal relationship after that, I couldn't have sex for six years and I don't think I'll end up with anybody Eritrean.
"I'm in touch with my mother who's now in Sudan but I haven't told her, I can't.
"Nobody talks about FGM or sexual intercourse, it's a closed subject in Eritrea but if they just had enough knowledge, they wouldn't consider doing it – that's why it's so important I speak about my experience so others don't have to go through it."
Salimata: 'I thought I was going to a picnic but then I heard screaming'
Salimata Badji Knight, who lives in the UK, has helped save about 50 girls from FGM after her experience made her want to speak out.
She had FGM performed on her when she was four-and-a-half years old after being told she was going for a picnic with her grandmother in western Senegal while on holiday there from Paris.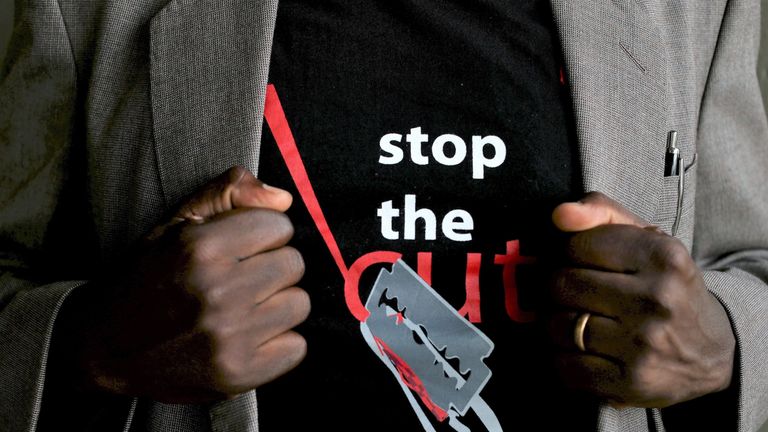 "I was very excited for the picnic and before I knew it one of the young girls I was with, from my age to 15, was taken away and all I could hear was screaming," she said.
"We knew it wasn't a happy scream and we didn't know what was happening.
"I was one of the last ones and when it was my turn, I was pinned down on the floor, I was kicking and biting and before I knew between my legs hurt a lot.
"I didn't understand at that age and nobody spoke openly about your anatomy.
"We were all crying, I could see the adults did not look happy afterwards but there was a celebration of us going into womanhood, although I was only four.
"It was confusing because it hurt but then you were more accepted in the community."
Ms Knight only realised FGM was not normal when she was a teenager and asked her French school friends when they were circumcised.
"They had no idea what I was talking about, their faces were confused, that's when the pin dropped for me that this doesn't happen everywhere – it hit me hard," she said.
"My concept of being a French girl, living in Paris, loving fashion, it was like a new narrative of my life and it's taken a long time for me to understand and channel my anger.
"The hardest thing was to not hate my mother or my community, because at the end of the day it's behind me and I had to manage how I was seen at school from then but you can never forget how painful it was."
Being circumcised has affected her relationships with people, she said, and she is always questioning what someone's "true intentions" are.
But, she added: "I am a victor, not a victim and knowing I was different from my friends made me fight more and made me want to help others who this has happened to, or could happen to."
If you are worried a child is at risk of or has already had FGM, call the NSPCC's anonymous FGM helpline on 0800 028 3550 or email fgm.help@nspcc.org.uk.
If you think a girl or young woman is in immediate danger of FGM you should call the police on 999. You should also contact the Foreign and Commonwealth Office if she has already been taken abroad.