Shock DNA study shows the last 'wild' horses are not truly wild
A study of the DNA of ancient horses has discovered that "there are no truly wild horses left" anywhere in the world.
The research found the breed thought to be the world's only remaining 'wild' species, Przewalski's horses, are not truly wild but are the descendants of escaped once-domesticated animals.
Scientists from the University of Exeter, the French national research agency CNRS and the University of Copenhagen tested the current theory that modern horses originated with the Botai, a race of people in Kazakhstan around 5,500 years ago.
Researchers analysed DNA from the remains of 20 Botai horses and from a similar number of horses living in various regions over the past 5,000 years.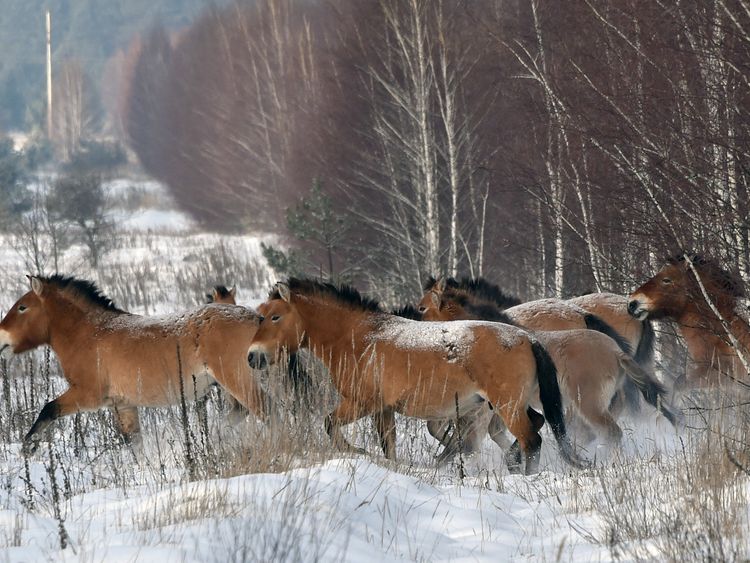 They compared it to scores of already existing horse DNA sequences, including the Przewalski's horse, plotting each on a horse family tree, to work out which breeds were most closely related.
The study, published in the journal Science, found Przewalski's horses were in fact close to Botai horses.
As Botai horses were among the first to be domesticated, it led the researchers to conclude the Przewalski's horses must too, once, have been domesticated.
But all other horses were less related to the Botai animals, suggesting they were not Botai descendants as many thought.
It means that domestic horses around the world today originated from somewhere other than Kazakhstan.
"We have now found that there are no truly wild horses left," said Botai expert Alan Outram from the University of Exeter.
Molly McCue, a veterinarian and equine geneticist at the University of Minnesota College of Veterinary Medicine, who was not involved in the study, told Science: "This paper radically changes our thinking about the origin of modern horses. It's an exciting and surprising finding."
Equine scientist Emmeline Hill, who was also not involved with the study, added: "We are now back to the intriguing question – who were the ancestors of our modern horses, and who were the peoples that were responsible for their early husbandry?"
The researchers say one explanation is that, as Botai horsemen migrated to other regions, breeding their animals with other wild horse species, it diluted their DNA so that none of the original DNA remained.
Alternatively, the Botai horses did not survive, and were replaced by horses domesticated elsewhere, creating at least two areas where horses became domesticated.
The team is collecting more ancient DNA samples to get to the bottom of it.
COVID-19: Joe Biden hints at 1.5m jabs a day – but warns America's death toll could top 600,000 | US News
Joe Biden has suggested the US could soon be vaccinating an average of 1.5 million Americans a day – but warned the country's growing COVID death toll could still top 600,000.
The US has offered one million doses per day over the last week, but the new president insisted: "I think we may be able to get that to…1.5 million a day, rather than one million a day."
He added that he expects widespread availability of the vaccines for Americans by spring, with the US "well on our way to herd immunity" necessary to end the pandemic by summer.
President's sombre warning to Americans

Despite this, he warned the nation was going to be "in this for a while", and could see between "600,000 and 660,000 deaths before we begin to turn the corner in a major way".
Already, more than 420,000 Americans have died with coronavirus.
Mr Biden's increasing confidence on the pace of COVID-19 vaccinations comes after he signed an executive order to boost government purchases from US manufacturers like Moderna.
Meanwhile, Mr Biden is still fighting to get his $1.9trn stimulus package through Congress.
If successful, it would fund a national vaccination programme, aid to reopen schools, direct payments of $1,400 to individuals and financial relief for state and local governments.
"Time is of the essence," the president said. "I am reluctant to cherry-pick and take out one or two items here."
The president's team held a call Sunday with at least a dozen senators.
"There's an urgency to moving it forward, and he certainly believes there has to be progress in the next couple of weeks," White House press secretary Jen Psaki said.
She warned that action needed to be taken before the US reaches an "unemployment cliff" in March, when long-term benefits expire for millions of Americans.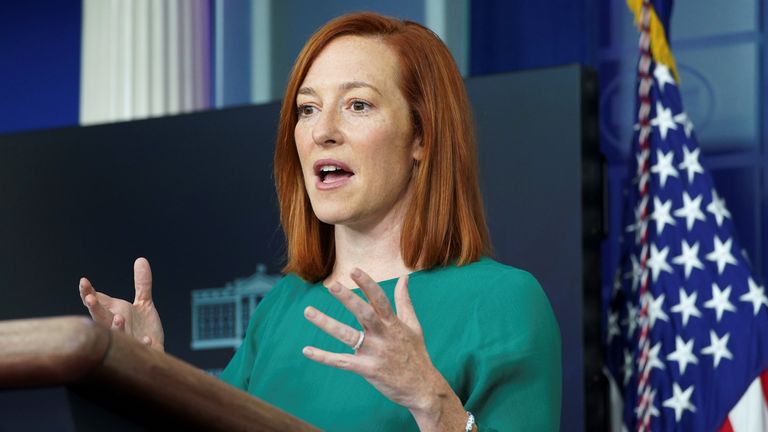 Subscribe to the Daily podcast on Apple Podcasts, Google Podcasts, Spotify, Spreaker
But some Republicans are not convinced.
Senator Susan Collins of Maine said after Sunday's call that "it seems premature to be considering a package of this size and scope".
Senate minority leader Mitch McConnell said "any further action should be smart and targeted, not just an imprecise deluge of borrowed money that would direct huge sums toward those who don't need it".
Besides suggesting a new vaccine target, Mr Biden also spent Monday reversing a Trump ban on transgender people joining the US military and renewing a number of COVID-related travel bans – including on arrivals from the UK.
Donald Trump impeachment article set to be delivered amid fears of further unrest | US News
The article of impeachment formally charging Donald Trump with inciting insurrection before the deadly attack on the Capitol will be delivered shortly.
The trial, which is expected to get started on 8 February, will be led by the US Senate's longest-serving member.
Democrat Patrick Leahy, 80, said in a statement: "When I preside over the impeachment trial of former president Donald Trump, I will not waver from my constitutional and sworn obligations to administer the trial with fairness, in accordance with the Constitution and the laws."
New footage emerges of the US Capitol riot

Mr Trump was the first president to be impeached by the House of Representatives twice and will be the first to face a trial after his term in office.
If found guilty by the Senate, which is now controlled by the Democrats, Mr Trump will be unable to run for political office again and could lose access to other benefits – such as his pension and his travel allowance.
However, it would require a number of Republicans to vote with the Democrats as a two-thirds majority is required to convict the former president.
Democrat control of the Senate will only be felt in votes that are won by a simple 50+1 majority, as Vice President Kamala Harris would have the deciding vote in the event of a tie.
Meanwhile, federal law enforcement officials are examining a number of threats aimed at members of Congress ahead of Mr Trump's trial.
According to reports from Associated Press, officials are aware of "ominous chatter about killing legislators" – or attacking them outside of the US Capitol.
Inauguration poet on Capitol riots

There are also concerns armed protesters could return to attack the Capitol again, leading to around 7,000 National Guard troops remaining in Washington to help police the trial.
The shocking insurrection at the Capitol by a pro-Trump mob prompted federal officials to rethink security in and around its landmarks, resulting in an unprecedented lockdown for president Joe Biden's inauguration.
More than 800 people are believed to have made their way into the Capitol during the violent siege on 6 January.
Five people died, including a Capitol police officer who was struck on the head with a fire extinguisher.
Subscribe to Divided States on Apple podcasts, Google Podcasts, Spotify, Spreaker
At least five people facing federal charges have suggested they believed they were taking orders from Mr Trump when they marched on Capitol Hill.
More than 130 people have been charged by federal prosecutors for their roles in the riot.
In recent weeks, others have been arrested after posting threats against members of Congress.
COVID-19: Brazil crisis like 'medieval plague' as patients suffocate without oxygen | World News
Conditions in the city of Manaus, deep in the Amazon rainforest where the Brazilian variant of COVID-19 is believed to have originated, are now so bad that people are suffocating in hospital beds without oxygen.
It's being described as like a "medieval plague" and the fear is that it's going to continue to spread.
With a population of over 211 million people, a resurgent COVID-19 outbreak, a president still in denial about its danger, dwindling supplies of oxygen and a new variant of its very own, it is hardly surprising there was some relief in Brazil that the country's vaccination programme was, at last, being rolled out.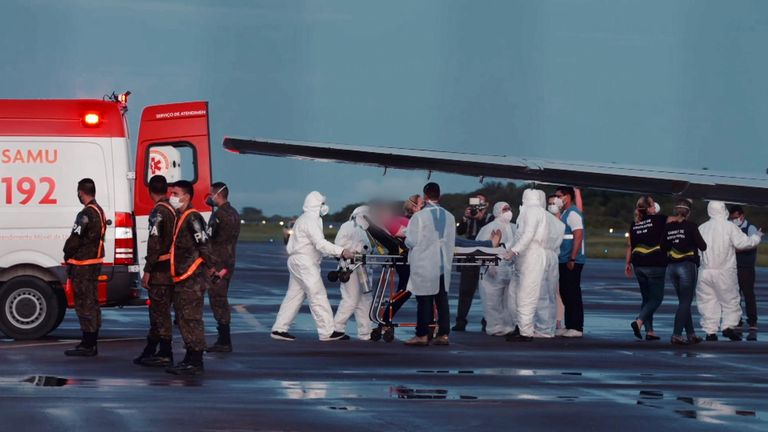 The relief probably didn't last very long when it was revealed the nation had just six million doses available and not much more on the way.
Brazil's handling of the pandemic has been chaotic and ultimately cost an enormous loss of life – it is second only to the United States.
Things are so bad that emergency supplies of oxygen were trucked in from Venezuela; a country that is bankrupt and has one of the most non-functioning health services in the world.
Like so many countries around the globe, the Brazilian government has now bowed to the seemingly inevitable and reached out to its military for help.
In Manaus, soldiers are having to collect the seriously ill and evacuate them to other parts of the country. Those other parts aren't much better, they just aren't a complete disaster – at least not yet.
This city was absolutely floored in the first outbreak of the disease.
In truth, it never recovered, and it is through the floor now.
Families told to get oxygen for COVID patients

The families of new admissions to the city's utterly overwhelmed hospitals are handed huge green oxygen canisters and told to go and get them filled up if they want their loved ones to even stand a chance of surviving.
Others have to source oxygen where they can. Huge queues form as they wait for supplies – like those from Venezuela.
One of the volunteers, Helcio da Silva Maia Neto, has arrived to fill canisters for the sick and elderly in his community.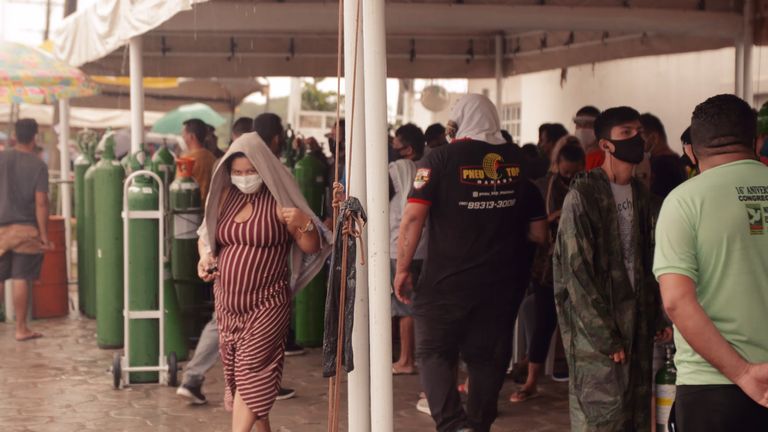 "I would like to say to everybody listening – please, send help! There are more people dying here than in war times, we are living a war, literally, a biological war in our cities… our city.
"I'm struggling every day to refill these canisters, facing these difficulties. I've been here in this queue since last night to refill three canisters."
The scarcity of oxygen here is now so critical that medical volunteers like him sometimes have to decide who lives and who dies.
"There are days that we take the oxygen [to patients] and we have to decide, based on the saturation level that they have, which one we are going to let live and who is going to die. This is the reality every day."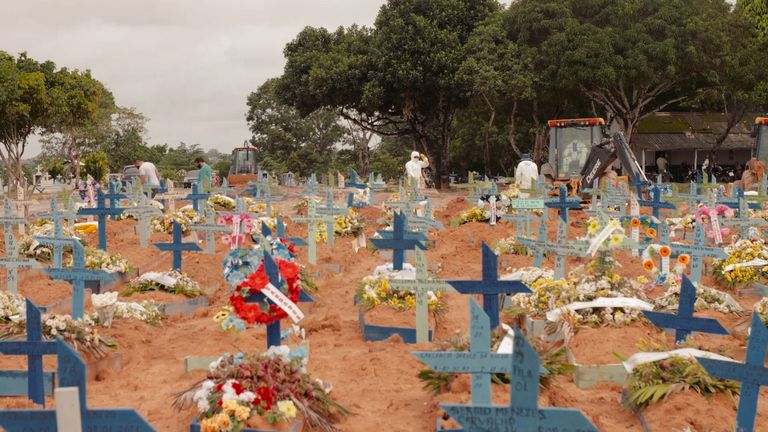 This worldwide disaster is growing every day. Britain is overwhelmed, so is Brazil, the US, Europe, the Americas, Asia, we are all struggling. But in the countries without a safety net, the consequences are horrendous.
The undertakers of the publicly-funded SOS Funerals organisation crisscross the city ferrying the dead from their homes to the pauper's graves of the city.
It's a non-stop job for Jackson Reinaldo and his colleagues.
"Sometimes it's very painful for us to see a family crying, we end up crying too. It's very painful to see a mother burying a 14-year-old son, a mother burying her 18-year-old son – as I was sent to do today – it's very hard. This is very painful to me, very painful to the people of Manaus."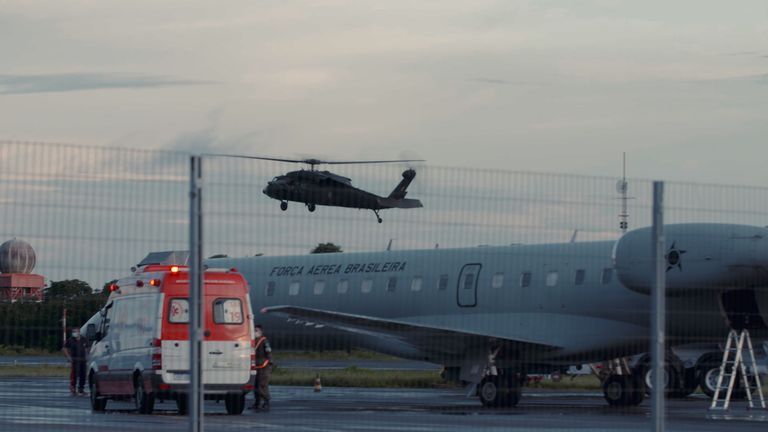 Journalists working for Sky News say the situation is as bad as they had feared.
"At the hospitals and clinics, you can see rage, anxiety, and desperation with the lack of support and medical care, and no information about their loved ones," Adrian Rocha told us at the end of a three-day trip.
"At the cemetery, there is sorrow, resignation, and sometimes an angry outburst. But I would say that on top of all of this there is disinformation – people are angry, but they don't know exactly who they are angry with – the mayor and governor are the most common targets."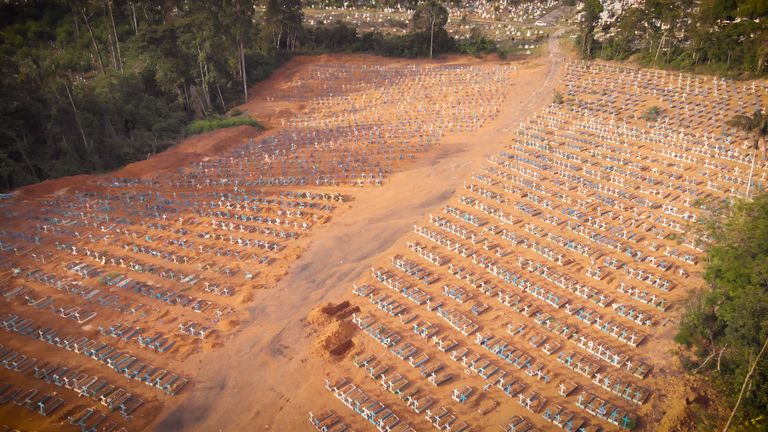 Cameraman Jamie Kennerley told us that filming in Manaus felt like covering "a plague".
He said: "It felt like we were covering a situation in medieval times, with a serious plague sweeping the population and people dropping like flies.
"What was difficult to see, aside from the deaths, was the lengths that individuals were going to to try and save the lives of their loved ones, in the face of a government and health system that simply can't cope. And that their efforts are almost never going to be enough."
Our drone pictures reveal thousands of graves at the city cemetery. And 22,000 new ones are being dug right now.
But many in Manaus fear that 22,000 may not be enough.