Liz Peek: Obama's legacy will be that he allowed Russia to 'sow discord' in the US
In a recent tweet, President Trump asked: "Why didn't Obama do something about the (Russian) meddling?" It's a good question, especially since, as President Trump pointed out, "all of the Russian meddling took place during the Obama administration."
The answer to President Trump's question is that over the course of eight years the Obama administration neglected to take cybersecurity seriously, even though in 2013 Defense Secretary Leon Panetta warned of a "coming (cyber) Pearl Harbor."
Despite repeated intrusions, and though independent agencies concluded that our defenses against hackers were woefully inadequate, the Obama White House made only cosmetic attempts to protect our vital agencies and infrastructure. When this lack of preparedness led to damaging virtual break-ins, President Obama declined to confront the bad actors trying to steal our secrets.
This came in spite of President Obama's easy access to Silicon Valley. The only time the White House called in some help from tech titans was when the ObamaCare rollout crashed, embarrassing the president. Not when the Chinese invaded the White House computer network in 2012 or when North Korea penetrated Sony's systems; the big guns were summoned only when the president's legacy program teetered on the brink of collapse.
In 2014 then-Sen. Tom Coburn, R-Okla., who served on the Homeland Security and Government Affairs Committee, published a report on the dangerous lapses in the government's cyber preparedness, based on 40 reports and audits, including from the Government Accountability Office.
Federal agencies, Coburn reported, had neglected to implement even the most basic safeguards, such as resetting passwords or downloading software updates.
The report contained details of a hack of our Nuclear Regulatory Commission, for instance, in which data on the country's 85,000 dams was stolen from the unprotected computers of the U.S. Army Corps of Engineers. The information included estimates of the potential death counts that would result from the failures of individual dams.
The most significant intrusion during President Obama's two terms was the 2015 penetration of the Office of Personnel Management (OPM), in which sensitive information (Social Security numbers, birth dates, health histories, fingerprints) on 22 million people – many with top security clearances – was stolen.
Not only did the White House allow the break-in to occur – officials there lied about the severity of the attack. OPM officials initially told the Wall Street Journal that no sensitive data had been stolen, though the FBI had informed them otherwise. The Journal reported that the day OPM made that dishonest claim, former Homeland Security Secretary Janet Napolitano emailed to tell friends at the University of California that people who had gone through a security clearance were at risk. She had apparently received a heads-up.
That theft was said to have been the work of the Chinese.
The OPM breach was not unique. During the Obama years the Pentagon, the CIA, the Department of Commerce, Department of Homeland Security and the National Nuclear Security Administration were all hacked. 
After the OPM attack, Director of National Intelligence James Clapper said at a security conference: "Until such time as we can create both the substance and the psychology of deterrence, this is going to go on." He argued that "unintended consequences and other related policy issues" made creating such deterrents difficult.
In other words, the Obama White House did nothing when China hacked the OPM, or when North Korea invaded Sony because there were overarching political considerations. Think climate accord and a nuclear stand-down.
But it was the White House's tolerance of Russian intrusions that in retrospect was the most dangerous action. In 2013 Russia took advantage of a Microsoft glitch to hack into NATO's computer systems, the new Ukrainian government and several European Union agencies. President Obama did nothing to respond to this aggression, emboldening Moscow.
Over the next two years Russian agents invaded the State Department and ultimately penetrated not only the White House but also the Pentagon. The thefts of data were not as public as the plundering of OPM by the Chinese; the Russians appeared to be accumulating virtual weapons.
In late 2015, the FBI warned the Democratic National Committee (DNC) that Russian hackers had breached its computers. A few months later the same group of Russians ensnared John Podesta, Hillary Clinton's campaign chair, harvesting his emails.
The Russians sat on their stolen material until a few weeks before the Democratic National Convention, when they then forwarded the hacked emails from the DNC to Wikileaks. The resulting uproar, which cost DNC Chair Debbie Wasserman Schultz her job, was only the beginning, as we now know.
Because President Obama was beholden to China for agreeing to join the Paris Climate Accord and because he needed both Russia and China to sign off on the Iran nuclear deal, he chose not to push back against their criminal invasions of our private and public institutions. As Luke Thompson has argued in the National Review, this lack of confrontation only encouraged more bad behavior.
Our country has been wracked by discord for more than a year, and the Trump presidency has been severely weakened by charges that his team colluded with the Russians to defeat Hillary Clinton. There has been no evidence of such behavior, but the investigation goes on, dividing the nation and undermining Americans' confidence in our law enforcement and intelligence agencies, as well as our president.
The Justice Department has concluded that the Russians wanted to "sow discord" in the United States. This will be Obama's legacy: he allowed them to do so.
COVID-19: Holidays to Spain could be delayed 'until end of summer' | World News
Britons hoping to escape to Spain could have their holiday plans cancelled following reports the Spanish prime minister said the country would not welcome international tourists until the "end of summer".
Speaking at a meeting of the World Tourism Organisation, Pedro Sanchez reportedly said he did not expect holidaymakers to visit Spain until nearly all of the population has been vaccinated.
He said the country would "progressively" prepare to welcome international tourists once 70% of Spain's population had been vaccinated, which he expected to be by the end of this summer, local media sites including Euro Weekly News have reported.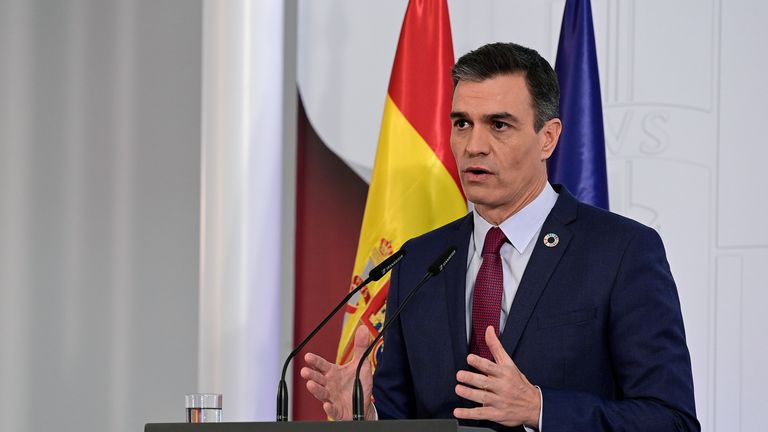 It will be a blow for the tourism sector, which closed its worst year since the 1970s in 2020 with revenues falling by more than 75%.
Spain reported its highest daily number of coronavirus infections yet on Thursday, recording 44,357 cases.
A further 404 deaths were also reported, taking the country's total to 55,041 deaths and 2.5 million cases.
Spain is not the only popular holiday destination closing its doors to British tourists, as Portugal has said it will be suspending all flights to and from Britain from Saturday onwards.
Only repatriation flights will be allowed between the two countries, Prime Minister Antonio Costa told a news conference.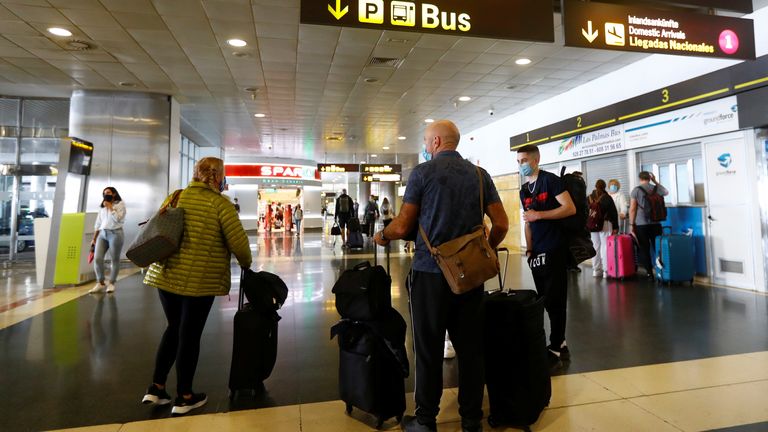 Meanwhile, the UK itself has "considered" a full closure of its borders.
Environment Secretary George Eustice told Sky News ministers were keeping the idea "under review" and "can't rule anything out for now" – although they believed the current restrictions were "sufficient".
Asked whether people should be booking foreign holidays for this summer, Home Secretary Priti Patel refused to give an answer and said it was "far too early" to speculate on restrictions.
But some Britons have already begun booking their breaks, with holiday firms saying they had seen a spike in bookings from older people planning trips following the vaccine roll-out.
'We need to have a spring and summer season'


The UK's largest tour operator TUI said half of bookings made so far have been made by over-50s.
Spain ranks among the most popular countries for people planning holidays this year.
A study by travel company Club Med showed it was the fifth most popular destination, behind the Maldives, Mexico, Thailand and Turkey.
Earlier, European Union leaders held an online summit to discuss potential coronavirus measures, including further border restrictions.
While a number of EU leaders said they would not rule out border closures, Spain and Greece backed an idea for a common approach to "vaccine passports".
The system would allow people to travel if they had received the vaccine, although EU diplomats said the measure was premature as it is not yet clear if vaccinated people could still pass on the virus to others.
China gold mine blast: Trapped workers must wait another two weeks for rescue | World News
Rescuers trying to free a group of miners trapped hundreds of metres underground have said it may take another 15 days to drill and clear a route wide enough to reach them.
They are desperately trying to bring the workers back to the surface following an explosion at the Hushan gold mine in Qixia, Shandong province, in eastern China on 10 January.
A total of 22 miners became trapped after the blast blocked the mine entrance.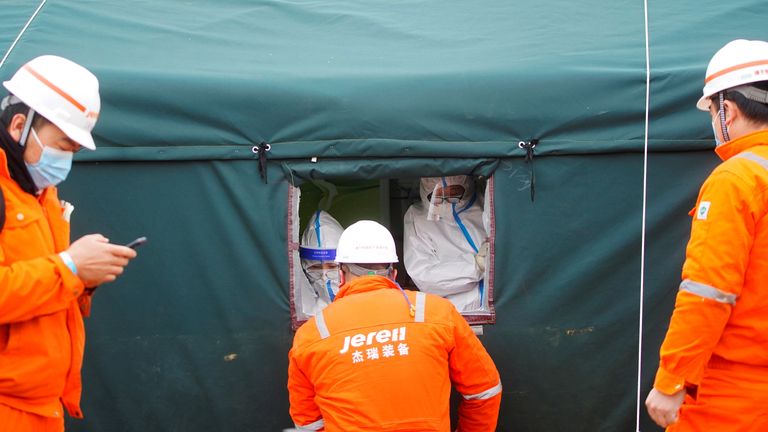 One is confirmed to have died from head injuries. Eleven are known to be alive and rescuers have made contact with 10 of them, while one is said to be in a nearby chamber. The remaining 10 are missing.
Holes have been drilled and used to pass food, medicine and other supplies to the group while they wait.
Rescuers are now drilling a new wider shaft to reach the 10 men in the middle section of the mine – more than 600m from the entrance – which they hope to use to bring the survivors to safety.
The mine shaft is blocked 350m below the surface by 70 tonnes of debris that extends down another 100m, the Yantai city government said in a statement on its social media account.
Other shafts are being drilled for communication and ventilation – to expel deadly fumes.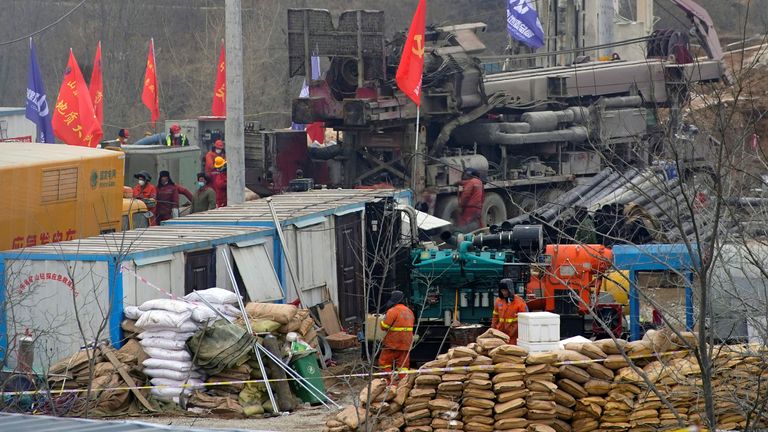 About 600 people are involved in the rescue, with as many as 25 ambulances waiting at the scene, as well as neurosurgeons, trauma specialists and psychologists.
Medical workers in white protective suits are also on site and have been taking people's temperatures as part of COVID-19 precautions.
Mine managers have been detained for waiting more than 24 hours before reporting the incident, the cause of which is still not known.
Google threatens to block search engine in Australia if forced to pay for news | Science & Tech News
Google has threatened to block its search engine in Australia if it is forced to pay media outlets for their news content.
Both Google and social media giant Facebook – which also opposes the rules and has threatened to remove news from its feed for Australian users – are fighting government plans for a new digital news code.
It would make tech giants negotiate payments with local publishers and broadcasters, and a government-appointed arbitrator would decide the price if they fail to strike a deal.
"Coupled with the unmanageable financial and operational risk if this version of the code were to become law, it would give us no real choice but to stop making Google Search available in Australia," Mel Silva, the company's managing director for Australia and New Zealand, told a Senate inquiry into the bill.
"And that would be a bad outcome not only for us, but also for the Australian people, media diversity, and the small businesses who use our products every day."
Australian Prime Minister Scott Morrison immediately hit back, saying "we don't respond to threats".
Ms Silva said the company was willing to pay a wide and diverse group of news publishers for the value they added, but not under the rules currently proposed, which includes payments for links and snippets.
She suggested a series of tweaks to the bill, adding: "We feel there is a workable path forward."
Simon Milner, a Facebook vice president, said the sheer volume of deals it would have to strike would be unworkable.
Google dominates internet searches in Australia, with Ms Silva telling senators about 95% are done through the company.
Mr Morrison told reporters in Brisbane: "Australia makes our rules for things you can do in Australia.
"That's done in our parliament. It's done by our government. And that's how things work here in Australia."
He added: "People who want to work with that in Australia, you're very welcome. But we don't respond to threats."
Australia announced the legislation last month after an investigation found Google and Facebook held too much market power in the media industry, a situation it said posed a potential threat to a well-functioning democracy.
Subscribe to the Daily podcast on Apple Podcasts, Google Podcasts, Spotify, Spreaker
Facebook and Alphabet, the parent company of Google, are among the most prominent American technology companies.
The US government this week asked Australia to scrap the proposed laws, and suggested it should pursue a voluntary code instead.
But The Australia Institute, an independent think tank, said politicians should stand firm against the tech giants.
"Google's testimony today is part of a pattern of threatening behaviour that is chilling for anyone who values our democracy," said Peter Lewis, the director of the institute's Centre for Responsible Technology.