Indicted Missouri governor blasts 'reckless liberal' prosecutor
Missouri Gov. Eric Greitens lashed out against a St. Louis prosecutor Thursday, hours after a grand jury indicted him on a felony invasion-of-privacy charge related to an extramarital affair.
"I know this will be righted soon," Greitens wrote in a Facebook post. "The people of Missouri deserve better than a reckless liberal prosecutor who uses her office to score political points."
The governor was referring to Circuit Attorney Kimberly Gardner, whose office announced Greitens' indictment Thursday. The charge stems from an incident that allegedly occurred in March 2015, she said.
Greitens, 43, was booked at the St. Louis Justice Center, officials told the St. Louis Post-Dispatch. He was released on his own recognizance, St. Louis Circuit Attorney spokeswoman Susan Ryan told the Associated Press.
According to Gardner's news release, the grand jury "found probable cause" that Greitens broke a state law.
The indictment said Greitens allegedly took a photo of a person – who was identified only by initials – "in a state of full or partial nudity" without their knowledge or consent and "in a place where a person would have a reasonable expectation of privacy," according to the Post-Dispatch.
It adds that Greitens allegedly "transmitted the image contained in the photograph in a manner that allowed access to that image via a computer," which is a felony, according to Gardner's release.
MISSOURI'S GREITENS ADMITS HE WAS 'UNFAITHFUL' BUT DENIES BLACKMAIL ALLEGATION
An investigation into Greitens' behavior was opened in January following his admiting to an affair, reportedly beginning in March 2015.
Local station KMOV-TV previously reported that Greitens allegedly threatened to publicize nude images of the woman he was having the extramarital relations with if she exposed their relationship, according to her ex-husband.
The man secretly recorded a conversation with his then-wife, in which she reportedly admitted to having an affair with Greitens.
The recording alleges that Greitens invited the woman to his home and the sexual encounter was consensual.
In the tape, the woman claims the governor asked her to "come downstairs" at his home where he would show her "how to do a proper pull-up."
The woman alleges he then taped her hands, blindfolded her, took a partially nude photo of her and then warned her to stay quite about the sexual encounter.
DIRTY DETAILS OF MISSOURI GOVERNOR'S AFFAIR FUEL RESIGNATION CALLS
"You're never going to mention my name, otherwise there will be pictures everwhere," Greitens allegedly said.
While acknowledging that he was "unfaithful" in his marriage, Greitens denied allegations that he blackmailed the woman.
Gardner declined to comment to the Associated Press but Ryan confirmed the indictment stemmed from the alleged photo.
In his statement following the indictment, Greitens maintained that he "did not commit a crime," and said the charge was a "misguided political decision."
"As I have said before, I made a personal mistake before I was Governor," he said. "I did not commit a crime. With today's disappointing and misguided political decision, my confidence in our prosecutorial system is shaken, but not broken."
Gardner is a Democrat who has faced her own share of scrutiny.
Last summer, after Gardner's first six months on the job, the St. Louis Post-Dispatch reported that at least a dozen experienced prosecutors had left her staff. By August, St. Louis radio station KMOX was reporting that staffing issues were having an effect on the resolution of criminal cases.
In January, a St. Louis judge disqualified Gardner's office from prosecuting a police shooting case, the Post-Dispatch reported. The judge ruled that the removal would "avoid an appearance of impropriety" because her office was simultaneously investigating whether the shooting was justified.
In a separate statement, Greitens' lawyers called the charges "baseless and unfounded," in a statement to the Post-Dispatch. They'll reportedly file a motion to dismiss the charges.
Greitens, a Republican, is a decorated former Navy SEAL officer whose received a Bronze Star and Purple Heart, among other awards, according to his service record. He enlisted in the Navy in 2000.
He was elected as governor in November 2016.
Fox News' Lucas Tomlinson, Barnini Chakraborty and the Associated Press contributed to this report.
<a href='https://www.skysports.com/olympics/live-blog'>Tokyo Olympics Day 6: Quiet start for Team GB on medals front – as world pole vault champ forced out due to COVID</a>


<a href='https://www.skysports.com/olympics/live-blog'>Tokyo Olympics Day 6: Quiet start for Team GB on medals front – as world pole vault champ forced out due to COVID</a>

Source link
New Zealand is best placed to survive a global collapse of society, study suggests | World News
New Zealand is the country most likely to survive a collapse of global civilisation, researchers have said.
A study has suggested a combination of ecological destruction, limited resources and population growth could trigger a worldwide breakdown "within few decades", with climate change making things worse.
A "very likely" collapse would be characterised by the disintegration of supply chains, international agreements and global financial structures, according to researchers at the Global Sustainability Institute at Anglia Ruskin University.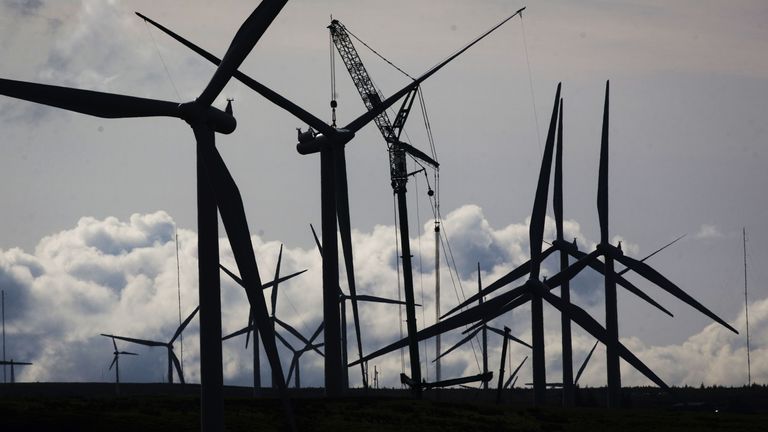 They said problems could spread quickly because of how connected and economically dependant countries are on one another.
Five countries were identified as best placed to maintain civilisation within their own borders: New Zealand, Iceland, the United Kingdom, Ireland and Australia.
All of them are islands or island continents which have fewer extremes in temperatures and varied amounts of rainfall due to their proximity to oceans.
Researchers said this makes them most likely to have relatively stable conditions in the future, despite the effects of climate change – which is expected to hit subtropics and tropics the hardest.
New Zealand's ability to produce geothermal and hydroelectric energy, its abundant agricultural land and its low population would allow it to survive relatively unscathed.
Although the UK has generally fertile soils and varied agricultural output, it does not have as much agricultural land available because of its population density, raising questions about future self-sufficiency.
Britain's reliance on fossil fuels and nuclear energy was considered to be a risk as power sources could be "rendered at least partly inoperable" if global supply chains collapse.
:: Subscribe to ClimateCast on Spotify, Apple Podcasts, or Spreaker.
Researchers said this could be mitigated by the nation's manufacturing capabilities.
Meeting the large population's energy demands through renewables alone would require very extensive infrastructure, they said, but the UK could increase its resilience by harnessing more energy from wind and water bodies like lagoons or barrages in the Severn Estuary.
Professor Aled Jones, Director of the Global Sustainability Institute at Anglia Ruskin University, said "significant changes are possible in the coming years and decades".
He said: "The impact of climate change, including increased frequency and intensity of drought and flooding, extreme temperatures, and greater population movement, could dictate the severity of these changes."
Researchers identified pandemics as another risk to societal stability, citing the United Nations' warning that future pandemics could be even more severe than COVID-19.
Twenty countries were analysed in the report.
Boris Johnson urges world leaders to dig deep to boost children's education across globe | Politics News
Boris Johnson is urging world leaders to dip into their pockets to boost children's education across the globe and help avoid a "legacy of wasted talent" as a result of the coronavirus crisis.
The prime minister will host a summit in London on Thursday with the aim of fundraising among governments, business and charities for the Global Partnership for Education (GPE).
The GPE aims to raise $5bn (£3.6bn) over the next five years in order to get 175 million more children into education around the world.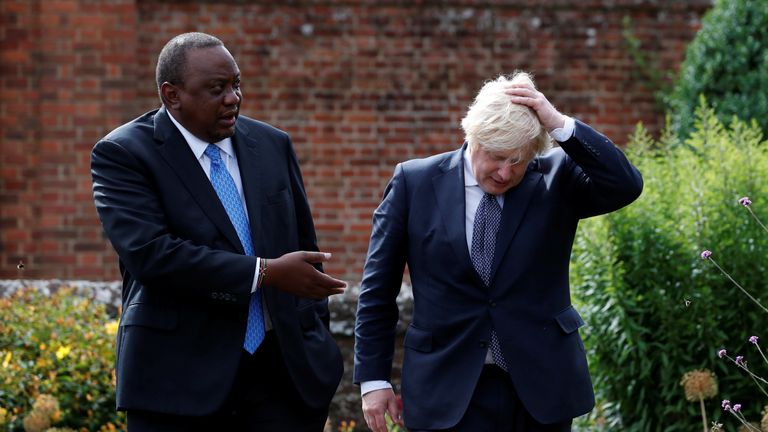 Ahead of the Summit, Mr Johnson said: "We have a fight on our hands to ensure COVID-19 does not scupper the life chances of millions of children, leaving a lasting legacy of wasted talent.
"Too many children around the world – girls in particular – were already out of school before the pandemic.
"Enabling them to learn and reach their full potential is the single greatest thing we can do to recover from this crisis and build better, greener and fairer societies.
"Today I am urging governments, businesses and philanthropists to invest in the future by fully funding the transformative work of the Global Partnership for Education."
Girls are feared to be particularly at risk of never returning to school once they have left, with 132 million girls around the world already estimated to be out of school even before the impact of the COVID pandemic.
Thursday's summit is being jointly hosted with Kenya and will be opened by Foreign Secretary Dominic Raab and his Kenyan counterpart, Raychelle Omamo.
The prime minister and Kenyan President Uhuru Kenyatta, who held bilateral talks at Chequers on Wednesday, will close the summit, along with Australia's former prime minister Julia Gillard, who is the GPE's chair.
World leaders, businesses, UN agencies, charities and youth leaders will join the summit both virtually and in person.
The UK last month pledged £430m to the GPE at the G7 Summit in Cornwall.