Florida killer's screams of 'Murderers!' during execution not caused by lethal injection, officials say
Authorities said there was no indication that the loud screams of a Florida death-row inmate, who repeatedly hollered "Murderers!" as he was put to death Thursday evening, resulted from drugs he was given for the execution procedure.
Eric Scott Branch, 47, was sentenced to death for raping and killing Susan Morris, a 21-year-old college student in 1993. Morris' naked body was found in a shallow grave near a nature trail.
Department of Corrections spokeswoman Michelle Glady said "there was no indication" that Branch's screams and thrashing on a gurney in his final moments were caused by the lethal injection — which she said has been confirmed by the Florida Department of Law Enforcement.
Although Branch was sentenced during Florida's old capital punishment system, which has since been determined unconstitutional, inmates sentenced to death before 2002 are not affected by the state's new system of sentencing.
The Associated Press contributed to this report. 
Two men killed as Tesla without anyone in the driver's seat crashes into tree and catches fire | US News
Two men have been killed after a Tesla crashed into a tree and burst into flames, and officials have said no one was in the driver's seat.
The 2019 Tesla Model S was travelling at high speed at the time of the incident on Saturday night in Texas.
Reports suggest the car failed to negotiate a curve and veered off the road.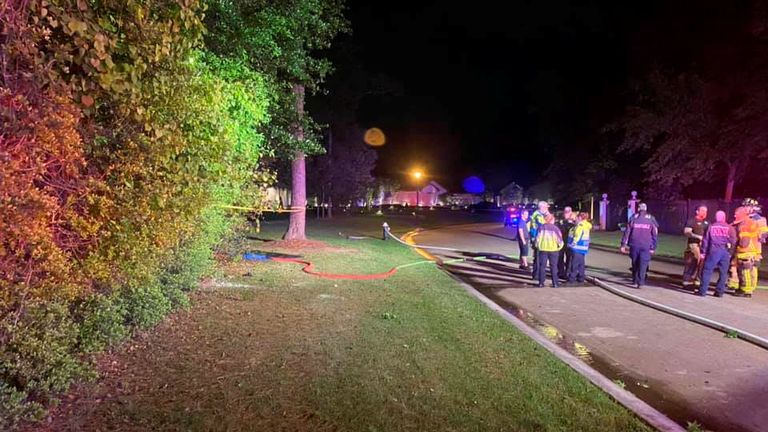 After the fire was extinguished, one of the victims was found in the front passenger seat, while the other was in the back.
One of those who died was born in 1962, while the other was born in 1951.
Tesla is facing growing scrutiny over its semi-automated driving system following a spate of recent accidents.
The company is planning to launch an updated version of its "full self-driving" software to a greater number of customers.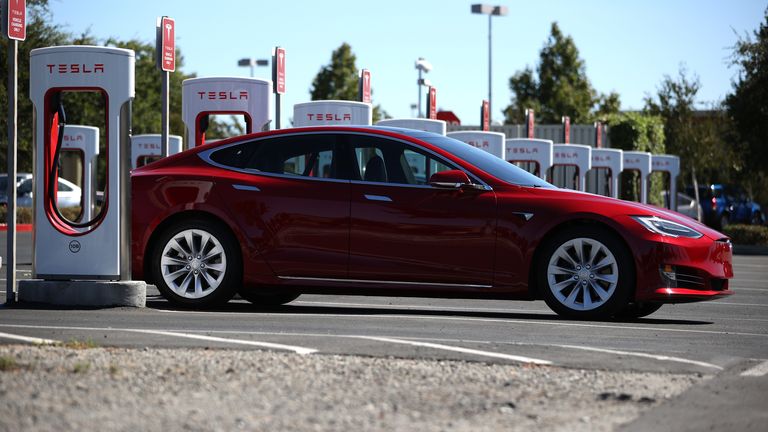 In January, Tesla CEO Elon Musk said he expects the upgrade to deliver huge profits for the company – and added that he was "highly confident the car will be able to drive itself with reliability in excess of human this year".
Last month, the National Highway Traffic Safety Administration confirmed that it has opened 27 investigations into crashes of Tesla vehicles, and at least three of these incidents happened recently.
Claude Monet painting from famed Water Lilies series to go under hammer for around £29m | Ents & Arts News

A "monumental" painting by Claude Monet from his celebrated and famed Water Lilies series is to go on sale at auction in New York for around $40m (£29m).
Le Bassin aux Nympheas is "among the most iconic and celebrated Impressionist images", according to Sotheby's.
The 40in x 79in work was painted from 1917-19 and will be part of the Impressionist & Modern Art Evening Sale on 12 May.
Before that it will go on view in Taipei, Taiwan, on 26 April and will return to Sotheby's in the US city for exhibition by appointment from 1 May.
The piece is part of the Grandes Decorations series of paintings depicting Monet's water lily pond at Giverny, France, which he began in 1914.
The series was ground-breaking in its nearly abstract treatment of the pond water's surface and its reflections.
It took Monet's paintings of the tranquil lily pond in a radical new direction, and the works were twice the size of his earlier Water Lilies.
The late works are considered an important bridge between Impressionism and Abstract Expressionism, as practised several generations later by artists such as Jackson Pollock and Mark Rothko.
Julian Dawes, from Sotheby's New York, said: "Claude Monet is among the most well-known and beloved artists of all time, and Le Bassin aux Nympheas represents a quintessential example from his celebrated and famed Water Lilies series.
"Sotheby's has an exceptional history as the house for Monet, including holding the artist's record at auction from our sale of Meules in 2019 for $110m.
"And we are extremely excited to bring such an illustrious picture to market for the first time in nearly two decades.
He added: "As a remarkable example of Monet's late period works from his cherished home at Giverny, this monumental painting beautifully encapsulates how Monet's oeuvre evolved over time from his Impressionist breakthroughs to a more abstract focus with his preoccupation of his pond and water lilies.
"From this perspective, this work opens a whole new window on to how Monet would influence later generations of artists who expanded on his radical concepts into full abstraction, and set the stage for a new artistic movement that would take the world by storm.
"After remaining largely absent from the very top end of the market in 2020, we are thrilled to see Monet take centre stage once again through this exceptional painting in our May Evening Sale."
COVID-19: Half of all adults in the US have received at least one coronavirus jab | US News

Half of all adults in the US have received at least one COVID-19 jab, according to new figures.
Almost 130 million people aged 18 or older have received at least one dose of a coronavirus vaccine, or 50.4% of the total adult population.
The Centers for Disease Control and Prevention (CDC) also said almost 84 million adults, or about 32.5% of the population, have had two vaccine doses.
The US cleared the 50% mark just a day after the reported global death toll from the coronavirus topped three million, according to the Johns Hopkins University, though the actual number is believed to be significantly higher.
The country's vaccination rate, at 61.6 doses administered per 100 people, currently falls behind Israel, which leads among countries with at least five million people with a rate of 119.2.
It also trails the United Arab Emirates, Chile and the UK, which is vaccinating at a rate of 62 doses per 100 people, according to Our World in Data.
The US states with the highest vaccination rates have a history of voting Democratic and supporting President Joe Biden in the 2020 election: New Hampshire at the top, with 71.1%, followed by New Mexico, Connecticut, Massachusetts and Maine, CDC data shows.
The demand has not been the same in many areas of Tennessee – particularly rural ones.
A poll conducted in March found that 36% of Republicans said they will probably or definitely not get vaccinated, compared with 12% of Democrats.
Similarly, a third of rural Americans said they were leaning against getting jabs, while fewer than a fourth of people living in cities and suburbs shared that hesitancy.
Meanwhile, Dr Anthony Fauci, the nation's top infectious disease expert, has indicated the government will likely resume use of Johnson & Johnson's COVID-19 vaccine this week.
Dr Fauci said he expects a decision when advisers to the CDC meet on Friday to discuss the pause in J&J's single-dose vaccine.
The vaccine was thrown into limbo after the CDC and the Food and Drug Administration said last week that they needed more evidence to decide if a handful of unusual blood clots were linked to the shot.