Florida killer's screams of 'Murderers!' during execution not caused by lethal injection, officials say
Authorities said there was no indication that the loud screams of a Florida death-row inmate, who repeatedly hollered "Murderers!" as he was put to death Thursday evening, resulted from drugs he was given for the execution procedure.
Eric Scott Branch, 47, was sentenced to death for raping and killing Susan Morris, a 21-year-old college student in 1993. Morris' naked body was found in a shallow grave near a nature trail.
Department of Corrections spokeswoman Michelle Glady said "there was no indication" that Branch's screams and thrashing on a gurney in his final moments were caused by the lethal injection — which she said has been confirmed by the Florida Department of Law Enforcement.
Although Branch was sentenced during Florida's old capital punishment system, which has since been determined unconstitutional, inmates sentenced to death before 2002 are not affected by the state's new system of sentencing.
The Associated Press contributed to this report. 
Guatemala: Honduran migrants heading for US camp out after violent clashes with troops | World News
Around 2,000 Honduran migrants are said to be camped out in eastern Guatemala after security forces used sticks and tear gas to stop their passage towards the US.
The authorities said that as many as 8,000 migrants, including families with young children, have entered Guatemala since Friday.
The caravan has been trying to flee poverty and lawlessness in a region which has been rocked by the COVID-19 pandemic and back-to-back hurricanes in November.
Officials in Guatemala said they have sent back hundreds of migrants to Honduras, but many have set up camp about 34 miles (55km) from the borders of Honduras and El Salvador after clashing with the security forces at the weekend.
One man, who gave his name as Pedro, said: "There's no food or water, and there are thousands of children, pregnant women, babies, and they don't want to let us pass."
A mother, travelling with her 15-year-old son, nine-year-old daughter and four-year-old niece, said: "We're starving. All we have is water and a few cookies."
Other migrants have tried to evade the gridlock by fleeing into the hills to continue heading towards the border of Mexico, where the government has deployed police and troops.
Thousands of the migrants had left the Honduran city of San Pedro Sula on Thursday to travel north in a bid to reach the US border.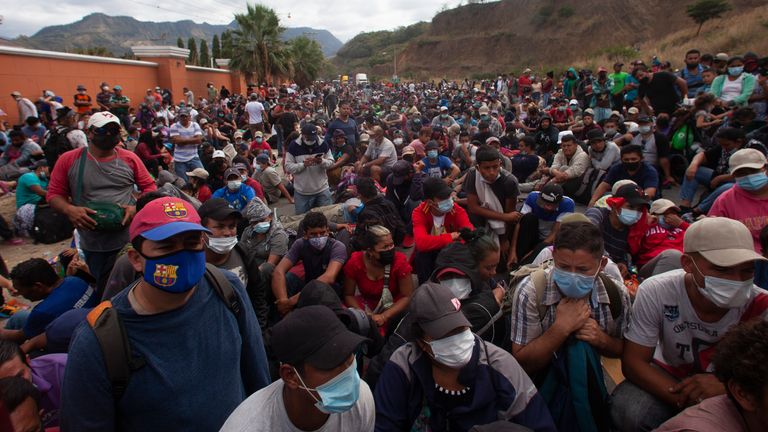 As they moved across Guatemala towards its border with Mexico, they clashed with soldiers and police close to the village of Vado Hondo.
"These types of illegal mass movements (of people) will not be accepted, that's why we are working together with the neighbouring nations to address this as a regional issue," the Guatemalan president's office said in a statement.
The caravan comes ahead of Wednesday's inauguration of Joe Biden, who migrants are hoping will be more sympathetic to their plight than the outgoing president, Donald Trump.
An official in Mr Biden's transition team advised people not to make the "extraordinarily dangerous" journey towards the US.
"Overcoming the challenges created by the chaotic and cruel policies of the last four years, and those presented by COVID-19, will take time," the official added.
In 2018, a group set off from San Pedro Sula towards the US, prompting Mr Trump to use his Twitter account to falsely claim "criminals" were heading towards the border.
Australian Open stars will not be given 'special treatment' as 72 now in quarantine | World News
Tennis stars stuck in quarantine ahead of the Australian Open will not be given any "special treatment", Victoria's premier has said. 
A total of 72 players are self-isolating in their Melbourne hotel rooms after passengers on three charter flights bringing them to the country tested positive for coronavirus.
Officials have now confirmed four more people associated with the tournament, including a player, tested positive for coronavirus after arriving in Australia and are in a hotel quarantine.
State premier lays down law to tennis stars

More positive tests could still crop up in the coming days, authorities have said.
Men's world number one Novak Djokovic reportedly sent a letter to officials with a list of requests – including a reduction in the time spent in isolation, permission to see coaches and moving athletes to private houses.
But premier Daniel Andrews has quashed the idea, pointedly telling a news conference: "People are free to provide lists of demands, but the answer is no.
"I know that there's been a bit of chatter from a number of players about the rules. Well, the rules apply to them as they apply to everybody else, and they were all briefed on that before they came.
"That was the condition on which they came. There's no special treatment here."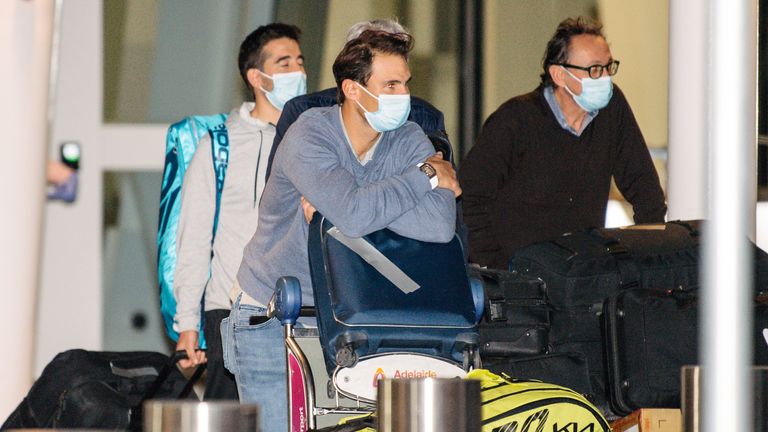 Controversy has surrounded going ahead with the tournament while thousands of Australians are stranded overseas as there is a limit on numbers allowed into the country.
All arrivals into Australia face mandatory quarantine.
Victoria state has accounted for 810 of the country's 909 deaths from COVID-19, with a deadly second wave three months ago resulting in curfews and lockdowns for the city of Melbourne.
This year's season-opening Grand Slam is not starting until 8 February and the quarantine restrictions mean some players are likely to be more prepared than others.
For the 72 players under the strictest quarantine rules, including Britain's Heather Watson, they have had to practice in their hotel rooms, with some sharing videos of their modified routines.
Tennis players practice in hotel rooms

Others in a softer quarantine – including Serena Williams, Naomi Osaka, Novak Djokovic and Rafael Nadal – are allowed to practice outdoors for five hours a day in a COVID-secure manner.
The outdoor sessions started on Monday but some players complained of delays.
Alexei Navalny: Putin critic accuses Kremlin of 'highest level of lawlessness' at first hearing | World News
Putin critic Alexei Navalny has accused the Russian government of the "highest level of lawlessness" at his first hearing since his arrest.
Mr Navalny was detained at Moscow's Sheremetyevo airport on Sunday, after spending five months in Germany recovering from novichok poisoning.
The 44-year-old, who is one of Vladimir Putin's most outspoken critics, blames Moscow for the attack that nearly killed him, although the Kremlin denies any involvement.
He appeared at an ad-hoc hearing – held in a police station in Khimki, outside Moscow – on Monday afternoon.
In a video posted to Twitter by his spokeswoman Kira Yarmysh, Mr Navalny said: "I don't understand what's going on. A minute ago, I was brought from cell here to meet my lawyers.
"I came here and here is the Khimki court session taking place. Some strangers are filming me on camera… Why the court session is taking place in police station I cannot understand. Why was no one was informed?
"I have seen a lot of jokes about judicial system here… It's not possible what is happening here. It's the highest level of lawlessness. I cannot call it any other word."
Moment Navalny is detained after landing in Russia

Mr Navalny's detention was widely expected because Russia's prisons service said he had violated parole terms from a suspended sentence on a 2014 embezzlement conviction.
But it has drawn widespread condemnation from leaders from Europe and the US.
Earlier, Dominic Raab joined those calling for Mr Navalny's immediate release.
The UK foreign secretary said: "It is appalling that Alexei Navalny, the victim of a despicable crime, has been detained by Russian authorities. He must be immediately released.
"Rather than persecuting Mr Navalny, Russia should explain how a chemical weapon came to be used on Russian soil."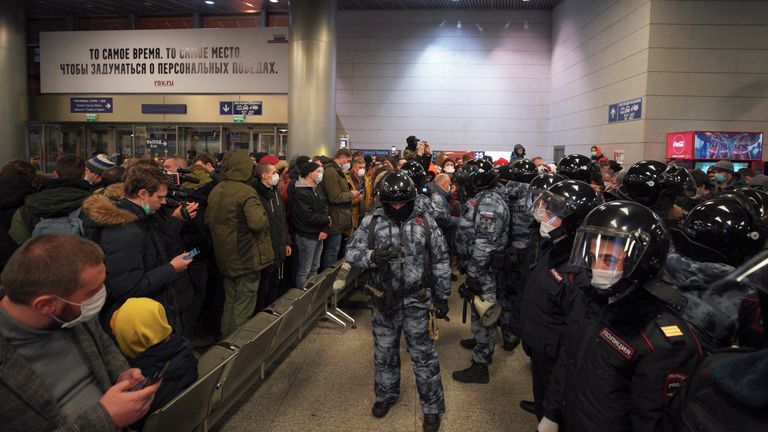 European Commission President Ursula von der Leyen said Russian authorities should immediately release Mr Navalny and "ensure his safety".
In a statement shared on Twitter, she added: "Detention of political opponents is against Russia's international commitments.
"We will monitor the situation closely."
I condemn the detention of Alexei Navalny by the Russian authorities. They must immediately release him and ensure his safety.

Detention of political opponents is against Russia's international commitments. pic.twitter.com/RRATmAHVvn

— Ursula von der Leyen (@vonderleyen) January 18, 2021
Mike Pompeo, US secretary of state, said Washington "strongly condemns" the decision to arrest Mr Navalny and called his detention "the latest in a series of attempts to silence Navalny and other opposition figures and independent voices who are critical of Russian authorities."
He added on Twitter that he was "deeply troubled" by the move.
"Confident political leaders do not fear competing voices, nor see the need to commit violence against or wrongfully detain, political opponents," he said.
President-elect Joe Biden's pick for national security adviser also called on the Russian authorities to free him.
'They tried to kill me,' says Kremlin critic

"Mr Navalny should be immediately released, and the perpetrators of the outrageous attack on his life must be held accountable," Jake Sullivan said in a tweet.
Moscow has dismissed the criticism.
Russian foreign minister Sergei Lavrov said that Western countries' expressions of outrage were designed to distract their citizens from their own domestic problems.
Meanwhile, foreign ministry spokeswoman Maria Zakharova wrote on Facebook: "Respect international law, do not encroach on national legislation of sovereign states and address problems in your own country."
On leaving Berlin on Sunday, Mr Navalny said he didn't think he would be arrested as he had "every right" to return to his home country.
The arrest raises tensions in Russia as it approaches national parliament elections this year, in which Mr Navalny's organisation is expected to be active in trying to defeat pro-Kremlin candidates.
"This is a real act of bravery for Alexei Navalny to return to Russia, given that government agents already tried to kill him once," Human Rights Watch executive director Kenneth Roth tweeted.
"But he understandably wants to be part of the pro-democracy movement in Russia, not a dissident in exile."
Mr Navalny fell into a coma while aboard a domestic flight from Siberia to Moscow on 20 August.
He was transferred to a hospital in Berlin two days later.
Labs in Germany, France and Sweden tested the substance he was exposed to.
It was established he was poisoned with a Soviet-era novichok nerve agent – the same kind of substance used against Sergei and Yulia Skripal, a former Russian double agent and his daughter, in a 2018 poisoning in Salisbury.