Trump on preventing mass shootings: 'we're going to get it done'
President Trump said Wednesday the administration is going to strengthen background checks for gun purchases and "put a strong emphasis on mental health," as he promised students and families "we are going to get it done."
The president, Vice President Mike Pence and Education Secretary Betsy DeVos hosted students, teachers and families affected by the Parkland high school shooting for a "listening session" at the White House Wednesday, which lasted close to two hours. 
Exactly one week ago, 19-year-old Nikolas Cruz, whom the president described as "a sick guy," opened fire at the high school and now is charged with killing 17 teachers and students with an AR-15 rifle.
"We are going to be very strong on background checks, and put a very strong emphasis on the mental health of somebody," Trump said at the beginning of the listening session. "We're going to talk and get it done. It's been going on too long, too many instances and we're going to get it done."
Students and parents from Marjory Stoneman Douglas High School in Parkland, along with Parkland city Mayor Christine Hunschofsky, attended the White House session, along with members of Sandy Hook Promise, a national non-profit organization based in Newtown, Connecticut and led by several family members whose loved ones were killed in the tragic Dec. 14, 2012 mass shooting at Sandy Hook Elementary School. Students from Friendship Public Charter School, Parkmont, and Thurgood Marshall Academy in Washington, D.C. also attended.
Parkland Student Body President Julia Cordover opened the session with emotional remarks for the group.
"I'm a survivor. I want you all to emphasize the point that I survived," Cordover said. "I was lucky enough to come home from school and it is very scary to know that a lot of people did not have the opportunity to be here."
Cordover thanked the president for addressing bump stocks earlier in the week. 
The president directed Attorney General Jeff Sessions to create new regulations to ban firearm modifiers, including the "bump stock" used in the Las Vegas massacre in October 2017.
A memo released by the White House earlier this week directed the DOJ to propose a rule "banning all devices that turn legal weapons into machineguns."
The president asked for suggestions to prevent school shootings, leaving the floor open to parents and teachers. 
A parent from Parkland High School suggested that a select few teachers, administrators, or other school employees volunteer to become a designated "undercover police officer," to manage a potential tragedy prior to the arrival of first responders.
"If a tragedy strikes, can we wait for first responders to get to the campus minutes later?" the parent said. "The challenge becomes, once it starts, to end it as quickly as possible."
The president said the administration would look "very strongly" at the option for "concealed carry" at schools, but acknowledged that "a lot of people will be opposed to it."
"Concealed carry only works for people that are very adept at carrying a gun," Trump said. "Where a teacher would have a concealed gun on them, go for special training and they would be there and you would no longer have a gun free zone."
Trump added: "A gun-free zone to a maniac, they're all cowards, it's 'let's go in and attack because bullets aren't coming at us.'"
The president said that an attack lasts, on average "three minutes."
"It takes five to eight minutes for first responders. So the attack is over. If you had a teacher who was adept at firearms, they could very well end [the attack]," Trump said. "We are looking at that very strongly. A lot of people will be opposed to it. A lot of people are gonna like it."
Trump suggested having "20 percent of your teaching force" representing the "type of talent" capable of concealed carry. Trump also floated the idea to add security, like former "marines, people who left the Air Force" to be "spread evenly throughout the school."
The president has also signaled a willingness to raise the minimum age for purchasing certain firearms in the wake of last week's school shooting in Parkland.
A White House source told Fox News Wednesday that Trump is open to a number of measures to address mass shootings, including a rise in the minimum age for buying firearms.
Under current federal law, licensed firearm dealers cannot sell handguns to people under 21 and cannot sell long guns to people under 18, according to the Giffords Law Center, which tracks gun laws and advocates for more restrictions. Some states already impose laws with tighter minimum age requirements.
The NRA quickly rejected any talk of raising the age for buying long guns to 21.
"Legislative proposals that prevent law-abiding adults aged 18-20 years old from acquiring rifles and shotguns effectively prohibits them for purchasing any firearm, thus depriving them of their constitutional right to self-protection," the group said in a statement.
It is unclear, however, whether Trump will push for a change in federal law, or encourage a change at the state level.
The president has expressed support for the Second Amendment and said he's against reflexive gun control measures that wouldn't stop tragedies. The NRA endorsed Trump in the 2016 presidential election, and has yet to comment on the president's current stance on gun control.
"Whether we are Republican or Democrat, we must now focus on strengthening Background Checks!" Trump tweeted on Tuesday.
The listening session, Trump's openness to tightening age restrictions, and the directive to the Justice Department reflect a different response from the White House than in the aftermath of previous tragedies.
Following the Las Vegas massacre, White House Press Secretary Sarah Sanders said that it was "premature to discuss policy when we don't know all the facts," and added, "we can have those policy conversations, but today is not the day."
Republican Florida Gov. Rick Scott also is slated to meet with students from Parkland Wednesday evening.
"In addition to what we're going to with background checks, we're going to go very strong into age of purchase, and very strongly into the mental health aspect of what's going on," Trump said. "This person, who was very sick, and people knew he was very sick. We're also going to look at the institutions, what you do when you find someone like this." 
He added: "All I can say is we're fighting hard for you and we will not stop. I grieve for you. There can be nothing worse than what you've gone through. Thank you for pouring out your hearts because the world is watching and we're going to come up with a solution." 
Fox News' John Roberts and Alex Pappas contributed to this report. The Associated Press also contributed to this report.
Myanmar coup: Ambassador to UN fired after making three-fingered salute in support of protests | World News
Myanmar's ambassador to the UN has been fired a day after making a three-fingered salute in support of anti-coup protests – as he called on nations to use "any means necessary" to reverse the military takeover.
Kyaw Moe Tun was removed as police arrested hundreds of demonstrators who showed opposition to the coup on 1 February.
Myanmar's crisis took a dramatic turn on Friday when the ambassador made a three-fingered salute adopted by the protesters before the UN General Assembly.
Mr Tun had called on the world to pressure the military to cede power and said he was speaking on behalf of the ousted civilian government of elected leader Aung San Suu Kyi.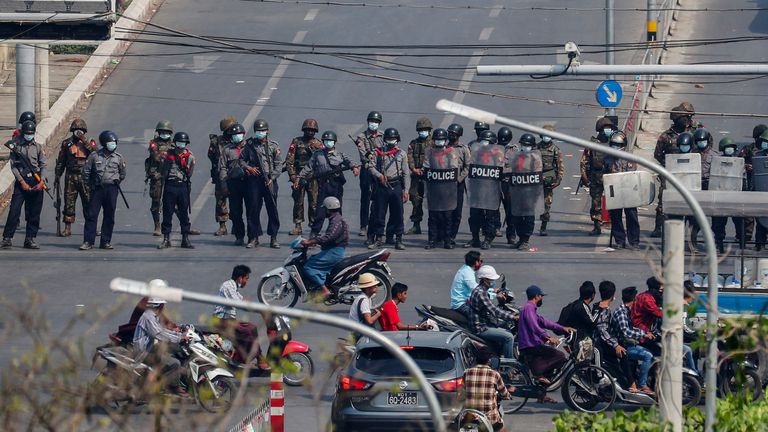 He used an emotional speech to urge all countries to issue public statements strongly condemning the coup.
Mr Tun also urged the international community to "use any means necessary to take action against the Myanmar military and to provide safety and security for the people of Myanmar".
The ambassador also called for stronger international measures to stop violence by security forces against peaceful demonstrators.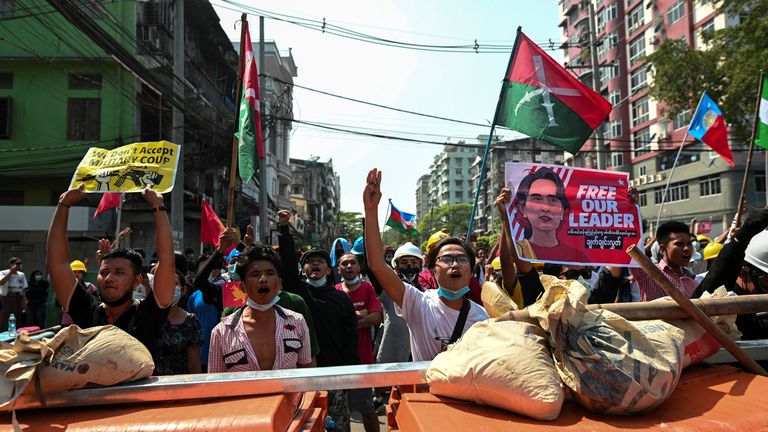 He drew loud applause from many diplomats in the 193-nation global body, as well as effusive praise on social media, where people from Myanmar and further afield described him as a hero.
Myanmar state broadcaster MRTV said he had "betrayed the country and spoken for an unofficial organisation which doesn't represent the country and had abused the power and responsibilities of an ambassador".
Mr Tun has been fired as police arrested hundreds of protesters who had showed their opposition to the coup on Saturday.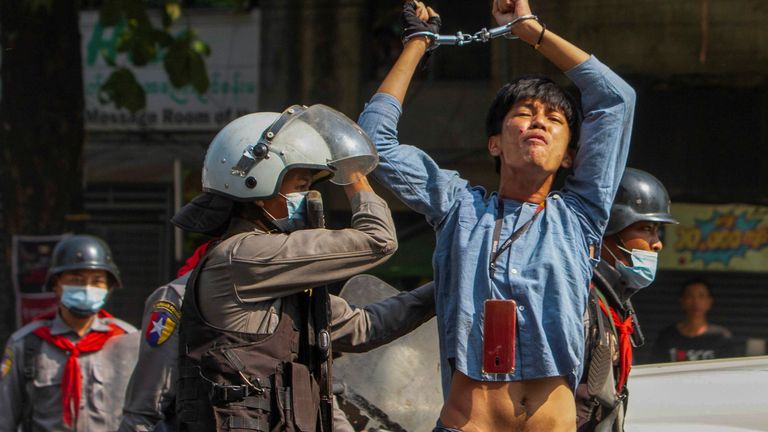 Aung Myo Kyaw, a representative from the Assistance Association for Political Prisoners (AAPP) rights group in Myanmar, said: "We can definitely say hundreds.
"More than 10 prison buses went into Insein prison with about 40 to 50 people in a prison bus. They arrested many people in Monywa too. We are now trying to get the names of the people."
Police in Myanmar escalated their crackdown as protesters sought to assemble in the country's two biggest cities.
Officers made arrests at the Hledan Center intersection in Yangon which has become a gathering point for protesters.
From earlier this month: Police 'gunfire' during Myanmar protests

Security forces also tried to thwart protests in Mandalay, where roadblocks were set up at several key intersections and the regular venues for rallies were flooded with police.
Mandalay has been the scene of several violent confrontations and at least four of eight confirmed deaths linked to the protests, according to the independent Assistance Association of Political Prisoners.
There were also arrests in the city on Friday as demonstrators demanded the restoration of the government of Ms Suu Kyi, whose National League for Democracy party won a landslide election victory in November.
Subscribe to the Daily podcast on Apple Podcasts, Google Podcasts, Spotify, Spreaker
The military takeover has reversed years of slow progress toward democracy after five decades of military rule.
Ms Suu Kyi's party would have been installed for a second five-year term in office, but the army blocked parliament from convening and detained her and President Win Myint and other top members of her government.
The junta said it took power because last year's polls were marred by massive irregularities. Before the military seized power, the election commission had refuted allegations of widespread fraud.
The junta dismissed the old commission's members and appointed new ones, who annulled the election results on Friday.
Arrests made after hundreds gather for anti-lockdown protests in Dublin | World News
Police have arrested a number people after hundreds of anti-lockdown protesters gathered in Dublin.
About 20 people were arrested by Gardai in the centre of the Irish capital on Saturday after an anti-lockdown demonstration began around 2pm.
Officers were forced to draw their batons after one protester threw a firework at police.
The protesters, who were not wearing masks and carried anti-lockdown placards, tried to gather in St Stephen's Green park, but the gates were closed by officials.
Sky News Ireland correspondent Stephen Murphy said there were no reports of any serious injuries and a "handful" of public order arrests were made.
Garda Commissioner Drew Harris said up to 20 people were arrested during the protest.
"Very regrettably, people arrived intent on violence. They engaged in attacks on members of An Garda Siochana including the throwing of a firework type device.
"They had no reasonable grounds for being there in the first place so we will pursue particularly those who formed a very hard core to deal with.
"We will follow through with an investigation to bring the perpetrators to justice."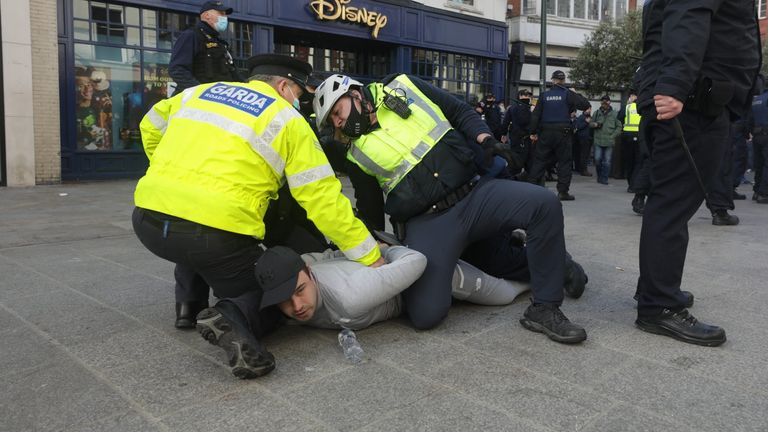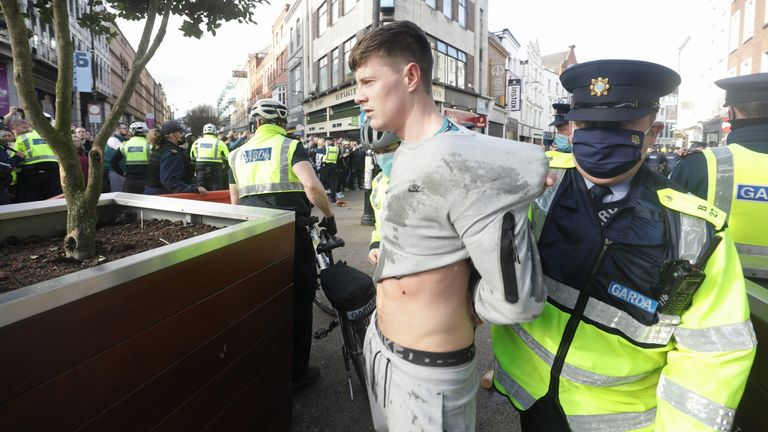 Simon Harris, Ireland's minister for further and higher education condemned the protest.
He tweeted: "Pure thuggery on the streets of Dublin today. It's not a 'protest'. It's an attack on our national effort.
"The abuse directed at the Gardai is sickening and shameful. Disgraceful. Thoughts with the Gardai and their families."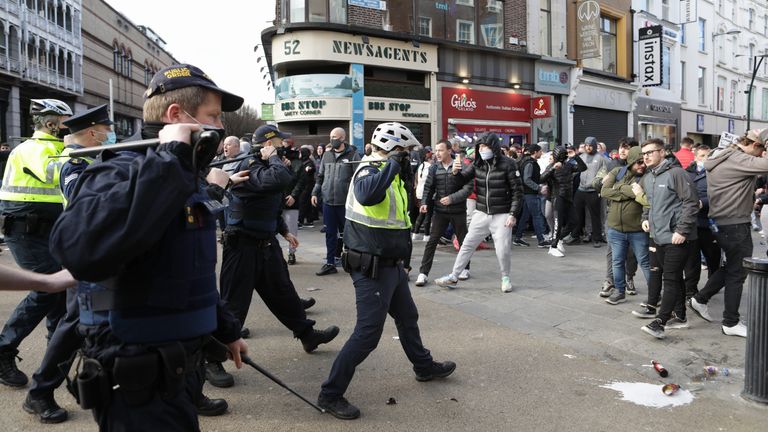 Ireland is in its ninth week of Level 5 national coronavirus restrictions.
Nationwide, 373,280 COVID-19 jabs have been given out – compared to 19.6 million in the UK.
On Friday, 29 new COVID-related deaths were reported alongside 776 new cases.
In the UK on Friday there were 345 further deaths recorded and 8,523 new infections.
Alexei Navalny: Jailed Putin critic's wife among thousands marking murder of opposition MP | World News
The wife of jailed Russian opposition politician Alexei Navalny has joined thousands of people in commemorating the anniversary of fellow Putin critic Boris Nemtsov's murder.
Yulia Navalny laid a bunch of red roses on Bolshoy Moskvoretsky Bridge in central Moscow where Mr Nemtsov was gunned down on the night of 27 February in 2015.
Mr Nemtsov briefly served as Russia's deputy prime minister in the late 1990s before joining the opposition.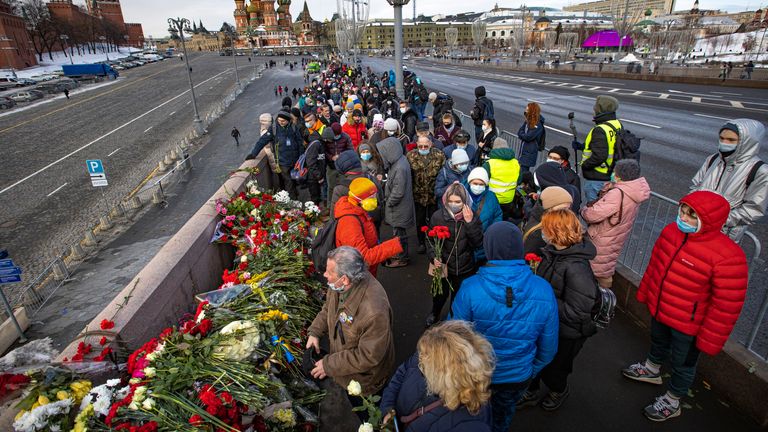 Russian ambassadors of several Western countries were among the thousands of people who attended Saturday's commemoration, Russian news agencies said.
Mrs Navalny's presence among them was poignant as her husband was jailed earlier this month for two years and eight months for parole violations he claims were trumped up.
The 44-year-old was arrested on 17 January as he returned to Russia from Germany, where he had spent five months recovering from a nerve-agent poisoning that he blames on the Kremlin – an allegation denied by Russian authorities.
His sentence stems from a 2014 embezzlement conviction that he has rejected as fabricated and the European Court of Human Rights (ECHR) has ruled to be unlawful.
Mr Navalny's allies declared a moratorium on street protests until spring after they sprung up following his arrest.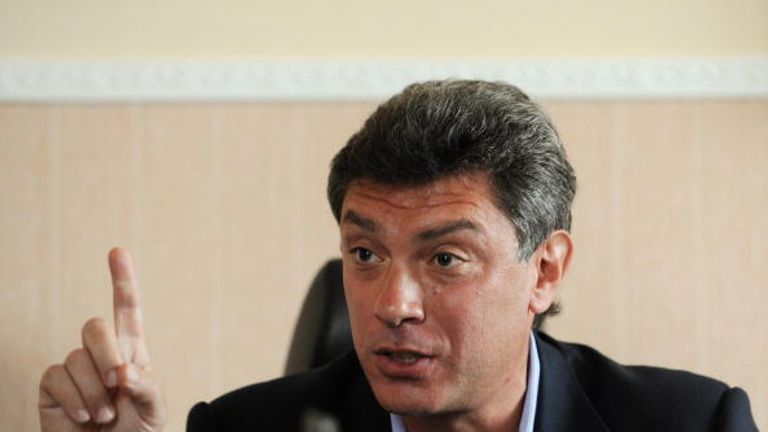 They announced the protest freeze after police broke up several nationwide rallies and detained more than 11,000 people, a monitoring group calculated.
However, the opposition called on Muscovites to pay their respects to Mr Nemtsov, while observing social distancing and wearing face masks.
They wanted to hold a commemorative march but their request was turned down due to the pandemic, however the gathering was allowed to go ahead.
Noticeably, there were very few police at the scene where about 4,600 people had turned up by 3.30pm local time (12.30pm GMT), protest monitoring group Bely Schetchik said.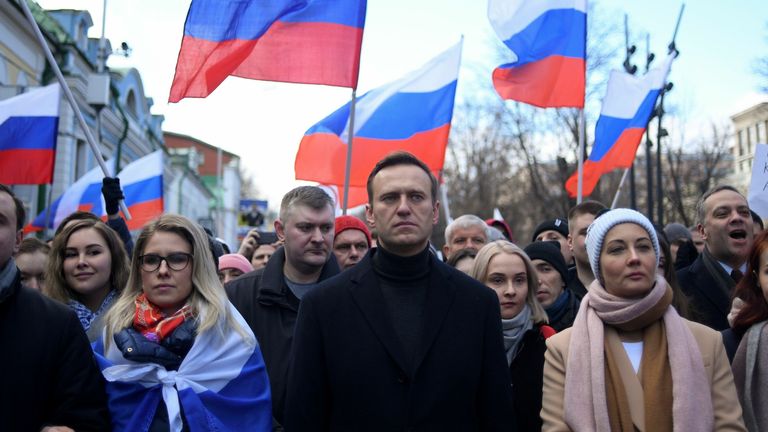 Mr Nemtsov had been working on a report examining Russia's role in the Ukraine conflict when he was murdered by an unknown assailant who shot him six or seven times as he walked home after dinner.
Hours before, he had appealed to Russians to march against the war in Ukraine.
After his murder, opposition activists guarded a makeshift memorial on the bridge when city authorities turned down a request to install a plaque in his honour.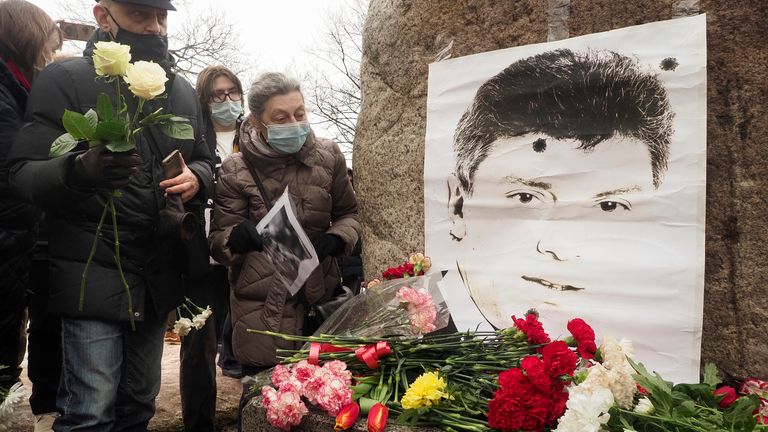 The memorial has been taken down several times over the years and police detained eight people last week as they tried to lay flowers in the space.
In 2017, a court sentenced five men to between 11 and 20 years in prison for their involvement in Mr Nemtsov's murder, but his allies maintain the people who ordered his killing remain at large.