President Trump proposes more guns to stop school shooting massacres
Tearful school shooting survivors have met President Trump and urged him to bring in stricter gun control – his response, a proposal to arm teachers.
The "listening session" follows America's latest mass shooting in Florida, in which former-student Nikolas Cruz opened fire at Marjory Stoneman Douglas High School, killing 17 people on Valentine's Day.
Students from the school, along with groups representing Sandy Hook and Columbine, delivered powerful speeches, pleading for a change in laws controlling assault weapons.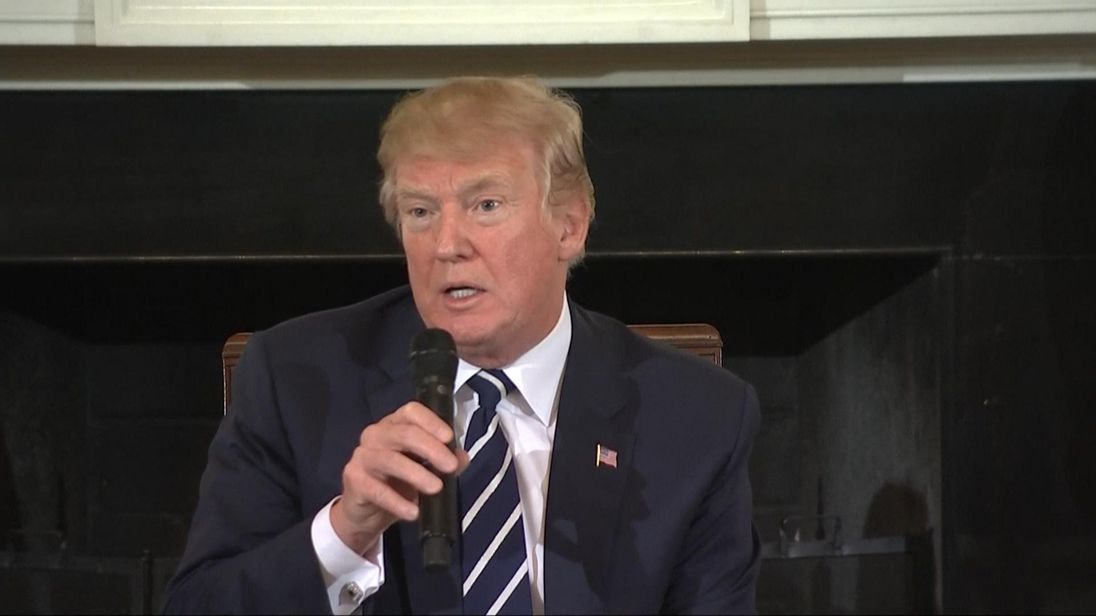 In response Mr Trump suggested arming teachers, who would be specially trained, and getting rid of gun-free zones, which he said encouraged shooters to attack.
The President also promised "very strong background checks" and an "emphasis on mental health".
Andrew Pollock, whose daughter Meadow Pollock was killed in the shooting, yelled at Mr Trump: "Fix it!".
Mr Pollock, who said he has to visit his daughter in the cemetery now, said: "It's not about gun laws right now. We need our children safe."
Student Sam Zeif, 18, told how he texted his mother and two brothers during the shooting saying he wouldn't see them again before realising his 13-year-old brother was in the classroom above him, where teacher Scott Beigel died shielding students from bullets.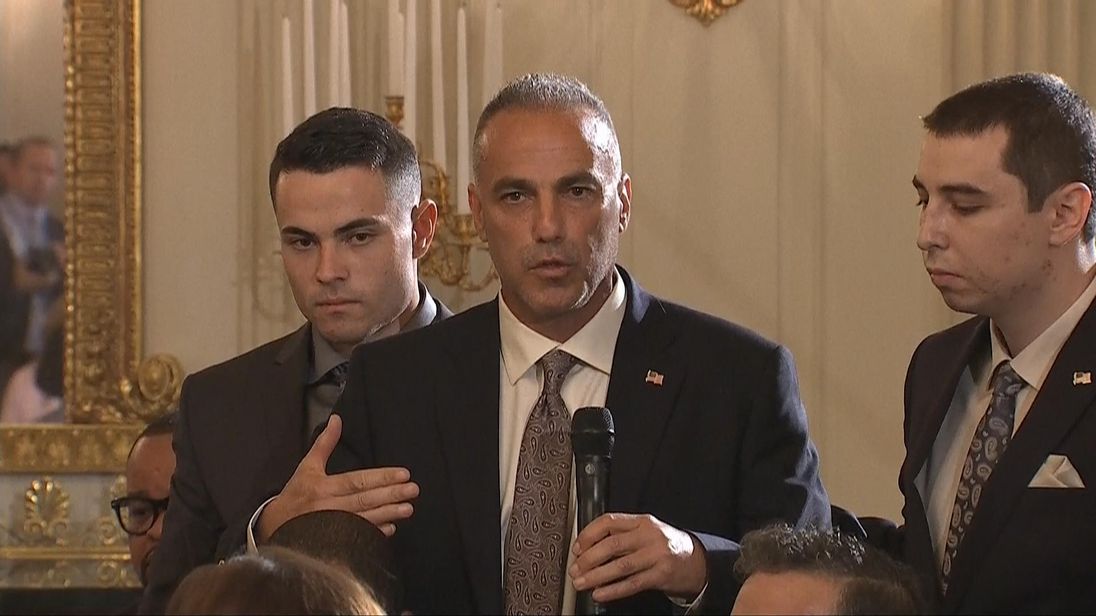 The teenager said: "I don't understand why I can still go in a store and buy a weapon of war, an AR. Let's never let this happen again please, please."
Florida shooting survivor Lorenzo Prado emotionally explained how he feared for his life after being held at gunpoint by six SWAT team members when he was mistaken for the gunman.
Similar clothes, hair colour and facial structure to Cruz led him to be "tossed to the ground and handcuffed" before his real identity was discovered.
The mother of a six-year-old Sandy Hook victim, Nicole Hockley, urged the President to use his time in office to stop school shootings happening.
Talking about her late son Dylan, she said: ""Every parent who sends their child to school should know without any question they're going to be coming home that day.
"How many more deaths as a country can we take? How many more teenagers and six and seven-year-olds can we allow to die? Don't let that happen anymore on your watch."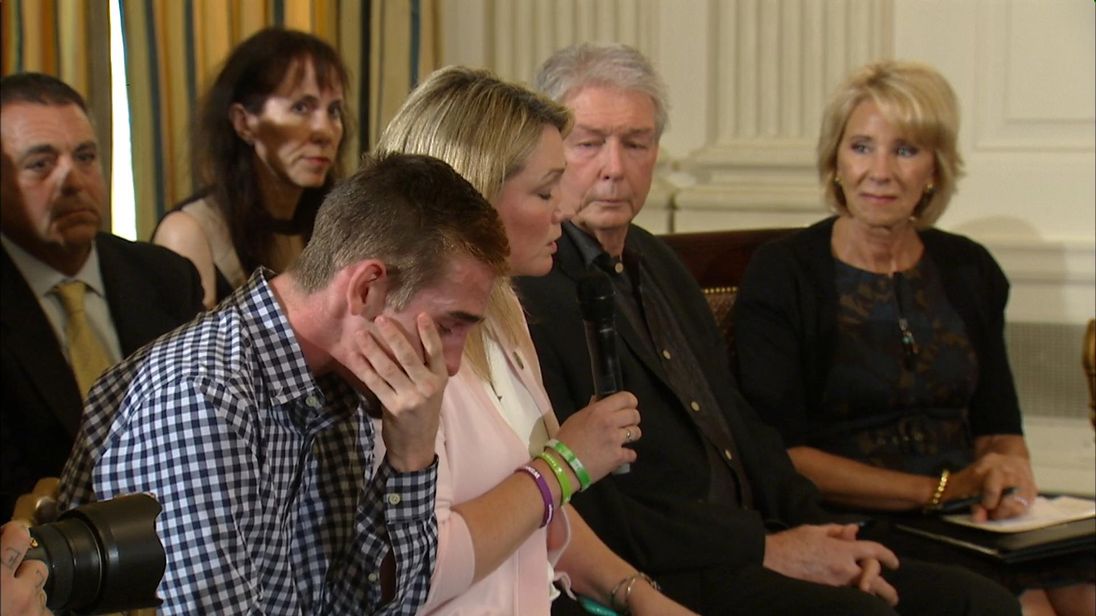 Darrell Scott, the father of a girl killed in the 1999 Columbine shooting, told how Rachel was shot, while her brother had a gun pointed at him as he lay covered with blood from his slain friends.
His son's life was only saved when the two killers were distracted by an emergency alarm going off.
At the same time in Tallahassee, Florida, thousands of students marched into the state Capitol, calling for changes to gun laws, a ban on assault-type weapons and improved care for the mentally ill.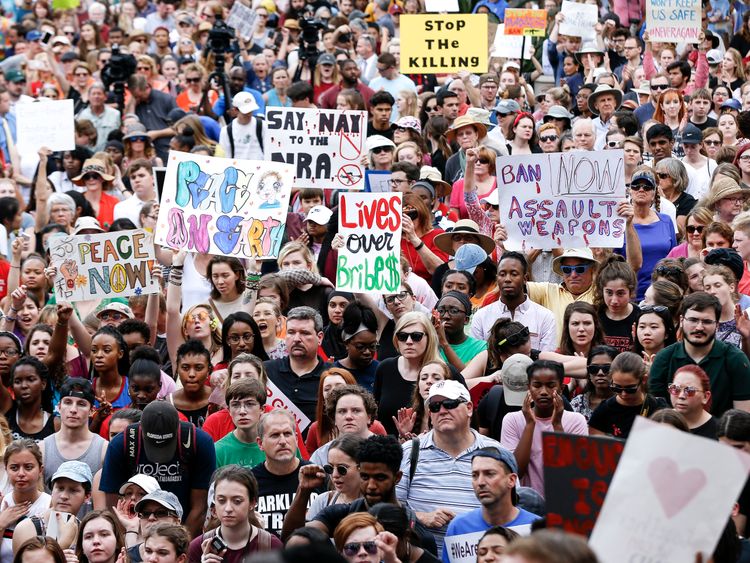 More than 100 survivors from the Marjory Stoneman attack took part, including school senior Delaney Tarr who warned lawmakers that they "were coming after them".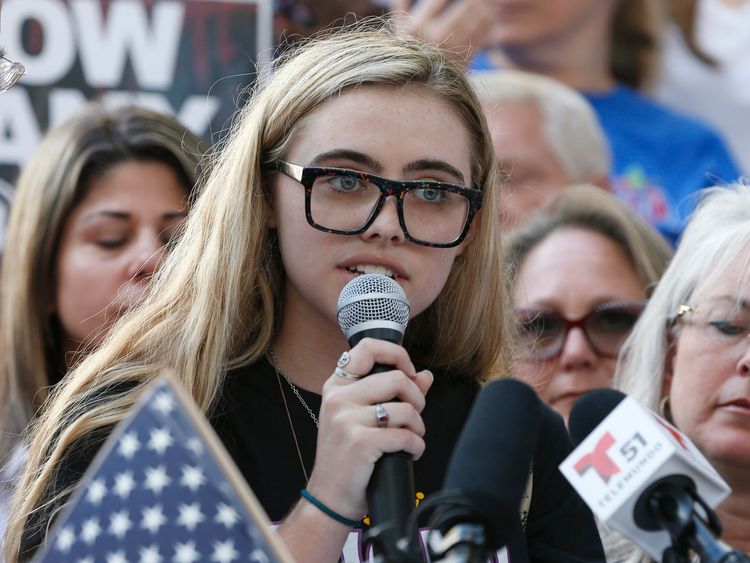 She told reporters at the Capitol: "We know what we want. We want gun reform. We want common sense gun laws. We want change.
"We've had enough of thoughts and prayers. If you supported us, you would have made a change long ago.
"So this is to every lawmaker out there: No longer can you take money from the NRA.
"We are coming after you. We are coming after every single one of you, demanding that you take action."
As the march took place, a 17-year-old student from Godby High School was arrested after writing on Instagram that he was going to "shoot up" the school.
Director of Olympics opening ceremony is fired over Holocaust comments | World News
The director of the Olympics opening ceremony has been fired over comments he made about the Holocaust.
The remarks were made by Kentaro Kobayashi during a comedy show in 1998 and included the phrase: "Let's play Holocaust".
Mr Kobayashi's words resurfaced in news articles ahead of Friday's opening ceremony, and organising committee president Seiko Hashimoto confirmed on Thursday morning that the comedian, actor, and theatre director had been fired.
The Simon Wiesenthal Center, a Jewish human rights organisation, commented: "Any association of this person to the Tokyo Olympics would insult the memory of six million Jews and make a cruel mockery of the Paralympics."
It is not the first bad headline connected to the opening ceremony for the Games in Tokyo, which were postponed from last year because of the coronavirus pandemic.
Earlier in the week, one of the show's composers was forced to resign after he boasted in magazine interviews about bullying his classmates.
Japanese media have reported that fewer than 950 people – including only around 15 global leaders – are set to attend the opening ceremony.
US First Lady Jill Biden is expected to be there, but former Japanese prime minister Shinzo Abe – who played a major role in Tokyo being chosen to host the Games – will not be.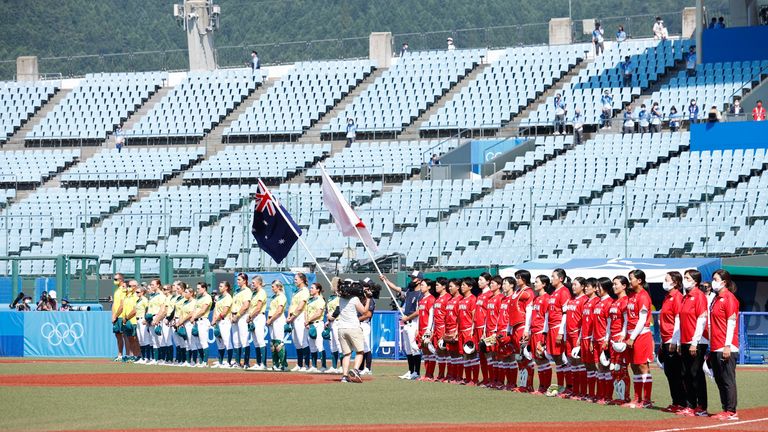 Team GB has also confirmed its flagbearers for the ceremony, with a break in tradition meaning that both a female and male athlete can be named.
Sailor Hannah Mills, who will be defending her women's 470 title alongside Eilidh McIntyre, said: "It is the greatest honour in my career and I hope more than ever before that this Games can lift our country and deliver some incredible sporting moments to inspire the nation."
Rower Mohamed Sbihi, a gold medallist in the men's fours almost five years ago, added: "It will be really special and will complete my Olympic puzzle: I've won a medal, been to the closing ceremony but now to actually turn up at an opening ceremony and be at the head of the team alongside Hannah it will be a lifetime memory that I will never forget."
The pair were chosen as athletes who exemplify Olympic values and Team GB values of pride, responsibility, respect and unity.
Meanwhile, there were 12 new COVID-19 cases confirmed among athletes and personnel at the athletes' village, taking the Games total to more than 90.
These include a Dutch skateboarder and a Chilean who was set to compete in Taekwondo, six contractors, and four Games-related personnel.
Laurel Hubbard: Transgender weightlifter is set to make history at Tokyo Olympics – but does she have unfair advantage? | UK News
Staging the Tokyo Olympics during the coronavirus pandemic has been controversial – but one athlete has arguably been the biggest talking point as the Games get under way.
Laurel Hubbard is set to make history at Tokyo 2020 after becoming the first transgender sportsperson to be picked to compete at an Olympics.
The 43-year-old New Zealander – who transitioned from male to female in 2012 – will represent her country in the women's weightlifting, and her selection has sparked fierce debate about fair competition at the Games.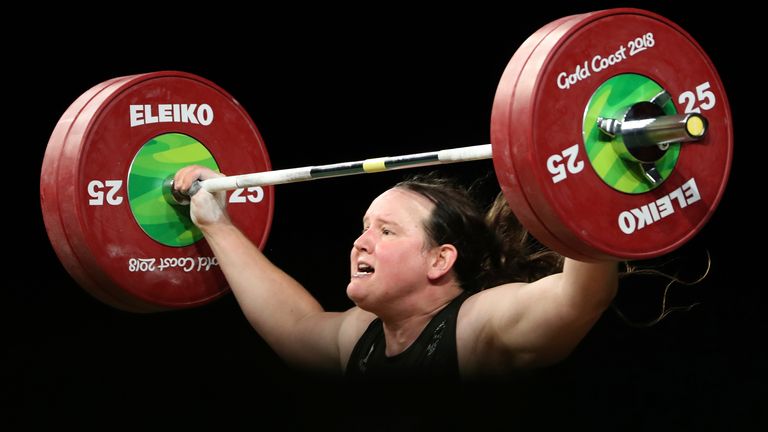 Rival weightlifters have voiced opposition to her inclusion in the event – with one calling the situation "like a bad joke" – while several former sports stars, such as Caitlyn Jenner, Martina Navratilova and Sharron Davies, have spoken out against athletes who were born male competing in elite women's sport.
Despite the criticism, the International Olympic Committee (IOC) has backed Hubbard's selection, saying that under the current rules she can compete.
The debate on both sides has been loud, and at times toxic, but the person at the centre of it has been remained noticeably quiet in public.
Hubbard hasn't given a media interview since 2017 and she was absent from a photo shoot for New Zealand's weightlifting team ahead of the Olympics.
So what do we know about the athlete who is set to contend for a medal in the women's superheavyweight +87kg category – and will she have an unfair advantage?
• Is Hubbard set for medal glory at the Tokyo Olympics?
Joanna Harper, who is working on several studies on transgender athletes at Loughborough University, says Hubbard "certainly has physical advantages" over her female competitors.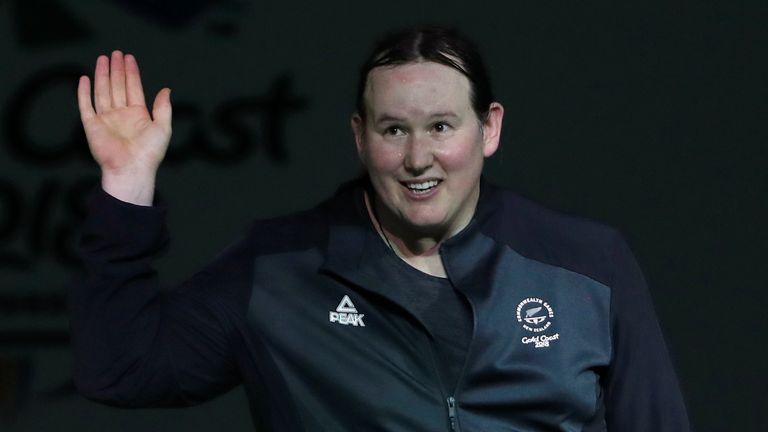 In general, transgender women are "taller, bigger and stronger, even after hormone therapy" than cisgender women [whose gender identity matches the sex they were assigned at birth], she says.
"Those are all advantages in many sports, including weightlifting," Ms Harper tells Sky News.
"Whether those advantages are unfair is a whole different question. It's very important to make that distinction.
"We allow advantages in sport – in fact we celebrate them. What we don't allow is overwhelming advantage.
"For instance, we let left-handed tennis players play right-handed tennis players, even though left-handed tennis players have advantages. But we don't let heavyweight boxers get in the ring with flyweight boxers.
"It's certainly true that Laurel Hubbard does not have an overwhelming advantage against the women she will be facing."
Ms Harper, who helped write the Olympics' guidelines for transgender athletes in 2015, says China's Li Wenwen is favourite to take gold over Hubbard but the New Zealander has a realistic chance of a medal.
2020: NZ trans weightlifter Laurel Hubbard

"Laurel could place anywhere from third to fourteenth among the 14 women competing her weight category," said Ms Harper, a former Canadian marathon runner who transitioned to female in 2004.
• Hubbard's early weightlifting achievements in male events
Hubbard, who is due to compete at the Olympics on 2 August, is the oldest weightlifter to qualify for the Tokyo Games.
Born in Auckland on 9 February 1978, her father Dick founded one of New Zealand's best-known food brands, Hubbard Foods, and was Auckland's mayor between 2004 and 2007.
Before transitioning to female, Hubbard took part in male weightlifting competitions and set a junior national record in 1998, lifting 300kgs in the M105+ division.
She later revealed she took up "an archetypally male" sport in a bid to feel more masculine.
"I thought perhaps if I tried something that was so masculine perhaps that's what I would become," Hubbard told Radio New Zealand in 2017.
"Sadly, that wasn't the case…. sad in the sense that maybe it would have made some of the darker periods in my life a bit more manageable."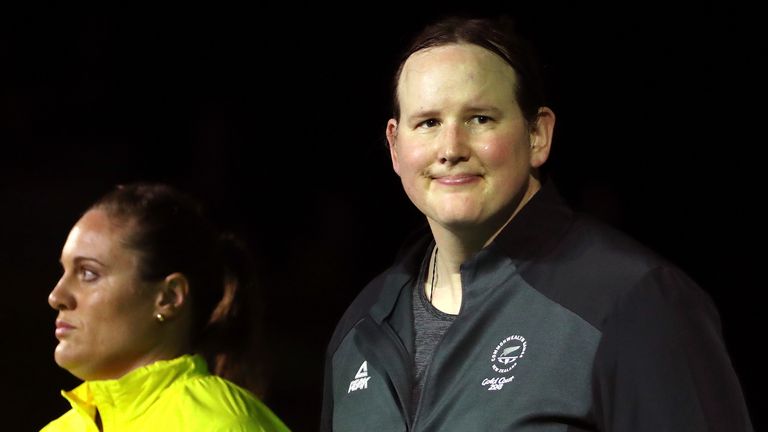 Hubbard says she stopped weightlifting in 2001 at the age of 23 "because it just became too much to bear", blaming "the pressure of trying to fit into a world that perhaps wasn't really set up for people like myself".
• Moving into women's weightlifting
After transitioning to female aged 35 in 2012, it would be another five years before Hubbard competed at international weightlifting competitions – and she achieved immediate success.
She won three events in Australia in 2017, including the gold medal at the Australian International in the heaviest women's division, lifting a total of 268kg.
Despite meeting the eligibility requirements to compete – after demonstrating her testosterone levels were below a certain threshold for 12 months before the event – her victory proved controversial.
Samoan weightlifter Iuniarra Sipaia, who competed in the same category, said Hubbard's involvement was "unfair", telling the Samoan Observer: "We all know a woman's strength is nowhere near a male's strength no matter how hard we train."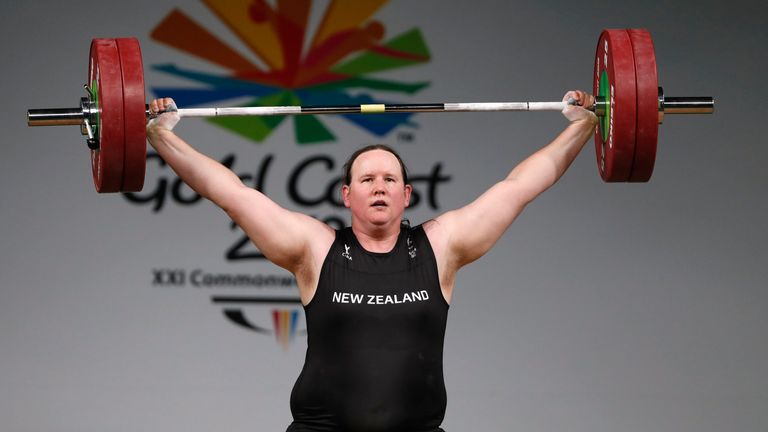 Meanwhile, the head of the Australian Weightlifting Federation, Michael Keelan, was reported to have said of Hubbard competing against women: "We're in a power sport which is normally related to masculine tendencies. I don't think it's a level playing field."
Hubbard created international headlines at the 2017 World Weightlifting Championships in California as she won two silver medals in the +90kg division.
It meant Hubbard was the first New Zealand lifter – male or female – to make a world championship podium.
But the growing tension among the competition about her involvement was clear.
Tim Swords, who coached gold medal-winning US weightlifter Sarah Robles, claimed the athlete was congratulated by multiple coaches because "nobody wanted [Hubbard] to win".
• A near-career ending injury
Hubbard refused to engage in a war of words with Swords and turned her attention to the Commonwealth Games on Australia's Gold Coast in 2018.
However the event ended in disaster for Hubbard as she suffered an horrific arm injury during the competition while leading the field.
After the contest, she said it was likely the ruptured ligament in her arm "will be career-ending".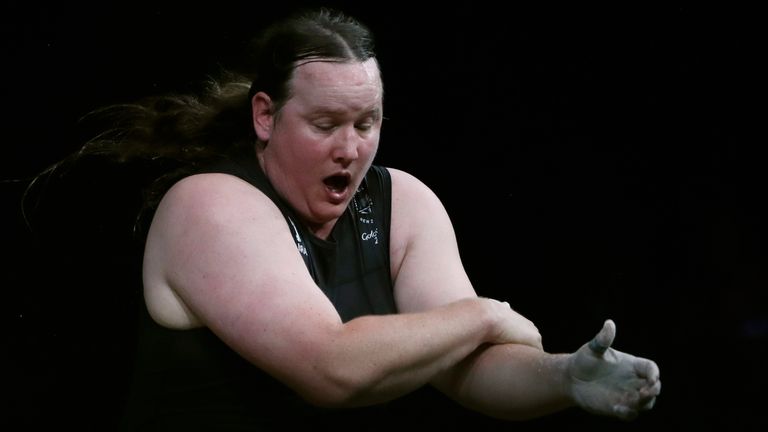 Away from the sport, there was more controversy for Hubbard as she was reportedly charged with careless driving causing injury after an incident in October 2018.
New Zealand media said Hubbard's car hit a vehicle carrying an Australian couple in their 60s, with the male driver needing major spinal surgery.
She was disqualified from driving for a month and ordered to pay about $13,000 to the couple, according to news outlet Stuff, which said it successfully fought to overturn restrictions preventing reporting of the case.
• Selection for the Olympics – as New Zealand's PM voices opinion
After overcoming her injury from the previous year, Hubbard won two gold meals at the 2019 Pacific Games in Samoa.
But there was more criticism as Samoa's prime minister said he was "shocked" that Hubbard was allowed to take part in the women's event.
Hubbard achieved further glory at the 2020 Weightlifting World Cup, winning a gold medal, before she was chosen for New Zealand's Olympic team after the Games were delayed by a year due to COVID.
Belgian weightlifter Anna Van Bellinghen voiced her opposition to a transgender woman competing in the women's event at the Olympics, saying the situation was "like a bad joke".
Why Tokyo 2020 will be an Olympics like no other

But Hubbard received backing from Australian rival Charisma Amoe-Tarrant who said: "I have have so much respect for her", while New Zealand's prime minister Jacinda Arden insisted: "All parties here have simply followed the rules."
The IOC cleared the way in 2015 for transgender athletes to compete at the Olympics as women, provided their testosterone levels are below 10 nanomoles per litre for at least 12 months before their first competition.
Some scientists have said the guidelines do little to mitigate the biological advantages of those who have gone through puberty as males, such as bone and muscle density.
But supporters of transgender inclusion argue the process of transition decreases that advantage considerably and that physical differences between athletes mean there is never a truly level playing field in sport.
• 'A vulnerable athlete… and a sweet person'
Kristen Worley who became the first athlete to undergo an Olympic gender verification process when she tried to represent Canada in cycling at the 2008 Olympics, believes Hubbard has "had catastrophic impact to her physiology".
She voiced concerns that some critics were "being able to attack a very vulnerable athlete", and described Hubbard as "a very sweet person".
"She has a right to compete like any other athlete at the Olympic Games," Ms Worley tells Sky News.
Follow the Daily podcast on Apple Podcasts, Google Podcasts, Spotify, Spreaker
After her selection for the Olympics was announced, publicity-shy Hubbard released a statement saying she was "humbled" by the support which had helped her "through the darkness" following her near career-ending injury.
Despite the attention she's attracted ahead of the Games, Hubbard won't be the only transgender athlete involved.
Chelsea Wolfe, a transgender woman cyclist, has qualified as an alternate for the US BMX squad, while a footballer for Canada's women's team called Quinn identifies as transgender and uses the pronouns they/them.
However Hubbard is likely to be the only transgender woman competing against cisgender women in an individual sport.
Ms Harper says critics of Hubbard's involvement in the women's weightlifting event "should look at the bigger picture", with few trans-athletes competing at the Games.
"This focus on just one athlete is misguided and misplaced," she tells Sky News.
"Trans-women aren't going to take over women's sports anytime soon."
Hospital workers in Peru arrested after charging COVID-19 patients more than £15,000 per bed | World News
Nine people have been arrested in Peru, accused of charging COVID-19 patients the equivalent of more than £15,000 for hospital beds that should have been free.
The group – including the administrators of Lima's Guillermo Almenara Irigoyen public hospital – was arrested by Peruvian police during an early morning raid on Wednesday.
Officers had been tipped off by the brother of a COVID-19 patient who had been asked for 82,000 soles (about £15,200) to get an intensive care bed and medical treatment.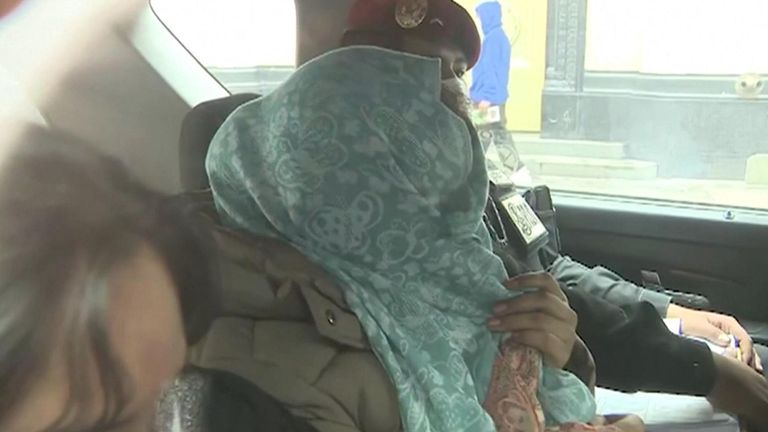 The scam at the hospital was described as "totally reprehensible" by Health Minister Óscar Ugarte.
He added: "We cannot be negotiating with people's lives."
When the pandemic was at its worst, many Peruvian patients paid a lot of money to private clinics, as the public health system was on its knees.
But the hospital involved in the bed-selling scandal is supposed to provide free care, although the wait for one of its 80 intensive care beds can be long.
In March last year, the number of available intensive care beds in Peru was in the hundreds, but it is currently at around 3,000, although they are in high demand.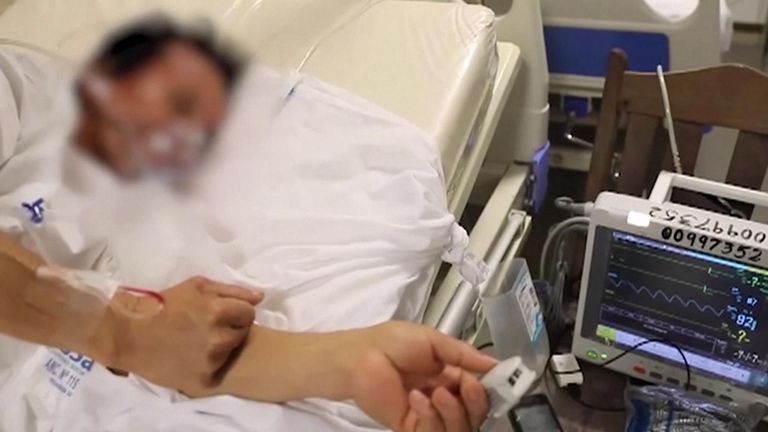 There have also been claims that some top officials got priority access to vaccinations.
The country's health and foreign ministers resigned over that scandal earlier this year.
Peru has had more than two million confirmed cases of COVID-19 and more than 195,000 deaths have been attributed to the disease.
Around 10 million doses of coronavirus vaccine have been administered, in a population of almost 33 million people.