Politicians react to Billy Graham's death: He was a 'pastor to presidents'
Rev. Billy Graham was a "pastor to presidents" and a "faithful servant" of God, politicians commented early Wednesday after learning about the preacher's death at 99.
"The GREAT Billy Graham is dead. There was nobody like him!" President Trump tweeted shortly after news broke of Graham's death. "He will be missed by Christians and all religions. A very special man."
Vice President Mike Pence echoed Trump, saying Graham's ministry "changed the lives of millions."
"We mourn his passing but I know with absolute certainty that today he heard those words, 'well done good and faithful servant,' Pence tweeted. "Thank you Billy Graham. "
During his lifetime, Graham preached in person to more than 210 million people in more than 185 countries and territories across the world. But he was also known for the counsel his gave to decades of presidents.
In 1983, former President Ronald Reagan awarded Graham the Presidential Medal of Freedom — America's highest civilian honor. Additionally, the Billy Graham Museum and Library in Charlotte, N.C., was dedicated to him in 2007.
"When he prays with you in the Oval Office or upstairs in the White House, you feel he's praying for you, not the president," former President Bill Clinton once said of Graham.
Read on for a look at how politicians are reacting to Graham's death.
The Associated Press contributed to this report.
Pope Francis meets with senior Iraqi Shia cleric Grand Ayatollah Ali al Sistani | World News
Pope Francis has met Grand Ayatollah Ali al Sistani – Iraq's top Shia cleric – at the Islamic scholar's home in the Iraqi city of Najaf.
The Pope arrived at the cleric's small home in a bullet-proof vehicle. As he entered the house, white doves were released, reflecting the themes of this four-day visit to Iraq – peace, reconciliation and inter-faith dialogue.
The meeting – the first of its kind between two such senior leaders in the Christian and Muslim world – was held privately and holds huge symbolism.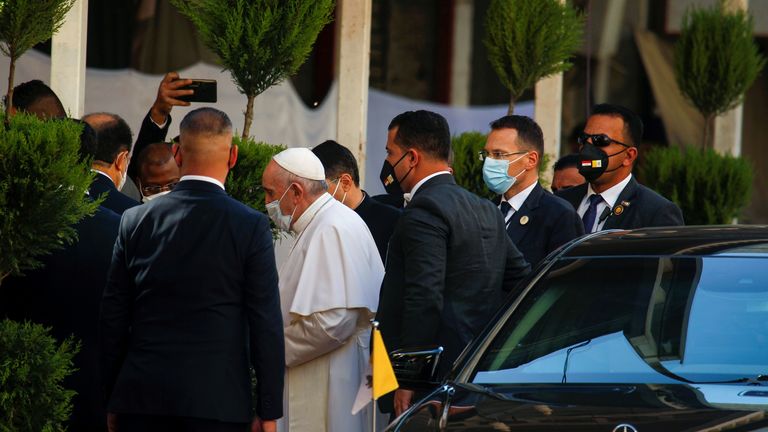 Al Sistani is revered by the Shia majority in Iraq but his influence across different sects and across the Muslim world runs deep.
Speaking yesterday in Baghdad, the Pope spoke of his desire for interfaith dialogue and religious tolerance at a time of increasing religious polarisation.
Francis said: "Only if we learn to look beyond our differences and see each other as one human family, will we be able to begin an effective process of rebuilding and leave to future generations a better, more just and more humane world."
From Najaf the Pope travelled to Ur, the ancient archaeological site believed to be the birthplace of Abraham, the patriarch of the three monotheistic religions – Islam, Christianity and Judaism.
Day two of the visit ends with mass at the Chaldean cathedral in the capital, Baghdad.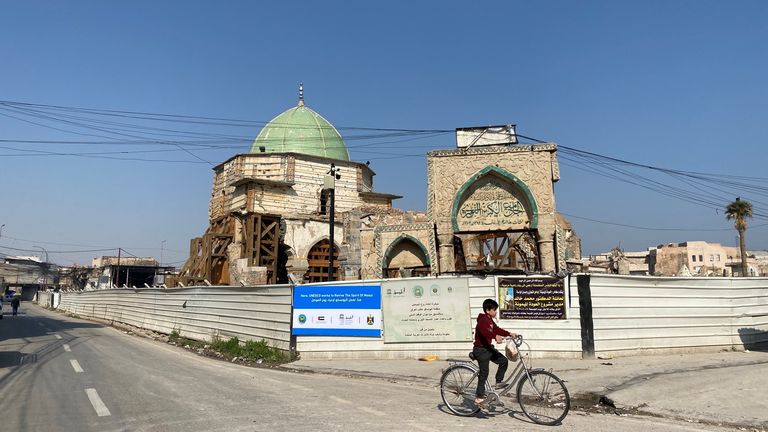 Despite criticism about the timing of the trip, with the country experiencing a spike in coronavirus cases, Vatican officials and the Iraqi government say precautions are being taken. Crowds will be limited and social distancing enforced.
Yet in Christian communities in the north of the country, where the Pope will come tomorrow, the desire to see their Holy Father is strong and it's hard to see how distancing will be maintained.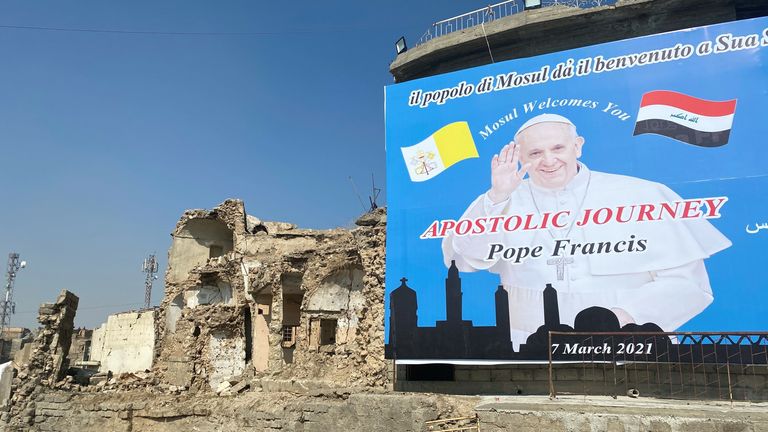 On Sunday the Pope will fly to the Kurdish city of Erbil before taking a helicopter to Iraq's second city, Mosul.
The destroyed city was held by the so-called Islamic State for four years between 2014 and 2017. Its grand mosque of al Nouri, where ISIS leader Abu Bakr al Baghdadi declared his caliphate in 2014, is in pieces.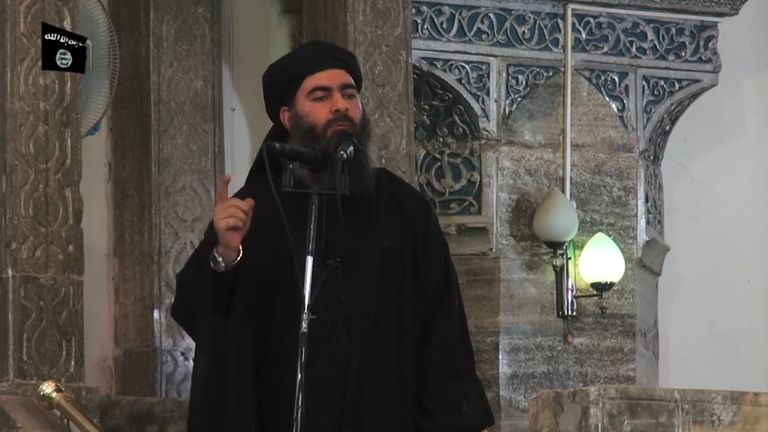 The most poignant part of the trip will be his visit to Christian towns desecrated under ISIS.
Iraq's religious minorities including Christians and Yazidis have been persecuted for years and suffered terribly first under Al Qaeda and then ISIS.
In the 1990s, Iraq's Christian population was about 1.5 million. It now stands at around 250,000. Thousands have been killed by extremists and many hundreds of thousands more forced to flee.
UK 'plans to cut hundreds of millions in aid to countries in conflict zones', report says | UK News
The government is reportedly planning to cut hundreds of millions of pounds from foreign aid given to countries in conflict zones.
A leaked document obtained by openDemocracy said civil servants had discussed reducing aid to Syria from £137m pledged last year to just over £45m this year.
It added that in South Sudan, spending could drop from £110m to £45m, while aid to Libya could be cut by 63% and Somalia by 60%.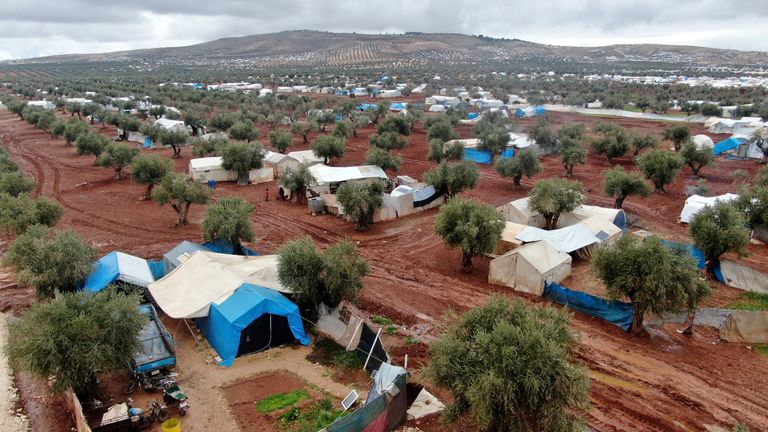 The Foreign and Commonwealth Office (FCO) did not dispute the reported figures when asked by Sky News for a response, and said COVID-19 had "forced" it to take "tough but necessary decisions".
It said it was "temporarily reducing the overall amount we spend on aid".
The move has been criticised by politicians and charities, with some warning "people will die".
They say there will be huge impacts on issues such as terrorism, migration and refugee crises.
Labour's Preet Kaur Gill, shadow secretary for international development, said: "This is a devastating reminder of the real world impact the government's politically motivated decision to abandon its manifesto commitment on aid will have on the world's most vulnerable people.
"Cuts in support to countries in the midst of multiple humanitarian crises would cause devastation, leading some of the world's most vulnerable people to starve, stretched healthcare systems to collapse and access to clean water stripped away. Make no mistake, people will die."
Starmer clashes with Johnson over Yemen

Tory MP and chair of the House of Commons Defence Select Committee Tobias Ellwood also joined the criticism, telling Channel 4 News that terrorist groups such as Islamic State and Boko Haram will benefit from the UK stepping back.
"Perhaps we should explain it to the British people that extremism, terrorism, refugee crises, migration… will all be affected when we take these retrograde steps," he said.
Meanwhile, more than 100 charities have condemned the decision to cut aid to Yemen.
The UK has pledged at least £87m in aid, down from £160m in 2020 and £200m in 2019.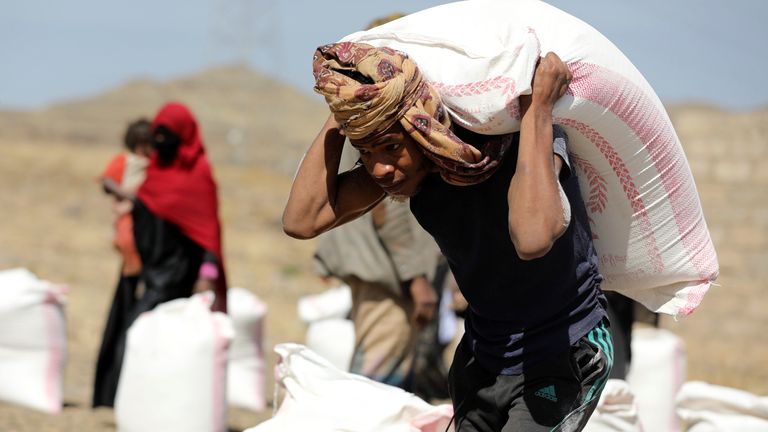 In a letter to Boris Johnson, the charities said the cuts are taking place with "no transparency, consultation or meaningful strategy".
"History will not judge this nation kindly if the government chooses to step away from the people in Yemen and thus destroy the UK's global reputation as a country that steps up to help those most in need," they said.
The FCO said: "We are still working through what this means for individual programmes and decisions have not yet been made.
"We remain a world-leading aid donor and we will spend more than £10bn this year to fight poverty, tackle climate change and improve global health."
Pope Francis arrives at home of senior Iraqi Shi'ite cleric Grand Ayatollah Ali al Sistani | World News

Pope Francis has arrived at the home of Grand Ayatollah Ali al Sistani – southern Iraq's top shi'ite cleric – in a historic meeting of Catholic and Shi'ite Muslim leadership.
It's part of the first ever papal visit to the Gulf state this weekend.
"A core purpose of his visit is interfaith dialogue, and that is the theme of today," Sky's Middle East correspondent Mark Stone says.
"He is at the moment meeting .. the most senior shi'ite cleric in Iraq and one of the most senior Muslim figures in the world.
"It is a hugely significant moment that these two elderly men, the Pope is 84 the Ayatollah is 90, should meet and should chat and will pray together – a very significant moment and an attempt by the Pope to make the point that… interfaith dialogue is at his core.
"It is incredible that he has managed to get here, everyone thought that the trip would have to be cancelled – not just because of the security concerns but because of coronavirus as well.
"The Vatican is making the point that social distancing is in force that crowds are not large but having seen the crowds in one small town yesterday anticipating his arrival, I think that is going to be very very hard to do."