Lebanon's plea for help with Syrian refugee crisis
The Government is expected to pass the halfway mark today towards meeting its target of relocating 20,000 Syrian refugees from countries around the conflict zone.
But Sky News has visited a single town in Lebanon that hosts more than 25,000 refugees alone. Officials in the border town of Majdal Anjar say they are "overwhelmed" by the crisis.
Every day since the seven-year conflict began, new refugees have been smuggled from war-torn Syria across a low mountain into Majdal Anjar.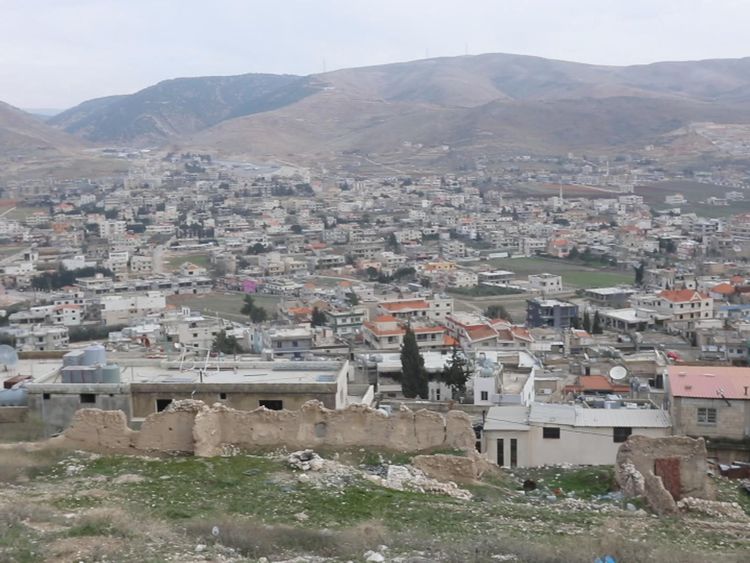 Now refugees outnumber the native Lebanese and occupy over 30 so-called "temporary camps" which are, in reality, becoming a permanent fixture.
:: The complex who's who of Syrian civil war
Mayor of the town, Saeed Yaseen, told Sky News his region was being "ignored" by the international community.
He said: "The number of Syrian refugees exceeds 25,000 while the town population is 22,000."
"Sewage facilities for the town are made for 22,000 people so they are overwhelmed. We need a waste disposal plant. We need a hospital as the nearest one is 25 miles away and most people don't have transport."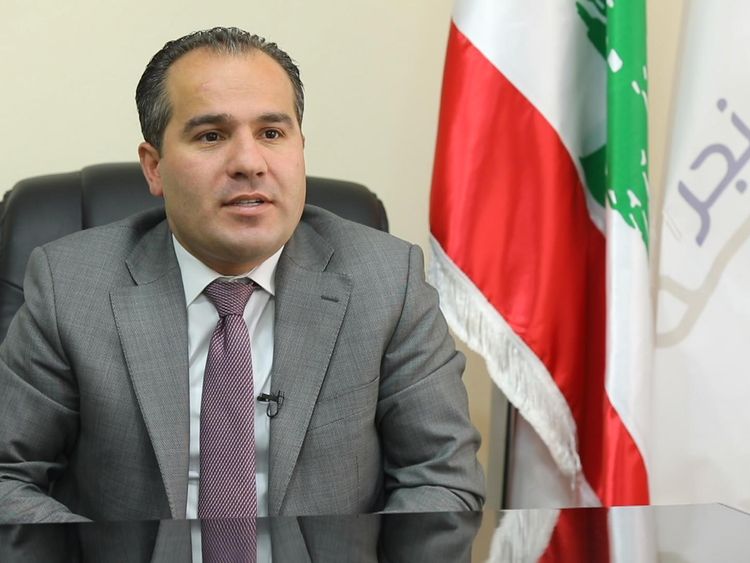 The mayor says only a small number of NGOs are working on the ground and he blames both the international community and the Lebanese government for focusing their efforts in the wrong places.
He said "Majdal Anjar in particular is being ignored as only two organisations barely helped us, while they are helping other towns that are not hosting any refugees."
:: Why Turkey is on a collision course with Syria
Lebanon has 1.5 million refugees now living in the country, making up one quarter of the country's total population.
In 2015, David Cameron's pledged the UK would take 20,000 refugees by 2020.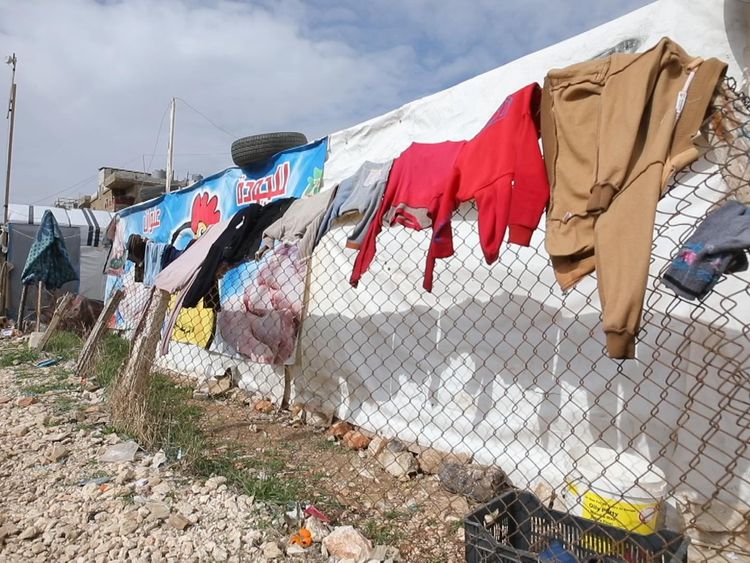 The UK has also given nearly £2.5bn in humanitarian aid to countries in the region since the conflict began.
:: Angelina Jolie's 'heartbreaking' visit to Syrian refugee camp
The decision to take in particularly vulnerable refugees from the camps in Syria, Jordan and Turkey was in part an effort to send a signal that people in camps close to the Syrian border should stay put rather than risk the journey to Europe.
But the situation in these camps is getting increasingly dire.
Despite showing incredible fortitude in the face of the crisis, Lebanon has suffered economically, and hostility to refugees is beginning to grow amongst the native population.
As a result life is getting harder for the displaced people.
The Syrians have to pay an annual $200 (£144) residency renewal fee and many are unable to afford it.
While authorities have recently promised to waive the payment for those registered with the UNHCR, around half a million people are not registered. And these are probably some of the most vulnerable.
Lack of legal status makes it difficult for people to work, send their children to school or access health care.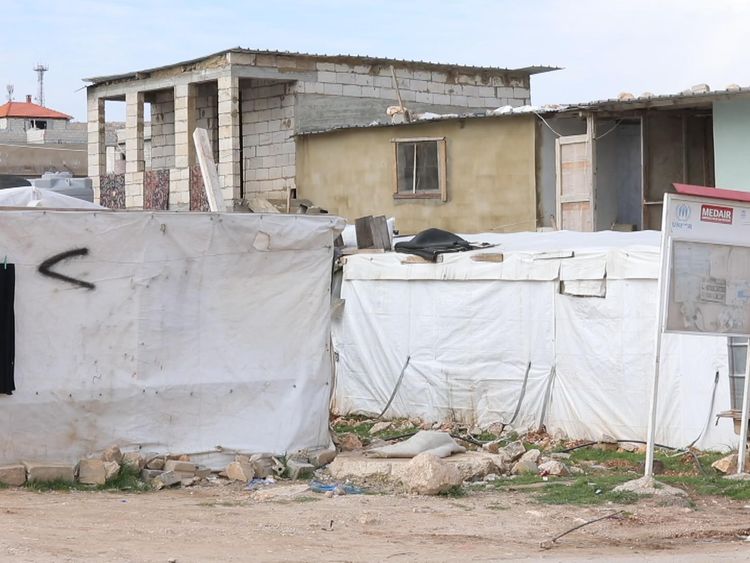 It also leaves them exposed to the risk of arrest, and organised gangs have been known to blackmail the people they have smuggled in by threatening to turn them into the Lebanese authorities.
We spoke to Rami from Homs who left Syria after his wife and child were killed in the war and he feared he would be conscripted into President Assad's forces.
He paid traffickers $2000 (£1438) to take him across the mountains but was turned into the Lebanese military on arrival.
He has been unable to afford the registration fee and has been living illegally in Lebanon for the last year.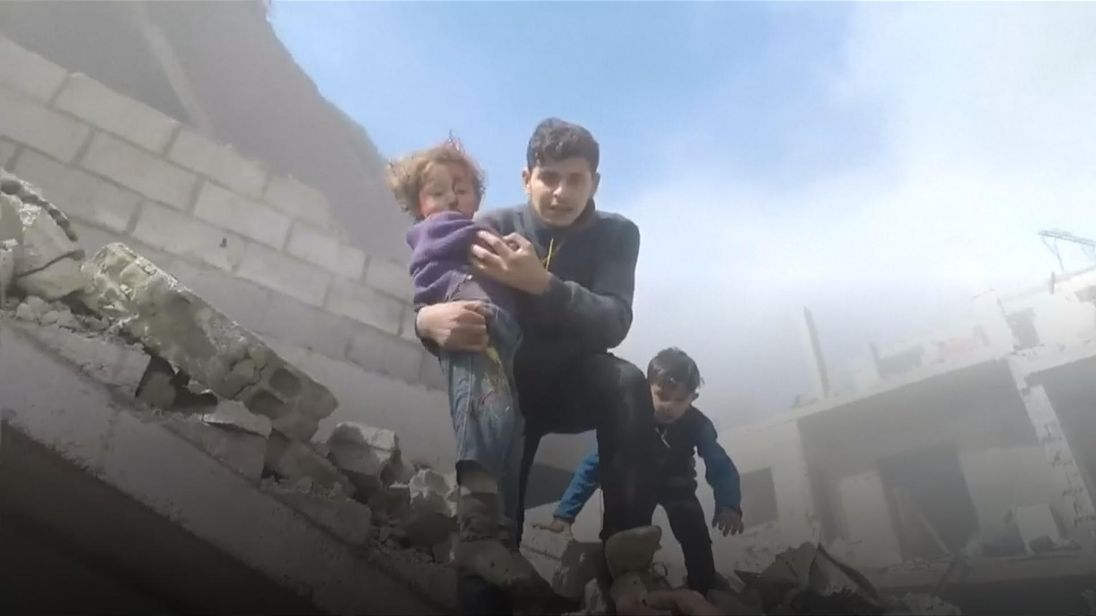 He said: "I can't actually move freely. I can't go to any other area outside the camp and risk getting caught at a checkpoint, so it's almost impossible for me to get a job. I'm stuck. I reached out to the UNHCR but they can't help me as I'm considered an illegal refugee."
The number of refugee families where no one is registered has increased considerably from 20% in 2015, to 55% in 2017.
That also means over half the displaced population would not qualify to get on to the vulnerable persons relocation scheme for a chance to be rehomed in the United Kingdom. Yet it is likely these are the most vulnerable families.
Syrian refugee Mohammed Abu Malek who has a family of five children living on a camp in Majdal Anjar told Sky News: "The support is not enough at all. It is becoming less and less each year and the situation is getting worse."
By now people still in Syria know that what awaits them in Lebanon before they leave. Word gets back that it is a life of hardship and exploitation. But they keep coming anyway.
Tiger Woods was unaware of his 'grave' injuries after car crash, says first officer on scene | US News
Tiger Woods did not appear to be "aware of how gravely he was injured" after his car crash in California, the first officer on the scene has said.
The 45-year-old golf star suffered serious leg injuries when his car hit a kerb and then a tree before rolling several times on the border of Rolling Hills Estates and Rancho Palos Verdes in Los Angeles on Tuesday morning.
No other cars were involved.
Carlos Gonzalez, a deputy from the Los Angeles County Sheriff's Department, told NBC News he arrived within minutes of a 911 call from a member of the public.
Asked if Woods was aware of his injuries, the officer said: "He didn't mention anything. I don't think he was aware of how gravely he was injured at the time.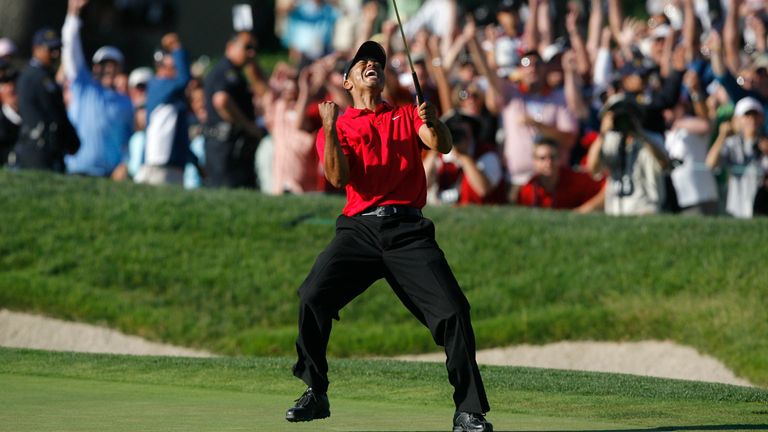 "It could be a mixture of adrenaline. It could have been shock.
"Again, it was very quick – the moment I arrived from the moment he rolled over – so I don't know if he had time to fully assess his injuries."
Woods's 2021 Genesis SUV was found 12m (40ft) from the road. Aerial footage showed the car on its side, with its front end heavily damaged and its airbags deployed.
Asked if Woods was saying anything at that point, the officer replied: "He wasn't. I saw his eyes, because it was dark in there, and my first role as a first responder is to assess the passenger, the occupants of the vehicle, and I want to keep them calm as well."
Aftermath of Tiger Woods' car crash

He asked Woods if he could tell him his first name: "He looked at me and he said, 'Tiger'."
"It took me a half second, but I saw his face and I thought, oh yeah, you're Tiger Woods," continued the officer.
He asked the sportsman questions to assess his physical and mental state.
"He seemed calm. He didn't seem like he was in distress, and he was able to kind of talk to me a little bit," the officer said.
"I noticed the passenger compartment seemed mostly in tact and he didn't seem like he was in any further danger.
"I did consider pulling him out myself, but I decided it would be better to wait for the fire departments since they have the specialised tools and training to remove people safely from vehicles like that."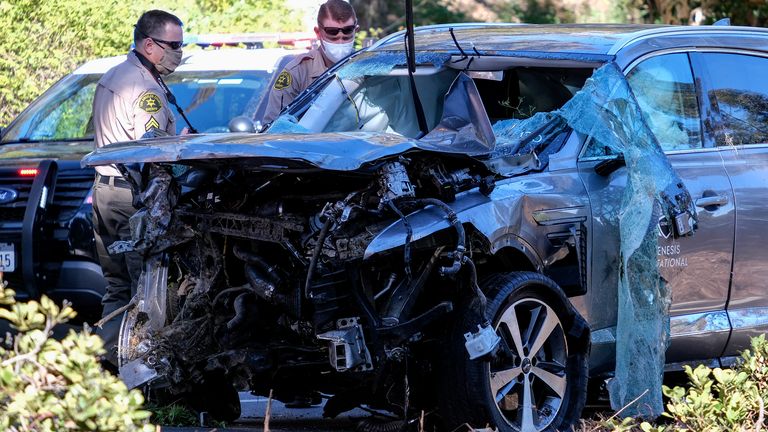 Carlos Gonzalez said earlier that Woods was "very fortunate" to survive the crash.
Authorities investigating the incident have said there is no evidence Woods was impaired at the time.
Asked if a toxicology report was ordered at the scene, the officer said he was "unaware" of one.
"At the scene we are looking for evidence of intoxication, like if there is an odour of an alcoholic beverage or if there is an open container, or prescription medication.
"At this time we didn't see any evidence of impairment, and anything beyond that, in terms of medical or toxicology, I wouldn't be aware at this time."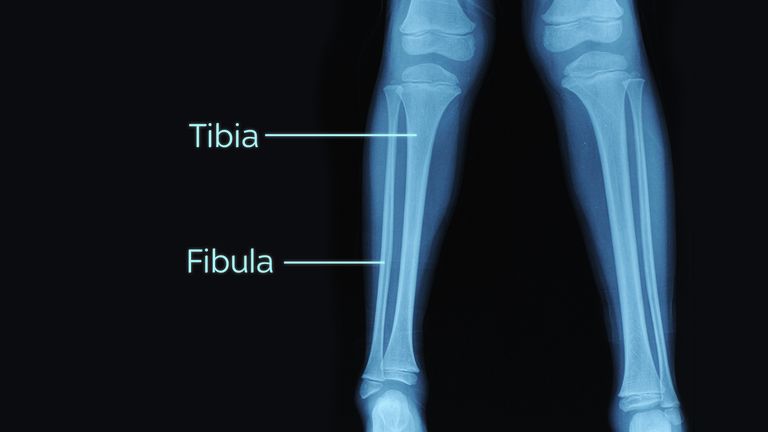 He suggested Woods's injuries may have been more severe if he had not been wearing a seat belt.
"This accident was traumatic in many ways. There is a lot of energy that went into the speeds that made the vehicle travel the distances that it did, the fact that it rolled, the injuries that Mr Woods sustained, and I've seen collisions that didn't look as serious where the occupants were injured much more severely," he said.
"I think that is a testament to the fact that he was wearing a seat belt, the airbags worked as intended and modern vehicles are much more safe than they used to be."
Woods, a 15-time major champion, was cut free from the vehicle and rushed to Harbor-UCLA Medical Center where he underwent significant surgery and is recovering from his injuries.
A statement from his TGR foundation said he is "currently awake, responsive and recovering in his hospital room".
The officer added: "I have a lot of sympathy for Mr Woods because I'm sure he's going through something traumatic and I'm sure he's going through a lot of pain, so I'm hoping for a speedy recovery for him."
Ex-Syrian agent convicted by German court in landmark torture trial | World News
A former member of Syrian president Bashar al Assad's secret police has been sentenced by a German court to four-and-a-half years in jail for facilitating the torture of prisoners.
Human rights activists hope the landmark ruling will set a precedent for other cases connected to the 10-year-old Syrian civil war.
Eyad al Gharib was convicted of accessory to crimes against humanity and sentenced by the Koblenz state court.
It was the first time that a court outside Syria had ruled in a case alleging Syrian government officials committed crimes against humanity.
The court heard Gharib had arrested at least 30 anti-government protesters at the start of the conflict in 2011 and sent them to an intelligence facility where he knew detainees were tortured.
The verdict gives hope to the 800,000 Syrians in Germany who say they were tortured in government facilities after attempts to establish an international tribunal for Syria failed.
Gharib's lawyers had asked for an acquittal, saying he had carried out the arrests in and around Damascus under duress by his superiors.
The 44-year-old had asked the court to consider him a witness in broader legal efforts against the Syrian government.
Syrian government officials did not testify during the trial and the Assad regime has denied it tortures prisoners.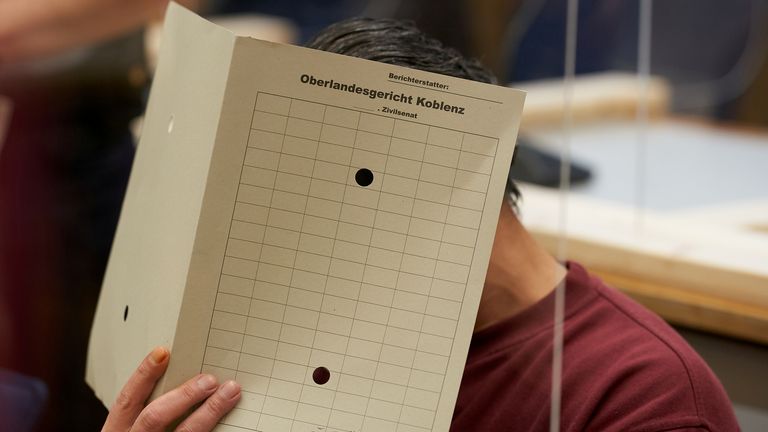 "This is an important step forward in the process of securing accountability for the Syrian government's systematic use of torture against civilians," said Steve Kostas, a lawyer with the Open Society Foundation's Justice Initiative, which is representing Syrian plaintiffs.
Syrian human rights lawyer Anwar al Bunni said the unprecedented verdict would speed up efforts to bring charges against former members of the Syrian government suspected of war crimes who have fled to Europe.
He said: "History has been made. The first verdict against a member of the Syrian regime's torture and murder machine is a verdict against the whole regime, not just against one individual.
"It gives hope that justice is possible."
The same court will continue hearings in the case of a second suspect, a former intelligence officer charged with 58 murders in a Damascus prison where prosecutors say at least 4,000 opposition activists were tortured in 2011 and 2012.
COVID-19: Ghana receives 600,000 free vaccine doses as part of global scheme | World News

A flight carrying 600,000 doses of the AstraZeneca coronavirus vaccine has arrived in Ghana as part of a global effort to immunise the world's poorest people.
The delivery comes eight months after the launch of the COVAX initiative – the World Health Organisation's (WHO) sharing scheme which is aimed at ensuring global vaccine equity.
The shots will be used to kick-start a vaccination drive that will prioritise frontline health workers and others at high risk, according to a plan presented by Ghanaian health officials.
"This is a momentous occasion, as the arrival of the COVID-19 vaccines into Ghana is critical in bringing the pandemic to an end," Anne-Claire Dufay of UNICEF Ghana, and WHO country representative, Francis Kasolo, said in a statement.
"These 600,000 COVAX vaccines are part of an initial tranche of deliveries."
They added the shots paid for by the scheme and produced by the Serum Institute of India will "represent part of the first wave of COVID vaccines headed to several low and middle-income countries".
The roll-out in Ghana is a milestone for the initiative that is trying to narrow a politically sensitive gap between the millions of people being vaccinated in wealthier countries and the comparatively few who have received shots in less-developed parts of the world.
The scheme aims to deliver a total of 2.3 billion doses by the end of the year, including 1.8 billion to poorer countries at no cost to their governments.
Although it hopes to cover up to 20% of countries' populations, it will not be sufficient for nations to reach herd immunity and effectively contain the spread of the virus.
The African Union (AU) has been trying to help its 55 member states buy more doses in a push to immunise 60% of the continent's 1.3 billion people over three years.
Last week, its vaccine team said 270 million doses of AstraZeneca, Pfizer and Johnson & Johnson vaccines secured for delivery this year had been taken up.
China has donated small batches of its Sinopharm vaccine to countries including Zimbabwe and Equatorial Guinea.
Russia has offered to supply 300 million doses of its Sputnik V vaccine to the AU scheme along with a financing package.
But many countries are largely reliant on COVAX.
On Tuesday, WHO Director-General Tedros Adhanom Ghebreyesus urged wealthy nations to share vaccine doses with COVAX, saying the goal of equitable distribution was "in jeopardy".
Boris Johnson has said the UK will share the majority of its surplus COVID-19 vaccines with COVAX, but has not said how many.