France plays catch-up coping with radicalized prisoners
PARIS –  Radicalized inmates in the general prison population can quickly start influencing others and endanger prison staff. It's a problem that has dogged French authorities for years and is set to grow more acute as foreign fighters return to France amid the collapse of the Islamic State group.
More citizens from France have traveled to the battlefields of Syria and Iraq than from any other European country, and the United States is urging allied nations to claim their nationals held by the U.S.-backed Syrian Democratic Forces because facilities there are filling up.
Making room for more returnees in French prisons, some built in the 19th century, could put new strains on the prison system — and be a tight squeeze. By December 2017, some prisons were over capacity by 220 percent, according to the Justice Ministry.
Sahara desert: Rare snowfall leaves extraordinary pattern on sand dunes | World News

Snow has fallen in the Sahara desert after temperatures dropped to -3C (27F).
Karim Bouchetata recorded the rare event in Ain Sefra, Algeria, with thawing ice creating beautiful patterns on the sand.
The Sahara desert, which covers most of Northern Africa, has gone through shifts in temperature over the past few hundred thousand years – but snow and ice are still very rare.
The town in the Naama province has experienced snow only three other times in 42 years – in 1979, 2017 and 2018.
In 1979, a snowstorm was severe enough to stop traffic; while in 2017 a blizzard dumped snow up to a metre thick. In 2018 there was 40cm (15in) of snow.
Ain Sefra – known as "the gateway to the desert" – is around 1,000m above sea level and surrounded by the Atlas Mountains.
January is one of the coldest months there with an average temperature of 14C (57F). In the summer this reaches, on average, 38C (100F).
Bobi Wine: Uganda's pop star politician makes plea to the world after being made 'prisoner in his own home' | World News
There is a road north of the capital, Kampala, that few Ugandans wish to follow.
It is a rough, potholed track which leads to the home of the opposition leader, Bobi Wine.
The 38-year old has not left his home since last Thursday, when he cast his vote in the general election. He came second in the presidential contest after the country's long-time ruler, Yoweri Museveni, took 58% of the vote.
Mr Wine's house is now surrounded by riot police and soldiers along with a set of metallic yellow spikes in case anyone was minded to drive their way in.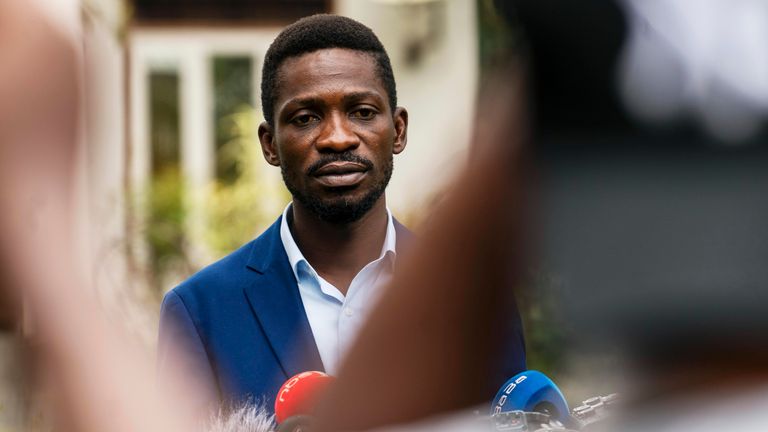 Nonetheless, we met a pair of lawyers in a respectable looking car who told us they were determined to speak to their client.
George Musisi, a partner in a firm in Kampala, said Mr Wine's home had been turned into a de facto prison.
"We know that his home is not a detention centre, we know that it is a private property, so we are going to see how we can access it," he said.
Wine and reporters flee from gun-toting soldiers

The lawyers, who accuse the government of trying to muzzle the popular politician, edged slowly towards the police barricade.
Lawyer Benjamin Katana tried to reason with policeman in charge.
"[Bobi Wine] has rights, like access to his lawyers especially now he is under detention, we need instructions from him, this is standard," he said.
The commander looked decidedly uncomfortable and left them to make a phone call.
He came back to tell the lawyers that no one was getting in.
"You can contact the police department's spokesman if you want."
The lawyers chuckled.
"This is futile, even people in police cells can access their lawyers," said an exasperated Mr Musisi.
Bobi Wine, who captured the imagination of younger voters during the campaign, was contacted by phone and he said the situation inside the cordon was desperate.
"We have run short of food supplies but when my wife tried to go to our garden to pick food she was assaulted by the military," he said.
"The only practical plan now is to inform the world to see that fellow citizens of the world can help us."
He told Sky News he has even been targeted with bullets and tear gas.
The Ugandan authorities have done this before. Five years ago, prominent opposition leader Kizza Besigye was detained for 40 days after the election. He told me it was part of a long-standing pattern of harassment.
"How many times were you arrested?" I asked.
"Frankly I cannot count how many times I was arrested, because I lost count. Sometimes it was every day," said Mr Besigye.
"How many times did you go to court?" I inquired of Mr Besigye, who stood against President Museveni in four elections.
"Again very many… I was charged with rape, treason, terrorism and illegal possession of guns all in one go [at the beginning of the 2006 presidential campaign].
"I was tried [and cleared] of rape but the judgement didn't come out until after the election. Many cases are still in court."
Mr Besigye said he experienced strong sense déjà vu watching the Bobi Wine campaign and warns that the authorities will not leave him alone.
Yet the people of Uganda will need the 38-year-old, along with every other opposition-minded citizen, if they are going to overturn Mr Museveni's rule.
"It's difficult to [physically] gather, it's difficult to work together but it doesn't mean people won't challenge his regime," said Bobi Wine.
"They are determined, trust me – so watch this space."
British Virgin Islands: Inquiry into claims of corruption and political interference – all with the public purse | World News
Claims of widespread corruption and fraud involving millions of pounds of public money are being investigated on the British Virgin Islands.
The governor of the islands, a British territory, has ordered an independent inquiry into the allegations and is supported by both the prime minister and the foreign secretary.
One of the claims is that $40m (£29m) set aside for struggling families during the COVID pandemic might have been channelled to political allies.
Announcing the Commission of Inquiry, Governor August Jaspert said there were "wide concerns over the possible mismanagement of some public projects".
He said successive audit reports had set out practices of "political interference, inflated pricing and conflicts of interest" and added: "These may have cost the public purse millions of dollars in recent years, with no sign of improvement.
"In the past months, the community has had many open and honest conversations about this. For the first time, many have felt confident to raise their voice. This is an important conversation for us to have, albeit difficult as those who speak up are too often silenced."
In a written statement to parliament, Foreign Secretary Dominic Raab said: "The UK is extremely concerned about the state of good governance in the British Virgin Islands.
"A consistent and deeply troubling array of concerns have been put to the governor by local institutions and the community.
"Successive attempts have been made to address these concerns through local institutions, many of which have done commendable work to bring them to light.
"However, the scope and seriousness of the concerns are now beyond local capacity to address."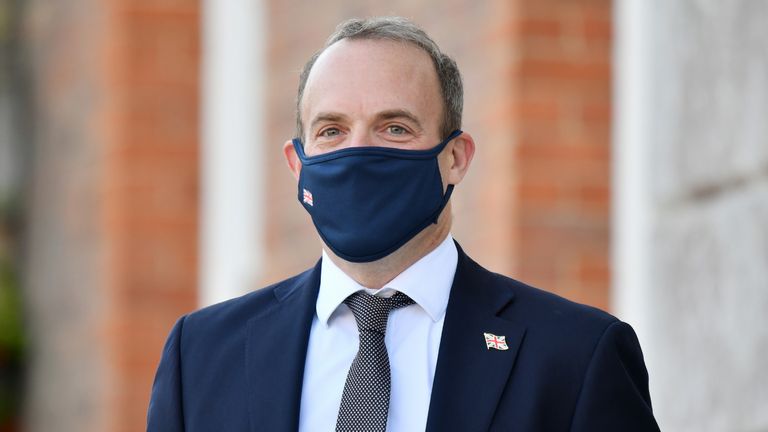 It is the first inquiry of its kind in more than 10 years – the last took place in 2008 to investigate corruption on Turks and Caicos.
It was felt that the British Virgin Islands themselves lack the ability to investigate allegations of this breadth, scope and seriousness.
Among the claims are ones of political interference in appointments and the criminal justice system – and the misuse of public money on infrastructure and transport projects including $7m (£5m) to an airline that did not exist and more than a million dollars spent on a school fence.
There have also been claims of intimidation towards people in the media and community leadership.
In November 2020, two tonnes of cocaine with a street value of almost £190m was seized, underlining the extent of criminal behaviour on BVI.
The inquiry is set to formally begin in the coming days and is expected last at least six months.
It will be led by the Right Honourable Lord Justice Gary Hickinbottom, an experienced High Court judge.
He will have the power to seize evidence and force witnesses to give evidence.