For decades Graham offered counsel and comfort to presidents
WASHINGTON –  He was rebuffed, then embraced, by Harry Truman. Confided in — and deeply hurt by — Richard Nixon. A source of reassurance for George H.W. Bush on the eve of war. The spark that finally turned George W. Bush toward sobriety.
The Rev. Billy Graham, who died Wednesday at age 99, was a fixture of the presidency to every man who has held the office back to the early years of the Cold War. He met all 12 of them, plus Donald Trump before he ran for office, and counseled most as they grappled with governing, politics and peace of mind.
Though most presidents have sought guidance from spiritual leaders, Graham's role at the top echelons of American politics was unique, and there's no obvious successor likely to fill his shoes as an adviser to leaders from both parties. The evangelical movement he helped turn into a political force is now most closely aligned with the Republican Party, including Trump, who has been publicly backed by numerous evangelical leaders.
"Many of the public religious figures are known in the public because of their stances politically," said Mark Noll, an evangelical scholar at the University of Notre Dame. He said the current political and media polarization "makes it harder for a figure like Graham to emerge."
For some of the presidents he advised, Graham offered more than just prayers, support and photo opportunities. Depending on the White House occupant and the era, he was a friend, negotiator and shrewd political adviser.
His first overtures to a president were rebuffed. His star rising, Graham pressed Truman, a Democrat, to attend his Washington crusade in 1952. But Truman wanted no part of Graham, whom he at first considered a publicity hound. After Truman left the White House, he received Graham at his home in Independence, Missouri, according to Graham's website.
He had better luck with Truman's successor, Republican Dwight D. Eisenhower. Graham urged Eisenhower to run for president and counseled him about the afterlife.
His close friendship with Nixon began in the late 1950s, before the Republican landed in the White House. The match was glued by their disdain for communism, Graham's belief that Nixon was a man of high moral character— and both men's ambitions. Graham considered endorsing Nixon in the 1960 election against Democrat John F. Kennedy, when Kennedy's Catholicism became a divisive issue.
"I think the true story with Graham was he was far more partisan that he's ever let on in public or that's ever come to light," said Randall Balmer, a Dartmouth College historian and author of "God in the White House."
When Kennedy defeated Nixon, Graham agreed to play golf with the president-elect at the Kennedys' Palm Beach, Florida, estate and drove around in Kennedy's white Lincoln Continental.
"He missed a putt and Kennedy said, 'Well, I thought you were a good golfer,'" said Grant Wacker of Duke Divinity School. Graham rolled with it, replying, "I am when I'm not playing with the president of the United States." But Graham and Kennedy were never close.
Graham's relationship with Nixon was complex and ultimately painful. When the Watergate scandal broke, Graham said he did not recognize the man he knew as modest and moral. "I did not absolve him — but neither did I judge him," Graham wrote in his memoirs.
When tapes from Nixon's White House were released in 2002, Graham was heard telling the president that Jews "don't know how I really feel about what they're doing to this country." He apologized.
William C. Martin of Rice University, one of Graham's biographers, said in a statement that Graham was stunned when told that some of Nixon's aides had admitted using the pastor.
"'I felt like a sheep led to the slaughter,'" Graham responded to Martin, author of "A Prophet with Honor: The Billy Graham Story."
Graham took a lower political profile after Watergate, but he did not abandon politics. He urged President Gerald Ford to pardon Nixon and supported Jimmy Carter on the SALT disarmament treaty with the Soviet Union.
"A big myth is that he became apolitical after Watergate," said Michael Long, an associate professor of religious studies and peace and conflict studies at Elizabethtown College in Pennsylvania. "In some ways, he became even more political."
Graham also was criticized by some conservative evangelicals for praying at the inauguration of Bill Clinton, a supporter of abortion rights — and then criticized again for publicly forgiving Clinton during the Monica Lewinsky scandal and praising Hillary Rodham Clinton for forgiving her husband.
Graham had a close relationship with the Bush family. Patriarch George H.W. Bush said that the pastor's presence on the eve of the Persian Gulf War helped him avoid doubt, "even for a second … (about) the moral clarity of our mission that January night."
Years later, his son, George W. Bush, recalled in an interview with Focus on the Family that he'd been drunk the first time he met Graham at the family compound in Kennebunkport, Maine. The two went for a walk that launched Bush's rejection of alcohol and embrace of Christianity.
"We started talking about religion," the former president said in the interview. "And Billy sent me a Bible and I started reading the Bible."
Graham kept a lower profile later in life, but still kept in touch with presidents. He accepted tributes from a trio of them — Carter, Clinton and the elder Bush — at the dedication of the Billy Graham Library in Charlotte, North Carolina. In 2010, President Barack Obama visited Graham at his home in Montreat, North Carolina.
Trump and his wife, Melania, attended Graham's 95th birthday party in 2013. By the time Trump was inaugurated in January 2017, it was Graham's son, Franklin, who spoke, declaring the rainy day "a sign of God's blessing."
___
Follow Kellman at http://www.twitter.com/APLaurieKellman
COVID-19: British pilot discharged from US hospital after 243 days of coronavirus treatment | UK News
A British pilot punched the air with delight as he was discharged from hospital in Texas after being treated for coronavirus for 243 days.
Nicholas Synnott works for British Airways and was taken ill after arriving in Houston last March.
The 59-year-old was admitted to UT Health and Memorial Hermann Hospital in the city where he was placed on a ventilator and heart and lung machine.
He was treated there for eight months, with his wife Nicola, 54, by his side every day.
Live COVID news from UK and around the world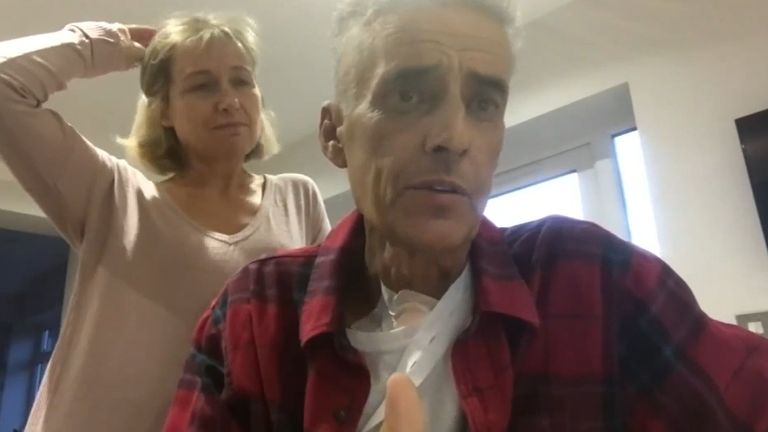 "Every organ of his body was affected by COVID-19. But yet, because his health was so good as a pilot prior to the illness, he could sustain all this and survive something as serious as this," cardiologist Dr Biswajit Kar told ABC 30 News.
"We were firstly overwhelmed by the joy that someone this sick could make it."
Mr Synnott was discharged before Christmas and is now back at home in Betchworth, Surrey.
Photos and video from the hospital showed him punching the air and hugging staff members as he walked down the corridor.
Mr Synnott told ABC 30 he was able to recover "with the support of my wife, and the thought of going back to my kids. It was a tough journey but, we've got where we are".
The pilot said he would like to travel to Houston again to thank everyone who helped him and to visit the city's zoo which he could see out of his window every day.
New electric car battery can charge in five minutes | Science & Tech News
A new electric car battery that can be fully charged in five minutes has been manufactured for the first time on a normal production line in China, based on designs by Israeli company StoreDot.
The breakthrough could address a significant concern for electric car drivers – the fear of running out of power during a journey, marooning the vehicle for a couple of hours while it charges.
"A five-minute charging lithium-ion battery was considered to be impossible," said StoreDot's chief executive, Dr Doron Myersdorf.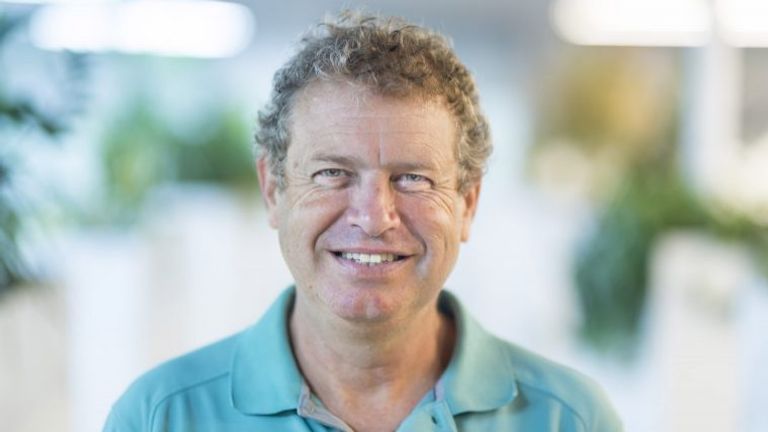 "But we are not releasing a lab prototype, we are releasing engineering samples from a mass production line. This demonstrates that it is feasible and commercially ready," Dr Myersdorf added.
The company produced 1,000 sample batteries with its manufacturing partner Eve Energy in China.
These samples, which are compliant with Li-ion battery certifications, were manufactured on a normal construction line and will be used to showcase the company's technology to other companies.
So-called "range anxiety" is the "number one barrier to the adoption of electric vehicles", said Dr Myersdorf.
Fast charging lithium-ion (Li-ion) batteries is a significant problem for electronics manufacturers and developers, and companies from Samsung to Daimler have invested in StoreDot.
The company's new batteries are designed differently to standard Li-ion ones, replacing the graphite with semiconductor nanoparticles based on germanium – though they hope to move to silicon in the future.
Because the speed of the charge is based on the battery rather than the charging point, StoreDot's invention could have a significant impact on the adoption of electric vehicles, which are facing a bottleneck in countries such as the UK that have limited charging stations.
There are more than 30,000 points currently in the UK in over 11,000 locations, and around 10,000 charge points were added in 2019 alone.
But research by Deloitte suggests the UK will need to spend £1.6bn on 28,000 more public points for the estimated seven million EVs that will be on the road by 2030.
In 2019, there were 37,850 BEVs (Battery Electric Vehicles) registered in the UK – up 144% on the previous year, however they still only account for 1.6% of the market.
Hybrid electric vehicles – combing an electric motor with a petrol or diesel engine – are currently more popular, making up 4.2% of the market share, but they are set to be phased out along with petrol and diesel cars by 2035.
Priyanka Chopra Jonas: 'I want to get South Asian stories influxed into Hollywood' | Ents & Arts News
Priyanka Chopra Jonas has told Sky News she is determined to get South Asian stories "influxed" into Hollywood.
The actress and activist spoke about representation on the big screen ahead of the release of her new film, The White Tiger, which is based on the 2008 Man Booker Prize-winning novel by Aravind Adiga.
It tells the story of Balram Halwai (played by newcomer Adarsh Gourav), who narrates his humorous but dark rise from poor villager to successful entrepreneur in modern India.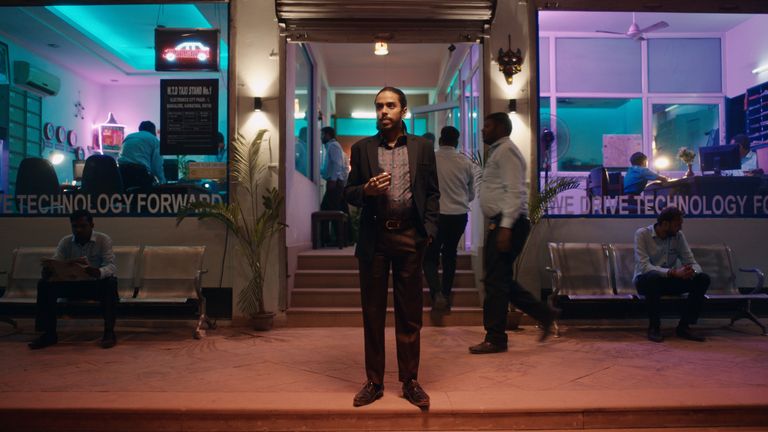 Reviews ahead of the film's release have been strong, and it has been touted as a possible outside contender for the Oscars.
Following Balram's journey to becoming a driver for a wealthy couple, Ashok (Rajkummar Rao) and Pinky (Chopra Jonas) who have returned to India from the US, it highlights the huge gap in the country's class system.
Priyanka Chopra Jonas, who stars in The White Tiger, wants to see more South Asian stories in Hollywood.

Chopra Jonas, who is also an executive producer on the film, says it is the kind of story we need to see more of on screen.
"I chased after this movie, actually, I read about it on Twitter," she tells Sky News. "I had read this book about a decade ago. I was very excited and profoundly moved by it so when I read about the fact that it was being made by Netflix, I got my agents to call the producers and offered my services.
"Pinky as a part has really developed in the movie but I really wanted to be an EP (executive producer) on this to offer my support. And my belief is to be able to get South Asian stories influxed into Hollywood.
"We don't see enough representation in global entertainment, considering we're one fifth of the world's population. So I was very, very excited to offer my support to this movie."
In the film, Balram makes himself indispensable to Ashok and Pinky, the will to serve ingrained deep within – but when an act of betrayal makes him really start to see the unequal system for what it is, he becomes determined to rise up, whatever the cost.
Chopra Jonas, a former Miss World who won the contest in 2000, is one of India's biggest stars. She says she hopes the story will make people who watch the film think about privilege.
"I think that it's a movie of self-reflection for the privileged to think about the rest of the world that lives in a completely different circumstance," she said.
:: Subscribe to the Backstage podcast on Apple Podcasts, Google Podcasts, Spotify, Spreaker
One viewer who is already a fan of the film is her husband, singer Nick Jonas. The couple married in a lavish ceremony in Jodhpur, Rajasthan, in 2018.
After seeing a preview, Jonas posted on Instagram to say the film was "unreal" and his wife's performance "exceptional".
Asked if her husband is her biggest supporter, Chopra Jonas said: "Well, I would like to believe that family does that for each other. He does love this film, though. He's a very big fan of the movie, I have to say."
The White Tiger is out on Netflix from 22 January