Woman caught on camera allegedly stealing from Red Lobster tip jar
Police are looking to social media to help them catch a gray-haired bandit accused of stealing from a Red Lobster tip jar in Bourne, MA.
The older woman was standing near the jar at the takeout counter on Monday evening, worker Olivia Slayton told WBZ.
"I turned around and I saw that her hand was near the top of the tip jar, but I wasn't sure so I didn't want to accuse her of anything," Slayton said to WBZ.
The woman had ordered fish and chips and was waiting while Red Lobster workers buzzed around her.
"I didn't even think twice as I was walking by," employee Lainie Hatch said.
SCANTILY CLAD WOMAN WHO STOLE MONEY FROM UBER DRIVER'S TIP JAR SAYS SHE'S BEING HARASSED
Employees remembered the woman was rude and complained about the service during her visit, but did not notice that money was missing from the jar until later. When they did, they went to the surveillance tape for answers.
In the surveillance footage, the woman is seen dipping her hand into the jar and pulling out cash at least three times.
"It looks like she went in three times to grab some cash and maybe look for bigger bills, we're not sure," server Alaina Hatch said to FOX 25 Boston.
"We make obviously a lower wage, it's not a minimum wage. Most of the money we make comes from tips and as hard as we work it's really discouraging that someone would take that cash from us," Hatch added.
This isn't the first time the woman has allegedly stolen from the tip jar. In October, a worker said the same woman came to the restaurant and stole from the Red Lobster Pot.
"It's just kind of scummy, low. I don't get why you would come in here and take money from hard working kids no matter what your situation is," worker E.J. Baraccchini told FOX 25 Boston.
Employees estimate this time around, the woman got away with $20 from the jar.
FOLLOW US ON FACEBOOK FOR MORE FOX LIFESTYLE NEWS
The Bourne Police Department is investigating the incident and posted the surveillance video on Facebook – which has now gone viral – for help identifying the accused thief.
The restaurant owner has stated he doesn't want to press charges – he just wants the woman to come back and apologize to the workers for stealing the money.
"It's basically the principle of it. These are hard-working people that deserve their tips. We would just like to identify this woman and hold her accountable," Police Sgt. Mike Mulligan said to FOX 25 Boston.
COVID-19: Muslim graveyard in India turns bodies away, as coronavirus cases continue to surge | World News
Delhi's main Muslim graveyard is running out of space due to COVID-related deaths, as it surpassed Mumbai to become India's worst-hit city.
On 15 April, a stream of ambulances arrived at the Jadid Qabristan cemetery on the outskirts of Delhi, where a patch of waste ground was turned into a COVID-19 burial ground last year.
The graves now run-up to the boundary wall, with little space for more.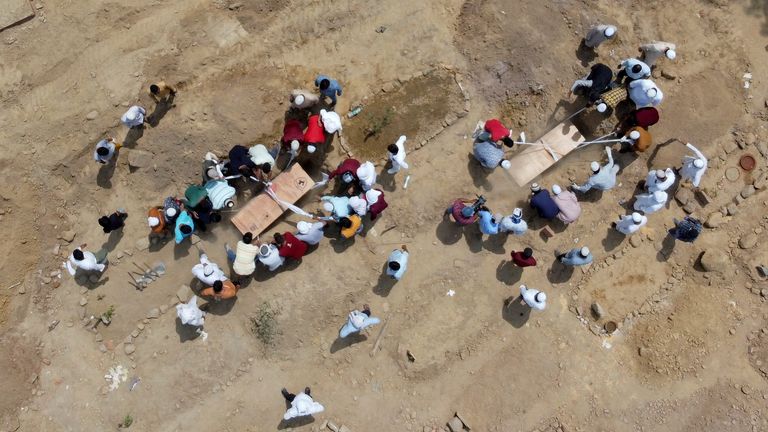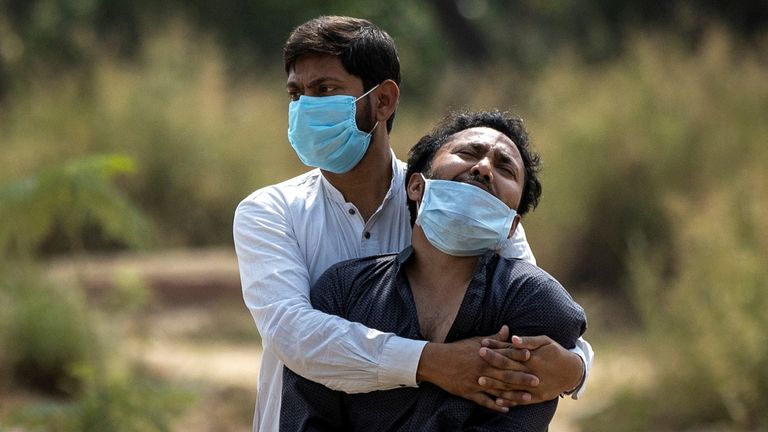 Head gravedigger Mohammad Shameem said he has had to turn bodies away, with space and staff at a premium.
"Yesterday there were 19 bodies, but we can only handle 15," he said.
Hospitals are also struggling to cope under the growing strain of increased cases.
Pappu Ali, 43, contracted coronavirus and his family visited several private hospitals in the city searching for a bed. He died after being admitted to a government hospital.
"There were not enough doctors, we couldn't even find water," his uncle Mehboob said.
According to official figures, Delhi recorded over 17,000 cases on 14 April, while Mumbai's highest single-day peak was 11,163 on 4 April.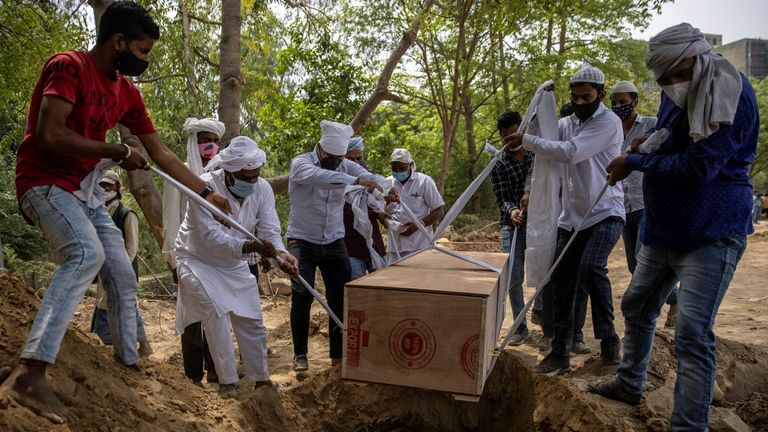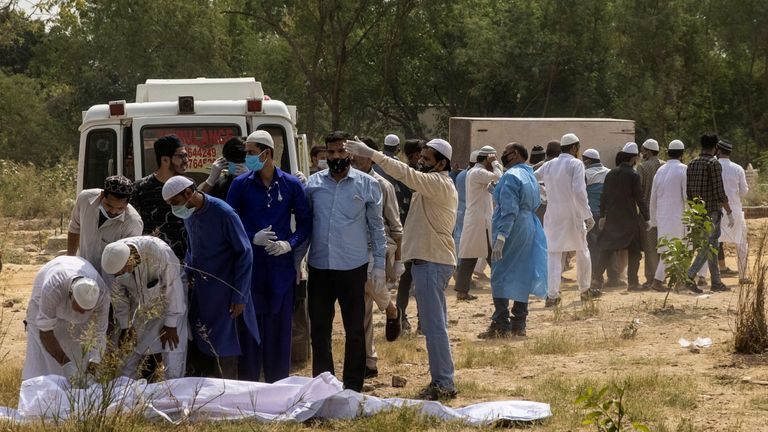 India reported more than 200,000 new cases in a single day on 15 April, with hospitals reporting a shortage of beds and oxygen.
The financial hub of Mumbai, India's largest city, has gone into lockdown, but other cities remain open despite a spike in cases.
This week, millions of Hindu pilgrims gathered in the temple town of Haridwar, in Uttarakhand to celebrate Maha Kumbh Mela, dubbed as a superspreader event.
Following the event, 30 Hindu priests tested positive for coronavirus.
Among those infected with the virus, was the leader of the All India Akhada Parishad, Mahant Narendra Giri, who has been admitted to hospital.
On Thursday night, Uttarakhand reported 2,200 cases in 24 hours – its biggest single-day spike since the pandemic began in December 2019.
As cases around the country surge, India has found itself short of vaccines and is running out of the raw materials required to make new jabs.
The AstraZeneca-Oxford vaccine is locally made by the Serum Institute of India (SII) but production has been delayed by a raw material shortage.
SII's chief executive appealed to US president Joe Biden to end the ban on raw material exports out of the US.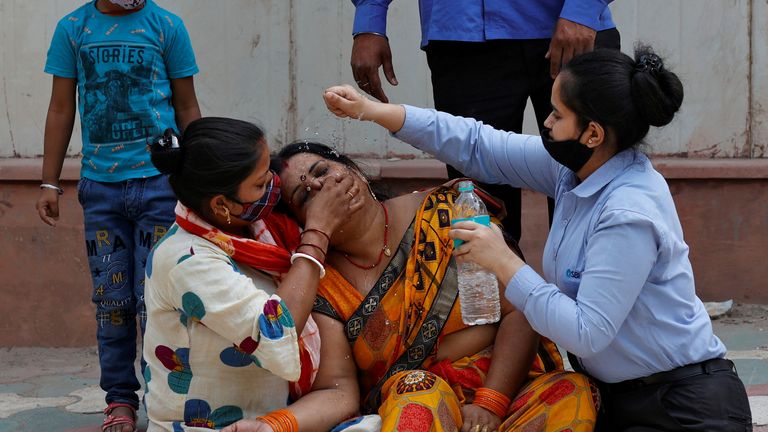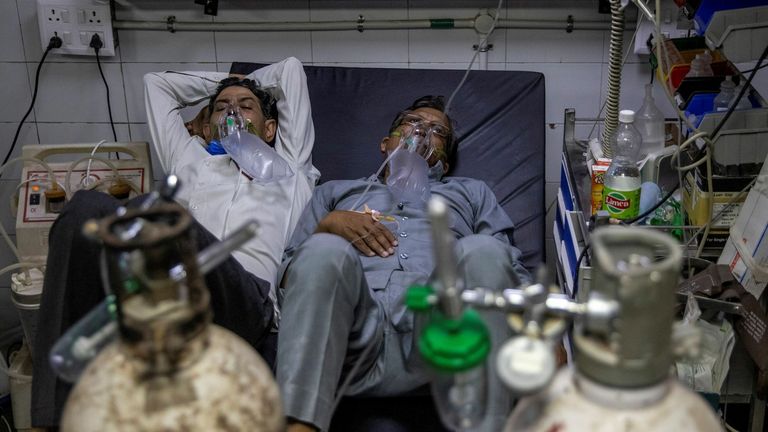 "Respected POTUS, if we are to truly unite in beating the virus, on behalf of the vaccine industry outside the US, I humble request you lift the embargo on raw material exports out of the US so that vaccine production can ramp up," Adar Poonawalla said on Twitter.
Vaccination centres are rationing supplies, as the country inoculates over 45s having started its roll-out in mid-January with front line workers.
It has administered the most doses in the world, after America and China, but ranks much lower when looking at the per capita figure.
Respected @POTUS, if we are to truly unite in beating this virus, on behalf of the vaccine industry outside the U.S., I humbly request you to lift the embargo of raw material exports out of the U.S. so that vaccine production can ramp up. Your administration has the details. 🙏🙏

— Adar Poonawalla (@adarpoonawalla) April 16, 2021
The government said the country had a stock of about 30 million doses, which will be enough for 10 days.
Despite initial reluctance to use non-Indian vaccines, the government has this week given emergency authorisation to Russia's Sputnik V vaccine to be imported this month.
It has also urged Pfizer, Moderna and Johnson & Johnson to sell jabs to India.
A new Indian variant of the virus has been detected in the UK, with 74 cases detected by Public Health England.
India is not on the travel red list, so there is no requirement for hotel quarantine. Travellers returning from India are required to take two COVID-19 tests and quarantine at home for 10 days.
Boris Johnson is scheduled to visit the country at the end of April, his first major international trip since Britain's exit from the European Union.
Asked if his planned trip to India would still go ahead later this month, a No 10 spokesman said it was still on.
But he said the programme "will be slightly shorter" and added: "As you would expect, safety is obviously important and is a priority for us on this trip, which is why we will make sure that all elements of the visit are COVID-secure."
Hong Kong: Media tycoon Jimmy Lai jailed over pro-democracy protests | World News
Billionaire Hong Kong media tycoon Jimmy Lai has been imprisoned over his role in pro-democracy protests.
Mr Lai, founder of opposition newspaper Apple Daily, was one of several activists who appeared in court on Friday who had been earlier found guilty of taking part in "unauthorised assemblies" during mass pro-democracy protests in 2019.
He was sentenced to 14 months in prison while nine others received jail time or suspended sentences.
The 73-year-old is a fierce critic of Beijing and his sentence comes as the mainland is increasingly cracking down on Hong Kong's rights and freedoms.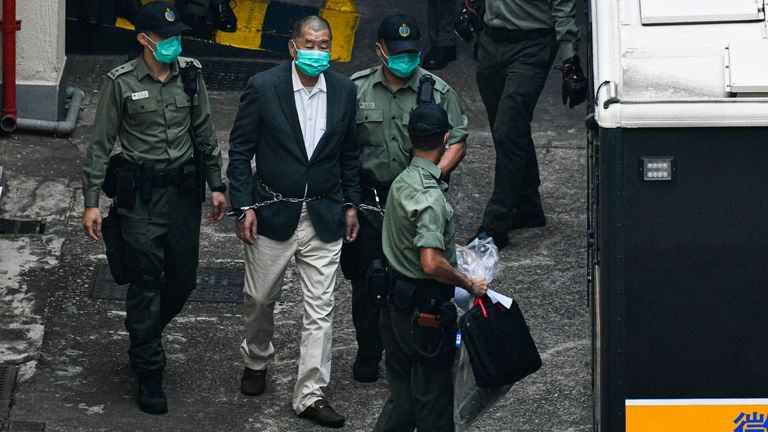 Mr Lai has been in jail since December after being denied bail in a separate national security trial.
District court judge Amanda Woodcock said even though the 18 August assembly was peaceful there was a "latent risk of possible violence" and that a deterrent sentence and "immediate imprisonment" was appropriate.
Raab says 'China is violating the freedom of Hong Kong'

Mr Lai's repeated arrests have drawn criticism from Western governments and international rights groups, who raised concerns over waning freedoms in the global financial hub, including freedom of speech and assembly.
Amnesty International's Asia-Pacific regional director Yamini Mishra said: "The wrongful prosecution, conviction and sentencing of these activists underlines the… government's intention to eliminate all political opposition."
Subscribe to Into The Grey Zone on Apple Podcasts, Spotify, Spreaker
The other defendants also found guilty, included prominent barrister Margaret Ng and veteran democrats Lee Cheuk-yan, Albert Ho, Leung Kwok-hung, Cyd Ho, Au Nok-hin and Leung Yiu-chung.
They received sentences of up to 18 months. Ng, Leung Yiu-chung and Albert Ho were given suspended sentences.
The 2019 pro-democracy protests were spurred by Beijing's tightening squeeze on wide-ranging freedoms promised to Hong Kong upon its return to Chinese rule in 1997, and plunged the semi-autonomous city into its biggest crisis since the handover.
Beijing has since consolidated its authoritarian grip on Hong Kong by imposing a sweeping national security law,
punishing anything it deems as secession, subversion, terrorism or collusion with foreign forces with up to life in prison.
Supporters of the law say it has restored stability.
Mr Lai has been a frequent visitor to Washington, meeting officials such as former secretary of state Mike Pompeo, to rally support for Hong Kong democracy, prompting Beijing to label him a "traitor".
Prosecutors said he will face two additional charges of conspiracy to collude with foreign forces and conspiracy to
obstruct the course of justice.
Earlier this week, Apple Daily published a hand-written letter Mr Lai sent to his colleagues from prison, saying: "It is
our responsibility as journalists to seek justice.
"As long as we… do not let evil get its way through us, we are fulfilling our responsibility."
It is "time for us to stand tall", he wrote.
Human cells grown in monkey embryos triggers 'Pandora's box' ethical concerns | Science & Tech News
Human cells have been grown in monkey embryos by scientists in the US, sparking ethical concerns and warnings that it "opens a Pandora's box".
Those behind the research say their work could help tackle the severe shortage of transplant organs as well as enable better overall understanding of human health, from the development of disease to ageing.
But some experts in the UK have highlighted the significant ethical and legal challenges posed by the creation of such hybrid organisms and called for a public debate.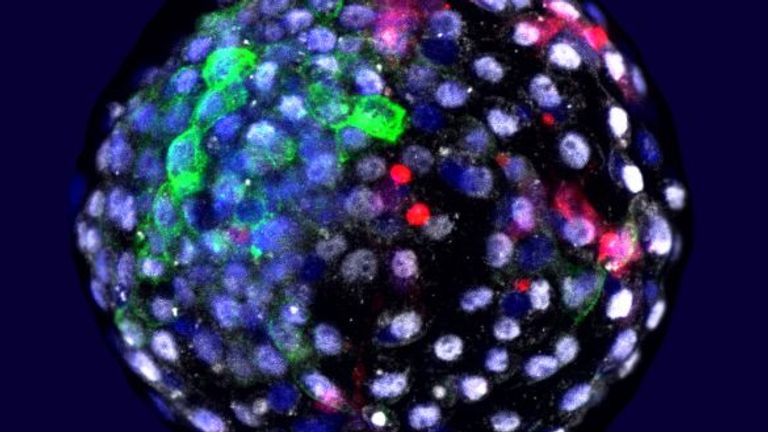 Concerns have been raised after researchers from the Salk Institute in California produced what is known as monkey-human chimeras.
This involved human stem cells – special cells that have the ability to develop into many different cell types – being inserted in macaque embryos in petri dishes in the lab.
The aim is to understand more about how cells develop and communicate with each other.
Chimeras are organisms whose cells come from two or more individuals.
In humans, chimerism can naturally occur following organ transplants, where cells from the organ start growing in other parts of the body.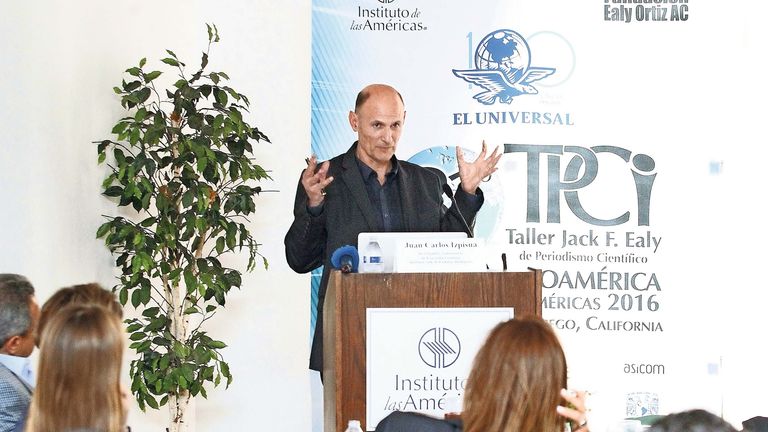 Professor Juan Carlos Izpisua Belmonte, who is leading the research, said: "These chimeric approaches could be really very useful for advancing biomedical research not just at the very earliest stage of life, but also the latest stage of life."
In 2017, he and his team created the first human-pig hybrid, where they introduced human cells into early-stage pig tissue but found the environment provided poor molecular communication.
As a result, the researchers decided to investigate lab-grown chimeras using a more closely related species.
The human-monkey chimeric embryos were monitored in the lab for 19 days before being destroyed.
According to the scientists, the results, published in the journal Cell, showed human stem cells "survived and integrated with better relative efficiency than in the previous experiments in pig tissue".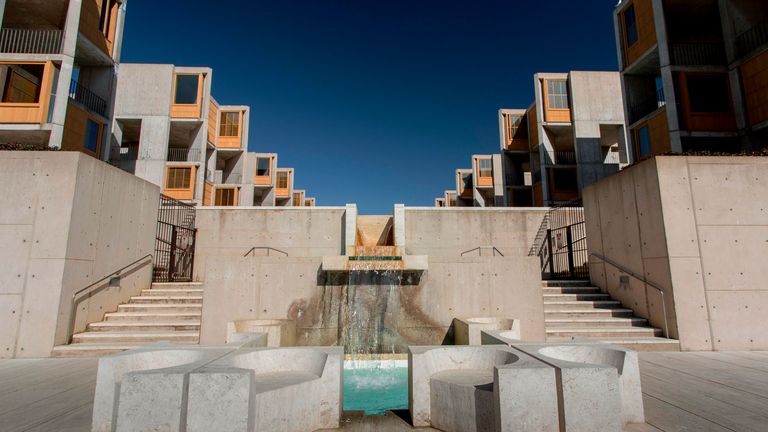 The team said understanding more about how cells of different species communicate with each other could provide an "unprecedented glimpse into the earliest stages of human development" as well as offer scientists a "powerful tool" for research on regenerative medicine.
Insisting that their research has met current ethical and legal guidelines, Prof Izpisua Belmonte said: "As important for health and research as we think these results are, the way we conducted this work, with utmost attention to ethical considerations and by coordinating closely with regulatory agencies, is equally important.
"Ultimately, we conduct these studies to understand and improve human health."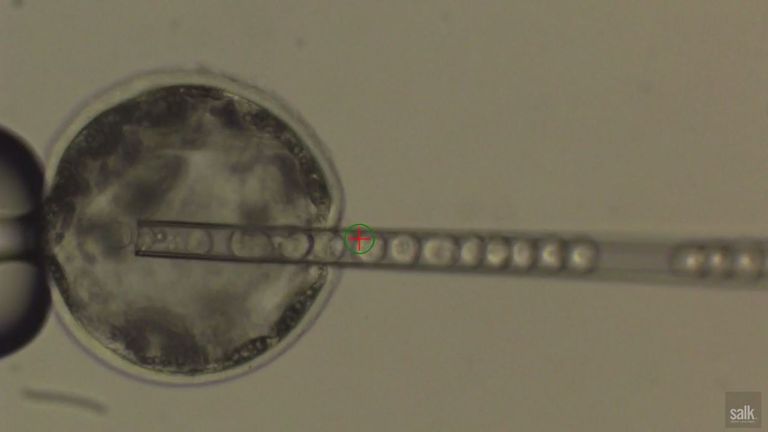 Responding to the research, Dr Anna Smajdor, lecturer and researcher in biomedical ethics at the University of East Anglia's Norwich Medical School, said: "This breakthrough reinforces an increasingly inescapable fact: biological categories are not fixed – they are fluid.
"This poses significant ethical and legal challenges."
She added: "The scientists behind this research state that these chimeric embryos offer new opportunities, because 'we are unable to conduct certain types of experiments in humans'.
"But whether these embryos are human or not is open to question."
Prof Julian Savulescu, director of the Oxford Uehiro Centre for Practical Ethics and co-director of the Wellcome Centre for Ethics and Humanities, University of Oxford, said: "This research opens Pandora's box to human-nonhuman chimeras.
"These embryos were destroyed at 20 days of development but it is only a matter of time before human-nonhuman chimeras are successfully developed, perhaps as a source of organs for humans. That is one of the long-term goals of this research.
"The key ethical question is: what is the moral status of these novel creatures? Before any experiments are performed on live-born chimeras, or their organs extracted, it is essential that their mental capacities and lives are properly assessed."