The Rev. Billy Graham, prominent Christian evangelist, dead at 99
The Rev. Billy Graham , the Christian evangelist whose worldwide crusades and role as adviser to decades of U.S. presidents made him one of the best known religious figures of his time, died Wednesday at age 99 at his home in Montreat, N.C, Todd Shearer of DeMoss Associates told Fox News.
Graham, who had been in ill health for a number of years, was regularly listed in polls as one of the "Ten Most Admired Men in the World."
Shearer told Fox News that Graham died from "natural causes." 
His Christian crusades took him from the frenzy of Manhattan to isolated African villages and according to the Billy Graham Evangelistic Association website, he preached to more people in live audiences than anyone else in history.
The BGEA put his lifetime audience at nearly 215 million people in more than 185 countries and territories, with "hundreds of millions more" viewing him on television, video, film and webcasts.
"My one purpose in life," he said, "is to help people find a personal relationship with God, which, I believe, comes through knowing Christ."
Graham was last hospitalized in 2011 at Mission Hospital in Asheville, N.C. for what was described as "evaluation and treatment of his lungs." He was also hospitalized that year due to pneumonia.
William Franklin Graham Jr. was born Nov. 7, 1918 and raised on a dairy farm in Charlotte, N.C.
At 15, he made his personal commitment to Christ at a revival meeting in Charlotte. After attending Bob Jones College and the Florida Bible Institute, Graham was ordained a Southern Baptist clergyman in 1939.
In 1943, he graduated from Wheaton College, where he met fellow student Ruth McCue Bell, daughter of a medical missionary, who had spent the first 17 years of her life in China.
They married in August 1943 and had five children, 19 grandchildren and numerous great-grandchildren.
Ruth Graham died in June 2007 after 64 years of marriage.
Graham vaulted to national prominence with his 1948 Los Angeles crusade, scheduled for three weeks and extended to eight.
Subsequent crusades in various cities around the globe also lasted far longer than scheduled – in New York, he ran nightly for four months at Madison Square Garden in 1957.
In 1950, Graham founded the Billy Graham Evangelistic Association, based in Minneapolis, Minn. until it relocated to Charlotte in 2003.
Through the BGEA he conducted his weekly "Hour of Decision" radio program and published "Decision" Magazine as well as producing television programs for Christian networks.
In addition, Graham wrote 33 books, including his autobiography "Just As I Am." His last book, "Where I Am: Heaven, Eternity, And Our Life Beyond The Now" was published in 2015. 
In the 1960s, he ardently opposed segregation, refusing to speak to segregated audiences.
"The ground at the foot of the cross is level," he once said, "and it touches my heart when I see whites standing shoulder to shoulder with blacks at the cross."
Graham also was noted for consulting and praying with every U.S. president from Dwight Eisenhower to Barack Obama, who in April 2010 visited Graham at his mountaintop cabin in North Carolina. He also met with President Harry Truman in what was initially a contentious meeting after Graham spoke to the press, but the two men later viewed the episode as a humorous incident.
The White House later said Obama was "extraordinarily gratified" that Graham took the time to meet with him.
Graham presided over the graveside services for President Lyndon Johnson in 1973 and spoke at the funeral of President Richard Nixon in 1994.
On September 14, 2001 he led a national prayer service at Washington National Cathedral after the 9/11 attacks.
He and his wife were both awarded the Congressional Gold Medal in 1966.
But Graham found himself the target of criticism in 2002 and again in 2009 following the release of tapes of 1973 conversations he had with Richard Nixon that were critical of Jews.
He remained active well into his 70s but in recent years had been slowed by Parkinson's Disease, which he's had since 1992, and other medical problems.
His last crusade was in 2004. His elder son, Franklin, has long been expected to succeed his father as head of his ministry.
Beirut explosion: Officials knew risks of storing explosive materials but failed to protect public, says rights group | World News
A year on from the massive explosion which hit Beirut, an international human rights group has said senior Lebanese officials failed to protect the public from the risks posed by highly explosive material stored at the capital's port.
In a report on the explosion, Human Rights Watch (HRW) claimed those same officials were trying to thwart an investigation into the incident.
It comes as the country prepares to mark the one year anniversary of the blast on Wednesday.
At least 214 people were killed and more than 6,000 others were injured in the explosion at Beirut's port.
Moment of explosion in Beirut

The blast was preceded by a huge fire at a warehouse after hundreds of tonnes of improperly stored ammonium nitrate, a compound used as fertiliser but which has been used to make bombs, detonated.
Protesters are expected to gather in front of the port on Wednesday to hold a moment of silence before heading to the city centre.
Lebanon's most senior Christian cleric, Maronite Patriarch Bechara Boutros al Rai, is also due to hold a mass with the families of victims at the port.
An investigation into the explosion is yet to reveal who ordered the shipment of chemicals and why officials ignored repeated internal warnings of the dangers they posed.
Inside the Beirut blast site

The chemicals arrived in the country on a ship called the Rhosus in 2013, after it made a stop while on its way from Georgia to Mozambique, in Beirut to try to earn extra money by taking on several pieces of heavy machinery.
However, the additional cargo proved too heavy for the ship and the crew refused to take it on.
It was then impounded by Lebanese authorities for failing to pay port fees, and never left the port again.
The HRW's 650-page report details documents and exchanges between Lebanese officials about the ammonium nitrates, which had been stored at the port since then.
It concluded that "the actions and omissions of Lebanese authorities created an unreasonable risk of life", adding that under international human rights law, a state's failure to act to prevent foreseeable risks to life is a violation of the right to life.
Beirut's deadly explosion explained

In addition, HRW said evidence strongly suggested some government officials foresaw the possible devastation from the nitrates' presence and tacitly accepted the risk.
"Under domestic law, this could amount to the crime of homicide with probable intent, and/or unintentional homicide," it added.
The report names senior leaders, including President Michel Aoun, prime minister at the time Hassan Diab, and several ministers among others who were informed of risks posed by the nitrates but failed to take any action.
Lebanese officials have acknowledged they knew about the chemicals and either claim they pursued the matter after learning about it, or it was not within their jurisdiction to do so.
HRW said a lack of judicial independence, constitution-imposed immunity for high-level officials, and a range of procedural and systemic flaws in the domestic investigation rendered it "incapable of credibly delivering justice".
Survivors of the blast and families of the victims have called for an international investigation to take place due to their lack faith in the Lebanese judicial system.
HRW says the case for an "international investigation has only strengthened".
Last month, Lebanon's lead investigating judge in the case, Tarek Bitar, announced he intends to pursue senior politicians and former and current security chiefs in the case, and requested permission for their prosecution.
However, those named in the probe have failed to appear at the prosecutor's office, citing either immunity as members of parliament or needing special permission from the prime minister or the interior minister to appear.
COVID-19: China orders testing of 12 million Wuhan residents as more Delta variant cases identified | World News
China is conducting mass testing in Wuhan after it identified its first domestic cases of the Delta variant in the city where coronavirus was first detected in late 2019.
Wuhan, which gave the world its first glimpses of lockdowns and mass testing, had reported no local COVID-19 cases since mid-May last year.
But on Monday, authorities confirmed three new cases of the more transmissible variant in the Chinese city.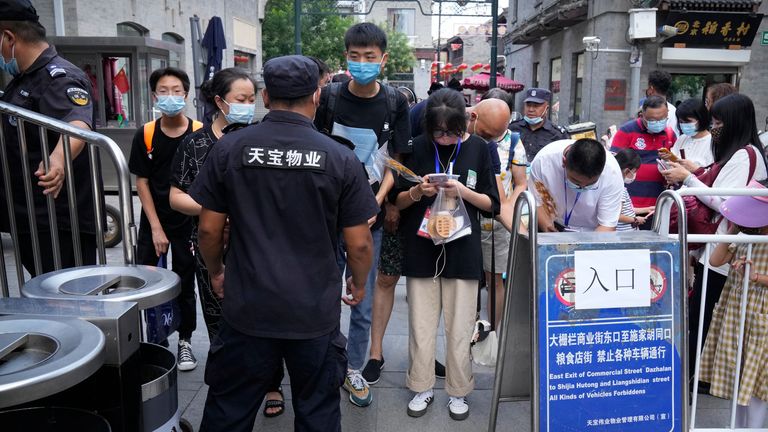 All of its 12 million residents will be tested for coronavirus.
"To ensure that everyone in the city is safe, city-wide nucleic acid testing will be quickly launched for all people to fully screen out positive results and asymptomatic infections," said Li Qiang, an official in the city, the capital of central Hubei province.
The new cases in Wuhan, along with infections in the nearby cities of Jingzhou and Huanggang since Saturday, were linked to cases found in Huaian city in Jiangsu province, said Li Yang, vice director of Hubei's provincial disease control centre.
The outbreak in Jiangsu is believed to have begun in the provincial capital of Nanjing, with the Delta variant mostly likely introduced on a flight from Russia, officials have said.
Since then numerous cities in southern China and a few in the north including Beijing have reported infections.
The number of locally transmitted cases in China since 20 July, when the first Nanjing infections were found, stood at 414 on Monday.
However, it is not clear if all of those cases were of the Delta variant, or if they were all linked to Nanjing, as some authorities have not disclosed conclusive results of their virus-tracing efforts.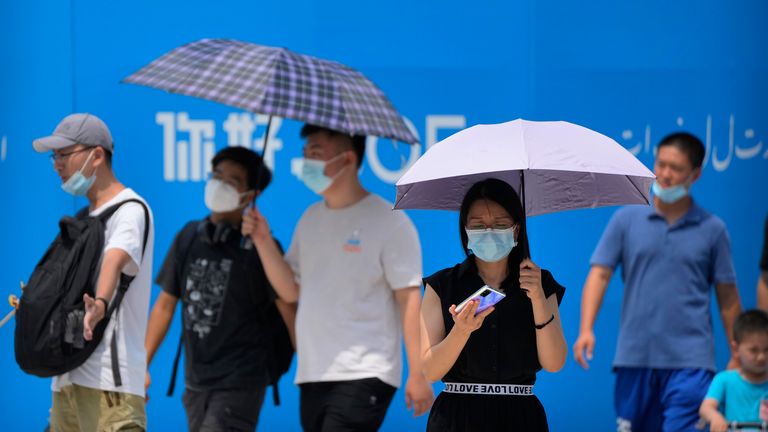 The Delta variant poses new risks to the world's second-largest economy as it spreads from the coast to inland cities.
On Tuesday, the National Health Commission said 90 new cases had been confirmed the previous day, 61 locally spread ones and 29 among people who had recently arrived from abroad.
Most of the local cases were in Jiangsu province, where an outbreak started at the airport in Nanjing, the provincial capital, and has spread to the city of Yangzhou, 65 miles away.
Authorities reported 45 new cases, five in Nanjing and 40 in the city of Yangzhou, which was conducting a second round of mass testing.
Five other provinces and the cities of Beijing and Shanghai reported new local cases in the single digits.
In Shanghai, the nation's largest city, a driver working at one of its two main airports tested positive. Beijing has reported a total of five cases in recent days.
Government-affiliated scientists have said Chinese vaccines are less effective against the new strains of the coronavirus but still offer some protection.
Only Chinese vaccines are currently being given in China, where authorities say more than 1.6 billion doses have been administered.
NATO and European Commission condemn deadly attack on tanker near Oman | World News
Foreign Secretary Dominic Raab has welcomed both NATO and the European Commission's condemnation of the deadly attack on an oil tanker off the coast of Oman.
The UK, US and Israel have blamed Iran for the attack, which killed two people – a Briton and a Romanian.
On Tuesday, NATO called on Iran to "respect its international obligations", while the EU Commission said they oppose "any action that would be detrimental to peace and stability".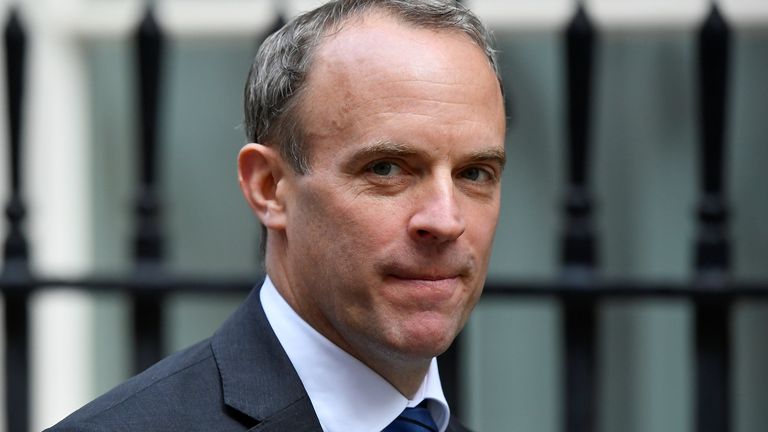 The Commission called the incident "unacceptable" but said the exact circumstances surrounding it "have to be clarified".
Posting on social media, Mr Raab said: "I welcome NATO joining the UK and international partners in condemning the unlawful attack on MV Mercer Street.
"We believe this was a deliberate, targeted attack by Iran – it must end its destabilising actions immediately."
I welcome @NATO joining the UK 🇬🇧 and international partners in condemning the unlawful attack on MV Mercer Street.

We believe this was a deliberate, targeted attack by Iran – it must end its destabilising actions immediately. https://t.co/aZGfjmgk4u

— Dominic Raab (@DominicRaab) August 3, 2021
Reports suggest explosive drones were flown into the MV Mercer Street tanker during the attack, which happened on 29 July.
According to Eikon's ship tracking, the Mercer Street was headed to Fujairah, a bunkering port and oil terminal in the United Arab Emirates, from Dar es Salaam in Tanzania.
The tanker is operated by Zodiac Maritime, which is based in London and owned by Israeli billionaire Eyal Ofer.
Releasing a statement on Tuesday, a NATO spokesperson said: "We join allies in strongly condemning the recent fatal attack on the MV Mercer Street off the coast of Oman, and express our condolences to Romania and the United Kingdom for the losses they have suffered.
"Freedom of navigation is vital for all Nato allies, and must be upheld in accordance with international law.
"The United Kingdom, the United States, and Romania have concluded that Iran is highly likely responsible for this incident. Allies remain concerned by Iran's destabilising actions in the region, and call on Tehran to respect its international obligations."
European Commission spokeswoman Nabila Massrali told reporters: "Of course we condemn the attack on the oil tanker which took place off the island of Masirah in Oman.
"A British citizen and a Romanian were killed and we would like to extend our sympathy to their friends and family.
"The exact circumstances of this attack have to be clarified and we take note of investigations carried out by the United States, the UK and Israel – this is an action that was against freedom of navigation in this area, and of course unacceptable.
"We oppose any action that would be detrimental to peace and stability in this area and the EU will continue to follow developments closely."
'Iran should face up to the consequences' – PM

On Sunday, Mr Raab accused Iran of carrying out a "deliberate, targeted" assault which constituted "a clear violation of international law".
US Secretary of State Anthony Blinken said he was considering "next steps" with the UK and other allies, with "an appropriate response… forthcoming".
Meanwhile, the head of the British armed forces, General Sir Nick Carter, held discussions with his Israeli counterpart at the weekend.
The government held a Cobra emergency meeting at the level of officials over the weekend in a sign of the serious focus on the tanker attack and how to respond, Sky News understands.
There has not yet been a Cobra attended by ministers, which is what happens in the gravest of crises.
Earlier this week, Israeli foreign minister Yair Lapid blamed "Iranian terrorism" for the attack.
Iran has not yet commented on the allegations.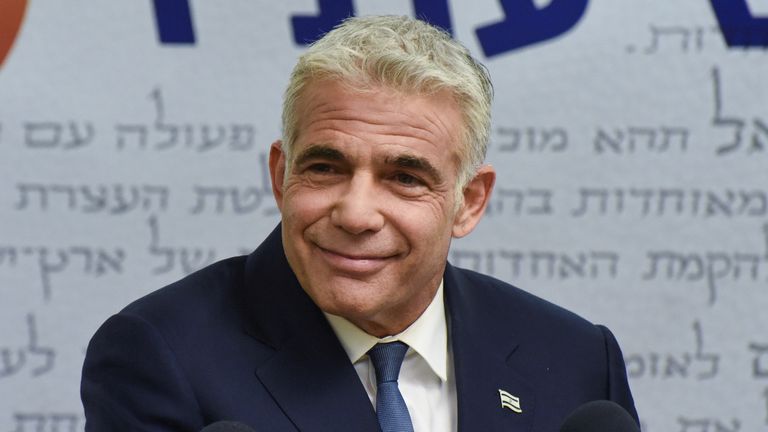 Lisa Nandy, Labour's shadow foreign secretary, said the UK government needs to take a hard line with Tehran.
She said: "The prime minister must make it clear to the incoming Iranian president that lawless actions will carry costs. This is the moment where Britain must show we are resolute in our determination to end this pattern of behaviour.
"The breakdown of a clear strategy to deal with Iran has not served the UK or our allies well in recent years. The foreign secretary must now make it a priority to pursue coordinated international efforts to tackle these actions by the Iranian government."
The incident has sparked concern that tensions are increasing in the region.
A UK source said crew members reported being targeted by "some sort of drone" on Thursday in the Arabian Sea before communications with the ship were lost.
If a drone attack is confirmed it would raise speculation about a possible link to a government or some kind of proxy group.
Iran in the past has repeatedly been accused of targeting tankers in the Gulf.