The man who admits #IHave
Interviewing a man who admits to raping a woman is unpleasant, but important.
Here was someone willing to own up to doing the very thing we are all talking about; sexual assault.
We found him because he was prompted by the growing #MeToo movement to post #IHave on social media.
I didn't expect him to want to talk, but to my surprise he agreed.
He was even willing to do it with his face on camera.
We chose to make him anonymous to avoid compounding the chance that his victim is identified.
I ended up face to face in a conference room in a place we cannot name, talking about what he did more than three decades ago and why.
Here's a summary:
Two young people, casual acquaintances, alone in a room after a party.
A consensual encounter.
Withdrawal of consent.
Rape.
The "why" bit was the most brutal – in essence, it was because he wanted sex.
In his own words, his victim did not matter.
Alcohol was a factor but not an excuse, he said.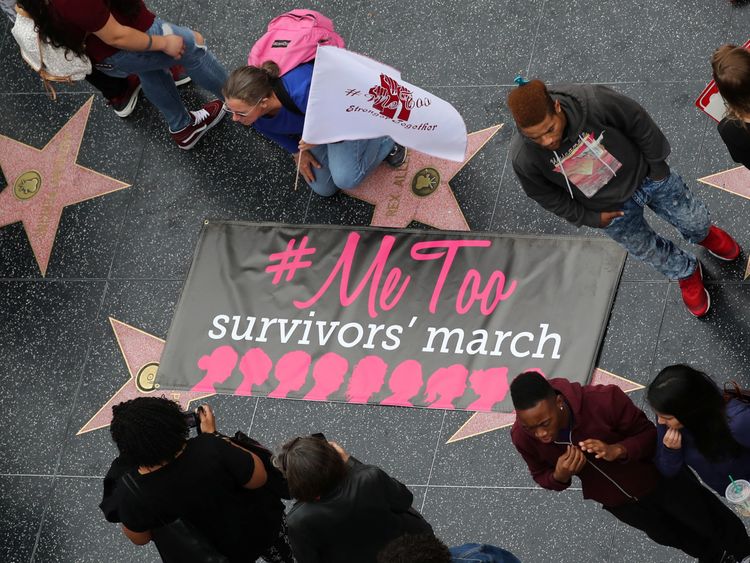 It is also possible, he thought, that his behaviour was in part underpinned by a society-wide attitude that women's bodies were not their own, and their needs less important.
But at his core, he knew what he was doing was wrong, and did it anyway because he wanted to.
Simple as that.
Now, moved by this seismic moment of reckoning, he has come forward to express what I thought was genuine shame and regret, in the hopes of doing some good after causing so much harm.
As far as he knows, his victim did not report the rape, and he was never charged.
Of course, some of it is about making himself feel better, about recovery from addiction and in the end, personal redemption.
He also acknowledges that he will never be able to repair the damage he did to his victim.
Regret will never be enough.
But does that render his contribution irrelevant, however hard it is to listen to?
I do not think so.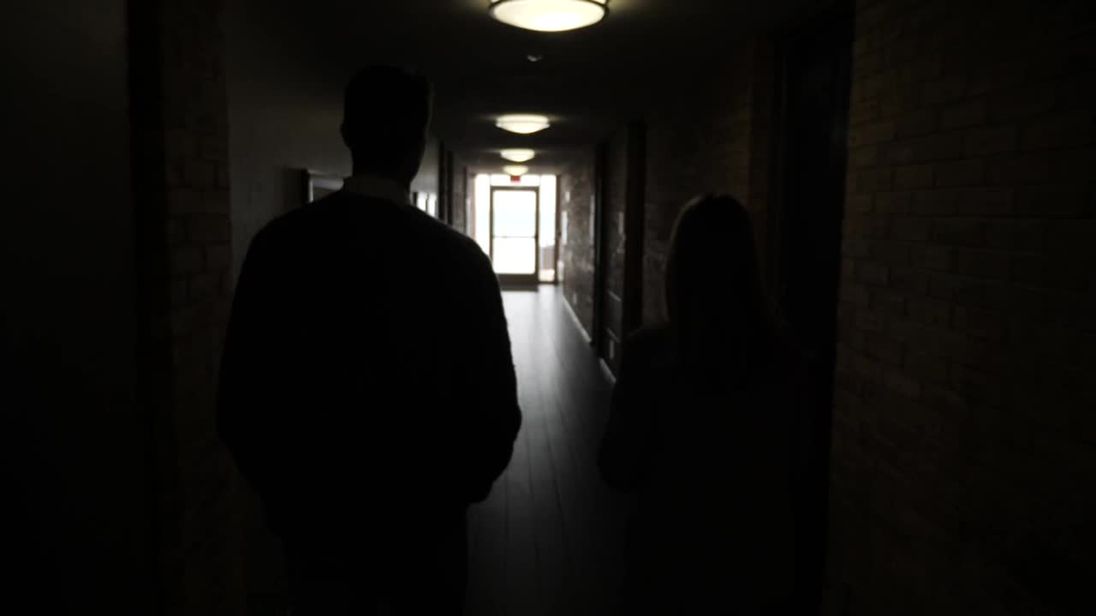 I would argue that frank conversations like this one are central to enhancing our grasp of what we have now come to realise is a pervasive problem.
Outrage, anger, fear, vengefulness – all these things are understandable as we grapple with the scale and the injustice of sexual harassment, abuse and assault.
But this was a chance to understand more, not less, about what is going on.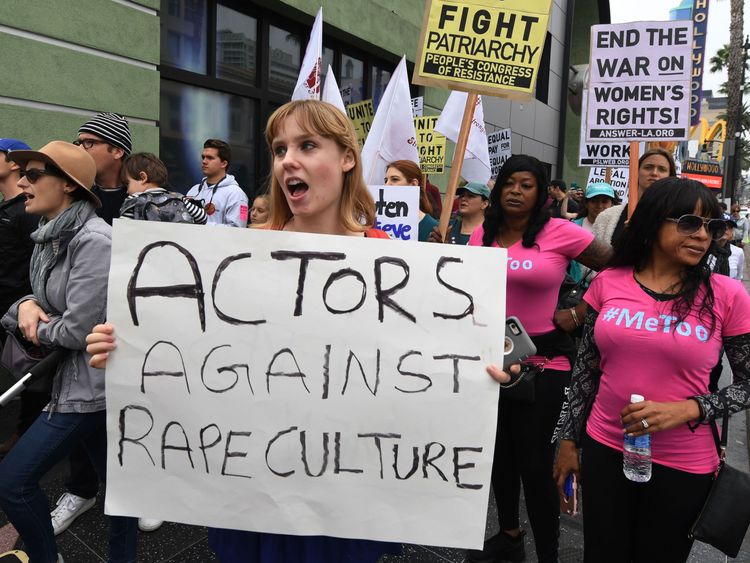 I would also argue that those who transgress the boundaries of our society, however heinously, should be drawn in to open discussion about what needs to happen to stop those transgressions, not excluded from it.
What if his words prompt similar honesty from others and in turn helps advance our cultural conversation?
What if his words stop someone else assaulting a woman in the same way?
In the end, I think we ended up with a rare angle on a subject that seems to have left no part of society untouched.
I think that is a good thing.
You can watch the interview and decide for yourself.
Maritime wars: Did the attack on the Mercer Street deliberately target its crew? | World News
The attack on an Israeli-linked tanker – the Mercer Street – triggered diplomatic turmoil propelling the shadow war between Iran and Israel on the high seas back into the international spotlight.
Two people on board the ship were killed in the strike, which is thought to have involved a suicide drone.
An intelligence expert has told Sky News that the use of such a weapon could indicate they were deliberately targeted.
The British, American and Israeli governments have openly said they believe it was a "deliberate, targeted and unlawful attack" but have not suggested crew members themselves were a target.
They blame Iran.
We've analysed the incident to see how it differs from previous attacks and why it might have drawn such a ferocious response.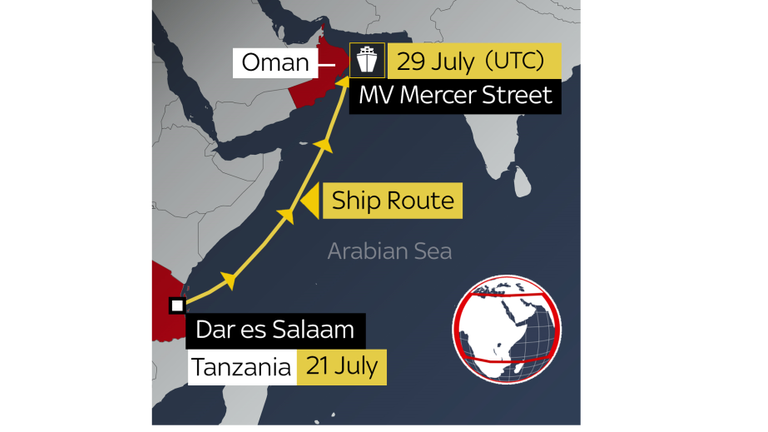 The first warning was circulated on the morning of 29 July by UK Maritime Trade Operations (UKMTO).
The UKMTO is a Royal Navy-run capability that monitors incidents at sea.
It reported that a "non-piracy" incident had occurred at 7am, approximately 86 nautical miles from Al Duqm port in Oman.
It did not explain the nature of the event, nor did it name the vessel involved.
However, shipping data provided by MarineTraffic indicate that the Mercer Street was sailing in the area at that time.
The ship's position matches the coordinates given by UKMTO.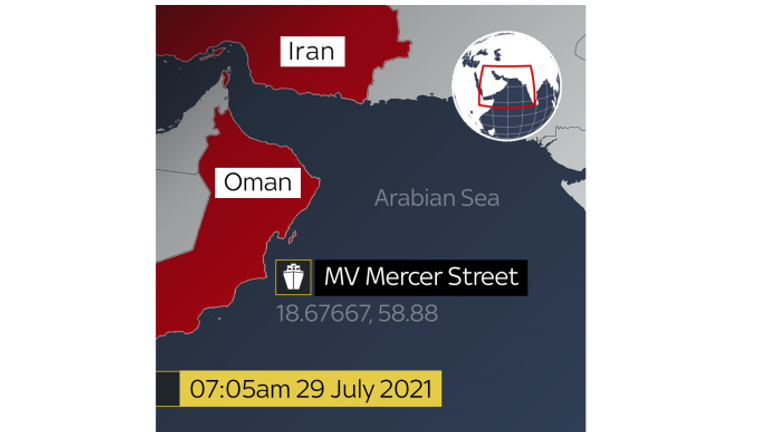 The Mercer Street, which is Japanese-owned but operated by London-based firm Zodiac Maritime, had been travelling from Dar es Salaam in Tanzania to Fujairah in the United Arab Emirates.
Zodiac is owned by prominent Israeli billionaire Eyal Ofer.
Shipping data show the tanker's speed dropped slightly after 7am, before it regained pace and travelled northeast along the coast of the Omani island of Masirah.
Later that evening, UKMTO circulated a second report saying that a vessel had been attacked in waters northeast of the island.
Ships were asked to avoid the area.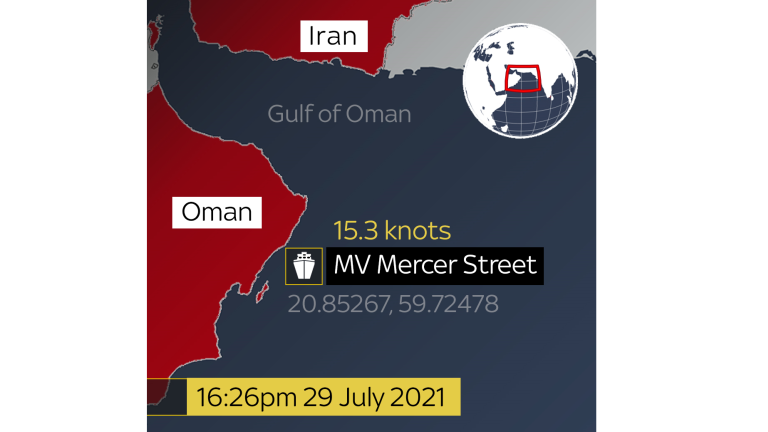 AIS data shows the Mercer Street travelling at 15.3 knots at 16:26pm.
But two hours later, its speed had dropped to 3.3 knots.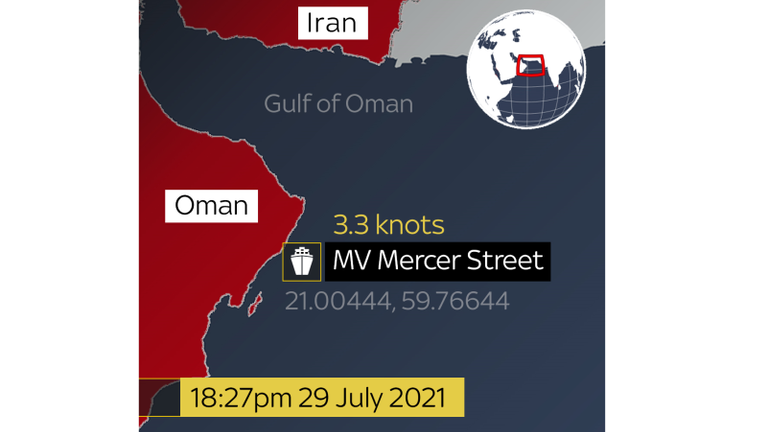 The damaged tanker remained at this slower pace after the attack, and was escorted by the American guided missile destroyer the USS Mitscher and the nuclear-powered aircraft carrier the USS Ronald Reagan until it reached Fujairah in the UAE.
Images circulating online appear to show the damage sustained by the Mercer Street.
תמונות ראשונות שמתפרסמות הערב מספינת המרסר סטריט שנפגעה בסופש סמוך לעומאן. ניתן לראות את הנזק שעשה בגשר הפיקוד של הספינה המלט המתאבד האיראני מסוג שאהד שהרג את הקפטן הרומני והמאבטח הבריטי. כרגע ישראל במתקפה דיפלומטית עם ארהב ובריטניה שקובעות הערב שמדובר בתקיפה איראנית. pic.twitter.com/bGilqZPZKU

— Or Heller אור הלר (@OrHeller) August 1, 2021
The pictures of the damage were first shared by Or Heller, military correspondent for Channel 10 News Israel.
Heller shared background information about their origins with Sky News but we were not able to fully independently verify the images.
However, there are other visual clues.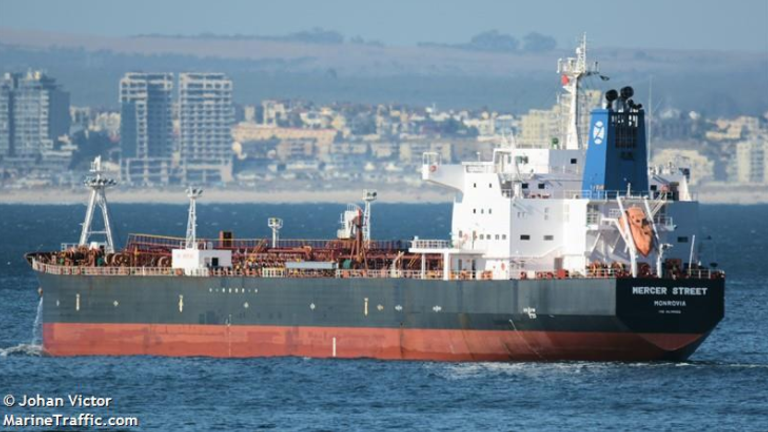 The blue Zodiac logo and the shape of the railings and cabin match this picture of the Mercer Street, taken in Cape Town in 2016.
One open-source investigator identified other matching features which could help to confirm the images are of the same ship.
The US State Department said the attack involved "one-way explosive UAVs" – more commonly known as suicide drones.
These drones, rather than delivering a missile, often have explosives on board and are flown directly into the target. The pictures suggest the drone penetrated the roof of the bridge of the Mercer Street.
Their use is a change in approach from previous attacks against shipping targets in the Gulf, where limpet mines placed on the hull of a vessel have typically been deployed.
The drones can have a range of over 1,000km when guided by satellites, but experts believe the UAVs were likely controlled via radio signals limited to a 200km reach. The attack on the Mercer Street occurred approximately 400km from the coast of Iran.
Jeremy Binnie, a Middle East analyst at Janes, a defence intelligence provider, told Sky News: "The Iranians claim to have satellite communications on their best UAVs, but they don't have their own satellite so they would be reliant on getting around sanctions to secure commercial bandwidth.
"The easiest solution would be for the base controllers to hand over to a forward control station, in this case on a boat, to extend the operational range of a UAV."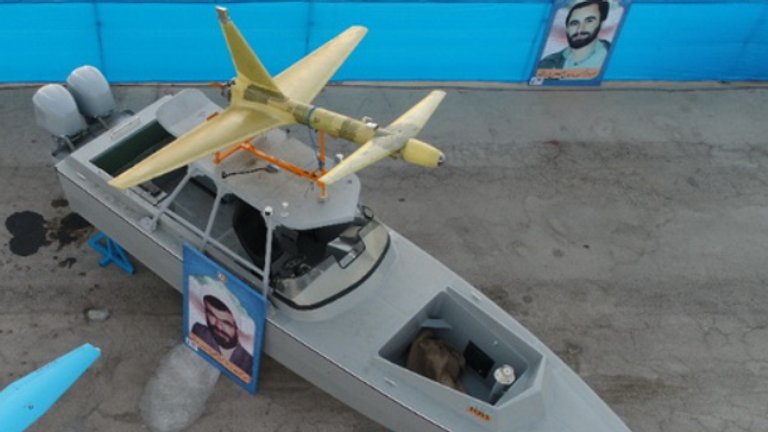 Unmanned suicide drones can be pre-programmed to hit certain coordinates, but striking a moving ship makes this impractical. It is likely that the drone was remotely piloted by a person, using an infrared camera mounted on the device for guidance.
"This raises the question as to whether the controller of the drone deliberately targeted crew members on the bridge of the Mercer Street," added Jeremy Binnie.
It's the first time that people have been killed in the maritime "shadow war" between Iran and Israel.
And it marks a significant escalation in the tit-for-tat struggle between the two countries that has been rumbling on under the radar since 2019.
A recent Sky News investigation tracked eight separate incidents against both Israel and Iran in 2021 and uncovered business connections between the targeted vessels.
And the incident on the Mercer Street is not the first time Zodiac Maritime appears to have been targeted in recent weeks.
On 3 July, the CSAV Tyndall was attacked by a suspected missile in the Gulf but suffered only minor damage. The boat had been previously owned and operated by Zodiac Maritime and had changed hands just months before.
It is thought Iran may have mistakenly believed the ship was still connected to the company owned by Israeli billionaire Eyal Ofer.
And on 25 March, the Lori was attacked in the Arabian Sea, a vessel owned by XT Holdings, a company partly owned by Idan Ofer, the younger brother of Eyal.
It means there have been three attacks on ships connected to the Ofer family in the past five months.
The Ofers are one of Israel's wealthiest and most influential families. Then Israeli prime minister Benjamin Netanyahu called Sammy Ofer, who started the family business, a "true Zionist" when he died in 2011.
It's not immediately clear why the Mercer Street and Zodiac Management were targeted.
Simon Henderson, a director at the Washington Institute for Near East Policy, told Sky News: "It is Israeli prestige which is being damaged and Israeli vulnerability which is being exposed, but no Israeli is dying.
"By targeting Israeli linked vessels in the Gulf of Oman, where there is no Israeli naval presence, Iran can expose a vulnerability and get the headlines without direct fear of retaliation."
Mr Henderson suggested that should Israel retaliate in other regions, such as in Iran itself, it risks the international community reacting against it for fear that it will further imperil shipping in the Gulf.
The maritime war is one way Iran can respond to Israel's efforts to undermine its nuclear programme and the regime more generally.
The death of a UK national and the response it prompted complicates things.
Mr Henderson said: "The Iranians are turning up the dial on this and they have calculated the US will not intervene, but no American has died, and we need to see where we go from here."
---
The Data and Forensics team is a multi-skilled unit dedicated to providing transparent journalism from Sky News.
We gather, analyse and visualise data to tell data-driven stories. We combine traditional reporting skills with advanced analysis of satellite images, social media and other open source information. Through multimedia storytelling we aim to better explain the world while also showing how our journalism is done.
Turkey fires: Despite exta crews battling hard, hot and dry conditions mean the wildfires rage on | World News
Fires are still ravaging parts of southern Turkey as temperatures continued to soar amidst low humidity despite extra crews and personnel being drafted in.
We noticed a significant increase in firefighting units and crews as they battled to contain huge fires which have now moved to Turkevleri.
The crews are urgently trying to stop the flames spreading a few kilometres away to one of the main power stations in the area which provides electricity to more than half a million people.
Heavy machinery was brought in to dig deep scars in the mountain forest to try to create a break and stem the flames ripping through.
A team from Istanbul's airport fire protection unit was half way up the mountain, furiously dragging hoses in and out of trees trying to douse the oncoming fires.
Ozan Karakis, the Commander, told us: "We have enough teams. We have more than enough equipment but it's just too dry and it's very tough terrain and the vehicles cant easily move here."
He went on to say climate change had made it more challenging because the temperatures were much hotter and it is much drier, but he insisted the crews were on top of the situation and keeping it under control.
His reassurances came as the Turkish media watchdog RTUK issued advisories to outlets warning them they faced "heavy punitive sanctions" if they continued to focus on the actual fires and disregarded the "successes" of containing and putting out around 130 fires.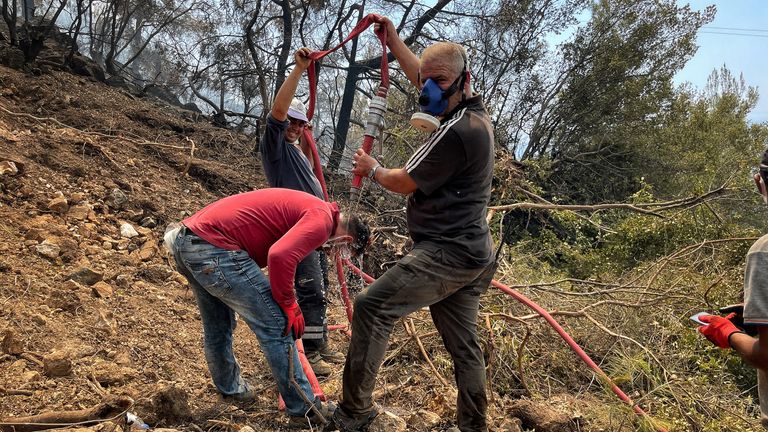 The warning note complained the media reports were causing alarm and panic amongst the population as well as impacting the morale of the fire-fighting crews.
In nearby Bozalan – another community in the Mugla area – we saw fire crews busily cutting down surviving bushes and foliage and urgently dousing the still-smouldering embers of the fire which had ripped through just a few hours earlier.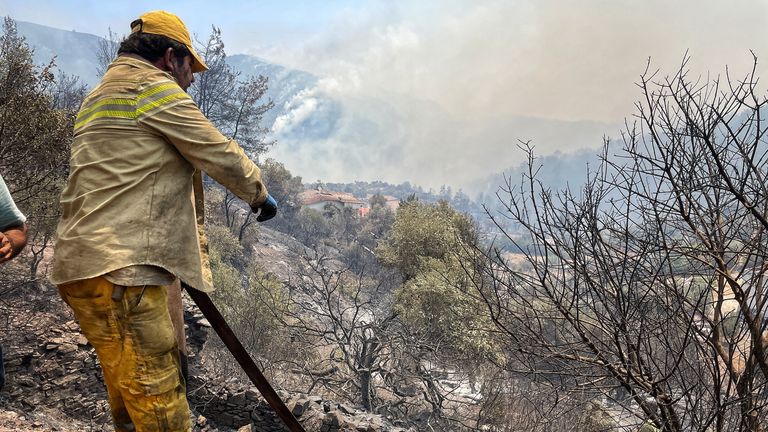 The earth is still so hot, several hotspots are reigniting after they've been contained. One firefighter was mopping his burned face with a damp cloth. He told us he'd suffered the burns whilst fighting the fire in Bodrum's Titanic hotel a few days earlier.
Mustafa Ali has been a firefighter for a decade and he's not giving a single thought to stopping now. There's too much to do and no time to do it in if they're to tackle these wildfires.
"I don't even think about it. And I just cool it down with water if it starts hurting," he tells us.
"'I've been working day and night, 24/7 because this job is my heart."
'Everything is destroyed': Villagers tell of wreckage as wildfires ravage Greek island of Rhodes | World News
We follow Jason Zafeirakopoulos as he drives into the Rhodes countryside, past a blackened landscape on either side.
Fire has destroyed vast swathes of territory leading up to his family's vineyard. And most of the vineyard itself.
He is clearly emotional as he describes the night the flames licked around his property. Terrified of losing his home, he utilised the vineyard's irrigation system to help firefighters try to control the blaze. The property was saved but not the rows of grapevines that provide him with his livelihood.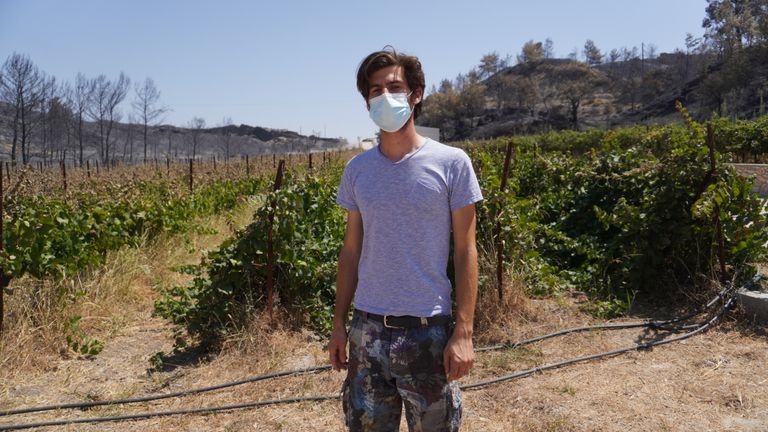 "As far as the vines are concerned, I think everything is destroyed," he tells me.
It is hard for him to look out on the withered and burned vines he has spent so long cultivating. But he tries to be philosophical.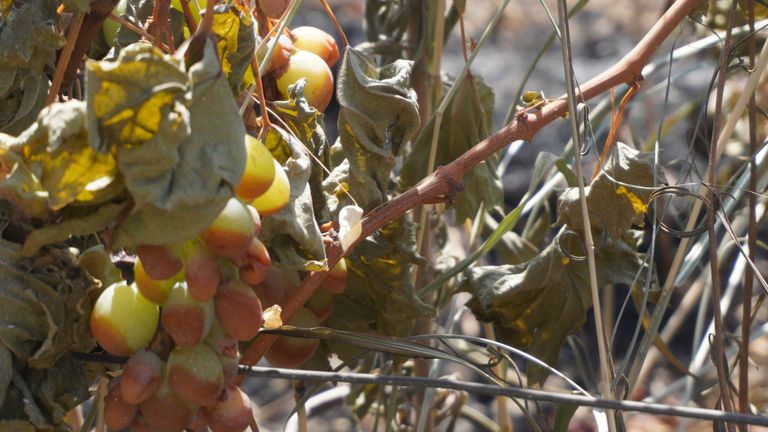 "We are thankful that we still have our home and our buildings for our business because the flames came so very close that we might have been homeless today, so I guess we are thankful for that. But we do struggle to figure out how we are going to recover."
It has been a difficult week for so many on this island. High temperatures and wind have made for a toxic mix for firefighters and the military trying to contain blazes and prevent them spreading to residential areas.
Many villages were threatened and in Maritsa, residents were forced to leave their homes as fire encroached on properties.
Today they were able to return but with the caveat they may have to leave again.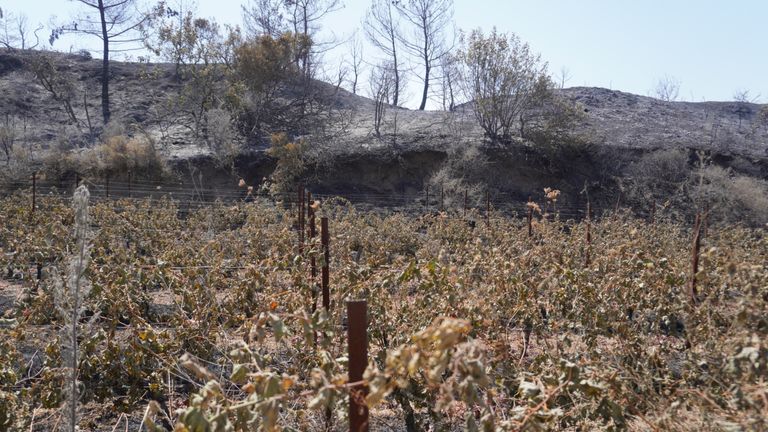 We met some of them and they talked about how terrifying it was before they got out.
Mike Koulianos tells me it's the first time they have ever had to flee the village. He says he ran away. He wanted to help fight the flames like others in the village but because he has a bad back he couldn't.
And now he's left contemplating why things are getting worse. He says he has noticed how summers are changing. The season seems hotter in recent years and he tells me he puts that down to climate change.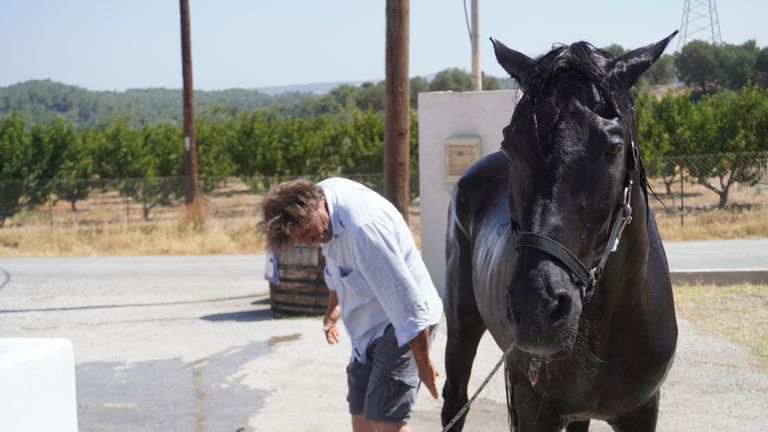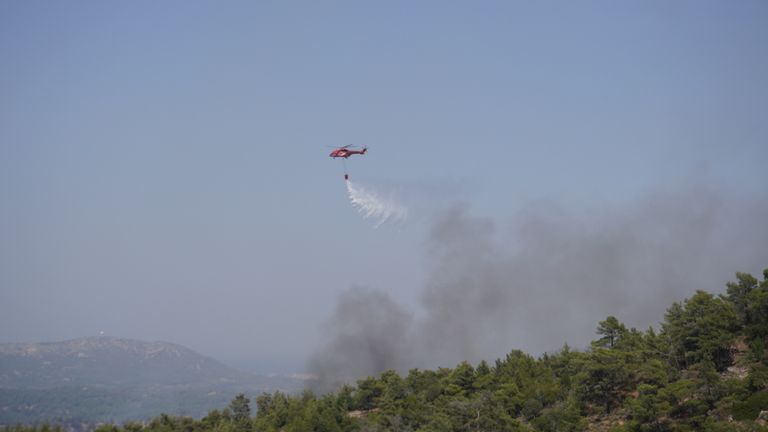 "We can see this every day, we have problems with the weather. Today we have 39 degrees. It's very hot. Everything is changing for the worse."
And when I ask why, he answers simply: "Climate change."
"Of course it is", he says. And he points the finger at big business saying, "Especially the people who have factories and all that – everything starts from there. They have to do something so we can follow."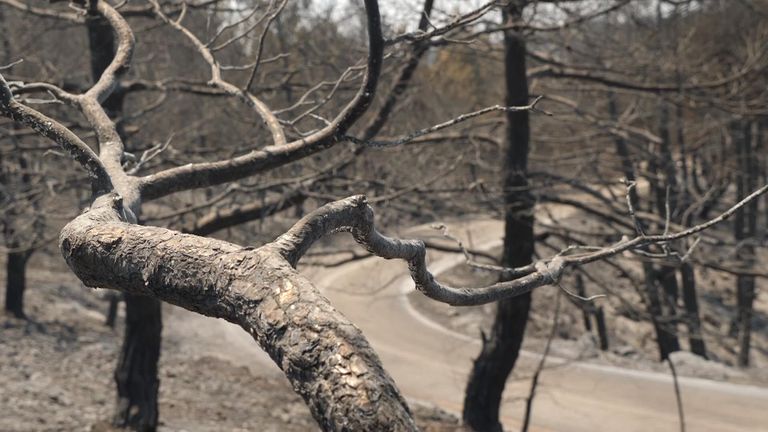 Other residents agree. This week's fires – the worst many here have seen in their lifetime – have been something of a wake-up call. It's given them pause for thought and also concern given the warnings that temperatures may rise further in years to come.
They will not be able to escape the reality of what has happened. Scorched earth surrounds them, blackened hillsides and the constant noise of emergency crews racing through the streets, planes and helicopters dumping water from overhead. The risk to this island and its inhabitants is far from over.