Texas parole board recommends killer be spared from death
AUSTIN, Texas –  The Texas parole board on Tuesday made a rare recommendation to commute a death sentence, unanimously endorsing a "lesser penalty" for a man set to be executed this week for masterminding the killings of his mother and brother.
Thomas "Bart" Whitaker is scheduled for lethal injection Thursday for the shootings of his mother and brother at their suburban Houston home in 2003. Whitaker's father, Kent, also was shot in the attack but survived. He said he wants his 38-year-old son to live.
The recommendation from the seven-member Board of Pardons and Paroles goes to Republican Gov. Greg Abbott. It's unclear whether Abbott will accept or reject it. The governor appoints the parole board members.
It's only the fourth time since the state resumed executions in 1982 that the parole board has recommended clemency within days of an inmate's scheduled execution. In two of those cases, then-Gov. Rick Perry rejected the board's recommendation and those prisoners are among the 548 executed in Texas, more than any other state.
David Gutierrez, the parole board's presiding officer, said the panel recommended the governor commute Whitaker's sentence "to a lesser penalty." Jurors who convicted him and sentenced him to death in 2007 had only one other option, life imprisonment.
In the clemency petition, Whitaker's attorneys said his execution would "permanently compound" his father's suffering and grief, and compared the case to the biblical story of Cain and Abel, where God sent Cain to "restlessly wander" after killing his brother.
Kent Whitaker has said he's seen "too much killing already," has forgiven his son and believes his son is a changed person.
Whitaker, his son's attorney and supporters awaited the decision in a conference room in the Texas Capitol. As lawyer Keith Hampton read the outcome, Whitaker covered his face with his hand and wept softly. After about 15 seconds, he looked at Hampton and murmured, "Thank you."
"I never, ever believed that we were going to get a unanimous decision in favor," he said as he and Hampton headed immediately across the building to Abbott's ceremonial office — even though the governor wasn't there — to plead with the governor that he honor the board's recommendation.
"The best we were hoping was a 4-3," he said. "This is beyond amazing. I can't tell you."
At his trial, Bart Whitaker said he took "100 percent" responsibility for planning and carrying out the killings. Prosecutors said he hated his parents and hoped to collect an inheritance.
"I think it's the wrong decision and clearly the wrong decision," said Fort Bend County District Attorney John Healey, whose office prosecuted Whitaker and convinced a jury to convict him and send him to death row.
He said Tuesday that he didn't know if he could speak with Abbott before the governor made a decision.
"I don't know if that's part of the allowed protocol," Healey said. "It's a unique situation."
Evidence showed the murder plot included two of Whitaker's friends and was at least Whitaker's third attempt to kill his family. The shooting was made to look like an interrupted burglary at the family's home in Sugar Land, southwest of Houston, and Bart Whitaker was shot in the arm to draw attention away from him.
About six months after the shootings, he disappeared. A year later, he was apprehended in Mexico.
The gunman, Chris Brashear, pleaded guilty in 2007 to a murder charge and was sentenced to life in prison. Another man, Steve Champagne, who drove Brashear from the Whitaker house the night of the shootings, took a 15-year prison term in exchange for testifying at Whitaker's trial.
In 2007, death row inmate Kenneth Foster was spared and his sentence commuted to life. The board had voted 6-1 in favor of a commutation. Perry said Foster and a co-defendant in a fatal robbery in San Antonio should not have been tried together for capital murder. Foster was the getaway driver in the slaying and both he and a partner received death sentences. His co-defendant was executed.
In 2004, Perry overruled the parole board's 5-1 vote favoring clemency and convicted killer Kelsey Patterson was executed. He took the same action in 2009 in the case of death row inmate Robert Lee Thompson, who was executed despite a favorable a 5-2 ruling from the board.
___
Michael Graczyk reported from Houston.
Suspected shark attack in Australia as pieces of diving equipment found in search for missing man | World News
Rescuers trying to track down an Australian man, who went missing while snorkelling, believe he may have been taken by a shark after they found pieces of diving equipment.
The man went missing late on Thursday while snorkelling near Port MacDonnell off Australia's south coast.
His unexplained disappearance sparked an air and sea search, but this was later scaled back when rescuers pulled a damaged wetsuit and flippers from the water.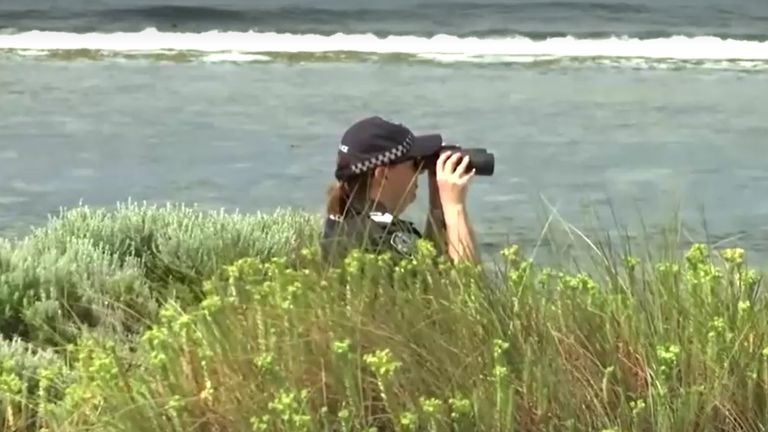 The man has been named as 32-year-old Duncan Craw, according to News.com.au
His family, who spoke to the news site, described him as "extremely hard-working" and "the best father", saying he had been due to celebrate his 33rd birthday on Saturday.
South Australia Police Limestone Coast operations manager Campbell Hill told ABC that no remains have been found but a shark had been seen in the area the previous day.
"There are a few remaining areas of interest that we are just looking to explore but the information from the experts at this time is that the search I should say, will be scaled down and unfortunately this will become a matter that will become the subject of an investigation report for the coroner," he said.
If confirmed, it would be Australia's first recorded shark attack this year.
Last year saw a spike in fatal shark attacks in the country with eight people killed, up from zero the previous year, according to the Taronga Conservation Society.
COVID-19: Holidays to Spain could be delayed 'until end of summer' | World News
Britons hoping to escape to Spain could have their holiday plans cancelled following reports the Spanish prime minister said the country would not welcome international tourists until the "end of summer".
Speaking at a meeting of the World Tourism Organisation, Pedro Sanchez reportedly said he did not expect holidaymakers to visit Spain until nearly all of the population has been vaccinated.
He said the country would "progressively" prepare to welcome international tourists once 70% of Spain's population had been vaccinated, which he expected to be by the end of this summer, local media sites including Euro Weekly News have reported.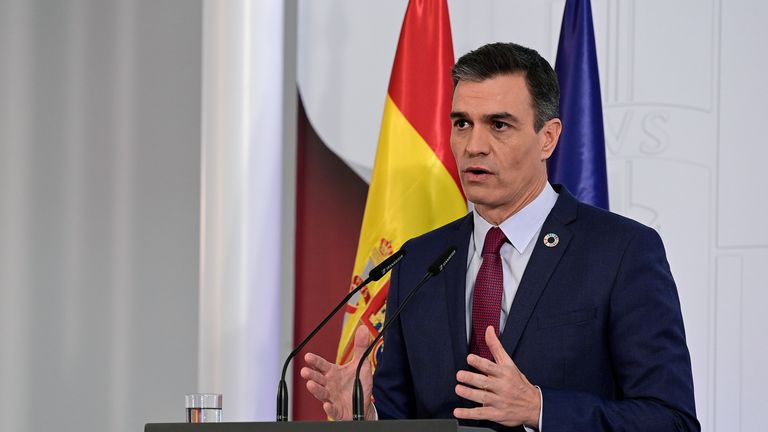 It will be a blow for the tourism sector, which closed its worst year since the 1970s in 2020 with revenues falling by more than 75%.
Spain reported its highest daily number of coronavirus infections yet on Thursday, recording 44,357 cases.
A further 404 deaths were also reported, taking the country's total to 55,041 deaths and 2.5 million cases.
Spain is not the only popular holiday destination closing its doors to British tourists, as Portugal has said it will be suspending all flights to and from Britain from Saturday onwards.
Only repatriation flights will be allowed between the two countries, Prime Minister Antonio Costa told a news conference.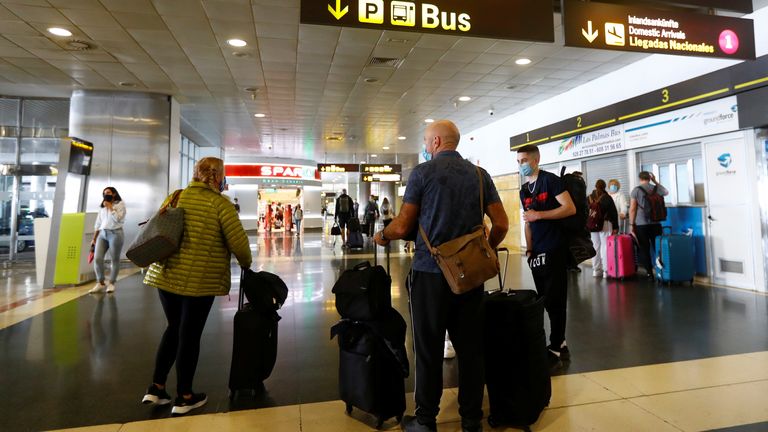 Meanwhile, the UK itself has "considered" a full closure of its borders.
Environment Secretary George Eustice told Sky News ministers were keeping the idea "under review" and "can't rule anything out for now" – although they believed the current restrictions were "sufficient".
Asked whether people should be booking foreign holidays for this summer, Home Secretary Priti Patel refused to give an answer and said it was "far too early" to speculate on restrictions.
But some Britons have already begun booking their breaks, with holiday firms saying they had seen a spike in bookings from older people planning trips following the vaccine roll-out.
'We need to have a spring and summer season'


The UK's largest tour operator TUI said half of bookings made so far have been made by over-50s.
Spain ranks among the most popular countries for people planning holidays this year.
A study by travel company Club Med showed it was the fifth most popular destination, behind the Maldives, Mexico, Thailand and Turkey.
Earlier, European Union leaders held an online summit to discuss potential coronavirus measures, including further border restrictions.
While a number of EU leaders said they would not rule out border closures, Spain and Greece backed an idea for a common approach to "vaccine passports".
The system would allow people to travel if they had received the vaccine, although EU diplomats said the measure was premature as it is not yet clear if vaccinated people could still pass on the virus to others.
China gold mine blast: Trapped workers must wait another two weeks for rescue | World News
Rescuers trying to free a group of miners trapped hundreds of metres underground have said it may take another 15 days to drill and clear a route wide enough to reach them.
They are desperately trying to bring the workers back to the surface following an explosion at the Hushan gold mine in Qixia, Shandong province, in eastern China on 10 January.
A total of 22 miners became trapped after the blast blocked the mine entrance.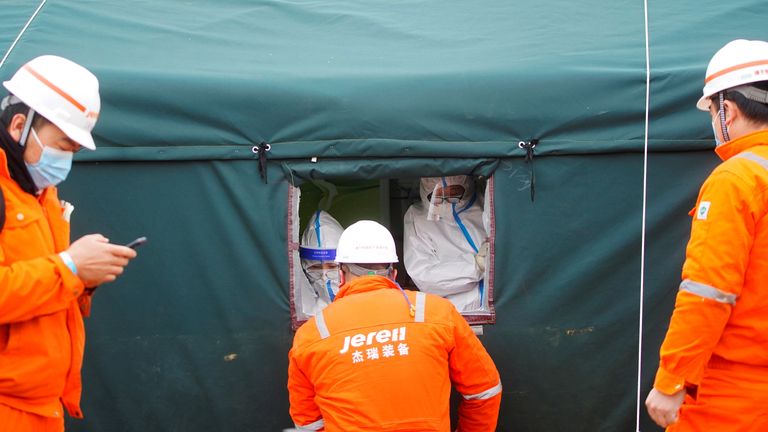 One is confirmed to have died from head injuries. Eleven are known to be alive and rescuers have made contact with 10 of them, while one is said to be in a nearby chamber. The remaining 10 are missing.
Holes have been drilled and used to pass food, medicine and other supplies to the group while they wait.
Rescuers are now drilling a new wider shaft to reach the 10 men in the middle section of the mine – more than 600m from the entrance – which they hope to use to bring the survivors to safety.
The mine shaft is blocked 350m below the surface by 70 tonnes of debris that extends down another 100m, the Yantai city government said in a statement on its social media account.
Other shafts are being drilled for communication and ventilation – to expel deadly fumes.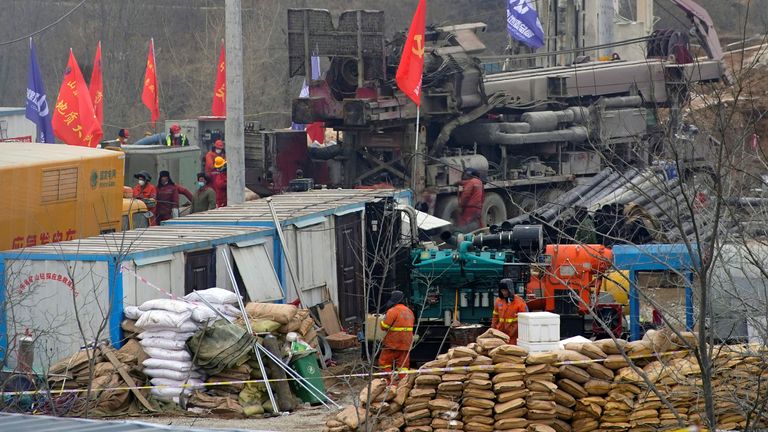 About 600 people are involved in the rescue, with as many as 25 ambulances waiting at the scene, as well as neurosurgeons, trauma specialists and psychologists.
Medical workers in white protective suits are also on site and have been taking people's temperatures as part of COVID-19 precautions.
Mine managers have been detained for waiting more than 24 hours before reporting the incident, the cause of which is still not known.