Terrifying attempted rape of coffee shop barista caught on video
Police in Washington state are looking for a man they say attacked a barista, forced her out of a building at knife-point and then tried to rape her.
Kent police officers said the 30-year-old barista at Hottie Shots Espresso was making a customer's drink around 4:45 a.m. Tuesday when a man climbed through the window and held her at knife-point.
She told police the man forced her outside into a dark alleyway, Q13Fox reported.
"During his attempt to sexually assault her, he was spooked by the vehicle headlights of a customer that pulled into the barista stand drive through," Kent police said in a statement, adding they believe the suspect fled in a dark sedan with black rims.
Surveillance video inside the coffee shop captured the terrifying attack. Kent police released the video in hopes the public might be able to ID the suspect.
Police said the barista was "shook up, but otherwise in good condition," after getting treated by medics for abrasions on her body.
The suspect was described as a white man in his 30s, about 5-foot, 5-inches with darker hair and light-color facial hair. He was wearing a gray hooded sweatshirt, black pants and a black baseball hat with a brown bill.
Kent Police ask any witnesses or anyone with information to call Crime Stoppers at 1-800-222-TIPS (8477) or the Kent Police tip line 253-856-5808.
COVID-19: Coffins stacked high in crematorium of German town ravaged by coronavirus | World News
A crematorium is a sobering place to visit during a pandemic. Especially the one in the town of Meissen, eastern Germany, where coffins are stacked on top of each other in every available space.
Attached to each simple wooden casket is a small piece of paper giving the basic details about the body inside. The name of the deceased, date of birth and death.
And chalked on to the side of so many is the word COVID. We are standing amongst the victims of a virus which has hit Meissen hard.
In the basement, vast furnaces and workers are operating around the clock. They need to, such is the demand for cremations in a town which has experienced one of the highest COVID-19 rates in Germany.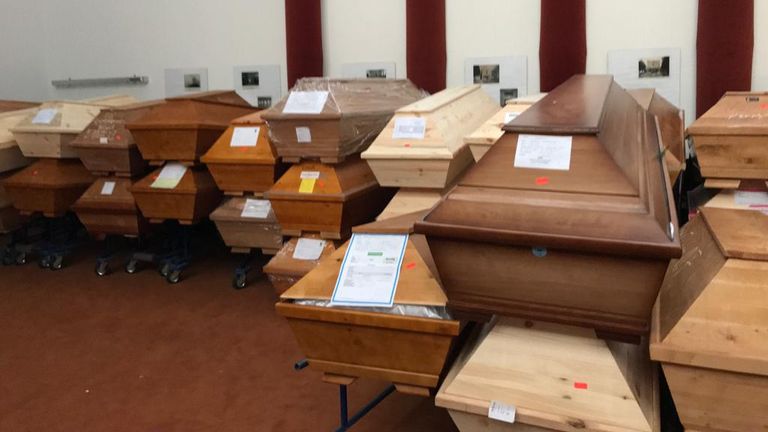 We watch coffin after coffin disappearing into the flames knowing that family members, unable to be with their loved ones as they passed away, will be desperate to collect the urn of ashes to mourn.
Crematorium director Jörg Schaldach speaks of sadness for the families.
"For us, the problem isn't storage. The problem is actually for the bereaved," he says.
"The ambulance leaves the yard and they never see their relatives again. There are no hospital visits. People understand that this is a crisis and they accept that. But the psychological aspect of parting is very, very difficult."
It is made all the more difficult by the fact that COVID restrictions mean normal funeral services aren't possible.
Even the chapel at the crematorium is now a storage facility for the dead. The chairs, which before COVID would have accommodated mourners, have been moved out to make way for coffins.
At this, Meissen's sole crematorium, they dealt with more than 1,400 bodies last month, double the number a year ago.
And Mr Schaldach worries that figure could be higher by the end of January.
The high COVID infection and death rate in Meissen has created nervousness amongst many residents, who ask why the town has been so hard hit.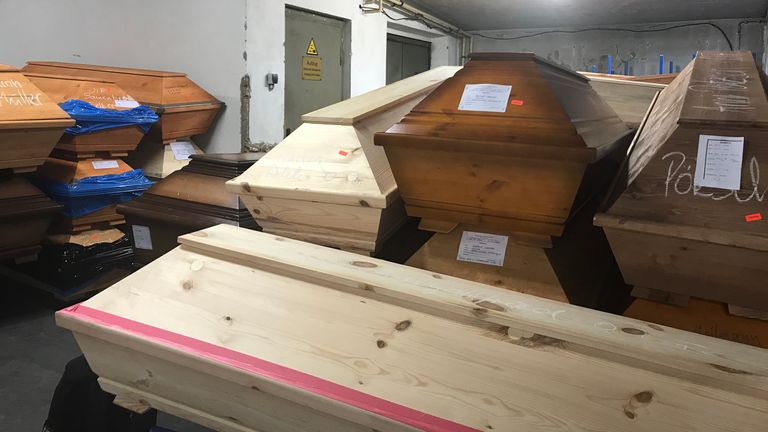 One elderly man said: "It's because the old live here in eastern Germany. The young are in the west. And COVID affects the old much more badly."
Another says: "We are near to the Czech border. There is high incidence there and traffic." He struggles to speak as he says it is so sad, so upsetting to see what is happening.
There is genuine fear and worry here. The crematorium sits in the middle of a residential area and it must be unnerving for people seeing the constant stream of hearses and vans arriving.
Mr Schaldach is hoping that tough lockdown restrictions the German government has decided to keep in place will make a difference.
He lives in the community where he works and feels the loss shared by so many here.
COVID rates are now falling in Germany, but he agrees with the government that there is no room for complacency.
Baghdad: At least 28 killed and dozens injured in twin suicide attack on Iraq's capital | World News
At least 28 people have died and dozens more are wounded after a double suicide attack in Iraq's capital.
According to police in Baghdad, the explosions hit a commercial area in the centre of the city.
Many of the wounded – of which there are at least 73 – are reported to be in a serious condition and there was widespread damage to buildings.
The bombings are the first in years to target Baghdad's bustling commercial area and all of the city's hospitals were mobilised to treat the injured, the health ministry said.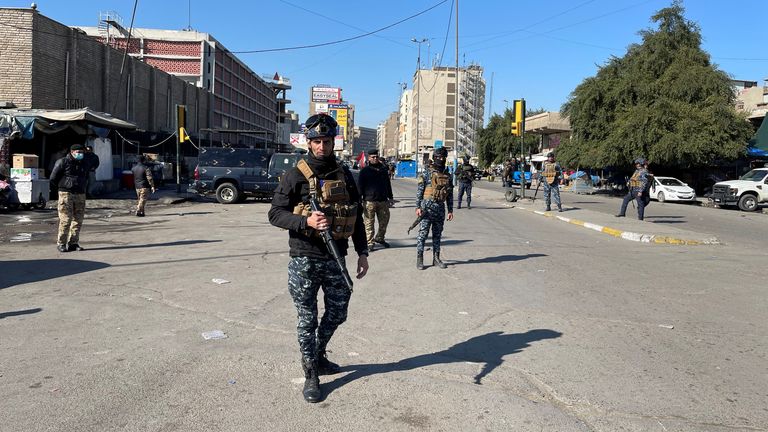 They come amid heightened political tensions as Iraq looks to have early elections in October, while also battling a severe economic crisis brought about by low oil prices.
It is not clear who is responsible for the blasts, which left blood smeared across the floors of the busy Bab al-Sharqi market and piles of clothes and shoes.
The attack occurred as security forces pursued two suicide bombers who detonated their explosives in the market near Tayaran Square, according to military spokesman Yahya Rasool.
Iraq has seen attacks by both the Islamic State group and militia groups in recent months.
Militias have routinely targeted the American presence with rocket and mortar attacks, especially the US Embassy in the heavily fortified Green Zone.
Attacks has decreased since an informal truce was declared by Iran-backed armed groups in October.
The Islamic State group has carried out similar attacks in the past but has rarely been able to target the capital since being dislodged by Iraqi forces and the US-led coalition in 2017.
The last deadly suicide blast in the Iraqi capital took place in January 2018, killing at least 27 people.
An attack like this is rare these days making it all the more concerning
Analysis: Mark Stone, Middle East correspondent
Violence and Iraq may seem to be tragically synonymous, but in fact an attack like this is rare these days making it all the more concerning.
While the country is still deeply divided and troubled, bloodshed of this magnitude has not been seen since January 2018 when 27 people were killed in an attack.
The images, most of which are too horrific to broadcast, show bodies lying all around Tayaran Square.
Victims, some alive, but others clearly not, are seen being lifted into vehicles. One video clip shows the decapitated head of man.
It was mid-morning when the bombs detonated. It was a cruelly intentional "double-tap" attack – the second bomb detonated amid the crowd as casualties were carried away.
No one has yet claimed responsibility. The Islamic State terror group is still a threat in parts of the country despite a continued effort by Iraq's security forces, with western coalition support, to defeat the group.
Italian police find stolen da Vinci copy – which museum did not know was missing | UK News
A stolen copy of Leonardo da Vinci's 16th century Salvator Mundi painting has been found by Italian police, despite priests not realising it was missing.
Officers arrested a 36-year-old apartment owner on suspicion of receiving stolen goods after the 500-year-old oil painting was discovered in his bedroom cupboard.
The duplicate, attributed to the Leonardo school but not the Renaissance artist himself, went missing during the coronavirus pandemic but, because the musueum at the Basilica of San Domenico Maggiore in Naples has been shut, nobody realised it had been taken.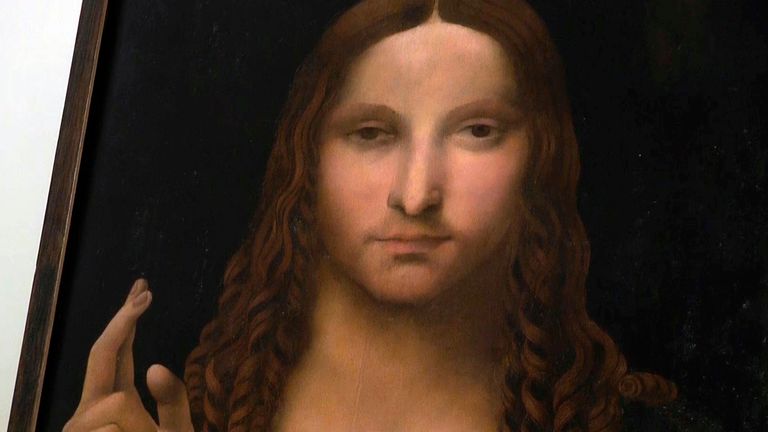 Police chief Alfredo Fabbrocini said the man was detained after he offered a "less than credible" explanation that he had "casually" bought it at a market.
Mr Fabbrocini said the discovery, made during a bigger police operation, was particularly satisfying because they "resolved a case before it was created".
He explained: "The painting was found but its custodian had not realised it was stolen."
The painting depicts a robed Jesus Christ with his hand raised in a blessing and holding a crystal orb, gazing at the viewer.
It is a copy of the Salvator Mundi (Savior of the World) by da Vinci that sold for a record $450m (£330m) at a Christie's auction in 2017.
The unnamed bidder was later identified as a Saudi royal who purportedly bought it on behalf of the Louvre Abu Dhabi.
It was supposed to have been unveiled a year later at the museum, but the exhibition was delayed indefinitely and the work has not been seen in public since.
The San Domenico Basilica says the recovered painting was probably made by a Leonardo student in the 1520s and bought by Giovan Antonio Muscettola, an adviser to Emperor Charles V and ambassador to the papal court. It was housed in the basilica's Muscettola family chapel.
It was restored prior to being exhibited in a 1983-1984 show "Leonardo and Leonardism in Naples and Rome".