Retired NYC sanitation worker makes $285K a year from pension
A former Sanitation Department honcho is pulling in an astonishing $285,047-a-year pension — more than twice what he was making on the job, according to newly released data.
And that's just one of dozens of huge pension payouts revealed in records published Tuesday by the Empire Center for Public Policy— data that lay bare the city's insanely generous pension system, the government watchdog said.
"Pensions like these are unheard of in the private sector — and deserve the close scrutiny of taxpayers," said Tim Hoefer, executive director of the Empire Center.
"The long list of six-figure pensioners in the New York City Employees' Retirement System shows just how great a burden the city has placed on its finances," Hoefer added.
Eugene Egan, the garbage-hauling agency's longtime director of labor relations, was earning $128,189 a year when he retired in 2015, public records show.
But because the 86-year-old Bronx man started working for the department before July 1973, he was enrolled in the city's most lavish pension plan — known as Tier 1 — and was able to continue growing his retirement pot throughout a lengthy career.
Asked about his lifetime golden handshake on Tuesday, the golden oldie became defensive and called the figures "fake news."
"You'll go ahead and say I'm ripping off the city 'cause I got a pension," Egan said at the door of his two-story home in the Bronx, saying he didn't want to look "like a bum."
"The fact is that I worked almost 60 years for it," he added.
While he was still working for the Sanitation Department, Egan didn't like other workers at the agency knowing how long he'd been there, a department insider who worked with him told the Post — but said he was known as a good and knowledgeable guy.
The source said Egan kicked in his own contributions over the years to help fatten his final pension check.
Egan wouldn't break down the details of his sweet Tier 1 deal, which is no longer available to today's city workers. The average Department of Sanitation pension is $49,405, according to the Empire Center.
"You retire. That's it," he snapped, before shutting the door on a Post reporter, instructing him to "get an honest job."
Click for more from The New York Post
COVID-19: Italy closes schools in 'red zone' coronavirus areas amid concerning growth in new variants | World News

Italy's government has ordered the closure of all schools in regions hardest hit by the coronavirus amid rising fears over new variants of the disease.
Italy was one of the first countries in Europe to see COVID-19 on a large scale in February 2020, and it has registered nearly three million confirmed cases since then.
It is now seeing around 15,000 new cases per day and the trend is rising, putting the health system under strain.
In recent weeks, the incidence of new cases among young people has overtaken that seen among the older population – a reversal of what was seen earlier in the pandemic.
The UK variant accounted for 54% of confirmed cases as at 18 February, according to Silvio Brusaferro, president of the government's Superior Institute of Health.
But he added: "If measured today surely the percentage would be higher."
The variant first reported in Brazil has been found in 4.3% of cases, particularly in central Italy, including Rome, while the variant first found in South Africa accounts for 0.4% of cases and is mainly confined to the Italian Alpine area near the Austrian border, he said.
Italy's new prime minister, Mario Draghi, has said tougher measures will come into effect from Saturday and last until 6 April, just after Easter.
Under these rules, all schools – including nurseries – in "red zone" regions must be closed, although some exceptions will be made for students with special needs.
Distance learning was already mandatory for high school students in these areas but younger pupils will now be included.
Italy's 20 regions have been divided into a tiered system – white, yellow, orange and red, with red being under the toughest restrictions.
Health Minister Roberto Speranza said: "The English variant which is prevalent is particularly able to penetrate among the youngest age groups."
He also said there were "rather robust signs of an uptick in the curve of contagion and terrible variants", adding that the stricter rules were being brought in to "govern this curve of contagion".
Meanwhile, some cultural venues in yellow zone regions will be allowed to reopen from 27 March.
Venues must limit capacity to 25% and museums, which were already allowed to open on weekdays, will be permitted to open on weekends.
Pools and gyms remain closed, travel between regions is banned, and a curfew between 10pm and 5am remains.
At least 98,000 people have died with the virus in Italy, the highest number in continental Europe.
Some 3.7 million doses of coronavirus vaccine have been administered since the end of December.
Nigeria: Released schoolgirls say kidnappers threatened to shoot them during three-day mass abduction | World News
School pupils from an all-girls' boarding school in the town of Jangebe were required to attend a different sort of assembly this morning.
Instead of the classroom, they sat in a building that government officials in the Nigerian state of Zamfara use to speak to the media.
They were given a little food, then filmed by members of the media as they ate it. The state police commissioner pronounced them "happy and healthy".
One of the released girls spoke about how the gunmen appeared in the middle of the night.

All 279 pupils had been returned after their mass abduction on Friday reported commissioner, Abutu Yaro, who added that no money had been paid to get them back.
Then, a number of the girls spoke about what they had seen and experienced over three terrifying days in the forest.
"Most of us injured our feet and we couldn't continue with the trek. [The kidnappers] said they would shoot anybody who does not continue to walk," said schoolgirl Umma Abubakar.
Another, called Farida Lawali, said: "While we were walking they were hitting us with guns and beating us with a cane and telling us to move on."
In what has become a deeply unsavoury but fast-growing industry, criminal gangs and bandits have been targeting children attending government-run schools as a means of extracting ransoms for their return.
The abduction of the girls from Jangebe marks the third school-related kidnapping in Nigeria in the last two months.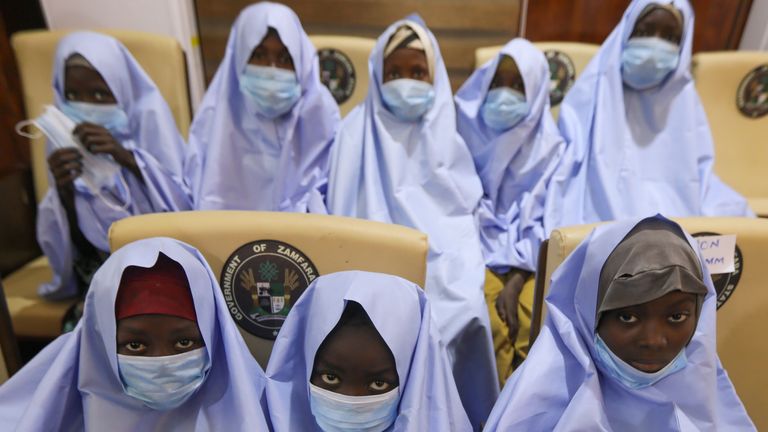 A total of 344 boys were taken from a school in neighbouring Katsina State in December, then freed after a week.
On Saturday, gunman released 27 teenage boys who were abducted from their school in the central state of Niger.
Security analysists, like Kemi Okenyodo, warn these opportunistic practices will not go away.
"For us to hear that all of them have been released, we are happy about that – but then you say to yourself, where next?
"You are wondering if [the next kidnapping] is going to be in Zamfara, is it going to Niger, moving to Katsina? That is the big issue."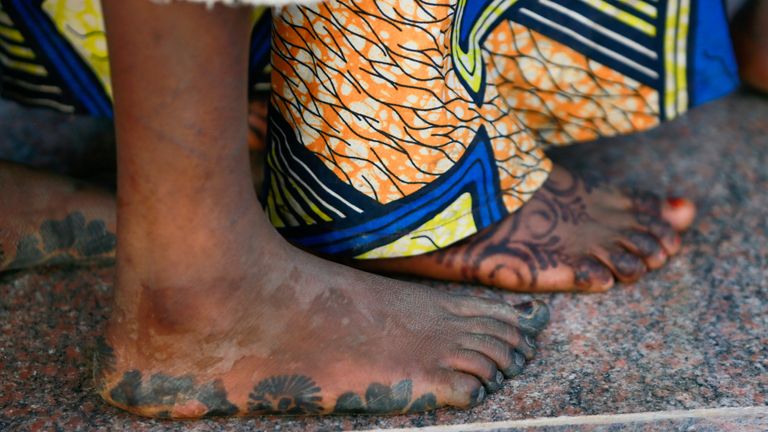 Such activities are fuelled by the precarious security situation in northern Nigeria and the payment of ransoms by government officials.
Local and state representatives have come under massive pressure, both domestically and internationally, to protect school-age children and gang members have learned how to exploit it.
"You find the government grappling to save face in paying the ransoms to ensure that all the children who are under their watch are returned safely. [They want] to be seen to be responsive, that they care for the citizens, particularly the children."
Ms Okenyodo fears for a generation of young people who are having their education disrupted as gang members seemingly strike at will.
The governor of Yobe State said he would close schools this week to protect students from kidnappers.
"The challenges of the northern part of the country are about development and [good] governance. What we are seeing is years of deprivation now coupled with insecurity and it is the people who are suffering for it, not the elites, up there."
COVID-19: Which countries are receiving vaccines in WHO-backed COVAX programme – and how many doses each? | World News

The World Health Organisation-backed COVAX programme has released details of the numbers of COVID vaccine doses it aims to provide to participating countries by the end of May.
It plans to deliver 237 million of the Oxford/AstraZeneca shot to 142 nations over the next three months as it steps up the rollout – with COVAX seen as the "only true global solution to the pandemic".
The initiative, also supported by the GAVI vaccine alliance, was created to ensure access to jabs for low and middle-income countries, and it aims to have two billion doses available by the end of the year.
Shots will be free for the 92 poorest countries, including Ghana which started its COVID-19 vaccine drive this week, after receiving 600,000 shots.
The doses will have a maximum price of $3 (£2.15) each and countries will begin inoculating mainly frontline healthcare workers and the most vulnerable people, months after wealthier nations, like the UK and US, began their rollouts.
The new figures show Singapore, which is seen as one of the countries that has fared comparatively well during the pandemic, will receive 244,800 doses by the end of May.
South Korea – another nation with relatively low numbers of coronavirus cases and deaths – will get 2,102,400 doses, and there are 211,200 doses for New Zealand, which has also kept its COVID figures down.
Canada will receive 1,624,800 shots, with 1,704,000 bound for North Korea, despite the secretive state insisting it is virus-free.
Afghanistan is to receive 2,580,000 doses, while there will be 10,908,000 for Bangladesh, 9,122,400 for Brazil – one of worst-hit countries in the pandemic, 5,928,000 for the Democratic Republic of Congo, 7,620,000 for Ethiopia, and 4,584,000 for the Philippines.
Other countries with millions in allocations include Indonesia with 11,704,800, and Mexico – another very badly-hit nation – with 5,532,000, while Nigeria will receive 13,656,000 and Pakistan will get the most – 14,640,000.
Subscribe to the Daily podcast on Apple Podcasts, Google Podcasts, Spotify, Spreaker
Some countries have larger populations so they will receive more doses.
GAVI chief executive Dr Seth Berkley said COVAX is "the only truly global solution to this pandemic because it is the only effort to ensure that people in all corners of the world will get access to COVID-19 vaccines once they are available, regardless of their wealth".
He added: "For lower-income funded nations, who would otherwise be unable to afford these vaccines, as well as a number of higher-income self-financing countries that have no bilateral deals with manufacturers, COVAX is quite literally a lifeline and the only viable way in which their citizens will get access to COVID-19 vaccines.
"For the wealthiest self-financing countries, some of which may also be negotiating bilateral deals with vaccine manufacturers, it serves as an invaluable insurance policy to protect their citizens, both directly and indirectly."