President says Egypt 'scored a goal' with Israel gas deal
CAIRO –  Egypt's president says his country "scored a goal" by signing a $15 billion deal with an Israeli company to supply natural gas that will help turn Egypt into a regional energy hub.
Abdel-Fatah el-Sissi said in televised comments on Wednesday that the project "has a lot of advantages" for Egyptians.
Delek Drilling and its U.S. partner, Noble Energy, signed the agreement on Monday to sell a total of 64 billion cubic meters of gas over a 10-year period to Egyptian company Dolphinus Holdings. The gas is expected to start flowing next year.
Egypt was the first Arab country to make peace with Israel, in 1979, but past economic agreements have been controversial in the Arab world's most populous country, where popular support for Palestinians runs high.
Men's spending responsible for more climate-heating emissions than women's, study finds | Climate News
Men are responsible for 16% more greenhouse gases from the goods they buy than women are, even when they spend a similar amount overall, according to a new study.
The gender difference in emissions has so far hardly been studied but should inform our efforts to slash emissions to curb the climate crisis, according to authors of a new paper.
The study, published this week in the Journal of Industrial Ecology, analysed the spending habits of single men and women in Sweden. It found women spent more money on health, home decoration and clothes, while men forked out more for fuel, eating out, alcohol and tobacco.
Spending varied the greatest on petrol and diesel for their cars, it found, and this excluded fuel for work vehicles, while emissions from food did not vary greatly between the two genders.
For both men and women, food and holidays were responsible for more than half their emissions.
The authors found that single consumers could slash their greenhouse gas emissions by almost 40% without having to stump up cash.
Substitutes that cost much the same as mainstream food, holidays, and furnishings include plant-based meat and dairy alternatives, locally grown vegetables, second-hand purchases, holidaying abroad by train and staycations.
The authors said: "The reduction potentials shown in this study do not require costly investments as is the case for buying an electric car or installing solar panels, which are other options for climate-aware households. Therefore, our examples are easy to comply with from an economic point of view."
The study suggested further research could explore ways to tailor policies according to gender "in the quest for climate change mitigation".
The Daily Climate Show: Europe floods special

Sky News has launched the first daily prime time news show dedicated to climate change.
The Daily Climate Show is broadcast at 6.30pm and 9.30pm Monday to Friday on Sky News, the Sky News website and app, on YouTube and Twitter.
Hosted by Anna Jones, it follows Sky News correspondents as they investigate how global warming is changing our landscape and how we all live our lives.
The show also highlights solutions to the crisis and how small changes can make a big difference.
COVID-19: COVID pass now needed for Eiffel Tower and other tourist hotspots in France | UK News
Sightseers will need a special COVID pass to visit the Eiffel Tower or go to museums and cinemas in France in a desperate move by its government to curb the spread of the Delta variant.
People must show they are either fully vaccinated, have a negative test or prove they have recently recovered from COVID-19 to get a pass.
Following a government decree, the requirement went into effect on Wednesday at cultural and tourist sites.
President Emmanuel Macron announced the rollout last week in a bid to boost vaccinations.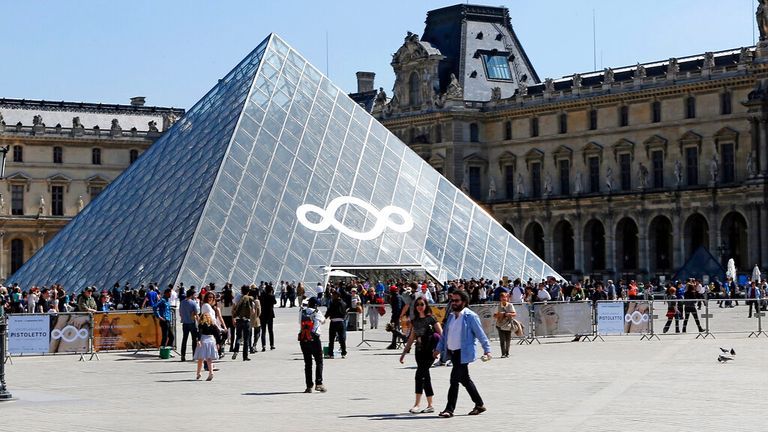 The health pass was previously only required for large-scale festivals or nightclubs, but will also be needed from the start
of August to enter restaurants and bars and for long-distance train and plane journeys.
French MPs will debate on the bill on Wednesday, which has sparked resistance from many people, with anti-vaccine protesters planning a demonstration later on.
The new measure comes a day after the country recorded 18,181 new infections in 24 hours, more than double the figure from just a week ago.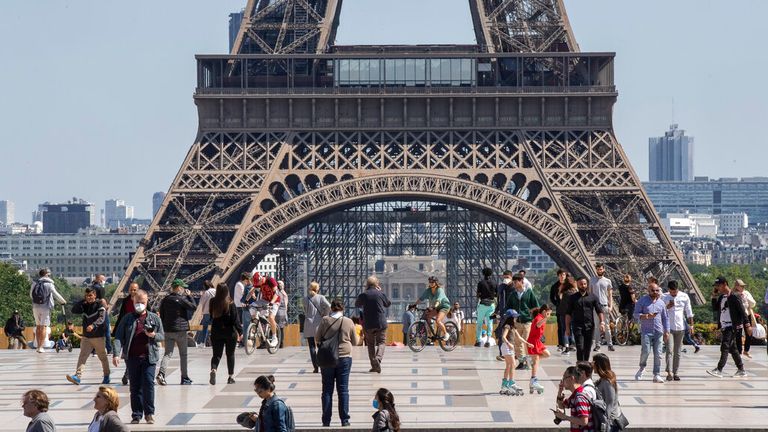 France last recorded more than 18,000 daily infections on 13 May, when the country was under a nighttime curfew and non-essential shops, bars and restaurants were closed.
Some regions are now re-imposing virus restrictions amid the surge in cases, due to the Delta variant first identified in India.
It comes after holidaymakers and industry groups hit out at the late decision to make Britons quarantine for 10 days when they return to the UK from France.
UK residents who have had two COVID jabs no longer have to isolate after returning to England from amber list countries such as Spain, Portugal and Greece – and France was meant to be on that list.
But last week the UK government said France would be excluded while it looks at latest data on rising cases of the Beta variant in the country.
It means travellers must continue to quarantine for 10 days.
Latest figures show that around 37.8 million people in France have received at least one dose of a coronavirus vaccine and 30.7 million are fully vaccinated.
Its government estimates it will reach its target of 40 million first doses by the end of July – a month earlier than its initial schedule.
Lethal chimpanzee attacks on gorillas observed for first time | Science & Tech News
Lethal attacks by coalitions of chimpanzees on gorillas in the wild has been observed for the first time.
Chimpanzees and gorillas are generally relaxed around each other in the Loango National Park in Gabon – but recently violent encounters have been documented, according to a study published in the journal Nature.
Researchers from Osnabruck University and the Max Planck Institute for Evolutionary Anthropology in Leipzig are unsure whether the attack came as a result of competition for food or for other reasons, and are continuing to investigate.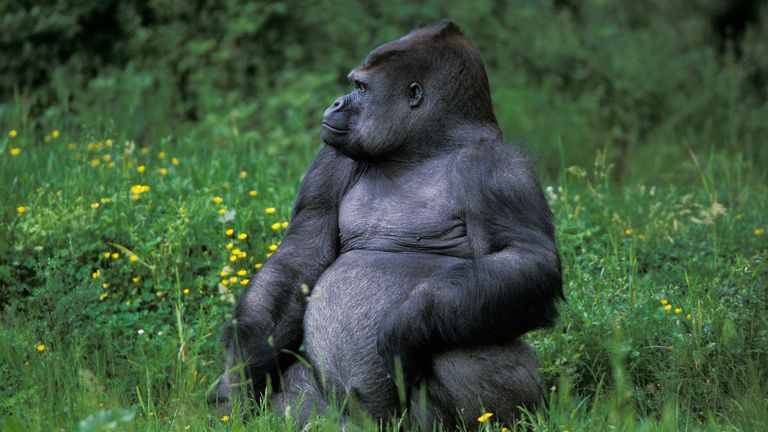 The researchers' work focuses on the behaviour of around 45 chimpanzees in the park, whose group composition, social relations, interactions with neighbouring groups, hunting behaviour, tool use and communicative skills are of interest to the anthropologists.
"Interactions between chimpanzees and gorillas have so far been considered as relatively relaxed," said Professor Simone Pika at Osnabruck.
"We have regularly observed both species interacting peacefully in foraging trees. Our colleagues from Congo even witnessed playful interactions between the two great ape species."
So what exactly happened here? As recalled by the study's first author, Lara Southern, the first attack took place in 2019: "At first, we only noticed screams of chimpanzees and thought we were observing a typical encounter between individuals of neighbouring chimpanzee communities.
"But then, we heard chest beats, a display characteristic for gorillas, and realised that the chimpanzees had encountered a group of five gorillas."
In the first of the two encounters, which lasted 52 and 79 minutes, the party of 27 chimpanzees formed a coalition to attacked a group of five gorillas.
In the second encounter, also involving a part of 27 chimpanzees, the coalition attacked a group of seven gorillas.
Chimps filmed smashing open tortoise shells

"The first event occurred after a territorial patrol during which the males made a deep incursion into a neighbouring chimpanzee territory. The second event happened at the start of a suspected territorial boundary patrol," the study said.
"The first encounter resulted in one dead gorilla infant and three injured chimpanzees; the second resulted in one dead gorilla infant. While there was no indication of consumption of the dead gorilla infant in the first encounter, the infant in the second encounter was almost entirely consumed by one adult chimpanzee female," according to the study.
It noted: "The main aggressors in both events were adult male chimpanzees."
According to the researchers the inter-species violence could have been caused by hunting and food competition.
"It could be that sharing of food resources by chimpanzees, gorillas and forest elephants in the Loango National Park results in increased competition and sometimes even in lethal interactions between the two great ape species," said Dr Tobias Deschner.
"We are only at the beginning to understand the effects of competition on interactions between the two great ape species in Loango," added Professor Pika.
"Our study shows that there is still a lot to explore and discover about our closest living relatives, and that Loango National Park with its unique mosaic habitat is a unique place to do so."